Last updated on July 27, 2022
Looking for the best electric fireplace TV stand for your living room? These are the top-rated and our favorite options. Read on!
The top best pick: this Electric Fireplace TV Stand.
Technology is rapidly changing, and who would think that even fireplaces can also be a part of it. This post will show you the best electric fireplace TV stand options that will make your living room more lively or romantic.
An electric fireplace can be a convenient way of replacing an old-fashioned fireplace. Even if you want to mimic one, depending on how powerful they are, they can make a big or small room warm (like having a real fireplace.)
So how do you choose the best one? Well, there could be a lot of things to consider, especially if this is your first time buying one.
Here are some of the questions to ask yourself when buying an electric fireplace:
Can you customize the shelves? This is important as some units have built-in shelves while some can be customized to suit your style and needs.
Does it include a remote? Some only have touch features which might be inconvenient to others.
How strong is the stand? Depending on the size of your TV, you need the right stand for it.
And, of course, the flaws that you might need to consider:
Some are not easy to build as it requires 2 people while some are as easy as plugging it in.
There are stands who can't heat the room enough, especially if your room is big.
You might need extra parts that you need to buy separately to maximize usage.
Ready to choose? Here are the top-rated picks that we've been talking about. We've put a lot of effort into finding these. As usual, we are being transparent and disclose any compensation we receive for purchases following links tagged with #ad. These never come at any extra cost to you.
Which one of these will keep you warm during your next binge-watching?
What's Inside
Electric Fireplace TV Stand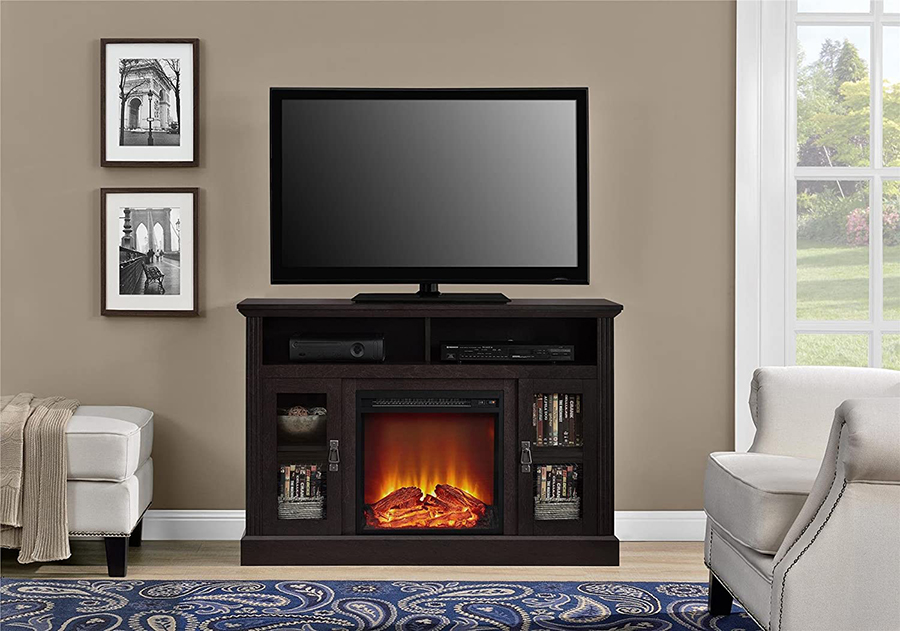 This tv stand is the perfect mix of storage plus a fireplace. It can support up to 70 lbs of TV, and the top oven shelves can be used for displaying items or a blue ray player. There are also additional side cabinets behind the glass.
Pros: The fireplace is heavy and sturdy, the wood looks great, the heater is powerful and energy-efficient, instructions are easy, and all the parts are labeled perfectly and have a lot of storage.
Cons: There is no remote to turn it on and off; it will take time to assemble.
Entertainment Center with Fireplace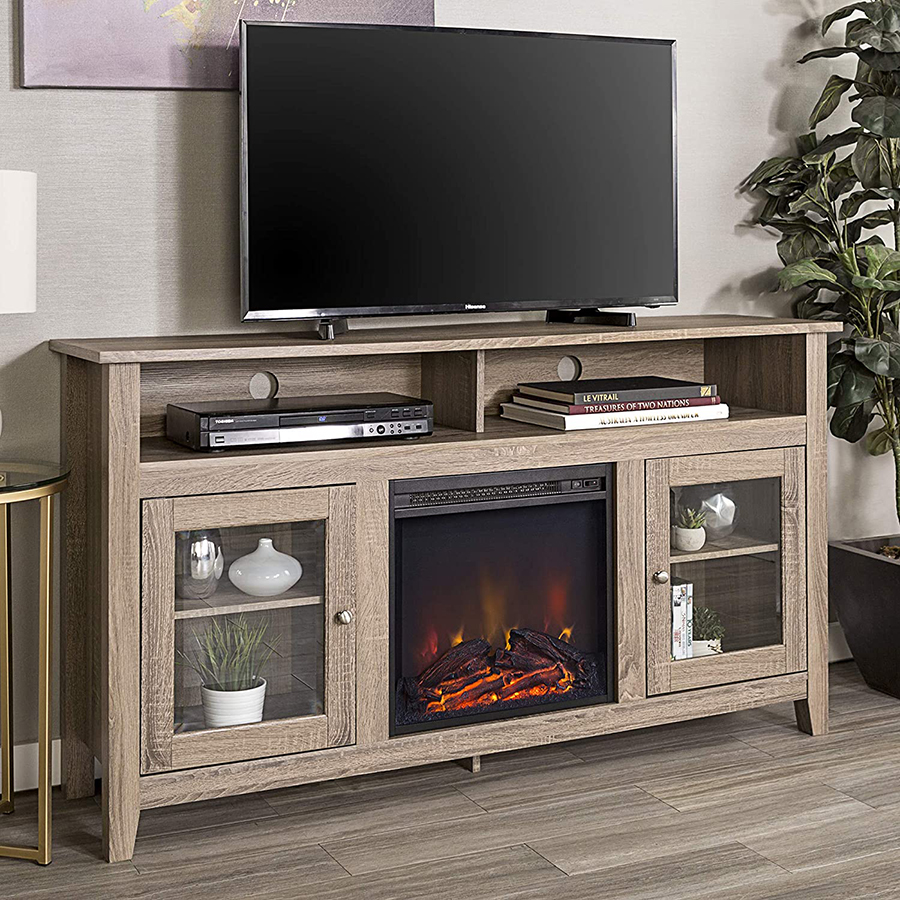 This stand may look big or bulky, but it's straightforward to use; it's a plugin and use the unit. It's made of a durable laminate finish and can accommodate TVs up to 60 inches. It even has a cable management system to maintain cleanliness.
Pros: Crafted from high-grade MDF with a durable laminate finish; the fireplace works well and produces quite a lot of heat; very sturdy, heavy-duty, and doesn't feel or look cheap at all.
Cons: Handles are not included in the hardware kit.
TV Console with Fireplace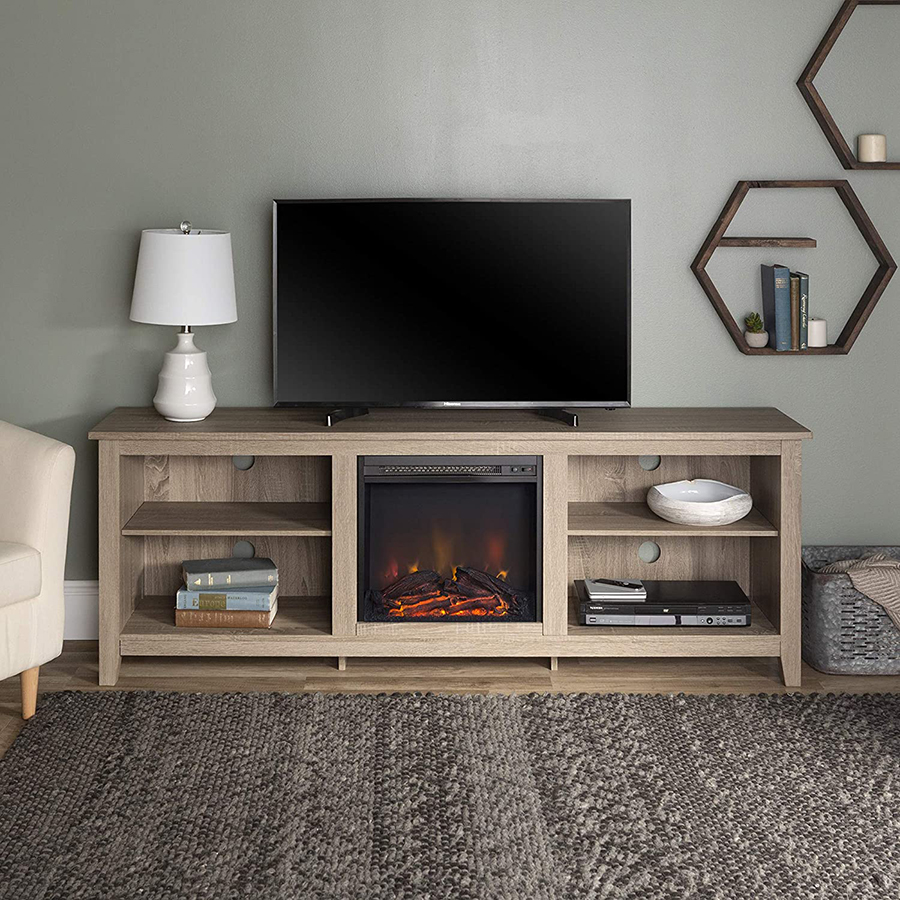 Unlike some TV stands, this one doesn't have a remote. It has adjustable shelves to fit any player or display items and keep the wires organized because of its cord management port. No help is needed as it's plug and use.
Pros: It features two adjustable shelves on both sides of the fireplace; it has a cord management port at the back of each shelving space; all pieces are extremely high quality; and easy to assemble.
Cons: It is MDF, so it could break easily, so be careful with screws and no remote included.
Fireplace TV Stand 70 Inch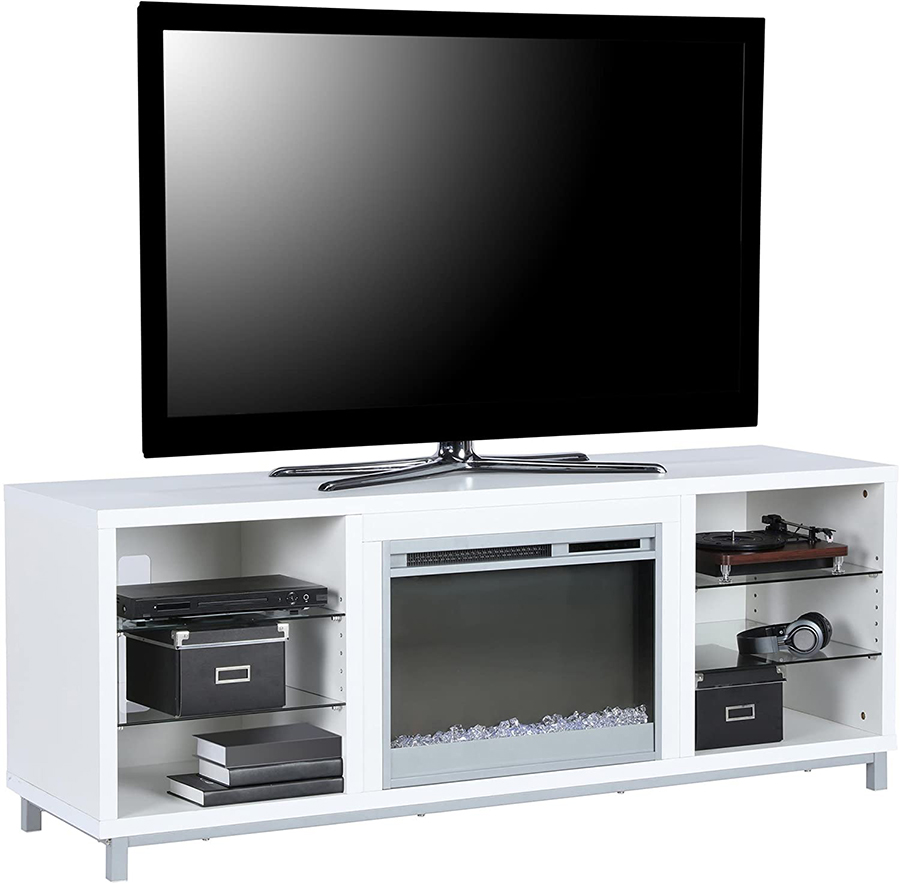 A one-of-a-kind TV stand that emits purplish or bluish flame light. It's powerful as it can carry up to 70" wide flat TV with a maximum weight of 120 pounds. It has 6 open shelves designed for DVDs, blue rays, or video game consoles.
Pros: Lighted shelves that can be turned On/Off; this stand has a mix of white laminated particleboard, MDF, and hollow-core construction with metal feet and tempered glass shelving; and quality is great and very sturdy.
Cons: The finishing is not that great. There are visible lines and marks between the wood pieces.
White Fireplace TV Stand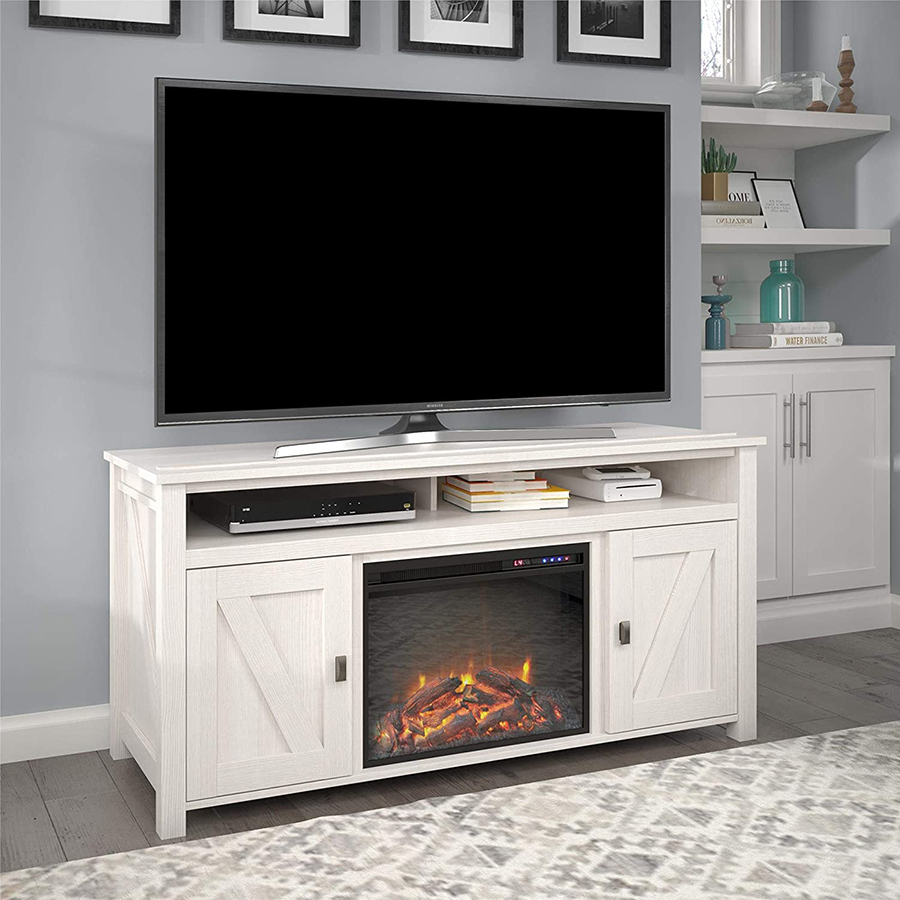 The electric fireplace insert of this furniture can be used with or without heat and be controlled using a remote or built-in touch panel. It can also accommodate TVs up to 60" wide or 95 lbs. It needs an extra hand to assemble.
Pros: The flames look really nice, and the flickering effect is quite natural; the heat it puts out is great; it came with a remote control to turn the fireplace on/off, plus a lot of different settings.
Cons: Complicated and time-consuming to put this piece together.
Fireplace TV Stand for 55-inch TV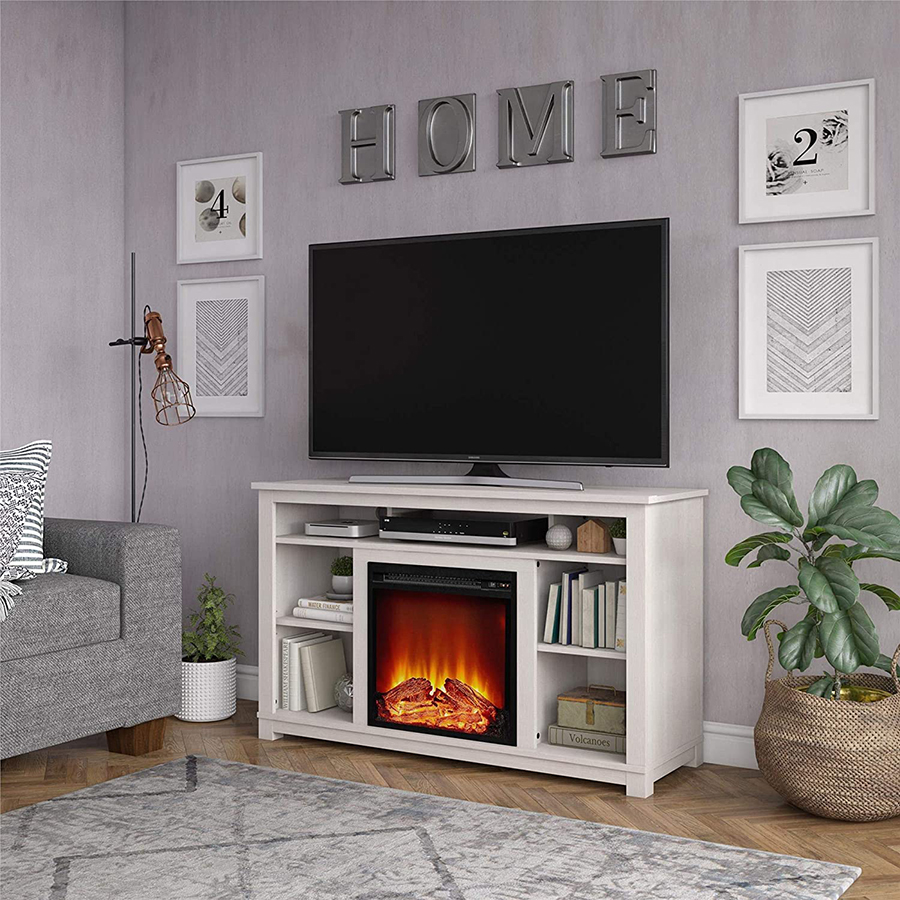 With this unit, you can get the fireplace feel without maintenance and carry TVs up to 55" wide or 80 lbs. The open shelves also have wire management holes to organize video and audio components easily.
Pros: The wood is gorgeous, and the fireplace looks classic; it has 5 open shelves that feature wire management holes; it gives off great heat; very sturdy.
Cons: The wood glue that came with it was not enough, so you need extra wood glue for assembly.
Black TV Stand with Fireplace
If you want your living room to look expensive and impressive, then this is a perfect choice. It offers 4 open shelves to easily hook up a cable box, DVD player, or gaming system. You can use it with or without the heat.
Pros: Has a sleek design and open shelving; instructions are straightforward with labeled parts; you have the option to turn the heat off; heat function for fireplace is a quiet fanlike sound; not too loud or bothersome.
Cons: Predrilled holes not being drilled all the way; for the fireplace, there isn't a remote, and you cannot change the intensity of the fireplace or the heat.
Barn Door Fireplace TV Stand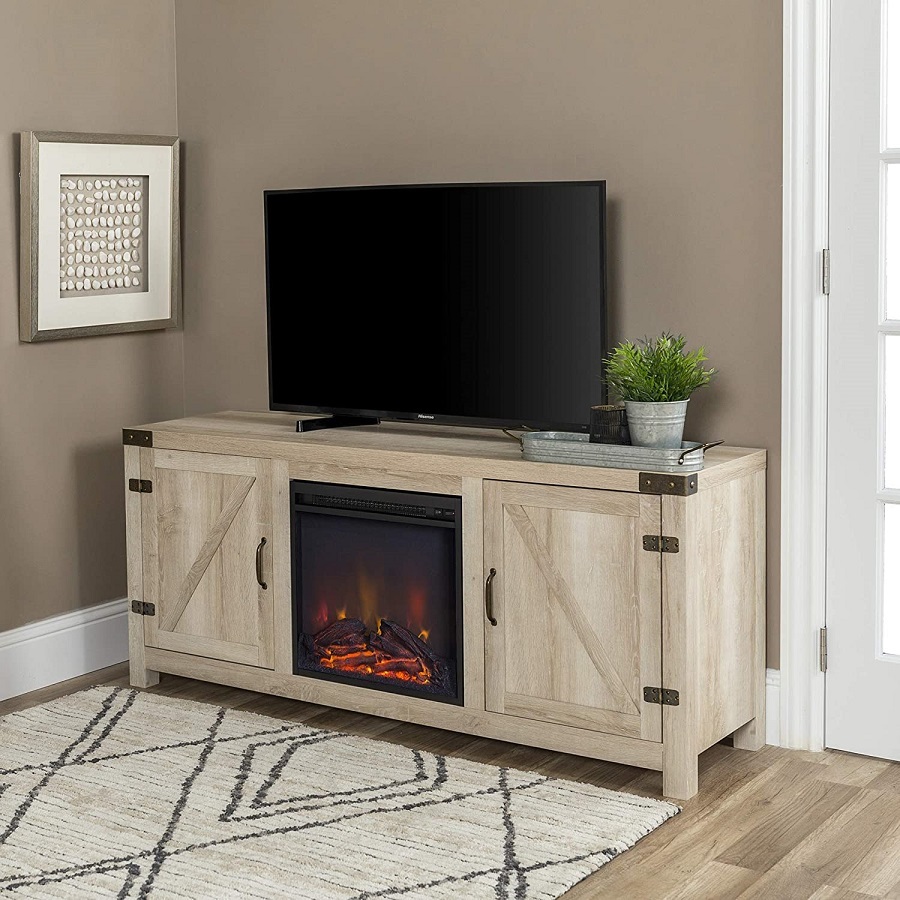 Adjustable shelves for any item with cable management to run cords in the back are just some of the main features of this TV stand. It's long-lasting and can support a TV up to 64″ and 250 lbs.
Pros: It has a great storage space; sliding doors are convenient, and stores stuff behind them and being able to hide it; easy assemble with two people; great product and has good quality.
Cons: Sliding doors can fell off of sliders if they bump something as you move them.
Electric Fireplace with Storage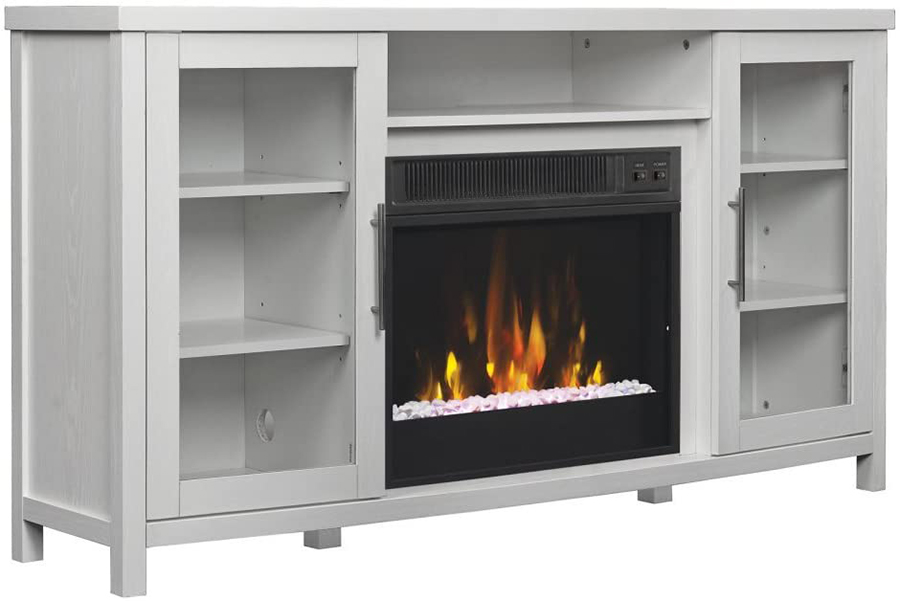 Feel cozy while watching or playing with this classic-looking fireplace TV stand. The shelves are adjustable to meet your needs and cable management system to keep cords organized. It is cool to the touch, so no worries about kids or pets getting burned.
Pros: Excellent quality; Fireplace looks great, and there is storage space behind the heater unit for lengthy electrical cable storage; the center open shelf has an opening for cable wires; very sturdy.
Cons: The heater doesn't seem to put out much heat.
Corner TV Stand with Fireplace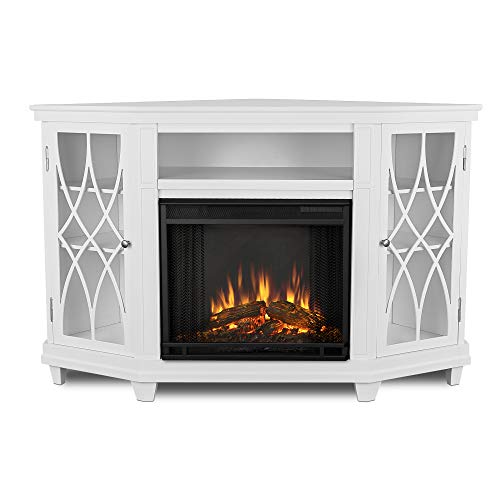 This is a corner TV stand with an electric fireplace that includes a mantel, remote control, TV power cord, heat output of 4,780 BTUs, and must be plugged into an outlet. The wood the product is made of provides designs that will complement your home's décor.
The most notable features of this electric fireplace TV stand are the 1200 watt heat output that can warm up to 1,000 square feet and the adjustable thermostat.
Available in 11 colors, it makes a great addition to any room. Features an electric fireplace with mature veneer sides and a sleek steel front.
FAQ
Are electric fireplace TV stands worth it?
An electric fireplace TV stand is worth it if you want to have a TV and a fireplace in one room, especially if space is limited.
Do electric fireplaces look fake?
A higher-end electric fireplace with an HD LED display can show a very realistic flame. The added sound effects make it even more realistic.
Continue reading:
Disclosure: As an Amazon Associate we earn from qualifying purchases.