Last updated on October 29, 2023
These unique corner fireplace ideas will help you turn a nuisance into a beautiful decor feature. We've designed some really great stuff.
► Go to corner fireplace ideas – skip intro.
There are two case scenarios with a corner fireplace. Either your home has one, and you need to decorate around it. Or you want to install one, and you choose a corner to do it. In either case, the solutions for function and decor are similar.
Indeed, if your house has a built-in corner fireplace, you may have a bit of a problem decorating it. On the one hand, it's there, and it's unmovable, so you can't ignore it. On the other hand, your furniture arrangement is limited because you need to keep considering its place.
We will explore all of these options, ideas, and solutions to the most common problems. Our team has created original designs (not seen anywhere else) to illustrate these ideas and inspire you.
Corner Fireplace Ideas
Living Room with Corner Fireplace
The most common place for a fireplace is, of course, the living room. It's the heart of your home and those times when the entire family gathers around the fireplace are priceless. A corner fireplace is best suited for smaller spaces.
Indeed, our entire article will focus on space-saving fireplace ideas so that you can enjoy it even in a tiny home. Using an empty corner of a room (which is usually a dead space), is a clever solution in all aspects of interior design.
Here are the key things you will need to consider when designing a corner fireplace in the living room:
Deciding on the hearth and the type of the fireplace (gas, wood, ventless)
Decorating the mantel and the facing
Arranging living room furniture around the fireplace
Positioning the TV (as the secondary or primary focal point) – an electric fireplace TV stand would help with this.
We will go over all of these ideas in this article next.
Corner Stone Fireplace
Stone is one of the most popular facing materials for the fireplace. It is the classic decor option that gives your interior a sophisticated traditional look. Here are a few types of stone designs too.
Corner White Stone Fireplace
With white as the dominant color, it's visually light and doesn't entice you with the choice of color scheme. Even modern interiors can use a white stone fireplace for a timeless look.
Gray Stone Fireplace
Gray stone is the most natural color for this material. It has a natural finish and doesn't require additional painting. The earthy tones add empower the coziness of this traditional design.
Painted Whitewash Fireplace
It's worth mentioning that stone as the material is not entirely white, so painting and whitewashing it is often the right DIY stone fireplace solution.
Contemporary Fireplace Designs
We all imagine a cozy evening with the family in front of an old fireplace and a neatly decorated mantel. Come Holidays, hanging stockings on the mantel is a childhood memory that cannot be erased. But contemporary fireplace designs are very different from this nostalgia.
You have your:
Modern Corner Fireplace Design
Modern design features clean lines, a built-in wall look, and often, L-shaped frame. Ventless and electric fireplaces are becoming more and more popular as they are more efficient and leave a smaller eco-footprint.
L-shaped Fireplace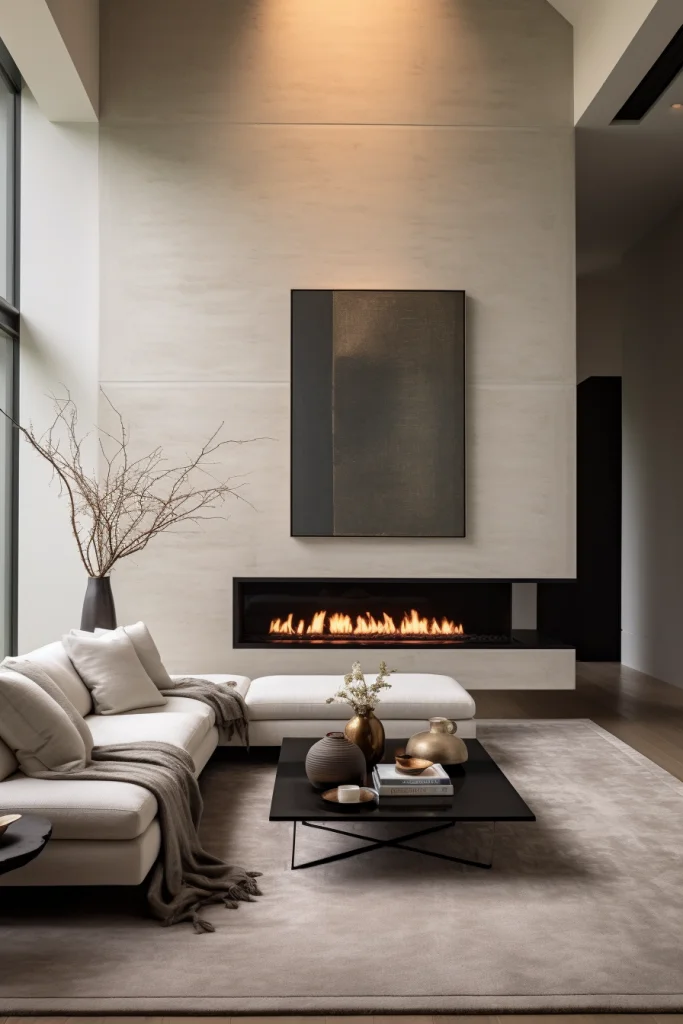 The L-shaped fireplace makes a decor feature out of corners. It's the pinnacle of modern design. If you want to add a feature that makes an impression, this is the design to use.
Mid-Century Modern Fireplace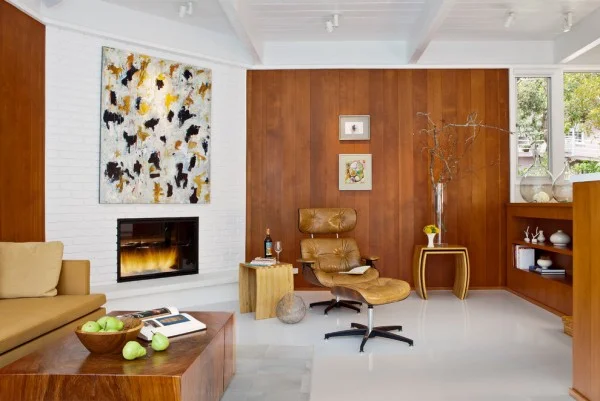 Like everything in this style mid-century modern fireplaces come in clean lines and the added touch of natural wood surrounding it.
Glass Fireplace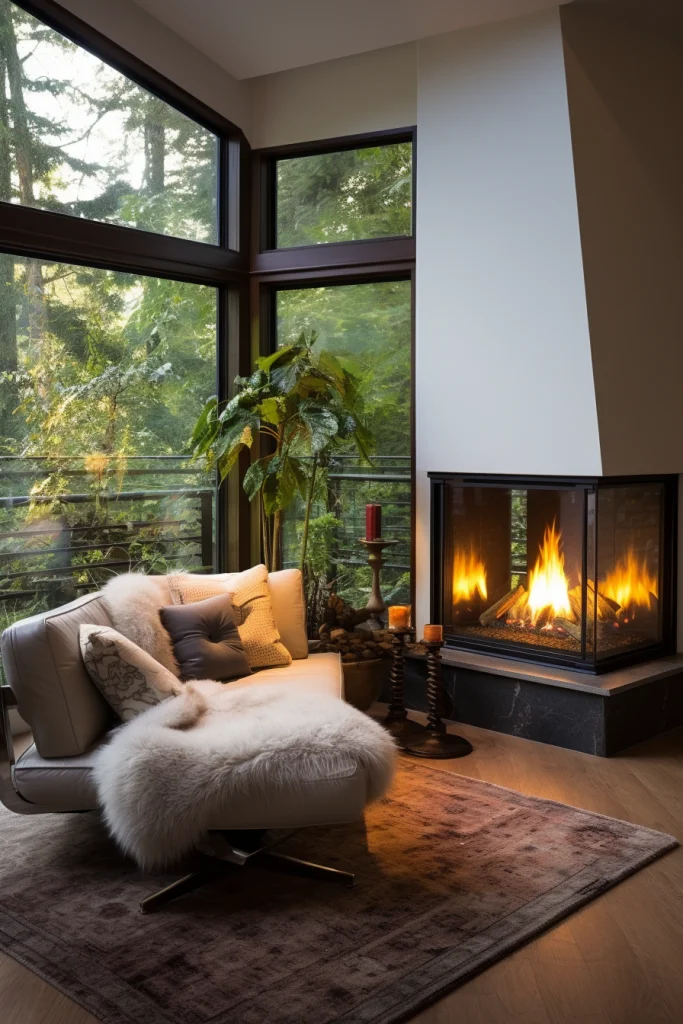 Glass door are a prominent feature of modern design. It especially come through well in corner and L-shaped designs.
Fireplace Wall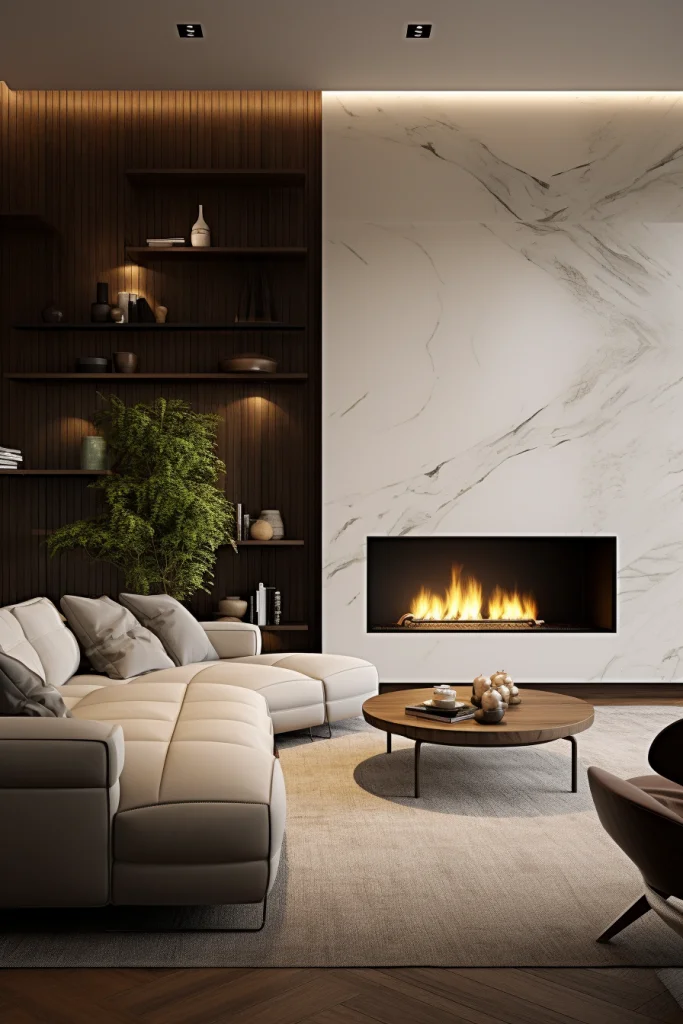 A feature wall is an excellent decor feature in modern interiors. With an added fireplace it turns into the focal point of the room.
Floating Fireplace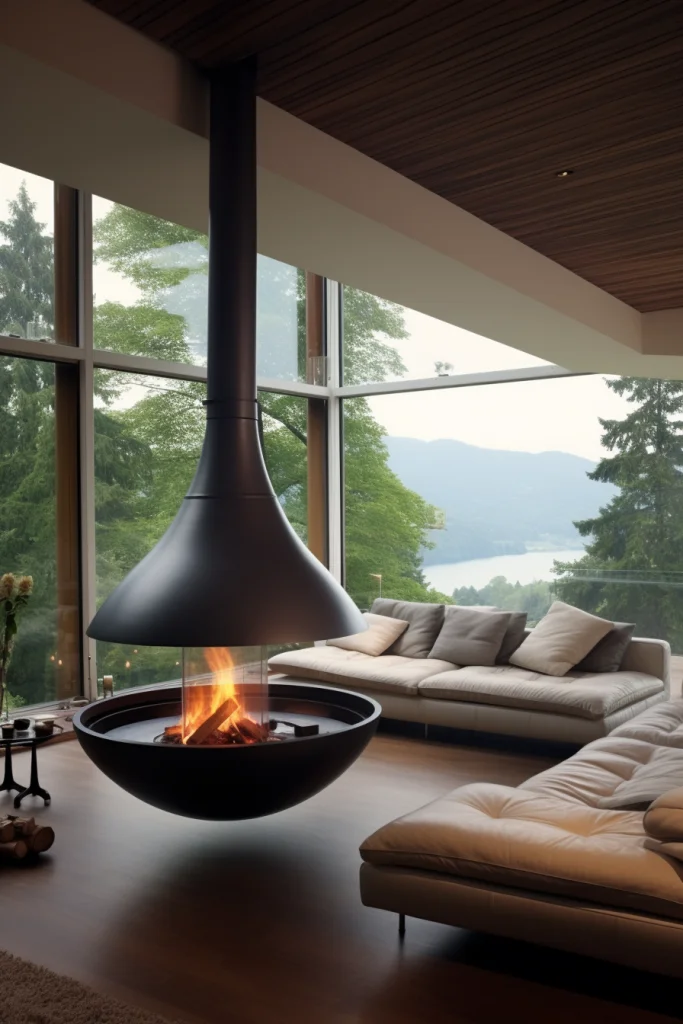 The floating design is futuristic if not modern. It enables you to add the fireplace even in the most awkward corners. And it makes a really interesting feature.
Freestanding Fireplace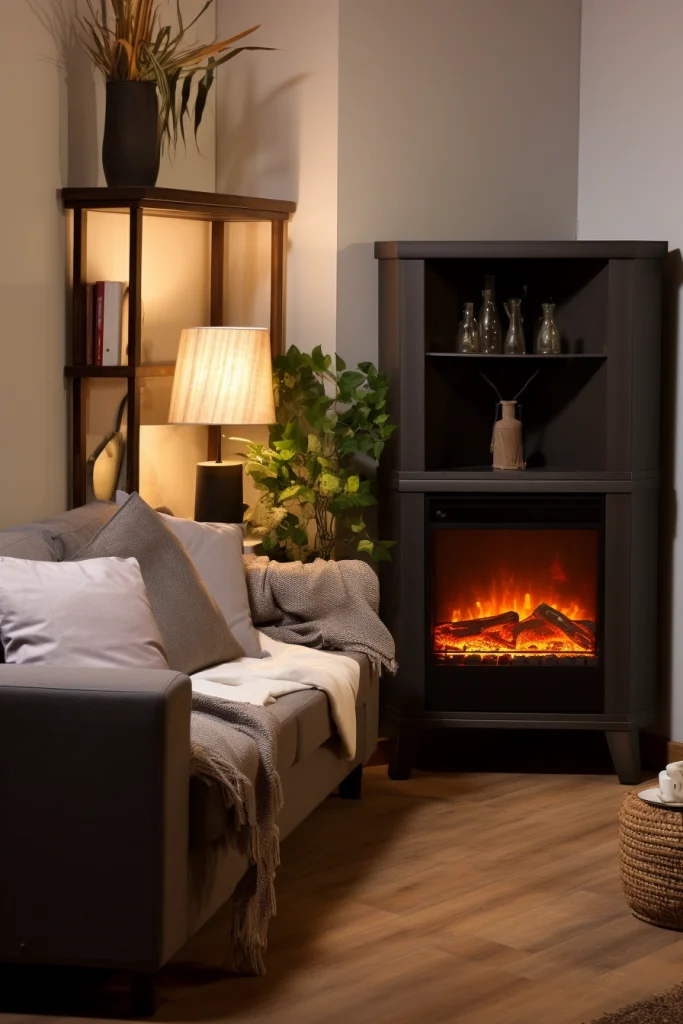 The freestanding option will fit any place in any room. Usually it's the electric solution which can go anywhere where there's a power outlet. The size can vary and introduce a different degree of decor appeal.
Corner of a Room
When we're talking about corner fireplaces, we must not forget that it's all about decorating a corner of a room. It means that all the same design rules apply:
Use shelves and built-ins to fill the space wisely;
Use color;
Hang wall art around it;
Add a TV above the fireplace;
Arrange furniture near it;
Consider floor lamps.
Pictured above: a modern corner fireplace with an accent panel wall. The small space is well used with a bookcase adjacent to the corner and furniture arranged away from the fireplace. This way it's not about the focal point but leaving it in the background.
Corner Fireplace Insert
The insert is a prefab solution that allows you to easily install a fireplace without having architectural planning for it. This means you can use a ventless gas or electric fireplace insert and add it to any wall of your home.
As easy as it is, this corner solution leaves the most room for your decor imagination. Just think of the places where you can use it in your home:
Install it indoor or outdoor
Living room
Bedroom
Guest room
Chimney Decoration Ideas
A chimney is the old-school type of a fireplace and we rarely see it in modern homes. So unless you live in an old house that has a chimney, you will need to get the design by other means.
That aside, the chimney fireplace is a desirable decor feature. So much so that faux designs are prominently available.
Small Corner Fireplace
Any tight corner can fit a small fireplace. This example shows how much value it can provide to home decor and keeping your family cozy and warm.
Small Corner Electric Fireplace
The main benefit of an electric fireplace is that it takes up very little space and it's safe to use. So much so that it can even be implemented in a bookcase or a TV console. This increases the appeal of the modern fireplace even more.
Wood Panel Fireplace
Wood panels are often used to increase the visual appeal of the fireplace in a unique way. It can be done in a modern or rustic style alike.
Pictured above: an accent wall in 3D geometric panels decorating the corner fireplace to create a modern design.
Family Room Design with Corner Fireplace
Just like the living room, a family room is the perfect place for a corner installation. Yes, it can be smaller, but it makes an even cozier nook. Here are some ideas:
Decorate the mantel with family heirloom;
Create a rustic look;
Try farmhouse signs and decor vignettes;
Arrange the furniture facing the fireplace for family gatherings.
Bedroom Fireplace Ideas
The bedroom might seem like an odd place for a fireplace but it's practical when you think about it. And it does wonders to the room's decor. So having an ability to insert a unit just about anywhere in your home (as we've explained earlier), it makes so much sense to add it in the bedroom too.
Here are more ideas for the bedroom:
You can use a fake fireplace if you don't care for the real thing and you're after the purely decorative value.
Built-ins Around Fireplace
With all the space around the fireplace (especially in the corners) you have to be clever about it. With modern properly installed fireplace inserts being safe, you can feel free to add furniture even in close proximity. Of course, wood burning units and older fireplaces require more caution.
These are the built-ins you can use around a corner fireplace:
Shelves and bookcases
Cabinets
Wall units
TV
Corner Fireplace with Shelves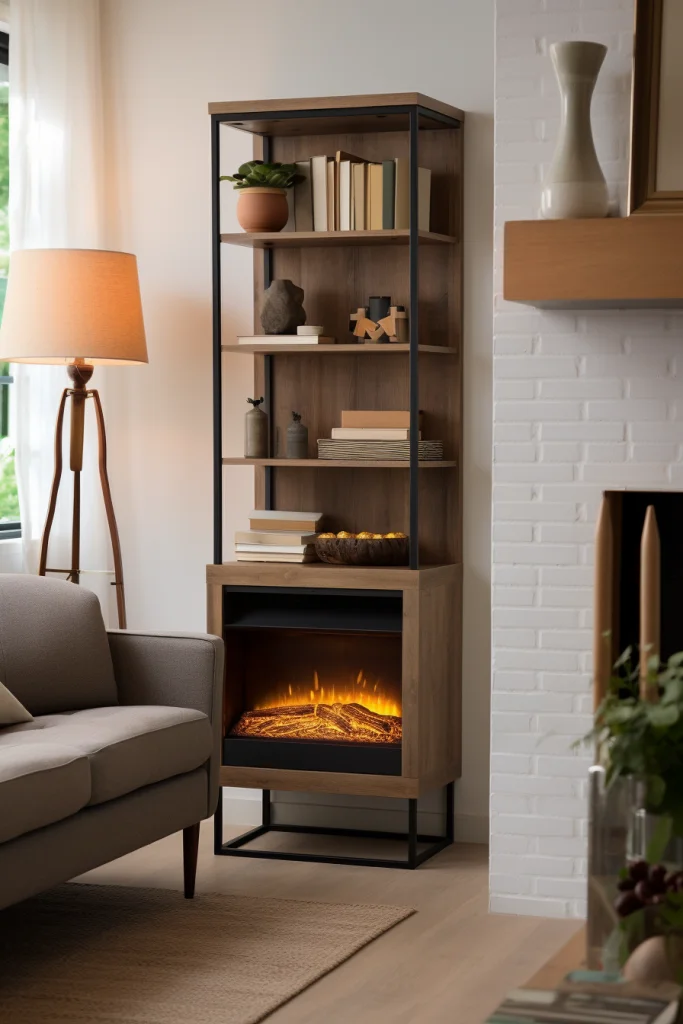 The shelving units and cabinets that come with a built-in fireplace (or space for one) is a modern trend. As technology has evolved to direct the majority of the heat to the room, the unit itself doesn't heat much. This allows it to be inserted into shelves. As such, it becomes a big space saving feature of the good old fireplace even in tiny homes.
Wall Units with Fireplaces
This video features a DIY project for a wall unit that includes an electric fireplace. It's a full entertainment center. So the surrounding space is used to the full potential.
Fireplace with Bookcase
A full bookcase around the corner can serve as the entertainment center in your family room. It's another great use of all the space and a chance to create a decor feature.
How to Decorate a Corner Fireplace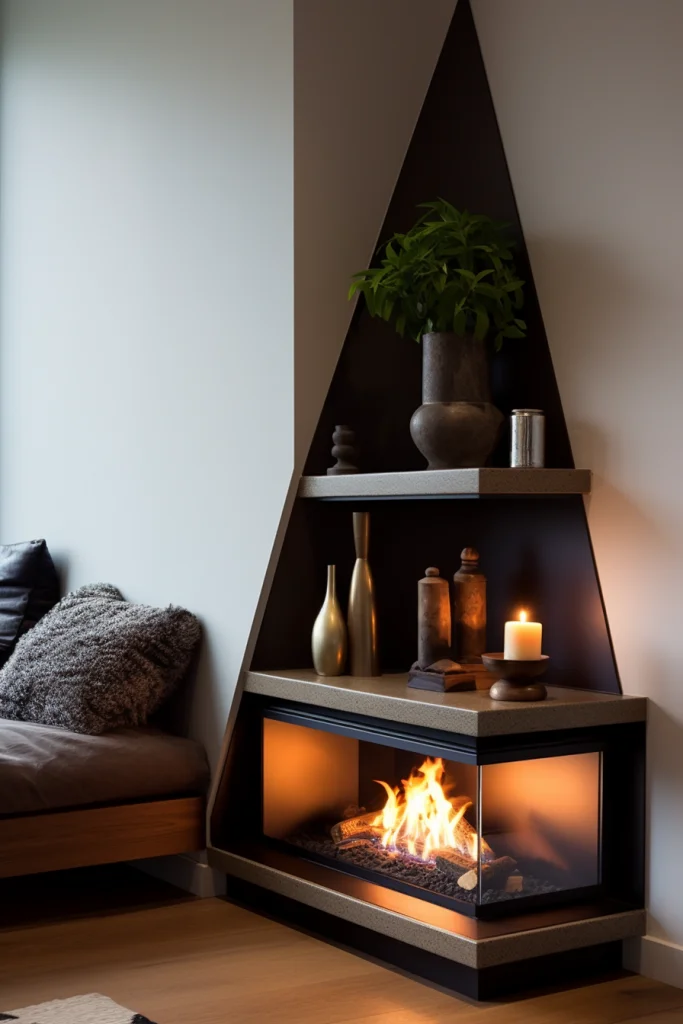 Decorating a corner fireplace consists of two main parts – the facing and mantel. Let's go over these separately.
Fireplace Facing Ideas
The hearth of the fireplace or an insert is just part of the puzzle. How it falls into place in your decor is determined by the facing of it. This is where a variety of materials is available to achieve the look you want.
Stone Fireplace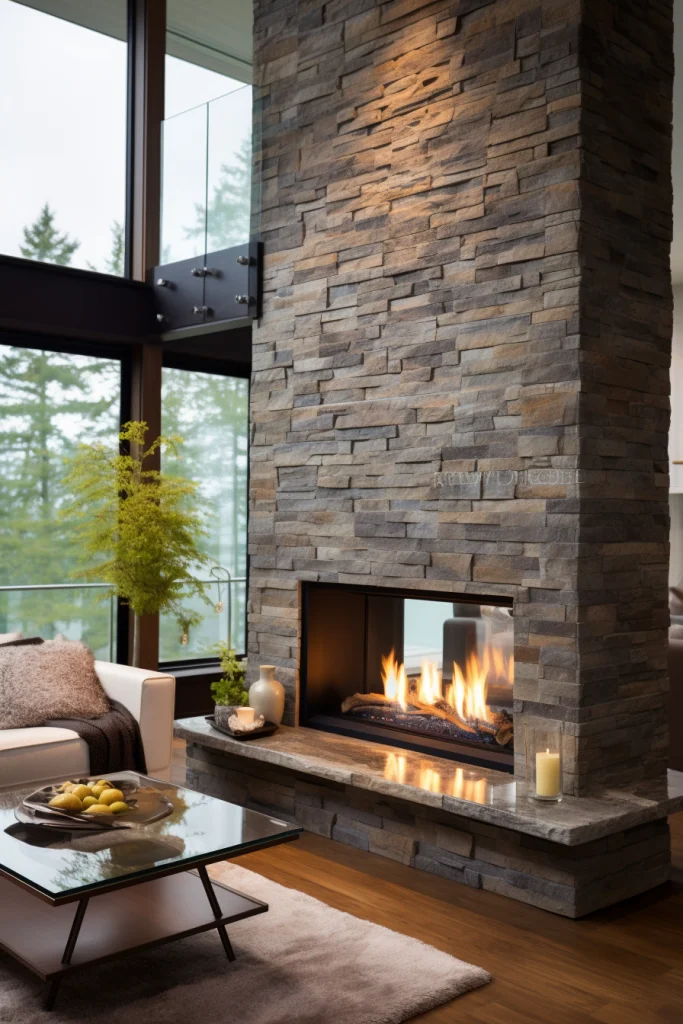 As we've already mentioned, stone is the most popular facing option in traditional design, and it often keeps its roots in modern homes as well.
Brick Fireplace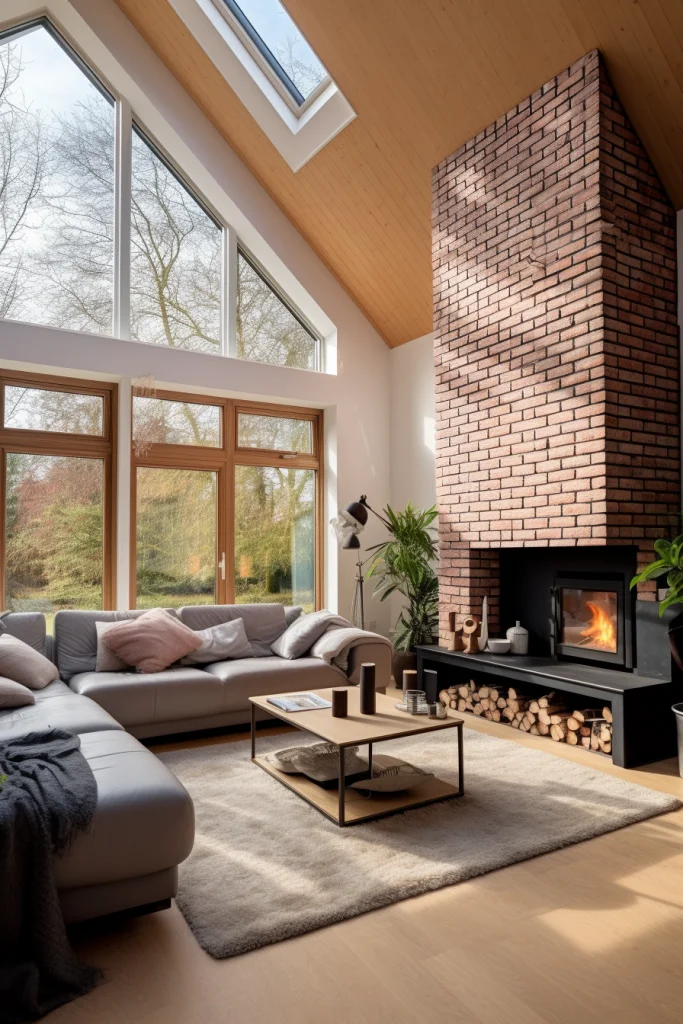 Brick has the old school look and it dates back to being used as the construction material for the fireplace (rather than aesthetic facing). This raw look comes with an industrial vibe in modern design. Chances are, you will use brick tile to get the look rather than building the frame itself. However, if you live in an old house with a fireplace, you might be able to expose that old brick for decor interest.
Tile Fireplace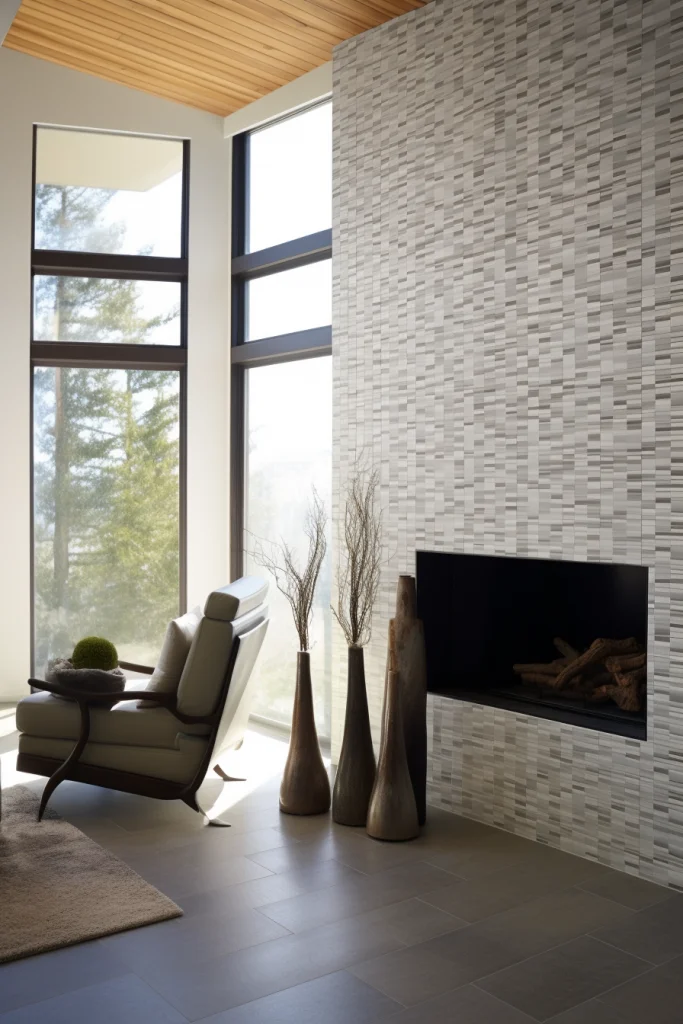 Tiling as the facing option enables us to create beautiful mosaics and make an accent this way. It's a great option to reface old fireplaces and design new alike.
Painted Fireplace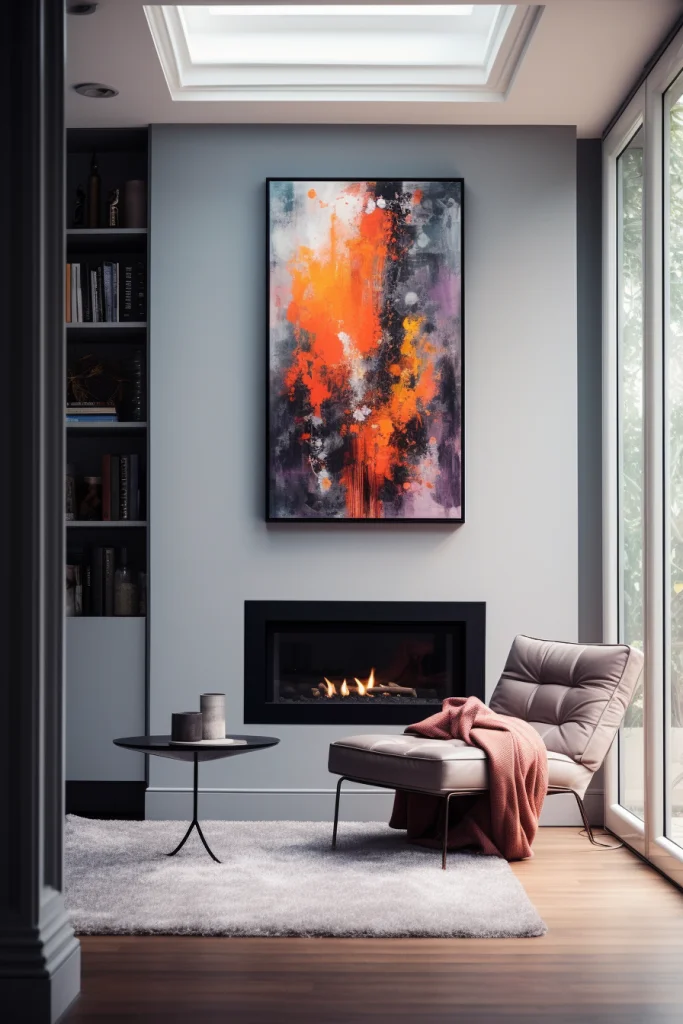 Like most things in the interior, you can paint it for a quick revamp. It's an easy way to experiment and get the exact look you want.
Wood Fireplace Surrounds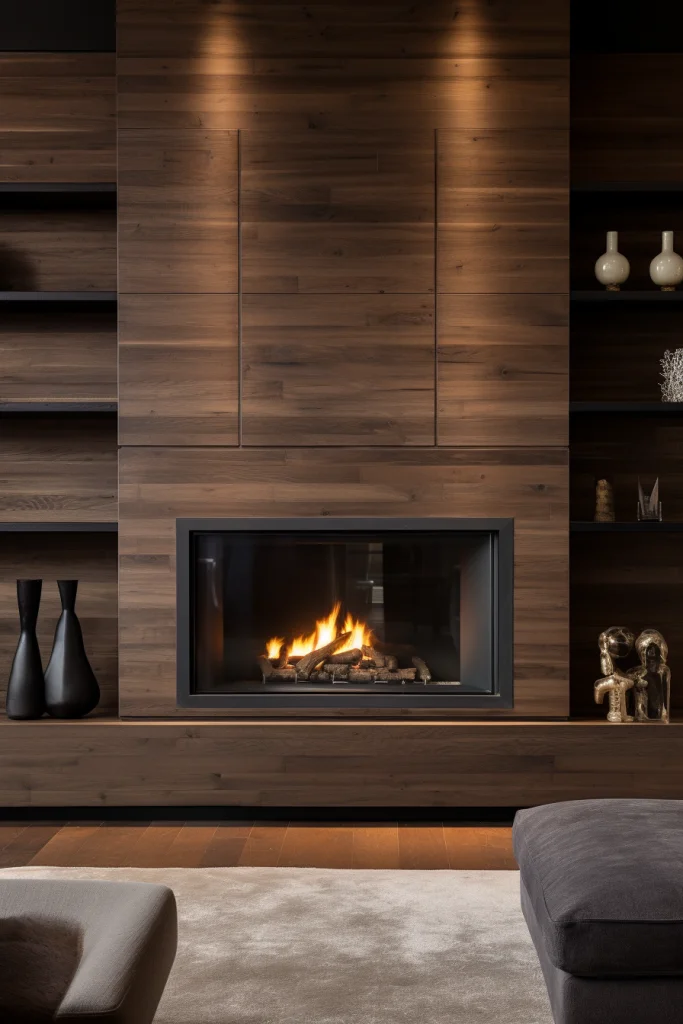 Wood panels are a popular option when it comes to designing the surrounds for the fireplace. The natural look brings two elements together – fire and earth – to create a cozy nook.
River Rock Fireplace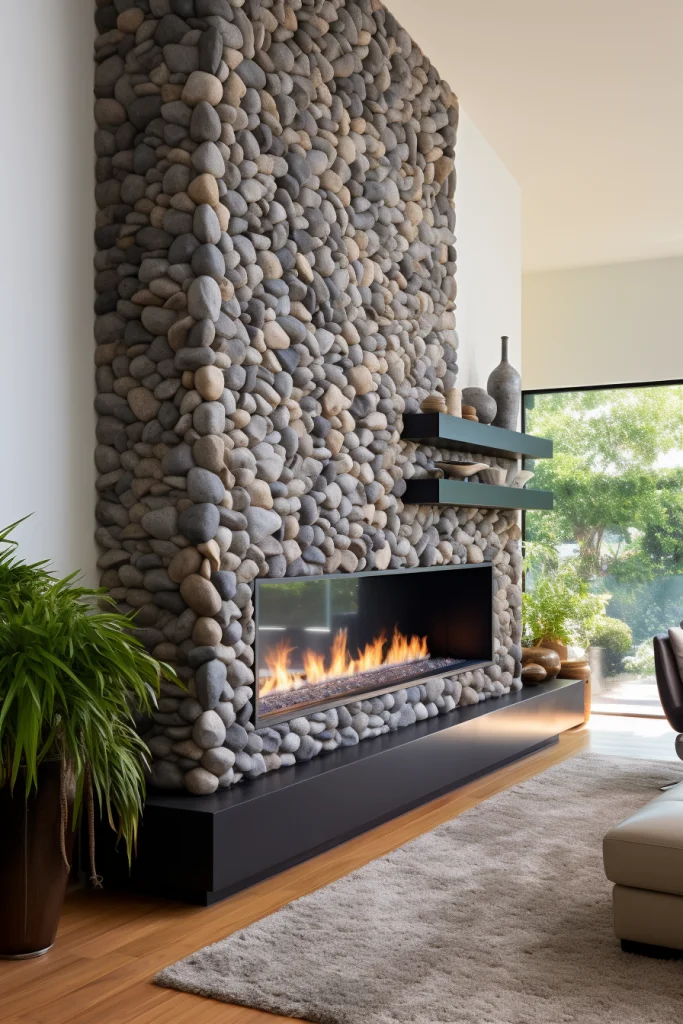 Using river rock to decorate the fireplace frame is a nice way to add an extra accent layer. Unlike traditional stone, the rocks and pebbles become whimsical and quirky, especially if they are juxtaposed with classic decor features.
Corner Mantel
A mantel is the decorative framework of the fireplace and to most of us it's the main part and object of decor. The traditional design style is the embellished frame with a shelf at the top.
Here's how to decorate any mantel in 4 easy steps: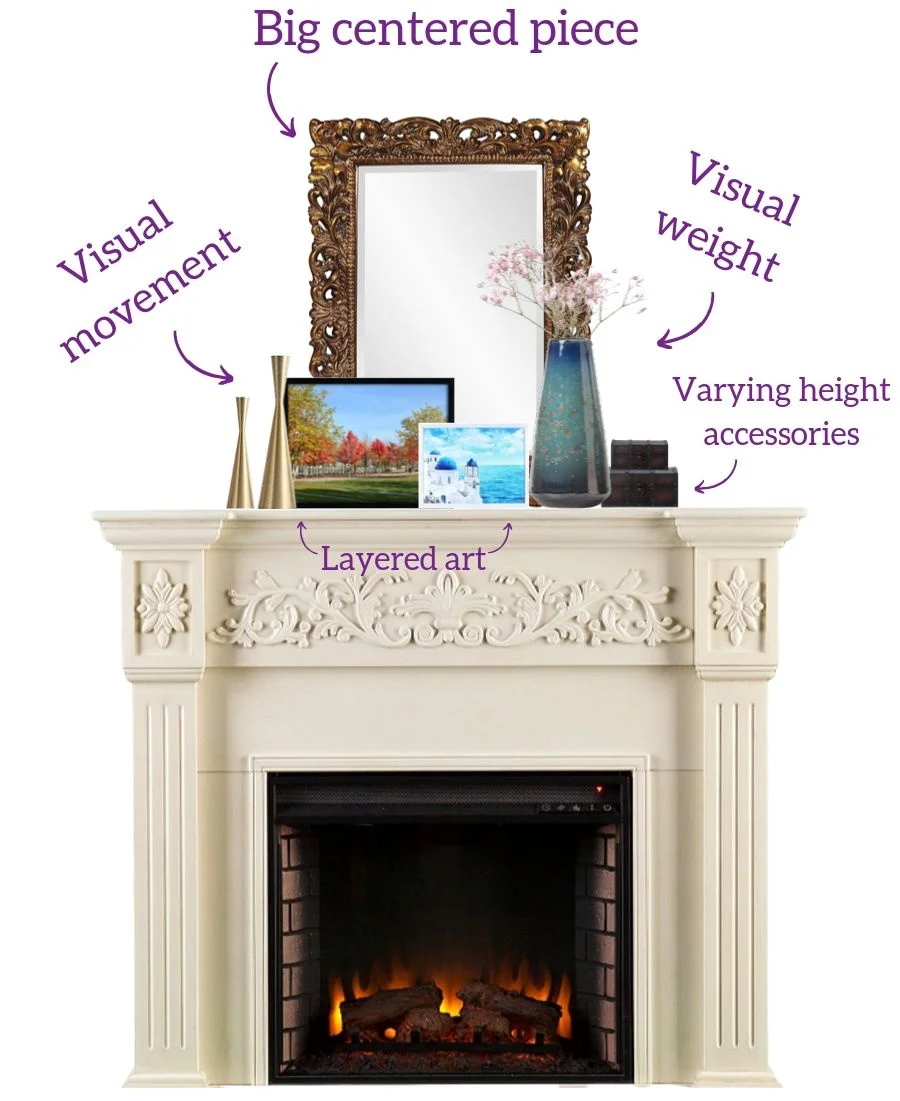 In this diagram:
Center one big art piece or a mirror.
Add another big-size piece for visual weight on one side – a vase with flowers is ideal for this.
Create visual movement on the other side by placing accessories in increasing height. Candle holders or smaller vases work great for this, but you can use any objects of similar proportions.
Layer art and pictures in the middle.
Add more small and varied size accessories in the background.
This will give you a visually balanced and well-decorated mantel every time.
Fireplace Hearth Designs
The fireplace hearth is the most important part of conventional designs. It's the floor base of a sturdy, non-combustible, heath-resistant material (usually stone, slate, or brick). In modern design, with electric and gas options it's much less important and serves a more decorative purpose.
Consider the following fireplace diagram: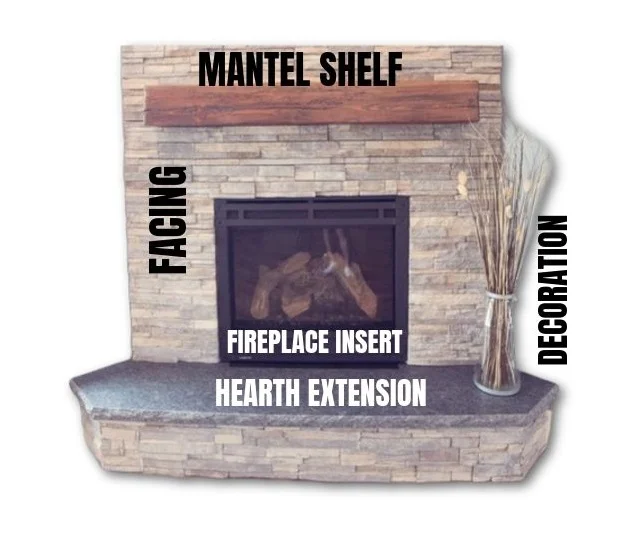 This is a typical modern design with a traditional look. We have the mantel shelf, stone facing, and stone hearth extension. There's is no need for the actual hearth as an insert is used. But the extension (which is used to keep wood and protect the floor) serves a decorative purpose.
This way you can use any material for the hearth, just as you would make any surface. This includes:
Stone
Marble or granite
Wood
Tile
And even laminate
Beware that this doesn't apply to traditional fireplaces where a real heart and its extension are used for their original purpose. In that case, non-combustible material is mandatory.
Fireplace for Small Spaces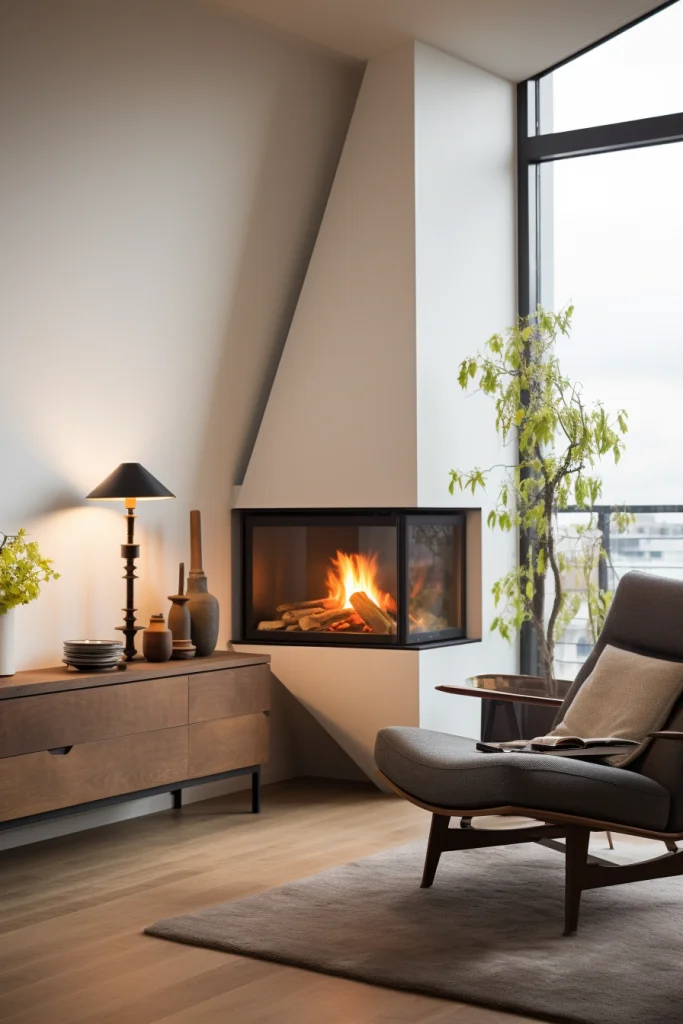 Tiny space is not an obstacle. If you want to have a fireplace in your room, you can get a solution for small spaces. Such small corner units can be electric, gas, and ventless solutions. And while you probably won't manage to squeeze in the wood burning option with a mantel, you can still enjoy the coziness of "open fire" in your home (more so, safely).
Rustic Corner Fireplace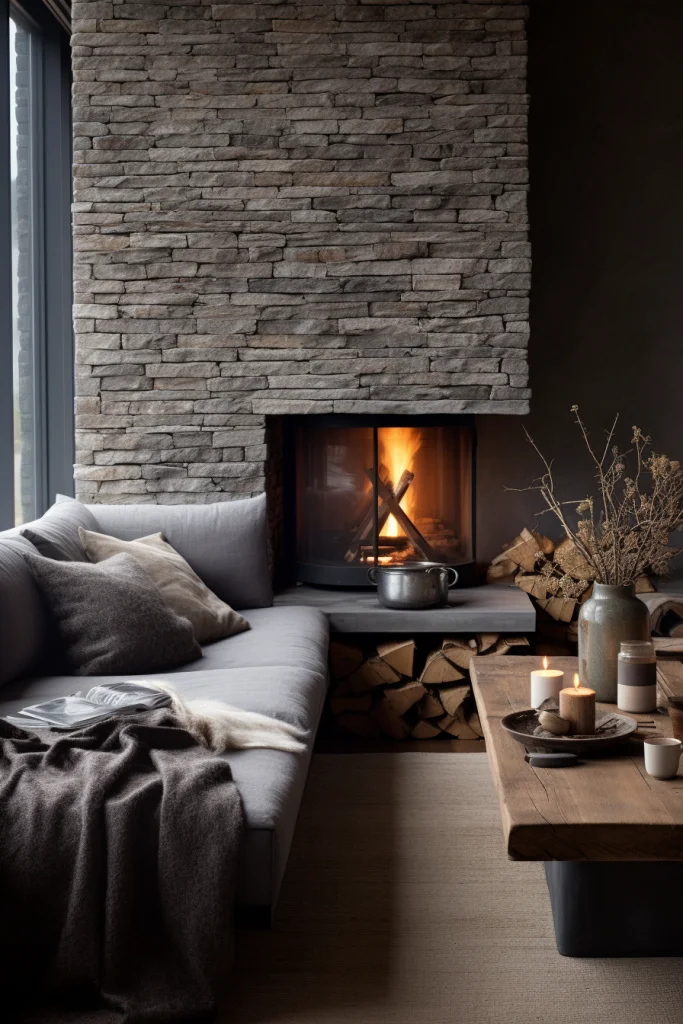 A special mention goes out to the rustic fireplace. We always come back to this style when we're designing a fireplace in a home. Even in modern homes, it makes such a nice cozy feature. How to get the look?
Use faux brick, stone, or rustic wood tile for the facing;
Add a rustic wood block mantel;
Use rustic decor accents, such as wreaths, twigs, dried flowers;
Make space for burning wood (even if it's entirely decorative).
Wood Burning Fireplace Designs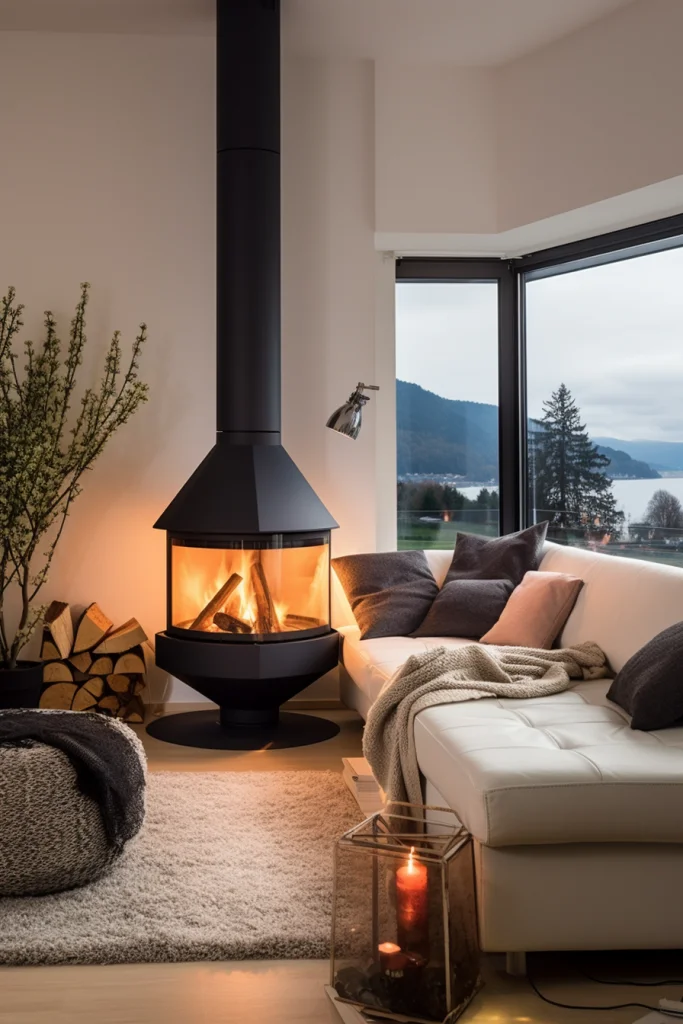 A wood burning corner fireplace is a classic traditional design. You may have one built-in your house, and you can install one (usually freestanding) for burning wood. This option is most desirable in a log cabin type of houses rather than a modern home.
A wood burning fireplace is inefficient as far as heating goes and smoke from wood does pollute the room as well as the environment. It makes sense to use electric or gas options, but in some cases (for example, where cheap wood for burning is available) you may have no other choice.
Here are some design ideas:
Brick for hearth extension
Corner Gas Fireplace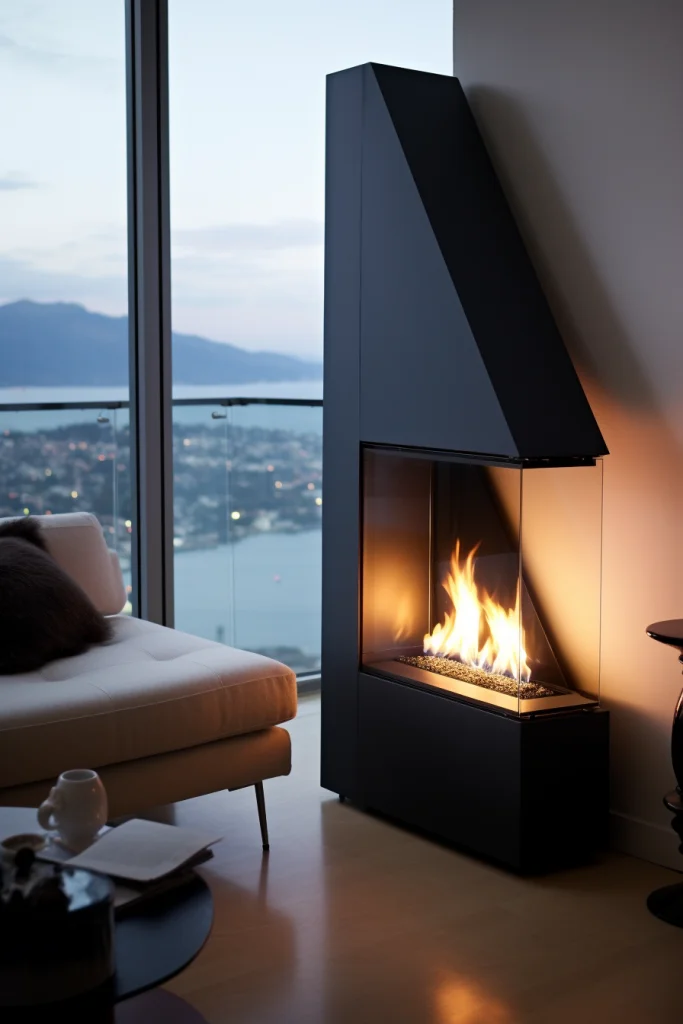 Gas fireplaces provide an easy alternative for corners. Compared to the electric fireplaces they function with a real flame which makes them more appealing aesthetically, more efficient, and environmentally friendly. The downside is they are a lot more expensive.
Why would you use one in your corner? Heating larger spaces with an electric unit may not be enough. If you're opting for environmentally friendly options, you will want to choose this alternative too.
Corner Fireplace with TV Above
Arranging furniture with the TV and fireplace is a well-known design conundrum. We've solved the issue in another article. But a corner provides a different viewpoint. You can and should combine the two and put the TV above the fireplace.
Pictured above: transitional bedroom design with an accent wall corner with a fireplace insert and a TV above.
DIY Fireplace Remodels
Remodel a fireplace to get the look you want anytime with a DIY project. Use our list of ideas and implement any style that suits you. This is one example of how it's done.
Furniture Arrangement with Corner Fireplace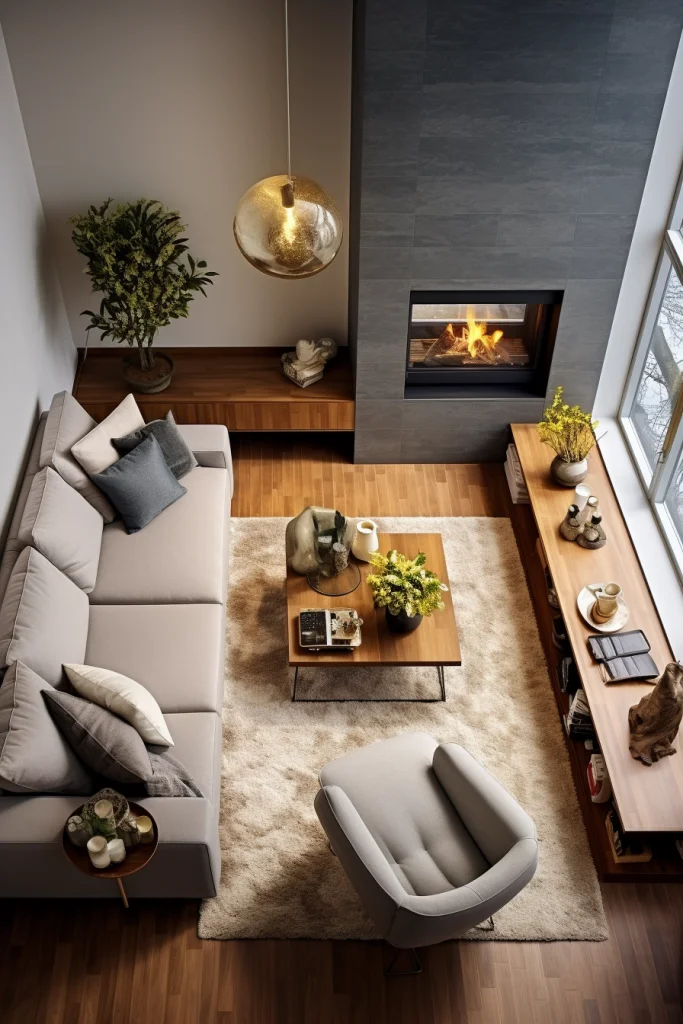 For some people a corner fireplace is a nuisance, for others it's a great change to create another focal point. In either case, the proper furniture arrangement is in order. Here are your main options:
Use it as a backdrop (i.e. ignore it).
Create two adjacent seating areas.
Hang a TV above it.
Hang a TV on an adjacent wall so you have two focal points.
Point the furniture at an angle toward the corner.
Place shelving around it for storage and display.
Awkward Living Room Layout with a Corner Fireplace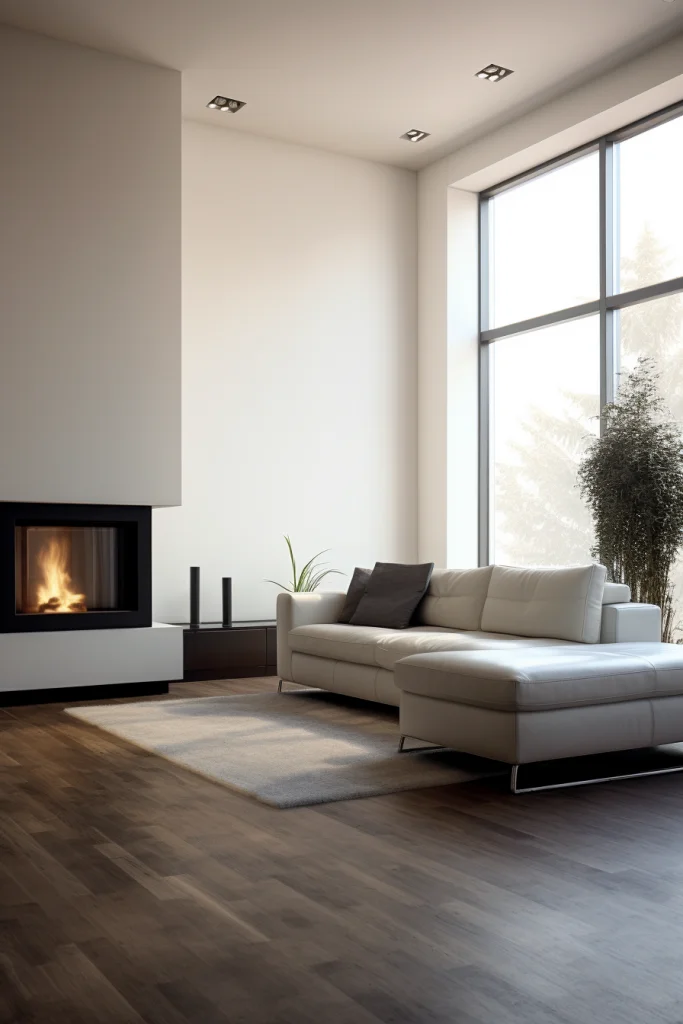 In some cases, the layout is really awkward. So here's one way to solve this conundrum:
Divide the room into areas
Face a small sofa toward the fireplace
Add an area rug
Keep it simple and start from scratch with the corner as the focal point of the room.
Continue reading: