Last updated on March 22, 2021
Looking for a kitchen island to add to your small space? Yes, it's an option. Read on to find out the top-rated choices for your perfect fit.
We used to think that a kitchen island is a privilege reserved for medium to big kitchens. Indeed, a big island is a luxury that you can't imagine having in a small kitchen. But you can have a small island that will not take away from your limited space (or it will be worth it if it does, anyway.)
It's not an easy choice and you have to make some sacrifices if you're going to bring such a unit into your tiny kitchen. But if you keep things functional and with multi-purpose use, you can actually pull this off. We are committed to helping you.
How do you choose the ideal kitchen island for small spaces?
Here's what you need to think about:
Is the island going to be moved a lot? It may need to be a rolling cart on wheels.
How much storage space do you want?
Do you want closed storage (cabinets) or an open rack?
What about the countertop?
And last but not least, what will it do to your kitchen design and decor?
While you're busy considering the perks of a small island, keep an eye on the things you need to watch out. There are some common pitfalls you will need to avoid.
What do you need to watch out for?
The sturdiness of the tabletop (if it's going to be used heavily.)
The height of the unit and if it suits your needs.
Mobile carts can be wobbly.
Ready to make your choice? These are our well-researched picks for the best kitchen island for small spaces. They represent a few different categories so you can choose based on your needs. Do note that we will be compensated for qualified Amazon purchases (with no expense to you whatsoever.) This is indicated by #ad.
Which one of these units will fit in your kitchen?
What's Inside
Kitchen Cart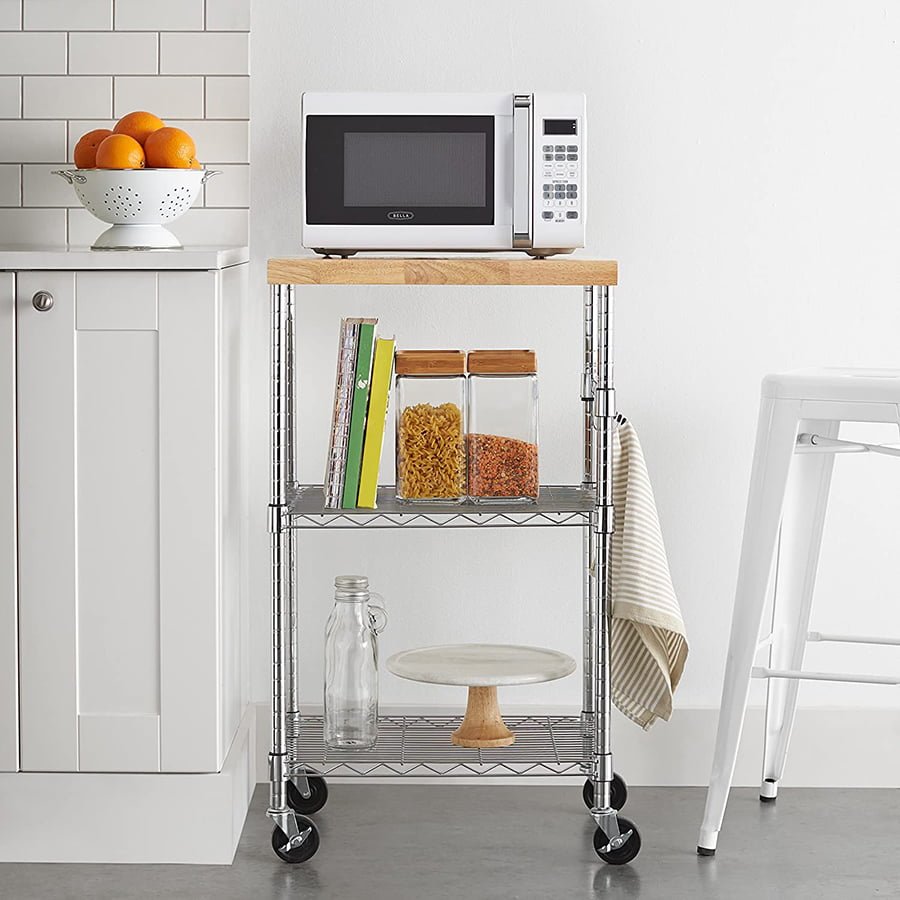 Even though this kitchen cart is advertised as a microwave cart, we can see beyond that. Such a small cart can work as the ideal kitchen island in a tiny space. And you don't have to keep a microwave on top (unless you have to) – use it as another countertop.
Pros: made of chrome-plated steel with a removable wood top; no tools required to assemble it; has roomy and stylish storage space; adjustable shelf height; has 4 hooks for hanging storage; it has robust wheels to move around the kitchen.
Cons: the wooden top is too fragile for heavy use and smaller than the stated dimensions.
Rolling Kitchen Island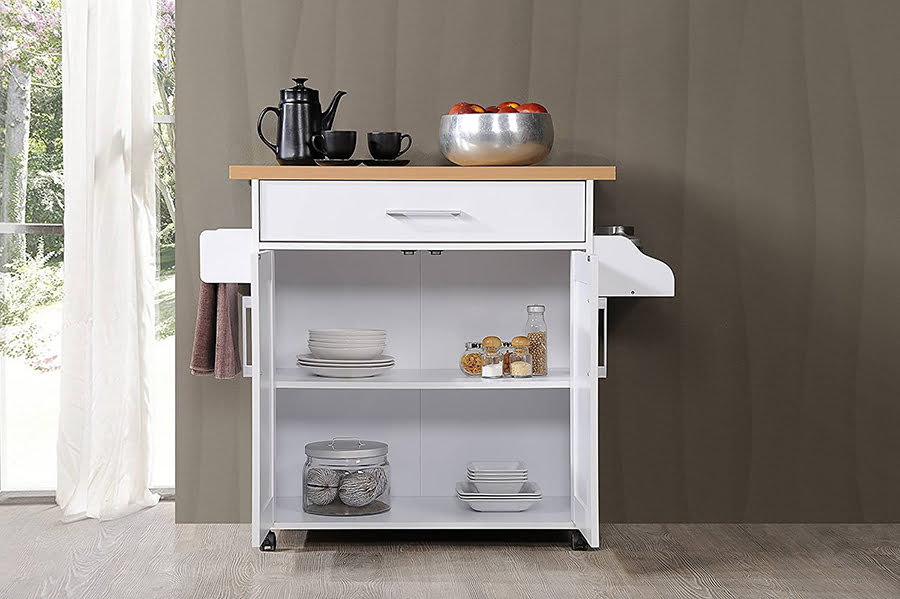 Moving on to a small kitchen island that can be positioned in any free space you have. Essentially it's a free-standing cabinet with a countertop. It comes with all the benefits and drawbacks of a cabinet.
Pros: the drawer is wide and deep which is very useful; it glides smoothly; perfect for extra counter and storage space; works well and seems very sturdy.
Cons: a bit hard to assemble; the holes were not pre-drilled.
Portable Kitchen Island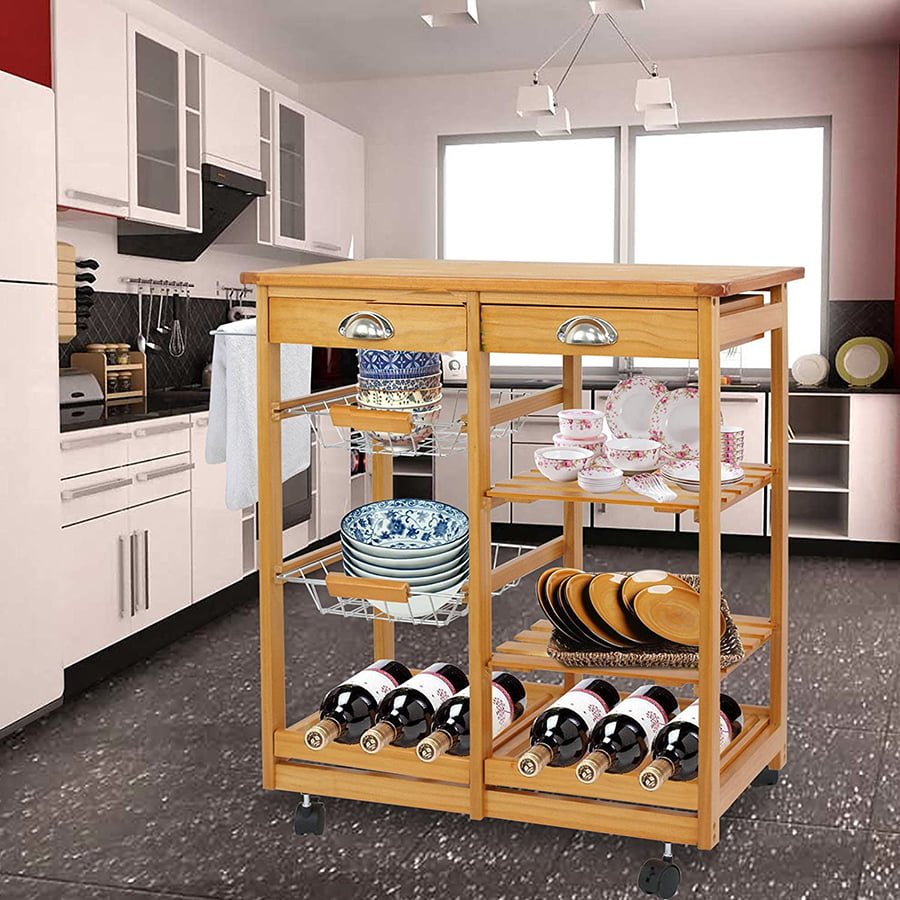 A small kitchen usually requires being able to move the island for functional use. Especially if it's a bigger unit. Having it on wheels helps.
Pros: made of solid wood and high-quality materials; very durable and sturdy; has removable metal baskets for easy cleaning, loading, and unloading; lots of storage space; drawers are large enough to hold full-size silverware.
Cons: this cart is not that tall.
Small Kitchen Island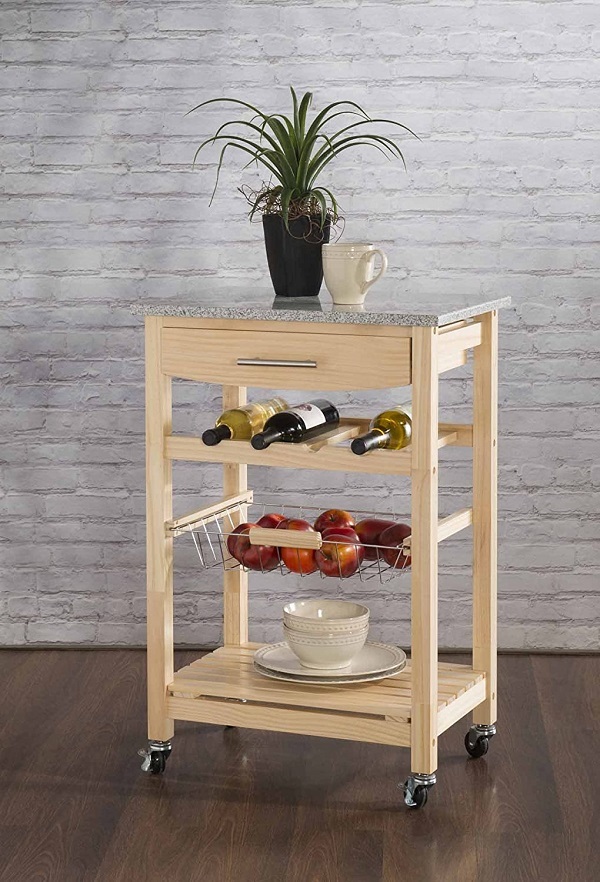 It's a small modern and mobile kitchen island for limited spaces. The granite countertop makes it a functional counter, even though a small one.
Pros: granite top with solid wood frame; well built and sturdy table; easy to assemble and all the holes lined up perfectly; great for places with limited space; the cart rolls smoothly.
Cons: assembly can be tricky, especially with the drawer and the basket.
Kitchen Island Table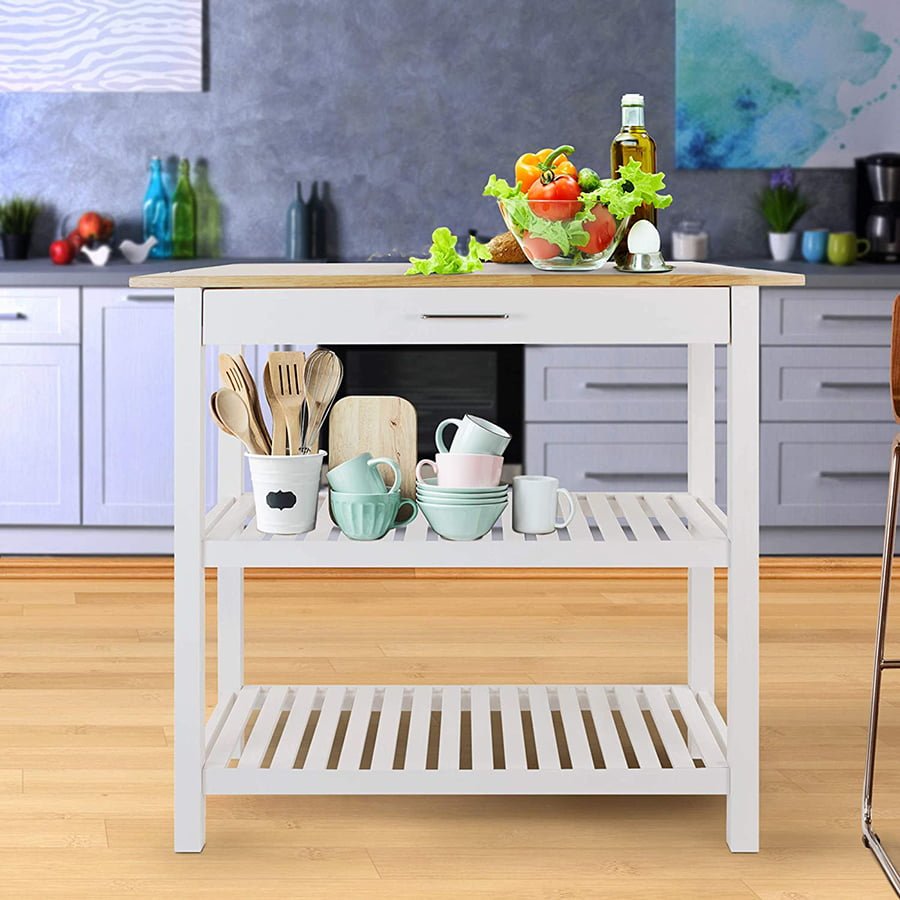 A solid wood table for a kitchen island is an attractive option. It doesn't take a lot of space (which is key) and it can double as a dining table or a bar if needed.
Pros: solid wood top; easy to assemble; has 2 shelves for storage; perfect add on to a small kitchen with limited counter space.
Cons: it is not that sturdy for heavy use; drawer is not quite deep enough for storage.
Stainless Steel Kitchen Island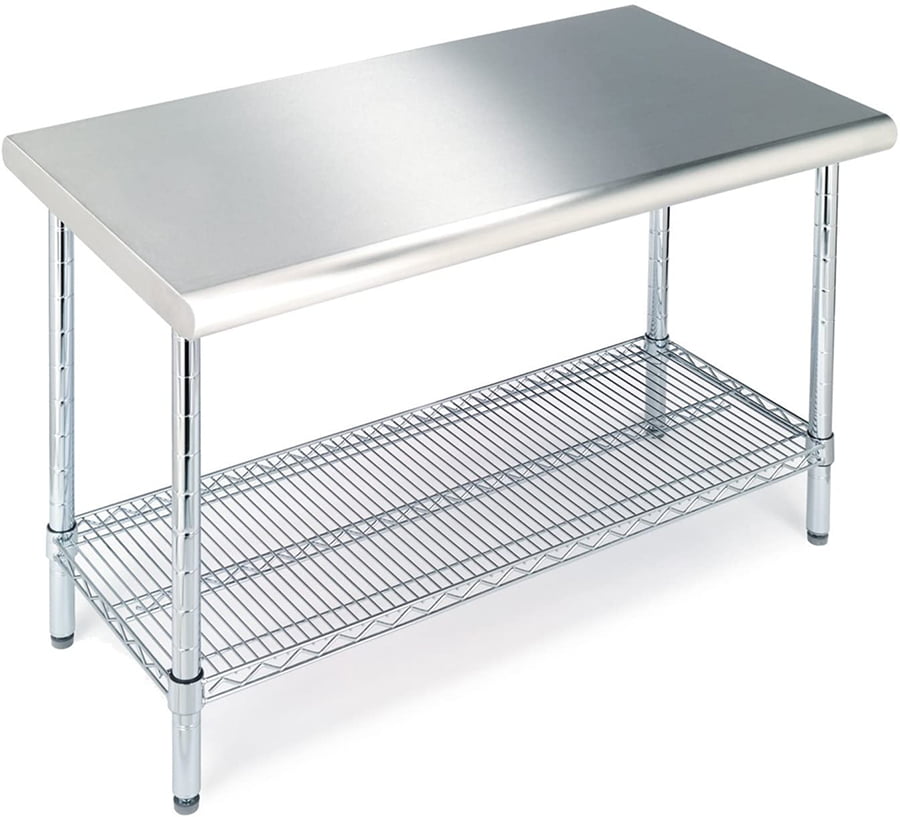 A steel island comes handy when heavy use is going to take place. It's a commercial-grade product so it's built to be durable.
Pros: designed for heavy-duty use, up to 1000 lbs; curved table edge creates a safer and more versatile workspace; with padded, adjustable leveling feet for extra stability and security on smooth surfaces.
Cons: the steel tabletop will scratch; it's a little wobbly.
Farmhouse Kitchen Island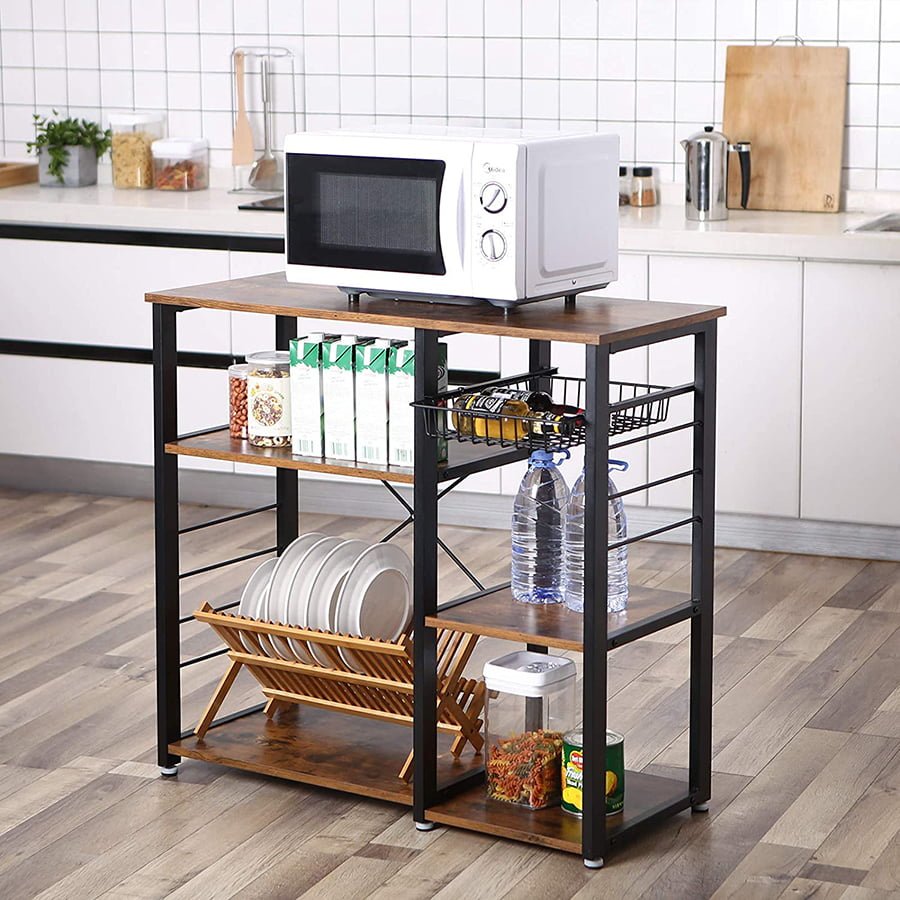 Farmhouse style is all the talk so if you're getting a small kitchen island for an accent, get one that you can put on Instagram and Pinterest. The rustic wooden top and metal frame makes it an appealing rack.
Pros: it is very sturdy and has a lot of storage; the wood isn't flimsy and has good quality; adjustable feet make the table easy to balance; very easy to put together and holds exactly what it needs.
Cons: not a real wood; instructions are a bit challenging.
Butcher Block Cart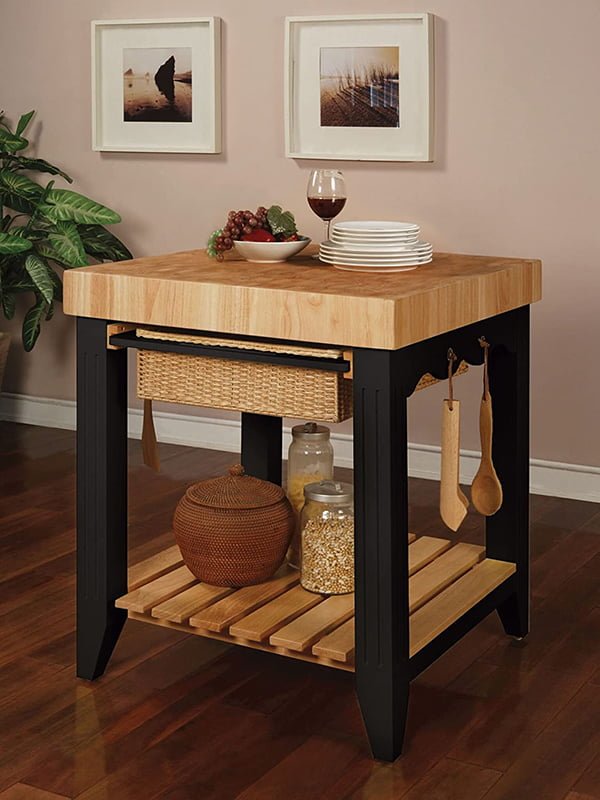 Butcher block is a solid wood countertop that is both, durable and visually appealing. So even if it's a tiny island like this unit, it has a lot of value functionally and decor-vise.
Pros: it's gorgeous, heavy-duty, and sturdy; perfect island for small kitchens in older homes; it offers decent storage; the drawers are deep and perfect for linens and hot pads.
Cons: bolts stripped easily with a very minimal amount of pressure which makes it unstable.
Narrow Kitchen Island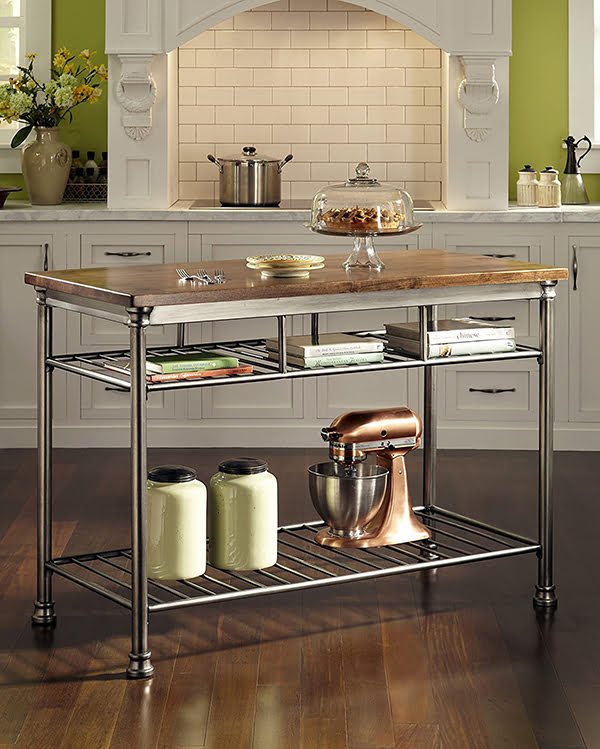 A narrow island can run against a wall or it can be positioned in a galley kitchen for functional counter space and storage. This unit has a rustic and industrial appeal with a wooden top and steel frame design.
Pros: it has 2 fixed shelves for storage; levelers on the feet for added stability; the legs and shelves have a brushed nickel look that is classy; multifunctional and very sturdy.
Cons: not designed to be used as a cutting surface.
Kitchen Island with Storage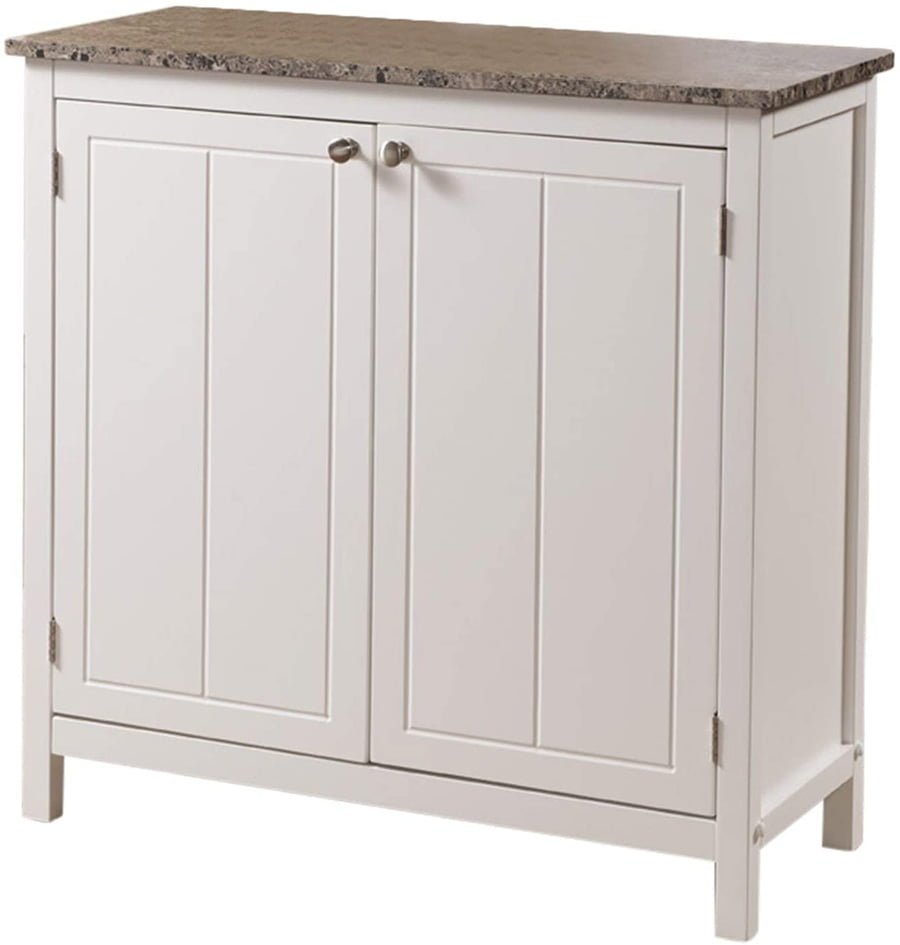 If extra storage is important (it usually is) then a cabinet is an excellent option for a small island. Consider it as a decent option for a standalone cabinet and an island.
Pros: well built, sturdy, and easy to put together; ideal for small spaces; fits a pretty big coffee maker.
Cons: faux marble top.
Continue reading:
Disclosure: As an Amazon Associate we earn from qualifying purchases.