Last updated on April 27, 2023
Have a hard water problem? Get a kitchen sink for hard water that's resistant to mineral build-ups and stains. These are the best sinks.
Which one's the best of the best? We chose this Kraus enameled stainless steel sink.
No matter how often you clean it, even if your rub the sink after each use, hard water will leave stains and even promote corrosion of the kitchen sink. You can install a water filter for the faucet, or you can choose a sink that's resistant to water stains and corrosion.
Frankly, an under-the-sink filter costs a lot less than a new sink. But you're not looking for a filter if you are getting a new sink anyway, are you? So this list is for those that are shopping for a lovely new kitchen sink. And lovely we've got.
What's the deal with hard water anyway? The problem is the mineral content in this kind of water. It causes build-ups in pipes and on the sink's surface over time. If the latter is untreated for stain and corrosion resistance, you will have an ugly sink. It's not so much about the material of which the sink is made as of the surface treatment for durability.
And anyway, most sinks resistant to hard water effects are so gorgeous that you'll want one no matter what.
This is our top pick and nine other terrific sinks for you to ponder. We have included shopping links for you. They may earn a commission for us, but it doesn't cost you anything.
What's Inside
Kraus Enameled Stainless Steel Kitchen Sink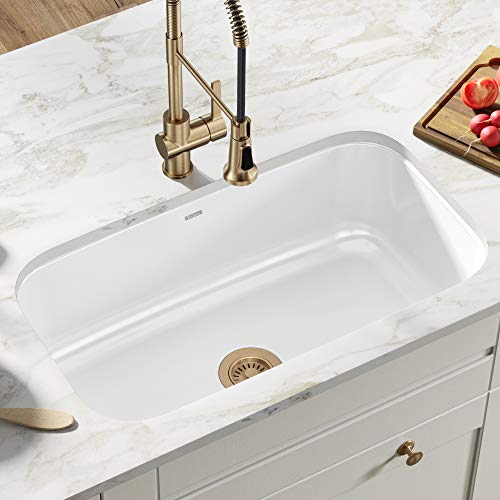 This sink is our editor's choice for hard water resistance. It has also made our best undermount kitchen sinks list. And here's why.
This timeless cast iron sink is ultra-heavyweight and highly durable. Resilient stainless steel inside. The enamel finish is a highly lustrous and beautiful, fire-baked coating that's virtually indestructible. It locks in a beautiful color, and it's high-quality shuns scrapes, chips, and scratches.
This sink is intelligently designed with extra-thick rubber padding to provide optimal sound insulation. It also has a protective foil layer to have a noticeably quieter kitchen. Extra-easy to clean corners are generously curved for a classically inspired look.
Quick facts:
Cast iron look but 65% lighter.
Resists temperatures up to 1500 C.
Stainless steel core finished with brushed porcelain enamel.
Surface treated for stain, heat, and scratch resistance.
Stain resistance – easy to clean. No spots from hard water.
Lifetime warranty.
Kraus Forteza Granite Double Bowl Kitchen Sink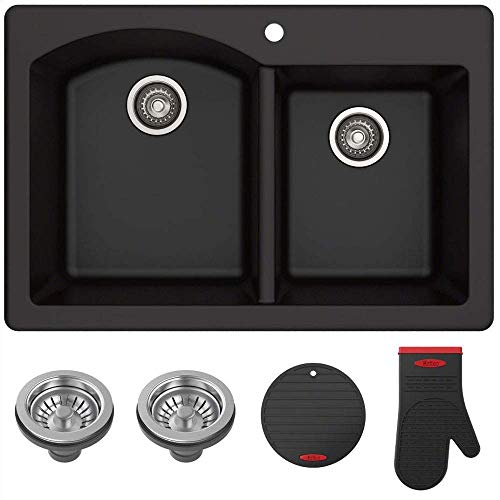 Forteza kitchen sinks offer both strength and beauty. With this premium granite composite, quartz blends with acrylic resin for maximum durability and the look of natural stone. A proprietary manufacturing process ensures even distribution of this material for maximum resistance to thermal shock and damage from dropped items.
Sometimes, kitchen appliances can be messy. But the built-in grates on this sink make cleaning them easy. Why? Because they're colored all the way through, giving you a rich and consistent hue that is enhanced with an antibacterial surface that repels stains and is heat-safe up to 650° F to protect against hot cookware. The versatile dual mount design enables drop-in or under-mount installation for seamless integration with any countertop.
Quick facts:
Includes an installation kit.
Sink dimensions 33" length x 22" width x 9.5" depth.
Granite composite material.
Resistant to heat (up to 650° F) and water spots.
Ruvati Drop-in Granite Double Bowl Kitchen Sink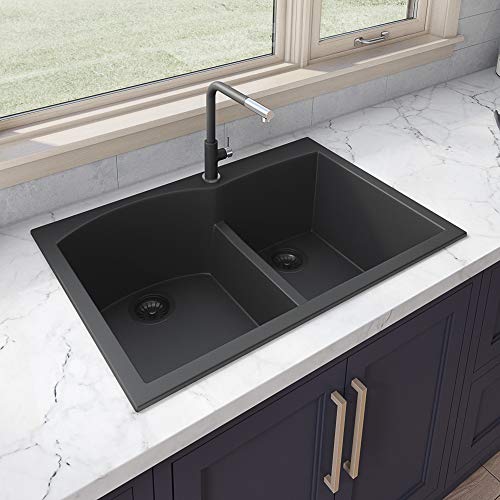 This sink is made from composite granite. 80% of it is crushed natural granite. The other 20% is made from a proprietary resin that will not absorb moisture, oils, or food fats like other sinks. This sink is also heat resistant up to 650 F degrees and has low divider walls to fit larger items like the biggest pots and pans.
The finished composite stone surface means it's easy to clean. Non-porous and hydrophobic qualities ensure that it won't be prone to bacteria or mildew. Furthermore, it makes sure that the sink drains perfectly, leaving a spotless surface.
Quick facts:
Dimensions of 33" length x 22" width x 9.5" depth.
Made of composite granite, and deep color treated for stain resistance.
Drop-in top-mount installation.
Can withstand temperatures up to 650 F.
Lordear Black Stainless Steel Farmhouse Sink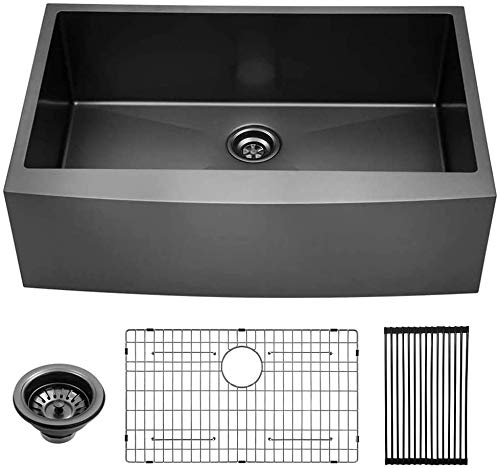 This apron-front sink with a metallic black finish is easy to clean, water-resistant, and holds up to high heat. This sink has a distinctive X-shaped ramification on the bottom, acting as a smart diversion for water. If a blockage occurs, this drain can easily be cleaned and cleared without the need for special tools. It has a high-temperature resistance of 1000 C, which means it won't fade in harsh weather.
Farmhouse apron-style design.
None brushed steel surface.
Multiple sizes are available.
Heat resistance up to 1000 degrees C.
Monarch Abode Hammered Copper Single Bowl Kitchen Sink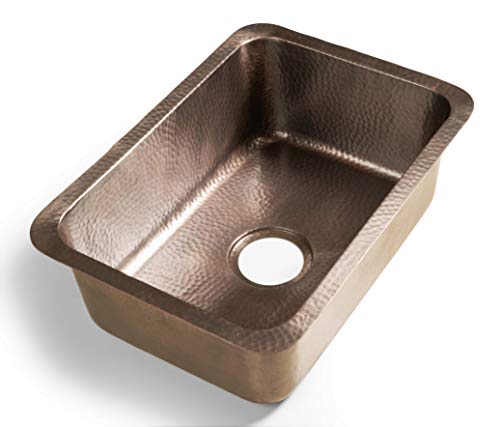 Monarch Copper's Dual Rim allows you to choose between two options for your sink: Under-mount installation or drop-in. Its texture will darken over time as it reacts with water and air. The gorgeous handcrafted look makes it perfect for any kitchen.
It's a well-made and heavy copper sink with a unique design. This is one of the better quality sinks we've seen at this price range. Our only constructive criticism is that it would be helpful to provide more accurate dimensions — an actual drawing of the sink would help significantly with fitting it into the space made for it.
Quick facts:
A choice between drop-in or under-mount installation.
Two sizes available.
Handcrafted design.
Made of pure copper.
Delta Granite Composite Kitchen Sink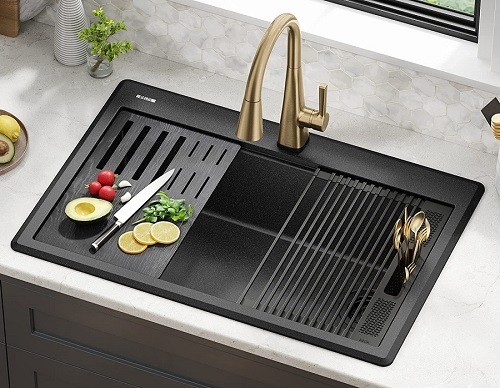 Choosing between under-mount and drop-in sinks is a common dilemma for homeowners. For example, quartz, butcher block, laminate, granite or solid surface countertops are all excellent materials that meet these criteria. This sink includes an installation kit for drop-in installation.
This tough, sturdy sink withstands temps of up to 400 degrees F. It's totally safe to clean with commonly used chemicals.
Quick facts:
Sized 33 by 22 by 9.63 inches.
Made of granite composite.
Top-mount installation.
Heat-resistance up to 400 F.
Stain and corrosion resistant.
Surface treatment repels water stains.
Sinkology Farmhouse Fireclay Kitchen Sink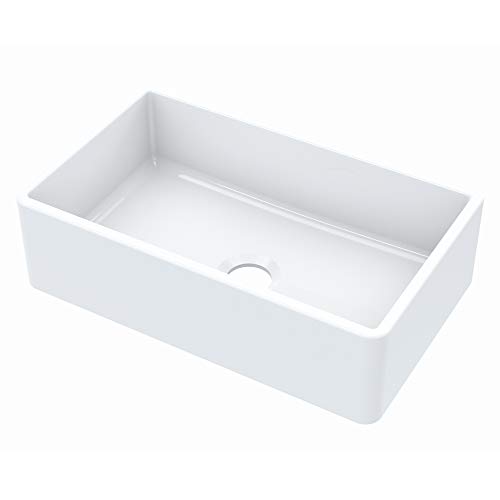 Handcrafted from fireclay, this sink features a smooth, flat surface extending from your counters and wrapping around to create soft, gentle curves for a refined centerpiece in any kitchen. The crisp white color blends seamlessly with all of your other surfaces. Sinkology selected its fireclay material for its ability to withstand everyday life.
Quick facts:
Made of fireclay.
Farmhouse (apron) style.
Sized at 30 by 18 by 8.5 inches.
Kohler Neoroc Composite Kitchen Sink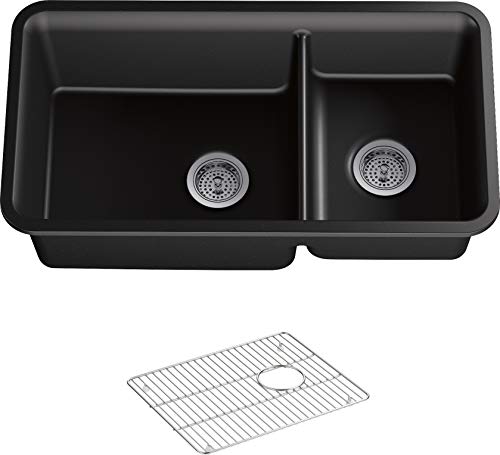 The sink's soft curves provide an elegant, contemporary style that suits all types of kitchens. High quality, beautiful Neoroc composite material makes this sink durable and resistant to scratches, heat, and impact. The highly pigmented composite color complements all countertops for a fresh style that fits in with any home.
Quick facts:
Custom Neoroc composite material designed for durability.
Multiple finishes available.
Stain, heat, and scratch resistant.
Blanco Metallic Gray Undermount Kitchen Sink with Colander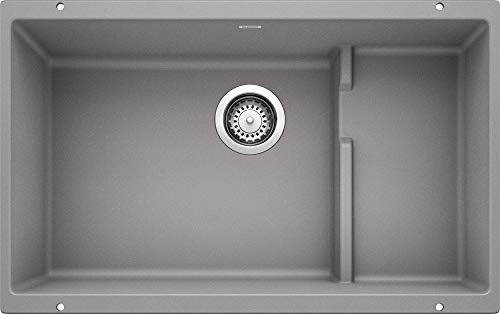 Great size, great color, great function. It needs to be sprayed to get everything into the drain, but we love the look and function of the flat bottom. The raised shelf can hold just about everything without blocking the flow of water.
Quick facts:
Made of Silgranite composite material.
Flat bottom.
Includes a stainless steel colander.
Elkay Quartz Greystone Double Bowl Undermount Sink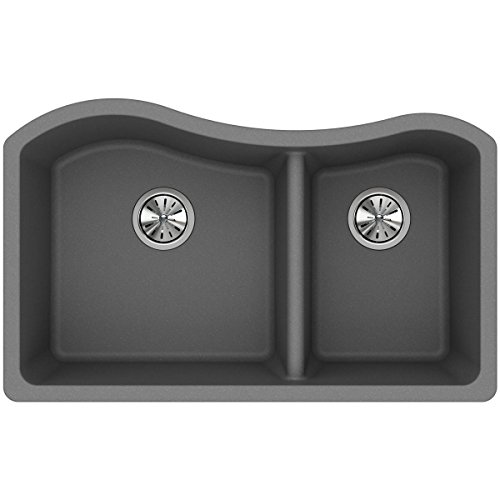 These beautiful and interesting sinks have a cool and natural structure that invites you to touch them. With their neutral colors, they'll match any home décor, no matter what your style or pattern. Made from high-quality quartz, these sinks are a durable choice for active households and commercial spaces alike. A smooth surface makes these sinks an excellent choice to add a touch of elegance to any area of your home.
Quick facts:
Under-mount installation.
10 colors available.
Made of greystone with metallic flecking.
Hygienic non-porous surface structure.
Heat, stain, and impact resistance.
FAQ
What is the best sink material for hard water?
The best materials known to resist corrosion caused by hard water are stainless steel, porcelain enamel, and granite or quartz composites. But it's important to note that the surface treatment for durability is much more important.
What is the easiest kitchen sink to keep clean?
Any non-porous material of the sink surface is easy to clean. So stainless steel, brushed enamel, and composites are especially easy to maintain.
What is the most popular kitchen sink style?
We would say the current trend is about farmhouse kitchen sinks or black matte sinks.
Continue reading:
Disclosure: As an Amazon Associate we earn from qualifying purchases.