Last updated on September 5, 2021
Looking for a drop-in (top mount) kitchen sink to do a quick kitchen revamp (or full renovation)? These are our ten best picks. Read on!
The best of them? This Ruvati sink gets our attention. And you'll soon see why.
Drop-in kitchen sinks are arguably the most desired type of sinks because they are available with increasing features and styles (see how they compare to undermount sinks). They are arguably the easiest to install a type of sink too.
It is not only about style too, but also the house budget. Many types of drop-in sinks range from $150 to $5000. Our pick is for the best value for your money.
Undoubtedly, brands such as Kraus have ease and affordability at best, where they are designed for large spaces to accommodate large pots and pans or those that love a minimalistic design with sharp lines that reflect lightness.
When choosing a drop-in kitchen sink, we recommend going with the stainless steel option. It's the most durable option for the money. Yes, you can get a granite composite sinks from great brands such as Kraus, but at the end of the day you have to consider how it goes with your countertops. And the matter of fact is that in most cases you will not go wrong with a stainless steel sink.
So here are our options (we have picked mostly stainless steel sinks but we've also included a few other options as well). If you dan't agree with our top pick, you'll have some great alternatives to consider.
As usual, you'll find the shopping links that earn our site a commission. These cost nothing extra to you.
Here we go.
What's Inside
Ruvati Drop-in Kitchen Sink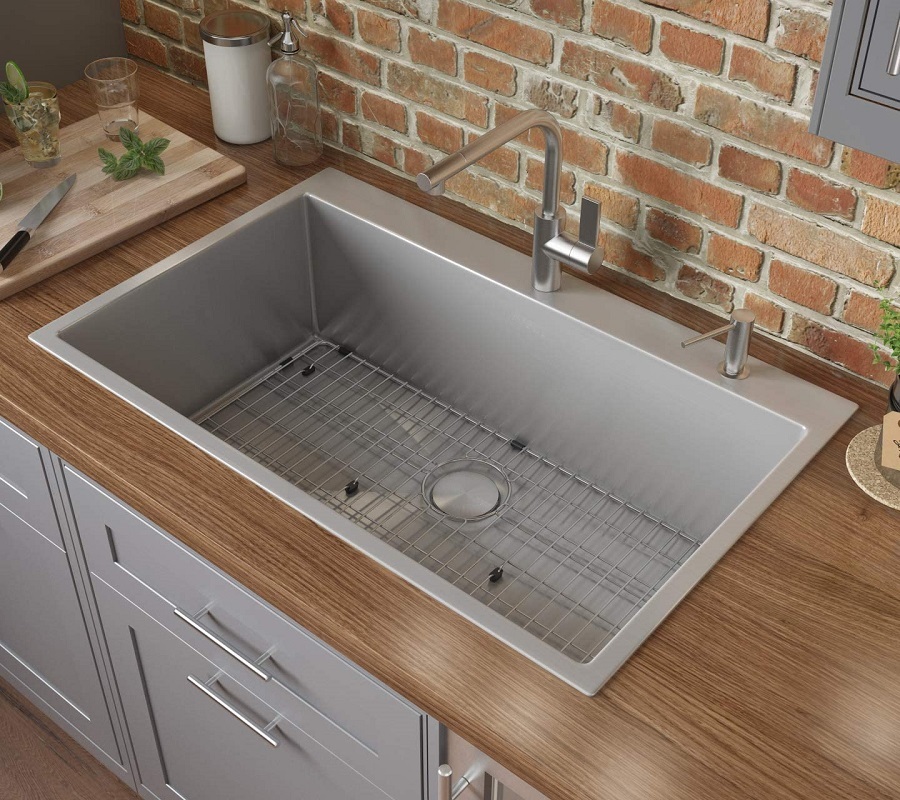 This is our editor's choice for the sink's versatility and great value for the money.
Great for: your average kitchen.
Although many would like to replace their old kitchen, it takes a valiant decision to redo the whole area. Ruvati's drop-in kitchen sink will help make that switch easier. It offers many facets for customization: 16 gauge thickness, stainless steel composition, large-contemporary design to small-traditional style.
This is a highly stylish and modern sink from Ruvati that features a brushed finish that hides all scratches it may get. For easy work behind the sink, this unit features an edge with a 10mm tight radius, and the sloped design means there are no corners for food to hide in.
The RVH8005 drop-in stainless steel sink is a beautiful option for replacing an old or worn-out kitchen sink. The dimensions are 34″ x 24″, which fits the standard 33″ x 22″ dimension of most existing cutouts and will retrofit into many homes. The 1810 chromium-nickel slate finish gives this top mount sink a dark brown color.
Overall, this is a beautiful kitchen sink. Its finish is high quality and it won't scratch over time. It has slanted edges that make it easy to clean and drainage features at the bottom of the sink to stop water buildup that could lead to splashing. This product does come with mounting nuts, screws, and clamps for installation.
Pros:
Made of stainless steel.
Brushed nickel finish.
Sound dampening.
Drains well.
Limited lifetime warranty.
Cons:
Scratches easily without the rack.
Clips at the back need something to brace on, so you may need to modify your counter cabinet (which makes installation harder than necessary.)
Workstation Drop-in Kitchen Sink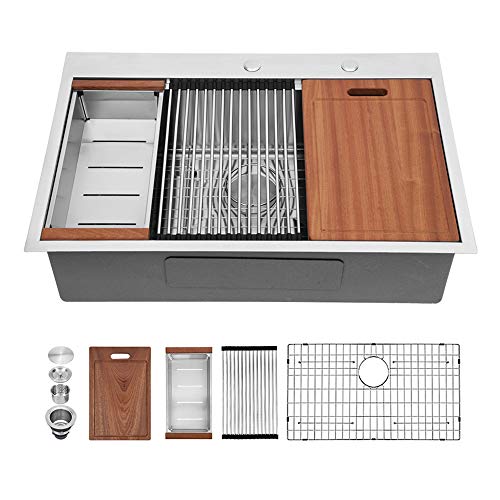 Great for: your kitchen workstation.
The design for this 33-inch drop-in kitchen sink is modern, clean, and simple, with an "X" shape radiating from the water hole to allow complete drainage. The sink has ridge ledges on the front and back that provide a track that you can swap out for an included cutting board that also covers your dishes while they dry.
This kitchen sink is beautifully made of true 16-gauge steel, which makes it one of the best things about this product. It's designed as durable, easy to clean, and long-lasting. Its dent-resistant design makes it one of the most impressive things you will find when looking into this product due to its not having rust and stains.
The track on the front and back offers more space for us to use. It comes with a metal colander, redwood Sapele cutting board, drain cover, and a rinse grid.
Pros:
Made of stainless steel.
Comes in 2 color finishes.
Package includes as set of tools.
Cons:
Included cutting board is cheap.
The design of the clips doesn't make installation easy.
Single Bowl Drop-in Kitchen Sink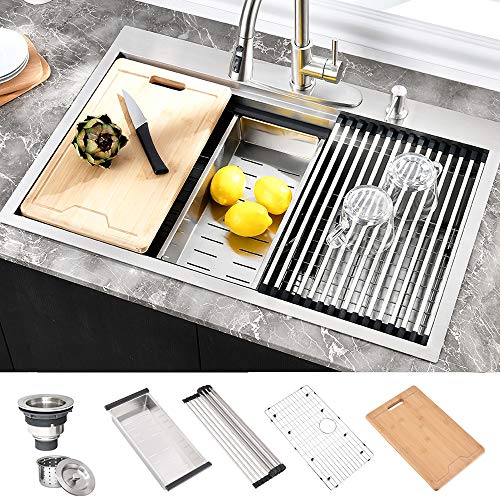 Great for: kitchen workstations and islands.
This drop-in kitchen sink by Hosino is made of 16 gauge stainless steel and provides a large, deep sink style that is perfect for dishes. It also comes with two tracks which provide more space to use and holes at the bottom which prevent standing water. This polished stainless steel product also comes with rubber pads installed on the bottom of the workstation ledge sink, which improves durability and dampens sound.
This is a very thin and lightweight 16 gauge stainless steel single bowl sink that offers two tracks for additional space. It is able to function at your countertop when not in use, sliding the tools over to offer a temporary workstation. This sink is constructed with solid T304 stainless steel which offers it tenacity against rust, corrosion, and scatches.
Pros:
Made of stainless steel.
Includes workstation tools.
Fast drainage.
Good depth.
Cons:
You have to wipe it down after each use to avoid water stains.
Clips are difficult to install.
Commercial Drop-in Kitchen Sink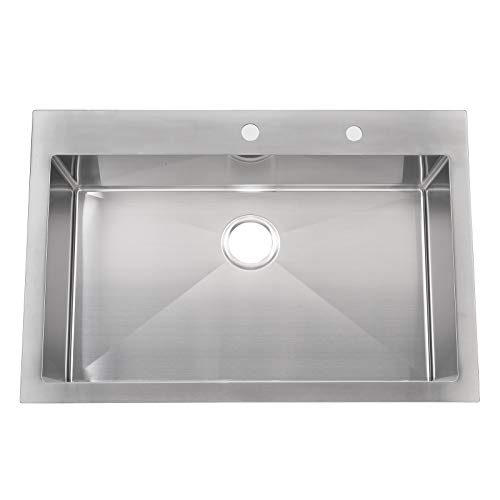 Great for: heavy use.
This high-quality, top mount kitchen sink offers a 10-inch perfect deep basin plus soundproofing rubber pads and stone guard undercoating. It is very easy to install and includes many options and features for mounting the faucet with no hassles. The white finish has a premium look that matches any décor. There is a 30-day return policy.
Overall, it's a durable kitchen sink for heavy use.
Pros:
Made of stainless steel.
Soundproofing design.
Brushed nickel finish.
10-inch depth.
Cons:
Poor clips.
Might need to enlarge the extra hole.
Small Drop-in Kitchen Sink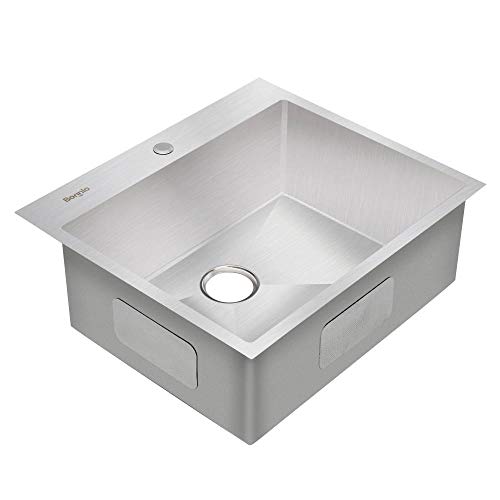 Great for: kitchen island or a bar.
The Bonnlo 18 gauge T304 stainless steel single bowl drop-in kitchen sink features a 3.5-inch drain opening that will fit a standard garbage disposal unit in the United States. Exclusive sanitation and water treatment technologies used during manufacturing reduce the frequency of cleaning necessary, produce beautiful and long-lasting hard metal surfaces, keep water contaminants away from food, extend the life of the sink.
Overall, it's an elegant and durable drop-in sink. It's small to fit an island or a bar as a prep sink.
Pros:
Made of stainless steel.
Different sizes are available.
Silver color finish.
Cons:
Not sloped enough.
No way to secure it from underneath the counter.
Cheap plastic drain fitting.
Kraus Drop-in Granite Kitchen Sink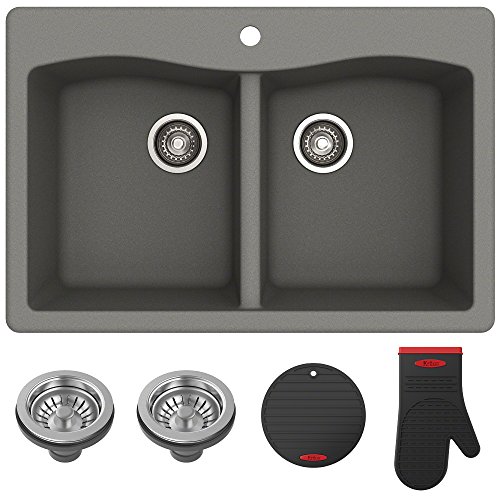 Great for: granite countertops and large kitchens.
The Kraus Forteza is a kitchen sink that features a large surface area of granite composite material that work well and look pleasing no matter what time of the day. The outer dimensions measure out to be around 33″ L x 22″ W x 9.75″.
The deep double bowl is designed to resist impact and thermal shock, heat-resistant up to 650 degrees Fahrenheit. French Stainless Steel drainage assembly ensures protection from corrosion after years of use. Stainless steel compression springs for a long and trouble-free installation. Overall, it's made of durable material, unique design, long-lasting quality.
You can install this sink as drop-in or undermount.
Pros:
Made of granite composite.
Very durable.
Naturally hygienic.
Trusted brand.
Cons:
Pre-drilled holes aren't deep enough for the screws.
Kitchen Prep Drop-in Sink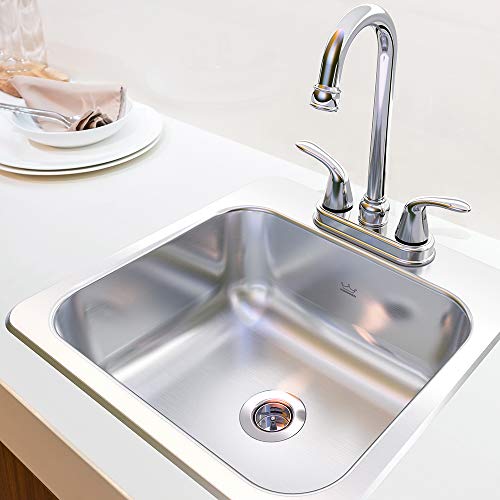 Great for: budget option for a small sink.
First, this drop-in kitchen sink is all one piece. The stainless steel design is aesthetically pleasing to look at and definitely durable. Included with the product is a chrome faucet which also adds a nice style twist to this piece of homeware.
Overall, it's an excellent small kitchen sink for your prep needs or as a utility sink.
Pros:
Made of stainless steel.
Chrome finish.
Limited lifetime warranty.
Includes a faucet.
Cons:
Quartz Drop-in Kitchen Sink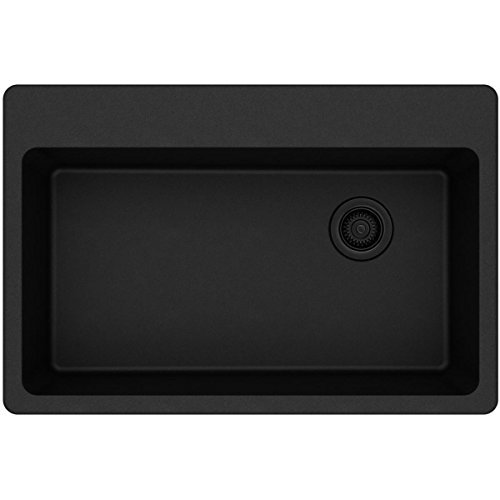 Great for: high end kitchen.
This drop-in sink is made out of durable quartz when it comes to design, style, and material. The Elkay Quartz Classic Single Bowl Drop-in Sink comes with an easy-to-clean and heat-resistant surface that's resistant to scratches.
A benefit about this product is that installation has minimal hassle, so anybody with some experience or just a helpful YouTube video can have it set up. The sink is sharp; the black color matches well with other matte finishes in your kitchen, helping you out when matching.
Pros:
Made of quartz composite.
Matte black finish.
Durable.
Easy to clean.
5 finishes to choose from.
Cons:
The white finish isn't pure white.
Quartz Composite Drop-in Sink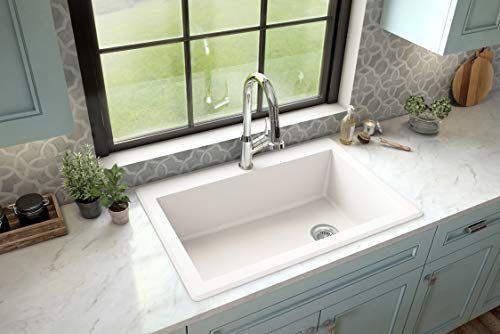 Great for: farmhouse style kitchen.
The Karran Kitchen Sink is durable and can be used for many purposes. It is made of natural quartz and pure acrylic resins, which provide deep colors. It comes in 3 different sizes: 27in, 29in, and 33, all of which have a beautiful finish.
Aspects to consider with this drop-in kitchen sink include the weathering finish's scratch and heat resistance up to 535 degrees, a low maintenance surface that is easy to clean and maintain. The sink offers durability with a 25-year manufacturer warranty. Installation is easy due to its compatibility with one or more cut-in faucets.
Pros:
Made of quartz composite.
Durable.
Low-maintenance.
Cons:
Double Bowl Drop-in Sink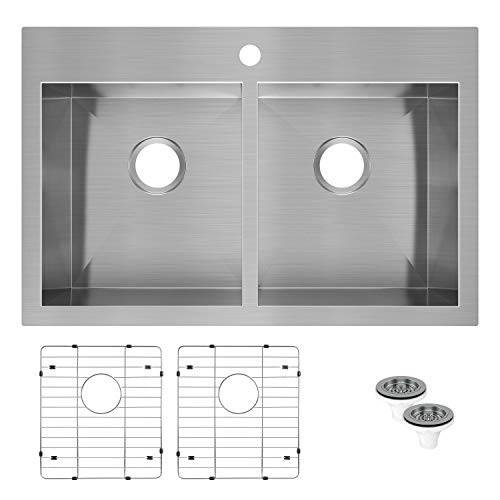 Great for: large kitchen.
This drop-in kitchen sink has been made from scratch-resistant stainless steel and has had rigorous testing to ensure that it can last for decades without replacing. Artika makes the product, and the warranty they offer is a lifetime warranty where they will repair your sink or replace the item if it stops working.
The sink measures 8.7 inches in height, 20.5 inches in width, and 27 inches in length, making it a comfortable sink depth for long cooking tasks such as boiling potatoes or pasta to ladles dishes like soups or salads into bowls. This drop-in sink is robust and durable with its stainless construction, capable of lasting years without scratches or dents if regularly cleaned.
Pros:
Made of stainless steel.
Double bowl.
CSA certified.
Cons:
FAQ
What is the difference between a top mount and under mount sink?
The rim of a top mount sink covers the cutout, so the hole's edge doesn't need to be perfectly finished.
What are the benefits of drop in sinks?
Drop-in sinks are stylish, easy to install, and affordable, which gives a reason for the popularity of this style.
Are drop-in sinks outdated?
Because manufacturers keep introducing new models and there's a big demand for drop-in sinks, they are not outdated. You can get a drop-in sink to match your countertops and kitchen design.
Continue reading:
Disclosure: As an Amazon Associate we earn from qualifying purchases.