Last updated on May 11, 2021
Do you have hard water supplied to your home? You need faucets that are resistant to avoid long-term problems. Here are the best kitchen faucets for hard water of 2021.
Hard water is simply water with a high level of dissolved minerals (usually calcium and magnesium). While it is generally safe to drink and has no immediate impact on equipment, limescale build-ups over time can create problems. The build-ups happen in the plumbing and consequently in faucet hardware, as well as the sink. Today we're going to talk about how to choose a kitchen faucet that would suffer the minimal impact of the drawbacks of hard water.
How can faucet hardware minimize the impact of hard water? The answer is simple – water filtering or Reverse Osmosis systems. Some kitchen faucets that we're going to cover have a built-in filtering system, others are compatible with such systems installed under the sink.
What to look for in a kitchen faucet for hard water?
Consider these:
Faucet dimensions that fit your furniture and hardware.
Do you need a pull-down function?
Do you need a separate faucet for drinking water?
Do you need a mounting deck?
Do you have a water filtering or Reverse Osmosis system installed?
Can you install the faucet yourself or do you need to hire a plumber?
Faucet finish durability and ease of maintenance.
Kitchen decor appeal.
A few notes about how we were able to make the best picks? We get a lot of queries through our site about what ideas, products, and features our readers (you) are looking for. We also get data from our partners which allows us to make excellent top lists. Also, note that we might be compensated for qualifying purchases by Amazon (tagged with #ad).
What's Inside
Kitchen Faucet for Hard Water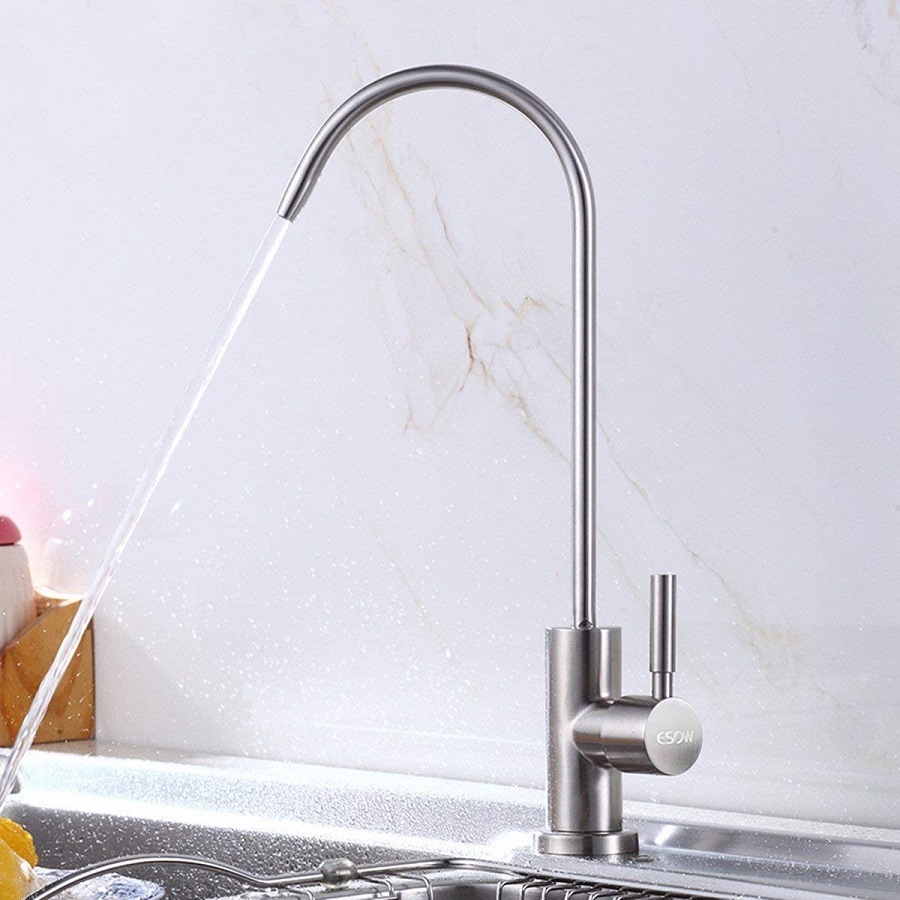 Pros: modern sleek design with a high arch; 360-degree rotation; supports water filtering and reverse osmosis systems.
Cons: some possible troubles with mounting under the sink; installing requires advanced skills.
Pfister Faucet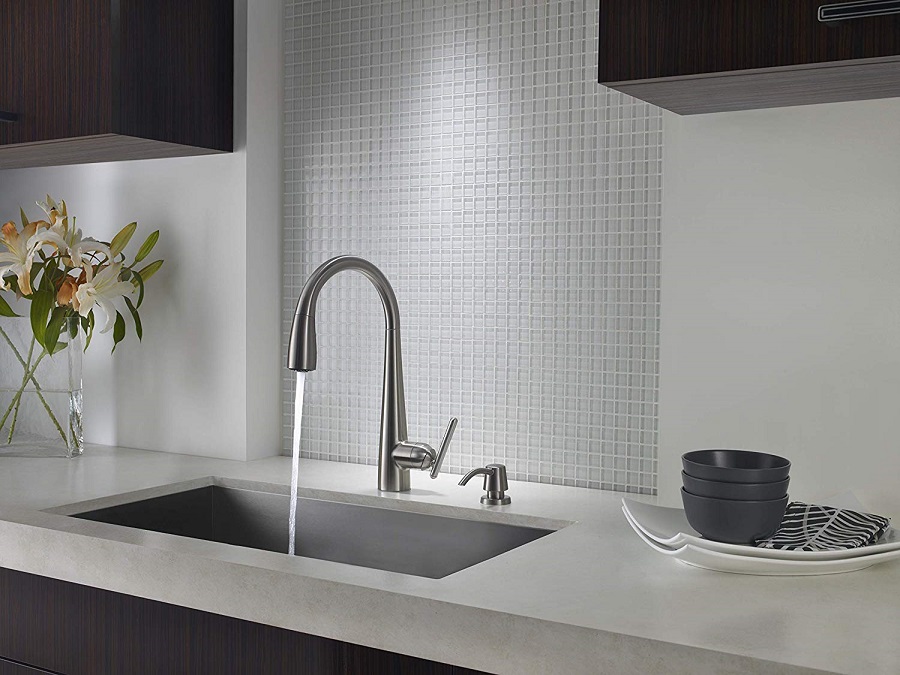 Pros: includes GE filtration system; includes connection lines; replaceable filtration cartridges.
Cons: some assembly issues.
Moen Faucet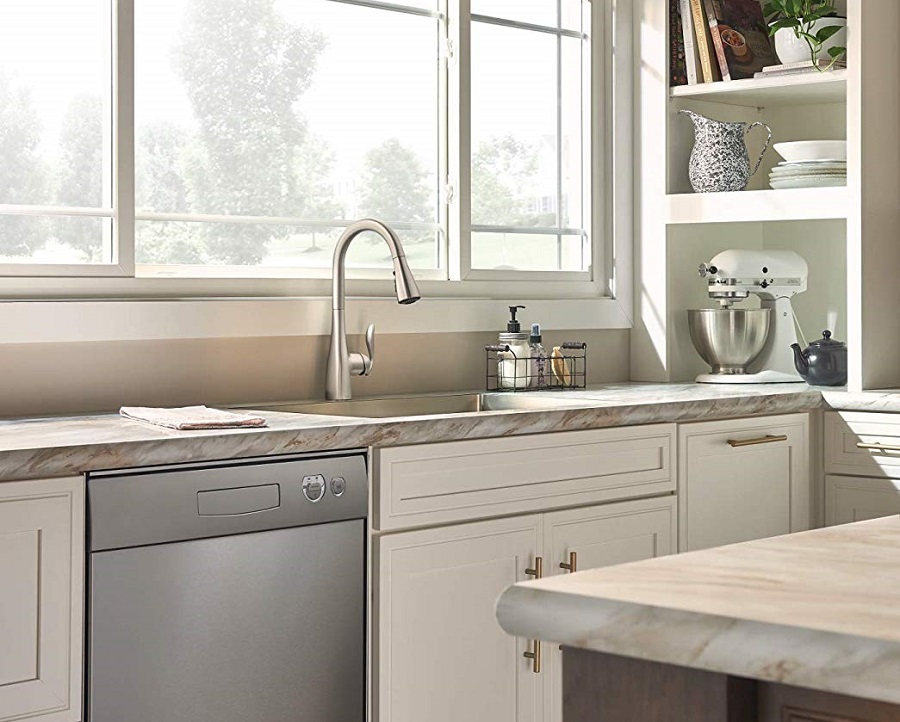 Pros: spot resistant; multiple modes of function; sleek design; motion and voice control features.
Cons: week water flow.
Pull Down Kitchen Faucet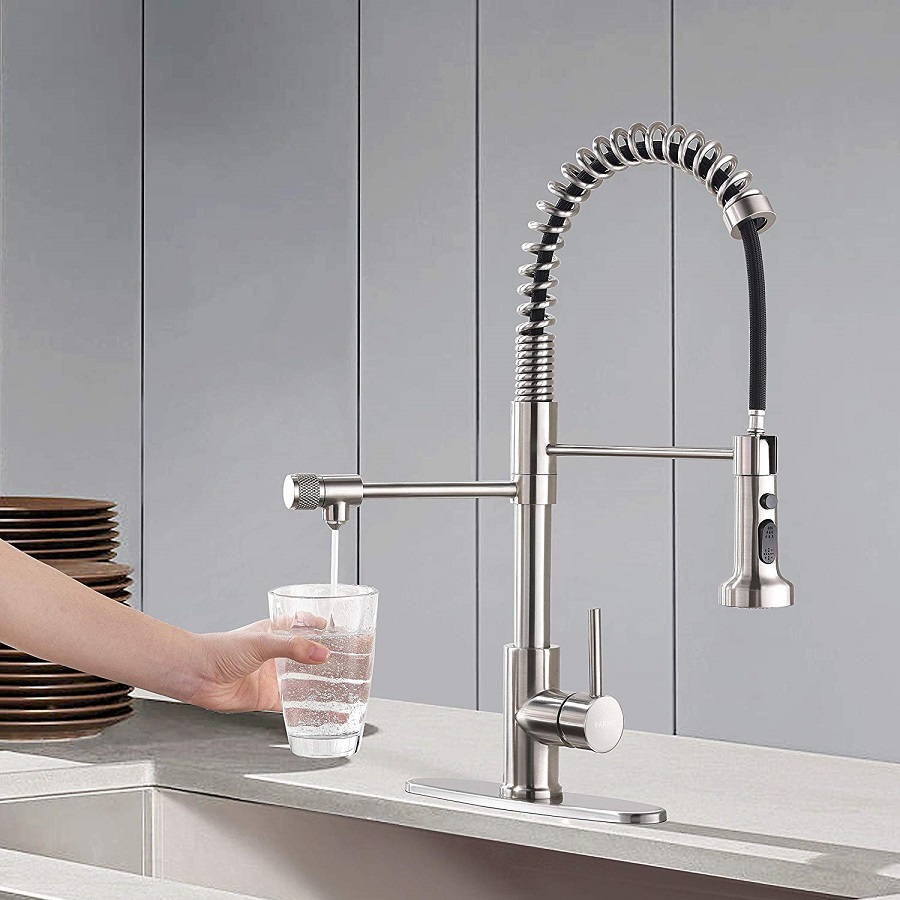 Pros: separate drinking water faucet; water filtering; pull-down faucet.
Cons: installation may not be easy.
Modern Kitchen Faucet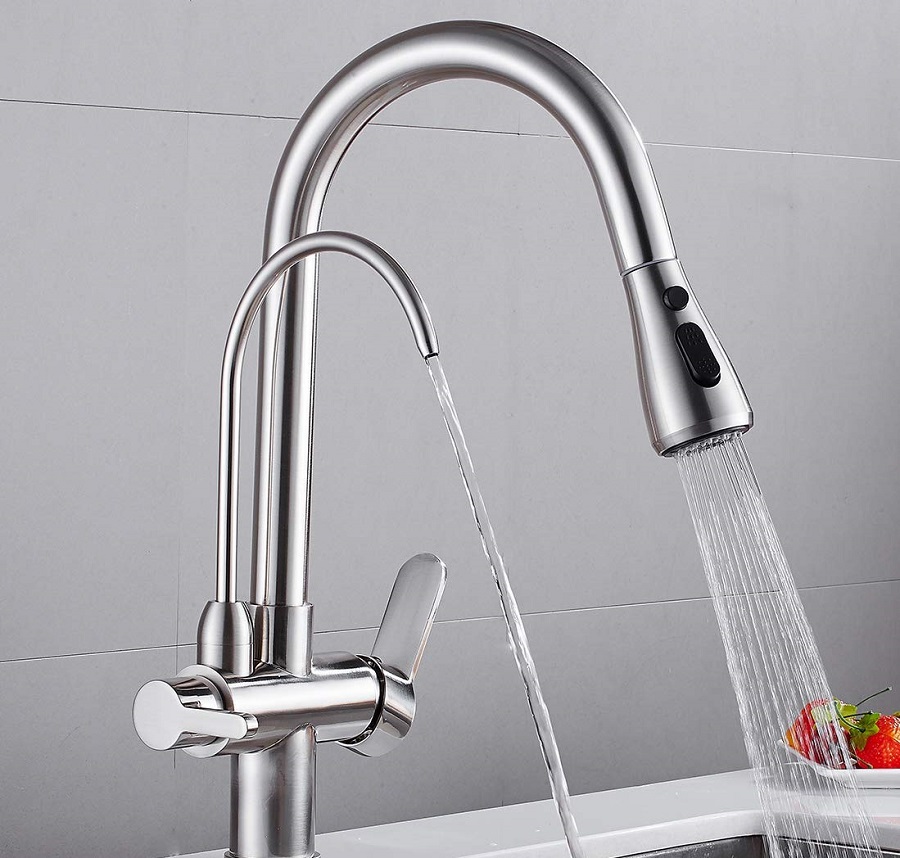 Pros: attractive and functional modern design; compatible with reverse osmosis systems; separate faucet for drinking water.
Cons: a bit wobbly; installation is not straight-forward.
Luxury Kitchen Faucet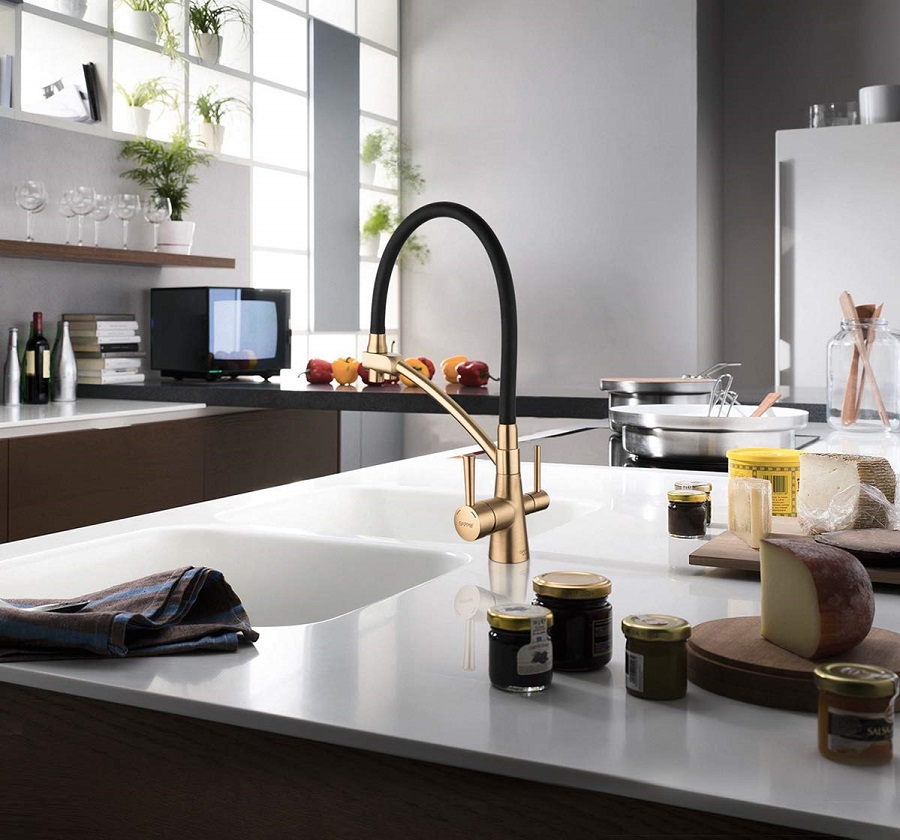 Pros: classy modern design with the gilded finish; rubber faucet design; high arch design; water filtering support.
Cons: challenging installation.
Delta Faucet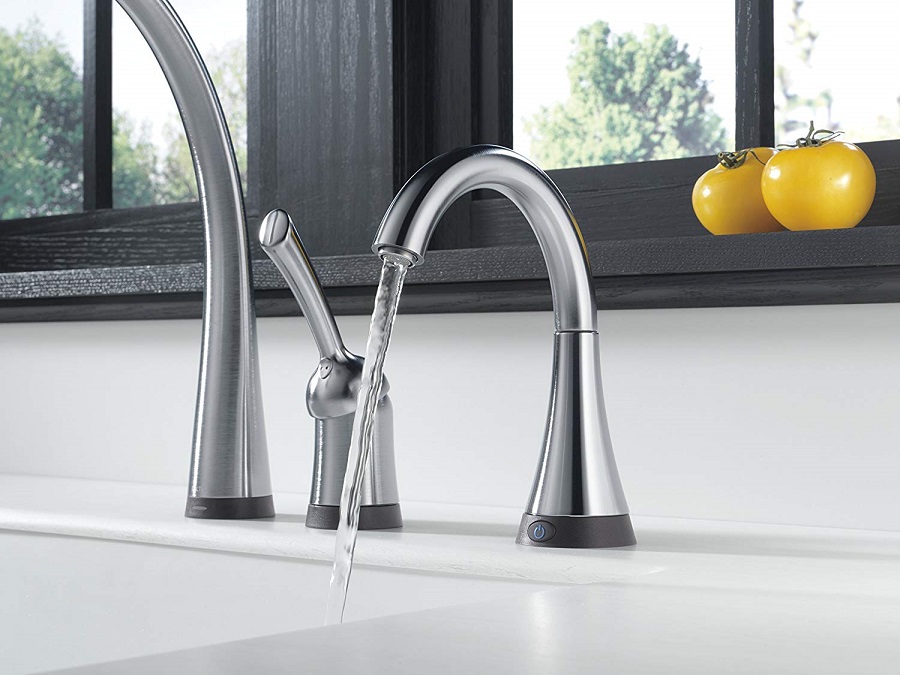 Pros: nice modern design; smooth control; water filtering (RO) support.
Cons: cost.
Kohler Faucet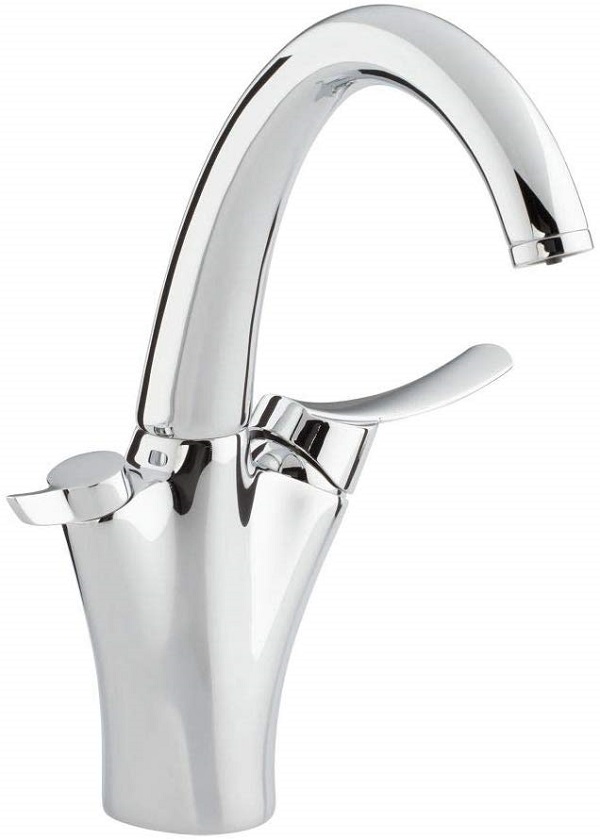 Pros: very attractive design; water filtering support; durable.
Cons: no spray function; price.
Glacier Bay Kitchen Faucet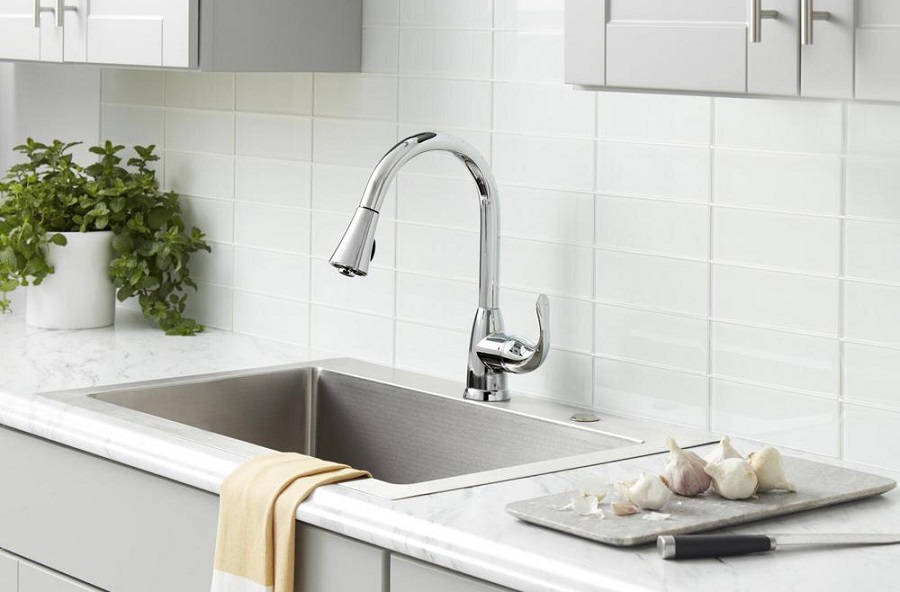 Pros: easy installation; rotates in all directions; includes a sprayer function.
Cons: tends to drip.
Project Source Faucet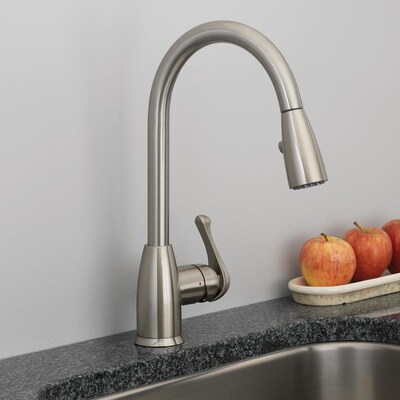 Pros: modern design; stain-resistant; good water pressure.
Cons: a bit flimsy.
Continue reading:
Disclosure: As an Amazon Associate we earn from qualifying purchases.