Last updated on October 5, 2023
Looking for the best undermount kitchen sink to feature your countertop? These are your best options that won't break the bank either. Let's sink our teeth into it! (Yup, we just did that.)
Our best pick? This Kraus sink.
You know why the undermount kitchen sinks are great (and how they compare to overmount sinks — they make your countertops look great.) But what qualities make one the best? These are the things we've taken into account making our list: durability, finish, draining speed, noise, features.
Indeed, when it comes to undermount sinks of all types, we're looking for durability over style because they're no longer part of the decor (unless they somehow manage to look ugly from beneath the countertop surface.) That's why durable stainless steel is one of the best options, even if it scratches.
Then there are features to look for, such as single vs. double bowl, strainer, grid, drainage, etc. We've covered them all, so it's something worth noting.
If you make sure that the size fits your counters, you can easily find your ideal undermount kitchen sink on this list.
The shopping links earn our site a commission at no cost to you. We did our best to make this list objective and valuable.
Let's begin!
What's Inside
Kraus Undermount Kitchen Sink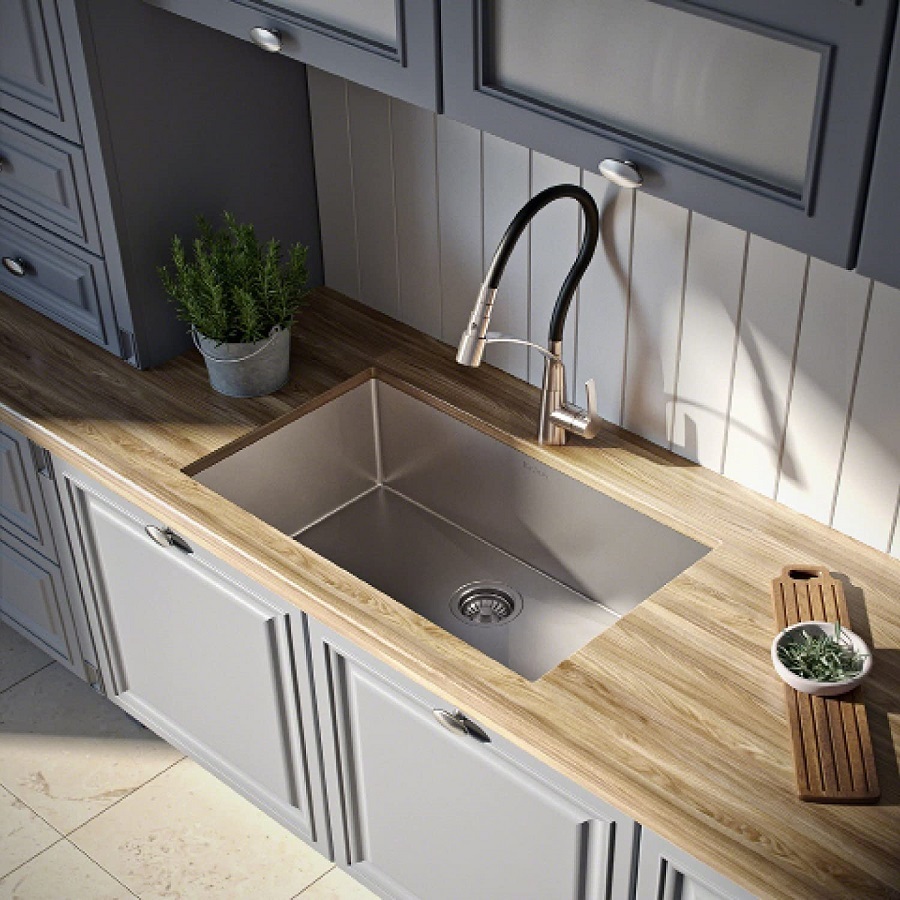 This is our editor's choice.
Great for: best value for the money.
Kraus KHU100-32 sink is made of stainless steel. It's corrosion and rust-resistant and will not fade over time. This set includes a sink, drain assembly with strainer, protective bottom grid, and kitchen towel. The sink is a 32 x 19 x 10 inches single bowl (minimum cabinet width of 36" is needed.)
The undermount sink is a 16-gauge kitchen sink made of stainless steel and will not oxidize to turn black or rust like other metal sinks. We really like this undermount kitchen sink because it has a stunning commercial-grade satin finish that doesn't get scratched or drop, and you won't have to worry about rust. This metal kitchen sink also drains just as well as any other type of sink, maybe even better if you maintain it properly. The thicker pads collect the grime and it exceptionally easy to clean.
Overall, this kitchen is easy to install and beautiful. It's great quality for the money.
Pros:
Made of stainless steel.
Trusted brand.
Satin finish.
Durable.
Cons:
Food is sticky to drain.
Scratches.
Kohler Undermount Kitchen Sink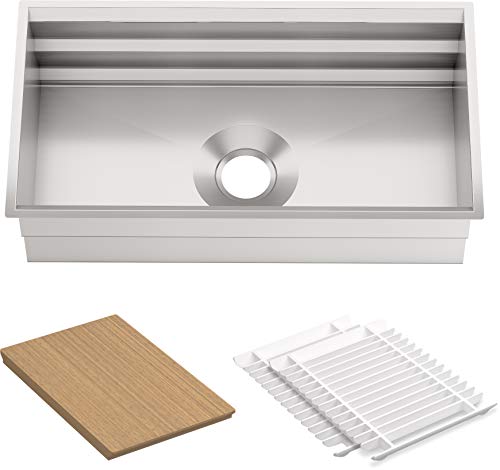 Great for: high-end kitchen sink.
This is a versatile sink that gives you ample space for prepping food. The sink includes a bamboo cutting board to work as the perfect prep station. The colander comes in handy when draining pasta or defrosting meat with the silence shield sound reduction technology to create an incredibly quiet environment. Being equipped with a drain hole 3 3/4 inches undermount installation will provide ease of installation and the ability to pick the faucet that best matches your style without holes interfering on sidewalls.
Overall, it's a top quality product from a brand famous for it. Kohler sinks are worth it if you can spare the budget.
Pros:
Made of stainless steel.
Trusted brand.
Great quality.
Durable.
Cooking workstation accessories.
Cons:
Quartz Undermount Kitchen Sink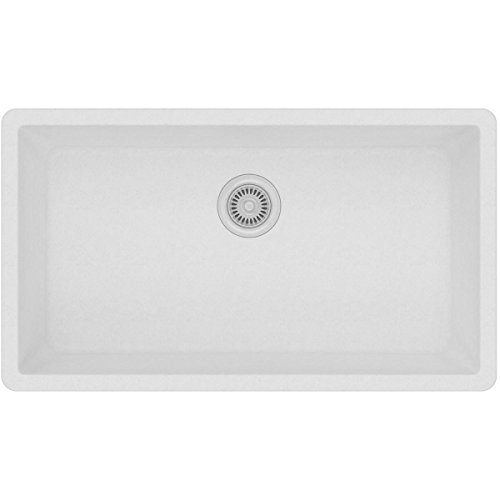 Great for: quartz countertops.
This is an undermount white kitchen sink that has a single bowl. The dimensions of this product are 33 x 18 x 9 inches. The depth and dimensions of your cabinet must be at least 36 inches before you can install this sink. It is made with fine quartz sand, which makes it scratch, chip, and dent resistant.
Overall, the Elkay Quartz single bowl undermount sink is a durable sink made from quartz sand that can withstand heat up to 535 F. This product has a sound mounting system and high structural integrity. It is also effortless to clean with soap and water.
Pros:
Made of fine quartz sand.
Durable.
Easy to clean.
Single bowl.
No stains from hard water.
Cons:
Double Bowl Undermount Kitchen Sink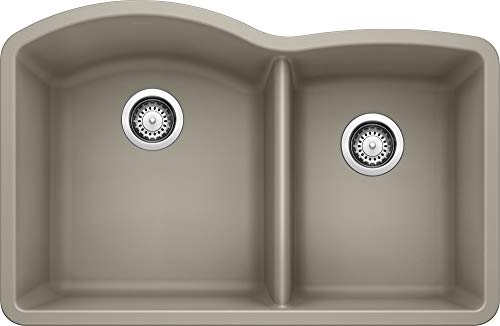 Great for: a big kitchen.
Blanco Truffle double bowl (60/40) undermount kitchen sink is made of durable 80% granite composite. This sink has nine color choices. This kitchen sink has a scratch, stain, and impact-resistant surface. It also features third-party certified composite stone material.
Overall, Blanco offers a good-looking and durable kitchen sink that you can install in a big kitchen or a kitchen island. The wealthy choice of color finishes helps to integrate it into any decor theme.
Pros:
Made of granite composite.
Limited lifetime warranty.
Durable and scratch-resistant.
A choice of 9 colors (including black and white.)
Cons:
Doesn't come with sink stoppers.
It's deep so you lose storage space in the cabinet underneath.
Stainless Steel Undermount Kitchen Sink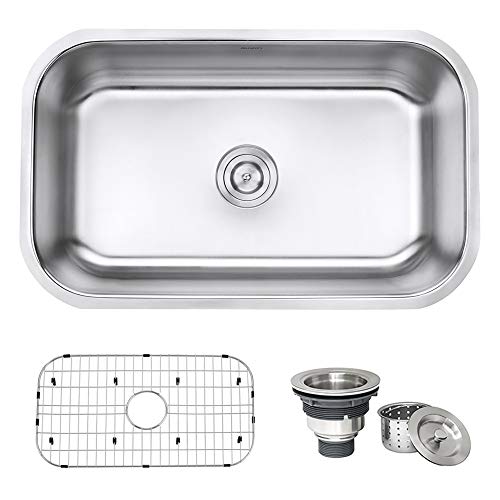 Great for: a small kitchen.
Some of the benefits of this sink are, it is straightforward to install, it has a spotless and sleek look, and it comes in multiple sizes since this sink is made of 16 gauge stainless steel. It will be last long and can withstand any dish rag. It will also be easy to clean because of its satin finish, but it can get scratched up with pots and pans, so make sure you have ones that are easier to use, like copper bottoms. It doesn't show smudges and grease, but oil and fat stains show a little bit more easily. This kitchen sink has heavy-duty sound guard padding that offers the tank from resonating when things are dropped.
Pros:
Made of stainless steel.
Sating finish.
Multiple size choices.
Cons:
The included sink grid holds water and makes it more difficult to clean.
Scratches.
Workstation Undermount Kitchen Sink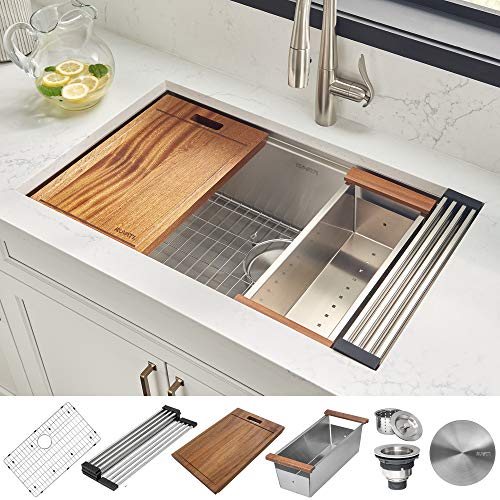 Great for: efficiency in food prep.
This Ruvati workstation sink has a 16 gauge stainless steel brush finished edging, has a sound guard undercoat and rubber padding to reduce noise and condensation with the sloped bottom for water drainage. Additional features include that it comes with its dish drying rack, a cutting board, and a bottom rinse grid.
Overall, the design hides scratches and looks good with appliances, it comes with additional tools and features that are useful in any kitchen.
Pros:
Made of stainless steel.
Includes a grid, cutting board, dish drying rack, colander.
Limited lifetime warranty.
Durable.
Multiple sizes.
Cons:
Low angle of the sink base requires you to push food waste to drain.
The included cutting board is not great quality.
Scratches.
Undermount Kitchen Sink Set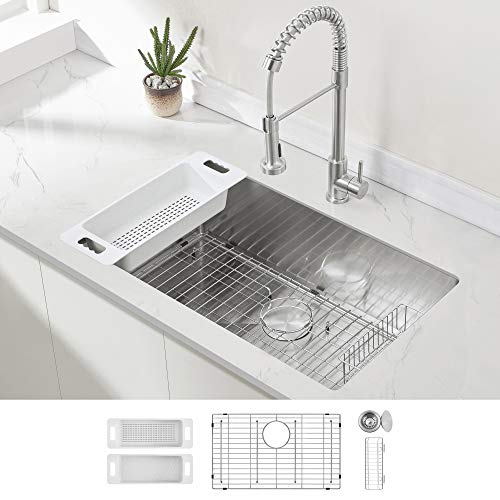 Great for: inexpensive option.
This is a stainless steel undermount kitchen sink with a 32″ single bowl. This material of this kitchen sink resists heat, stains and rusts. The finish of this kitchen sinks can easily be polished when needed. It has 304 stainless steel. This product has proper insulation that will keep sound and vibration levels down.
The Modena undermount kitchen sink set is an appliance with food-safe accessories that eliminate clutter and provide workstation functionality for the cook. Good thing it is rust-proof, or it might get up and take itself away. The noise insulation helps because I would hate looking like a fool when people can clearly hear what I am doing in the kitchen.
Pros:
Made of stainless steel.
Brushes nickel finish.

Durable.

Multiple sizes.
Cons:
Food gets caught in grids.
Does not drain that well.
Low Divide Undermount Kitchen Sink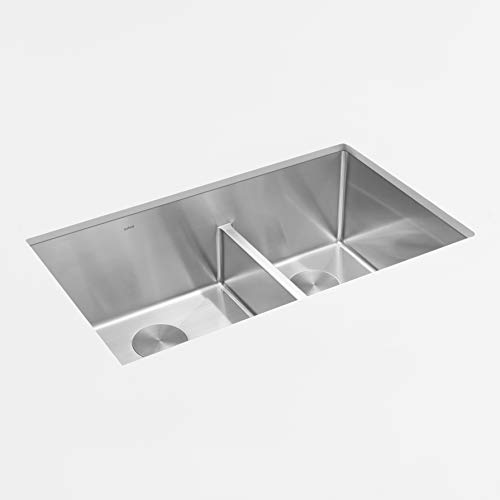 Great for: use with garbage disposer.
This sink is made of 304 grade stainless steel and has a brushed finish. It's sturdy enough for heavy cast irons as well as hot pans from the oven. This sink has 1 or 2 separate compartments depending on the sink set. You can also unscrew certain parts of this sink for easier cleaning. The finish is a high-polished brushed look that gives it an instant residential stylish feel.
Overall, this is a great durable kitchen sink from Zuhne with excellent sound dampening qualities that will allow you to use the garbage disposer without waking up your toddler.
Pros:
Vibration and sound dampening.
Made of stainless steel.
Brushed finish.
Cons:
Does not completely drain the water.
Depth makes it harder to clean.
Single Bowl Undermount Kitchen Sink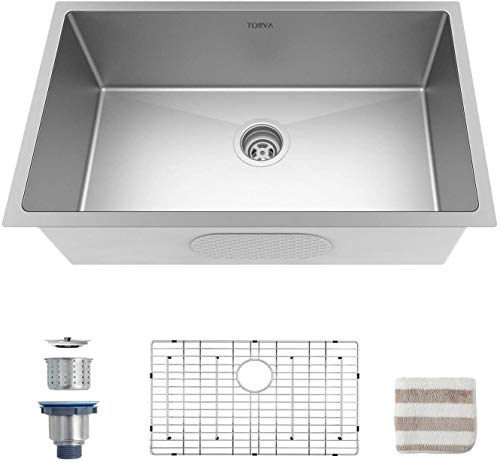 Great for: good value for the money.
This is a high quality lower kitchen sink that will resist tarnishing or scratches. Varies with installation but this sink increases efficiency and prevents water from accumulating. Harder to grip items like plates so may need to use towels or the bottom tray protector for added grip.
The sink is made of 16 gauge stainless steel. The finish is brushed satin preventing rusts and scratches. There is a stainless steel bottom grill protecting the surface and a stainless steel simple line drain tray which slides on the ledges.
Pros:
Made of stainless steel.
Drains well.
Deep single bowl.
Brushed finish.
Multiple sizes.
Cons:
Drain may be too deep for some counters.
Shows some water spots.
Porcelain Undermount Kitchen Sink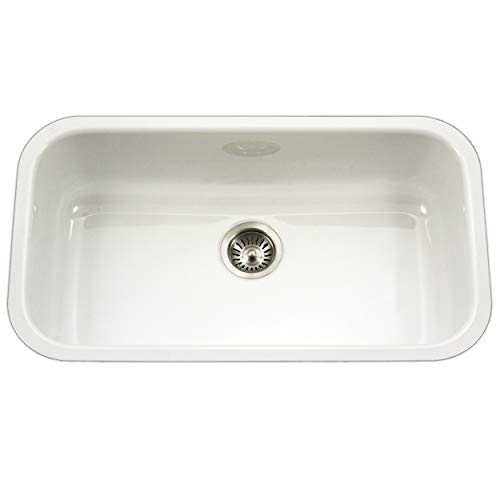 Great for: porcelain sink.
This Houzer in undermount large single bowl has a drain size is 3 1/2 inches with an external size of 17.32 by 30.9 inches and a depth of 9 inches deep, and has a white finish (you have 8 color choices too.) Overall, it's a good and inexpensive option if you're looking for a porcelain sink for your kitchen specifically.
Pros:
Porcelain finish.
Non-porous durable surface.
8 color finishes.
Round corners.
Cons:
FAQ
What kind of sink is best for granite countertops?
While granite composite sinks look seamless in granite countertops, stainless steel sinks are the popular choice. They are more durable and easier to clean, and they are less expensive.
What is the easiest kitchen sink to keep clean?
While the non-porous porcelain is known to be easy to clean, stainless steel in a brushed finish is also easy to maintain and it's a popular option.
What is the most durable kitchen sink?
Stainless steel sinks are popular thanks to their durability.
Which is better stainless steel or granite sink?
Stainless steel is more durable and easier to clean, but it picks scratches much easier than granite sink. Stainless steel is the more popular option.
Are stainless steel sinks out of style?
Stainless steel sinks are not out of style and still find the place in the kitchen design, especially when it comes to undermount sinks.
Continue reading:
Disclosure: As an Amazon Associate we earn from qualifying purchases.