Last updated on May 10, 2021
Looking for the best kitchen track lighting to update your fixtures to a trendy look? These picks are great functionally and appealing visually.
What is the best of them? Our editor's choice is this track lighting fixture.
Why is track lighting so popular in kitchen lighting design? This popularity is two-fold. It's the utilitarian appeal that allows you to direct them where lighting is needed. And it's the modern or industrial decor accent that immediately transforms the interior.
There are many different types of kitchen track lighting, and each has its own unique advantages and disadvantages. Some of the most popular types include fitting-mount, can-style, and built-in track lighting. Fitting-mount track lighting is a popular choice since it allows you to build the track lighting where you want it, leaving your options open to install cabinetry or other elements.
The main thing to keep in mind when deciding on track lighting is that you want to make sure it is the right size for the space you are using it in. Several different track lighting configurations allow you to point the lights in different directions, so you can focus light on one area or use it to light up a larger space. You may want to consider using multiple tracks for different kitchen lighting needs.
What's Inside
6-light Track Lighting Swing Arm Fixture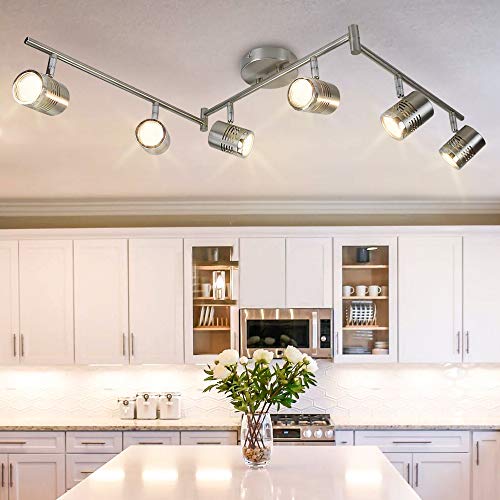 This is our editor's choice.
Great for: anywhere you need directional light as it's adjustable and can be directed where it's needed.
This kitchen track lighting fixture has 6 LED lightbulbs, adjusts 330 degrees, resembles soft light. This fixture is made of plastic and steel and can be used flexibly. 6 Lightsbulbs included are 6 3W gu10-base led bulbs that give off 1440 lumens.
Three swing arms with adjustable lights allow you to aim light where you need it most. Arm fully can be rotated 350 degrees, you can rotate 6 track heads 330 horizontally and 90 vertically. The three arms also allow for the fixture to mount at different points on a vaulted ceiling and a sloped ceiling.
Pros:
Includes LED light bulbs.
6-light fixture.
Fully adjustable.
Cons:
Included bulbs are lower quality.
A bit pricey.
4-light Kitchen Track Lighting

Great for: task lighting over food prep areas, sink area, or kitchen island.
The kitchen track lighting fixture is made up of hardwired track lighting with frosted glass with adjustable head – which is perfect for highlighting a cooking space or drawing attention to special objects. The 4 light tracks provide nice and even distribution of light throughout a small area. The adjustable heads are easy to use and move around so you can find the most suitable angle for your needs.
This kitchen track lighting fixture is fantastic for those who have the sights set on achieving a minimalist, modern style in their kitchen. Sleek and uncluttered, this light fixture offers four options to light your workspace or basement apartment- either long and slender or short and compact. There are no extra features like switches below, but its frosted glass is a beautiful finish with adjustable heads in brushed nickel- adding such a comforting glow to any room.
This hardwired track lighting fixture is perfect for homes that need a little lamplight to draw attention to their kitchen. The fixtures are modular, so you can arrange them in any configuration, which provides the homeowner with an opportunity for creativity and unique design through installation.
Pros:
Brushed nickel finish.
Adjustable modular design.
Compatible with LED bulbs.
Cons:
Bulbs are not included.
Swiveling is a bit flimsy.
Transitional Kitchen Track Lighting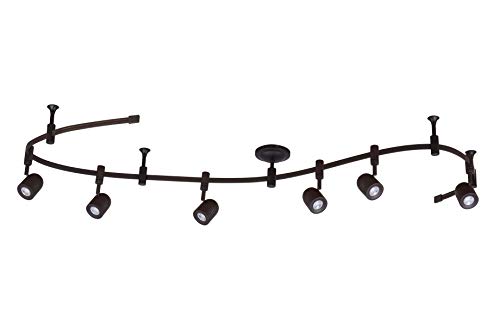 Great for: accent kitchen lighting.
Most light fixtures only have two or three bulbs, but this fixture has six to provide the perfect amount of light across the entire kitchen. Six metal shades round out the design and are large enough to be positioned and shaped however you like. The six small bulbs make up for lack of brightness, with six bright points of LED light shining on whichever task you need it most for.
Just like all track lighting fixtures, this kitchen flexible LED track light emits you can fit light from a bar above that to any space that needs it. This particular fixture has 6 metal shades on it, features an oil-rubbed bronzed finish, and provides a maximum of 42 watts for up to four bulbs. In your kitchen, this light will cast ambient task light across the entire space so you can get working so much faster in the morning.
This fixture is really easy to install, you don't need any special skills for it. All you have to do is screw a few screws easily into place. It has an appearance of a sleek design with metal finishes that I really like and goes well with both modern as well as traditional inspirations. There are 250 watts of illumination which provides a lot of light, lighting up the whole kitchen.
Pros:
Oiled bronze finish.
6 track lights.
LED compatible.
Adjustable heads.
Cons:
The UL stickers on the lights are a nuisance to peel off.
Tough to hang it.
4-light Industrial Kitchen Track Lighting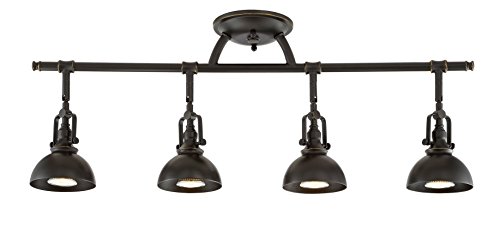 Great for: lighting over the sink or over the island.
The Kira Broadway track lighting fixture is versatile enough to be used as the main light source over the kitchen sink or another task area. The dimmer allows you to adjust it depending on what you are doing, including the illuminating text for reading. There are 4 spotlights directed, but this can change depending on your preference. It is bright and adjustable, has a rubbed bronze, unique style, four bulbs (included), and ETL listed for added safety.
Pros:
Rubbed bronze finish.
Industrial style.
4 track lights.
Adjustable heads.
Cons:
The light bulbs hang further than the lamp shades.
Modern Farmhouse Kitchen Track Lighting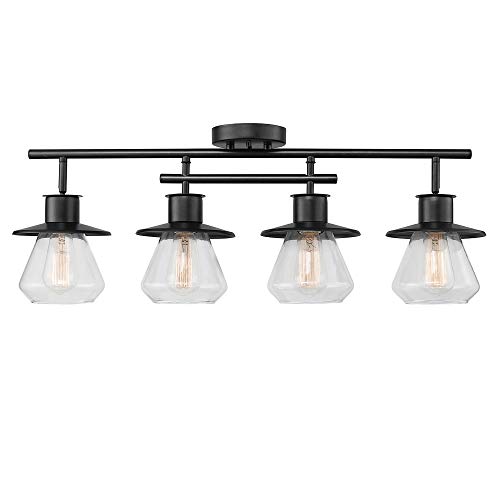 Great for: accent lighting and over the island.
The Nate Track Light by Globe Electric is a beautiful modern farmhouse design. The light fixture features four E26 medium base bulbs that can be up to 60 watts each. There is also a choice between two pivoting track heads or two stationary track heads, which gives the light fixture more versatility depending on the desired lighting for anyone's situation.
There are four bulbs to use for this light fixture, and each can be adjusted up or down depending on the desired lighting situation in your kitchen. The shade is made of clear glass, and it is easy to clean while adding an elegant yet modern feel to your kitchen.
It's more decorative than utility, which is what you might want, but it looks great in a vintage-hip interior design.
Pros:
4 track lights.
Clear glass shades.
Medium base bulbs (LED supported.)
Dark bronze finish.
Cons:
2 of the track lights are not adjustable.
LED 4-light Modern Track Lighting Kit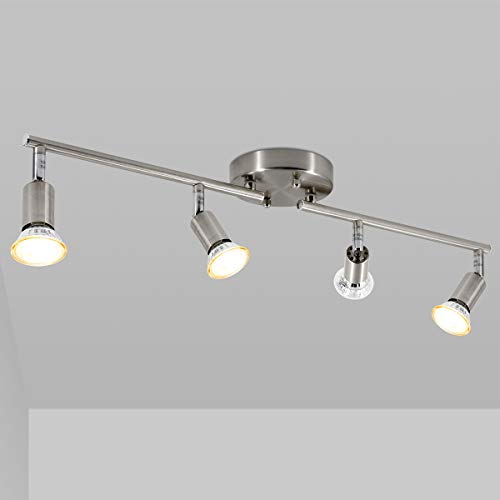 Great for: small spaces.
Equipped with high-quality metal construction and a clean matte nickel finish, this spotlight provides homeowners with up to 510 Lumens of energy-saving natural daylight proportions. With adjustable arms that can rotate a full 360 horizontally and 12 vertically (along with the entire lamp), setting the spotlight in one specific area is never difficult, while constantly shifting its focus packs more interest into any space.
This kitchen track lighting fixture can be easily installed and comes with 4 x 5W GU10 LED bulbs. It has a stylish design and can be rotated to different angles, providing wide lighting position. The light is made of metal for durability. You could use it in your kitchen as a light source or decoration when not used for cooking.
Pros:
Matte nickel finish.
4 track lights.
Adjustable heads.
Cons:
Thin metal casing.
Too small for large spaces.
Industrial Adjustable Track Lighting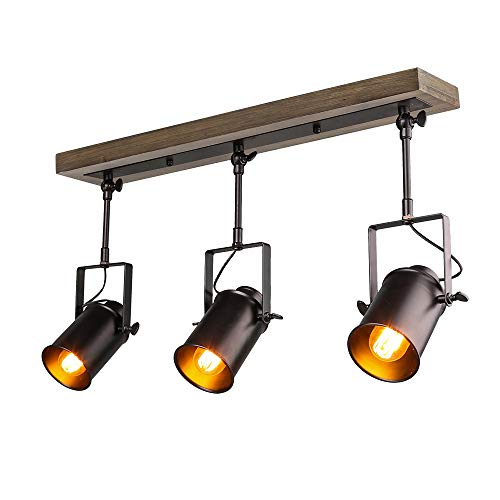 This uniquely designed kitchen track lighting features a sleek and traditional appearance with an industrial texture. It is easy to install with instructions and mounting hardware. The 3 adjustable heads can direct the light where it needs to be on constantly dimmable lights.
This fixture is made with wood and iron, is easy to install, and can hang on the wall or sloped ceiling with the provided mounting hardware. There are 3 independently adjustable track heads that provide spotlights where you want them. Rated for industrial and residential use. This fixture has one downside; it does not come with any bulbs so you will have to purchase your own.
Pros:
Wood canopy.
3 adjustable track lights.
LED supported (medium base.)
Cons:
Does not include the light bulbs.
Veneer laminated canopy.
6-light Adjustable LED Dimmable Track Lighting Kit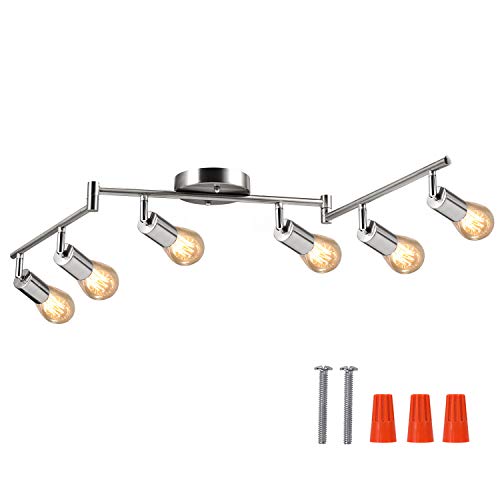 Great for: ambient lighting.
The Six Light Track Kit is made of durable metal and high-quality ABS plastics and is a satin nickel finish. 1/4″ high-grade aluminum extrusion cover plate brackets – for mounting the track (please see install manual) Satin Nickel colored anodized aluminum tube, which you can cut to the desired length.
This track lighting fixture comes with 6 LED lights that emit a cool white light. It can make any room seem bright and welcoming. They are dimmable, so you can add a little romance by slowly dimming the lights.
Pros:
6 track lights.
Adjustable heads and track.
Satin nickel finish.
Cons:
Crystal Pendant Track Lighting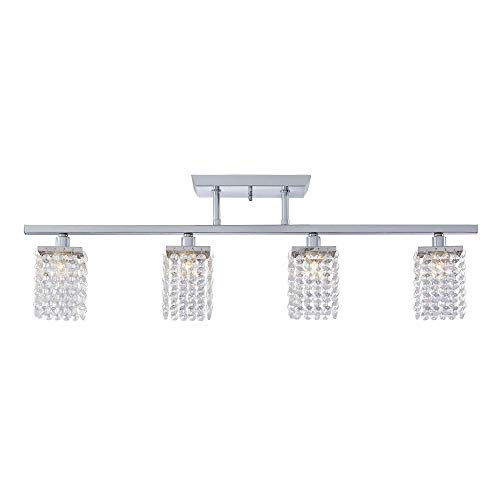 This modern-fitting fixture is sure to stand out in your home. The four pendant crystals and bulb hangers are made of metal, and the supported bulbs are guaranteed to last for up to 10,000 hours. This product includes a 1-year limited warranty for your peace of mind. The hanging bulb type is G9 lightbulbs 40W max or (LED Bulbs). Notable features include easy installation with hardware, long-lasting finish color, adjustable rod axle design.
This stainless and brass kitchen track lighting fixture have a sleek design that will put the final finishing touch to any room in your home. It is pre-wired with 4 crystal light pendants which cast an ideal light for an upscale, warm ambiance. The frame is metal makeup, and high-quality LED bulbs are required for installation, giving you peace of mind that these bulbs will last you a long time without even thinking about replacements.
Pros:
4 track lights.
Crystal pendants.
Stylish design.
Cons:
Light bulbs not included.
The fixture can heat up.
5-LED Track Lighting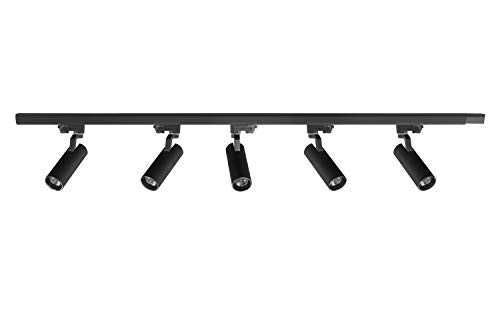 Great for: lighting over a table and recessed lighting.
The material of this kitchen track lighting fixture is stainless steel. 360-degree uncompressed glass tube with automatic dimmer and wear and tear-resistant lens by electrostatic coating make it durable, brilliant and flexible that can be easily positioned to suit any need.
You can place it in the center of your kitchen over a table. It has a wonderfully bright, stylish, modern look. We like most about it because as much of the light shoots up to the ceiling, and only the perfect amount falls on the table from above.
This track lighting fixture is very high-quality and provides lots of illumination for the kitchen. The adjustable, removable parts are easy to handle, extra bulbs are low-cost and can be found easily through a Google search or on Amazon. It's built from aluminum, not plastic, so it won't trap heat inside the fixture making it less pleasant to use near spaces that need ventilation.
Pros:
5 LED track lights.
Adjustable heads.
Black finish.
Cons:
FAQ
What type of lighting is best for kitchens?
Adjustable fitted or flexible track lighting is best for the kitchen because it provides directional lighting exactly where it's needed. They improve the overall decor too.
Is track lighting out of style?
Track lighting in the kitchen is a new trend that is more popular this year then ever before.
What kind of bulbs go in track lighting?
Medium base light bulbs are most often used in track lighting. This means you can use LED, halogen, or CFL bulbs based on your requirements.
Continue reading:
Disclosure: As an Amazon Associate we earn from qualifying purchases.