Last updated on August 13, 2023
Do you have a kitchen with no island? Setting up lighting is different in such a kitchen than in one with an island. Here are eight ideas that work.
Many kitchens have a kitchen island as their centerpiece. Pendant lighting above can be a focal point to the whole room, but beginners feel like they are working with a blank space without an island. Such a statement for this area creates more of a focal point with hanging pendant light than in other areas where the ambient lighting from light fixtures provides the most light.
You wouldn't think there was a difference between lighting a kitchen without an island and one with it. You have to set up multiple layers of it and illuminate task zones with bright enough light. Right?
But imagine this. There's usually a pendant (or multiple pendants) or a chandelier over the island if you remove the island, there's just an awkward pendant hanging over your head.
And it's not about the size of the room. While most kitchens with no island are small, you can have a large kitchen without one as well. That's why lighting a small kitchen isn't necessarily the same as lighting one without an island.
This key difference makes looking at the type of kitchen lighting a whole different way. Removing the centerpiece from the area, you have to redefine its zones or look for another anchor to create balance. It is both a challenge and a fun exercise. So let's dig into the different ways you can light your island-less kitchen.
What's Inside
Recessed Lights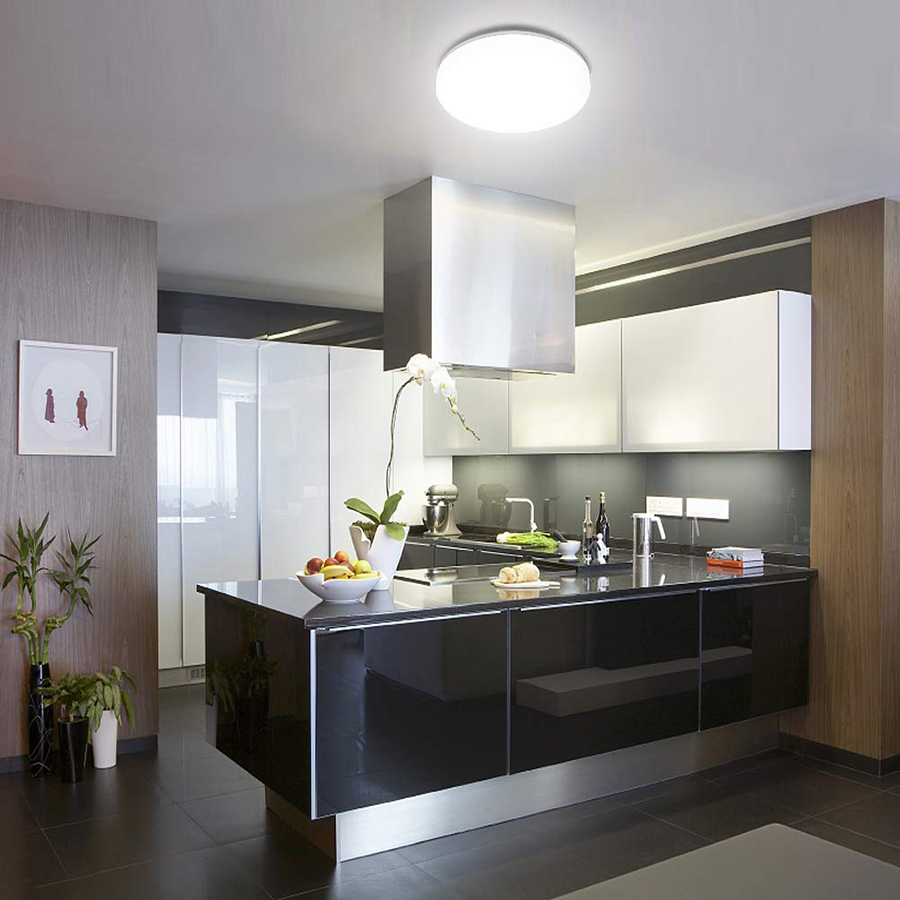 Check Out the Top 10 Best LED Lights for Kitchen Ceiling
In a kitchen, you will want many different light sources. In larger kitchens, it is best to have lighting in different areas such as recessed ceiling light fixtures that go into the alcoves that are built into the ceilings and/or additional points of light around the room. Recessed lights are better if you do not want your display items or other focal points in your kitchen to be very noticeable because they are designed for light.
Recessed lights have the benefits of versatility, and also, they are great for countertops to avoid any shadows that come off the cabinets. Recessed lighting comes in various styles, dimming capabilities, and electric options. They are great for situations where you need a more directional light while still providing some illumination. Generally, recessed lights will provide different styles of options that come with dimming capabilities, so you can adjust your lighting as needed (or desired).
Takeaway: Recessed ceiling lighting is more powerful when there's no island to block the light or create different zones. You can create better ambient lighting with powerful daylight LED recessed light.
Dimmer Lights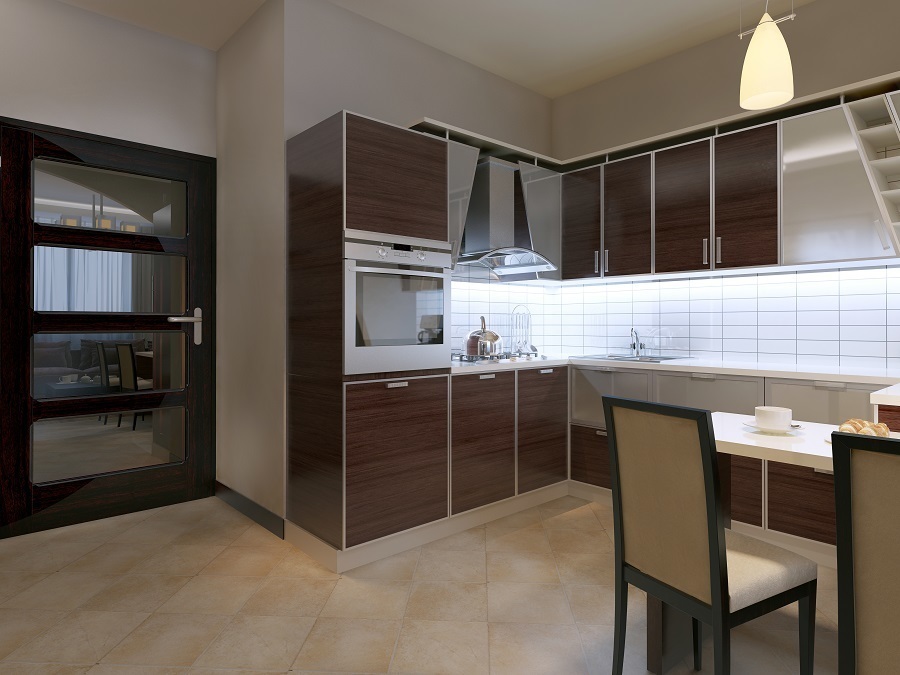 Installing multiple recessed lights throughout the ceiling is the go-to way to illuminate the kitchen and provide enough lighting in every task area. Especially when you have no option to install pendant lights. But you don't need to blast all lights in full every minute. That's why different switches for different light fixtures and dimmers are so important.
You have full control of how much light and where to provide in the kitchen with dimmers, especially when there's no island to anchor the room. Look to install them in most lighting fixtures of the kitchen for the most function.
Chandelier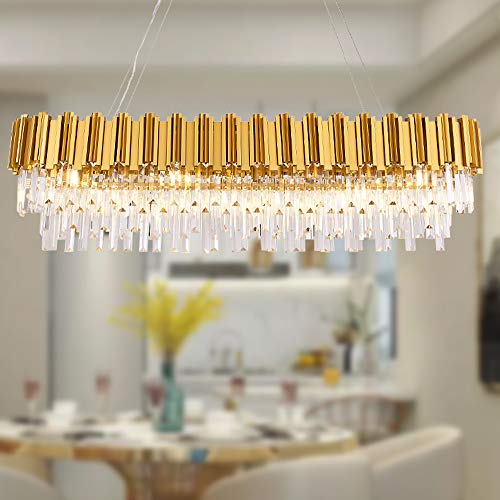 Check Out the Top 10 Best Kitchen Chandeliers
Center chandeliers are a great no-island kitchen lighting solution for those with little or no storage room. By making a big statement and filling the space with light, center chandeliers stand out as the centerpiece of many kitchens. Those who go this route need to make sure to find one that suits their unique tastes; otherwise, it will play too big of a role in their kitchen's design. When choosing a center chandelier, look for one that provides ample light with minimal side effects like light shine-through or bright spotlights on individual items (due to its wide reach).
Takeaway: A chandelier is the least used option in a kitchen with no island because, well, there's no centerpiece to hang above. Unless you have a dining table in a fixed position.
Pendant Over the Sink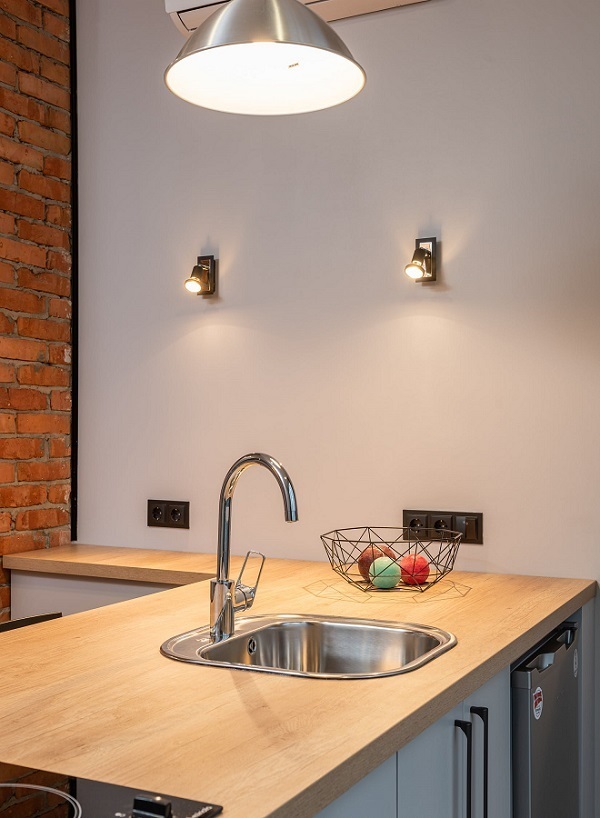 There are many different options for those who want to design their kitchen without an island in order to place a decorative pendant over the sink. The first option is to put the pendant on top of the cabinet, and you can also add a small secondary electric outlet in your kitchen cabinet so that you can clip a portable and easily movable extension cord onto it.
The second option is to incorporate shelving into the corners of your wall where you have a sink. This will give you more countertop space while still having some lighting on top of them for working purposes. You could also hang two metal hooks from your ceiling rafters which would be ideal if they're strung up high enough for placing plates on.
Takeaway: A pendant light fixture over the sink can provide much-needed task light, but you need to hang it high enough, so it doesn't get in the way.
Pendants Over a Dining Table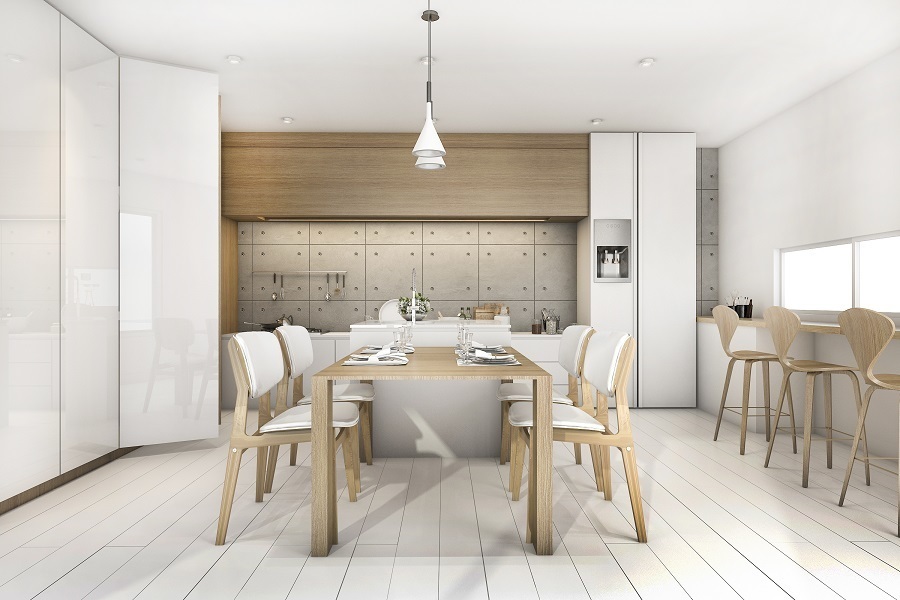 A dining table can work as a centerpiece in a kitchen without an island if it's in a fixed position. If you don't move the table, you can hang pendants above it as you would over an island. This setup provides enough lighting as well as a decor statement. This is the easiest way out in such a setting, so to speak.
Wall Sconces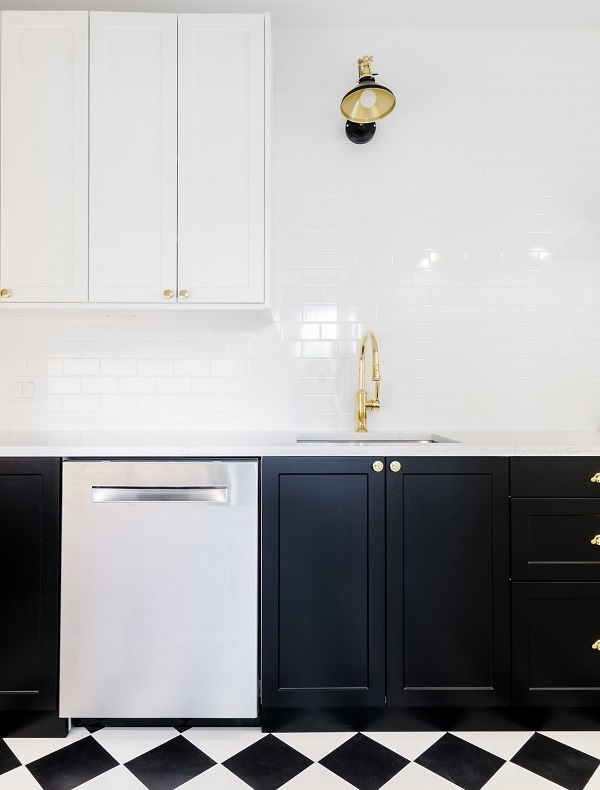 Kitchen wall sconces are often a popular pick for those looking to add a bit of architectural interest to their cooking spaces. However, they are so versatile and can be used in a wide variety of ways. Here are some design ideas for including wall sconces in your kitchen remodel, no matter what the shape of your kitchen or island. (Tip: not all wall sconces come in pairs, so you may want to buy single units as well if you are looking to evenly light a space.)
Hang a sconce over the sink.
Hang a sconce next to a kitchen bar.
Hang a sconce on a wall next to a dining table.
Track Lighting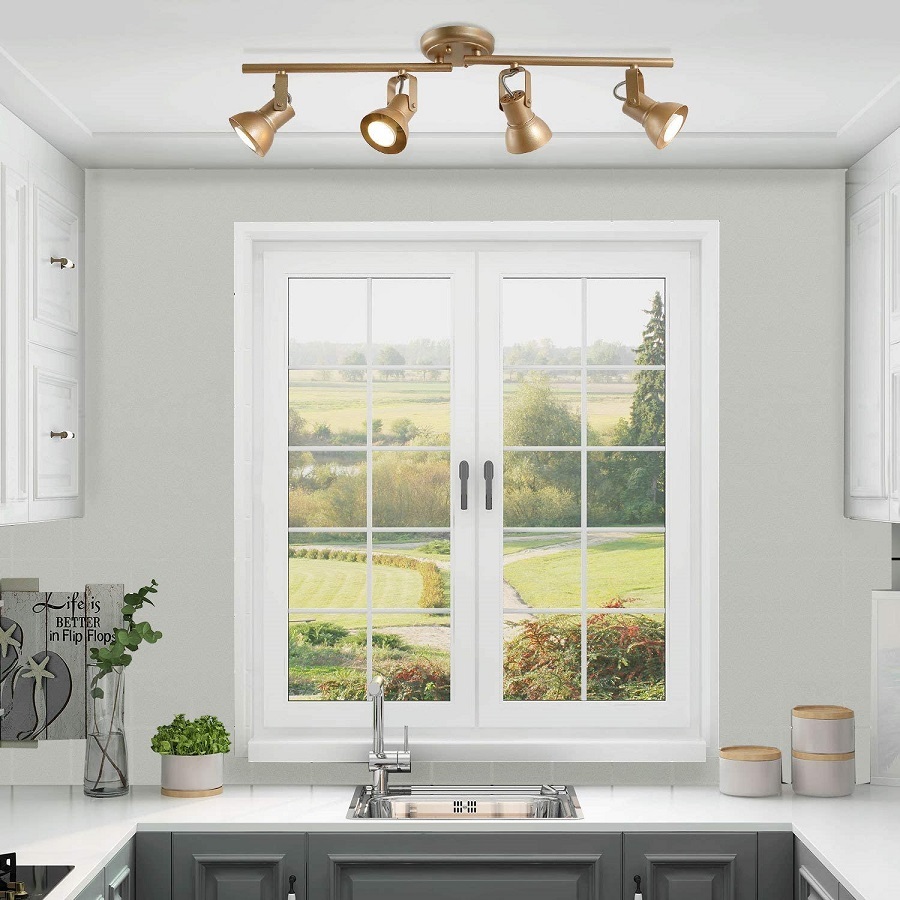 Check Out the Top 10 Best Kitchen Track Lights
Track lighting can be moved and directed in different ways so you can adjust the light. This also gives off a nicer, less harsh light than just having two big sources of light. Track lighting provides some flexibility because it can be maneuvered in any direction needed to shine right where you need it. This also makes the lights more diffused and gentle making them better for kitchens without an island (without a big source of illumination).
Under the Cabinet Lighting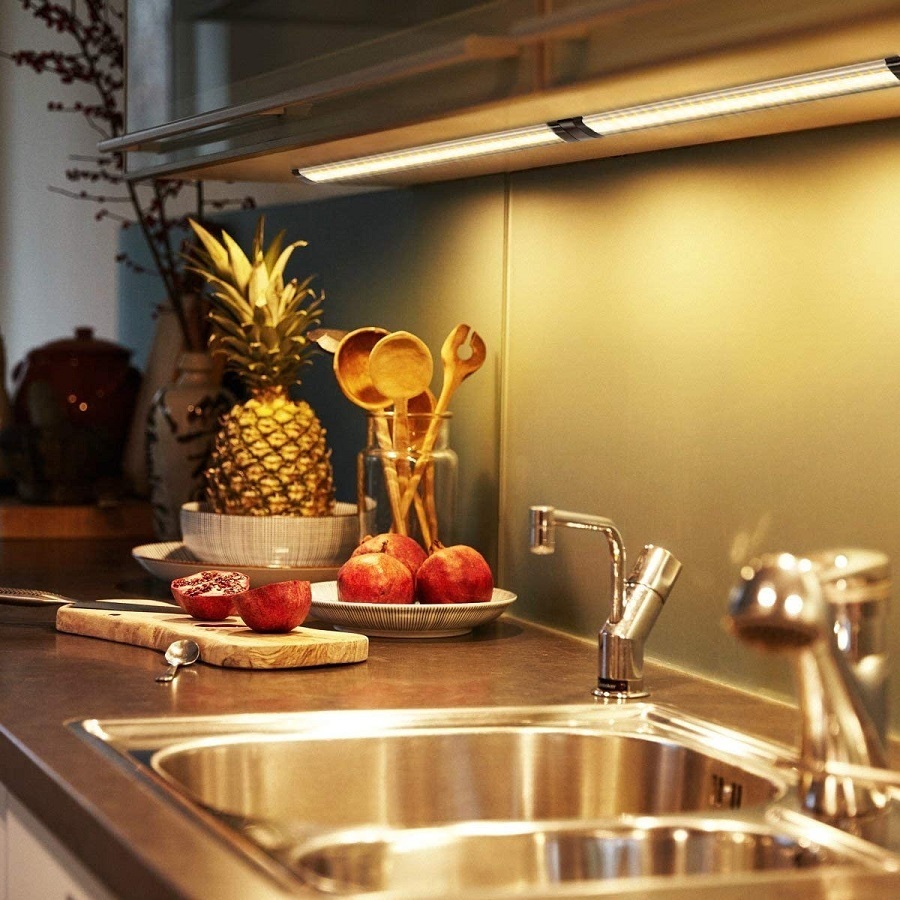 Check Out the Top 10 Best Under Kitchen Cabinet Lights
Under-the-cabinet lights are trending in kitchens of all styles and sizes. So having them in one without an island is just a sensible choice. It's a great way to provide more task lighting where it is needed the most.
Continue reading: