Last updated on February 11, 2022
Looking for the best kitchen lights? These are our top picks for lighting fixtures in every kitchen area. Read on!
You need at least three light sources for different lighting layers (ambient, task, lighting) in the kitchen. But if we have to choose one from this list, it's this flush mount LED light.
What makes the best light fixture for the kitchen anyway? The quality of the product is a given. But you have to think about the needs it has to meet in the particular area.
The trends give us LED lights, stylish pendants, and even chandeliers. These are all great options for different purposes. So you may have to go over a few options, especially if you don't yet know what would meet your requirements best.
In this list, we have picked:
You'll also notice that we've explained why we think each of these lighting options is great and for what use.
We have included the shopping links (our site earns a commission) for your convenience (no extra cost.)
Flush Mount LED Kitchen Ceiling Light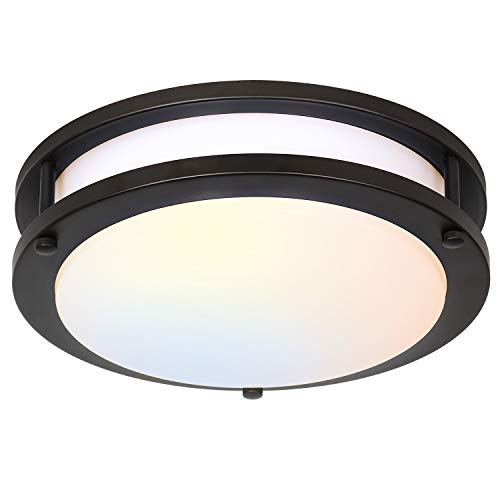 Great for: recessed lighting in the kitchen.
This high-quality ceiling fixture features an oil-rubbed bronze finish and adjustable lights. Unlike other models, these lights come in different color temperatures, including bright white, soft white, or daylight.
The best part about this fixture is that's it's dimmable, and you can adjust the color temperature. It means that you can provide daylight lighting for your food prep and dim it down to create a mood for gatherings in the kitchen.
These LED kitchen ceiling lights are perfect for use in a kitchen because the low-profile design will not get in the way of anything. It's easy to install these lights, which can be another convenient part of the whole kitchen remodel. The LED lights offer optimum visibility and won't cast shadows or create dark spots where they're pointed.
Pros:
Dimmable (Triac dimmer) and the color temperature are changeable (3 modes).
20 watt LED.
Available in rubbed bronze or brushed nickel finish.
Flush mount.
Great value for the price.
Easy to install.
Cons:
Plastic light cover.
The LED bulb isn't replaceable.
No remote control.
Kitchen Pendant Lights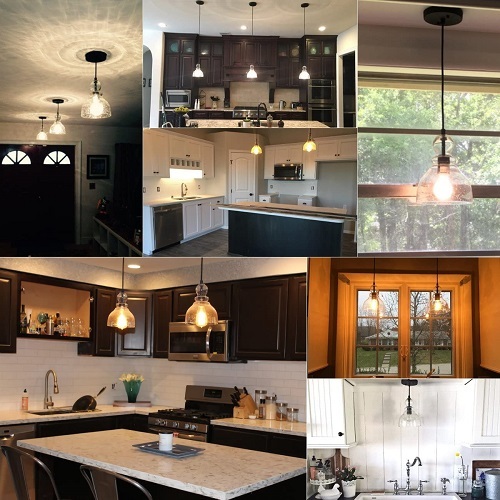 Great for: kitchen pendant light over the island.
The LANROS Farmhouse Pendant lighting is a two-pack of light fixtures made to hang in your kitchen, as well as other areas in your home. These lights have a cord length of about 51 inches. You can use them with E26 bulbs, including LED.
The lights are easy to install. The lighting quality seems surprisingly good, given how inexpensive the lights are. These are industrial-style pendants with unique glass lampshades.
Overall, these pendants come in a pack of two and give you good value for a quick lighting change. As long as you don't mind that they feel cheap but look good from a distance (hanging from the ceiling.)
Pros:
Adjustable cord (up to 51.5").
Made of metal (light) in black or brushed nickel finish (stylish).
Industrial style.
Good lamp shade for downlight and ambient lighting.
Cons:
The lightbulb isn't evenly positioned in the lampshade.
The pendants in a pack may not be identical.
Kitchen Chandelier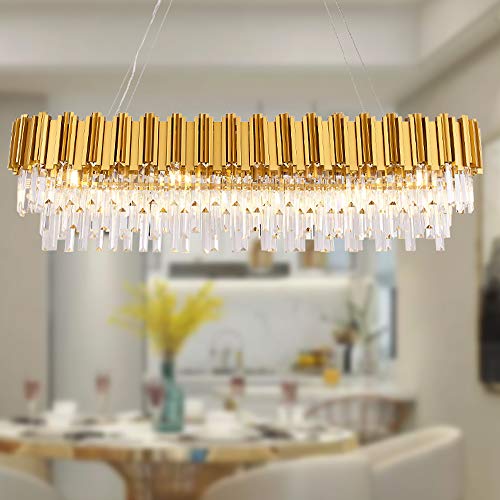 Great for: statement decor over the dining table or an oversized kitchen island.
Any kitchen can be well-lit with the proper lighting. The MEELIGHTING 51-inch luxury modern crystal linear chandelier is both stylish and functional. With 12 actual light sources, this hanging fixture has a luminance of up to 10,000 lm (if using 60-watt bulbs.)
The perfect use for this kitchen chandelier is over an oversized kitchen island or a dining table. It provides enough lighting to illuminate the entire kitchen, and you can use a dimmer to set the mood. We cannot underestimate the decor value of this fixture (as long as you don't mind the hefty price tag.)
Pros:
Compatible with LED bulbs.
Crystal chandelier.
Comes in 7 styles and finishes.
Cons:
Expensive.
Time consuming installation (a lot of crystals.)
Track Lighting Fixtures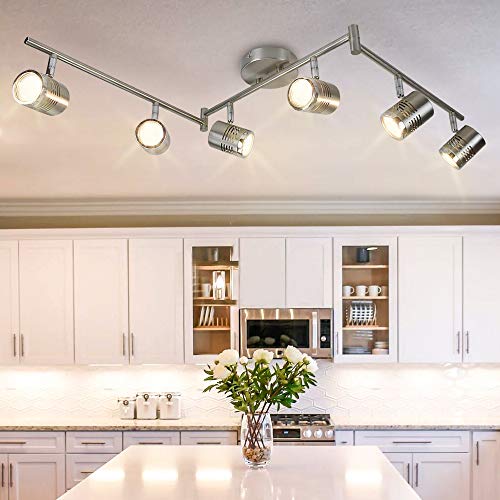 Great for: directional downlight for task areas in the kitchen.
Track lights are exceptionally bright and perfect for kitchens because they are directional and can be adjusted to light any area. They have a stylish, contemporary design that gives any space an aesthetic boost at an affordable price. One con would be that adjustments can be complex, as they are on the top rod, outside of easy reach.
Task lighting is essential when prepping food, and these six lights provide a lot of it (1440 total lumens). They are bright with a warmer ambiance that natural light provides. It has adjustable arm-poles and three swing arms loaded with lights so that you can set lighting where you need it most.
Overall these track lights provide good value for the money. The flexibility and ability to provide even lighting can give you more task lighting and provide extra ambient light.
Pros:
Fully adjustable track heads.
The total light output of 1440 lm.
Modern and stylish (nickel finish).
You can choose from 1, 4, or 6 track heads.
Cons:
You might need to replace the included bulbs as they are cheap quality.
Might be a smaller fixture than you think because it looks larger in the pictures.
Under Cabinet LED Lighting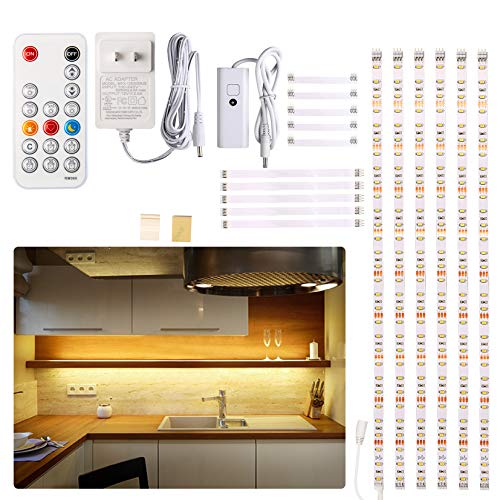 Great for: trendy lighting for under kitchen cabinets.
And to bring your trendy kitchen lighting up another notch, you can use these LED strips to light inside the cabinets or over them. That adds decorative and functional value.
These LED lights are perfect for your cabinets, kitchen counter, or shelves. They can be installed easily with no tools by merely cleaning the furniture's surface and sticking on the LED tape light. The LED strip lights deliver bright 1500 lumens while working from a 12V power supply which is very low voltage and heats up less than other types of lighting.
The length of each section is 9.8 feet, giving a lot of room for mistakes when installing them. The LEDs have 50,000 hours life span with no fear of flickering or overheating while using these.
Pros:
Remote control with timing and dimmer.
Easy installation.
6 pre-cut LED strips (9.8 ft each).
Works off 12V power supply.
Low cost enables you to use more kits.
Cons:
Self-adhesive doesn't always hold.
Don't conform to corners and angles.
Kitchen Island Lights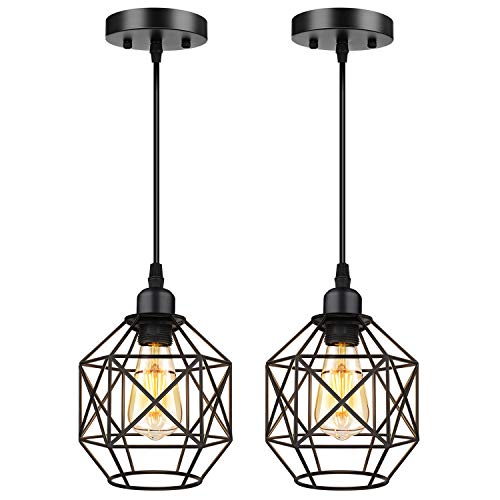 Great for: hanging lights over the kitchen island or a breakfast bar.
These farmhouse-style pendants have a variety of uses that will suit any homeowner's needs. With the help of adjustable ropes, you can install these lights at the required height. They are also surprisingly bright owing to the metal cage lampshade.
The pendants offer maximum and unique lighting on ceilings, making them perfect for use over kitchen islands. They are medium-sized fixtures that don't eat up too much of the room's space as they hang from down rods.
Overall, these fixtures do have some admirable qualities. They're a good size, and they hang nicely on the ceiling with adjustable height. The finish is solid black with no rust or fading problem as well.
Pros:
Compatible with LED bulbs (Edison bulbs look great.)
Farmhouse style.
Black finish.
Adjustable height.
Cons:
Bulbs are not included.
They may be difficult to clean.
Wall Sconce Lights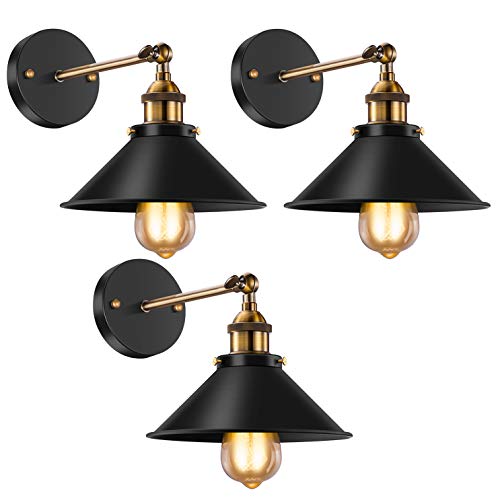 Great for: additional task lighting.
The Vintage Wall Sconce Licperron Black with Antique Finish is a kitchen light with a 240° adjustable head, allowing it to rotate to always provide the right illumination. Made of high quality, durable material and successfully finished in radiant baking paint, the wall sconce is safe for many uses and has lasting properties.
These vintage kitchen lights are an excellent option for anyone looking for bright, spacious task lighting (for example, over the sink or next to a breakfast bar). These industrial wall sconces boast a dimmable bulb, and you can adjust the head on these fixtures in all directions to meet your needs.
Overall, sconces like these are excellent for providing more task lighting or adding more lights in a small kitchen where space is minimal.
Pros:
Adjustable head.
Vintage style.
Comes in 3 pack.
Cons:
Bulbs are not included.
No switch on the fixture.
Not easy to install.
Kitchen Tube Light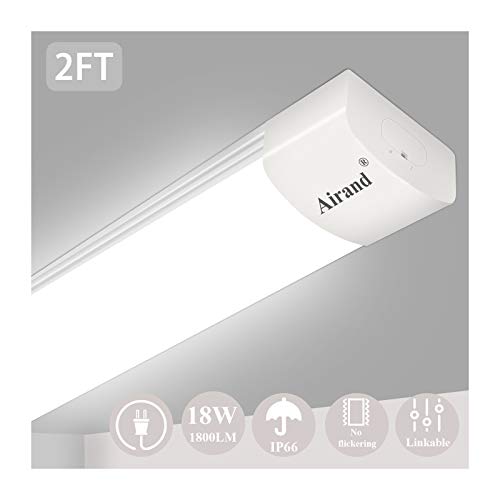 Great for: replacing the old fluorescent tube lights.
The Airand LED tube ceiling light is a great option to replace traditional lights. This light is brighter and whiter than traditional fluorescent tubes. The lamp beads are IP66, meaning you can use them in damp conditions without the worry of water getting on the lens or bulbs. All wiring originates from the fixture.
This fixture is made of metal aluminum which is durable and rust-proof. This LED light provides a more immersive, cozy environment for your kitchen with glare-less, flicker-less light. You can expect 1800 lm with cool white 5000K color in terms of brightness.
If you're after tube lights for the kitchen ceiling (this type of fixture provides the most light), it might be time to ditch the fluorescent for the more efficient LED version.
Pros:
LED bulb.
Aluminum fixture with plastic cover.
Waterproof.
Easy to hang.
Cons:
Kitchen Ceiling Can LED Lights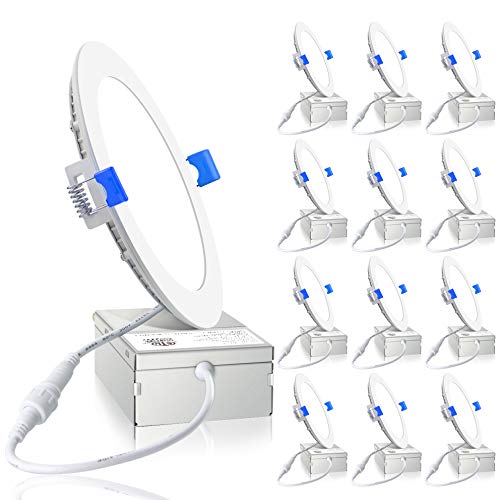 Great for: retrofit kitchen downlight.
Can lights are an ever-so-popular kitchen lighting option. And even though you won't get any decorative value from them, they are still a genuine lighting option, mainly LED bulbs.
The exciting part of these fixtures (they come in 12 packs) is that these are can-less, meaning there's no actual can to insert into the ceiling. But you still get the look and function. This makes installation easier.
This specific product is suitable for use in dimly lit areas of the kitchen. They are pretty bright, though not as bright as some other lights on the market. The fixtures are thin and mount seamlessly to the ceiling. This is your ideal retrofit solution and is great for low ceilings.
Pros:
12 pack.
Easy installation.
12 watt LED.
1050 lm brightness.
Dimmable.
Cons:
The springs holding the clips are too tight.
Connectors could be better.
It might be hard to take out after installing them into the ceiling.
Bar Pendant Lights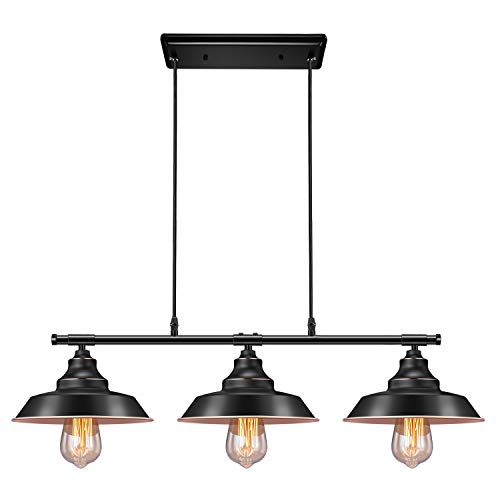 Great for: high ceilings over an island and other tabletop surfaces.
These lights are perfect for a kitchen island or any room with 8+ ft ceilings. The vintage style is lovely, but they're not bright enough for large spaces. You will not be disappointed with this product if you're someone who prefers dim lighting and a vintage feel in the kitchen.
Where can you use these lights? You can use these industrial kitchen bar pendant lights in the dining area, kitchen island, and breakfast bar.
Pros:
Farmhouse style.
3 lights.
Supports LEDs.
Adjustable height.
Easy installation.
Cons:
Might be difficult to clean.
FAQ
What is the brightest kitchen lighting?
LED is the brightest and most efficient kitchen lighting.
How many lumens do I need in the kitchen?
You need from 2,000 to 7,500 total lumens depending on the size of your kitchen.
Should I use daylight bulbs in the kitchen?
Yes, daylight bulbs should be part of your kitchen lighting. They can use dimmers too.
What type of lighting is best for a kitchen?
LED lighting works best in the kitchen, especially if dimmable and has an adjustable color temperature.
How many lights should be in a kitchen?
You need at least three lights in a kitchen to provide balanced lighting in multiple layers. These are ambient (recessed light), task, and accent lighting. Depending on the size of the kitchen and the brightness of the lights, you may need more of them.
Are 800 lumens bright enough for a kitchen?
800 lumens is not bright enough for food prep, but it's enough to set mood lighting in a small kitchen.
Continue reading:
Disclosure: As an Amazon Associate we earn from qualifying purchases.