Last updated on September 21, 2023
Looking for the best lighting solutions for your small kitchen? Try some of these 20 ideas. The right lighting changes everything. Read on!
Here are some quick small kitchen lighting ideas specifically to pique your interest:
Recessed ceiling lights across the entire length of the kitchen.
Mini pendant lights.
LED track lights along the wall or over the counters.
Lighting inside the cabinets (turning on and off automatically).
But wait, there's more. We have prepared 20 brilliant ideas for your small kitchen to make it brighter, so read on!
Small kitchens can look spacious and well-lit when they are correctly illuminated. The lighting is set up in a way that makes the ceiling feel higher and creates more space (especially when there is no kitchen island). The best kitchen designs have a combination of natural and artificial light sources. Lighting should be just right in a room with an overall balance of shadows and light to create a warm ambiance.
To illustrate specific ideas, we have included shopping links (so you know what we're talking about and where to find it). These links earn us a commission at no expense to you.
What's Inside
Natural Lighting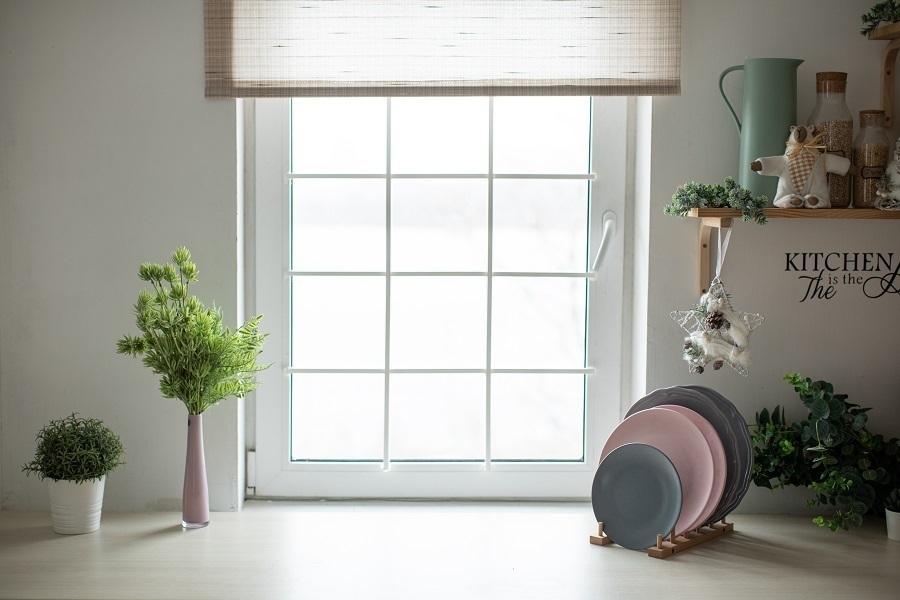 You will naturally want to increase recessed lighting if we talk about lighting a small kitchen. The essential advantage of the small kitchen design is if it includes a window allowing natural light in. This is the most significant advantage of working in a small space. A beautiful window in your tiny kitchen significantly decreases your need for artificial lighting during the daytime. The kitchen does not feel claustrophobic as it has a strong connection with the landscape outside, visually.
So, first of all, try to remove anything that stands in the way of natural light coming in through the window. Cut down on curtains and drapes. If you need privacy, use roller shades that can be withdrawn during the day. The more light you let in, the more your small kitchen benefits.
Lighting in Layers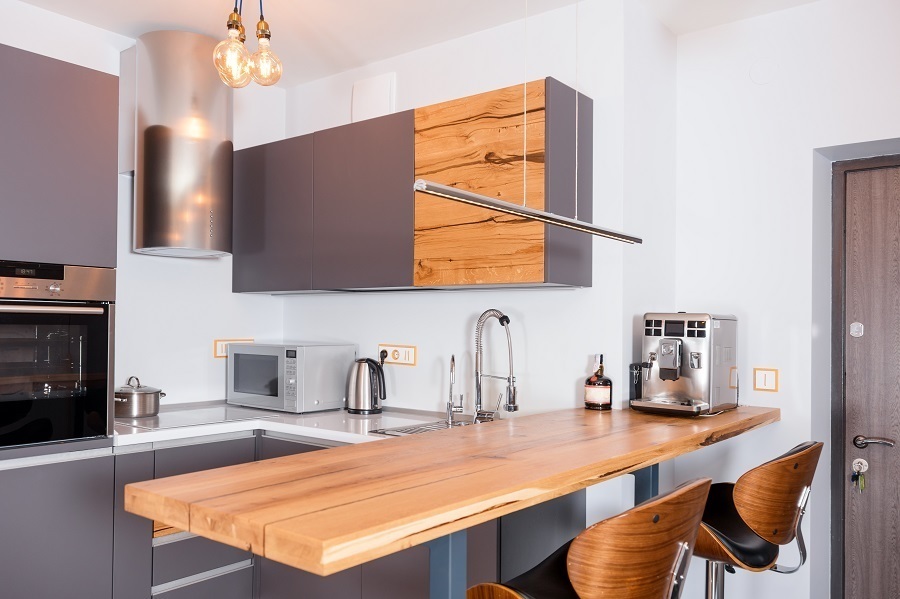 Including a lamp to illuminate a room is not enough in our lives. In small kitchens, the light distribution is as critical as the light itself. If you are hanging a couple of bright pendants together with ugly recessed light, that will cause the area to be dark and old-fashioned. We must minimize shadows wherever possible. Having a monochromatic style in the room lightens it and spreads it uniformly. Mirrored backsplashes and counters impressively put the finishing touches on these fabulous kitchens. And so do metallic surfaces, cabinet hardware, and kitchen appliances.
Lighting options that have several forms of light involved may be the best ideas for a small kitchen. It enables color and light to be personalized. You may alter the light with various illumination layers, depending on the time of day and task at hand.
There are three primary lighting types: accent light, task light, and ambient light. Ambient lighting from ceiling light fixtures provides a pervasive effect across the entire room. Accent lighting, including LED, track lights, pendants, and sconces, provides a centered light and fits the room's design. Task lighting provides the correct amount of light for the working environment. Under-cabinet lighting, LED strips, pendants, table lamps, and other task lighting forms are useful for these kinds of needs.
Ceiling and Recessed Lighting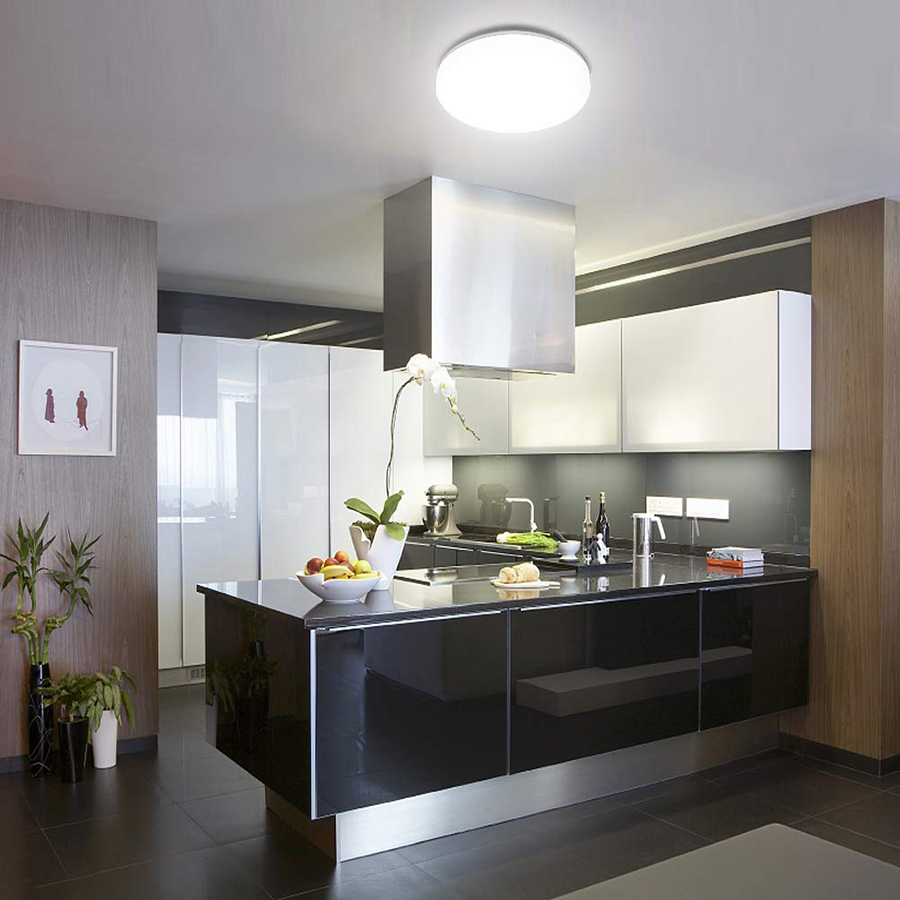 Check Out the Top 10 Best LED Lights for the Kitchen Ceiling
The best illumination lighting configurations incorporate both natural and artificially illuminated light sources. With trending LED lights for kitchen ceilings, you have a lot to choose from. In case your kitchen has low ceilings, you should not hang fixtures too low. Light fixtures should be mounted so that they blend in with the ceiling. Add little chrome trims for a little extra flair. Flush mount ceiling light fixtures will give you more light and provide a statement without trading in the much-needed height. These light fixtures will improve the elegance of your ceilings by providing lighting without feeling lowered. You may use recessed lighting for ambiance as well as interior lighting. These can be mounted in-ceiling sockets to compliment the lighting from your sconces or chandeliers.
Task Lighting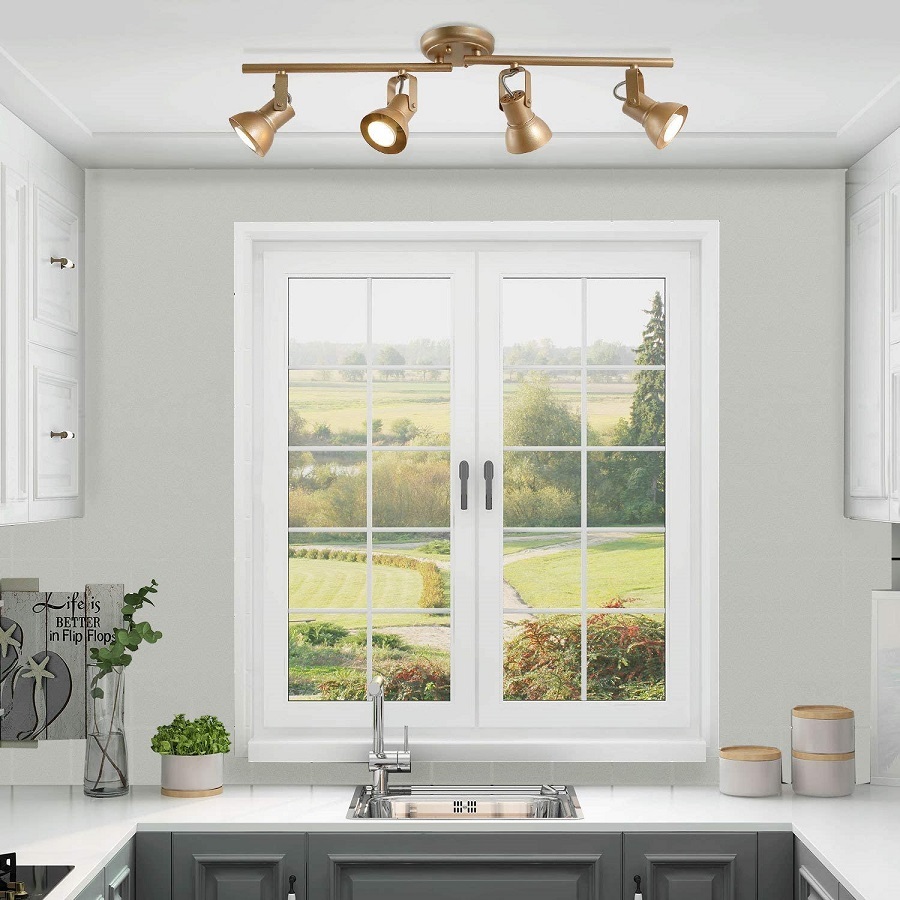 It's essential to consider task lighting when designing your small kitchen. Lights above the sink, the countertop, and the stove help ensure that you prevent eye strain. This light will ensure that you are provided ample light to do food prepping properly. Under-cabinet LED lights (especially LED strips) are standard to illuminate counter space.
The lamps should be bright for task lighting, but the fixtures do not have to be dull. Consider installing wall sconces over spaces in which you deal with heavier tasks. Your kitchen will look more classical with wall sconces with graceful arches or industrial chic with exposed wires and textured materials.
Track lighting looks pretty fantastic too. This is practical in small homes with small spaces and fewer electrical outlets. This lighting style is functional and beautiful because you can monitor where you want the lights to be.
Flush Mount Lights
Flush mount or semi flush mount lights are attractive, stylish decorative light fixtures. For smaller cooking areas, we suggest adding a series of flush mount light fixtures over the kitchen sink if there are upper cabinets. Turning off the lights would produce a soft, warm room light.
Flush mount lights came in many sizes. In these dimly-lit environments, you should add bright lighting at two or three spots.
Wall Sconces
The wall sconces will save the counter space and illuminate the corners of your kitchen at the same time. The choices are both eye-catching and practical. You can use sconces for accent lighting.
Pendant Lighting
The stylish, contemporary pendant light is undeniably a significant lighting fixture in the modern kitchen. This recommendation is something that has been practiced across a lot of kitchens, small and large alike. It's challenging to make more than two spotlights in a small kitchen. The right pendant you get will impact the overall appearance of the space. The theme and styling of your pendants should be in line with the design of your kitchen.
Make sure you buy a pendant to suit your aesthetics. This offers just the right amount of task lighting to the kitchen. We would encourage you to use hybrid lighting with recessed lighting. We recommend that you stay away from industrial chandeliers with a big base since such a light fixture looks cluttered, and you lose visual height with a low ceiling.
Under the Cabinet Lighting
Under the cabinet, lighting is a successful form of task lighting. In addition to making your counters brighter for work surfaces, it also lets out soft lighting around the edges of the room. This will make a small kitchen look less crowded.
Lighting Inside Cabinets
Likewise, adding lighting inside cabinets (and making it turn on as the doors open) will provide extra task lighting where and when it's needed.
LED Strip Lighting
Under-cabinet LEDs and subtle LED lighting is soft, attractive, and practical, perfect for a small kitchen.
Mood Lighting with Dimmers
The kitchen is the busiest space in the house and a social hub for family members. The lighting needs to be easy to adjust depending on the amount of natural light and how busy the room is. You want enough light when you're entertaining to ensure that the food looks spectacular. But, you don't want too much light on you when you're having a midnight snack. Using a dimmer switch lets you change the light to the optimum level.
Statement Lighting
Many people oppose statement lighting in their kitchen because this tends to overwhelm the room. Even though a statement light doesn't have to be particularly big to look stunning, you can make a statement with a striking color or an industrial, antique, or sculptural style. You will make a fashion statement with these gorgeous adornments.
If a kitchen includes a small island, you might fit it with pendants to provide lighting. This will help to separate spaces for eating and working.
Statement lights can also visually accentuate an expansive room. Rounded pendant lamps with matte surfaces (trending now) won't stand out but still provide statement lighting.
Table Lamps
A table lamp will alter the way your kitchen or dining room looks within the blink of an eye. A lamp can help to highlight the display cabinet and to partition a counter table.
Another way to design a beautiful kitchen would be to place a pair of identical table lamps near the kitchen area. Getting a lamp mounted on a window sill, ledge, in a nook, or on a shelf will bring light to a dark corner.
Chandeliers
In a smaller kitchen, a small chandelier can be considered a good decoration. The most challenging arrangement to make will be a chandelier for the tiny kitchen as it needs to incorporate a style that fits the room and should be elegant.
Light Bulbs for a Small Kitchen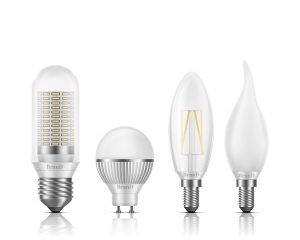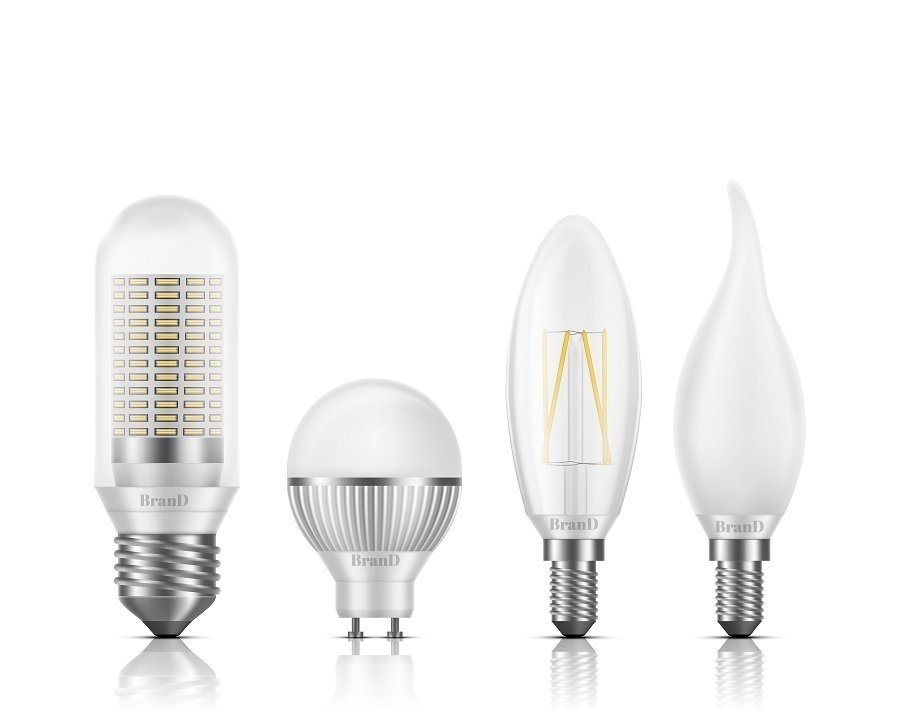 Different types of bulbs may also influence the appearance of a room. An incandescent bulb emits a warmer light, and cool CFLs and LED bulbs produce a bluish-colored light. These are the issues to be addressed when picking light bulbs for the kitchen. When you are decorating your ceiling, consider unique lights or colorful ones that reflect your personality.
LED bulbs are prevalent in modern decor. They last long, are energy-efficient, and environmentally friendly. With the variety of choices you have for different fixtures, light temperature, and color, there's virtually no reason to choose other types of bulbs.
Smart Lighting
With so many fixtures in your kitchen, you should use a voice-activated smart LED light control device. You can create a more mystical environment by merely naming the lights to turn them on.
Small Kitchen Lighting by Floor Plan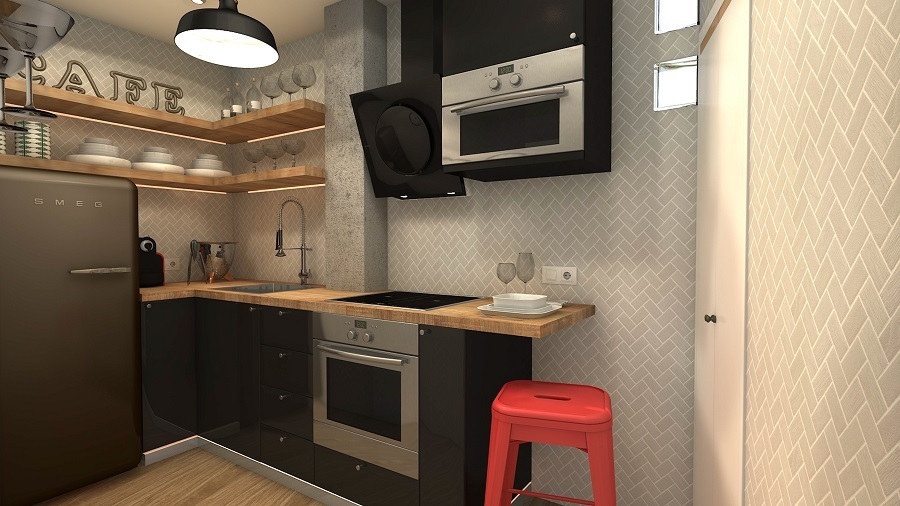 Floor plans for individual kitchens determine specific styles and lighting. For example, a galley kitchen is entirely different from an open-concept room. You would design lighting in the galley kitchen explicitly for it.
Galley Kitchen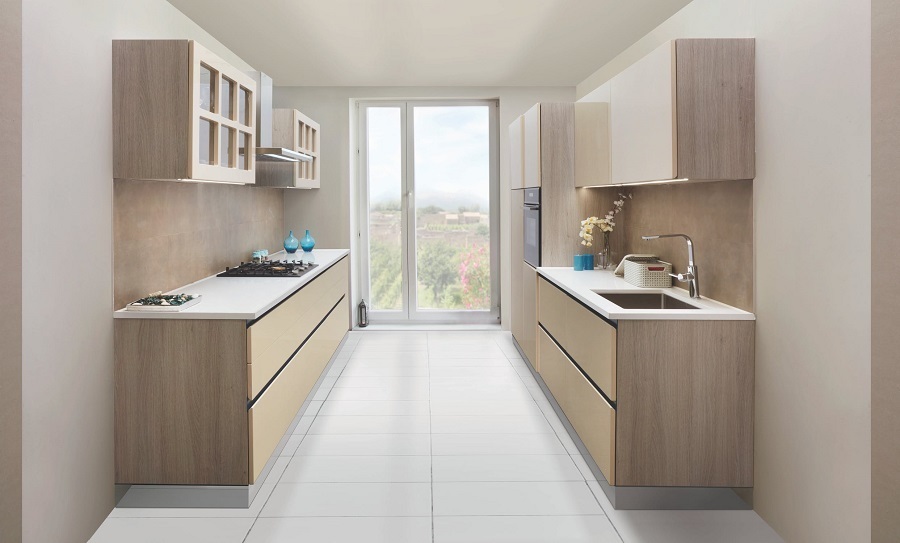 Although a galley kitchen is space-efficient, it can still feel crowded, mainly if there is little light. Light can promote visual communication by opening up space and creating a pleasing atmosphere, using ceiling lights along the kitchen's entire length to ensure proper lighting and the banishing of shadows from the corners.
Track lighting or pendant lights are also suitable choices for lighting here. It is essential to provide adequate lighting on galley kitchen work surfaces, which are often kept out of sight under cabinets. Place lights under your kitchen cabinets to create a charming atmosphere in your kitchen. Style your galley kitchen with accent lighting if necessary. Mount strip lights on the wall to give the ceiling height and visual appeal. Use accent lights to highlight the pleasant cabinets and provide depth to the cramped room.
L-Shaped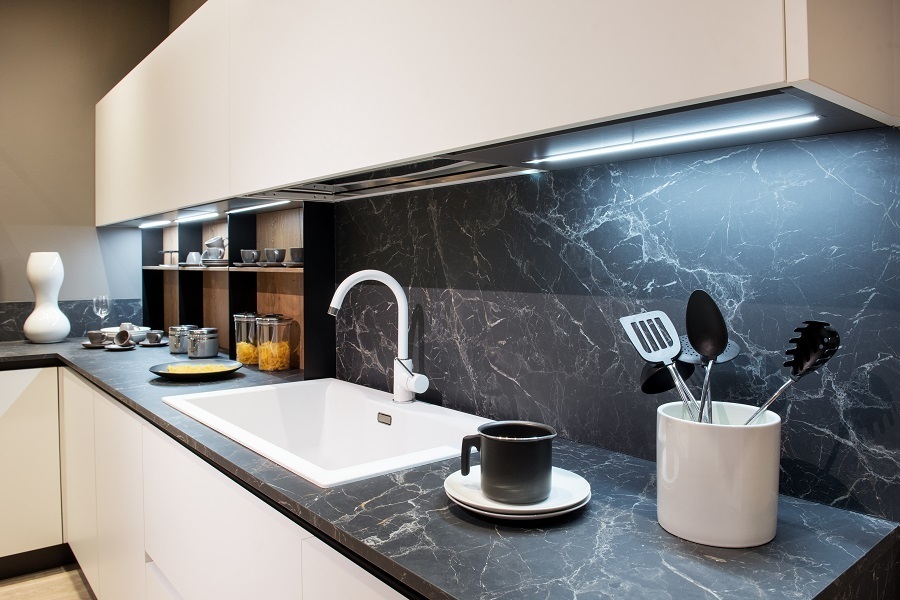 Natural light is a comfort in a kitchen from a window or coming in from an adjacent room. Ensuring that the corner is appropriately lighted in the front of the L should be more than enough. Light will pull you into the kitchen. Space would benefit a lot from installing a piece of art to illuminate a chronically dark kitchen. Recessed lighting fits well in the ceiling, so installing recessed lighting with fixtures on the top of the cabinet is a smart idea. Many kitchens feature a breakfast table on the open side. This is a perfect place to mount hanging lights to illuminate the middle of the kitchen. You'll benefit from a nice glow while working on the kitchen island or dining in a nearby nook. Chandeliers or multi-light pendants will be lovely choices for this arrangement.
Open Floor Plan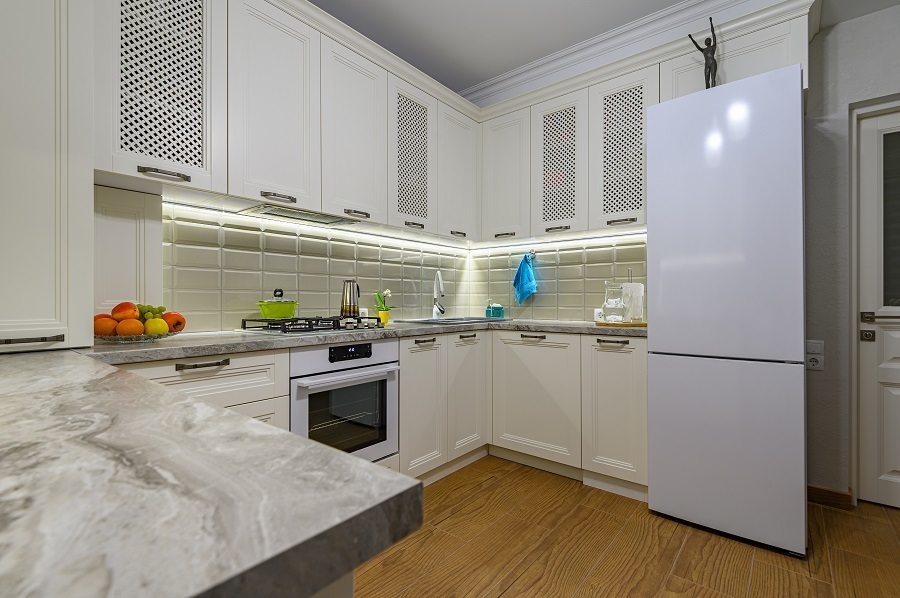 Open kitchens have a decent amount of natural light in them. The challenge is to make the food preparation area a separate room like the rest of the home. Second, you should consider the light fixtures. Add recessed lighting in the kitchen and neighboring rooms. Nurture setting by using decorative fixtures and lighting. Mini-pendants may be placed above the kitchen or countertops. To anchor the room, you should mount a chandelier in the center of the kitchen. Then add task lighting around the exterior. It is necessary to plan the open-plan layouts with the rest of the room in mind.
Continue reading: