Last updated on August 13, 2023
Want to add track lighting to your kitchen for more directional lights? It's a great choice, so let's find out all the different ways how you can do it. Read on!
What is track lighting and why do you need it in the kitchen? Simply put, it's lighting fixtures put on tracks, so to speak. The best part is that these fixtures are mostly directional (meaning you can direct the flow of light to a needed spot).
You may know track lights as being popular in settings where the spotlight is needed, such as a gallery exhibition. In the kitchen, it translates to being able to provide much-needed task light.
So track lighting in the kitchen is practical. The next question is it visually appealing? Emily Henderson for one thinks it can be cool, as long as it blends in the room's design and doesn't provide distractions to the ceiling. Sleek modern design and metallic finishes are ideal.
If we take the track lighting concept to a broader definition we will see that we can use it to define hanging pendants on a track. In this case, they are not directional (only top-down) but they provide so much decor value. And they are ideal, as luck would have it, to provide light over a table, countertop, or an island.
So now that we know what is track lighting and what it does to your kitchen both, functionally and decoratively, let's begin exploring the different ideas for implementing it.
What's Inside
LED Track Lighting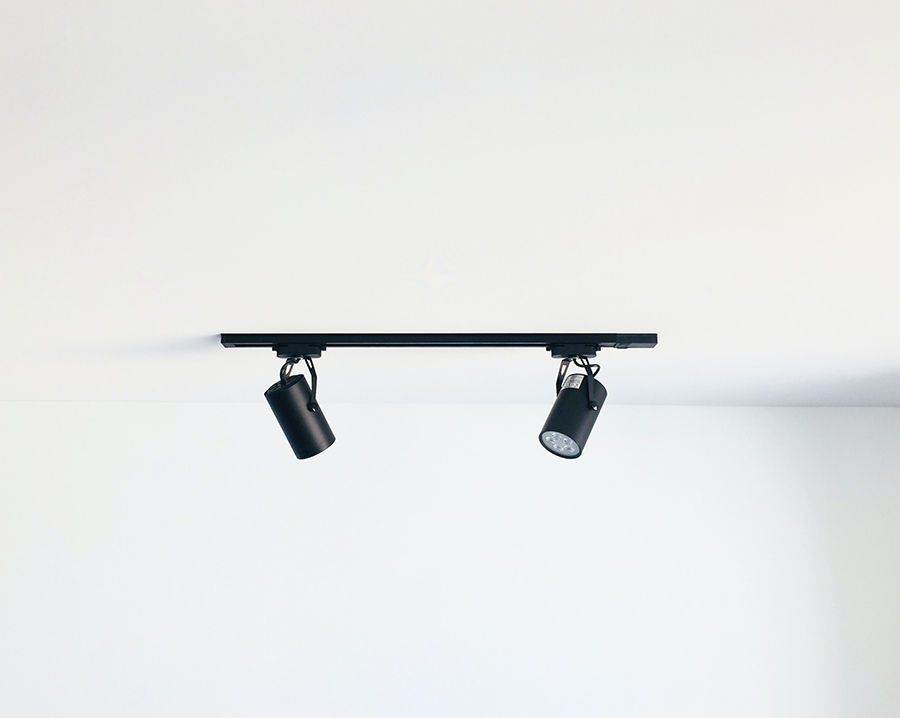 Early track lights were dominated by halogen bulbs. However, newer models feature LED track lighting for better energy efficiency, smaller fixtures, and greater design possibilities. You can put multiple LEDs on a standard track, a fixed track, a monorail track, or a swing arm track depending on the needs of the space.
Plug-in Track Lighting
Renters have limited access to their unit's electric system so rewiring to accommodate new lights might not be feasible. A great alternative is to use plugin track lighting that goes to a standard wall socket. They even have inline switches for ease of use. Use this as a quick fix for apartment kitchens that sorely need more illumination.
Track Lighting Pendants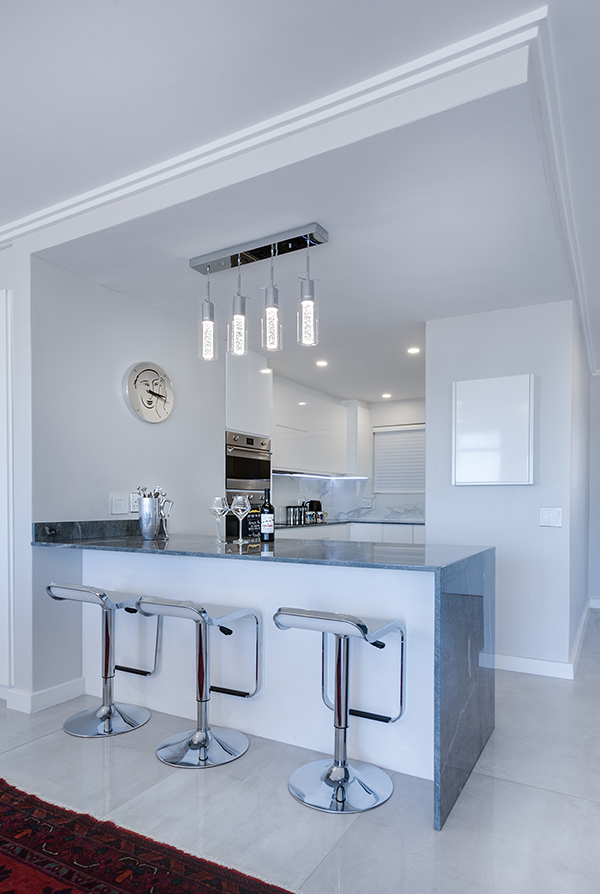 Although most track lights use heads that can be tilted to a specific direction, many are also turning to pendants for their reliable illumination of a designated spot. Track lighting pendants have long cords to make sure that the bulb is as close as possible to the dining table or work surface.
Track pendant lighting is great for spots in the kitchen that require a high amount of illumination. These include the kitchen island, the breakfast bar, and the dining table (if the island is not present). Tracks can accommodate multiple pendants which are good for spreading the light across long tables.
Modern Track Lighting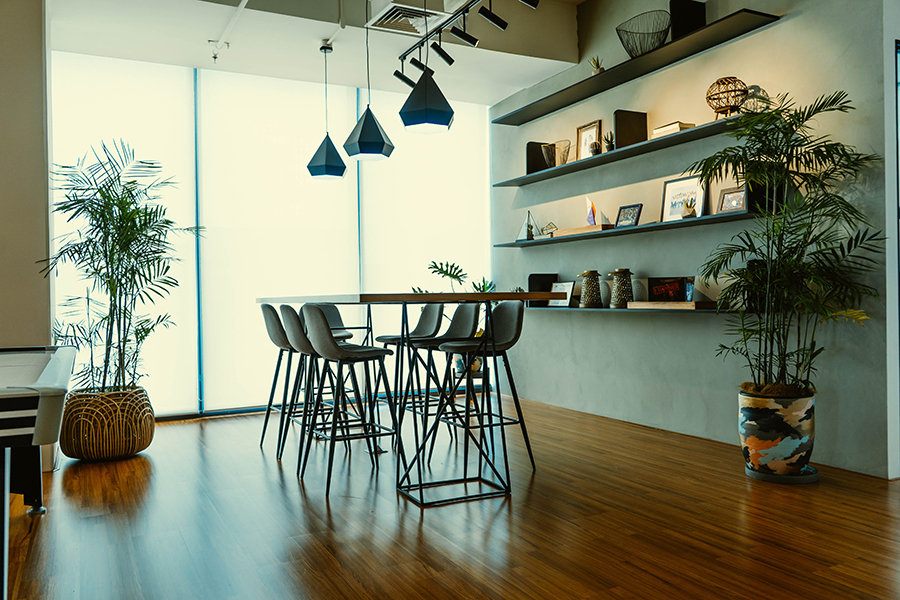 Modern track lighting features lighter weight thanks to better material selection. They are easier to install since many won't require heavy brackets or complex wiring. They can tap into the existing wiring or simply plug into a regular outlet. Many will have LED lights, simple heads, and neutral colors.
Industrial Track Lighting
Industrial track lighting provides spaces with utilitarian illumination. Although these may be designed for factories and similar settings, they can also be used in homes to bring in functionality with a no-frills vibe. They are perfect for kitchens with high ceilings as their bulky heads will be out of the way.
Cable Track Lighting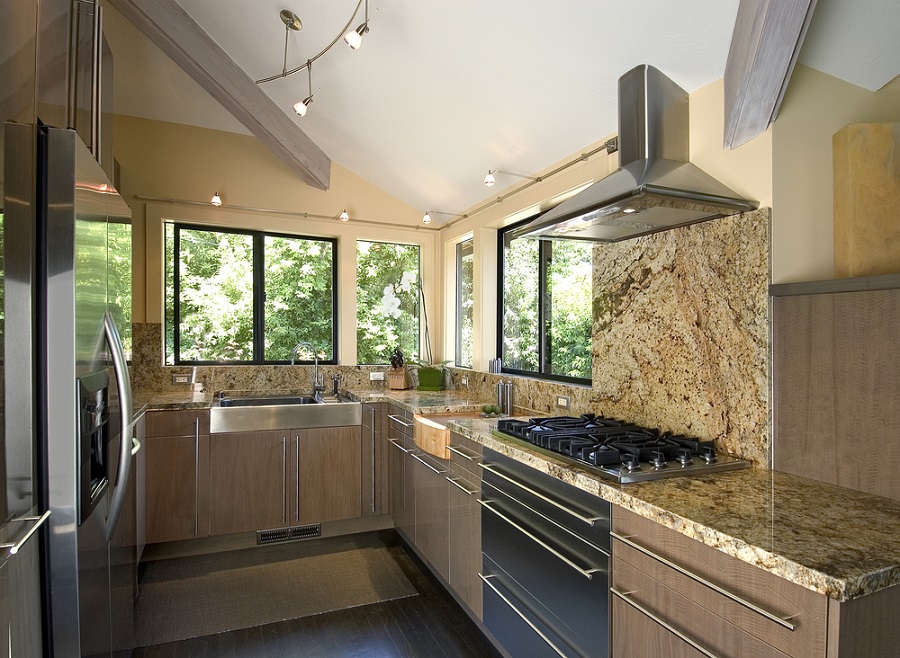 Most track lighting systems feature thick rigid tracks but there is another class called cable tracking lighting that works just as well. Use this in kitchens with concrete ceilings so you don't have to cut holes. It is also a good option for cathedral ceilings due to its flexibility of placement. Cables are also more subtle because of the thin wires — a look that may be more attractive to some homeowners.
Gallery Lighting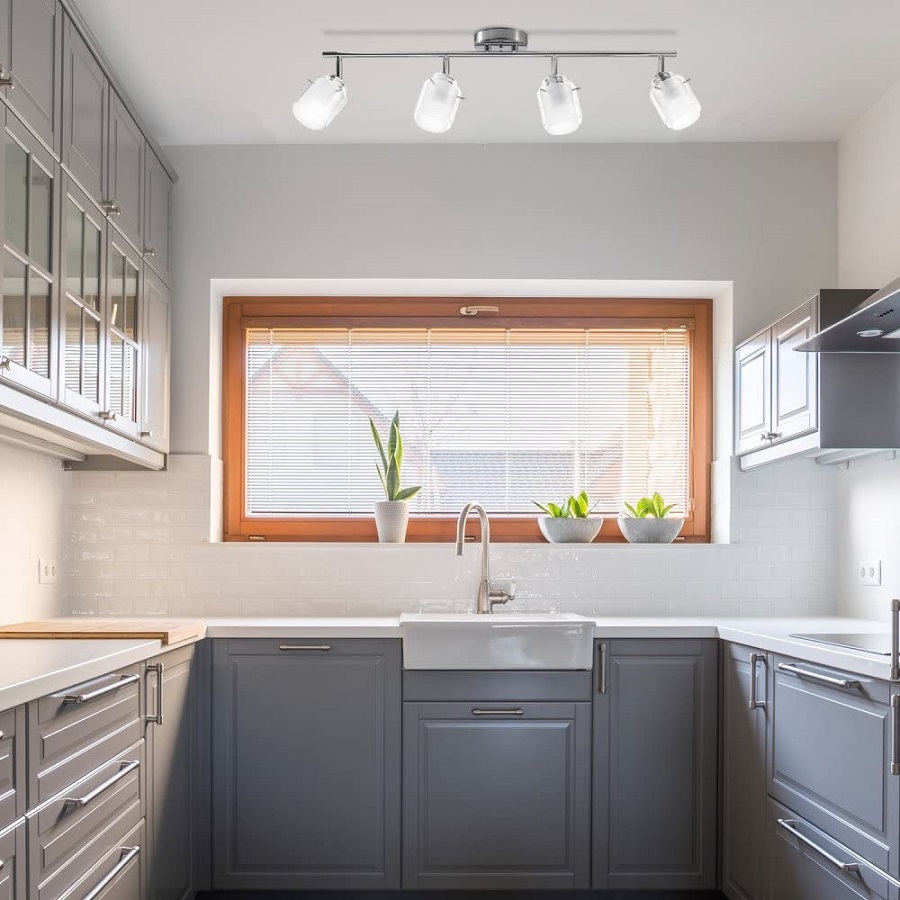 Museums and exhibitions use gallery lighting to put the focus on the works of art. Homes can also do the same if they abound with paintings, photographs, and other objects that deserve more attention. Add framed prints in your kitchen or whatever you feel would elevate its appearance.
Rustic Track Lighting
If you want a farmhouse feel in your home, then consider rustic track lighting. You may get one with a thick wooden canopy so that the track can have a proper surface to latch onto. The heads could seem older with antique treatment.
Over Kitchen Sink Lighting
Kitchen sinks see a lot of use every day. Sunlight offers excellent illumination for meal prep and dishwashing but where do you turn to when nighttime comes? Over kitchen sink lighting may be provided by track lights if no cabinets are present nearby for the installation of LED lights.
Suspended Track Lighting
If tracks cannot be mounted directly on the ceiling, then homeowners may consider suspended track lighting instead of using fixed wires. This is particularly useful when the ceilings are too high while the surfaces requiring illumination are down low. It is a good solution for spaces with sloping ceilings as well.
Curved Track Lighting
Curved track lighting allows homeowners to install specialized solutions for unusual room requirements. Some of these are rigid curved tracks while others are flexible to allow the lights to go around vital surfaces unimpeded. The curves also have the effect of drawing the eyes upward across the ceiling.
Recessed Track Lighting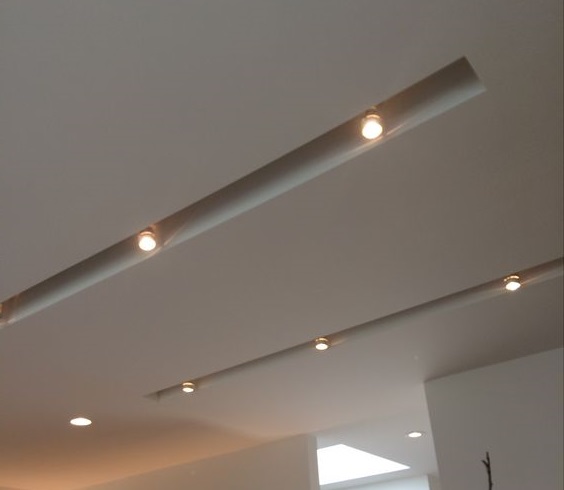 Regular tracks provide an industrial look that many are happy to see. However, others might prefer a more minimal styling that hides the tracks while retaining the benefits of this lighting system. Recessed track lighting gets the job done for the minimalist with its sleek and streamlined styling.
Wall Track Lighting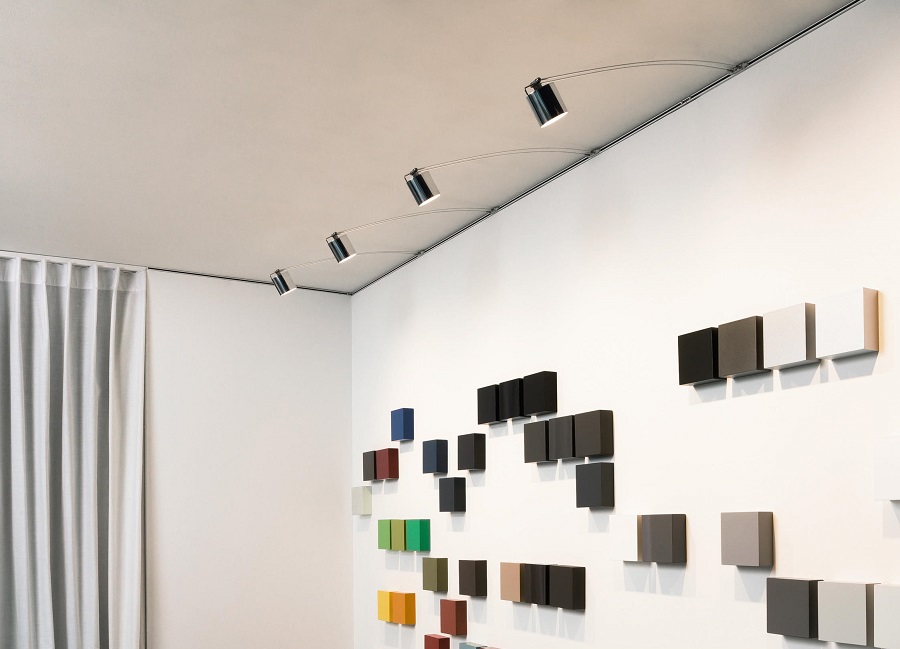 Tracks don't have to be mounted on the ceilings. Some are attached to the walls for ambient illumination to great effect. These can also serve as modern art pieces and conversation starters while providing much-needed illumination in the kitchen. Consider this if you have large bare walls in your space.
Kitchen Table Lighting
Table lighting design is heavily influenced by the shape of the furniture. If you have a small kitchen and a square or round table, then a single pendant will do. If you have a longer oval or rectangular table, then a series of pendants hanging from a track can solve your kitchen table lighting dilemma.
Hanging Track Lighting
Task lights are ideally closer than usual to the work surface such as kitchen counters, islands, and tables. Consider hanging track lighting from the wall using strong cables to lower the heads or pendants to the perfect height.
Black Track Lighting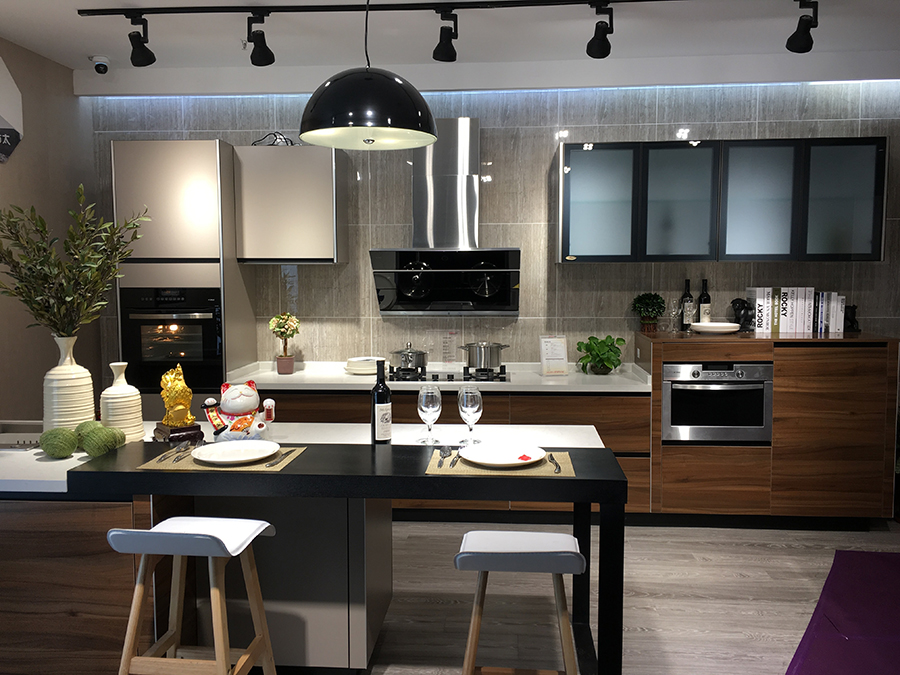 Neutral colors are often sought for modern spaces as they can be mixed and matched with virtually any piece of décor. Black track lighting is great if you want to make them statement pieces in your home. They will be easy to spot yet they will be subtle enough to allow the kitchen surfaces to stand out.
White Track Lighting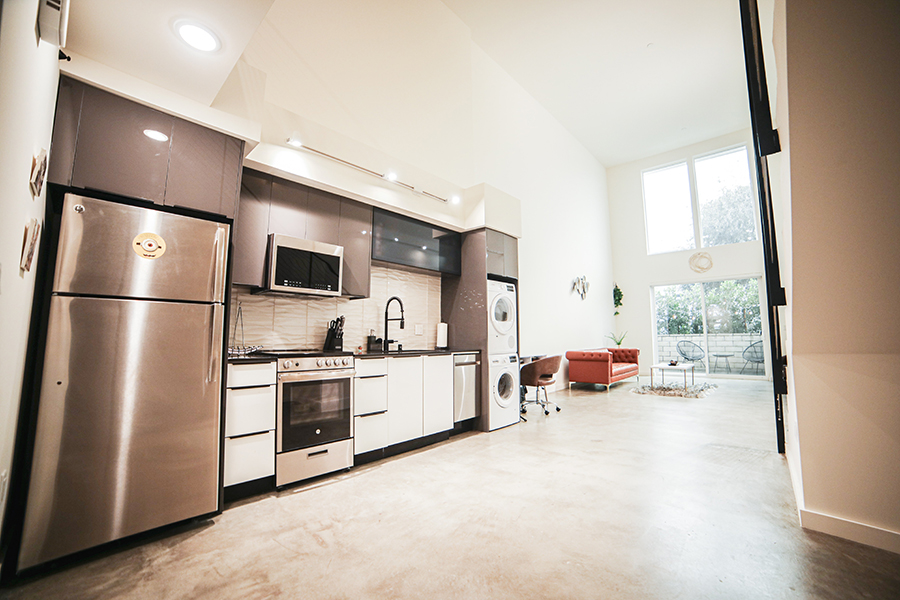 White lighting fixtures are great if you have a white ceiling and you want the heads to disappear in the background. Use white track lighting for a clean look with a hint of sophistication. The kitchen track lighting itself could also be white or metallic.
DIY Track Lighting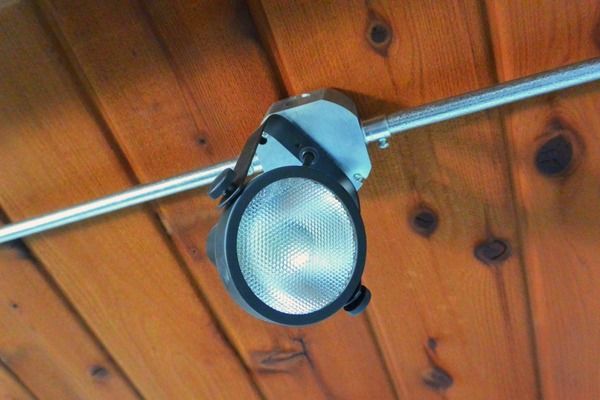 If you don't have the budget to purchase a fancy lighting fixture, then consider making your own DIY track lighting. Use a curtain rod, clamp lights, and an extension cord for an easy afternoon project. You could even add a dimmer switch if the bulbs are compatible.
Decorative Track Lighting
Most track lights look modern and industrial but some are also traditional and eye-catching. Consider options with ornate curves and colorful shades if you want decorative track lighting that matches your interiors.
Continue reading: