Last updated on August 13, 2023
Follow these steps to upgrade an old door and give it a modern look. Read on!
The doors in your homes often endure the most strain. Surface damage on doors is common, whether from a sharp object slamming into them or a careless kick when someone tries to hold the door open.
If you know how to restore a door, you can save money and keep a useful item out of the trash. Check for some simple homemade door makeovers in the following examples.
What's Inside
Change the Door's Hardware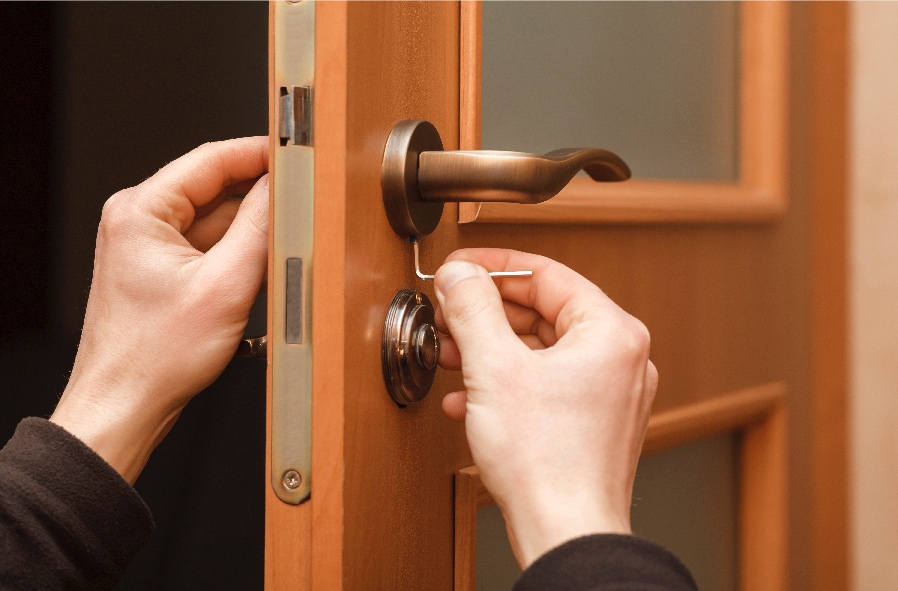 Changing out the door hardware is a simple way to give your home a facelift. Changing the color or adding any embellishment could be an option. As you find residential hardware products, remember to only get them from the experts, to get the best.
Alternatively, you could repaint the existing hardware. Spray paint and primer designed for metal should be used. You'd be shocked at the dramatic difference that something as simple as a new doorknob, new hinges, or even just a coat of paint can make to the look of your doors.
Add Accents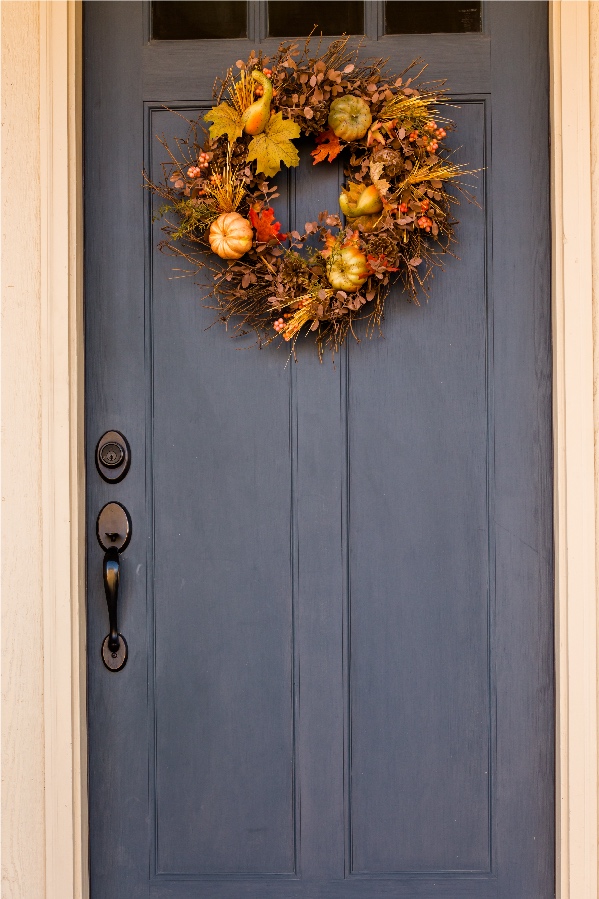 If your doors look plain, you may spice them up using stencils. Choose a stencil with a design you like and stick it to the door first. The next step is dab paint over the stencil using a paint brush or sponge. When you're done, take off the stencil, and you'll be ready!
This technique can be used to decorate your doors in various ways. There is no limit to how many creative ways you may use stencils on your doors.
Install Molding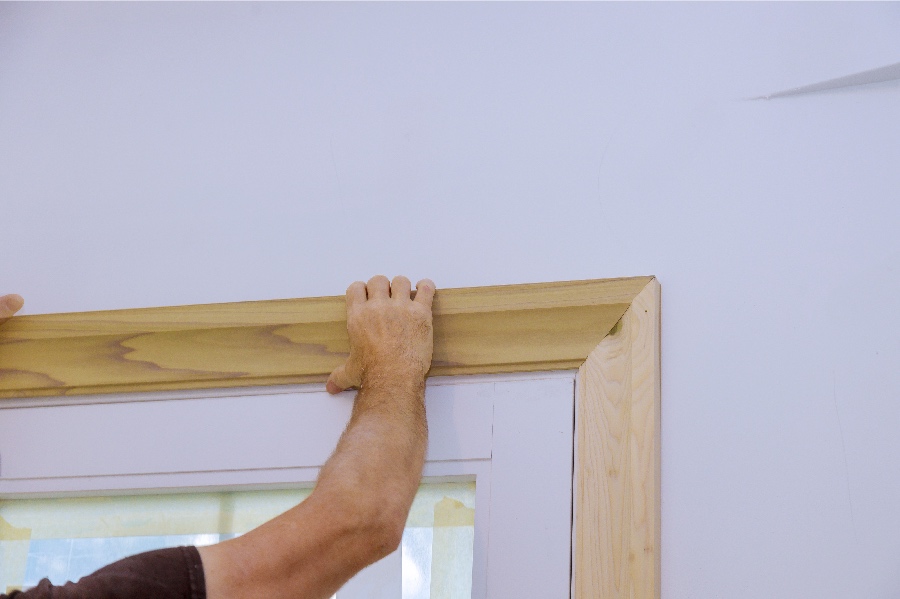 Modify the look of your plain doors by installing molding. This is a simple method for updating the look of the doors and giving the impression that they cost more than they do. What's more, it won't break the bank!
Put wood glue on the back of the molding or trim and fasten it to the door. Then give it a fresh coat of paint, and your door will look brand new! This easy makeover may greatly improve the look of a space.
Add Wallpaper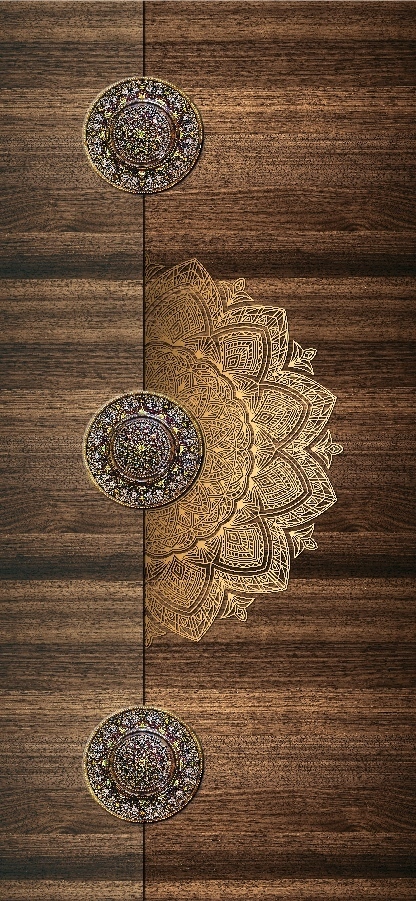 Although some wallpaper patterns may be too complex for a full room, they are ideal for drawing attention to a specific area. To update your home's inside doors, you may try covering them with wallpaper.
This task is simple, requires few materials, and can be accomplished with what you probably already have lying about the house.
Measure the door, cut the wallpaper to size, prime the door, and apply. You may give each area in your house a one of a kind style with the countless wallpaper patterns available today.
Re-paint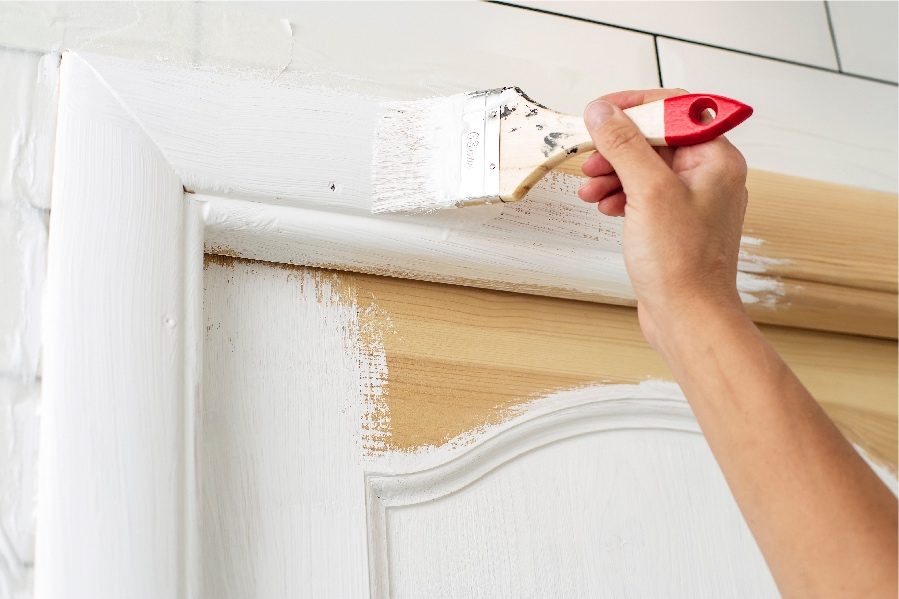 Revamp the aesthetic of your doors with a simple coat of paint! If you're feeling exhausted from the ordinary color, repainting is an easy and budget-friendly way to makeover their appearance.
Switching up hues will bring life back into any room in a matter of minutes. A bold new color can be all that your doors need for an impressive transformation giving them a fresh, modern look.
Apply Primer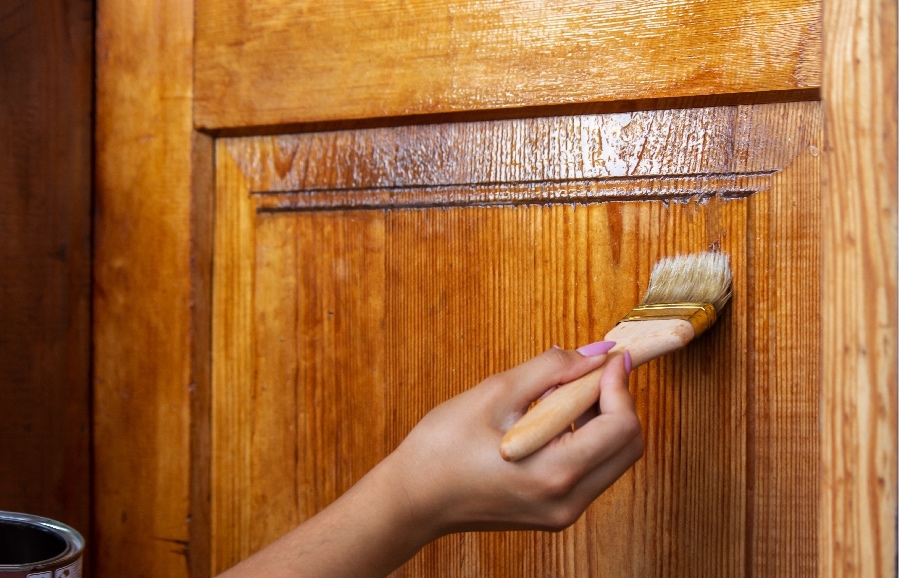 Using light pressure with the corner of a sanding sponge, smooth the door's interior corners and contours. Examine the regions around any panel insets with extra care. Remove the sanding dust on the door by wiping it off with a moist rag.
An oil-based primer should be used to paint the door. It is best to start by painting the interior of the contours and corners using a tiny brush and a smooth, even coat. When priming the door's flat surfaces, use a larger brush or a mini paint roller.
The door must be painted on both sides. Therefore it must be flipped over to cure before the second coat can be applied.
Add Decorative Glass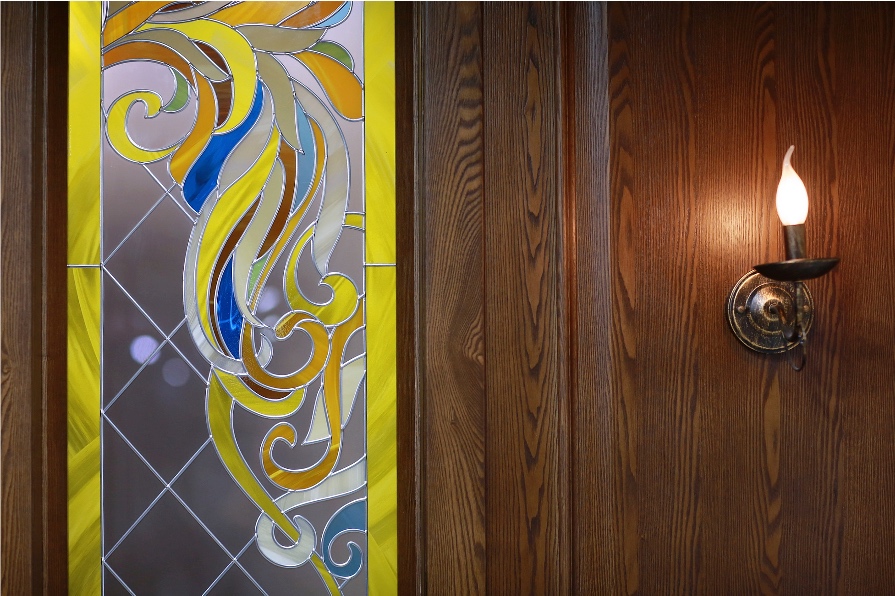 There are several simple and cheap ways to breathe new life into a door with glass panels. You may find peel-and-stick stained glass goods in many colors and patterns that look quite realistic.
Making your own stained glass out of flower petals can be a relaxing and aesthetically pleasing hobby for the creative person. A vinyl decal is a great alternative if you want some color on your door.
Clean the Door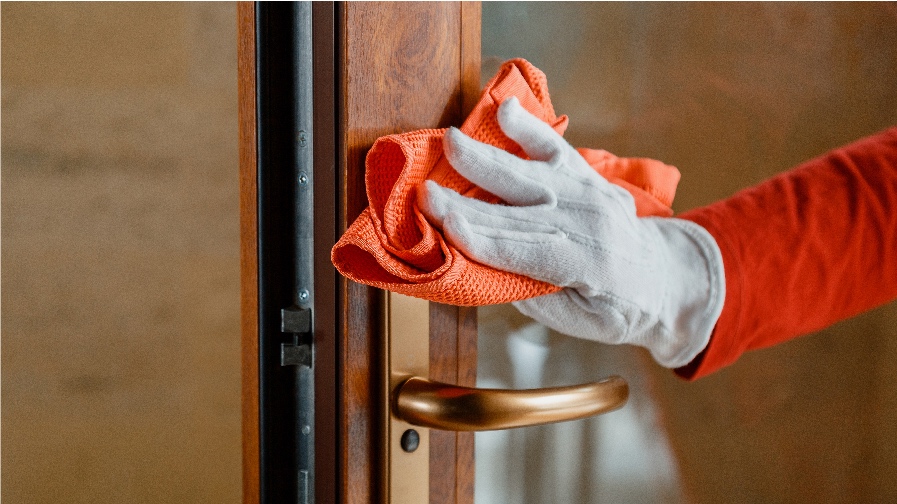 Remove any loose dust and grime from the door by dusting it gently. A soft rag, duster, or vacuum with a nozzle attachment would do the trick in this case.
Use a soft sponge or towel and a mixture of water and gentle dish soap or vinegar to cleanse the door gently. If the door is made of wood, wipe it down toward the grain.
Use a thick towel or paper towel to absorb any remaining moisture. Your front door can benefit from a coat of furniture wax or polish if it is made of stained wood, and this treatment will make the door shine even more.
When you're done, make sure to remove any remaining polish. If your front door is painted, dilute the soap mixture with more water, so you don't remove the paint when cleaning.
When cleaning the glass inserts in your front door, use water and vinegar, then squeegee or wipe them dry.
Update the Trim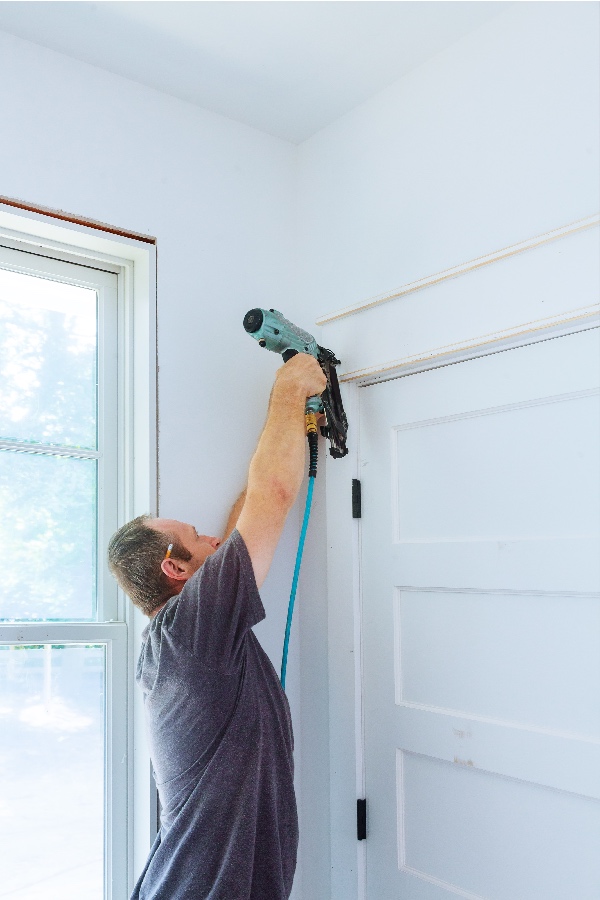 You may spend a lot of time and effort updating your ancient doors, but the results would be underwhelming if the moldings around them were plain and uninteresting.
You added some wonderful and simple to make yourself farmhouse type trim, making your "new doors" stand out. If it weren't for this lovely trim work, your new doors wouldn't be much to look at.
Add Panels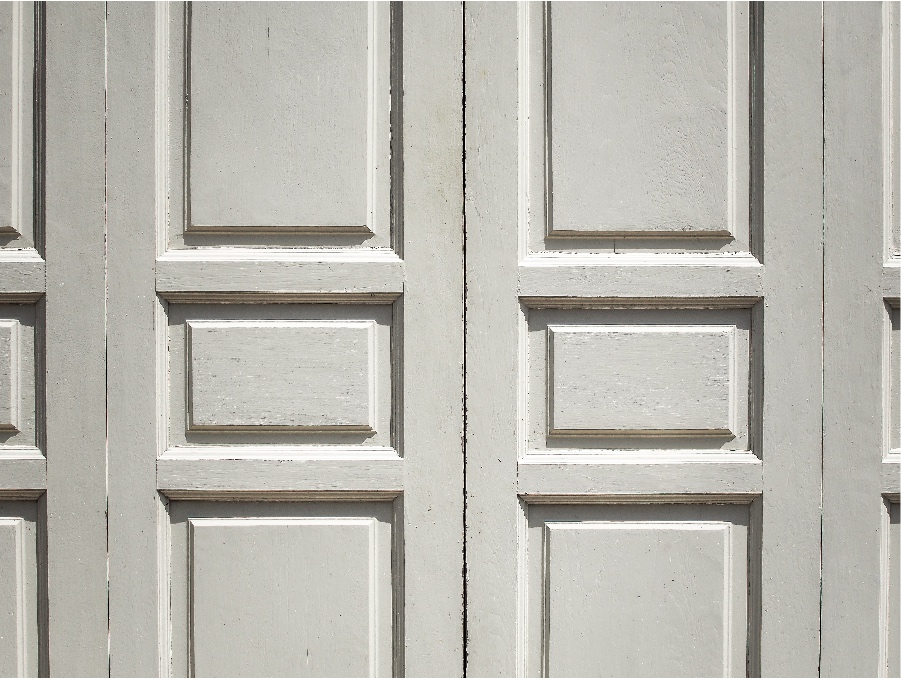 It is essential that the doors you choose complement the style and era of your property. Without replacing the door or spending much money, you can add your panels to give a flat door some depth.
Since you already have the necessary equipment, this DIY may be accomplished for about $30. A do it yourself door panel guide could show you how to give your plain doors a timeless makeover.
There are numerous good reasons to do everything possible to keep household items working for as long as possible. Repairing worn furniture rather than replacing it is a considerably more cost-effective option.
Changing out a door is a really easy do it yourself project, one of the many advantages they provide. If they are not seriously deformed or damaged, you can undertake inexpensive DIY repairs to give them new life.
Continue reading: