Last updated on December 4, 2023
Explore the warm and captivating world of honey maple cabinets because these versatile pieces can transform any kitchen into a cozy, inviting space.
I'm proud to present my article and unique designs on 24 exceptional honey maple cabinet ideas for your kitchen, hoping it inspires and delights you as much as it did me in the process of creating them.
Honey maple cabinets are a timeless choice for any kitchen, offering a warm, inviting ambiance and a versatile canvas for various design schemes. This article delves into innovative ideas to style your kitchen with honey maple cabinets, exploring diverse themes from traditional to modern, rustic to minimalist, and everything in between. Whether it's choosing the right color palette, selecting complementary countertops and backsplashes, or accessorizing with the perfect hardware, every detail is covered to help you create a harmonious, stylish space that resonates with your personal taste.
What's Inside
Honey Maple Cabinets With Black Granite Countertops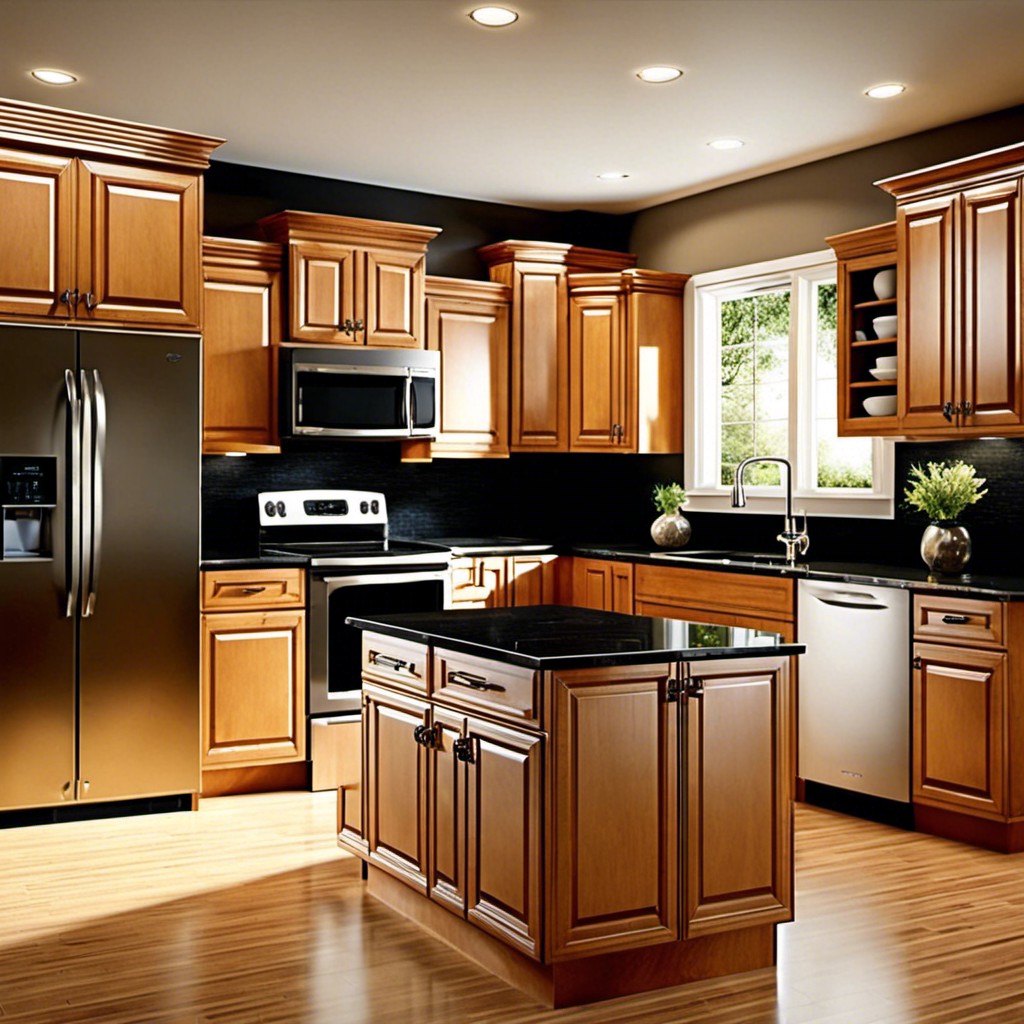 Black granite countertops serve as a luxurious backdrop for your honey maple cabinets. The rich, deep texture of the granite contrasts beautifully with the warmer, lighter tones of the cabinetry. This combination presents an appealing mix of traditional and contemporary aesthetics, perfect for stylish, transitional kitchens.
The key to making the most of this pairing is to balance color intensities. Ensure the black granite contains some white or gold specks that match the cabinets' undertone. Also, focusing on a high gloss finish for the countertop can create a stunning reflection of the cabinets, increasing the overall room's luminosity.
The versatility of black granite also leaves room for bold design moves. For instance, silver or chrome hardware can offer a refreshing pop of modernity. Light-colored backsplash tiles, perhaps in cream or beige, can maintain cohesion while adding an interesting layer of depth to the design. On the other hand, a tiled backsplash featuring shades of both maple and black can provide a unifying element.
Lighting plays a crucial role as well. Ample natural light can uplift the space and avoid the black countertop from overpowering. In the absence of abundant natural light, consider strategic artificial lights like pendant lights or under-cabinet lights.
Farmhouse Style Kitchen With Honey Maple Cabinets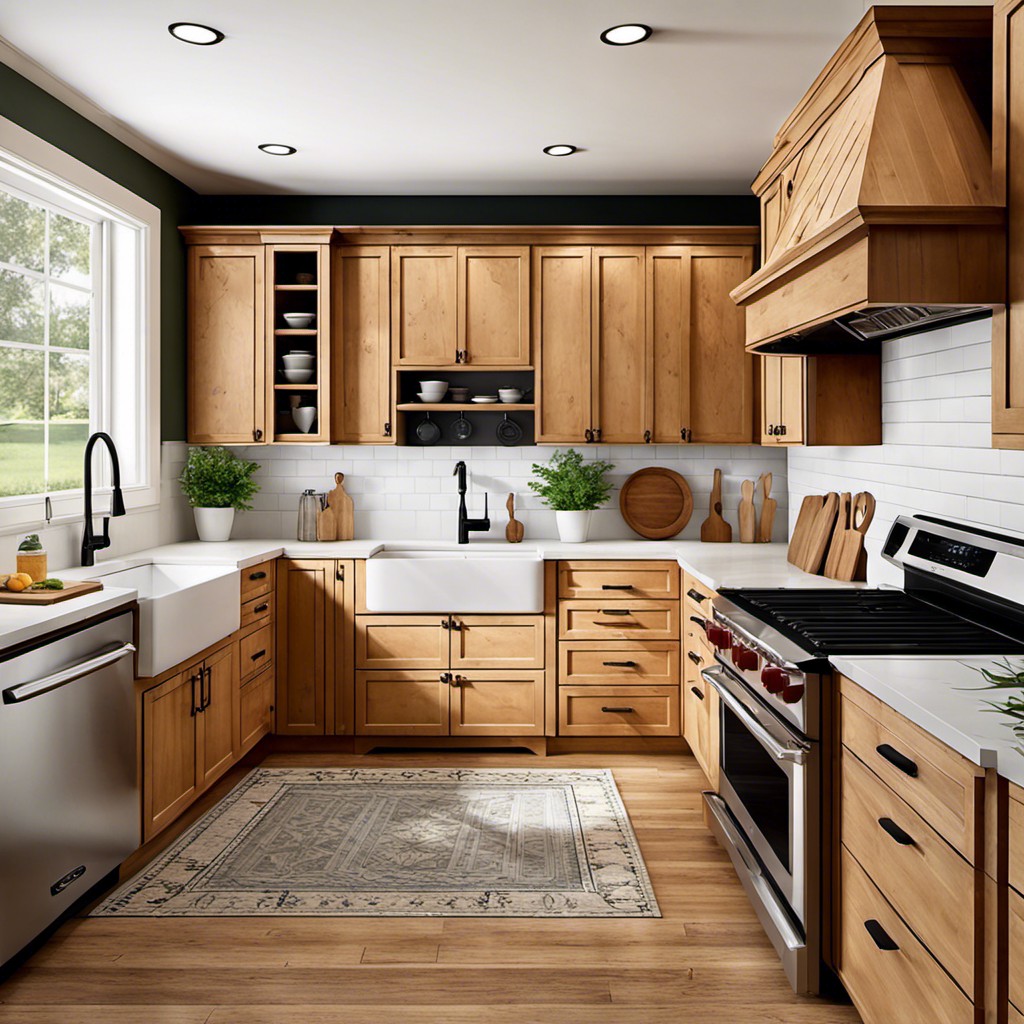 Embracing the warm, natural tones of honey maple into a farmhouse-style kitchen can create a remarkable synergy. By pairing these eye-catching cabinets with the quintessential elements of a farmhouse kitchen, the result is an inviting and charming space.
Consider these ideas:
1. White Ceramic Backsplash: A classic white ceramic backsplash can help highlight the rich tones of honey maple cabinets, striking a balance between rusticity and freshness.
2. Apron Sink: For an authentic farmhouse feeling, incorporate an apron sink. The charm of this sink style melds well with the honey maple cabinets, tying the room together.
3. Exposed Beams: Enhance the charm and rustic appeal by featuring exposed wood beams. This doubles down on the wood theme and complements the cabinets.
4. Traditional Hardware: Add further character with traditional or vintage-style hardware in black or brushed nickel. This small touch stands out against the honey maple.
5. Open-Shelving: Link the modern to the traditional by including some open shelving among your cabinets. This is ideal for displaying country crockery or antique cookbooks, adding a personal touch to the design.
With these elements, the farmhouse-style kitchen perfectly showcases the beauty and versatility of honey maple cabinets.
Honey Maple Bathroom Vanity Design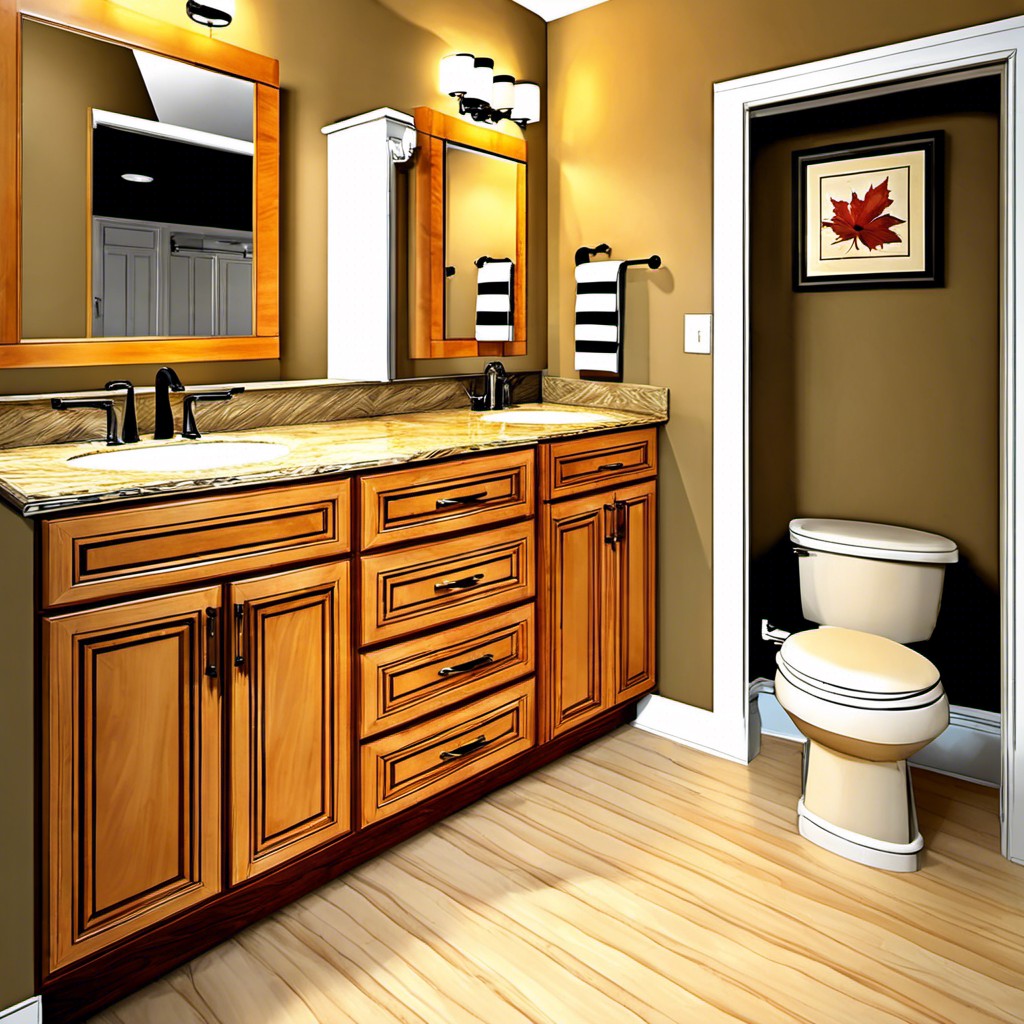 Opting for a honey maple vanity in the bathroom can infuse warm, inviting tones against a backdrop of cool tiles or paint. When balancing the natural beauty of honey maple, choosing a solid-colored, non-textured countertop, like white or off-white marble, ensures harmony.
Hardware plays a key role too. Brushed nickel or dark wrought iron fixtures can provide a beautiful contrast, enhancing the cabinet's honey hues.
Mirrors with honey maple frames can further accentuate the design, giving a cohesive look. For storage, consider door cabinets for bulkier items while drawers can handle smaller toiletries and supplies.
To maximize appeal, invest in quality lighting. Overhead lighting highlights the Canadian wood's depth while adding task lighting illuminates the countertops.
A honey maple vanity design can transform a bathroom into a more welcoming, luxury-rich space that marries style, durability and functionality perfectly.
Honey Maple Cabinets With Under-cabinet Lighting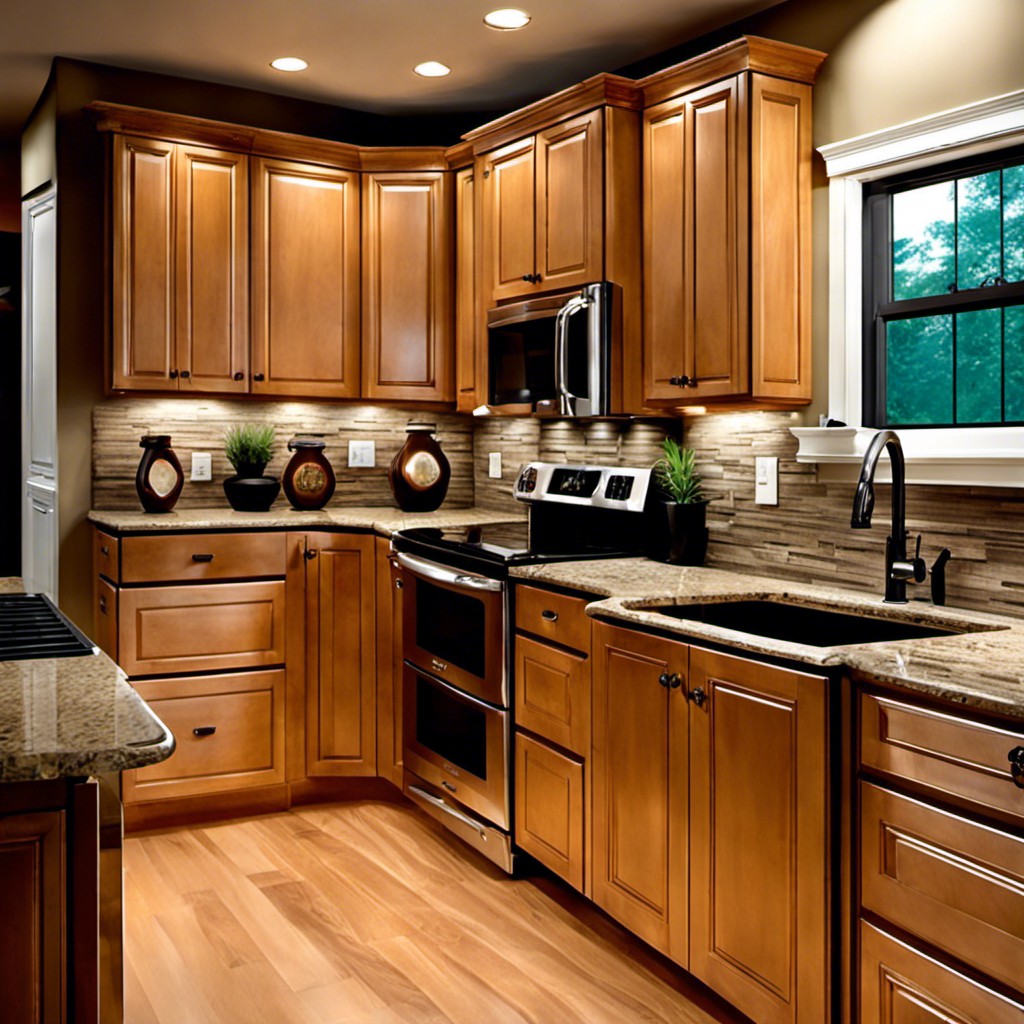 Incorporating under-cabinet lighting can significantly elevate the aesthetics of your honey maple cabinets. The warm glow illuminates the natural wood grain, adding depth and dimension. Additionally, it serves a practical purpose by providing direct illumination for your countertops, making food preparation safer and easier.
1. Stationary Fixtures: Choose among slim light bars, puck lights or strip lights depending on the desired lighting effect and cabinet design.
2. Color Temperature Control: Opt for lighting with adjustable color temperature to help accentuate your cabinets. Warm tones can emphasize the honey hues, while a cooler tone may bring out the cabinet's natural texture.
3. Dimmer Switch: Install a dimmer switch to control the intensity of the light according to the time of day or task at hand.
4. Task Lighting: Strategically position lights where you usually perform tasks for better visibility, reducing the risk of accidents in the kitchen.
5. Sensor Lights: Consider motion or touch sensor lights for their convenience – they switch on when cabinet doors are opened or with a simple touch.
Remember, professional installation is recommended for hard-wired options to ensure safety and proper functioning.
Shaker Style Honey Maple Kitchen Cabinets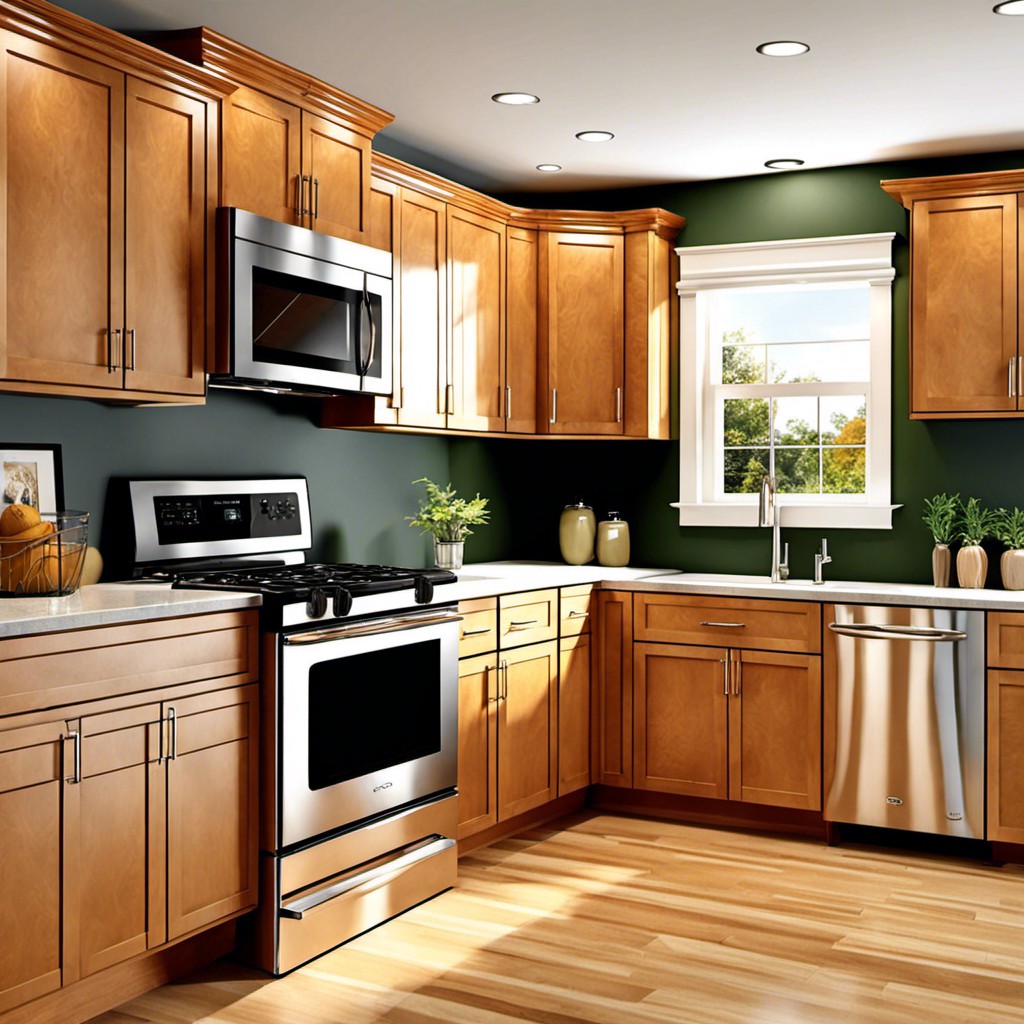 Shaker style distinguishes itself through simplicity and functionality. Adopting this style with honey maple cabinets brings out an undeniable allure to any kitchen.
The clean, straight lines and recessed panels depict the essence of furnishings made by Shaker craftsmen. Add the warm honey color of maple wood and you've achieved a harmonious blend of classic and cozy.
Consider these important features of Shaker style:
Minimalistic Design: With less ornamentation and clutter, the focus shifts to the natural beauty of honey maple.
Flat Paneled Doors: Essential to Shaker style, these bring a sense of depth and detail to your cabinets.
Hardwood Construction: Maple is valued for its toughness and beautiful grain, making it perfect for cabinets that will stand the test of time.
Optimum Functionality: Shaker style is built on practicality. Think of pull-outs, spice drawers, and convenient dividers to make the most of your honey maple cabinets.
Neutral Accents: Keep your color palette neutral to highlight the honey maple shade. Soft whites, light grays, or even muted blues can bring balance to your overall kitchen look.
Remember, your kitchen is your canvas, and Shaker style honey maple cabinets provide a beautiful palette to work with.
Honey Maple Cabinets With Built-in Wine Rack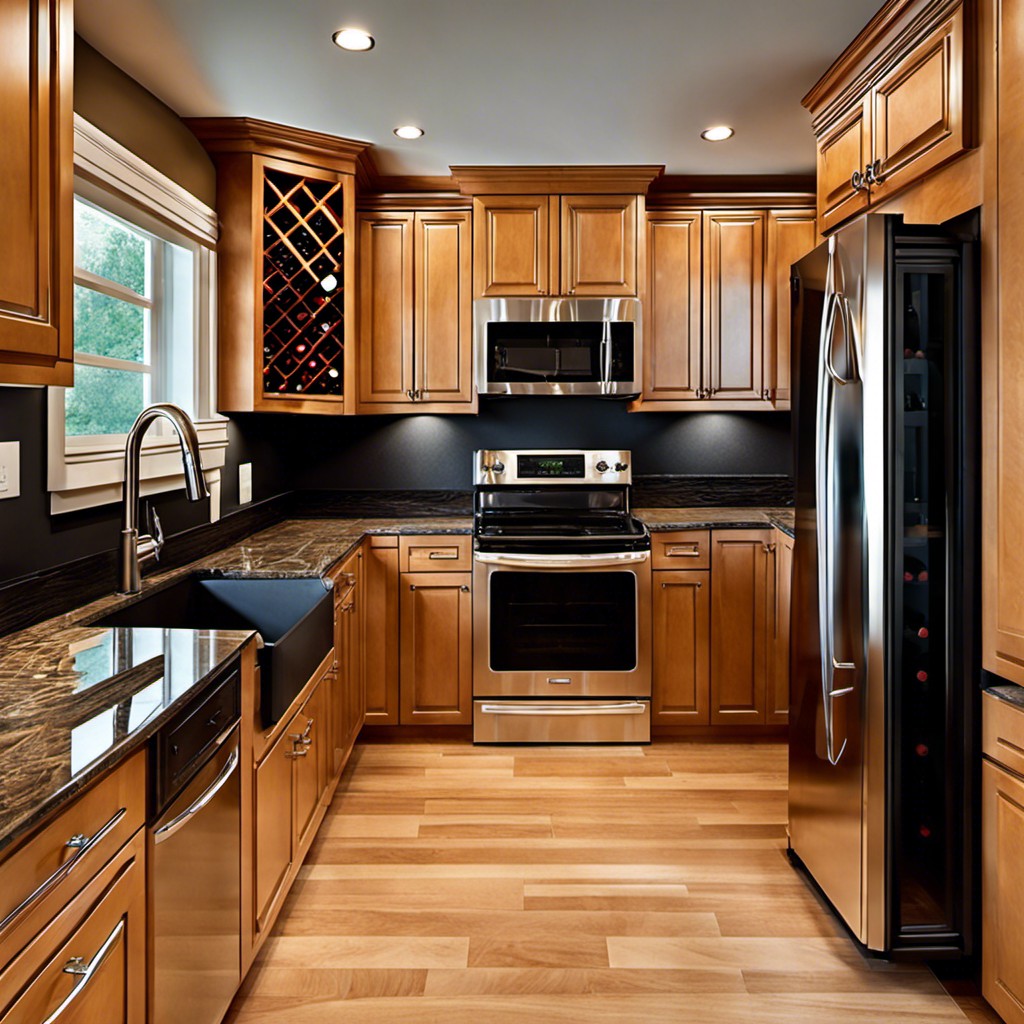 Built-in wine racks integrated into honey maple cabinets provide both functional storage and an aesthetic appeal for wine enthusiasts. The honey-hued wood offers warmth and richness, enhancing the look of bottled collections while keeping them within reach.
This design option works well in traditional, rustic, or contemporary kitchens, depending on the style of the rack. Open lattice, vertical slots, or X-style cubbies are popular rack configurations.
When planning to integrate a wine rack, consider the cabinet's location for easy access without disrupting the workflow. Also, keep the rack away from heat sources like the stove or the refrigerator's exhaust, as excessive heat can damage the wine.
Placement lower in the cabinetry can keep the wine at cooler temperatures, beneficial for long-term storage. Lastly, adjustable racks offer flexibility for various bottle sizes, accommodating sparkling wines or champagne.
Open Shelving Arrangement Above Honey Maple Cabinets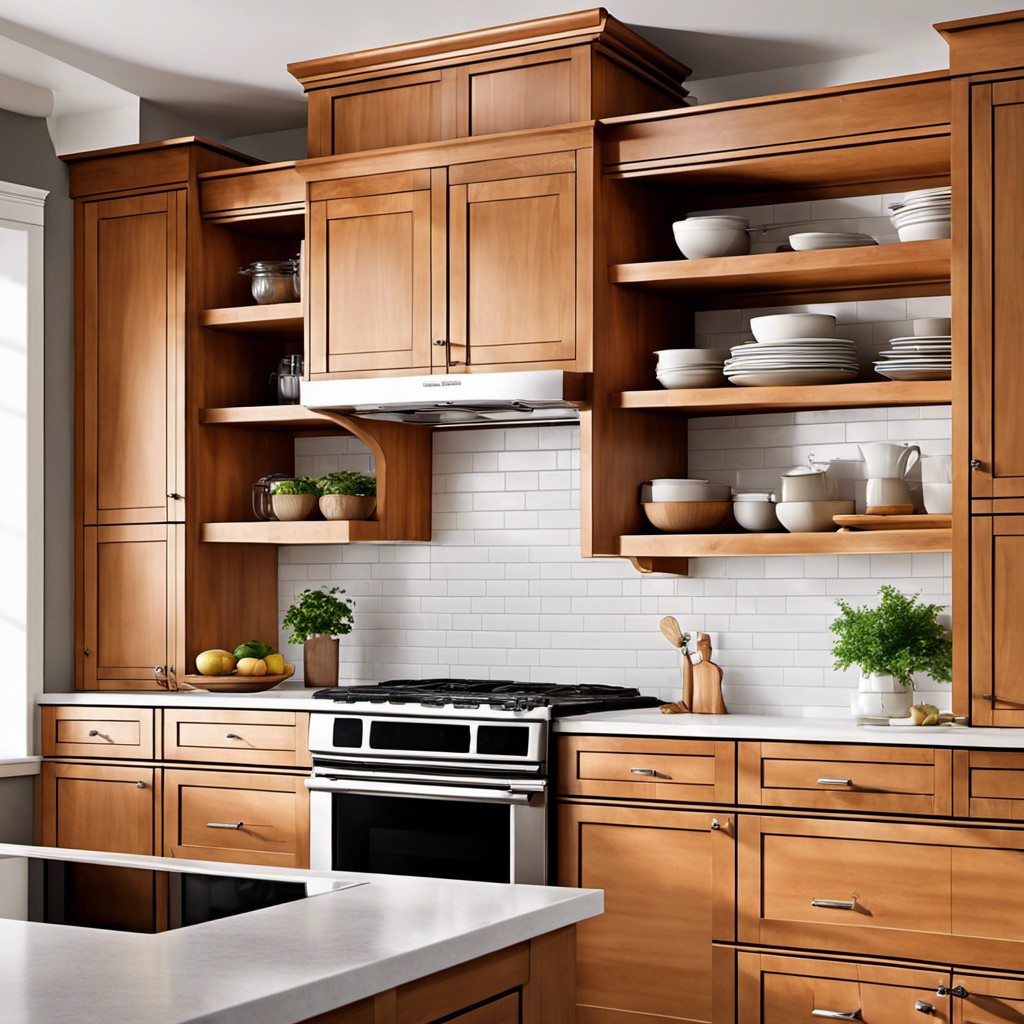 Open shelves provide an exciting option for displaying prized cookware, unique dishware, or other decorative items. They carry a rustic, unfussy charm, contrasting superbly against the classic, sturdy façade of honey maple cabinets. They add an airiness to your space, emphasizing the visual depth of your kitchen.
Here are a few exciting considerations:
1. Material Contrast: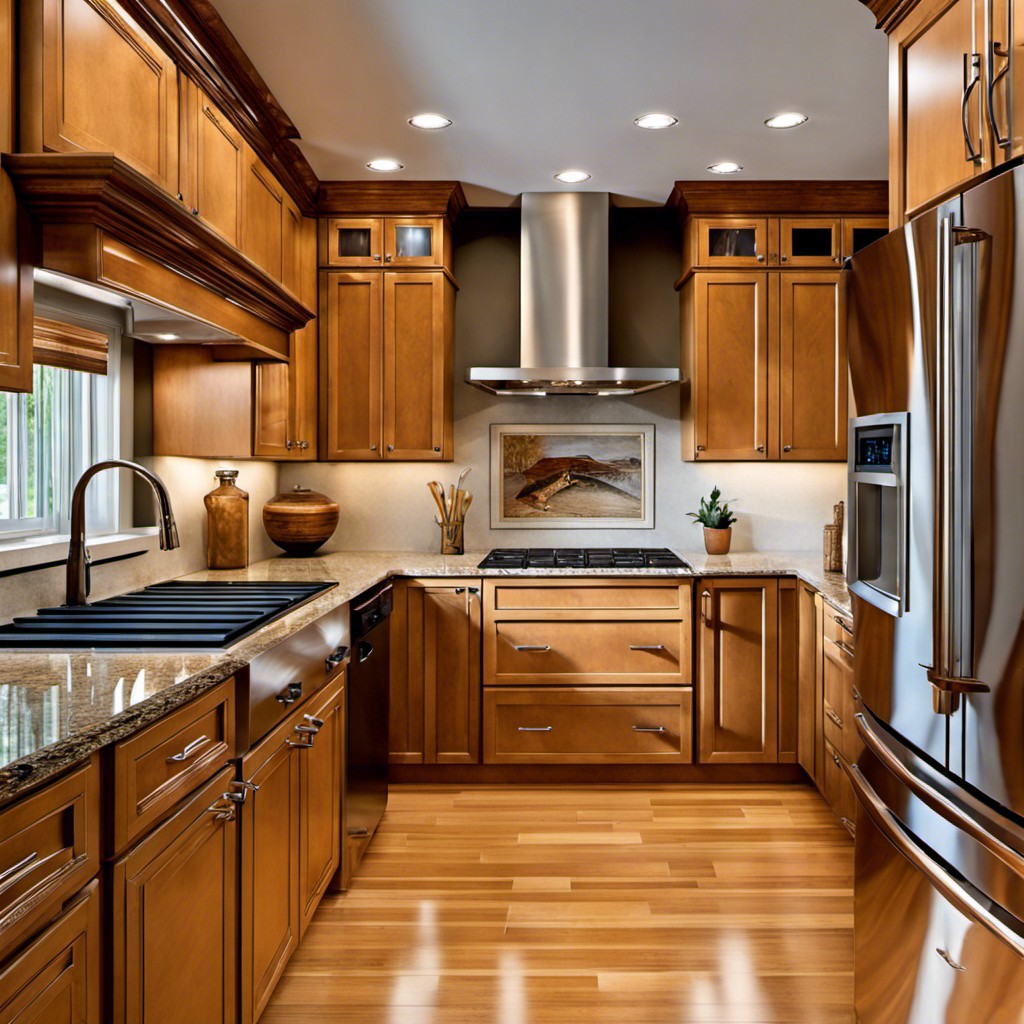 Consider playing with contrast, for example metal or reclaimed wood shelves can give a warm yet contemporary edge to your kitchen.
2. Lighting: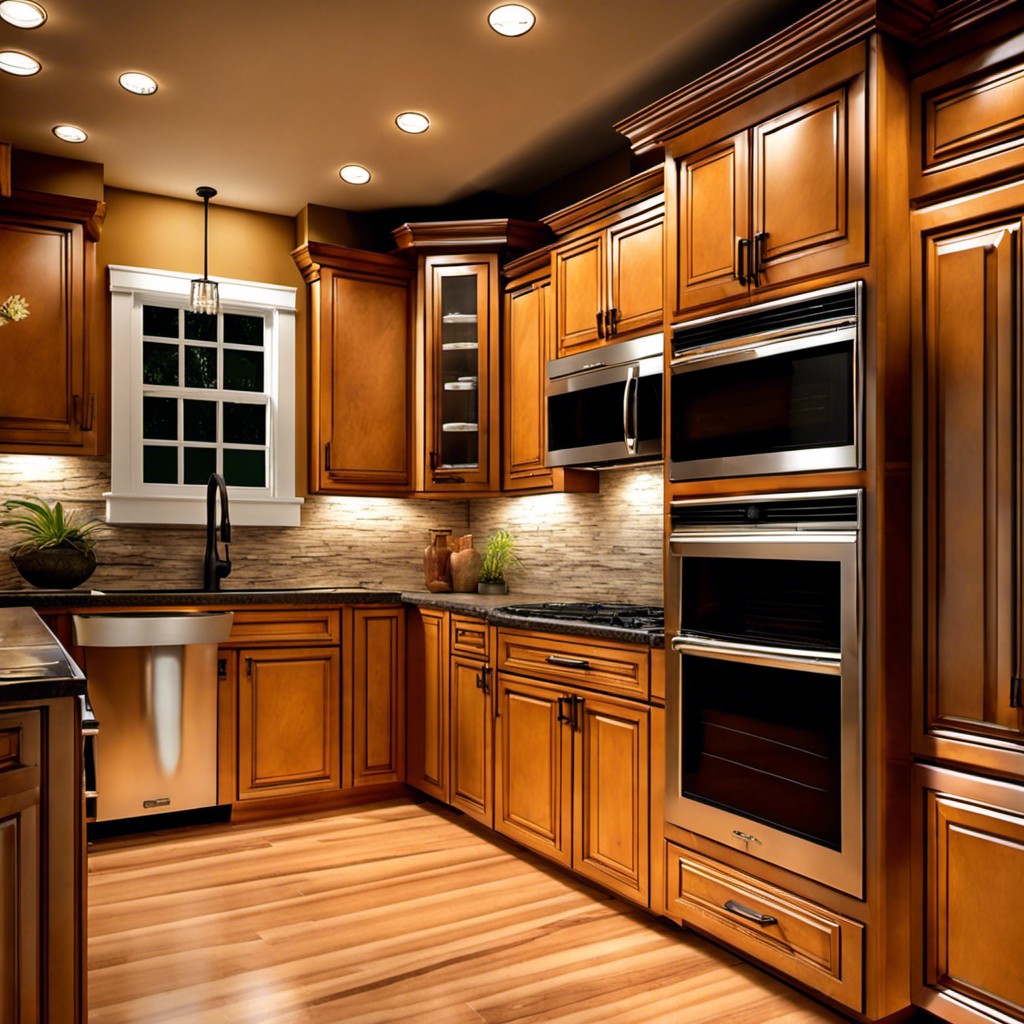 Incorporate under-shelf lighting to accentuate displays, plus, the light reflecting on the cabinet's honey tone will offer an inviting glow.
3. Arrangement: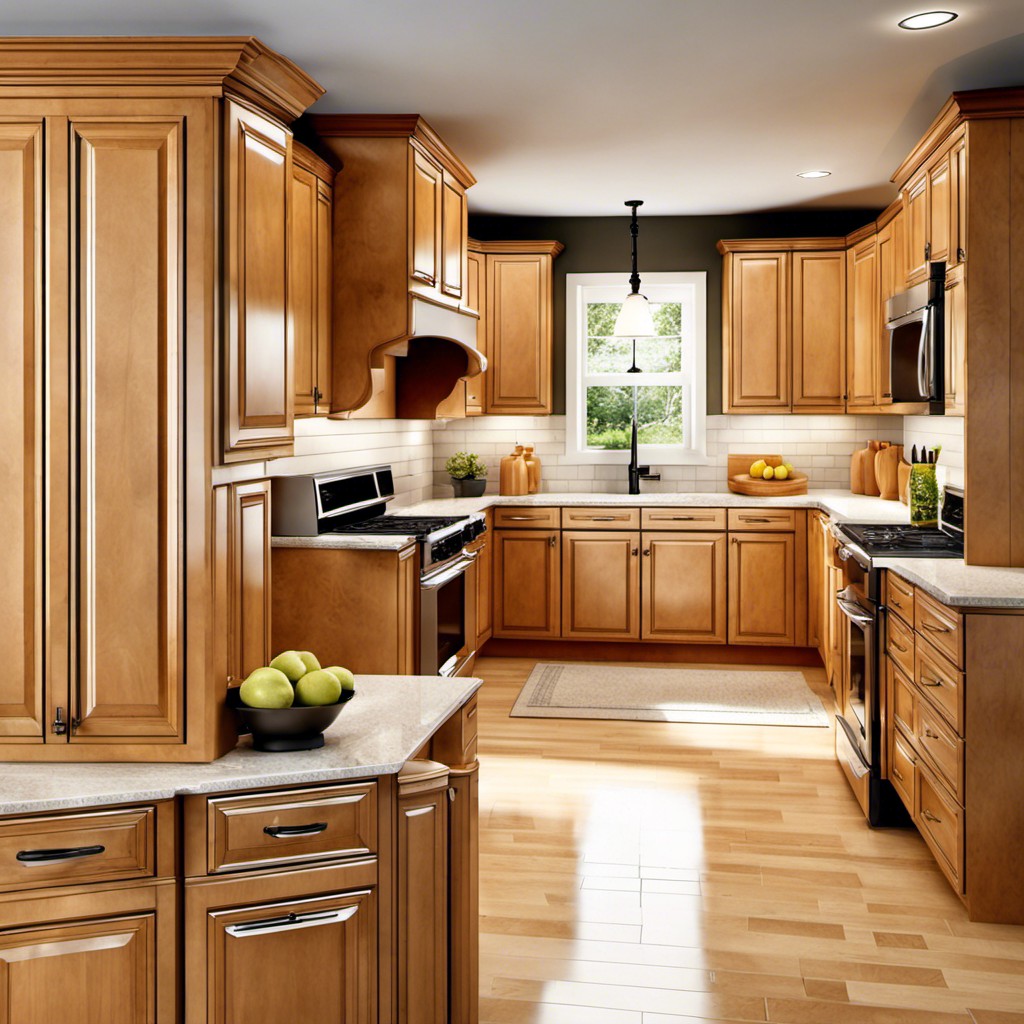 Group items by shape, color, or use for a cohesive look. Large pieces in the back and smaller ones in the front prevent a cluttered appearance.
4. Space Usage: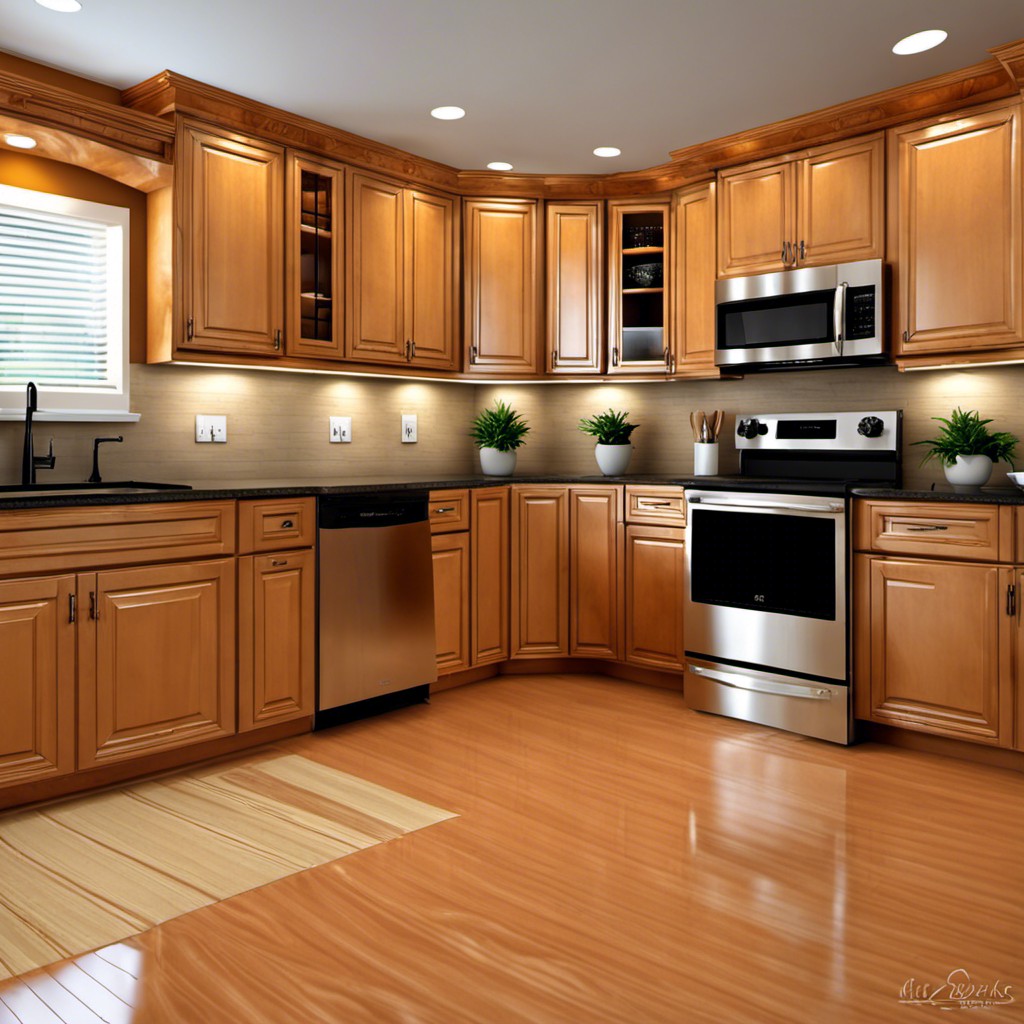 Avoid overfilling. Leaving some open space lets each item stand out and makes the shelves feel purposeful, rather than just a storage area.
Honey Maple and White Two-tone Cabinets
Balancing the warm richness of honey maple cabinets with the clean, fresh appeal of white upper cabinets can bring a delightful contrast to your kitchen. This two-tone trend, a versatile design choice, offers several benefits:
1. Brightness and Space: White upper cabinets reflect light effectively, making the kitchen appear larger and more inviting.
2. Highlight Features: Use the contrast to accentuate architectural focal points, such as a beautiful backsplash or high-end appliances.
3. Balance and Harmony: The white, being a neutral shade, balances the rich, warm hues of honey maple, creating a harmonious mood.
4. Design Flexibility: Switching to two-tone cabinets allows various stylistic choices, from farmhouse rustic to sleek contemporary.
Incorporating a two-tone cabinet scheme enables refreshing versatility, making your kitchen a distinctive space exhibiting style, individuality, and an astute design sensibility.
Honey Maple Cabinets With Glass Front Doors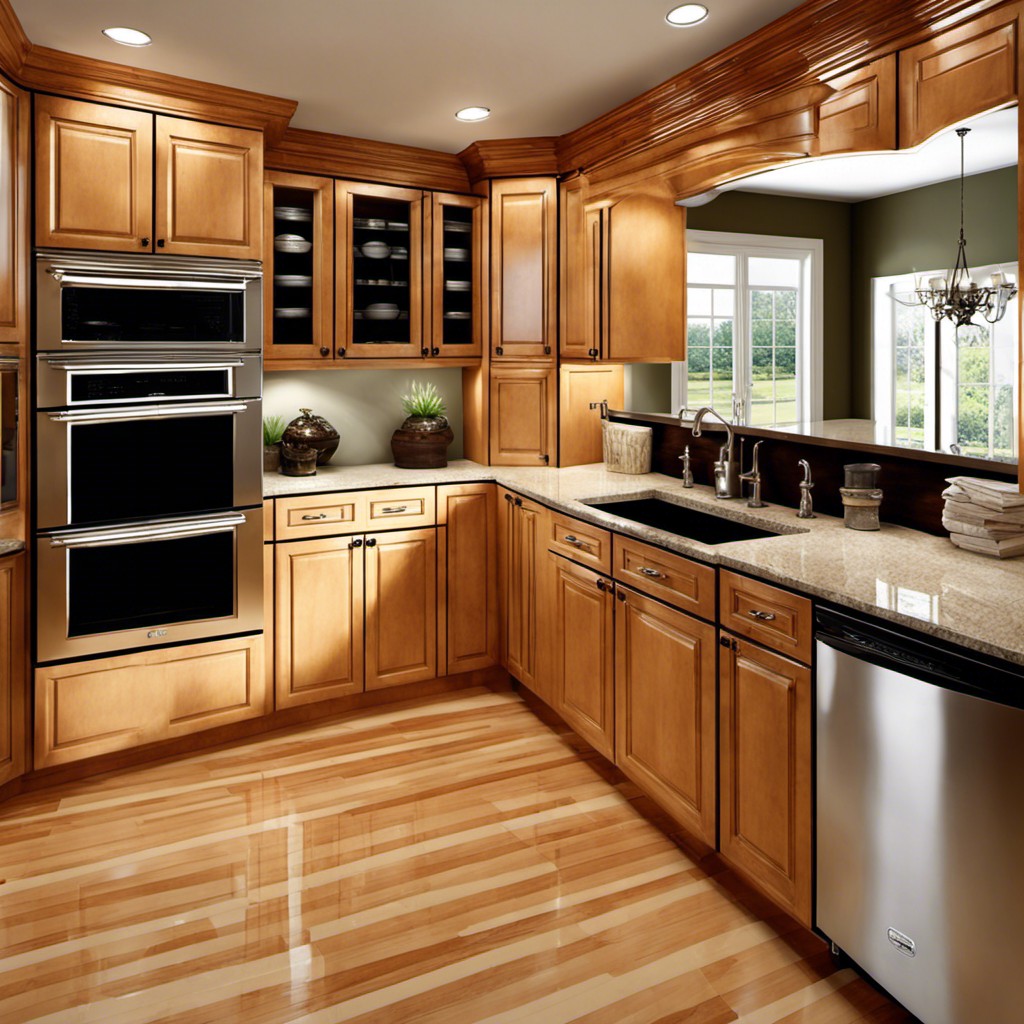 Glass front doors offer an attractive variation to solid honey maple cabinets. They add depth and interest, while displaying your fine china or glassware. This feature works particularly well in traditional or vintage-inspired kitchens.
However, they require consistent organization to maintain a neat appearance. For a bold, contemporary touch, use frosted glass or colored glass insets. Be sure to match the glass frame color with the overall color scheme of the room. LED lighting inside the cabinets enhances the display effect, making your kitchen not only functional but also a charming display room.
Rustic Kitchen Design With Honey Maple Cabinets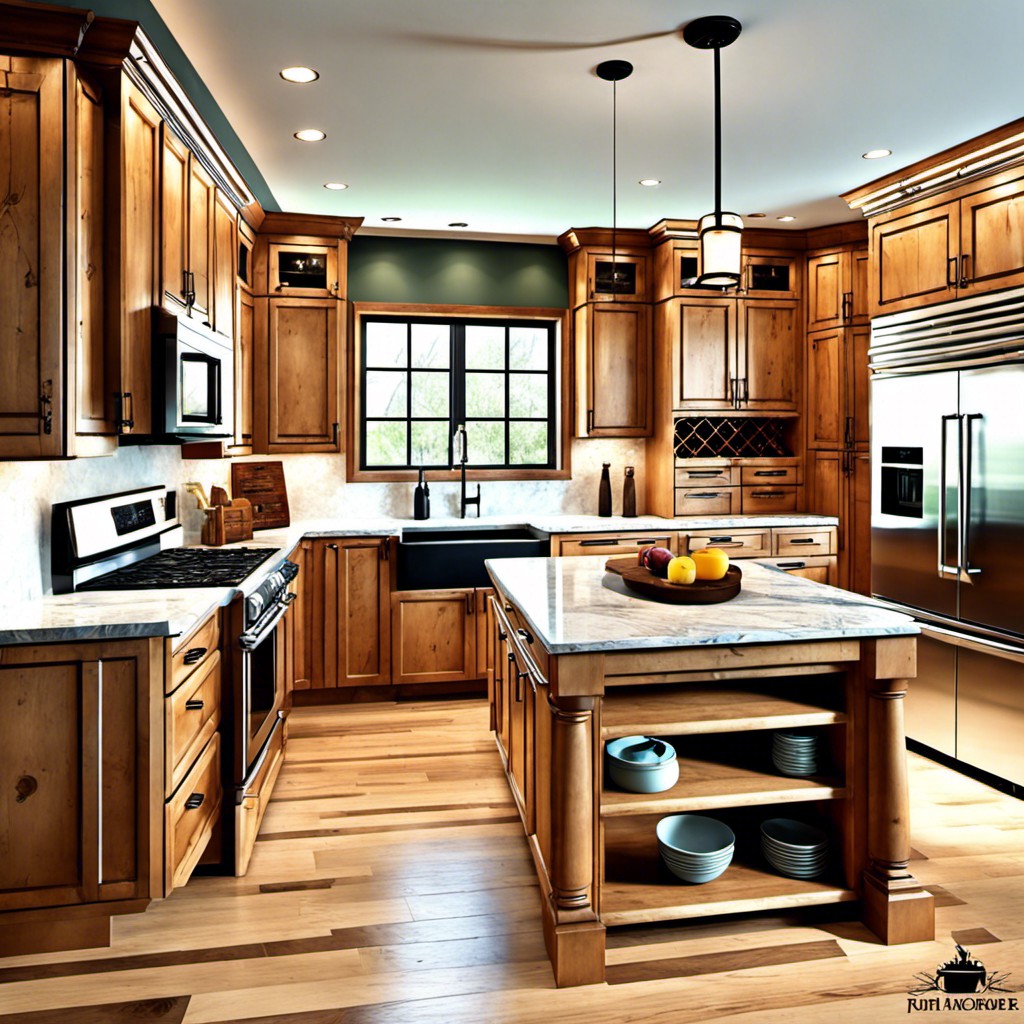 To capture this design's essence, prioritize the incorporation of natural elements. Use a rough stone or brick backsplash to create a striking contrast with the smooth, warm finish of the honey maple cabinets.
A farmhouse-style sink would perfectly mimic this rustic vibe, especially when paired with bronze or copper hardware. Opt for open shelf storage for your dishware, showcasing enameled ware or stoneware collections for that added country charm.
An island crafted from reclaimed wood, standing in the center of your kitchen, can further amplify the rustic appeal. Keep the finishes simple and opt for a distressed or brushed look.
Finally, distressed bar stools, housed under the island, and vintage lighting fixtures can pull the entire rustic ambiance together.
Honey Maple Cabinets With a Contrasting Kitchen Island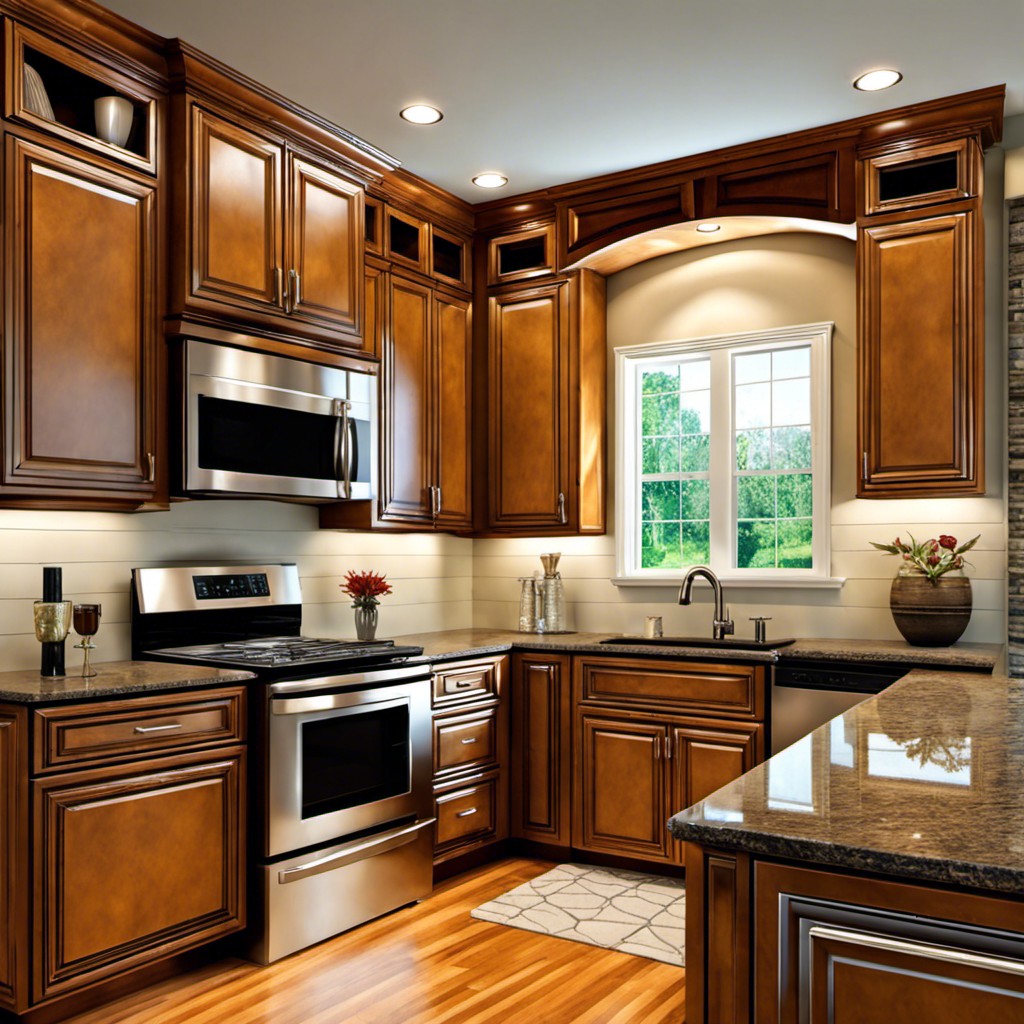 Crafting a contrasting kitchen island creates a visual disruption that adds depth and dimension to your kitchen layout. Opt for darker or lighter shades that set off the warm, inviting tones of honey maple cabinets.
1. Dark Brown Island: A rich chocolate-hued island accents the honey-colored maple without clashing. This combination creates a cozy atmosphere that's perfect for traditional and rustic kitchens.
2. White Island: For a brighter, more contemporary look, try a white kitchen island. It'll contrast dramatically with the cabinets while also reflecting more light around the room, making it feel larger and more airy.
3. Graystone Island: A gray island offers a pleasing and subtle contrast, picking up the cooler undertones of the honey maple. This can result in a modern, sophisticated style.
4. Wood-Finished Island: Consider a different wood finish to lend natural variation in your kitchen. Walnut would offer a deep contrast, while a lighter oak could echo the warm tones.
Remember, the key to contrast is balance. Too much contrast could lead to visual chaos, while the right amount of contrast generates interest and a harmonized look.
Contemporary Style Honey Maple Cabinets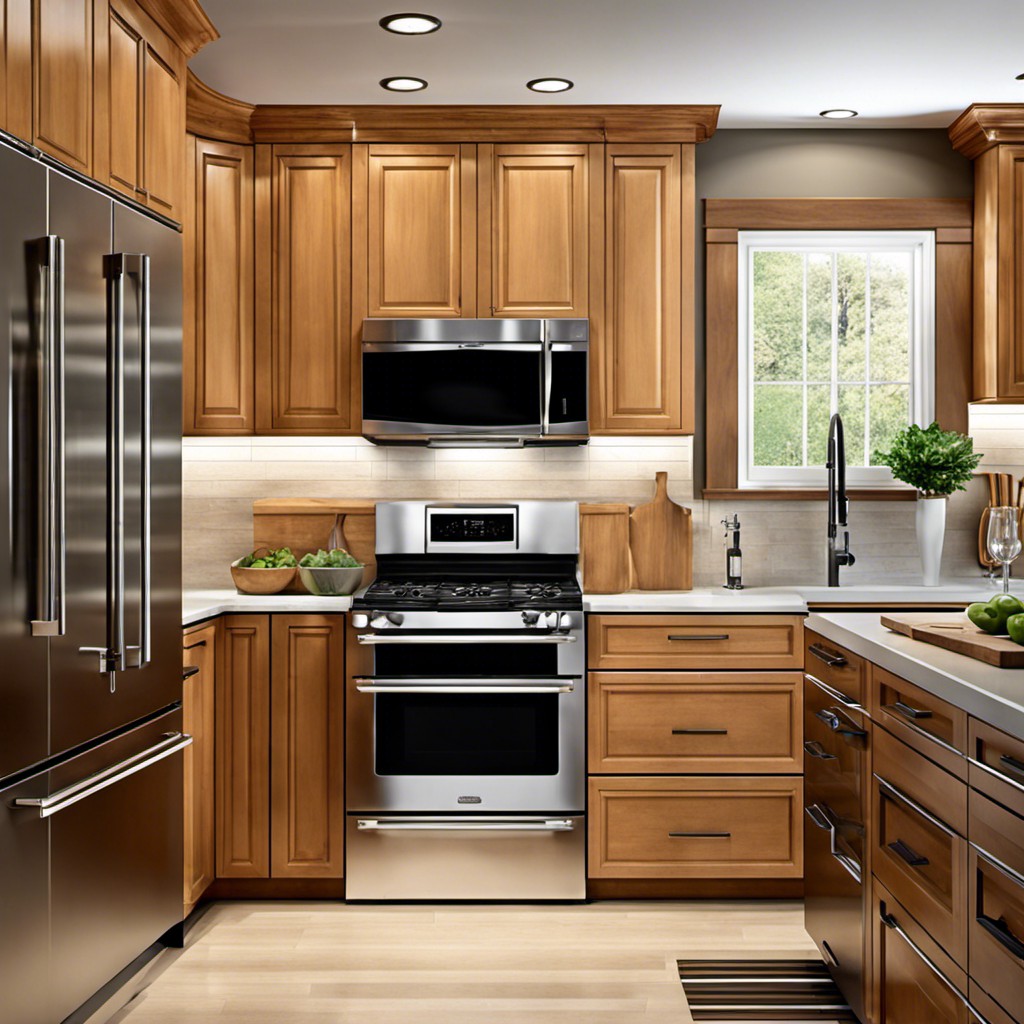 With their clean lines and sleek finish, these are a seamless fit in modish, minimalist spaces. Light wood like honey maple imparts warmth, countering the oftentimes stark feel of modern interiors.
An edge-profiled slab cabinet door is one design you can consider. It's simple but trendy. Less is more with hardware too. Inset or full overlay doors with integrated handles, or even push-to-open hardware offer a clutter-free look.
Highlight the natural wood grain with a clear finish, or go with a soft-toned solid color like cream or light gray—the choice is yours.
Honey Maple Cabinets With Matching Wood Flooring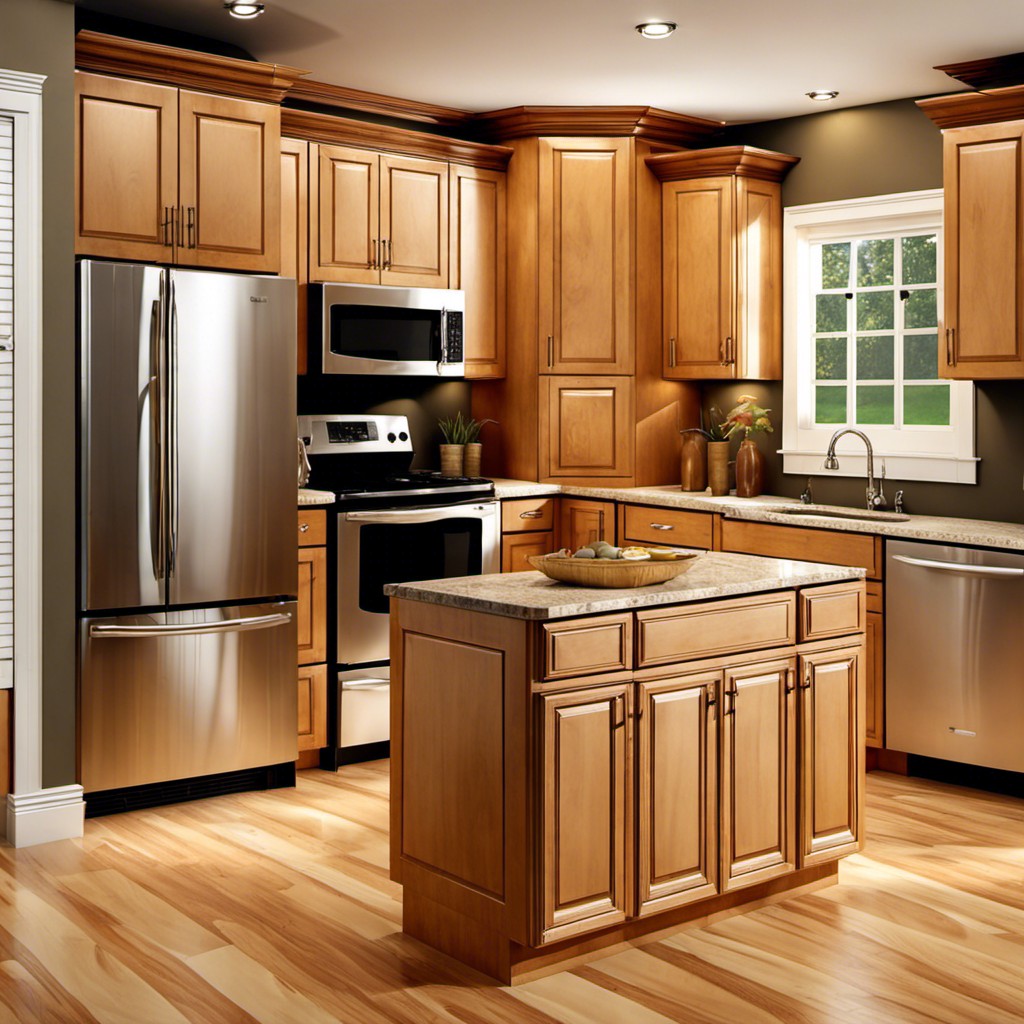 Matching the cabinetry with the wood flooring certainly elevates the overall appearance of the kitchen. When using honey maple for both, it is essential to keep a few concepts in mind.
1. Tonal Contrast: Slight variations in tone can accentuate the beauty of the wood while providing a degree of difference to separate the cabinets from the floor.
2. Grain Direction: Coordinating the direction of the grain visually ties the space together and promotes design cohesion.
3. Texture Consideration: A glossy finish on cabinets paired with a matte floor (or vice versa) provides an exciting interplay of textures.
4. Seamless Transition: This idea can also work well in an open floor plan, creating a seamless transition between the kitchen and adjacent rooms.
Adopting these concepts effectively can lead to a harmoniously blended space that exudes warmth and welcome.
Frosted Glass Inserts in Honey Maple Cabinets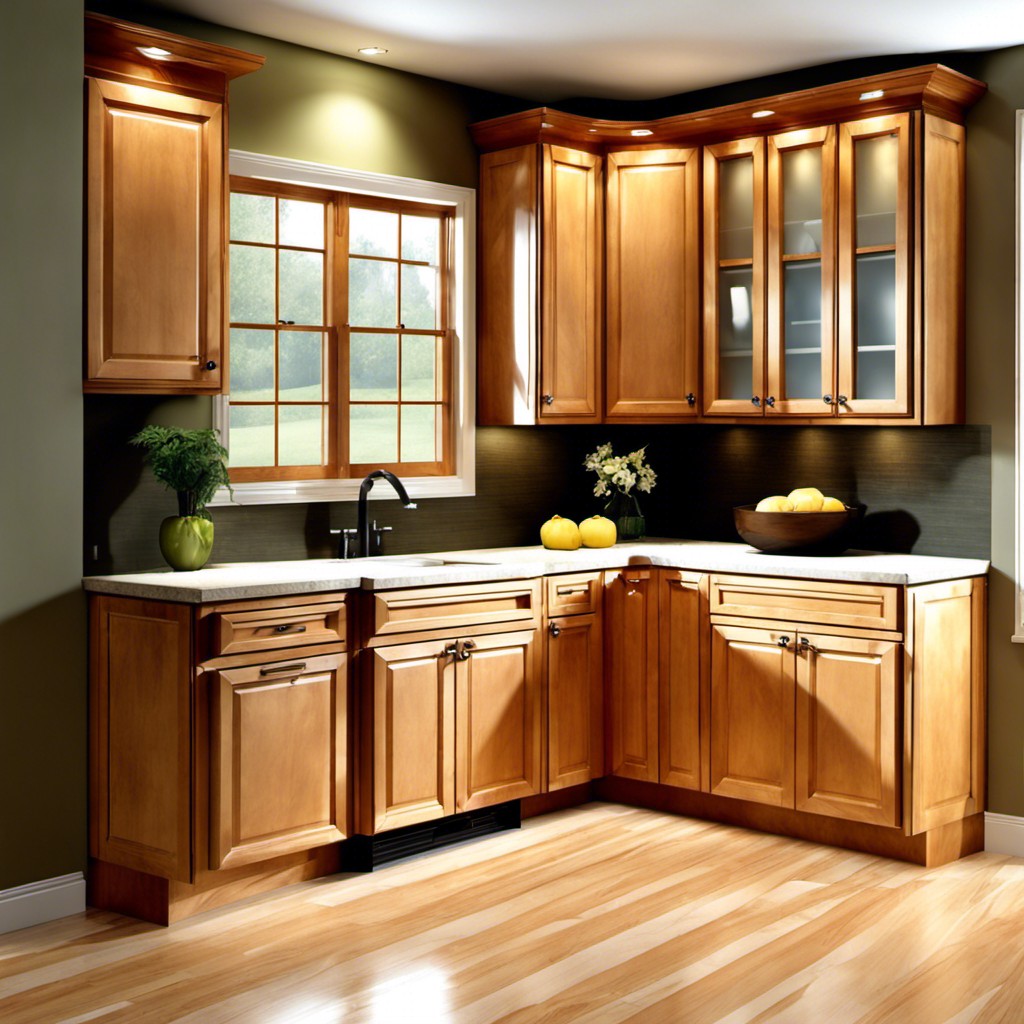 Integrating frosted glass into your honey maple cabinets creates a visually appealing balance between privacy and display. It beautifully showcases your glassware or dishware, yet blurs less attractive items to keep aesthetics intact.
Furthermore, glass inserts augment the perception of space, ideal for smaller kitchens. Finally, when coupled with interior cabinet lighting, a frosted glass feature can add an ambient glow, illuminating your kitchen with a warm, inviting light.
Overall, it's an effective way to enhance the elegance and functionality of your kitchen without compromising on the warm, natural appeal of honey maple.
Honey Maple Cabinets With Brushed Nickel Hardware
Brushed nickel hardware poses as a stunning contrast to the warm tones of honey maple cabinets, bringing a charming blend of traditional and contemporary feeling.
The slight variations in color and texture in brushed nickel pulls and knobs accentuate the rich, natural grain of the cabinets.
Experimenting with bar pulls versus traditional knob styles can introduce subtle variety in the overall kitchen aesthetic.
Applying these hardware alternatives on drawers, doors, or even on the side of spice racks can lend a touch of sophistication and functionality to your cabinet design.
This decorative strategy ensures that your cabinets are not just visually appealing, but also easy to use and navigate.
Remember, the goal is to create a harmonious combination of style and convenience.
Honey Maple Cabinets With White Subway Tile Backsplash
Pairing these cabinets with a white subway tile backsplash creates a fresh and clean background that enhances the cabinet's warm golden tones. The glossy finish of the backsplash reflects light, brightens up the space, and offers a beautiful contrast to the solid wood. This combination is timeless and fits a variety of styles from classic to modern.
Here are some key points about this pairing:
Showcases the Cabinets: The understated elegance of a smooth white backsplash lets the cabinetry take center stage.
Brightens the Space: White reflects light, making the room feel more open and airy, especially in kitchens with minimal natural light.
Versatile: Suits both modern and traditional styles, thanks to the contrast between contemporary subway tiles and classic wood.
Easy Maintenance: Subway tiles are easy to clean, making them ideal for areas prone to spills and splashes.
Cost-effective: Subway tiles are often reasonably priced, offering a stylish yet budget-friendly option to complement honey maple cabinets.
Honey Maple Cabinets and Stainless Steel Appliances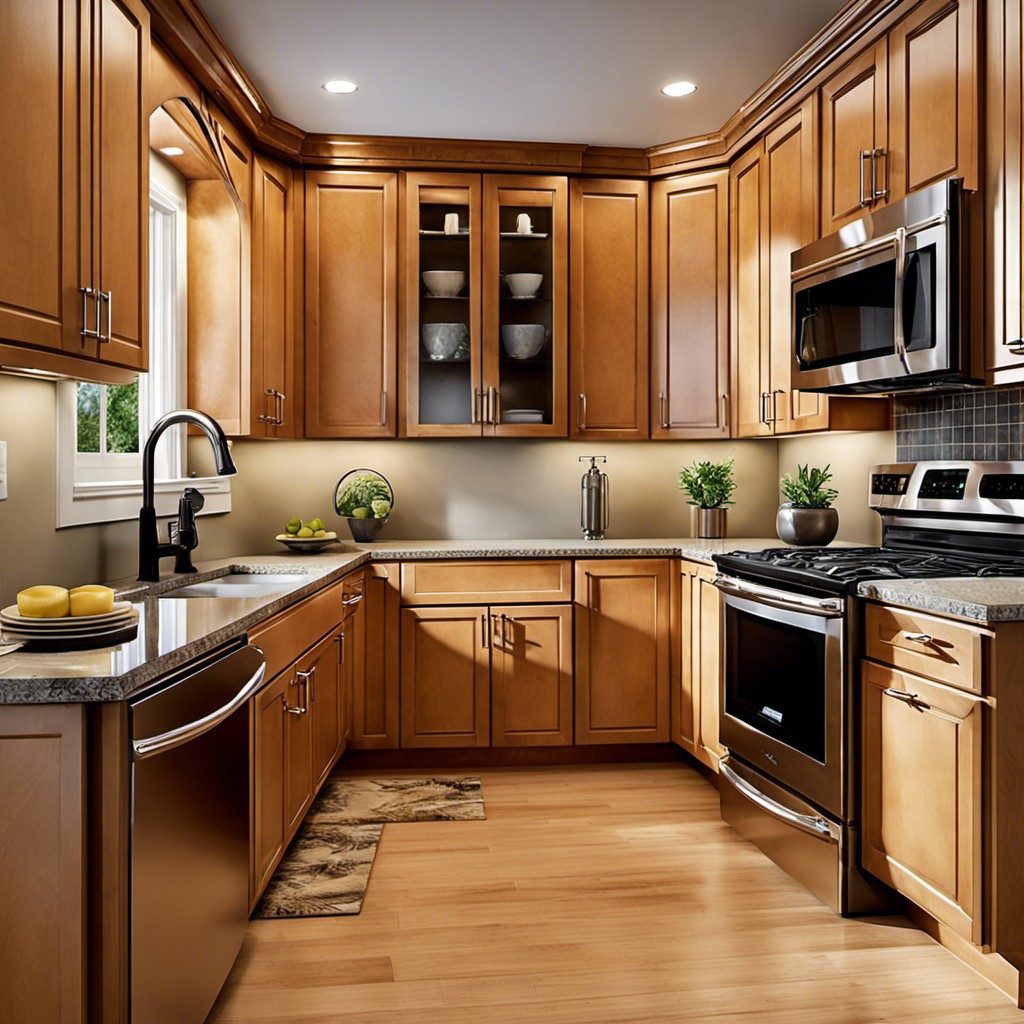 Pairing these cabinets with stainless steel appliances offers a modern edge to the warm tones of the honey maple. This combination brings together the best of both worlds, creating a sleek yet inviting kitchen environment.
1. Stunning Contrast: The glossy, cool hue of stainless steel appliances makes a striking contrast against the warm honey maple, providing a crisp, modern look.
2. Consistent Aesthetic: As stainless steel appliances are neutral, they blend seamlessly with honey maple cabinets. This creates a unified and cohesive design.
3. Easy Maintenance: Stainless steel appliances are notoriously robust and easy to clean, making them an ideal choice for a busy kitchen.
4. Resale Value: Stainless steel appliances are perennially popular, which can positively impact your home's resale value, especially when paired with timeless honey maple cabinets.
5. Versatility: This duo goes well with various color schemes and design styles, from contemporary to traditional, offering broad design flexibility.
Remember, the key to achieving a harmonious kitchen design is balance. Stainless steel appliances can help balance the warmth of honey maple cabinets, resulting in a kitchen that is both cozy and modern.
Honey Maple Cabinets With Gray Quartz Countertops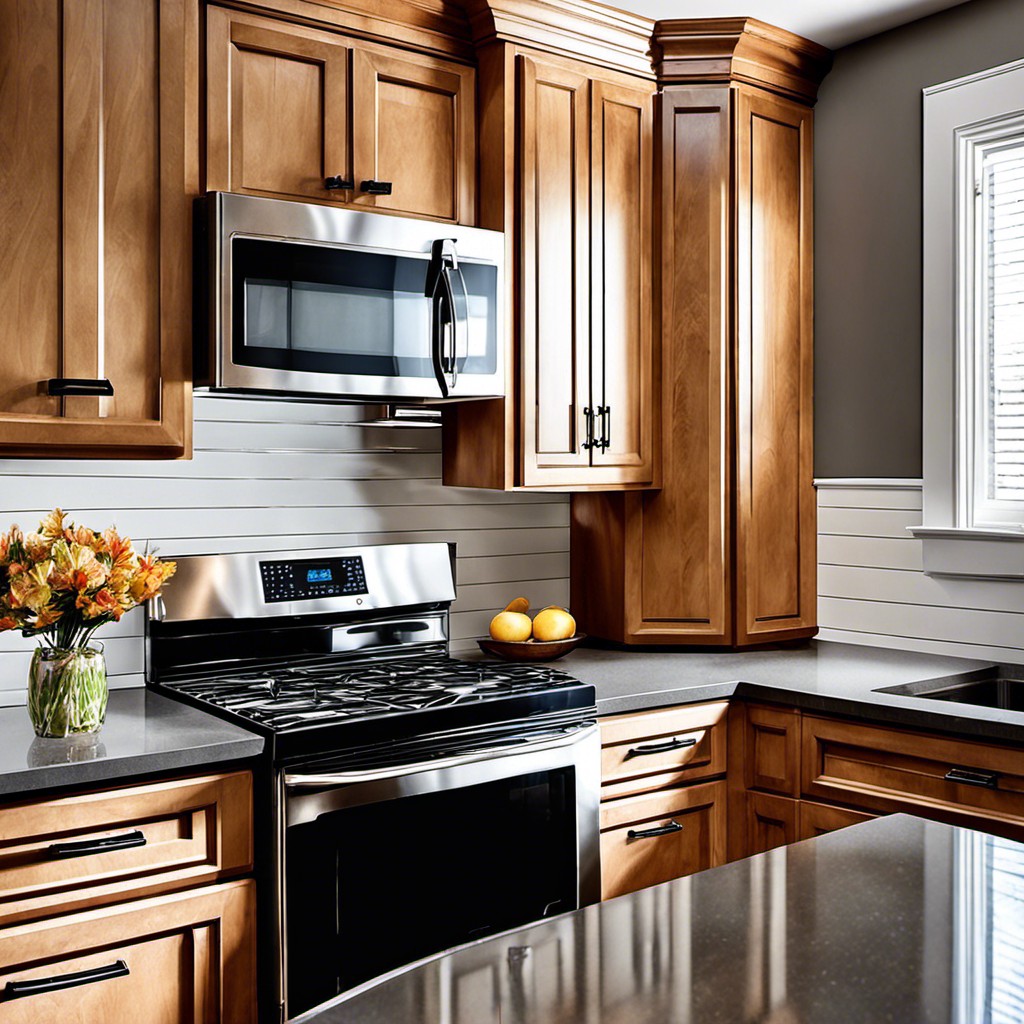 Pairing gray quartz countertops with honey maple cabinets bestows an air of modern elegance upon a kitchen. This natural stone's subtle shades contrast beautifully with the warm hues of the cabinets, giving a touch of sophistication without being too bold.
Three primary aspects make this combination outstanding:
Versatility: Gray quartz countertops offer versatile aesthetics, playing well with a range of kitchen styles – from modern to traditional.
Durability: Quartz, being one of the hardest minerals, withstands everyday kitchen use and requires minimal upkeep.
Visual Appeal: This duo's contrasting colors create visual interest, with the subtle gray offsetting the rich tones of the cabinets.
Integrating a subway tile backsplash in a lighter shade of gray can seamlessly tie the look together while brushed nickel hardware lends a polished finish. The end result is a timeless ensemble that harmonizes warmth with contemporary flair.
Traditional Kitchen Design With Honey Maple Cabinets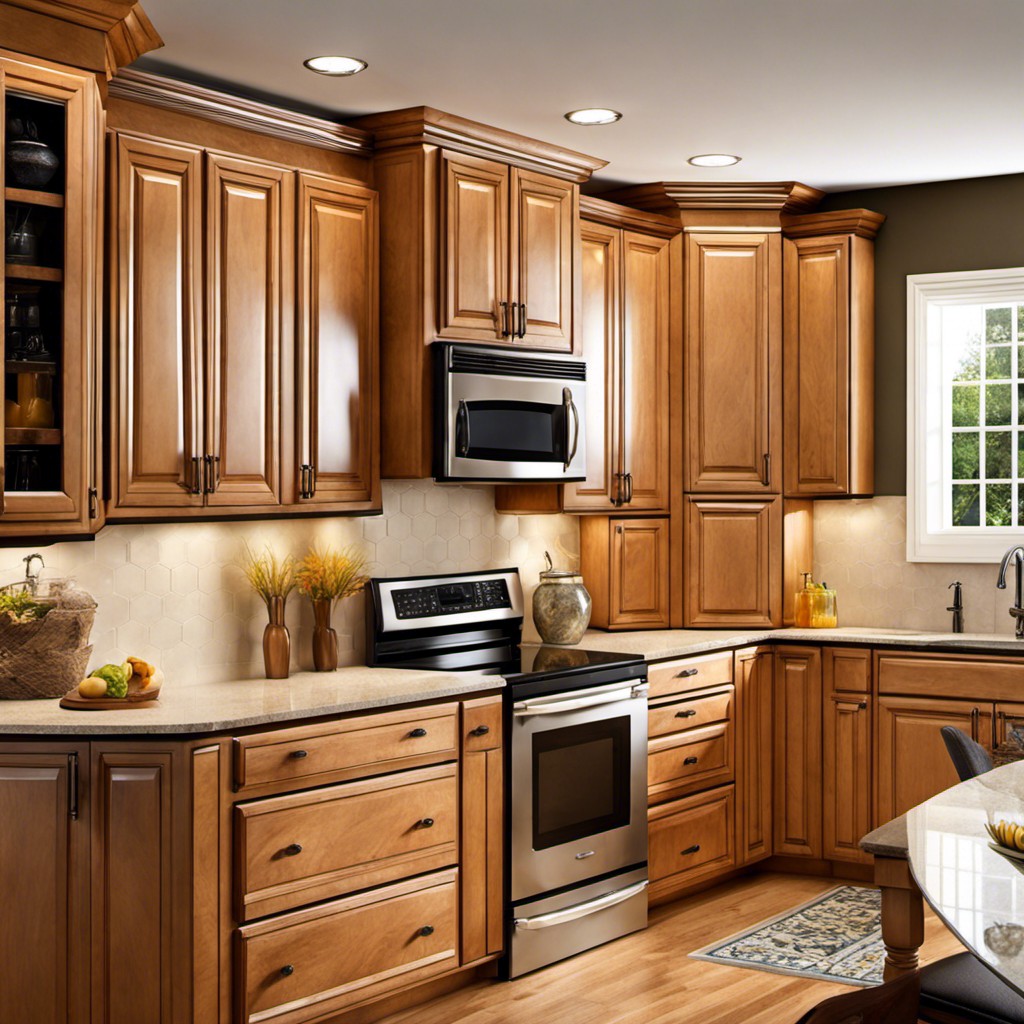 Opting for a traditional kitchen design means embracing warmth and comfort. Honey maple cabinets particularly shine in this setting due to their rich, warm tones, perfectly mimicking nature's palette enhancing the cozy, welcoming atmosphere.
Consider pairing these cabinets with other traditional elements to create a harmonious design. Start with an earth-toned granite countertop; its natural beauty complements the wood grain finish inherent in the cabinets. Crown molding atop the cabinets brings subtlety in detailing indicative of traditional style. Use classic hardware such as brass or bronze-finished knobs and pulls to complete the timeworn aesthetic.
Think of adding a tiled backsplash as it introduces texture and provides an opportunity to inject color into the space. Aim for a durable tile in classic shapes such as subway or mosaic. Lastly, aim to encapsulate the classic approach through lighting fixtures – an elegant chandelier or antique-styled pendants could provide the final flourish.
Honey Maple Corner Cabinets for Maximum Storage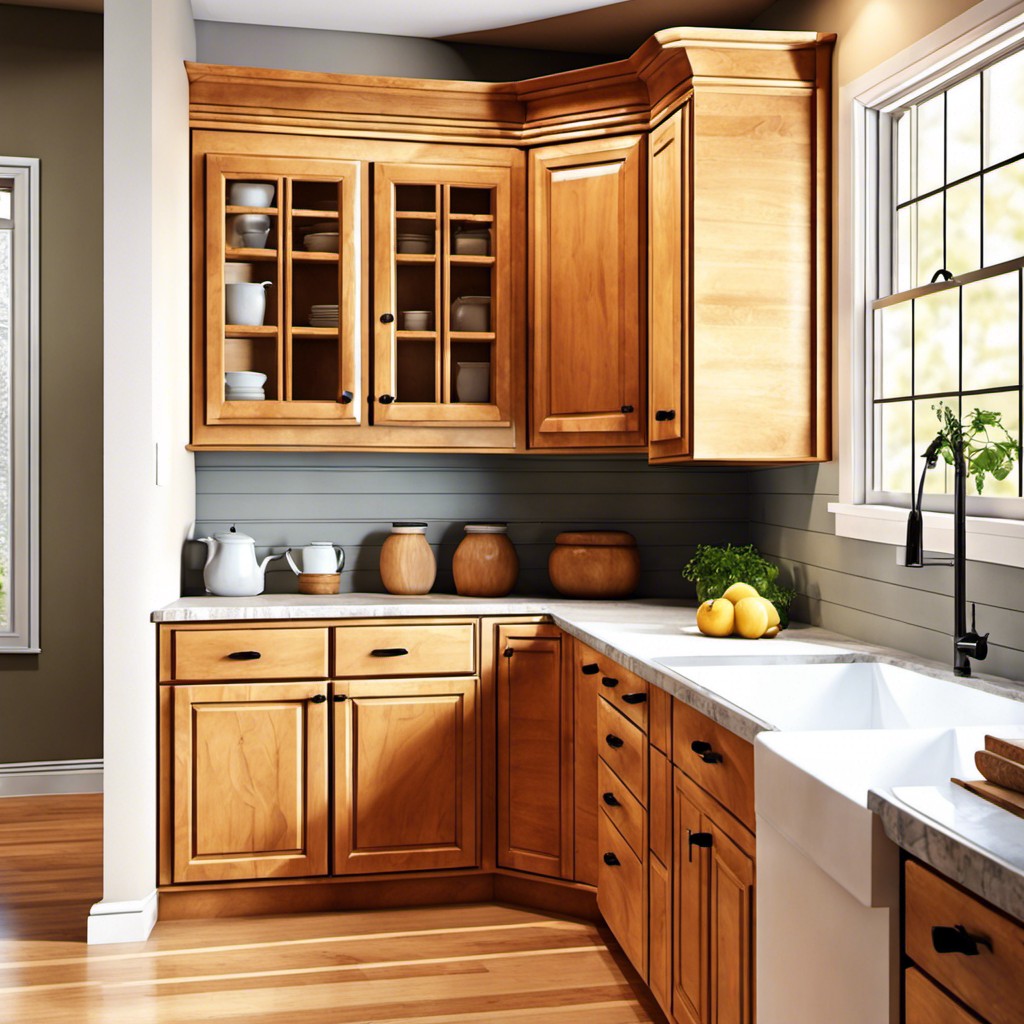 Fitting the L-shaped layout, corner cabinets are the perfect solution to utilize every inch. The intrinsic warm tones of honey maple wood make these cabinets an appealing addition to the kitchen.
This strategic placement ensures no space is wasted, providing additional storage where generally overlooked.
Corner cabinets in honey maple can accommodate multiple shelves, pull-out drawers, or a Lazy Susan.
The traditional touch of honey maple wood coupled with sleek hardware results in a functional, yet aesthetically pleasing setup.
Consider integrating under cabinet LED lighting for better visibility and an upscale look.
Furthermore, blending adjacent cabinets with the corner unit creates a seamless transition that adds to the visual uniformity.
Embrace the corner! With honey maple corner cabinets, what was once wasted space becomes your storage sanctuary!
Continue reading: