Last updated on November 26, 2023
Looking for a quick revamp of your kitchen cabinets? How about these kitchen cabinet hardware ideas? Adding new pulls and knobs is a great way to bring your old furniture back to life. Read on!
There's no easier way to revamp kitchen cabinets as installing new hardware (it's even easier than painting them with a new coat of paint). Indeed, new pulls and knobs will do miracles to the way the cabinets look. It's also a great renter hack where you can change the way your renter apartment's kitchen looks without committing.
On the other hand, you may be choosing the hardware for your new cabinets. It's a key decor decision when it comes to new kitchen design. The pulls and knobs can make or break your entire kitchen plan. Needless to say, you need as much inspiration as you can gather.
That's where we come in. With this list of 25 creative ideas for cabinet hardware, no stone is left unturned. You can be sure you will find the style you're looking for. So let's dig in!
What's Inside
How to Choose Kitchen Cabinet Hardware?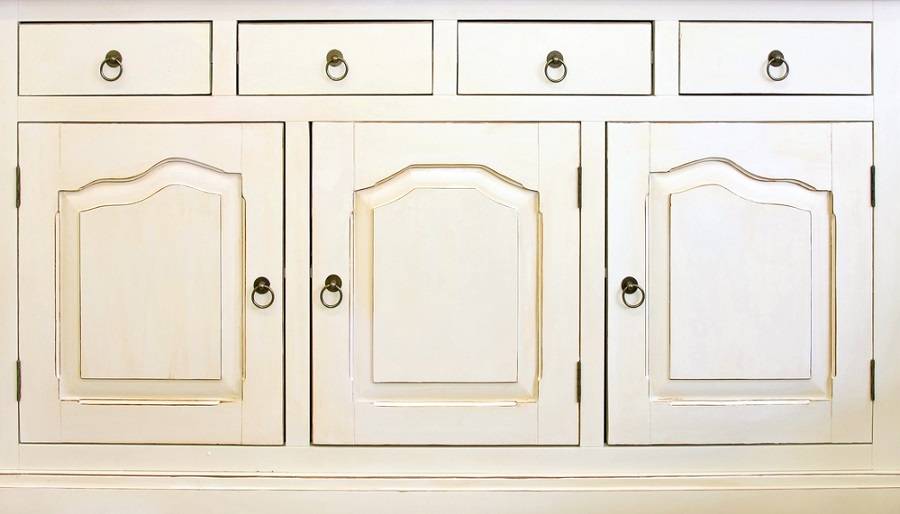 So how do you make the right choice of the pulls and knobs for your kitchen cabinets? It's a subjective matter than highly depends on your tastes but in general, you can follow some basic guidelines:
Replace knobs with knobs to avoid having to drill new holes or refinish the cabinets.
You can replace bar handles with handles of the same measurement or use kobs.
Choose vintage or rustic hardware for an accent.
But choose modern finger pulls if you want to stay neutral.
Pay the most attention to the effect the pulls have on the rest of the decor, however, don't forget the function.
Use the big list of ideas that comes next.
Kitchen Cabinet Handles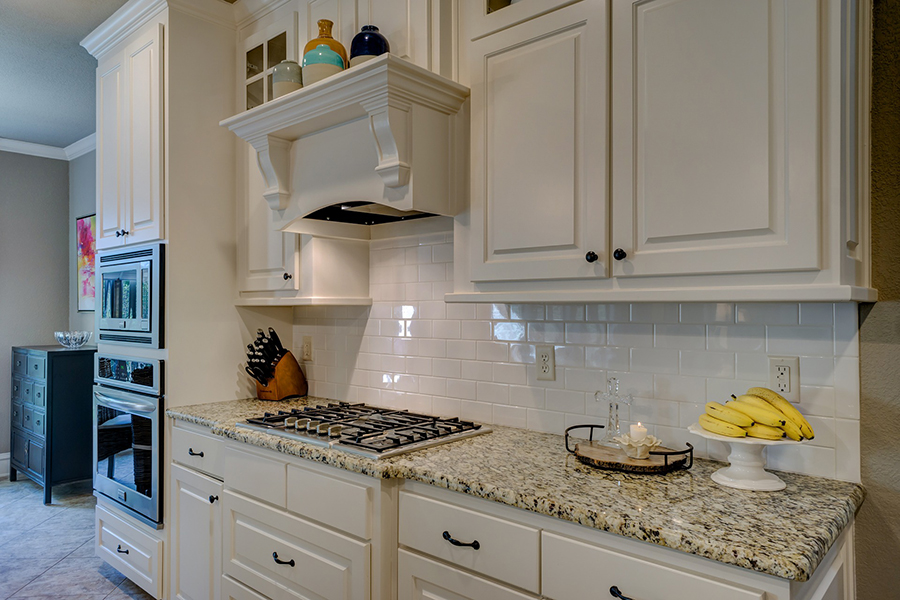 Kitchen cabinet hardware ideas include decorative handles that can transform old cabinets into trendy, distressed and rustic farmhouse cabinets. Maybe you'd prefer an elegant look or a vintage style. You can choose from metallic, gold-plated, burnished brass and cast-iron handles to match your decorating style.
Black Cabinet Pulls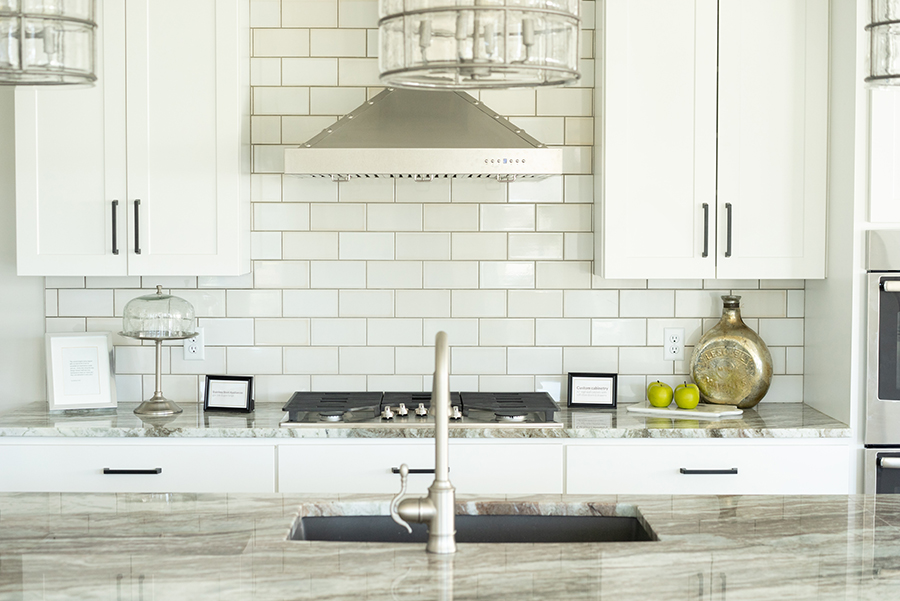 Black cabinet pulls provide a sleek, elegant look for your kitchen cabinetry. Black pulls resist stains, dirt, and fingerprints. The pulls come in a variety of sizes, styles, and finishes that include matte black, ebony and two-toned black and silver for an elegant touch.
Brass Cabinet Hardware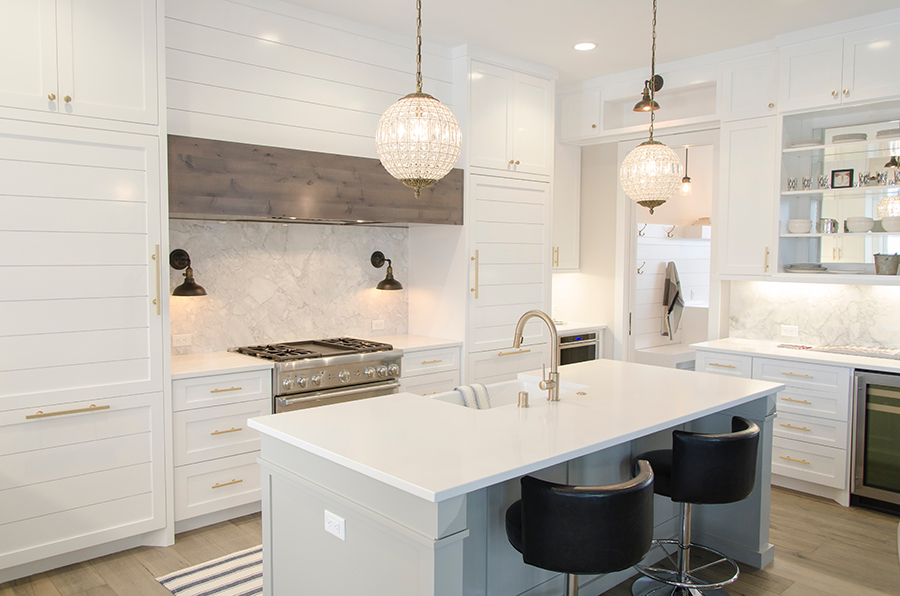 Solid brass cabinet hardware has long been the standard for beautiful cabinetry. Brass lasts longer than zinc, aluminum and many other materials, especially when coated to preserve it. Studies show that coated brass lasts 3 times longer than coated zinc.
Gold Cabinet Hardware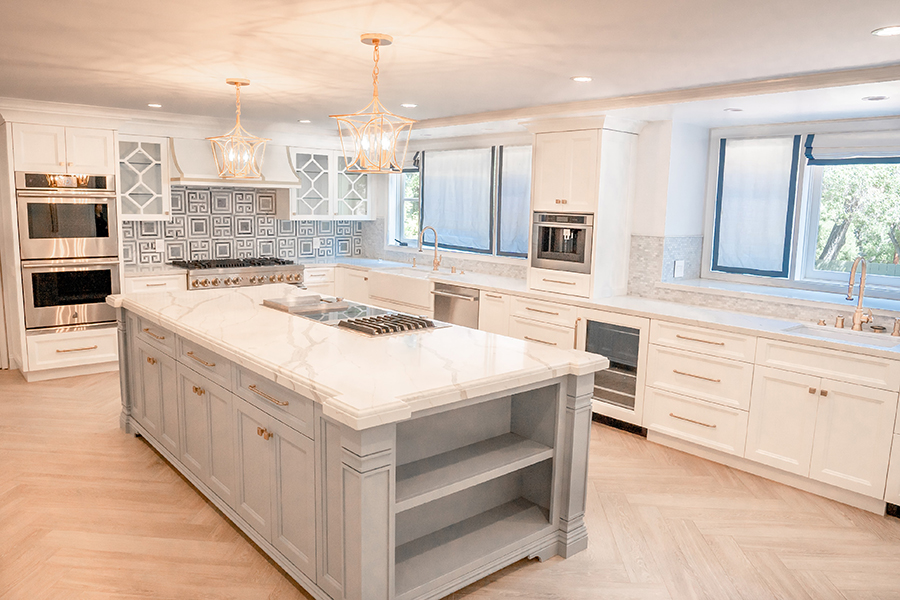 Gold cabinet hardware creates a kitchen environment you'll love. You can get gold hardware in drawer pulls, handles, cup pulls and bar pulls with elegant ivory bars. Gold hardware makes a design statement that's hard to ignore.
Unique Door Knobs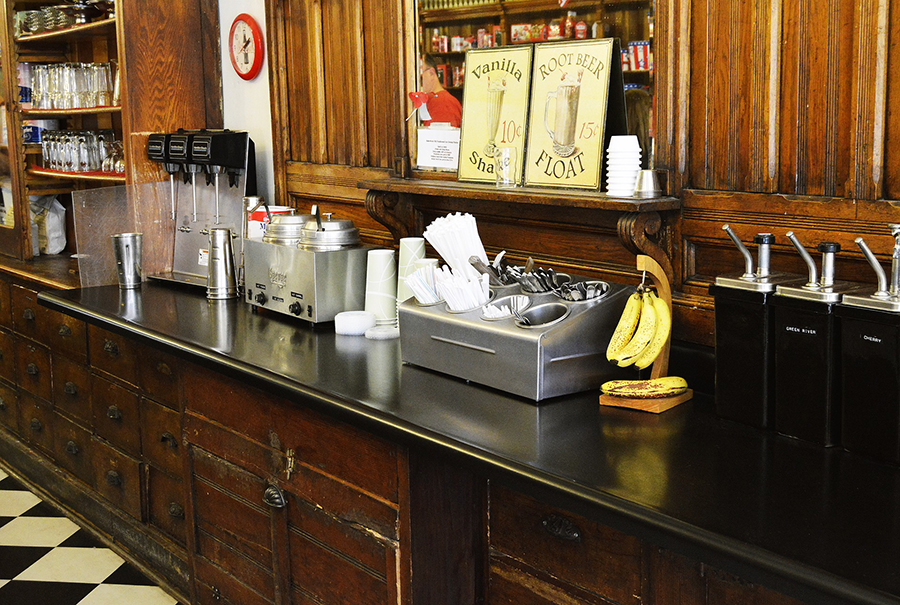 Unique and unusual door knobs reflect your creativity and passion. Crystal doorknobs, knotted wood, Tuscany matte black door knobs, passage doorknobs and doorknobs with square rosettes are just a few of the possibilities.
DIY Drawer Pulls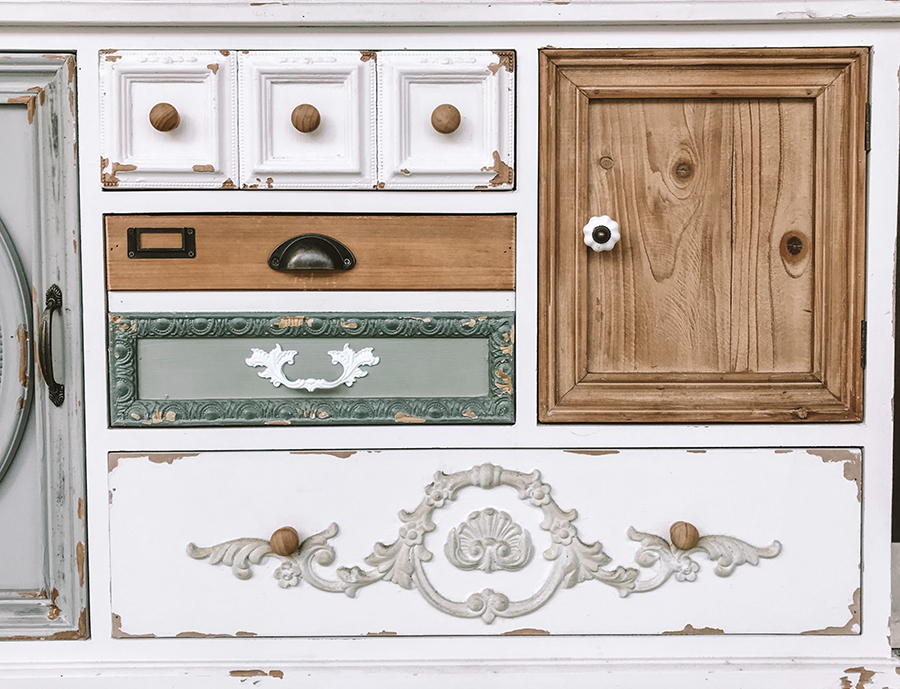 DIY drawer pulls can be made from almost anything for a low cost. Ideas include thread spools, plastic toys, salt and pepper shakers, and molds of hands that always supply a ready handshake. You can make custom pulls from seashells, colorful rocks and minerals, braided loops of rope, leather drawer pulls, and even cement knobs.
Wood Cabinet Pulls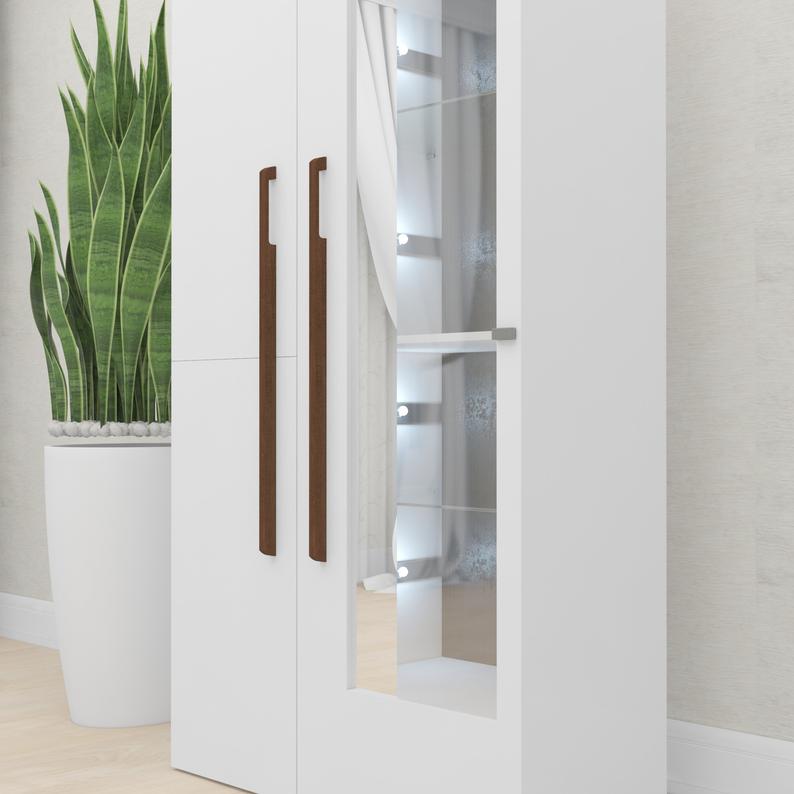 The most common hardware solution for cabinets is pairing wood knobs to cabinet doors and drawers. Wood pulls are elegant, natural and relatively inexpensive, depending on your choice of wood. Both knobs and handles come in wood. The most critical information you need for installing handles is the center-to-center length between the mounting holes for the handle.
Industrial Cabinet Hardware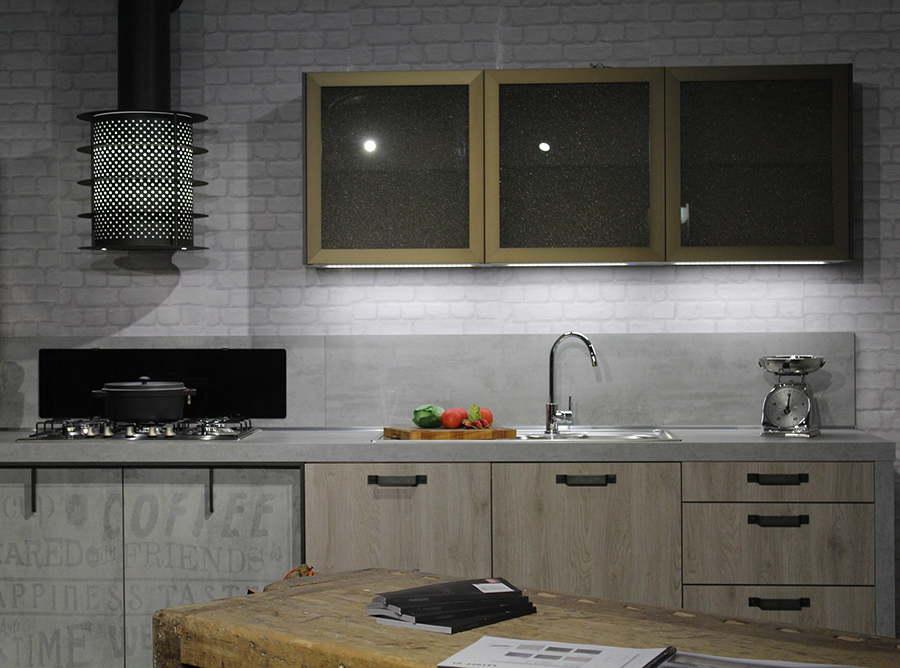 Industrial-style cabinet hardware for your kitchen cabinets generates the retro style of the late 1800s. The hardware is also perfect for modern steampunk design strategies. You can match industrial cabinet hardware with cast-iron shelf brackets, matte-finish cylindrical doorknobs, and striking rectangular doorknobs. Lockable cast-iron latches are also popular choices
Farmhouse Cabinet Hardware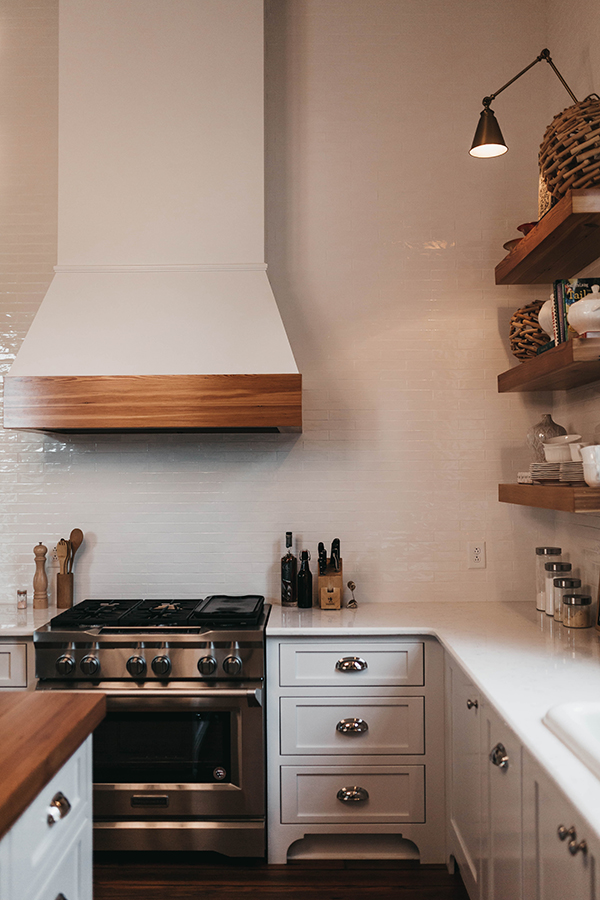 Farmhouse hardware for your kitchen cabinets includes stunning wrought iron, antique pewter and picture door knobs that feature farm-related items like sunflowers, roosters, honey bees, etc. Distressed square pyramid door knobs provide a signature style that you won't find in the cookie-cutter homes of your friends and neighbors.
High-End Cabinet Hardware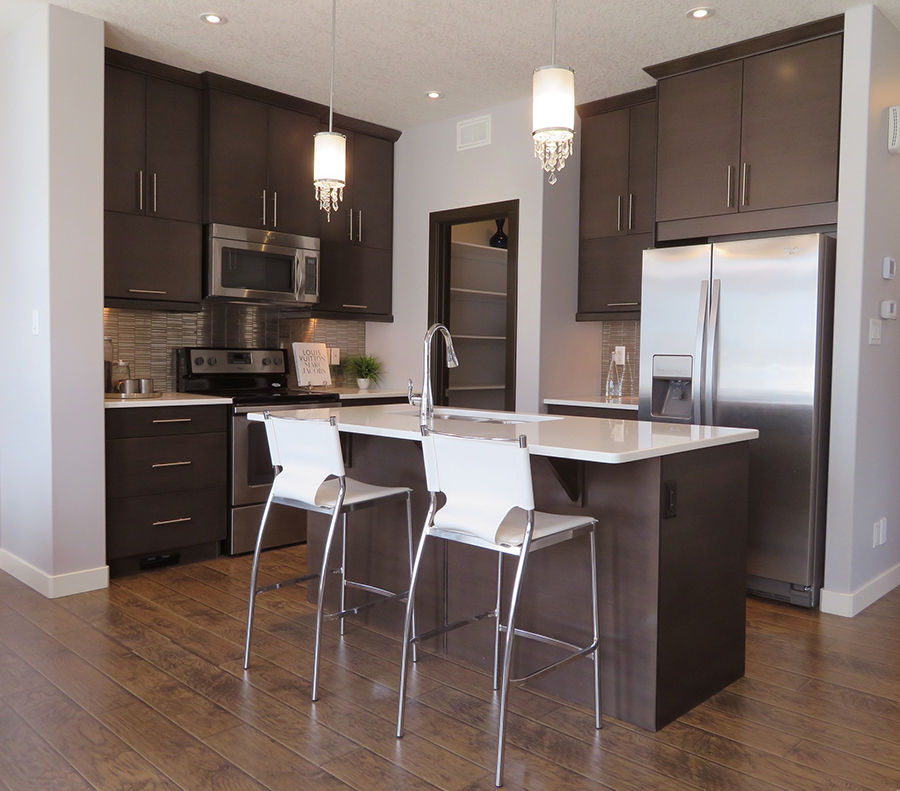 High-end cabinet hardware includes coated brass, silver, bronze, pewter and hand-finished designs for doorknobs, pulls, handles and backplates. High-end door hardware includes bells and knockers for exterior door faces. Many types of cabinet hardware include artful motifs, bas reliefs, and distinctive shapes and materials.
White Drawer Pulls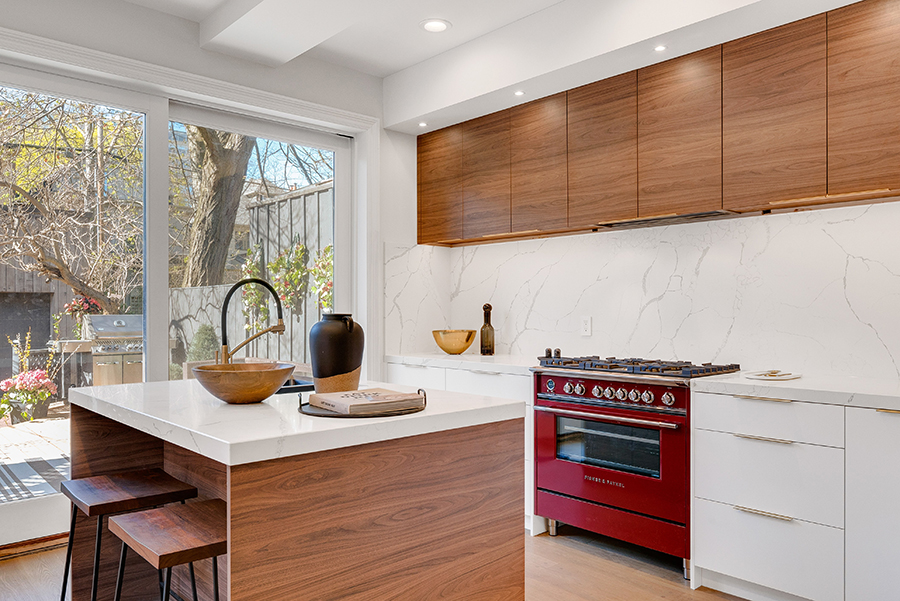 White drawer pulls foster an image of cleanliness and simplicity that many homeowners want for their kitchen space. Cabinet hardware available includes white cup pulls, knobs, handles, and doorknobs. White antique drawer pulls often incorporate brass bars in intricate designs with white beads or alternating sections of porcelain with signature images.
Vintage Kitchen Cabinet Hardware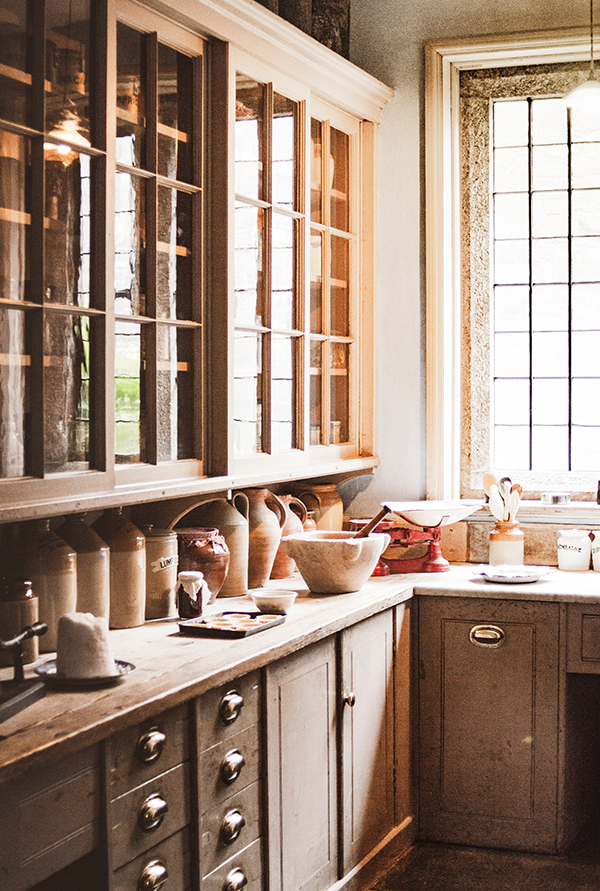 Vintage hardware for your cabinets includes intricately cast brass, bronze and pewter pulls and knobs. Wrought iron is always a popular choice because it works with any design style or color scheme. You can choose hardware that matches your favorite vintage designs, such as Victorian, Art Deco and the 1950s penchant for glass knobs. You can coordinate your vintage look with matching hinges, nameplates, shelving materials, flour bins, door racks, bread drawers, etc.
Mission Style Drawer Pulls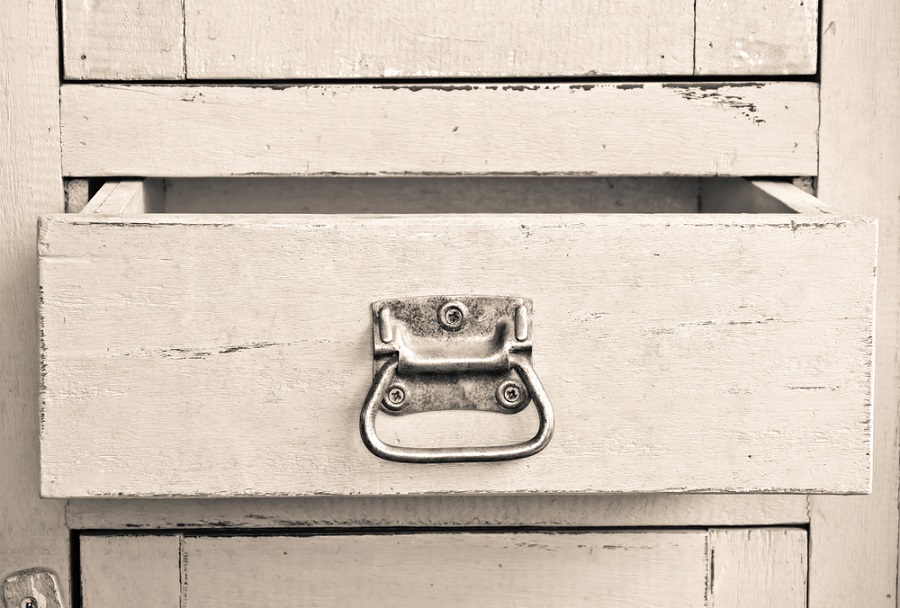 Mission style hardware originated in the 19th century and traces its roots to A.J.Forbes and the Swedenborgian Church in San Francisco. Mission hardware features polished brass, brushed nickel, and oil-rubbed bronze. Offset cabinet pulls, cabinet cup pulls, pendant pulls and bail cabinet pulls are typical examples of Mission hardware styles.
Small Cabinet Knobs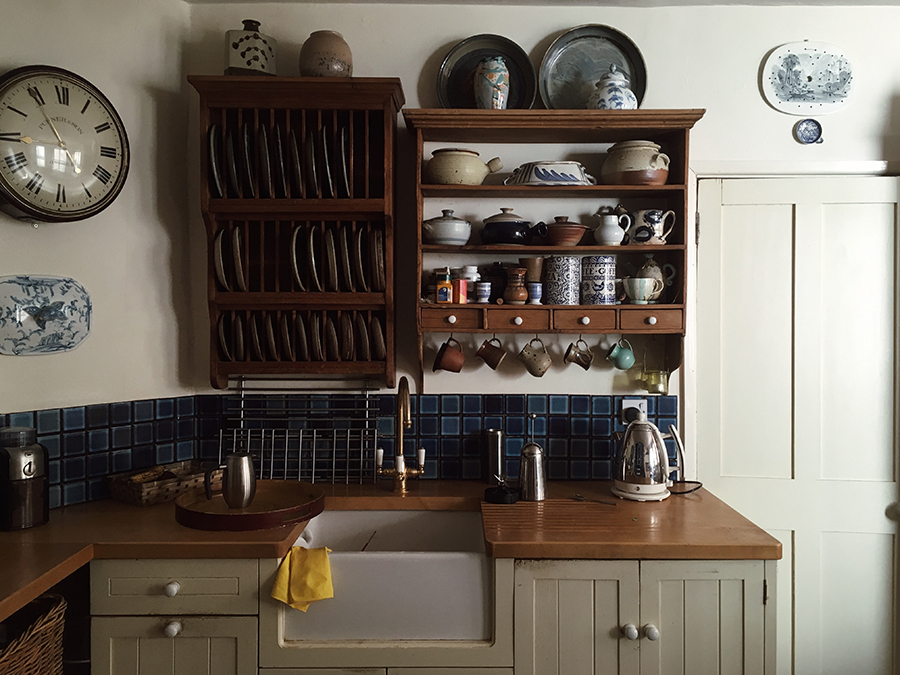 Small cabinet knobs of 1″ or less in diameter are great choices for small drawers or cabinet doors. You can choose from small knobs made of plastic, glass, wood and various metals. Small, matching knobs are also great for jewelry boxes and chests. One popular decorating strategy involves using small knobs exclusively for cabinet doors and handles for drawers.
Porcelain Drawer Pulls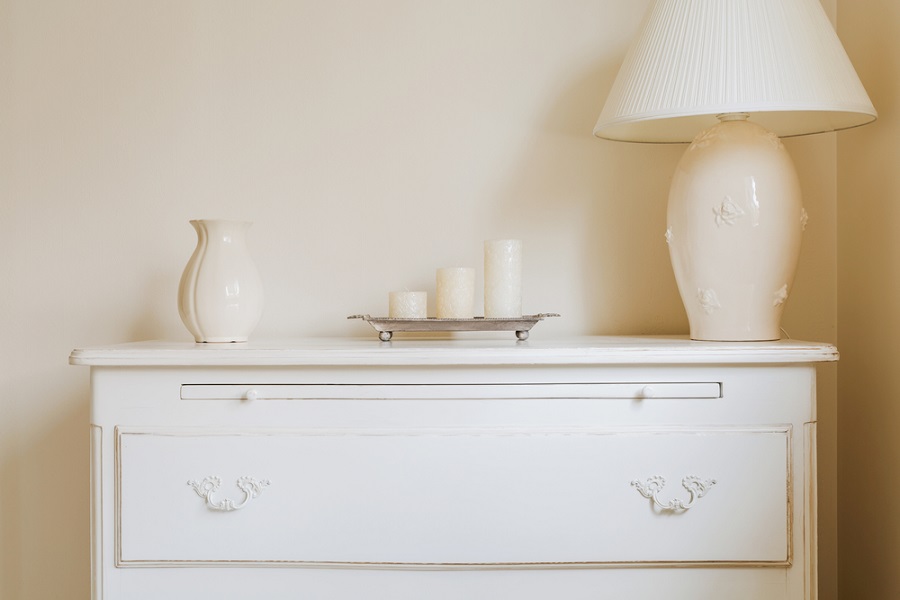 Porcelain drawer pulls convey elegance, class and a taste of vintage design. You can find hand-painted porcelain pulls, antique porcelain and porcelain doorknobs. White porcelain knobs are the most frequently used color, but you can buy porcelain in other colors, including vibrant red to make a significant design statement.
Iron Cabinet Hardware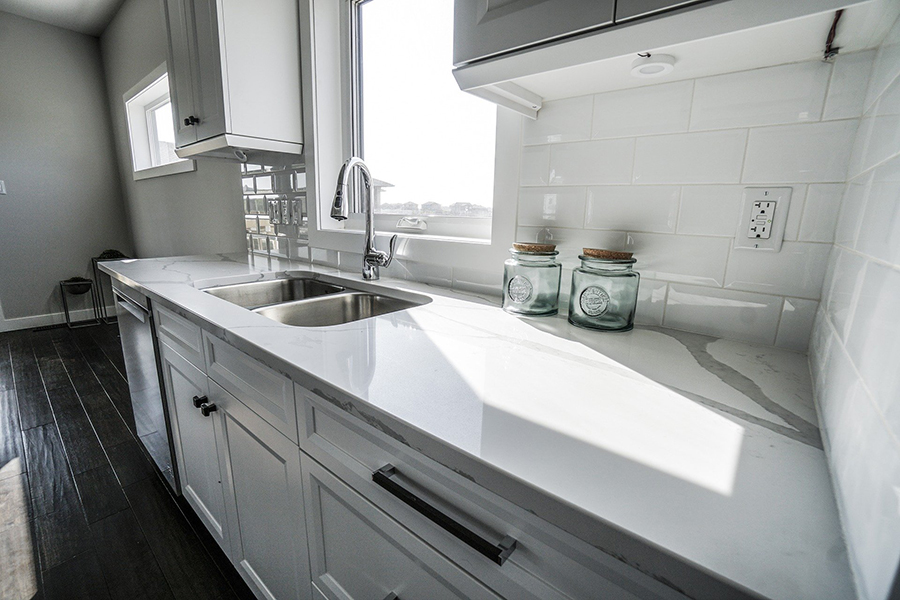 Iron hardware for your cabinets can make an extraordinary impression with ring knobs, cup pulls, matching hinges and rustic wrought iron pulls and knobs. Forged iron hardware provides a bluish cast. The possibilities include teardrop pulls, scrolled armoire pulls, antique pulls and rustic iron knobs.
Finger Pull Cabinet Hardware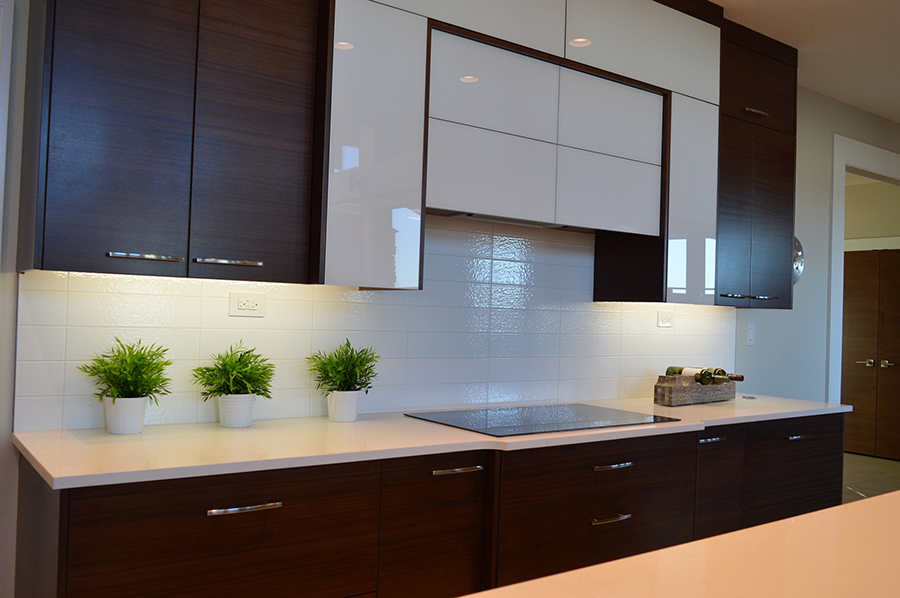 Finger pull hardware provides a subtle look for your cabinets. You can choose from architectural pulls in various materials and finishes and pulls with embossed designs to complement your decor. Custom finger pulls can mimic a leather keychain or remain as simple as a hooked extrusion that fits fingers seamlessly.
Oil-rubbed Bronze Kitchen Hardware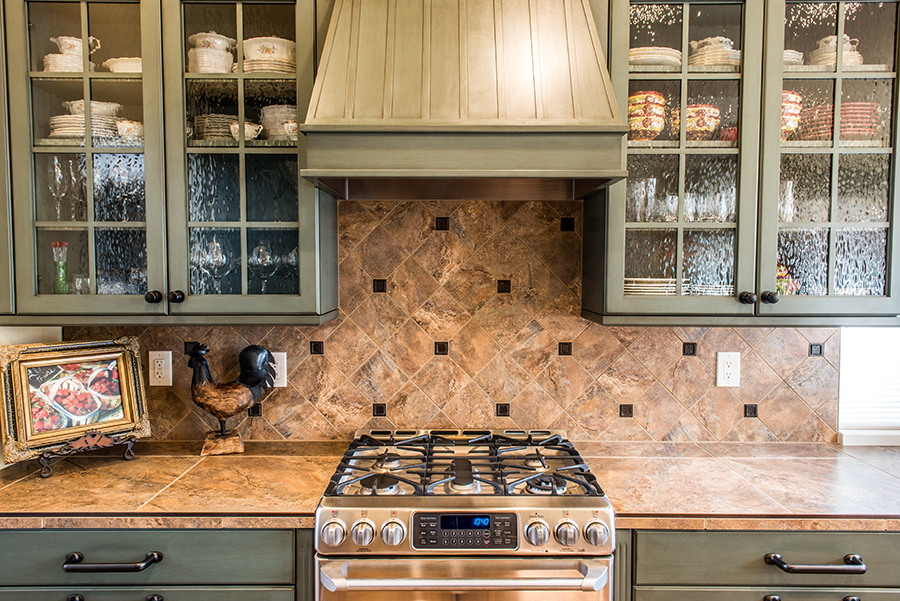 Kitchen hardware in oil-rubbed bronze includes simple and highly decorative handles, door pulls and doorknobs in a variety of shades – from light beige to nearly black. The black-and-gold shade appears elegant and formal. Oil-rubbed bronze hardware for cabinets complements the warmth of wood, earth tones and kitchen designs with organic textures.
Red Drawer Pulls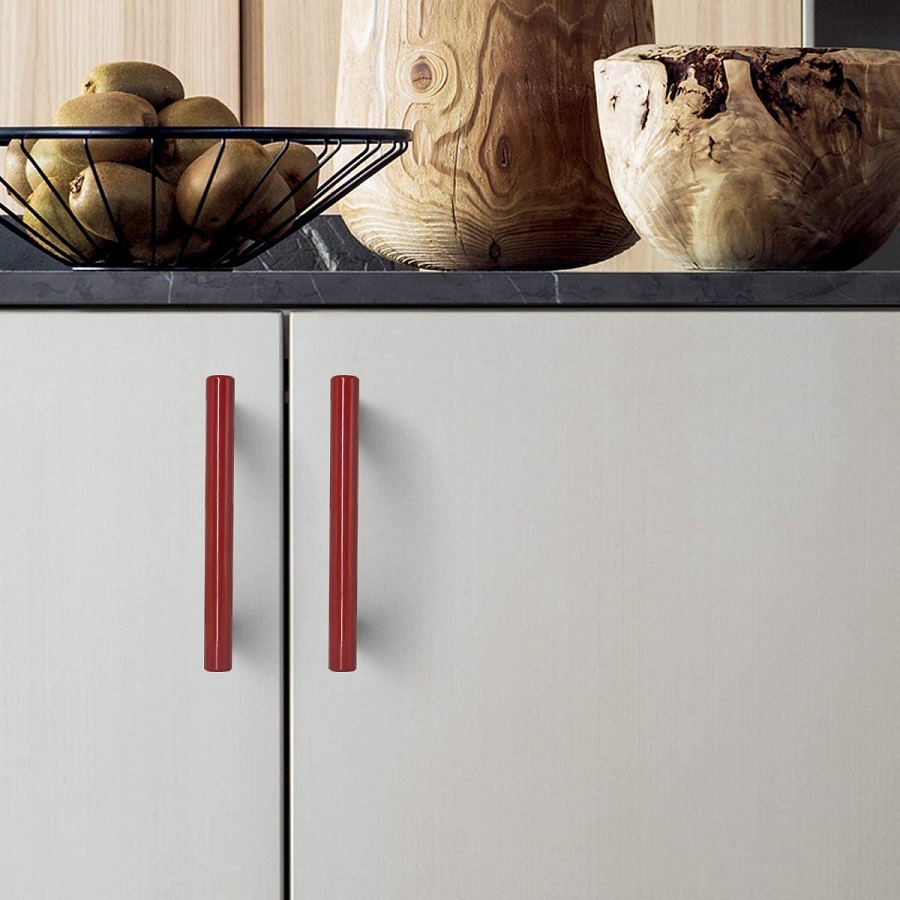 Red drawer pulls come in knobs and handles in all types of styles, and you can use red drawer pulls as a focal point in your kitchen design scheme. Bold and bright or understated when mixed with other colors, red pulls are easy to see and unmistakable attention-getters.
Shaker Cabinet Hardware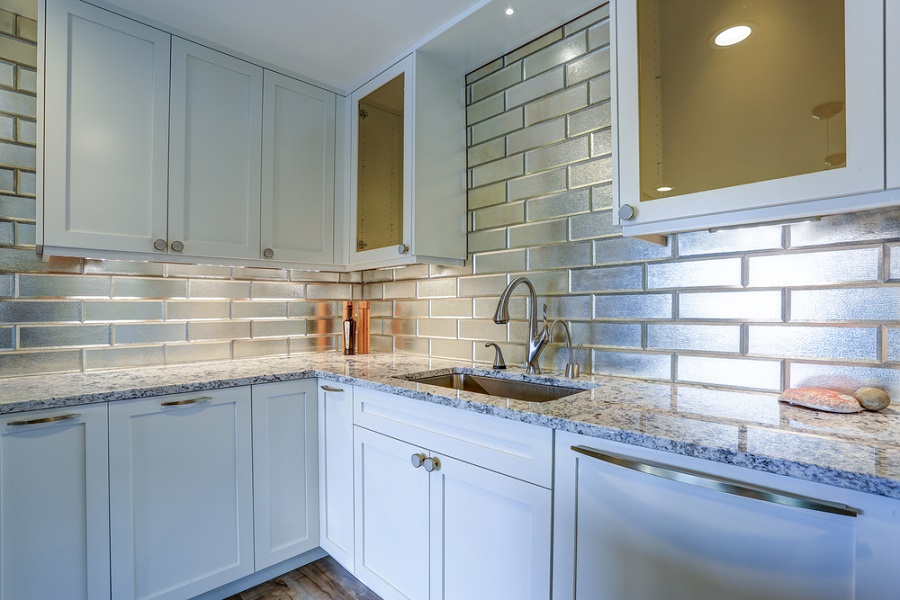 Shaker-style cabinets look better when set off with certain kinds of hardware. The top styles of cabinet hardware for Shaker design include classic ceramic knobs and pulls, glass hardware, simple nickel, and brass knobs, vintage bin pulls and industrial hardware.
Hammered Cabinet Pulls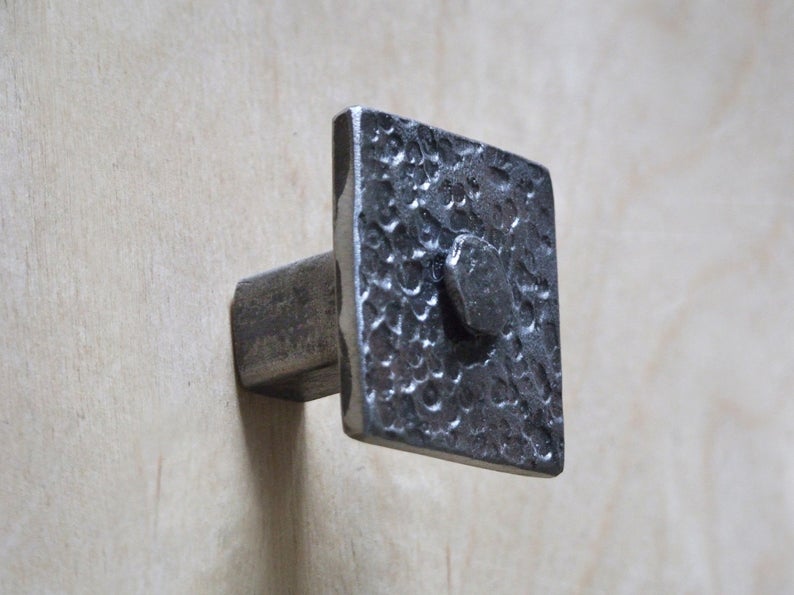 Hammered cabinet pulls look like they've been scored with a hammer and chisel across some or all of the finish to generate a textured look. Hammered cabinet pulls make a great transitional look, and you can find pulls and handles with bronze, rich brown and black finishes.
Glass Knobs and Pulls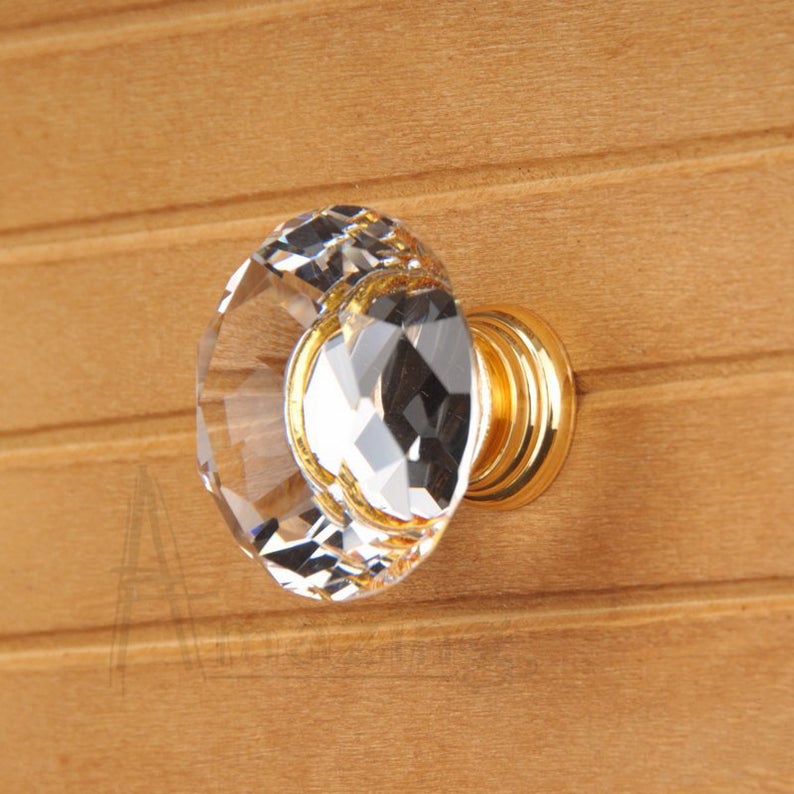 Glass knobs and pulls include crystal shapes, stained glass, glass handles with brass bases, fluted glass, cut crystal, and many other shapes and designs. They provide a clean, appealing look for lighter cabinet colors.
Brushed Nickel Cabinet Hardware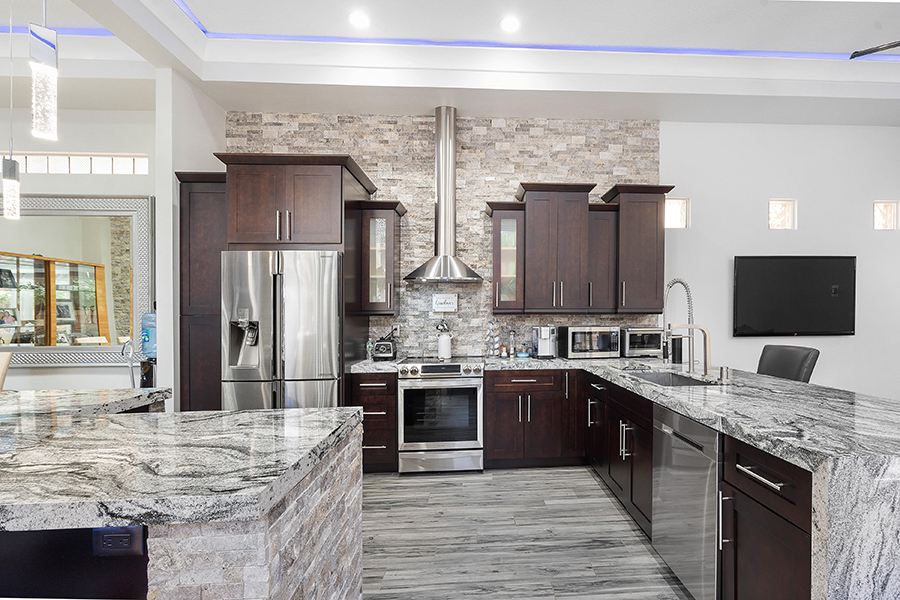 Brushed nickel cabinet hardware doesn't show stains or fingerprints, and you can find knobs and handles in all kinds of styles and sizes to complement your cabinetry.
Long Cabinet Pulls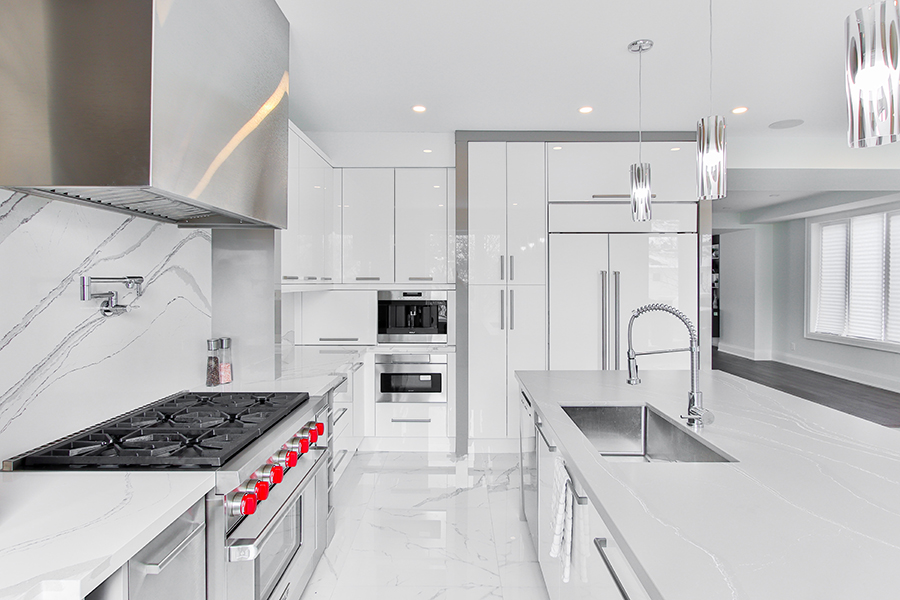 Long cabinet pulls are easier to grip and use from a wider work area than traditional pulls and handles. Long pulls also complement Art Deco styles. It might be necessary to drill new holes in your cabinets to install long pulls and fill-in and stain the existing holes.
Continue reading: