Last updated on March 22, 2021
Looking for the best kitchen cabinet hardware that's functional and provides decorative interest? These are the top-rated picks that will do that for you. Read on!
It's one of the well-known facts and not-so-well hidden secrets that cabinet hardware is the easiest way to (re)decorate the kitchen. Whether you're starting from scratch with new cabinetry or refreshing the old, picking new knobs and pulls is at the top of the to-do list. It's fun too because it's so easy and there are so many fantastic options.
Our goal today is to give you some of the best picks, both functionally and decoratively. While shopping for pulls and knobs can be a fun experience, it's much easier and generally a better idea to do so from a pre-screened list. So what would make this even better?
How to choose kitchen cabinet hardware?
Here is our suggested checklist:
How much of uniqueness and personality do you aim for?
Or do you want to keep it contemporary and neutral?
Note the positions of existing screw holes for easy replacement.
Choose between knobs and pulls.
Choose the material and finish.
Shopping for nice designs is fun but as any shopaholic, we've found some reoccurring caveats too.
Things to watch out for:
Double-check the measurements.
Have your own screws ready as many options include screws that may not fit.
Hopefully, you have a better idea of what to look for now. So let's go into our functional and gorgeous picks. For transparency, we also need to tell you that we may be compensated for qualifying purchases on Amazon at no expense to you (we use #ad to indicate this).
Which of these beautiful knobs and pulls will go onto your kitchen cabinets?
What's Inside
Unique Cabinet Hardware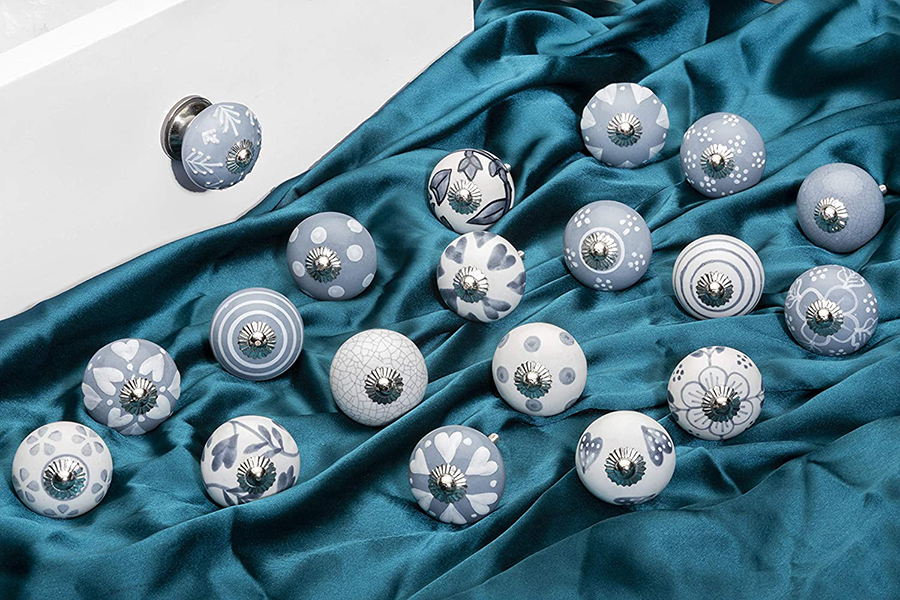 Unique designer knobs and pulls can give your cabinets and the whole kitchen design the statement you need. The vintage look of these knobs adds personality to your decor.
Pros: beautiful quirky design and handpainted elegance; easy to install; gives a bit of contemporary edge and can be attached using pliers; the length of the knobs is perfect; gives a nice touch of excitement for your cabinets or drawers for a good price.
Cons: the screws that come with them are extremely long.
Cabinet Door Handles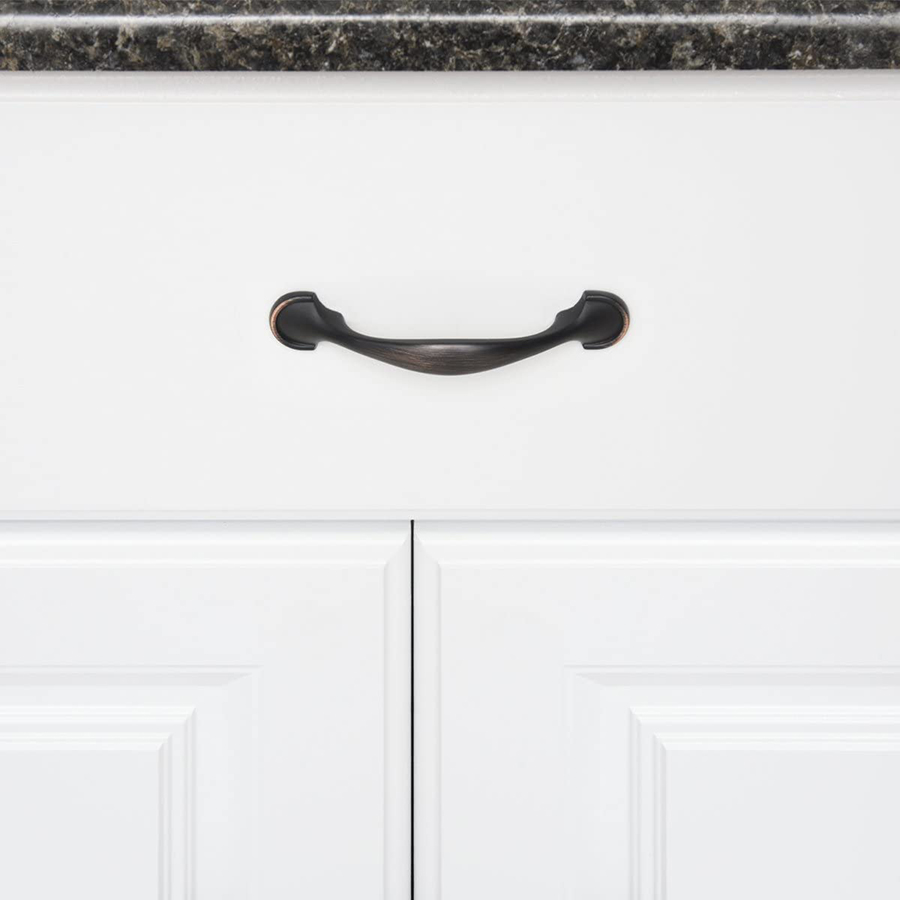 Cabinet pull handles (especially this rounded style) are often used in farmhouse kitchen design. Besides being functional and easy to use, they provide that visual charm in form.
Pros: made from durable zinc-alloy and are hand finished; available in multiple finishes and styles; it fits most cabinets; great quality for its price; handles are easy to install and they look great.
Cons: screws are not long enough for well-made cabinets; screw holes make them a little tricky to fit.
Cabinet Door Pulls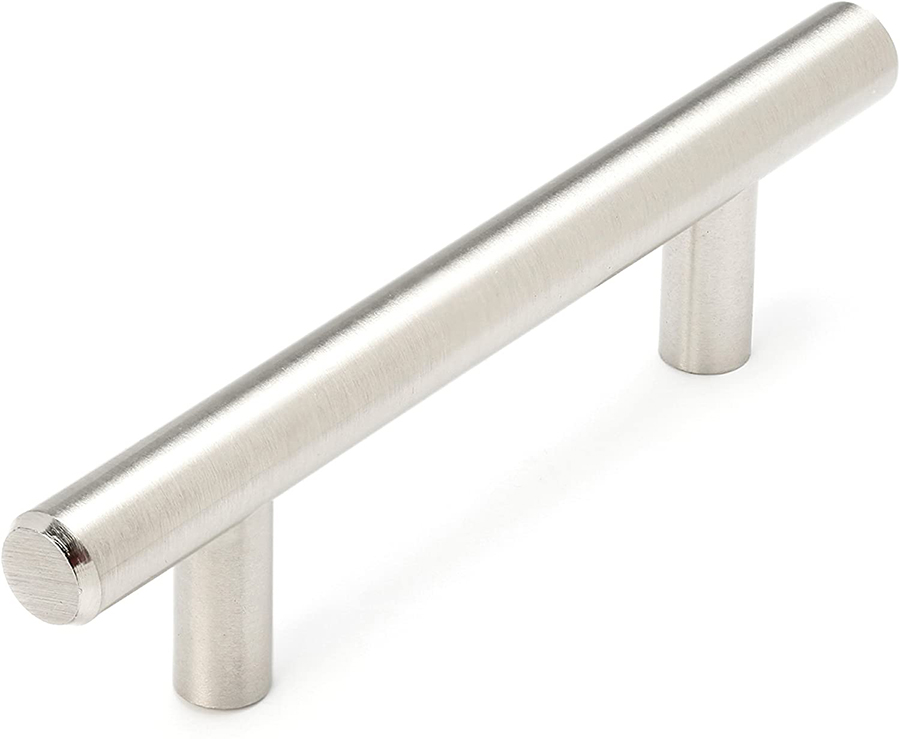 Metal cabinet pulls (especially brushed nickel) are the staple of modern cabinetry design in the kitchen and beyond. If you want them, it's the go-to option.
Pros: made from 100% solid steel material; solid T pulls are the go-to model for a heavy-duty, long-lasting option; provide a great industrial modern look; they are very easy to install.
Cons: wrong measurements for some handles.
Cabinet Door Knobs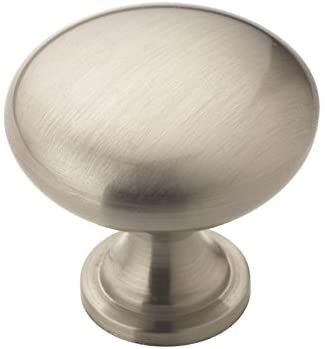 Knobs are a classic option for cabinet hardware. Especially if they come in a metallic finish, and especially if its satin nickel. They are sturdy and look good in modern through farmhouse decor.
Pros: quick and easy to install; great quality for an unbeatable price; constructed with solid zinc for lifelong beauty and durability; they are smooth with no rough edges, heavy-duty, and shiny; fits well in classic/traditional or contemporary interiors.
Cons: some screws may not fit; the bottom is not flat, there is an indentation around the screw.
Black Cabinet Pulls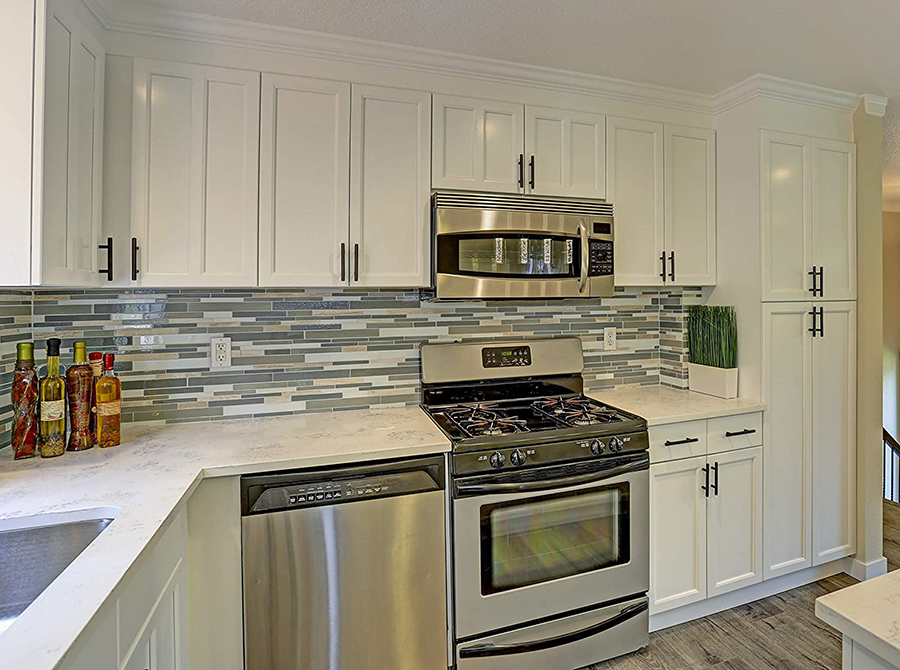 Black cabinet pulls work well as a contrasting accent on white cabinets. Matte black is especially popular.
Pros: has a real matte finish; very solid construction (plated solid steel); heavy and elegant looking; very sturdy – completely solid all the way through; best deal for cabinet handles; don't get smudged when touched.
Cons: some included screws don't match with the handles.
Brass Cabinet Hardware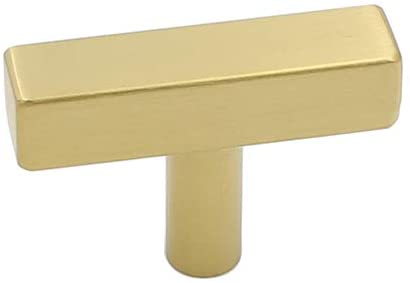 The copper or brass look is making its way to modern kitchen design and decor. If you want to try it at home, small brushed brass knobs are a safe way to experiment.
Pros: perfect brushed brass finish; very sturdy and durable after installation; suitable for different styles of cabinets; has a modern look; smooth, flat, and the screws fit properly.
Cons: this product is hollow.
Nautical Cabinet Knobs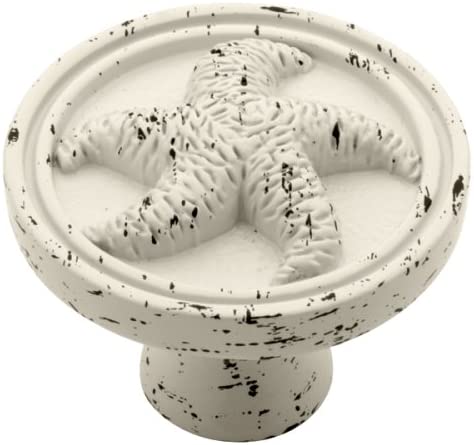 If you need specific nautical decor accents in your kitchen go for small knobs in this design. They are subtle yet provide the much-needed visual interest.
Pros: a perfect fit for a classic look and feel; easy to install; sturdy, well made and functional; the knobs are heavy and very well made; have a perfect size for drawer knobs on furniture or cabinets.
Cons: included screws are not that long.
Wood Cabinet Pulls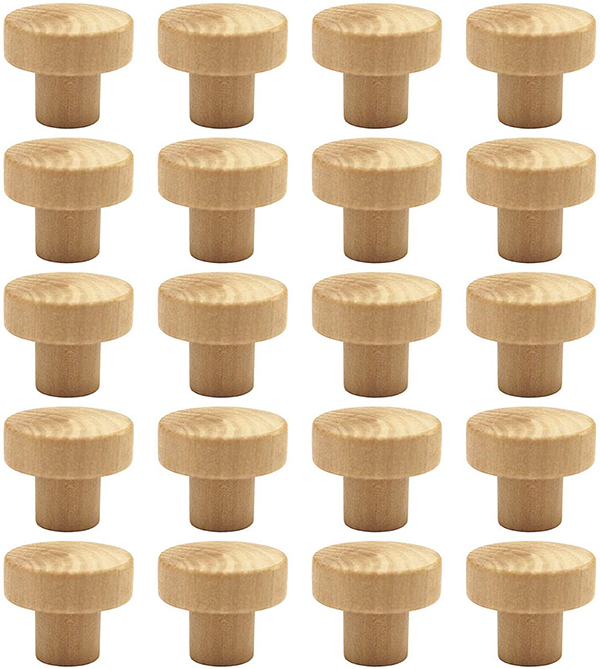 These wooden knobs come unfinished but it's a solid option. You may finish, stain, paint them for your cabinets, or you can use them in this natural wood look for a decor accent.
Pros: ready for staining, painting, and coloring with various mediums; great quality and easy to install; real wood; great for crafts.
Cons: a bit too short for the screws.
Industrial Cabinet Hardware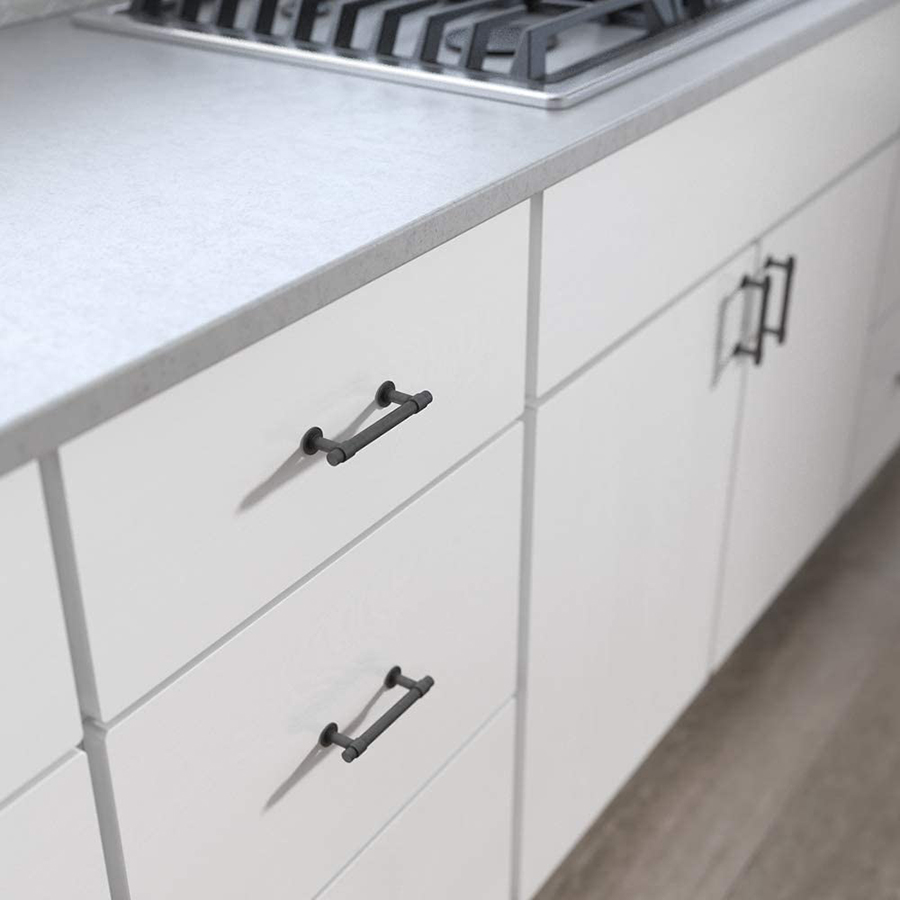 Industrial style metallic pulls provided that decor accent in your kitchen when you need it the most. They are both, minimalist and classy, and will work on cabinets of any style.
Pros: these handles are weighted nicely; easy to grip; easy to clean; and easy to replace because the included screws fit standard hardware; thin but do not bend.
Cons: they are quite small and thin.
Farmhouse Cabinet Hardware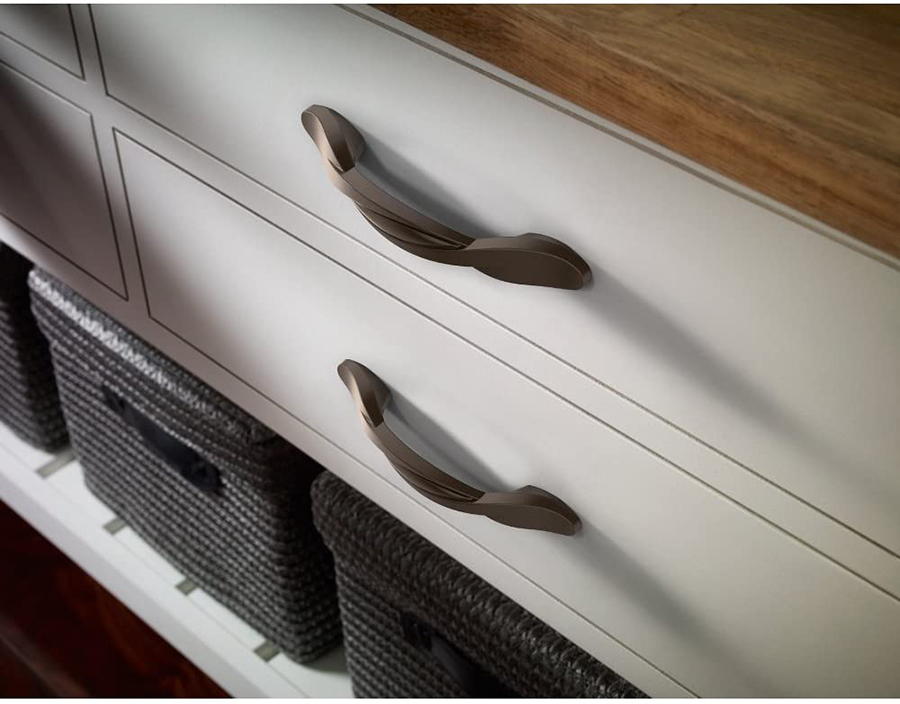 The farmhouse is a trendy style in the kitchen design and one of the ways to establish it is through the hardware. These curved brass handles are just the right fit.
Pros: ideal for rustic farmhouse styles; great product design and thickness of handle; unique color and twisted braid that makes it look unique; has a nice brushed brass finish.
Cons: they are hollow on the back; screws that come with it are too short for some drawers.
Continue reading:
Disclosure: As an Amazon Associate we earn from qualifying purchases.