Last updated on December 3, 2023
Explore captivating L-shaped fireplace ideas because these designs offer a unique and cozy heating solution that can redefine the aesthetics of your living space.
These are my unique design concepts made using design tools. I hope you find them inspiring!
L-shaped fireplaces, an aesthetically alluring and space-conscious addition to your home decor. While numerous traditional ideas are already shared by design enthusiasts, exploring unique and fresh perspectives always adds a touch of personal flair.
This article aims to introduce original, one-of-a-kind L-shaped fireplace ideas injecting novelty into familiar concepts. Benefit from a profusion of new angles and designs navigating uncharted interior decor territory.
On completion, a compilation of resources focusing on recognized, best-loved ideas will further assist in your design journey. Let's dive into this exciting world of innovative design, sure to inspire a refreshing take on the L-shaped fireplace.
What's Inside
Use Bookshelves for a Literary Twist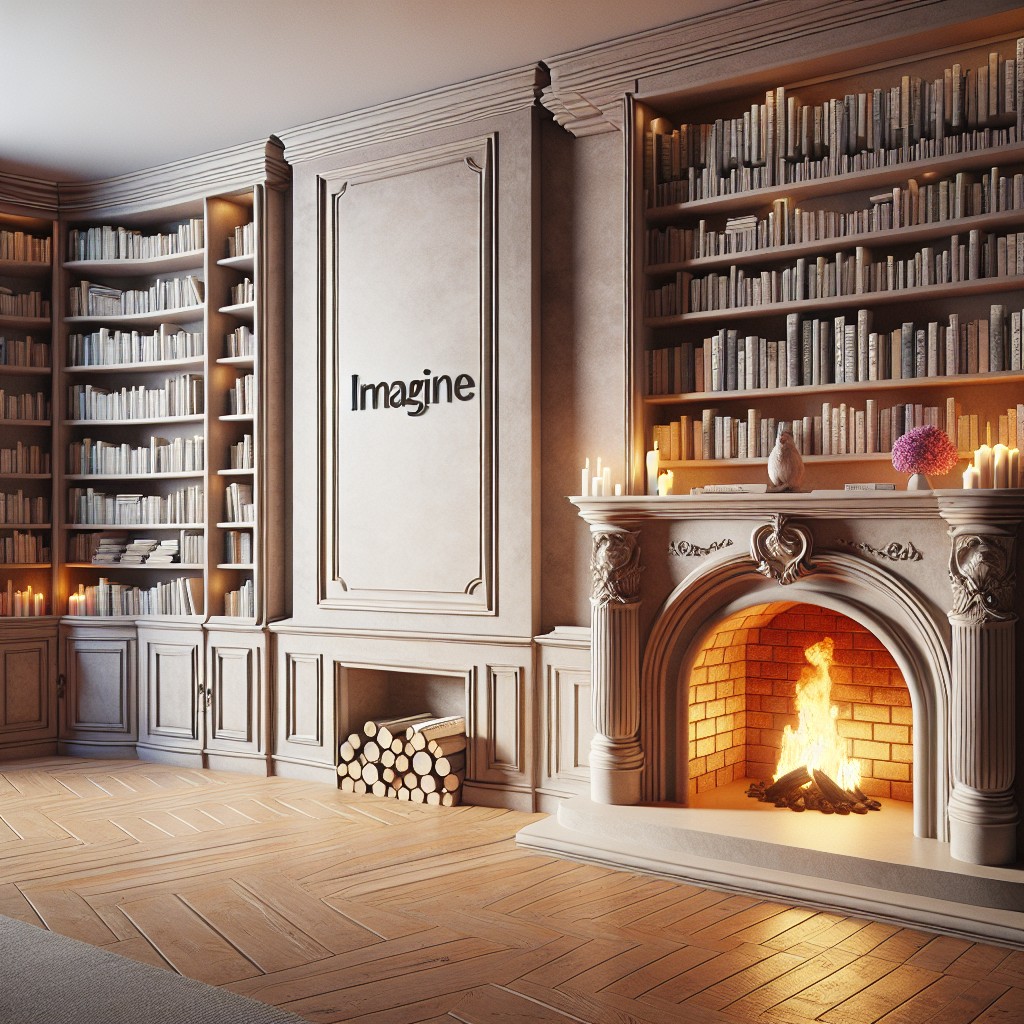 Incorporating bookshelves around your corner fireplace brings in a literary charm that's both sophisticated and inviting. By doing so, you transform the area into a focal point of your room that exudes warmth and intellect.
1. Select sturdy, fire-resistant materials for the bookshelves. Functionality should always come first when merging style with practical features.
2. Arrange your books according to their sizes, genres, or color. This creates an appealing visual impact adding to the aesthetic beauty of the space.
3. The lower shelves can play host to decorative items or family photographs, offering personality in spades.
Remember, the key to creating a stylish yet cozy corner lies in balancing the fireplace's warmth with the intellectual intrigue brought in by the books. While visually captivating, this should also reflect your personality, interests, and style.
Incorporate Modern Glass Designs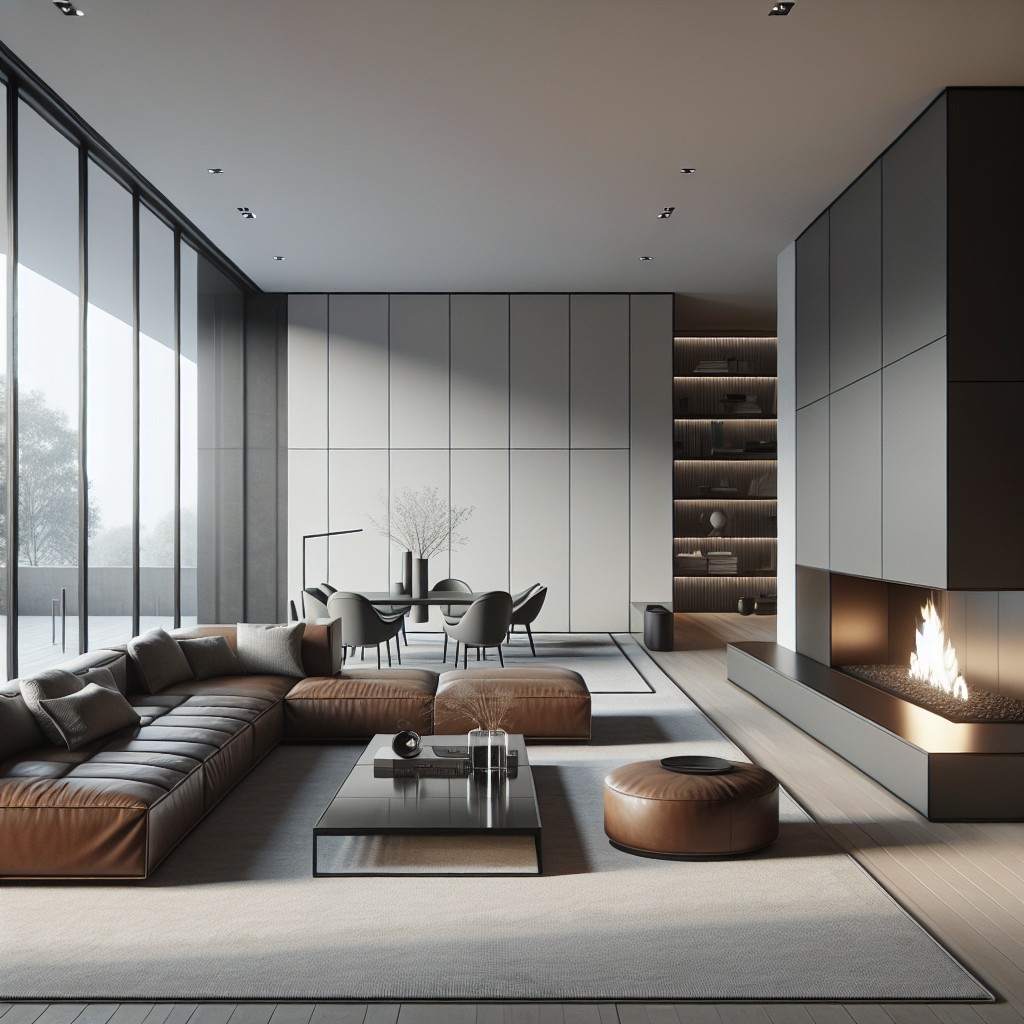 A modern glass design can radiate sleek and contemporary vibes. Opt for a glass-front style, an attractive option that provides both style and function. It offers an uninterrupted view of the soothing flames, amplifying the coziness factor.
Alternatively, consider installing see-through fireplaces framed with glass on both sides; it allows the fire's warmth and charm to be enjoyed from adjoining rooms.
If you're after sophistication, a suspended glass fireplace can be a stunning option, floating gracefully while providing warmth on all sides. Not only does this design serve as a unique style statement, but it also facilitates excellent heat distribution throughout the room.
For an even bolder look, a glass enclosure fireplace with embedded LED lighting can provide a mesmerizing light show along with gentle heat. Remember always to consider the design and colour scheme of your room before choosing the shape and type of the glass design.
Whatever the selection, a modern glass fireplace design is sure to bring a dash of chic and contemporary flamboyance to your living room.
Design a Multi-sided Fireplace for Visibility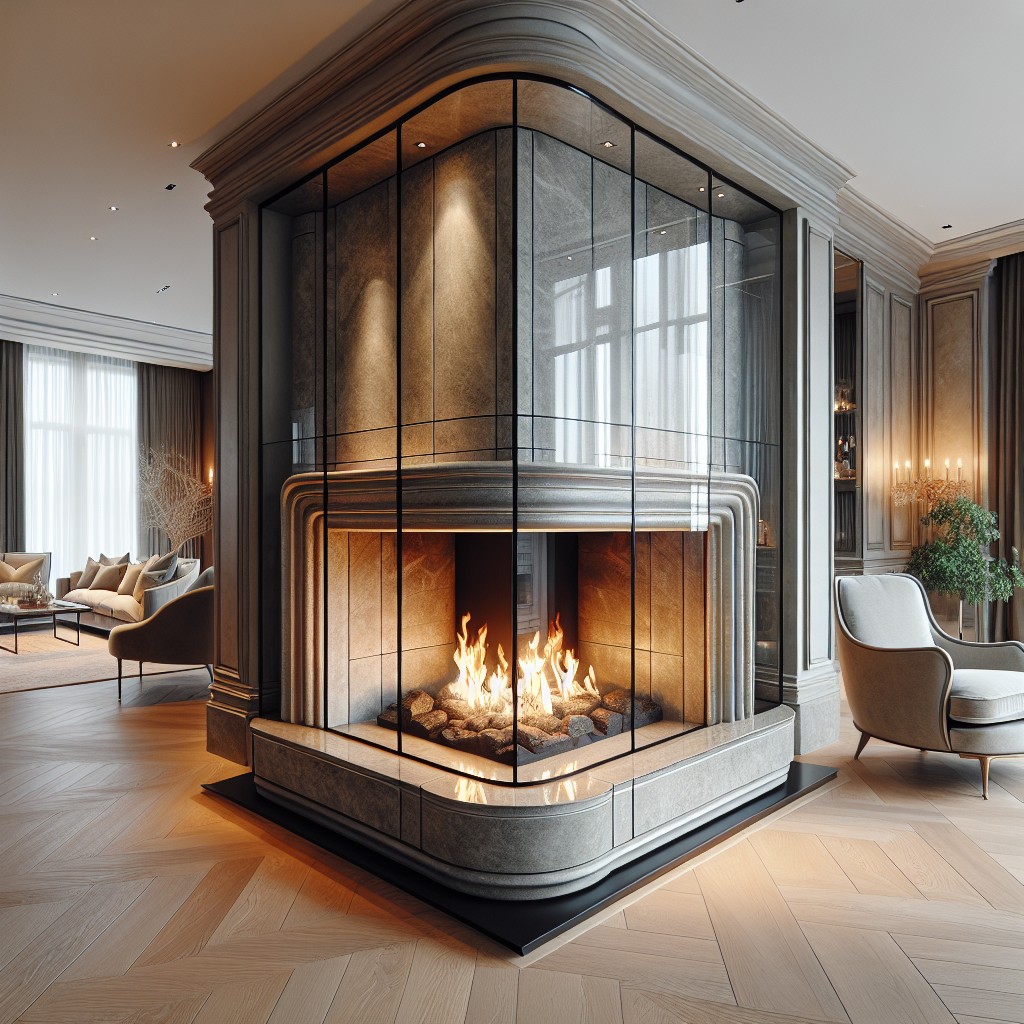 Moving on with our discussion, it's important to note that creating a fireplace visible from multiple angles can significantly increase its impact in your space. This design is all about positioning and style. You can have it in the center of your living room or at the corner, where two seating areas converge. The charm is in how it provides warmth and visual appeal from various vantage points.
To optimize the advantage of this style:
Consider structural adjustments: Yes, certain modifications may be necessary to accommodate a multi-sided fireplace. These may include removing walls or portions of walls.
Choose appropriate materials: This design will be on display from multiple angles, so select materials that will look good from all sides. Glass allows for optimal visibility, while metal or stonework can lend a more rustic appeal.
Installation considerations: Given its unique properties, you might need a professional installation for a multi-sided unit.
In your final design, you'll love how this type of fireplace ties everything together, creating a cozy, unified space.
Adorn With Vintage-inspired Accessories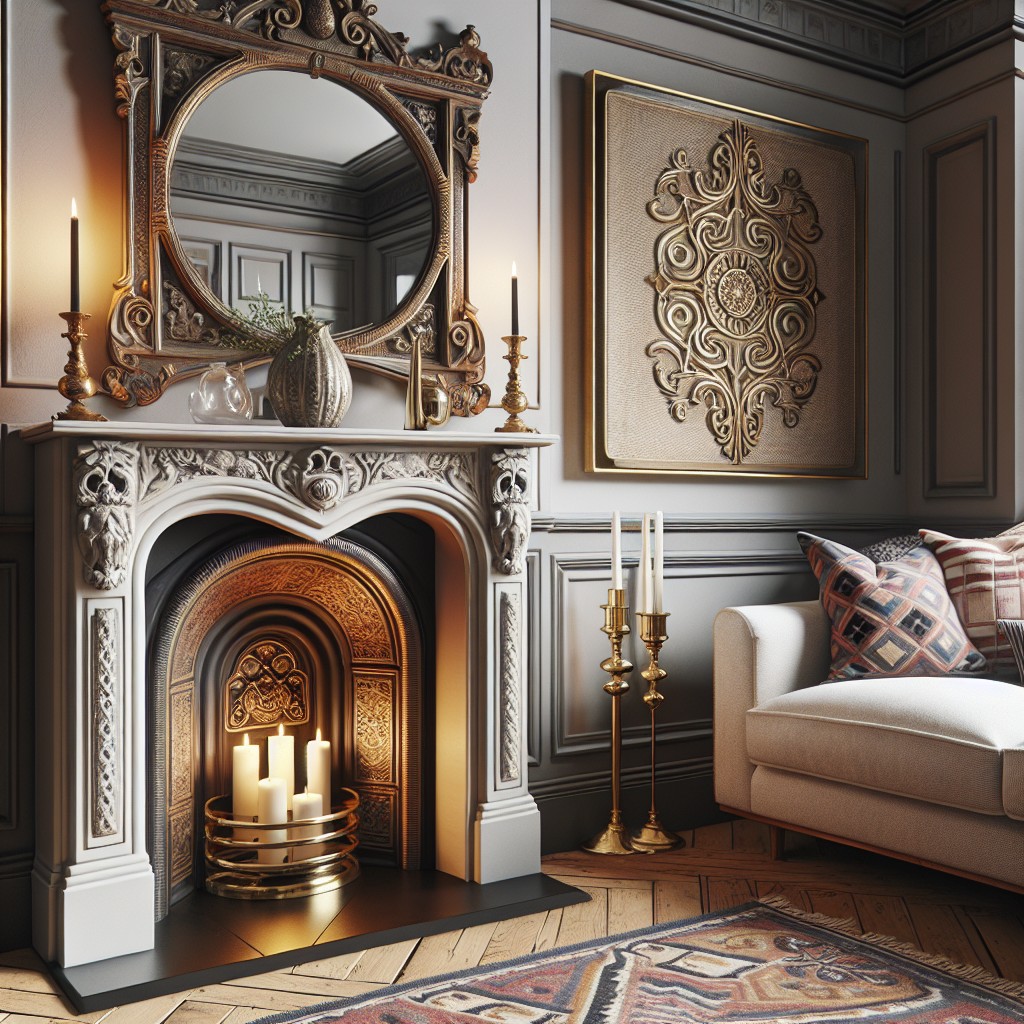 Lending a touch of antiquity to your L-shaped fireplace can create a distinctive warmth. Vintage accessories radiate a charm that is both timeless and romantic.
Delicately aged frames, intricately designed candle holders, or a well-worn lantern can aesthetically take you back in time. For a more dramatic effect, consider an antique mirror above the mantel. The reflecting light from the mirror can brighten the room while also creating an illusion of space.
For the readers who love old-world sophistication, wrought iron fireplace tools could be the perfect fit. But remember, too many items can make it look cluttered. Therefore, balance is key.
Pottery can add a handmade, crafty touch. Lastly, a vintage clock can finish the look, adding practicality with style, effortlessly blending the past with the present.
Combine a Corner Fireplace With a TV Nook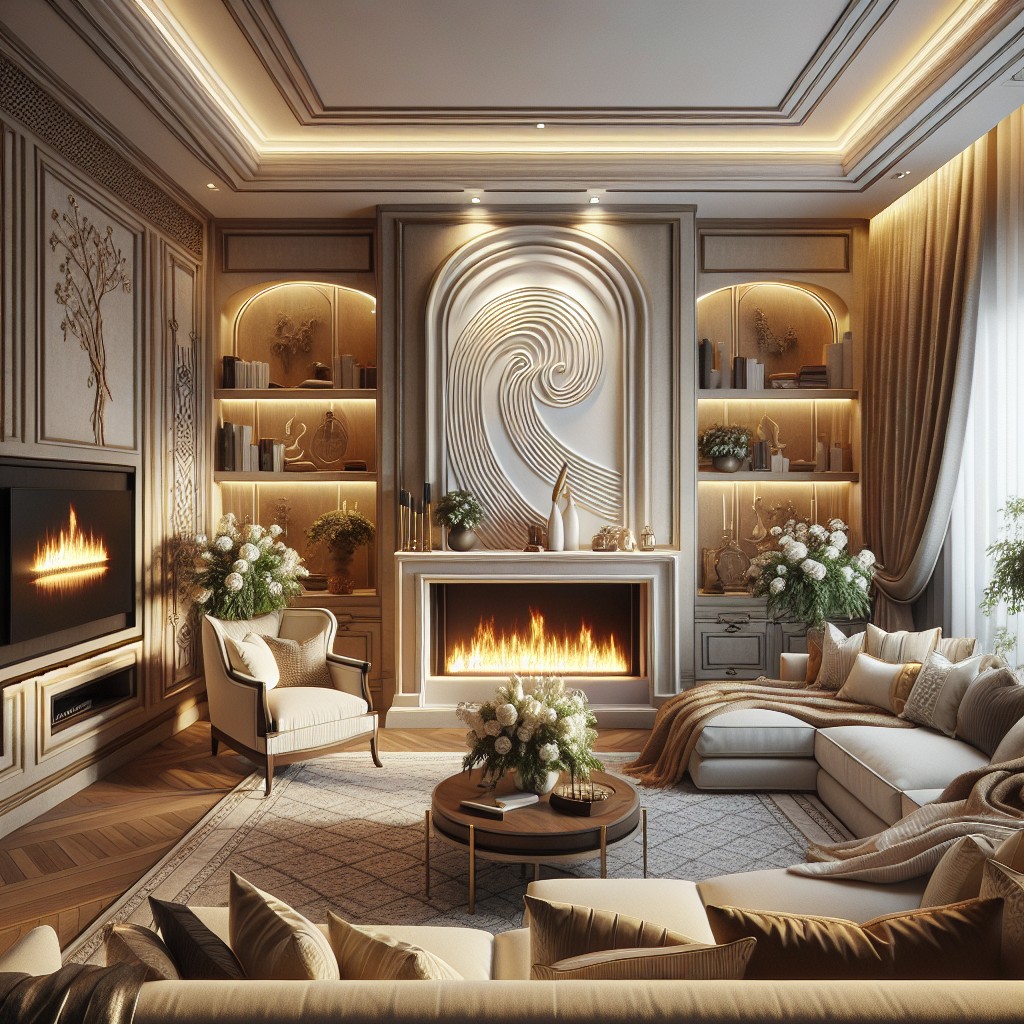 Ensuring the corner fireplace and TV nook are placed in a location where both can be comfortably viewed is prime.
Position your seating to face both the fireplace and the TV for an optimum viewing experience, giving everyone the best seat in the house.
Remember, the heat from the fireplace could damage your TV, so assure there's safe distance between them.
To better harmonize the two, choose a similar color palette for both, making them appear as one unit.
Lastly, incorporating matching shelves or cabinets on both sides can provide symmetry and balance while offering extra storage space.
Opt for a Double-sized Corner Fireplace for Large Rooms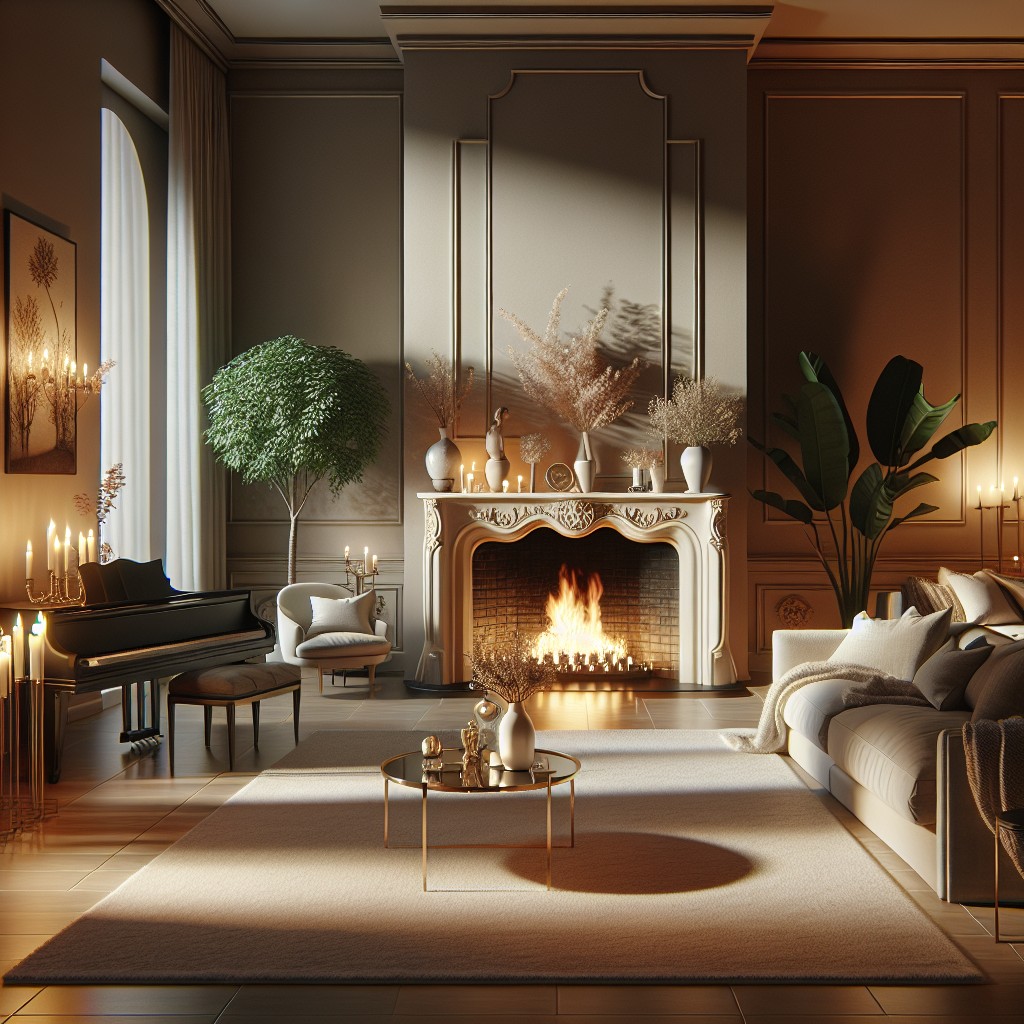 A double-sized corner fireplace becomes the undisputed centerpiece in larger rooms. It exudes a sense of warmth and grandeur. Its size can effectively take on the chill and fill the voluminous area with cozy warmth. A stone, brick, or marble facade for the fireplace can significantly enhance the overall aesthetic appeal, blending tradition with a touch of luxury.
When integrating this type of fireplace into your decor, consider the symmetry of your room. Placement in a central corner could aid in evenly distributing heat. Keep the surrounding furniture balanced and spacious to complement, not crowd, this feature.
Keep the wall space above your fireplace bare or adorn it with a large mirror or artwork. This will help draw the eye upward, highlighting the impressive size and design. Remember, the primary focus should be the fireplace itself. Therefore, avoid clustering too many eye-catching pieces around it.
To go a step further, a customized firescreen or an ornate fireplace toolset can add more character and function to your double-sized corner fireplace, making it a thoroughly captivating element in your large room.
Create a Wrap-around Tiled Corner Fireplace
Harnessing the full potential of an L-shaped fireplace calls for creative placements such as a wrap-around design. This layout tends to fill the corner elegantly while amplifying the warmth in the room. Tiles are an excellent choice for such a design.
1. Tile material and color: Opt for heat-resistant tiles such as ceramic or porcelain and choose warmer hues to enhance the cozy ambiance.
2. Tile placement: Create continuity in the layout by wrapping the tiles around the corner and extending them along the wall.
3. Expect larger square footage: Accounting for the larger tile surface area in your initial planning can save headaches later on.
4. Customization: You can choose different tile shapes and patterns to make the design distinctly yours.
5. Maintenance: Tiled surfaces are easy to clean and withstand the long-term effects of heat, ensuring your design stays pristine for longer.
Remember, a wrap-around tiled corner fireplace is not just about function; it's an artistic statement that contributes to the aesthetic of your space.
Use Contrasting Colors for a Bold Look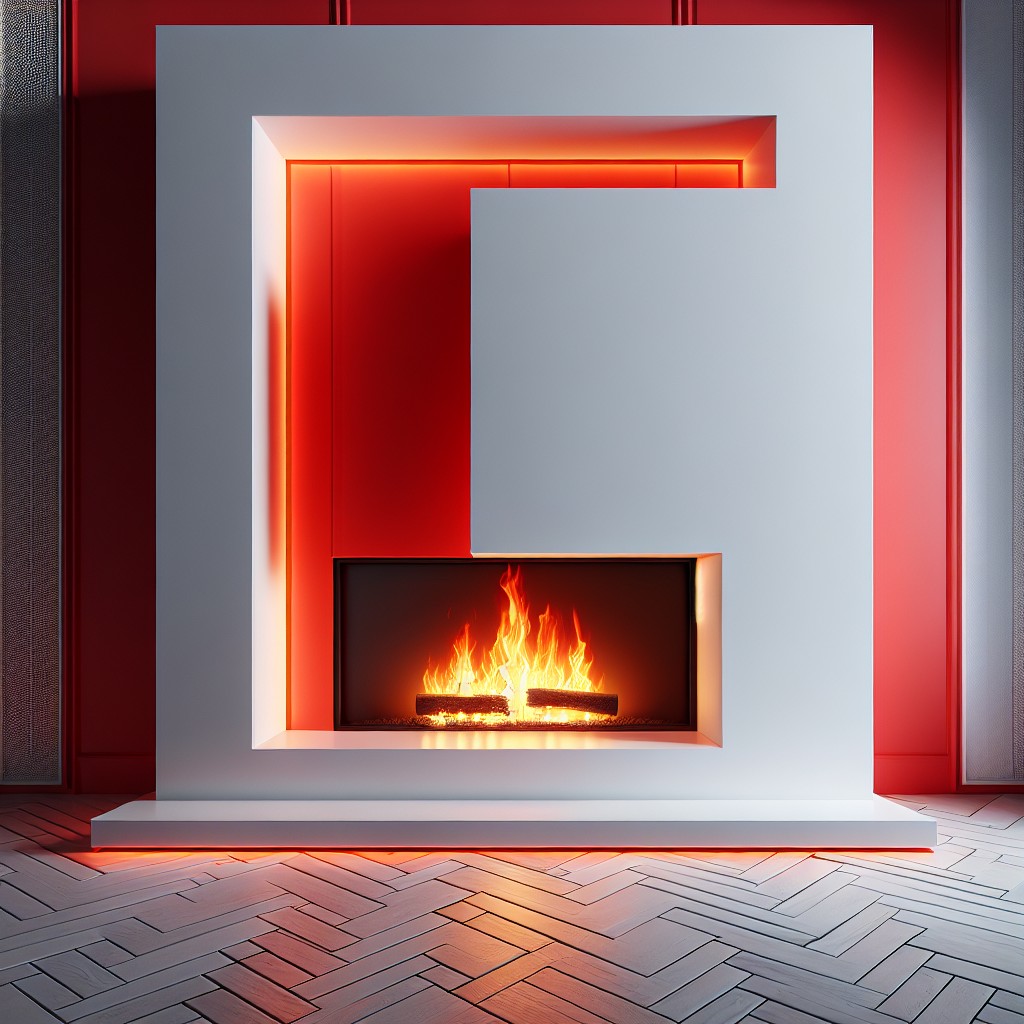 At first glance, this design tactic might seem risky, but when executed correctly, it elevates your fireplace to a stunning focal point. Using a jet black paint for your fireplace against an ivory wall, for example, can create a dramatic impact. Similarly, a bright white fireplace in a room with dark walls commands attention. This principle relies heavily on the color wheel's opposite, or "contrasting," colors.
While setting up, make sure neither of the hues overpowers the other: aim for a balanced look instead. Experiment with trendy color combinations like navy and gold or emerald and copper, making sure both colors resonate with the rest of the décor. Besides paint, consider using contrasting colored tiles or stones – they add texture and depth.
Remember, maintaining contrast doesn't mean compromising on harmony. Both high-contrast colors should feel connected and symbiotic. Thus, coordinating the fireplace with your furniture, rug, or wall pieces ensures better aesthetic fluidity in the room. Again, daring, not jarring, is the key.
Utilize the Fireplace As a Natural Room Divider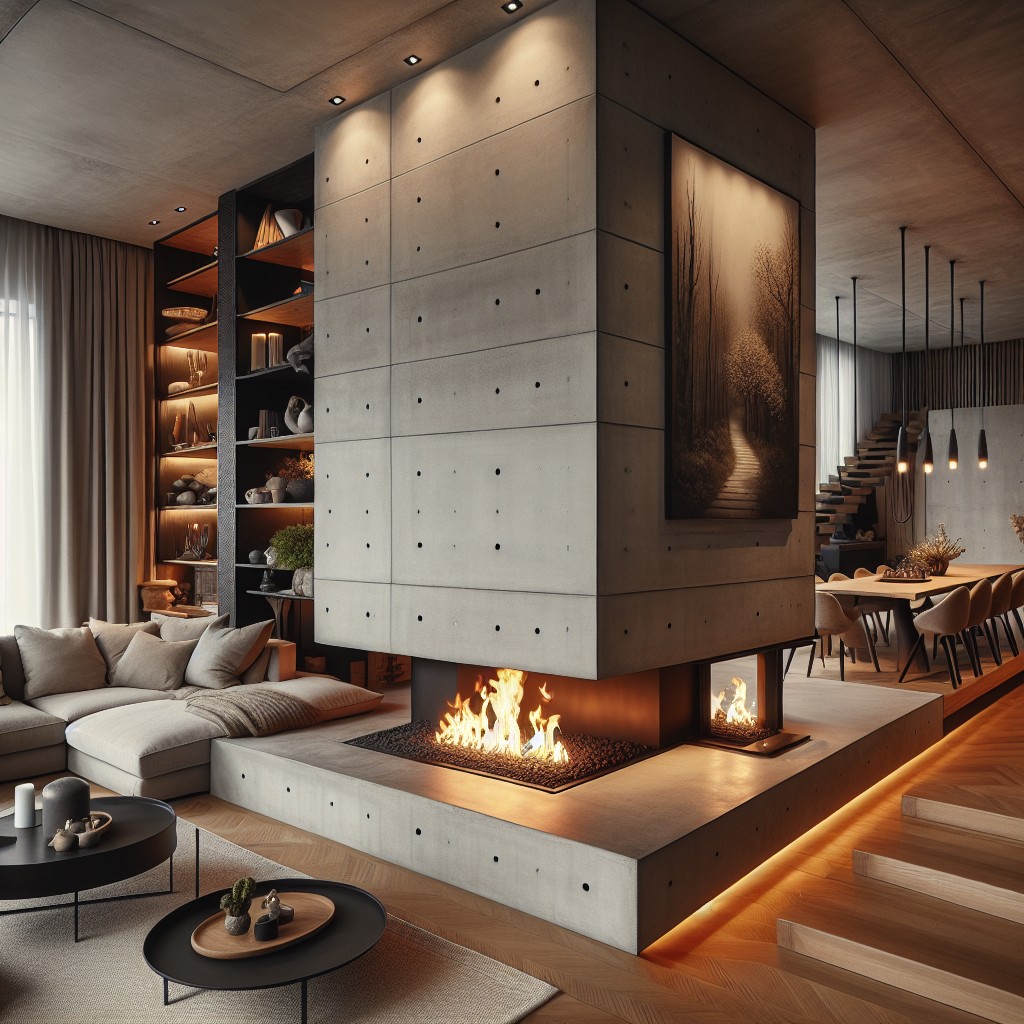 The beauty of an L-shaped fireplace is its versatility in space partitioning. This design can easily demarcate living areas without the need for a wall or a traditional room divider. Perfect for open-plan homes, it allows a clear division between spaces such as the living and the dining room while maintaining an organic flow.
Take note of a few points:
Ensure the placement complements the overall room layout without obstructing pathways.
Consider dimensions carefully to not overwhelm or underplay your space.
Select eye-catching materials like exotic stone or colorful tiles to enhance its dual role as a focal point.
Ensure the design aligns with the rest of your home's aesthetic— maintaining a sense of harmony is key to good home design.
Remember, a well-placed and designed L-shaped fireplace can transform your living space, creating distinct areas that are visually connected and inviting.
Install a Sleek, Contemporary Electric Fireplace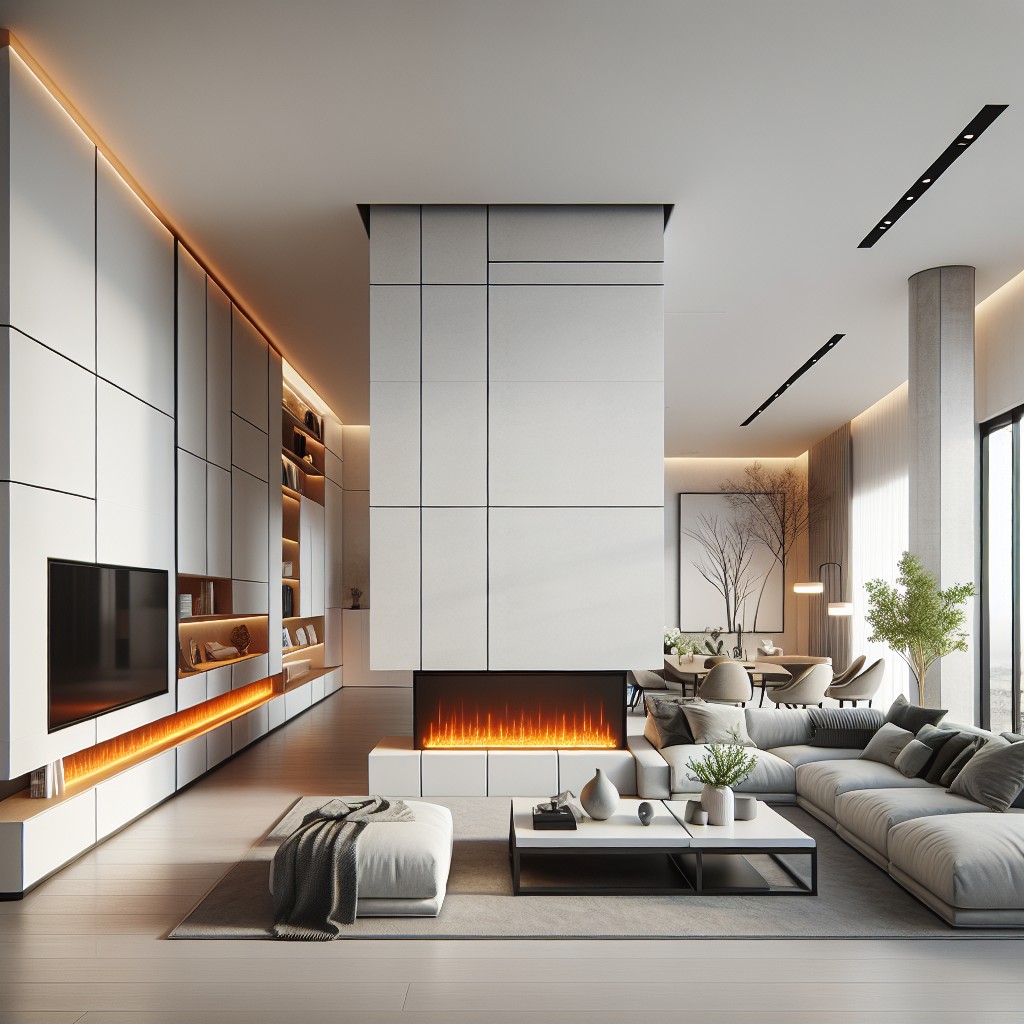 Opting for an electric fireplace isn't just about utility. It's about seamlessly merging modern aesthetics with your home's welcoming warmth. These fireplaces come with a variety of customizable features, from LED color settings to adjustable heat levels. This lets you control ambiance and temperature in equal measure.
Installation-wise, it's about as plug-and-play as a home upgrade can get. No need for a brick chimney or ventilation system, giving you more freedom when it comes to placement. That extra ease doesn't sacrifice safety either – electric fireplaces don't emit harmful byproducts like traditional log burners.
Interior designers often favor these pieces for their minimalist look. To enhance this, try a hidden wiring set-up. To achieve that, a simple trick is to place it near an outlet or to hide the wires behind the wall.
Ensure it matches your décor. There are many materials and designs available, from glossy black to mirrored models, and from traditional panel-style heaters to crystal ember beds. Therefore, this modern home feature can fit into any space, always adding a dash of elegance.
Lastly, don't forget the energy-efficient allure. It can heat specific rooms on demand, reducing overall heating costs. This, combined with the zero emissions, makes it a green choice for the stylish, yet conscious homeowner.
Use a Circular Fireplace for a Bohemian Look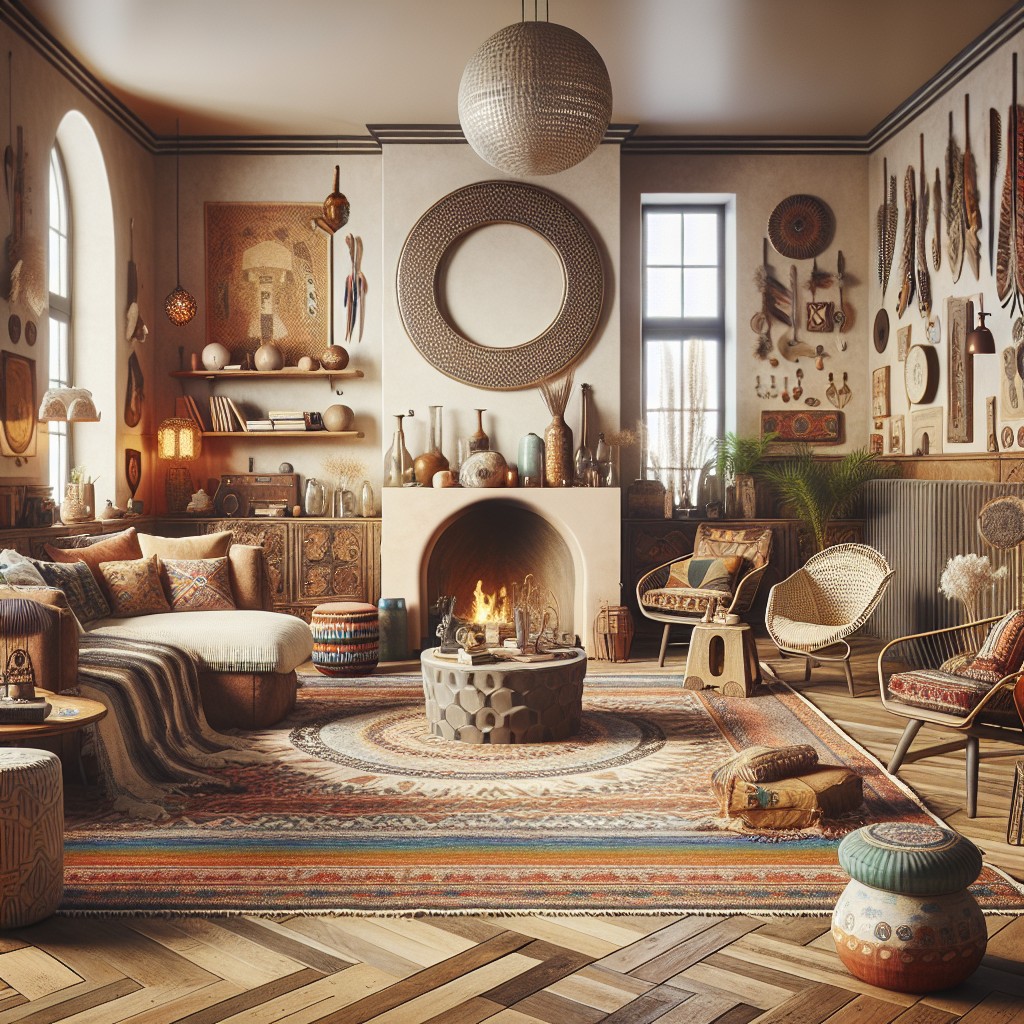 In keeping with the carefree and relaxed vibe of bohemian decor, a circular fireplace can serve as a perfect focal point. This against-the-grain design instantly attracts attention and adds a warmth to the ambiance. Its round shape creates a sense of harmony, breaking away from traditional angular designs that can sometimes impose rigidity to the room.
1. Material Choice: Opt for natural materials like stone or rustic brick for an earthy feel. These materials often feature uneven, organic textures which further enhance the bohemian feel.
2. Placement: Position it centrally, if possible, to get a campfire-like atmosphere. If not, placing it in a corner works great as well as it can create a cozy reading or lounging nook.
3. Decor: Surround it with eclectic, globally influenced decor like Moroccan lanterns, rattan furniture or kilim rugs. A mix of vibrant, patterned pillows can also make the area near fireplace feel inviting.
4. Mantels: While bohemian style is more freestyle and relaxed, adding a reclaimed wood mantel or a floating shelf above can provide a display space for unique trinkets, plants, or vintage artefacts synonymous with boho decor.
This way, a circular fireplace not only warms up the room in a literal sense, but it also brings in a sense of comfort that is so characteristic of bohemian style.
Add a Hearth for Traditional Charm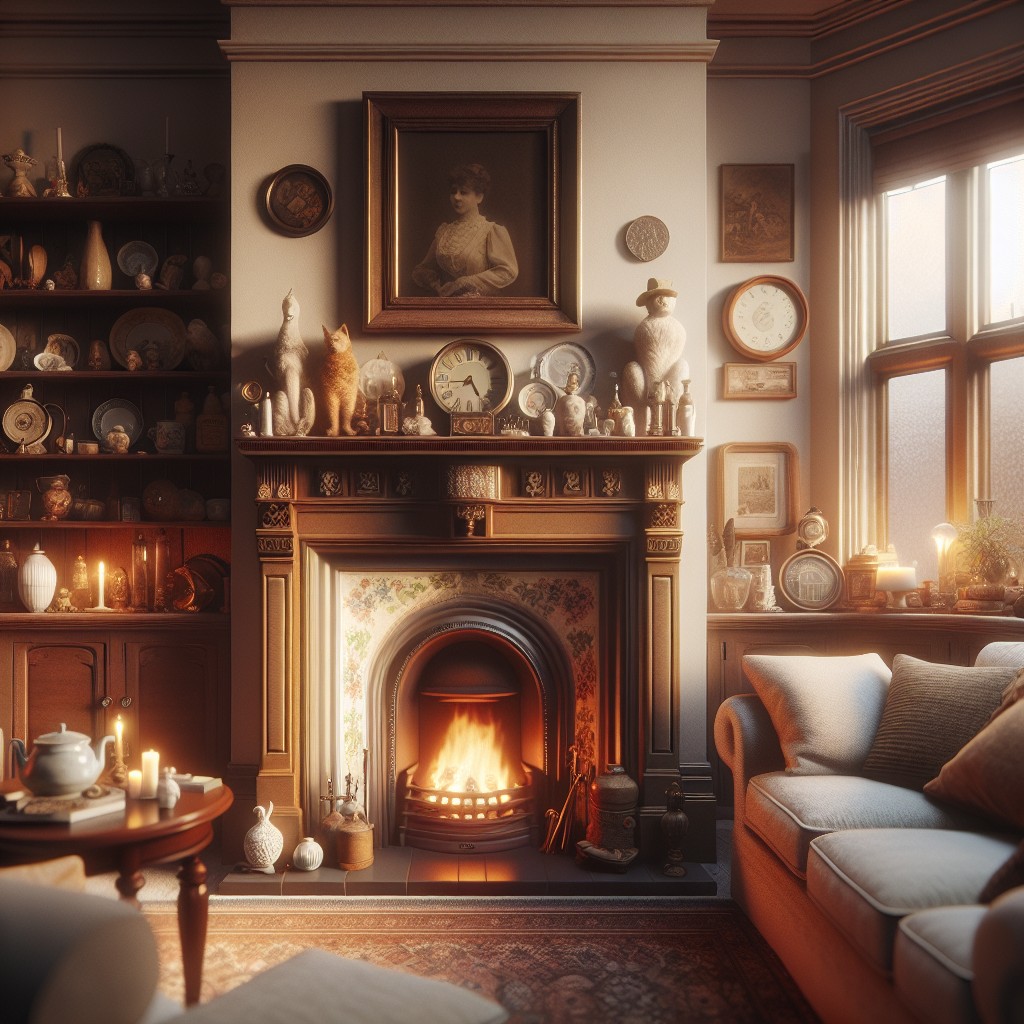 Positioned in a more classic framework, a beautifully made hearth can infuse a rustic, old-world aesthetic into your L-shaped fireplace. Materials such as stone, brick or tile give an authentic, timeless vibe. They also perform a functional role, preventing sparks or embers from damaging your flooring.
Ensure that the hearth's design is consistent with the overall room's decor to preserve a cohesive look. Consider plush, comfortable seating nearby to further accentuate the cozy ambiance. Placing warm-hued accent pieces or even nostalgic family photos around the hearth can bolster this traditional charm and make the area more inviting.
Incorporate a Mantelpiece for Displayed Memories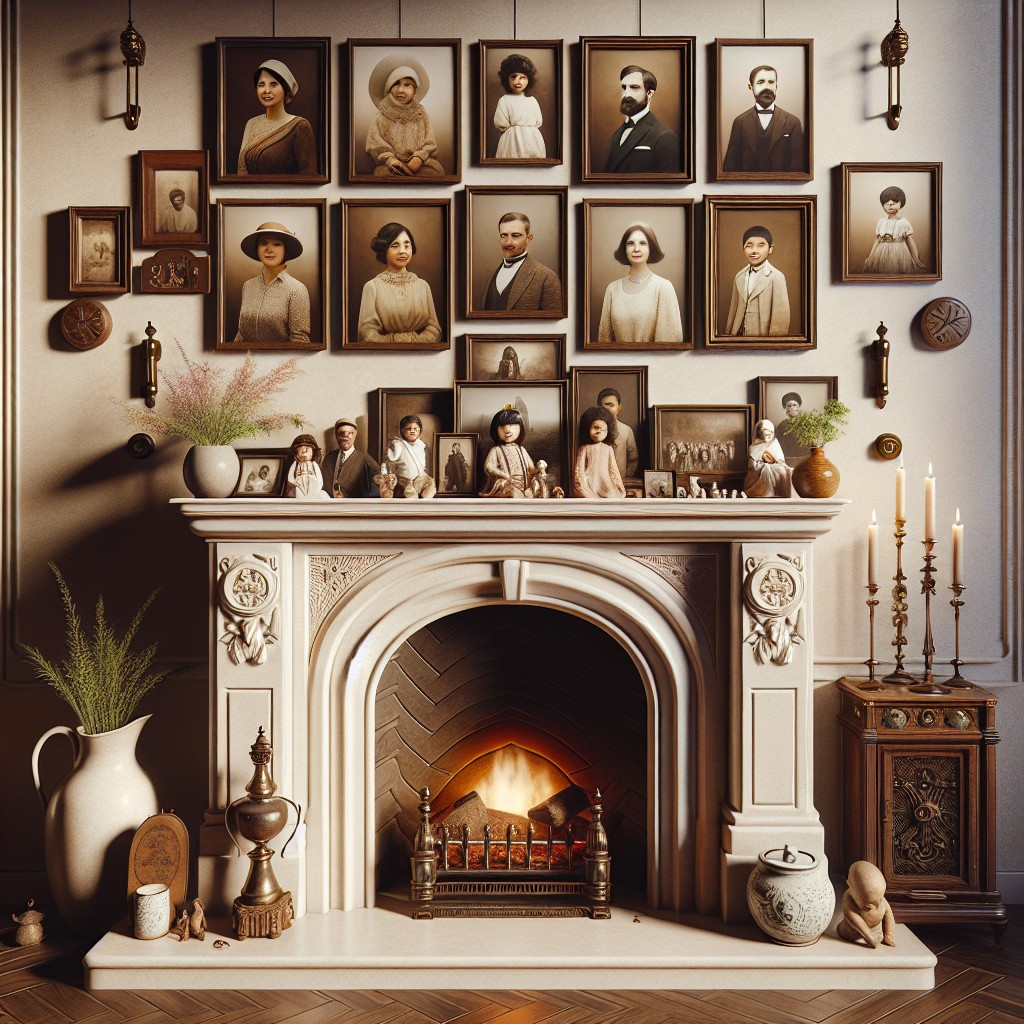 A tastefully decorated mantelpiece can effortlessly transform your L-shaped fireplace into a feature wall. Here are some ways to maximise its potential:
Display Family Photos: Surround the fireplace with portraits and play with different forms: frames, sizes, and shapes. This personal touch is sure to spark conversation.
Showcase Art Pieces: A significant painting or sculpture on the mantel can define the room's style. Be sure the chosen piece aligns with the room's overall aesthetic.
Arrange Collectables: Be it antique clocks or vintage ceramic vases, arrange your collectibles artfully with different heights and sizes for a balanced feel.
Add Lighting: Table lamps or fairy lights draped along the mantel edge can create a warm and cozy ambiance.
Remember, less is often more. Keep the arrangement simple and unhurried for a refined and stylish look.
DIY Decorations for Seasonal Updates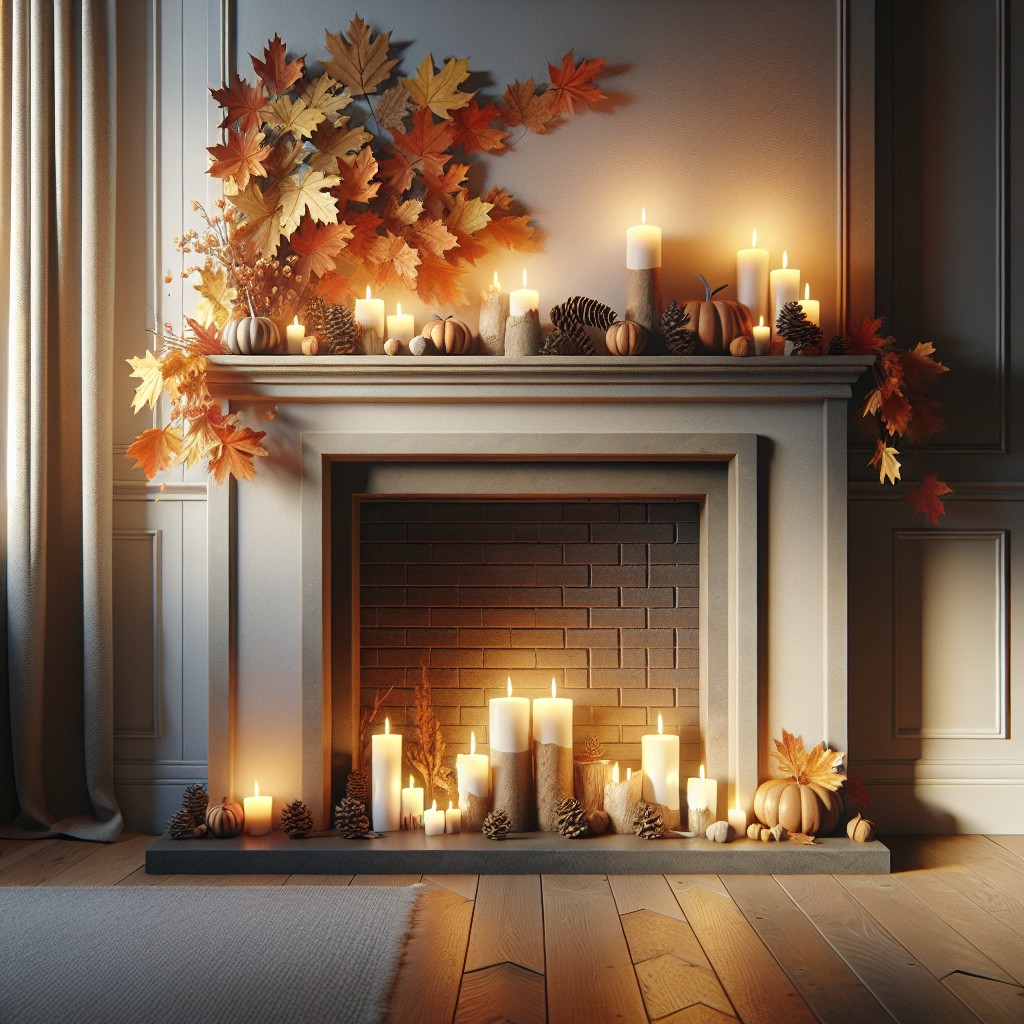 Switching up decor with the season is a great way to keep your fireplace looking fresh and attractive. This DIY approach is cost-effective and can be a fun creative outlet.
1. Summer: Lighten the mood by using coastal-themed items like shells, driftwood, and summer flowers. For a bohemian touch, drape a light, colorful fabric over the mantel.
2. Fall: Embrace the warm hues by adding mini pumpkins, gourds, and fall foliage. A garland of foliage or warmly lit string lights draped across the mantel can bring a cozy touch.
3. Winter: Reflect the snowy season by choosing icy blues, silvers, and crystal accents. Miniature pine trees, pine cones, and decorative snowflakes are perfect for winter months.
4. Spring: Infuse new life into your decor with pastels, fresh flowers, or even Easter-themed items. Consider using vases of various sizes filled with fresh blossoms at the base of the fireplace.
Remember, the aim is to highlight the fireplace, not overpower it. The decor should complement, not distract, allowing the architectural details of your L-shaped fireplace to shine.
Mix Stone and Wood for a Natural Touch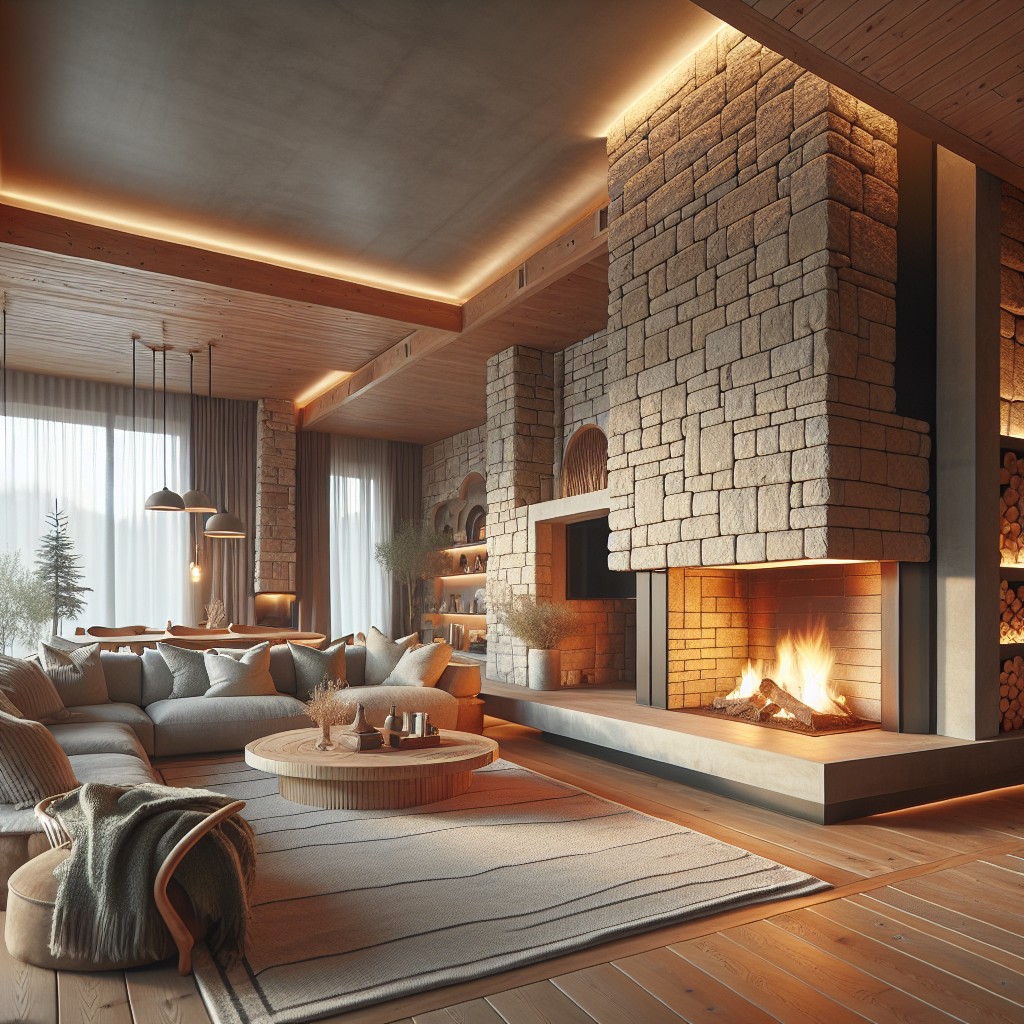 Merging the ruggedness of stone with the warmth of wood gives your L-shaped fireplace an elegantly earthy appeal. Stone provides a structured design base, making it suitable for both the hearth and the casing of the fireplace. Opt for a rough-cut, rustic looking stone to keep the nature-inspired aesthetic.
Contrast this with smoothed wood, ideal for mantelpieces or intricately designed frames. Woods like walnut, hickory, and mahogany not only offer a stunning visual but can withstand the heat generated by the fireplace. For an eco-friendly approach, reclaimed wood is a fantastic option.
To enhance the ensemble, you can display wood logs within a niche by the fireside. This combination, while appearing naturally effortless, injects a comfortable and cozy vibe into the room, creating a space that invites everyone to unwind and relax.
Install a Hidden Storage System for Firewood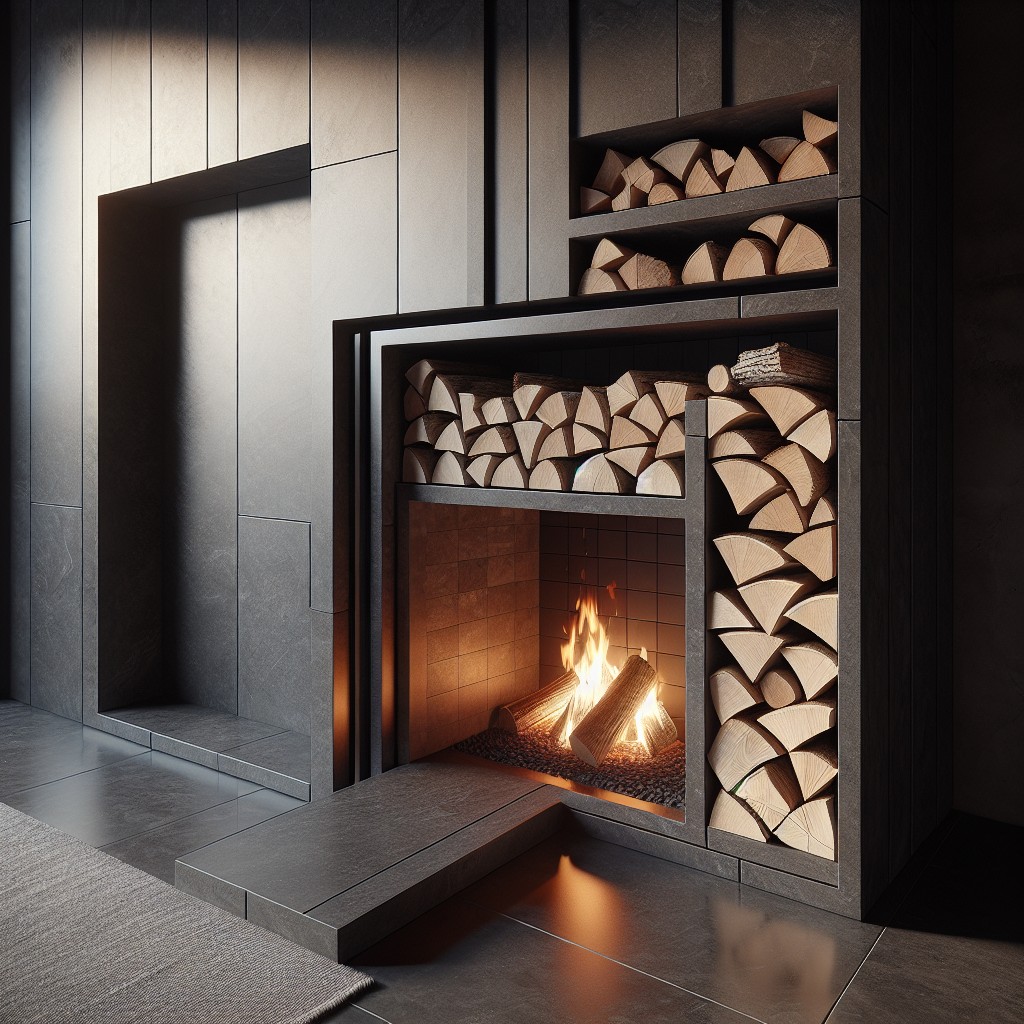 Designing a hidden storage area close to your L-shaped fireplace can be both functional and aesthetically pleasing. Firstly, consider the type of wood you'll be storing. Hardwoods like oak or maple are better for long, hot burns, while softwoods such as pine ignite quickly, making them excellent for starting fires.
Now, onto the storage design. A pull-out drawer under the fireplace is an efficient option. Ensure it's lined with a heat-resistant material to keep the wood in optimal condition. Another possibility involves incorporating the wood into the fireplace's design. You can achieve this by leaving room for storage in alcoves or under a bench.
Keep in mind, ventilation and ease of access are crucial. Go for slatted designs for airflow and think of the ways to make the retrieval of firewood hassle-free. Combining practicality with the aesthetics of your room will yield the best results.
Raise the Height for an 'art Piece' Fireplace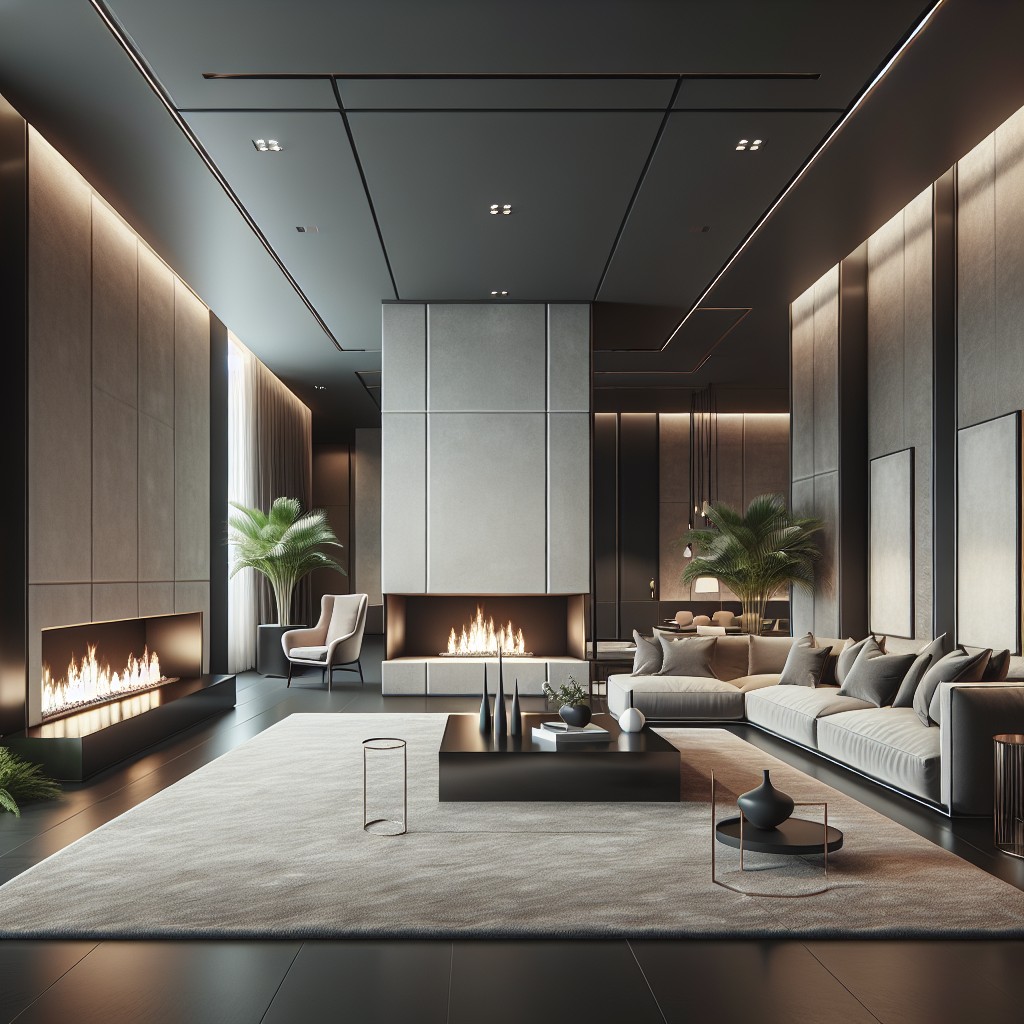 Elevating a fireplace's position transforms it into a beautiful, eye-catching centerpiece. It's almost akin to having a piece of exclusive art. Statement-making options could include a towering stone facade or a sleek modern design.
Utilize the overhead space for showcasing artwork or mirrors to amplify the ambiance. Remember, with extra height, you can experiment with a dramatic mantel design, larger firescreen, or a striking firebox panel. Of course, you need to ensure the structural integrity and safety by hiring a professional for installation.
Use Subtle Lighting Effects to Enhance the Fireplace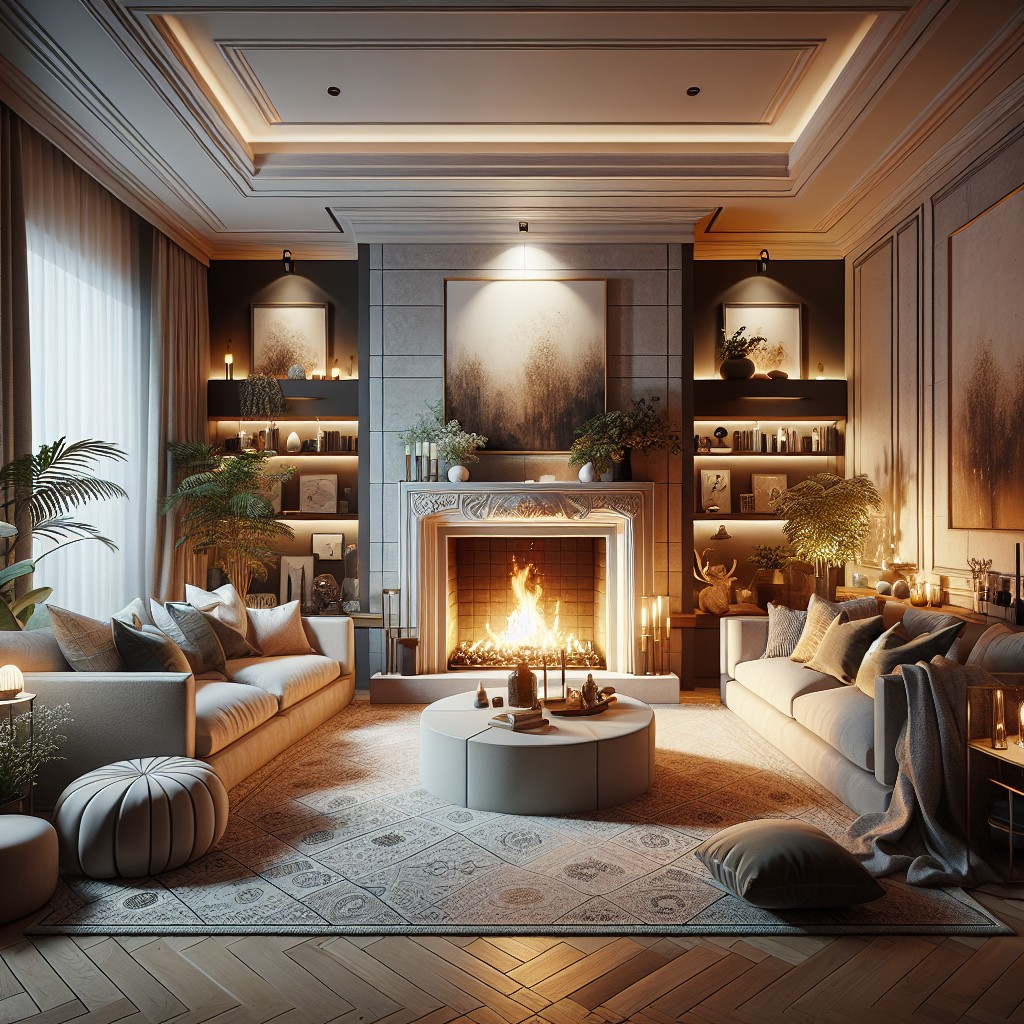 Introducing soft, indirect lighting around your fireplace can greatly enhance its visibility, style, and ambiance. Wall sconces, table lamps, or floor lamps placed near to it can create a beautiful glow, highlighting the warm tones of the flame.
Consider LED lights hidden in or around the mantelpiece for a contemporary look, or opt for classic candle lights for a more romantic aesthetic. However, whatever you choose, ensure you balance the lighting strength, avoiding too bright which could overpower the fireplace's natural light.
Experimenting with colored lights can also provide a unique backdrop. For instance, warm white or amber can mirror the fireplace glow, while cool blues or purples may offer a serene, relaxing atmosphere.
Keep in mind, all electrical installations near the fireplace should meet safety guidelines to prevent any accidents. Consulting a professional is always recommended for proper installation and safety assurance.
Remember, it's not about lighting up the whole room, but subtly enhancing the fireplace and creating a cozy, inviting atmosphere.
Convert the Space Above Into a Cozy Reading Nook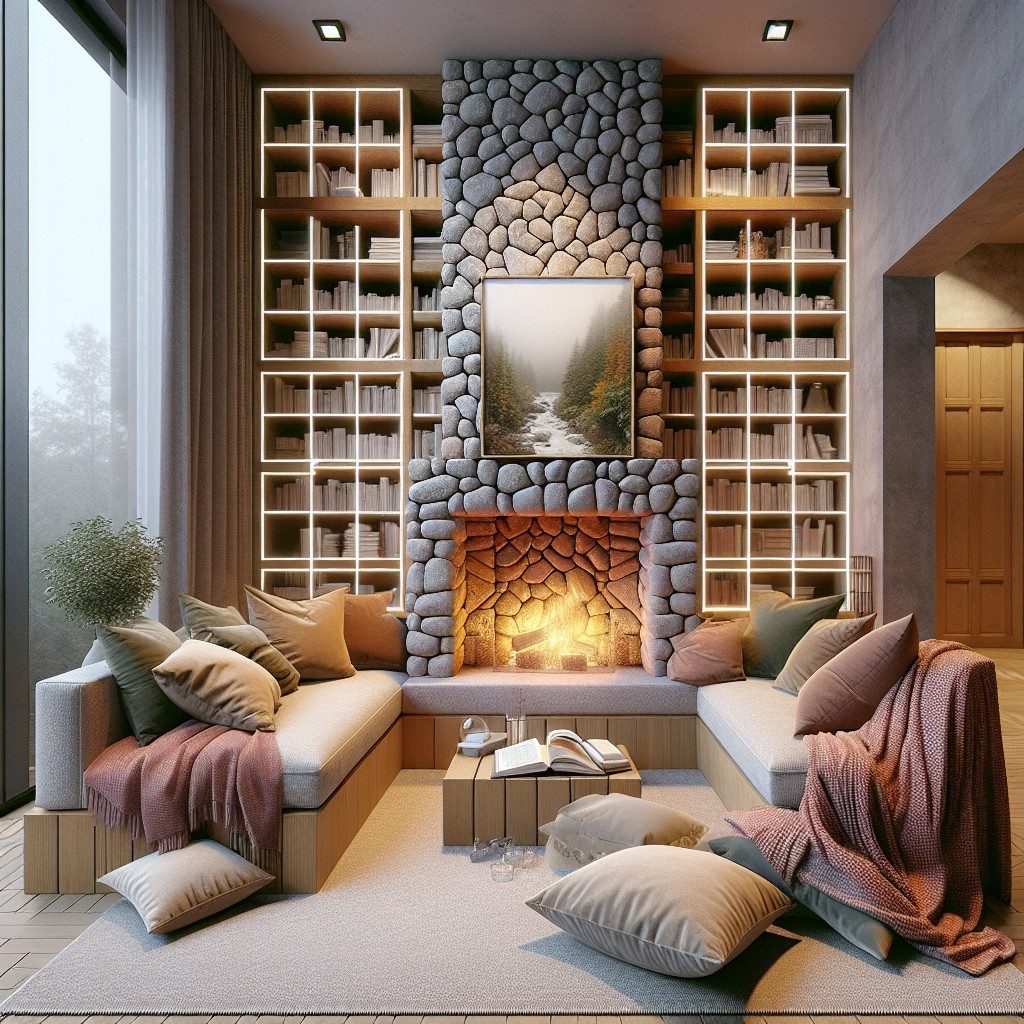 Paint the wall above the fireplace a soothing color, making it inviting for a reading session. Install sturdy floating shelves at a comfortable height to hold a nice collection of books.
Add a compact, well-padded armchair or a hanging swing to complete your cozy reading nook. Don't forget a warm throw blanket and a small side table for a mug of hot cocoa.
Lasty, ensure there's adequate lighting for reading, be it natural light during the day or a well-placed lamp for night-time reading sessions.
Keep the overall design minimalistic to maintain focus on the joy of reading, while enjoying the warmth from the fireplace below.
Paint a Mural Around the Fireplace to Direct Attention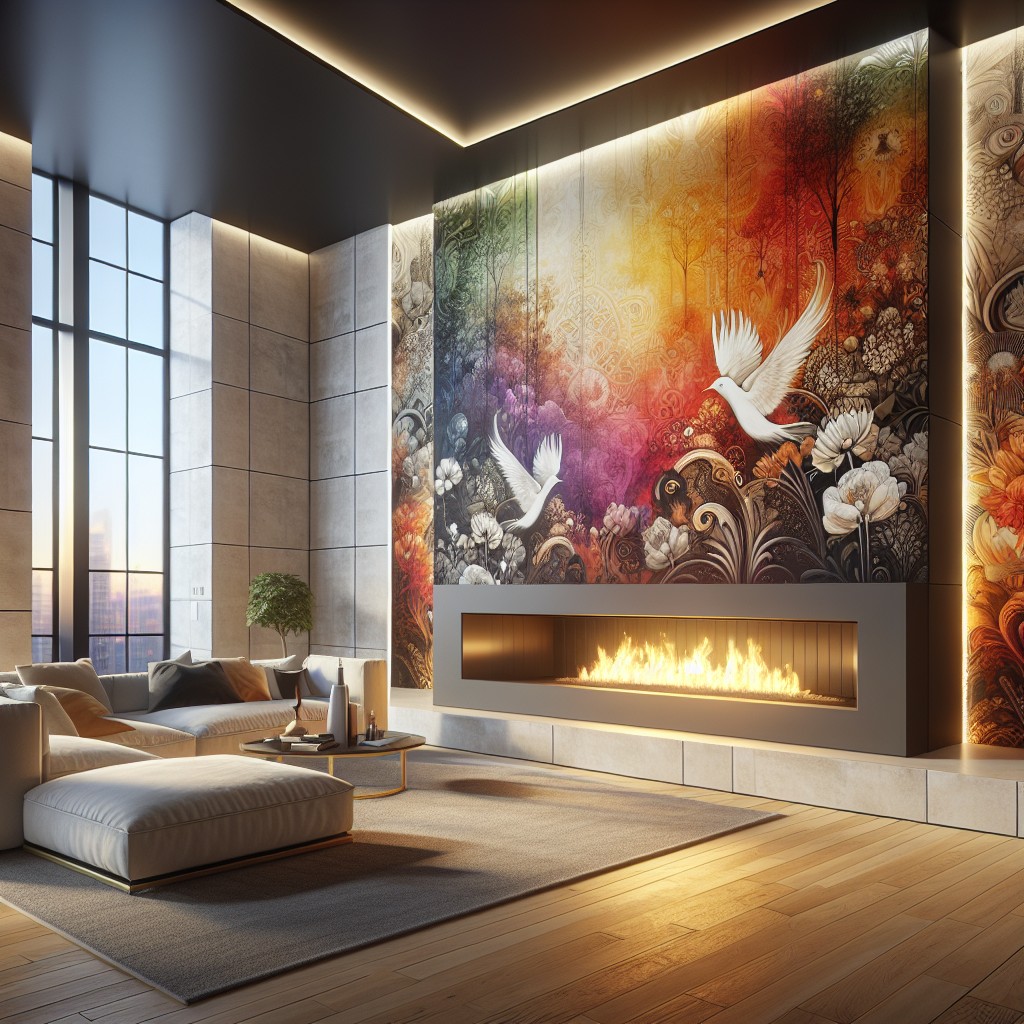 Murals not only draw the eye, but they also add a unique expression of personality. To begin, choose an idea that resonates with your personal style, and the aesthetic of the room—this could be a landscape, abstract art, or perhaps even a favorite quote.
Once you have your concept in mind, sketch or trace the design directly onto the wall surrounding the fireplace using a light pencil. Acrylic paint is typically a good choice for such projects due to its durability and ease of use. If freehand painting isn't your forte, hiring a local artist could be an exciting alternative.
Keep in mind, the mural should enhance, not detract from the fireplace itself. Therefore, opt for colors that complement the room and fireplace, and avoid excessively busy designs. As a tip, you could incorporate the hues present in your fire into your art piece for a harmonious palette. Professional sealing afterwards is key to ensure longevity of your bespoke creation.
In essence, painting a mural around your L-shaped fireplace can truly transform it into an engaging focal point, unique to your home.
Ideas Elsewhere
Continue reading: