Last updated on August 13, 2023
Is your kitchen ceiling lower than 8 feet? That's the average in the US — anything below is considered a low ceiling. Here's what you do to install lighting in your kitchen. Read on!
Besides making sure you don't bang your head at low-hanging pendants, what is there to know about installing lighting fixtures on low ceilings? We will find out in just a moment.
The basic concept to realize is setting up your kitchen lighting in layers for balanced illumination. With low ceilings, you have fewer options than lighting any small kitchen.
You can't use some of the most beautiful pendants and chandeliers, but you can definitely provide enough lighting for all your tasks and ambiance.
Does this mean you can't use pendants at all? Not at all! Some of the best ideas include these types of fixtures — you just need to be aware of some rules and caveats.
Let's dive into our easy-to-digest guide!
What's Inside
Lighting Layers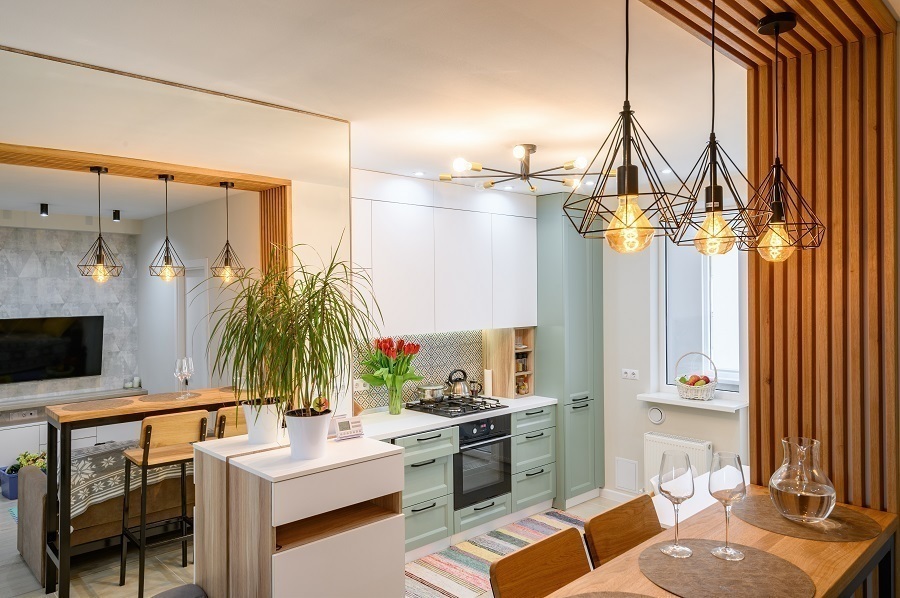 An illuminated room has more than one lighting element. This can make the space seem less dark and is an easy way to redesign a room without using too many lights. Designers sometimes position sources above eye-level at about standing height and around eye-level for seated people instead. These lights are usually table lamps or sconces on walls.
Thinking in layers helps set up the right lighting in a kitchen with a low ceiling specifically. Because you can't use big fixtures and low-hanging pendants, multiple layers below at different levels help create the balance.
Light Positioning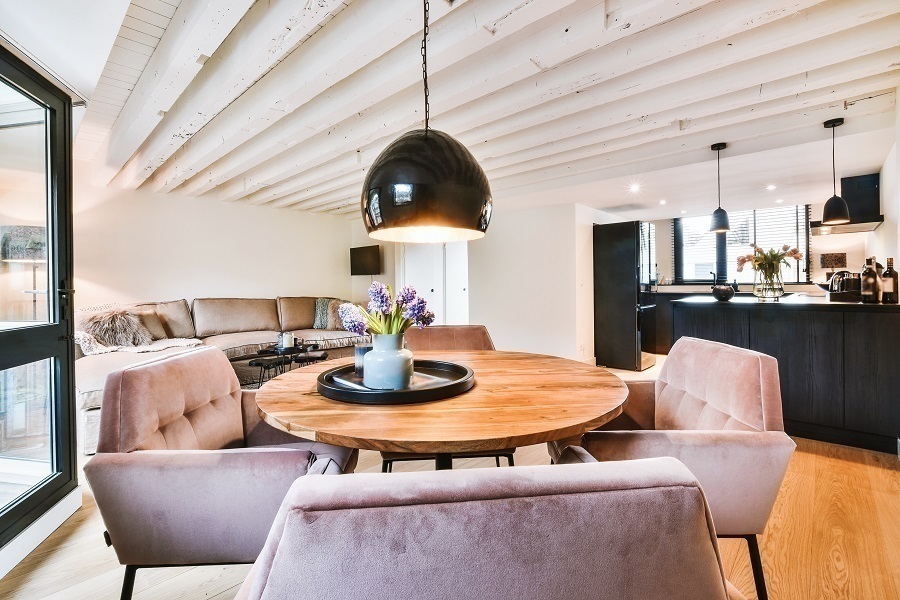 Many kitchens have low ceilings, but there are ways around this with tiered pendants. Tiered pendants hang from the ceiling and provide beautiful light to illuminate the kitchen and help those work in it.
Use smaller pendants, so they don't hang too low. But also consider where you position them. If you hang a pendant or a small chandelier over a dining table, you will not be hitting your head on it because you're always seated in that area.
Statement Lighting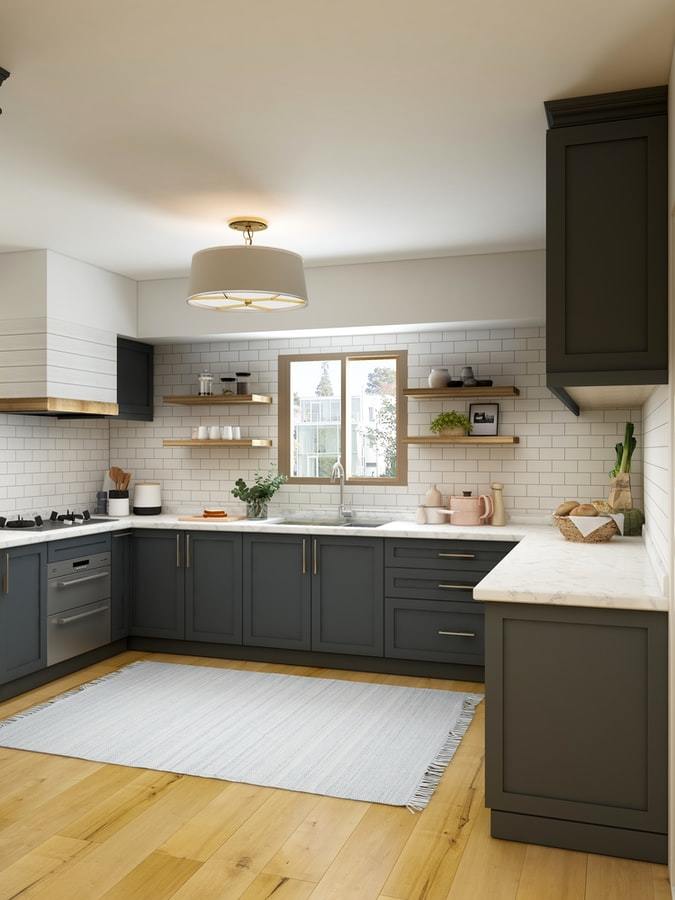 Low ceilings usually mean there's little room for anything on the walls, especially in kitchens and dining rooms with a square layout. This leaves certain pieces of furniture as a potential wall decoration and too much clutter can overcrowd a space.
Decorating these gaps has become more important than ever because, if you think about it, those empty spaces are considered – by some – to be prime wall real estate.
This way, even if you hang a chandelier or a group of pendants from a low ceiling, it can work as a decor statement. Just be sure your taller family members or guests don't hit their heads on these fixtures. It's a good idea to hang them closer to walls or over table surfaces.
Recessed Lighting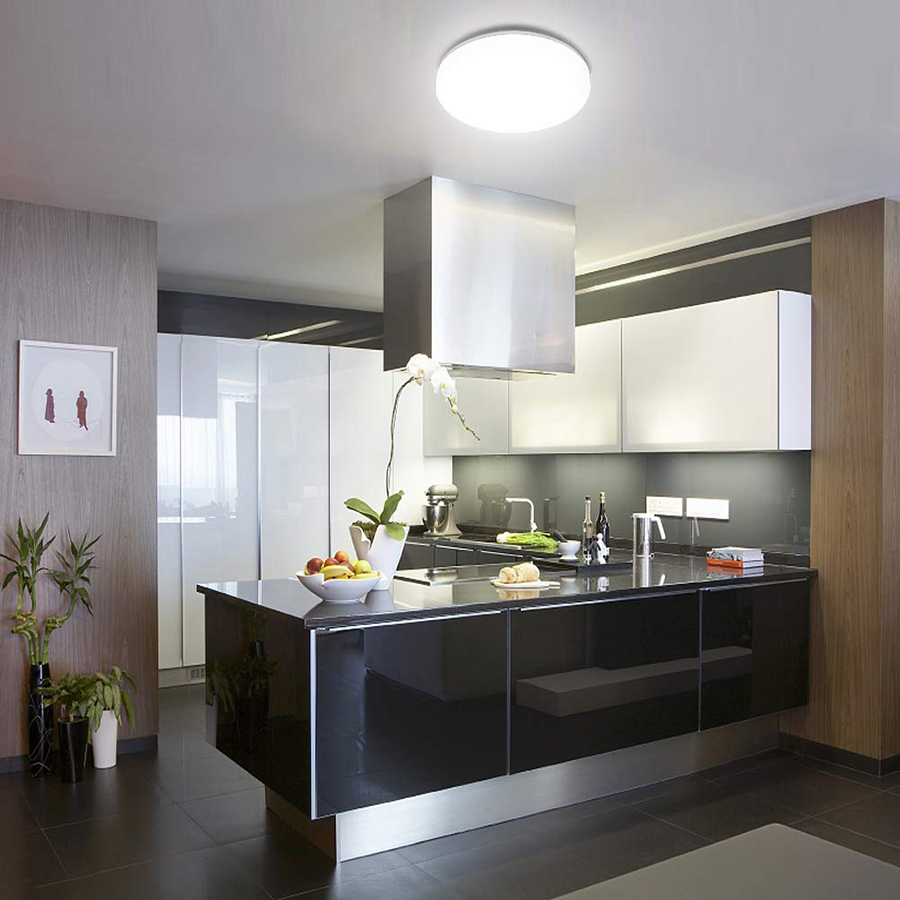 Recessed lighting should be of large size so the energy is better to spread out, where the lighting would emulate the daylight. These lights can save space in a low ceiling kitchen. No fixture is too large if it's flush mount and close to the ceiling surface.
So if your ceiling is painted white and has a glossy sheen, powerful daylight LED bulb will not only illuminate the kitchen well but also reflect from the ceiling making it look taller. This is the same reason why glossy metallic fixtures are a good idea on low ceilings.
LED Group Lights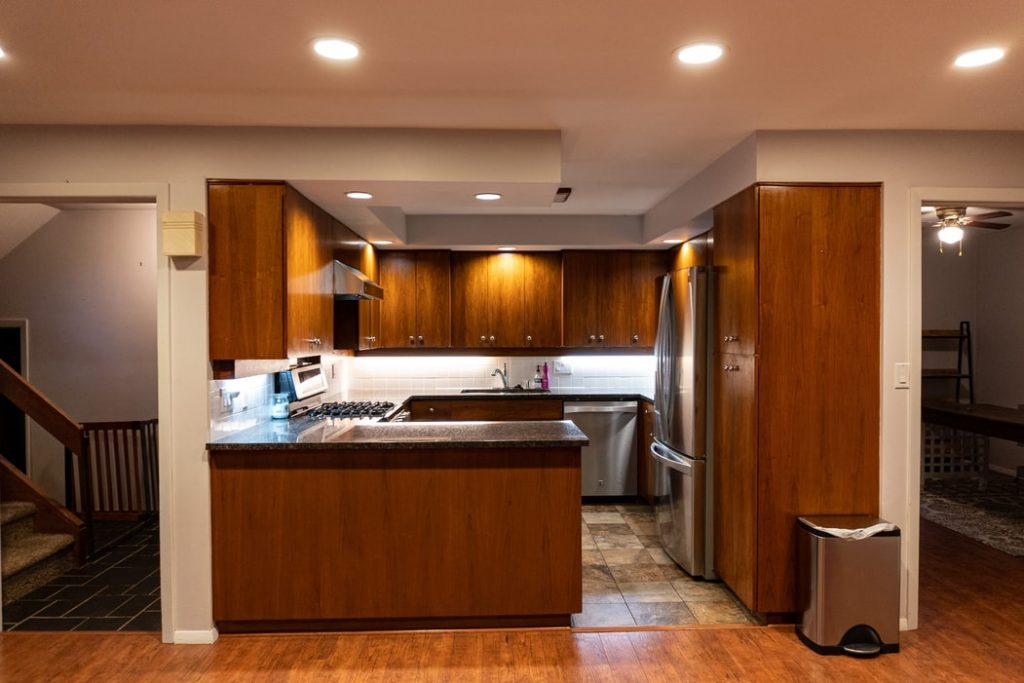 An example of LED Group lights in low ceilings in a kitchen includes arranging three large LED lights close together, choosing a color temperature, and ones that reflect light downward for illumination while providing ambient beauty. One option is this light with a bell-shaped shade around it.
Flush Mount Lights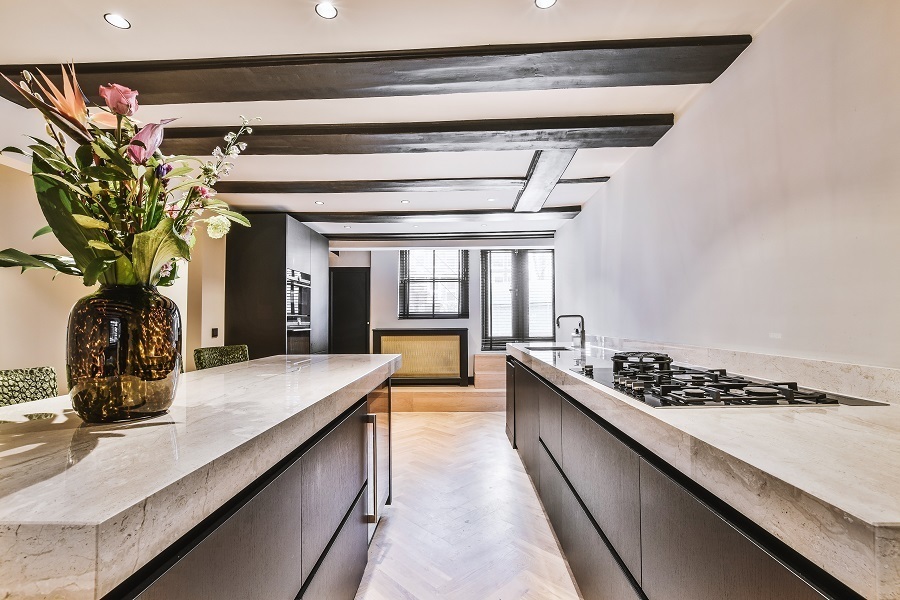 In a low ceiling room, avoid using any type of hanging light fixture anyway. Flush-mounted lights are typically used to add ambient light in dark spaces. Opt for fixtures with faceted shades or deal-sized tile light bulbs that will cast more lighting around the space.
Semi Flush Mount Fixtures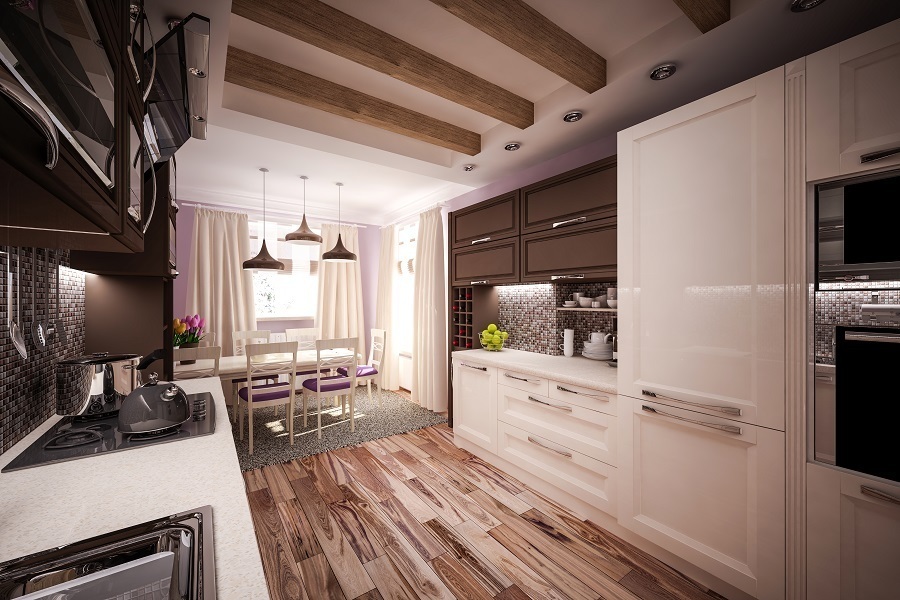 Semi-flush mount fixtures are a great way to make your low-ceiling kitchen look better. They appear as if the ceilings are higher than they actually are. They also have less power consumption than other types of lighting and can be purchased for homes that do not usually need lights on throughout the entire day.
Semi-flush mount fixtures are optimal for kitchenettes with low ceilings because they save more ceiling space, have less power use when compared to other types of lighting, and cost much less than lights that stay on all day.
Floor Lamps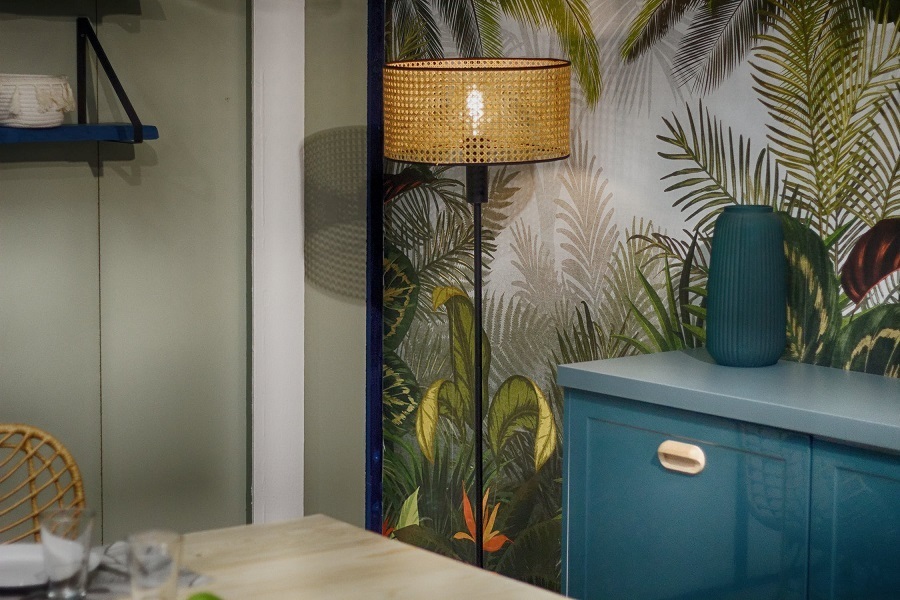 The other alternative you can use in this situation is to create uplighting that comes from floor lamps. You can achieve this by using a couple of great-looking floor lamps that illuminate upwards onto your ceiling and walls.
Sconce Lights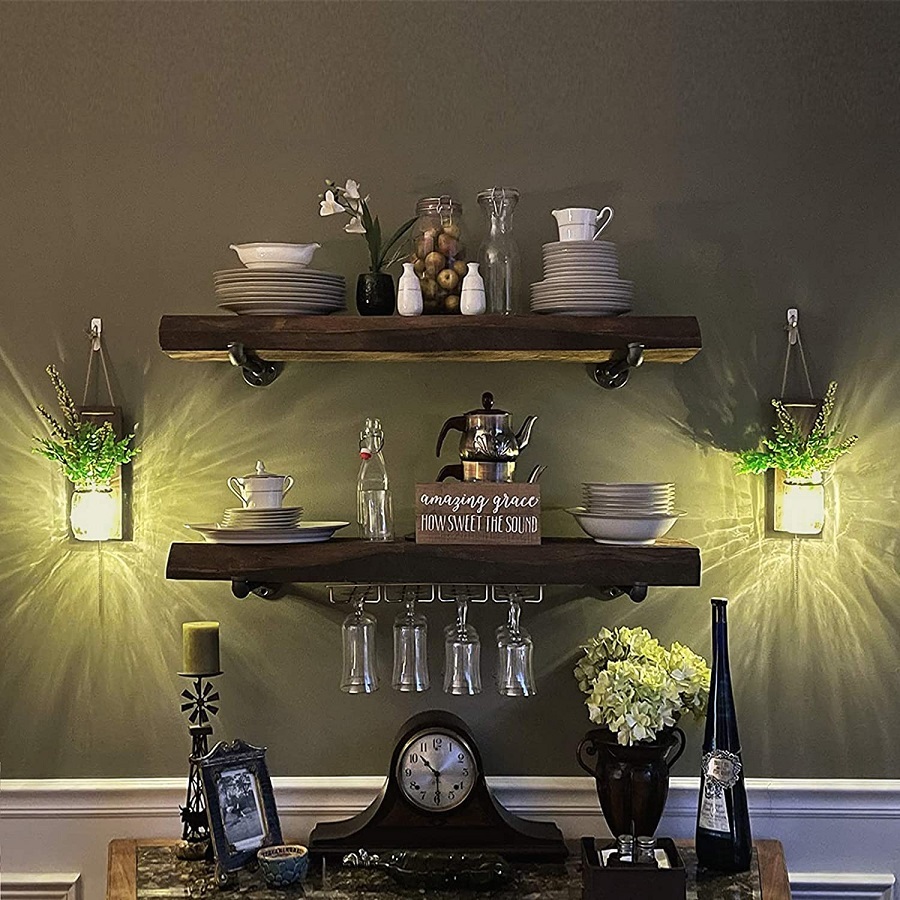 You can use wall sconces anywhere where extra task lighting is needed. Think the kitchen sink, a sconce on a wall over a kitchen bar, near a dining table, and so on. Use plug-in lamps if you don't want to hire an electrician to install them. It's a quick way to add lighting when there's not enough of it due to low ceiling lighting.
Table Lamps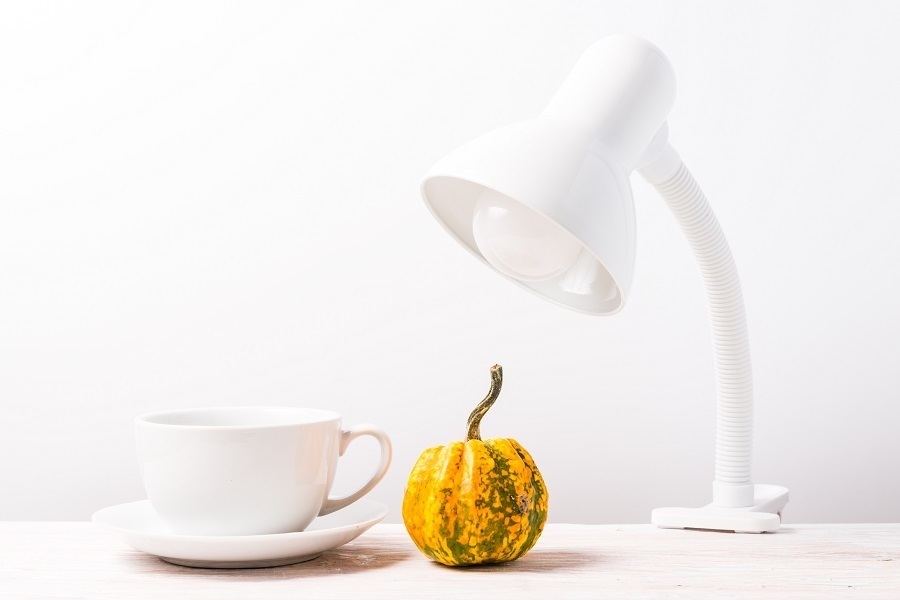 Table lamps provide additional task lighting in the kitchen. Place lamps near the areas where people use them to see what they're doing (near a dining table or next to a cooking area). You can use as many of them as you have countertop space.
LED Strip Lights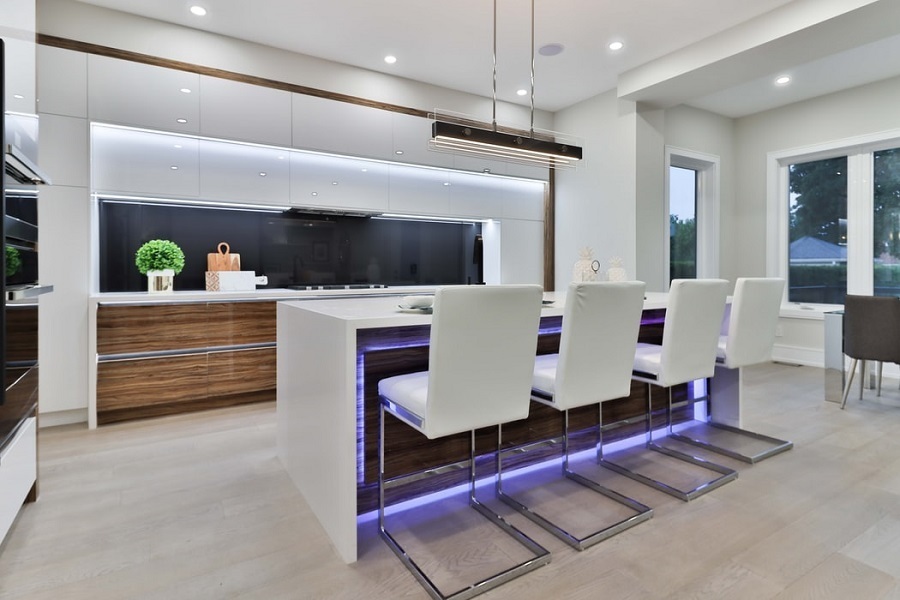 Line the trim of your ceiling with LED strip lights. Not only does it provide additional lighting where it's needed but it also adds architectural value to your decor.
Mini Pendant Lights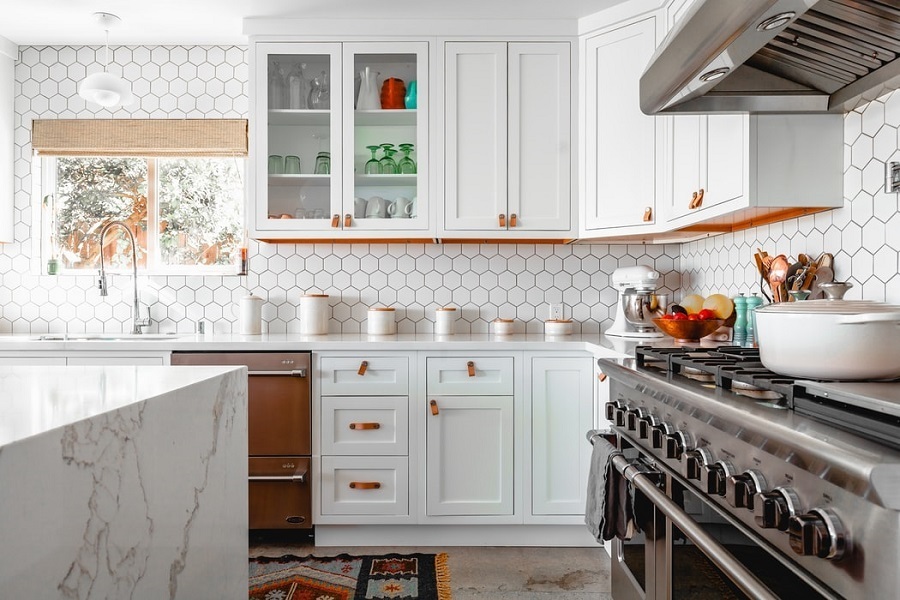 Pendant lamps hanging from the ceiling can make your kitchen feel larger than it is. However, if you choose to hang one too close to the floor, you might risk knocking into it and breaking or destroying your lamp.
Mini pendants or slip fixtures are great for this because you can hang them on a short cord or pole, and they take up less space. But again, hang them out of the walking paths of the kitchen.
Track Lighting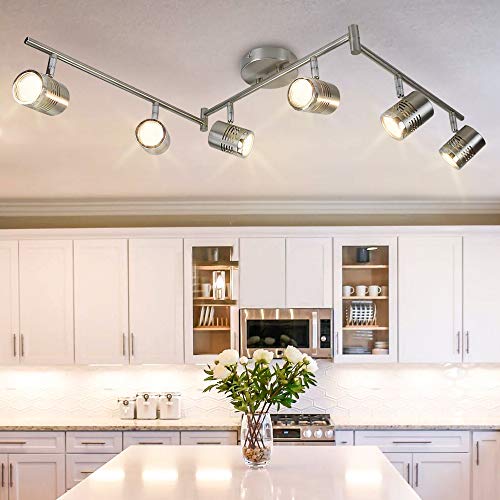 Track lighting can be an optimal solution to limited ceiling height in a kitchen or other environment, and LED bulbs ensure adequate lighting with minimal amounts of energy use. The directed spotlighting can provide ample light by directing it to the right places, including the walls and the ceiling.
Clear Glass Lights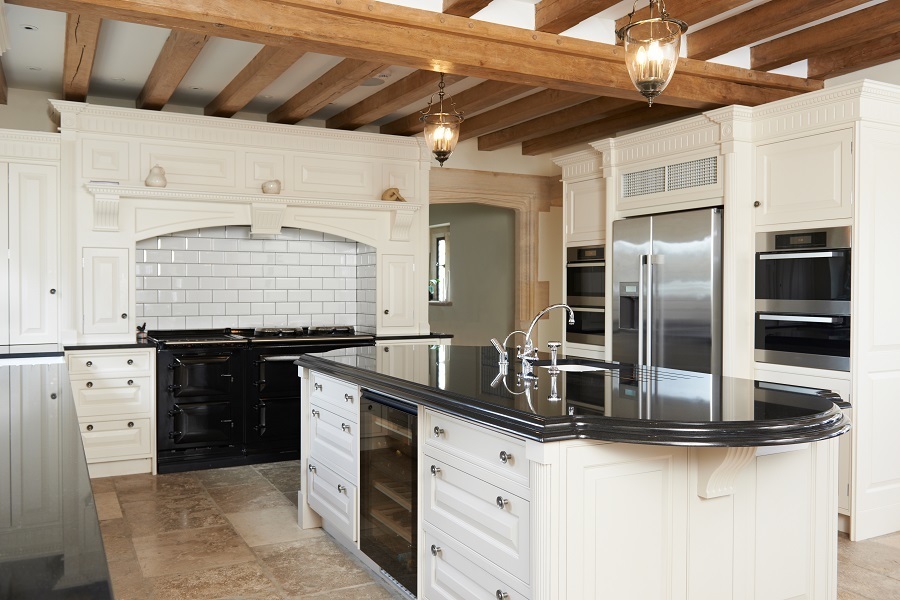 Clear glass lights offer the illusion of greater space. It's recommended for the kitchen and other rooms with lots of windows because it makes the rooms look larger. Home designers manage small ceilings to add glass, such as in lampshades. Glass decreases the focus on the ceiling and creates an illusion of space.
Metal Light Fixtures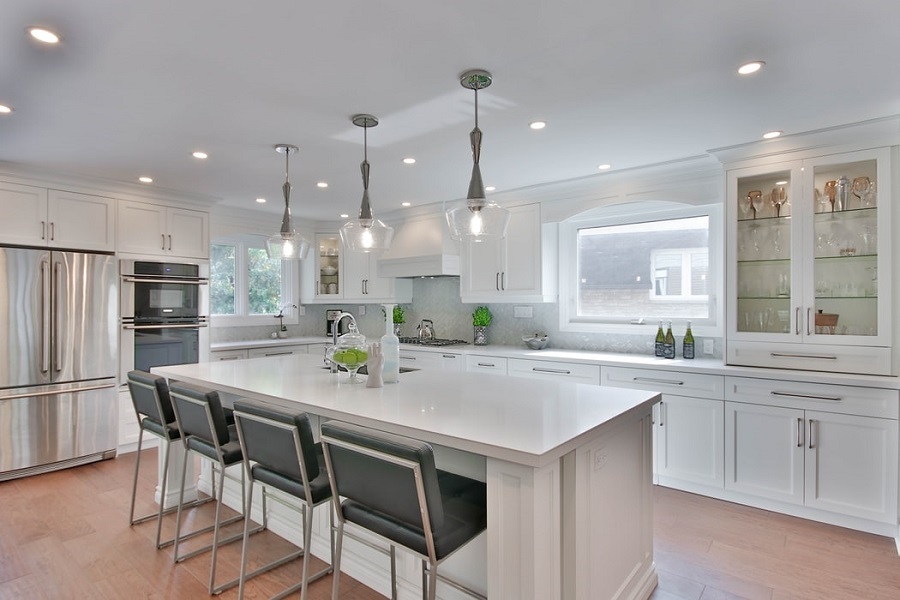 Metal light fixtures with a matching design to the rest of your kitchen are another good idea if you need extra lighting in a specific area. You can put several lines of these lights facing one direction, and they will provide ample lighting for your needs. Glossy metallic finish also helps spread the light around the room.
FAQ
How do you light a low ceiling kitchen?
When lighting a low kitchen ceiling focus on flush mount recessed lights and eye-level and below eye-level lighting layers. But also don't be afraid to experiment with hanging lights as long as they don't get in the way.
Can you have pendant lights with a low ceiling?
Yes, you can have a pendant light with a low ceiling but you need to make sure they don't too low to hit a taller person. The best option is to always hang pendants over a table surface.
How low is a low ceiling?
A low ceiling is considered a ceiling below average height, i.e. less than 8 feet.
Continue reading: