Last updated on November 22, 2023
Teal color furniture ensnares the world of home design because of its charisma, versatility, and tranquil spirit that effortlessly enhance any living space.
These are my unique design concepts made using design tools. I hope you find them inspiring!
Dive deep into the tranquil hues of teal, where imagination meets innovation in the world of home décor. Within the ambit of this versatile color, a myriad of furniture ideas are yet to be discovered and appreciated.
While the internet is brimming with a plethora of suggestions, this article aims to unveil those unique teal gems that remain uncharted. From the classic to the quirky, expect an array of fresh, unique ideas, each offering a distinctive look at teal color furniture.
To supplement these novel insights, a cherry-picked resource list will additionally be provided, spotlighting the best of the known ideas out there. So, gear up and get ready to take a refreshing journey through teal-colored horizons, where every idea is a new adventure waiting to transform your home decor.
What's Inside
Teal Ottoman As a Focal Point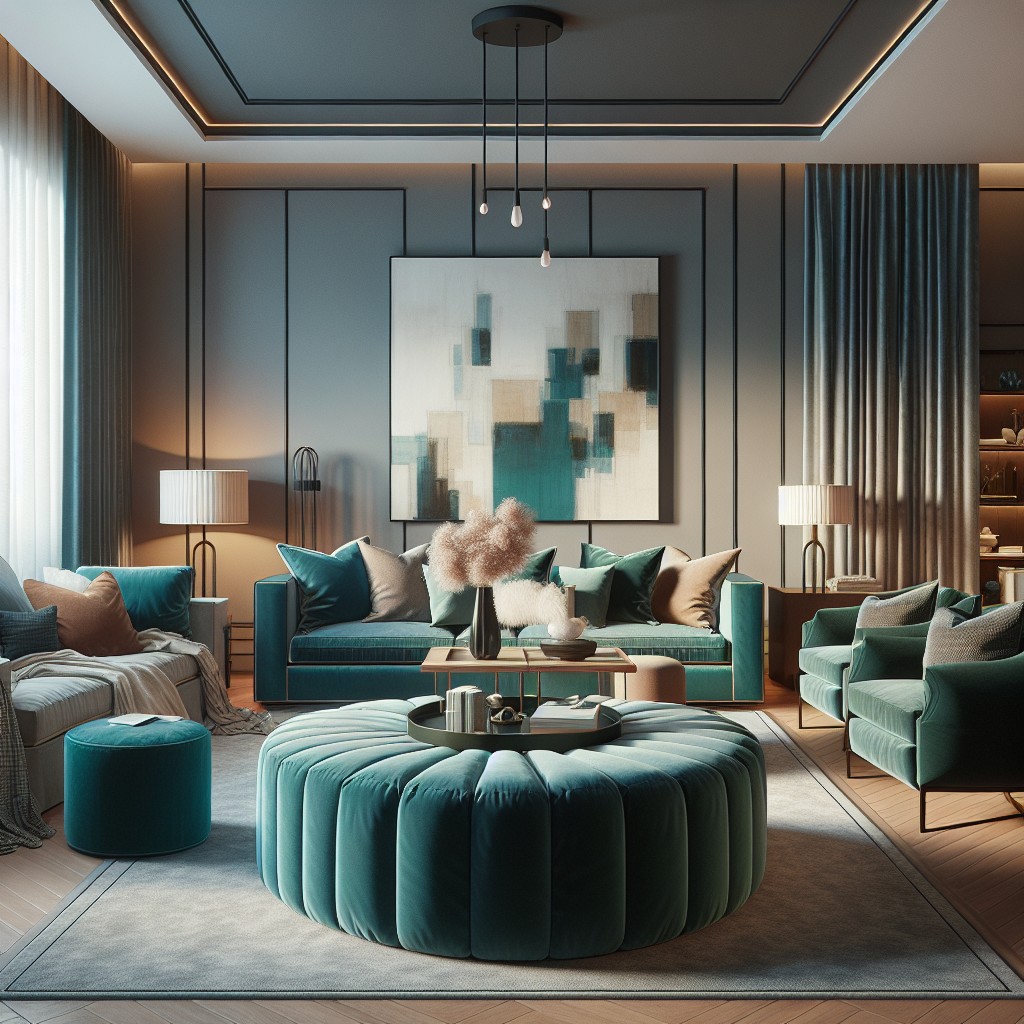 Crowning a room with a teal ottoman brings a delightful spin to your space. It's a practical yet stylish choice that commands attention without overpowering the rest of the decor.
The versatile nature of ottomans means it can double as extra seating during a gathering or function as a mini table when topped with a decorative tray.
Pair the teal ottoman with furnishings in neutral hues — think creams and grays — to allow its vibrant personality to take center stage. If you're more adventurous, it could be an opportunity to execute a fun color-blocking scheme.
Even better, you could go the sophisticated route by selecting an ottoman in a plush velvet finish, adding a touch of luxury to your living area.
Remember, furniture arrangements play a crucial part here. Your ottoman can sit at the heart of a seating area, be tucked away in a corner, or line up against the sofa – wherever it would garner the most visual appeal.
Use a Teal Area Rug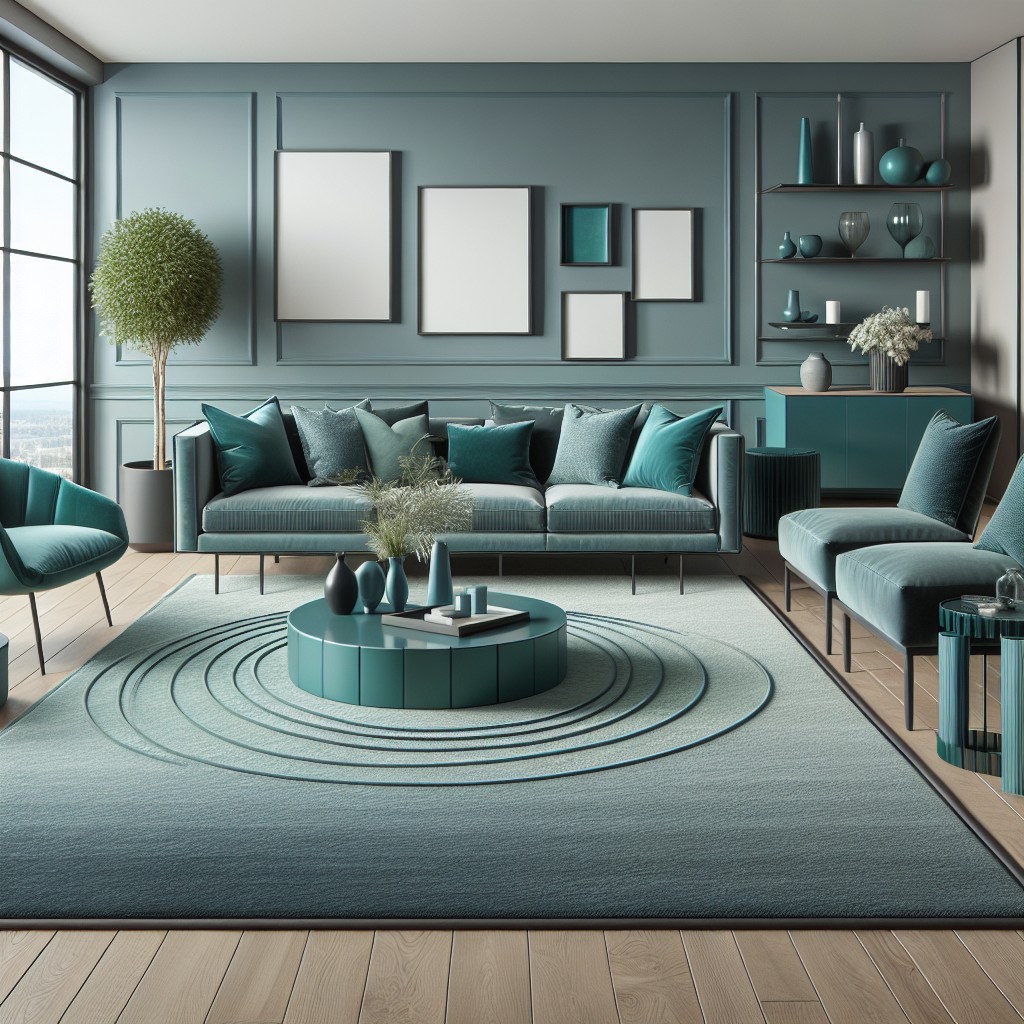 An area rug in this vibrant shade can effortlessly anchor the design of your living room or bedroom. Opt for a rug with a pattern to add an additional layer of intrigue, or go with a solid block of color for a striking effect.
1. Size and Placement: Ideally, the rug size should be large enough to underlap all the main furniture. For a living room, ensure it reaches the front legs of your sofas or chairs.
2. Material Considerations: To balance a visually dominant shade like teal, softer materials like cotton or wool can add warmth and tactile intrigue to the room.
3. Complementary Colors: Teal rugs work excellently in neutral-colored rooms, creating a dynamic contrast. You can also pair it with shades of yellow, coral or deep pink for a sublime combination.
4. Layer with Smaller Rugs: For an added dash of style, you could layer your teal rug with smaller rugs in contrasting colors or textures, enhancing dimensionality.
5. Patterns and Prints: If a solid teal rug seems too overbearing, consider ones with geometric patterns, floral prints, or abstract designs. This will ensure that the rug complements the other décor elements without overpowering them.
Remember, a teal area rug is more than a floor covering; it's an opportunity to project your unique style, define your space, and complement the other décor elements in your home.
Teal Accent Wall With Monochrome Decor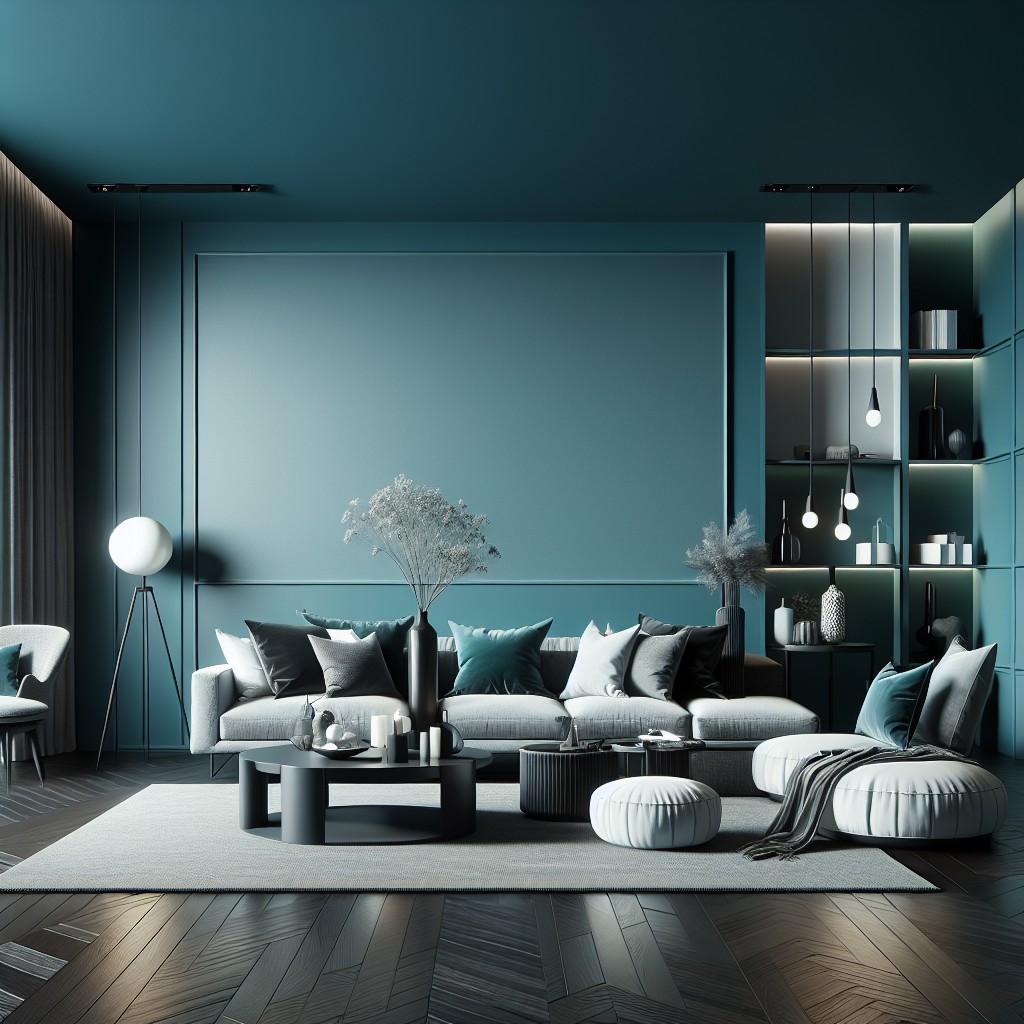 Creating an impressive transformation doesn't always require a complete makeover. If you're striving for that striking balance of trendy yet timeless, harmonizing a teal accent wall with a monochrome decor could be your perfect solution.
Here's how to nail this concept:
Choose the right shade of teal that complements the existing neutrals.
Determine your accent wall. Ideally, it should be free of doors or windows for the best impact.
Paint your selected wall. Go for matte or eggshell finish for its ability to hide imperfections.
Balance the strong teal with monochrome furnishings. A black and white furniture palette can be particularly dramatic.
Finally, add some grayscale artworks or prints on the wall for a visually appealing fusion of bold and minimalist.
Remember, a touch of color can entirely shift the mood of a space. This sophisticated teal backdrop will not only add depth but also serve as a stunning backdrop for your grayscale decor, guaranteeing an ambiance full of style, harmony, and class.
Teal Backsplash In Your Kitchen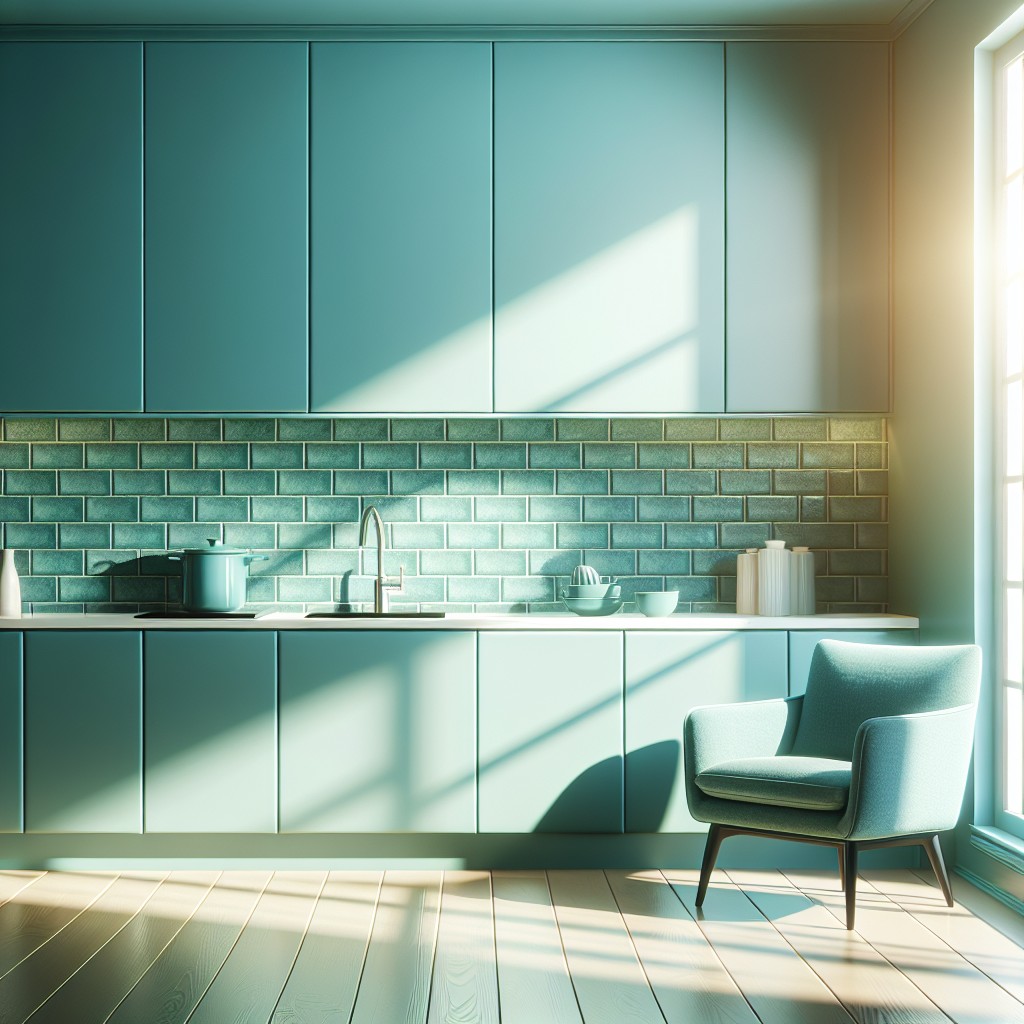 Choosing a teal backsplash can dramatically transform your kitchen, making it visually appealing. Here's how to use it effectively:
1. Complementing Neutrals: A teal backsplash pairs well with white or light grey cabinetry, offering a refreshing contrast.
2. Pairing with Dark Shades: Teal also shines against charcoal or black hues, providing a sophisticated touch.
3. Warm Metals: Copper or brass fixtures, like faucets or cabinet handles, enhance teal's cool tones.
4. Style Variation: The backsplash can be subway tiles, mosaic pattern or even a solid painted wall, based on your preference.
5. Lighting: Under-cabinet lighting will highlight the teal, creating a cozy kitchen atmosphere.
6. Coordinating Decor: Kitchen accessories like dish towels, pot holders, or even dishes can echo the teal for a coherent look.
Incorporating a teal backsplash can add a pop of calming color and dynamic charm to your cooking space!
Install Teal Floating Shelves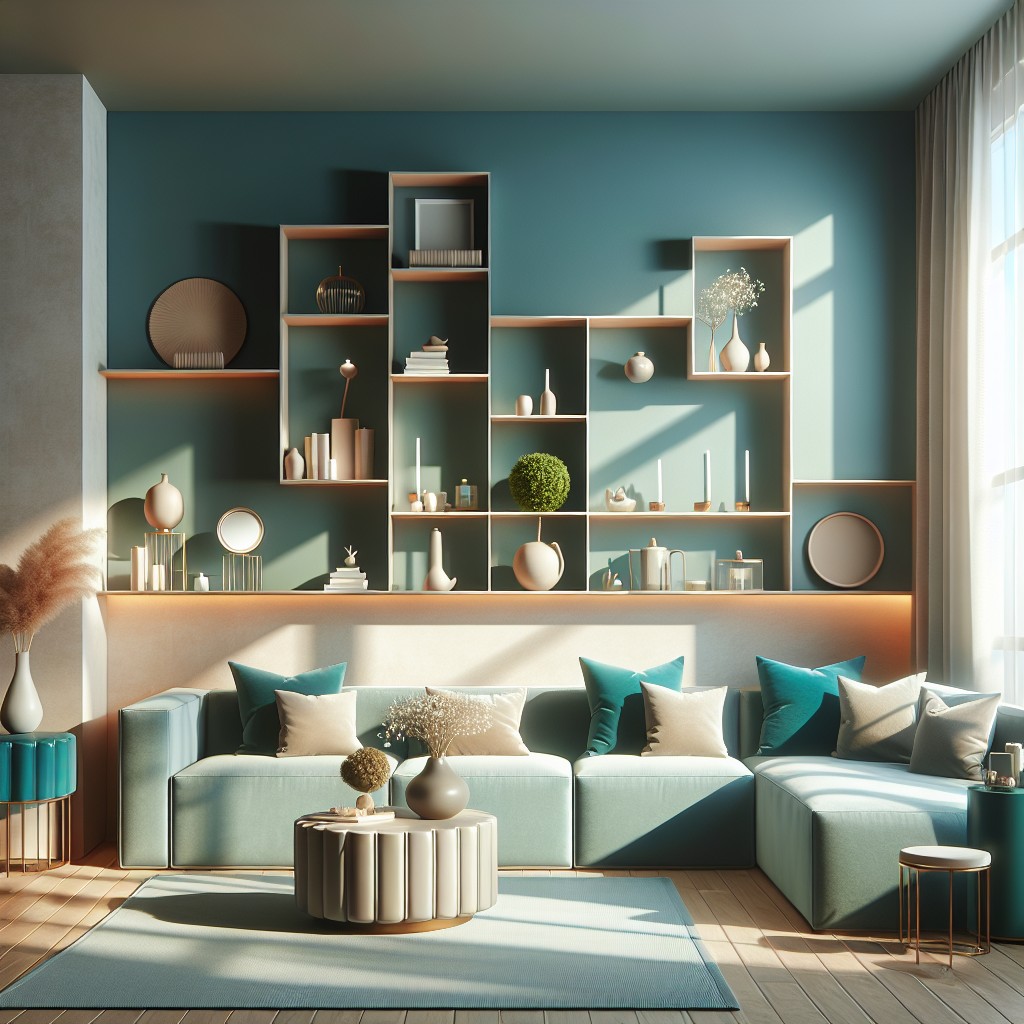 Floating shelves offer practical storage space and can make a style statement. Opt for teal colored shelves to introduce a vibrant pop of color in any part of your house, from the living room to the bathroom.
Their aesthetic appeal is further enhanced when adorned with contrasting accessories like white or gold ornaments, books or photo frames.
Consider the wall color before installation. White or beige walls give these teal shelves a bold contrast, making them stand out. For a more subdued look, pair them with a grey or blue wall.
Placement is key: install at eye level to draw attention, or higher up to provide a visual lift to the room. Remember to balance the items distributed on the shelves to maintain visual harmony.
Finally, use appropriate lighting to highlight your stylish teal floating shelves. Proper light installation can dramatize the teal color, making them a commanding focal point.
In essence, teal floating shelves are a simple but effective way to incorporate color, functionality, and style into your home decor.
Create Contrast With Teal and Orange Decor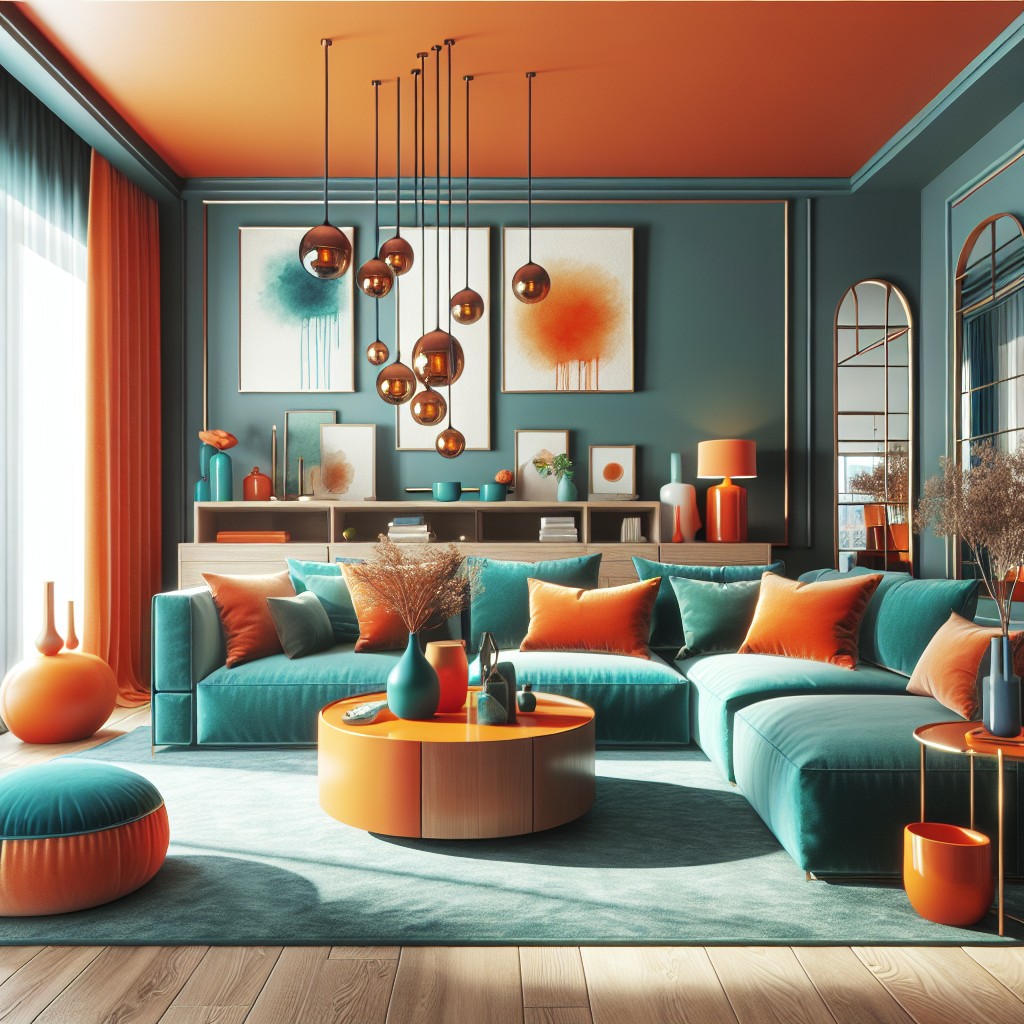 To achieve this delightful contrast, consider having a teal-sofa and offset it with orange throw pillows.
Conversely, liven up an orange couch with a teal blanket.
You could also experiment with detailing in the room like teal curtains tempered with orange tapestries or rugs.
Wall art offers another perfect opportunity – think orange sunsets against teal skies.
Avoid overdoing it, this color combination is lively – lean into that vivacity, but also temper it with subdued accessory colors.
Through this balance, the orange and teal theme creates a warm, welcoming, and unique space.
Teal Bar Stools for Kitchen Islands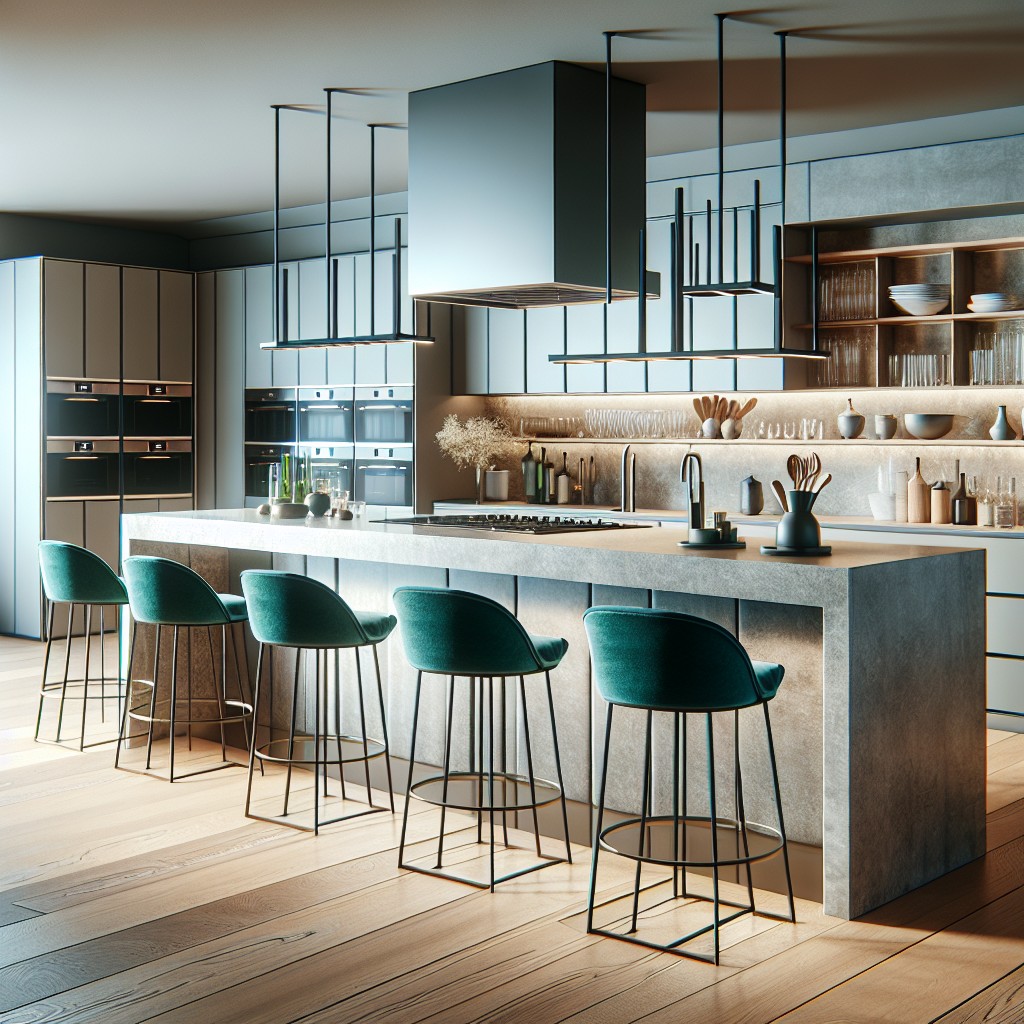 Offsetting a minimalist kitchen island with teal bar stools can provide a delightful burst of color. This touch achieves a balance of character and sophistication, reigning as a conversational piece and making your kitchen more inviting.
A softer teal hue also pairs fabulously with a marble, granite, or wooden island top. Keep in mind that bar stools' selection should correlate with the island's height accurately; therefore, ensure you measure before making a purchase.
Cushioned teal bar stools are a good choice for comfort and luxury. For a more rustic appeal, opt for backless stools in a distressed finish. Always keep in mind that functionality should never be sacrificed for appearance.
For a seamless look, coordinate the stools with other teal accents around the kitchen. Finally, lighting from a statement pendant fixture can further enhance your bar stools' teal finish, adding an additional layer of warmth and charm.
Use Teal BedLinens for a Pop of Color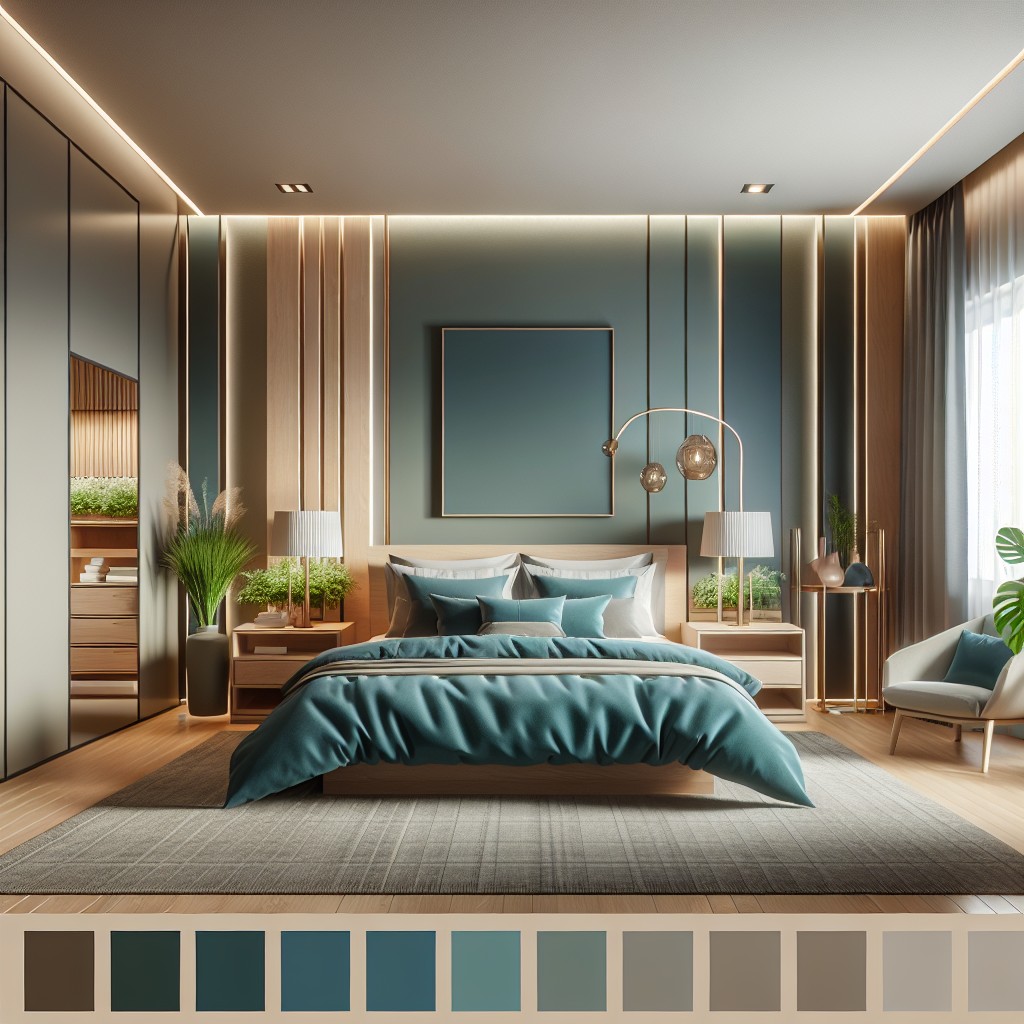 Injecting color into your interior design scheme doesn't have to involve large pieces of furniture or floor-to-ceiling paint jobs. Approaching it subtly through bedlinen is a savvy start. Opt for sheets, comforters, or even duvet covers in glorious jewel-toned teal. Not only will this immediately update the room, but it also allows versatility in changing styles with ease.
Pair with neutrals, such as a cream bed frame or beige carpet, to balance the intensity of teal. For a royal look, mix with gold-colored cushions or metallic print wall arts. Don't hesitate to experiment with patterns like florals or geometrical prints, as they add an extra dimension.
Remember, less is more. Avoid going overboard with teal everywhere else in the room. Keep it discreet with smaller teal accessories, perhaps a ceramic vase or wall clock.
Teal Night Stands for a Vibrant Bedroom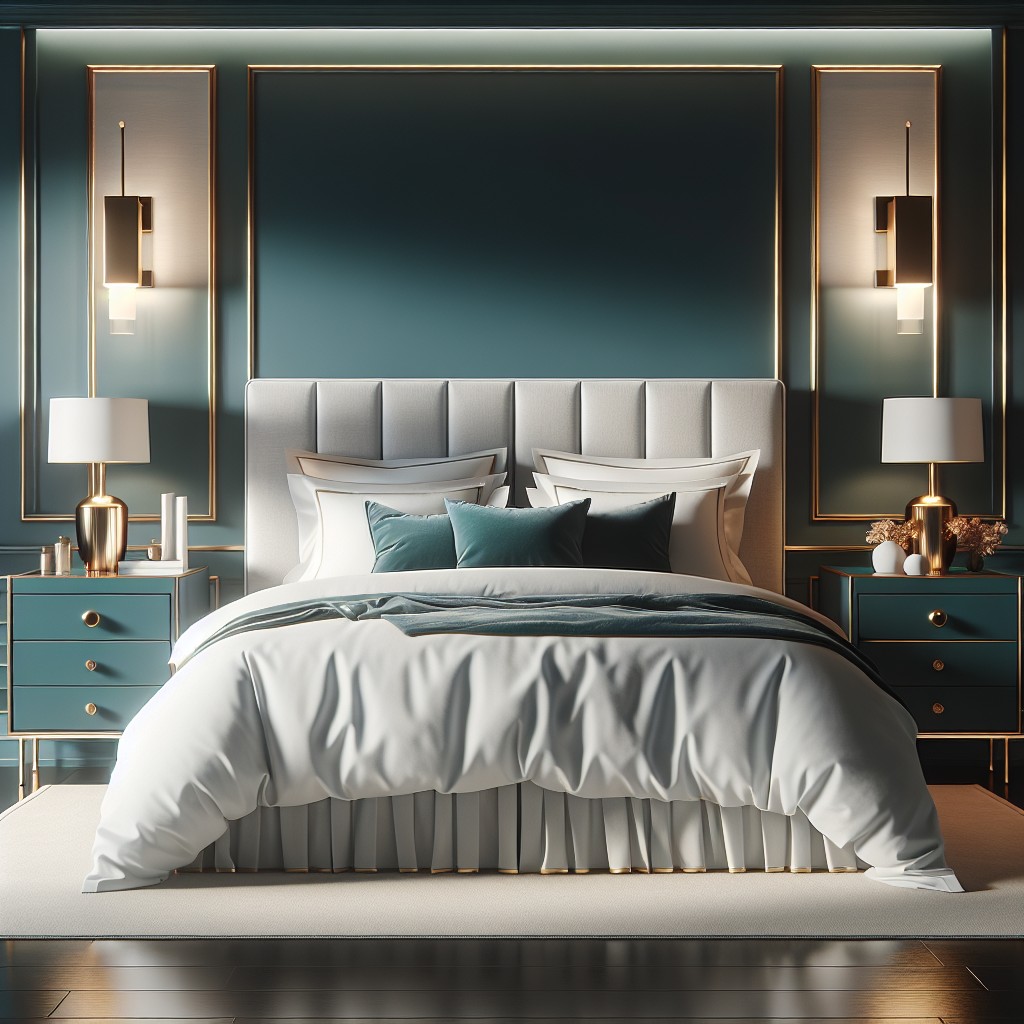 Incorporating teal night stands into your bedroom design can be a game-changer. Vibrant and unexpected, this striking shade brings a fresh perspective to your sleep sanctuary.
Firstly, the color itself is deep and tranquil, mimicking the serene undertones of the ocean, providing a soothing environment conducive for relaxation.
Selecting the right finish for your teal nightstands is vital in determining the overall aesthetic. For instance, a glossy finish offers a contemporary sleekness, while distressed wood could evoke a farmhouse or rustic vibe.
With the color taking center stage, remember to strike a balance with other room elements. Pair your teal night stands with minimalistic bedding in neutral tones to allow the teal to pop while maintaining a calming atmosphere.
Moreover, function and style are equally important when deciding on the nightstand type. A nightstand with drawers can serve to store bedtime essentials neatly, while a simple tabletop version presents a decluttered, minimalist design. Combine this with brass or golden lamp bases and light fixtures for a touch of sophistication, as these metallic tones pair wonderfully with teal.
Finally, don't limit yourself to a monochromatic style. Teal night stands can complement other bold colors, such as coral or yellow, for a more eclectic and energizing scheme. A mastery of color and design can turn your ordinary bedroom into a stunning oasis.
Teal Mixed With Metallic Finishes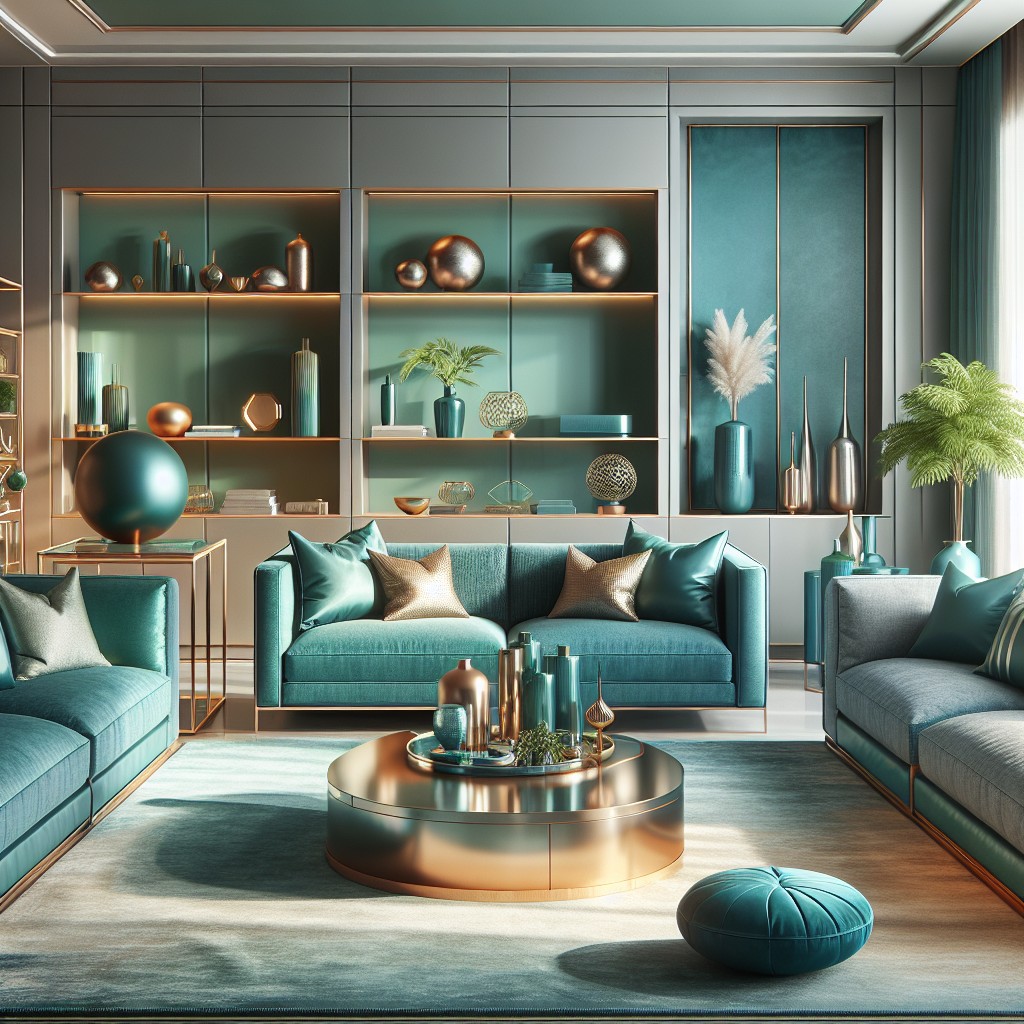 An exquisite blend of depth and allure is achieved when teal converges with metallic accents. Think of a turquoise sofa paired with copper side tables, or a peacock-blue console table sporting brass decor pieces. Not only does the striking teal backdrop highlight the metallic finishes, but these sheen elements in turn elevate teal's splendid hue.
1. Gold or brass pairs well with teal, creating a rich, luxurious aesthetic. For example, a teal velvet armchair with gold legs exudes elegance.
2. Silver or chrome offers a cool contrast to the warmth of teal, fostering a modern, chic vibes.
3. Copper and bronze elements yield an earthy, rustic feel when paired with teal, imparting a sense of cozy comfort.
4. Pair teal upholstered furniture with metallic coffee tables or lamps for a balanced look.
5. Metallic wall art or mirrors on a teal wall enhances depth and adds visual interest.
Remember, the metallic shine against the matte finish of teal creates not only an eye-catching contrast, but also a balanced harmony, making your space intriguing and unique.
Teal Entertainment Unit for a Fun Twist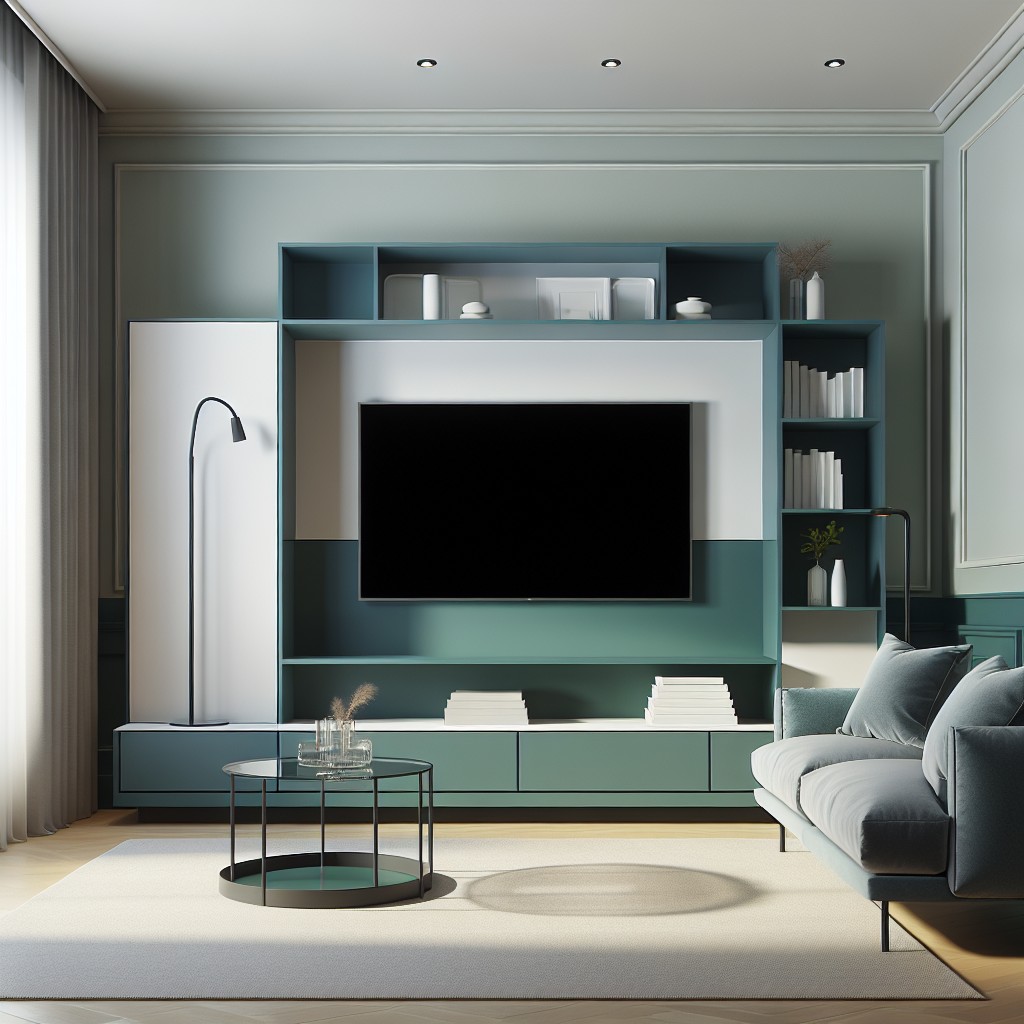 This concept introduces a vibrant pop of color to your living room, revamping the usual entertainment center. An entertainment unit in teal not only adds an interesting visual element to the space but also breaks the monotony of typical wood finishes.
Select a unit in high-gloss teal for a modern, sleek look, or try distressed teal for a vintage, weathered vibe. Pair it with neutral walls and furniture, letting it take center stage. If you are a fan of bold contrasts, consider orange or fuchsia accents.
Accessorize the unit with books, framed photos, or decorative items in complementary colors. This not only enhances the overall look but also adds personal touches to the space. Don't forget to light it well with spotlights or ambient lights to amplify the effects.
A tip here is to ensure whatever you choose matches your overall decor scheme. Mixing different eras or styles can result in a confusing or chaotic space. Remember, creating harmony is crucial. Even when using a bold piece like a teal unit, it needs to flow seamlessly with the rest of the decor.
Remember, whatever choice you make, your entertainment unit will be a definite conversational piece adding a touch of whimsy to your space.
Teal Themed Outdoor Furniture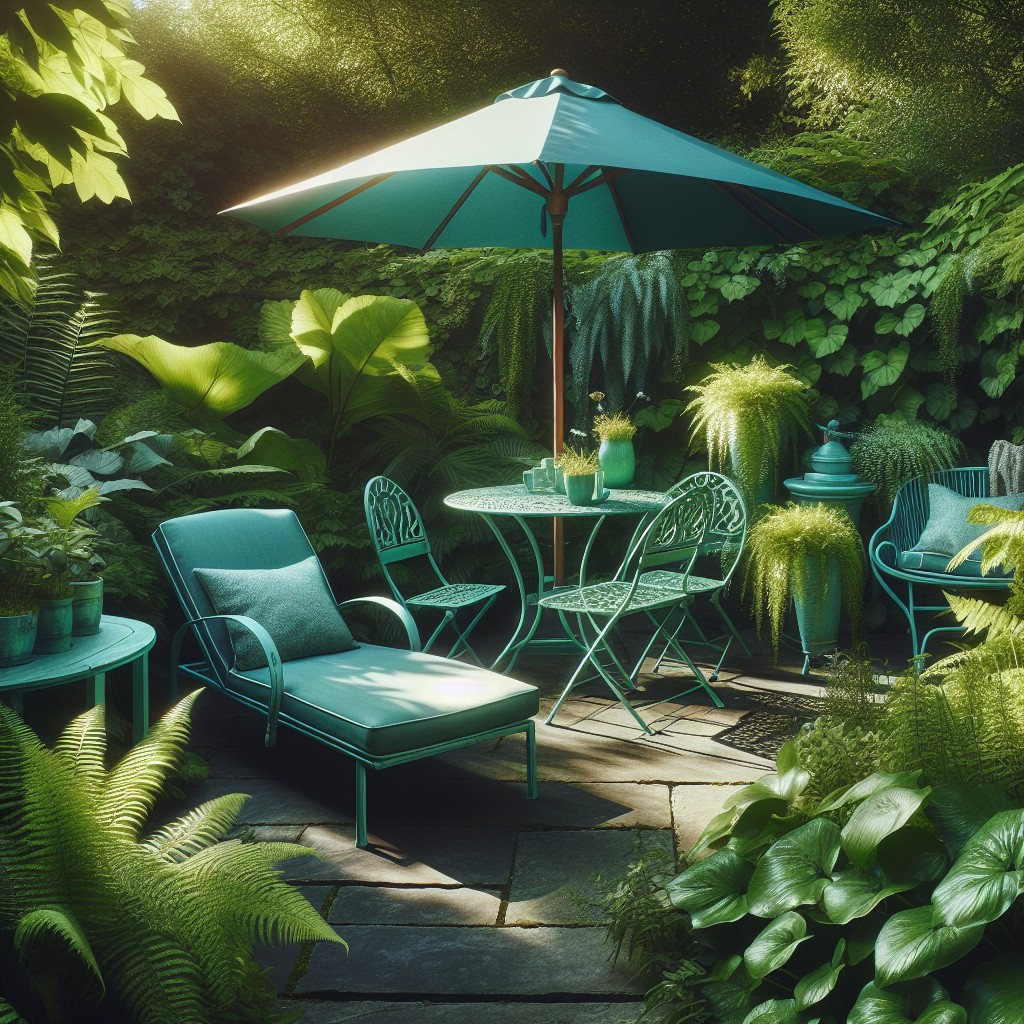 Jumping into the realm of the outdoors, teal can also breathe life into your exterior space. A vibrant teal sunbed can instantly brighten up a poolside area.
If you're into al fresco dining, a set of teal patio chairs can turn an ordinary meal into a lively backyard party. If you opt for more subtle touches, consider teal cushion covers on an otherwise neutral outdoor lounge.
For a rustic approach, a teal painted wooden bench is charmingly delightful. Teal ceramic planters are both functional and stylish, adding an interesting color dimension to your greenery.
With these ideas, the outdoors become an exciting extension of your teal-themed interiors.
Teal Throw Pillows On Neutral Couch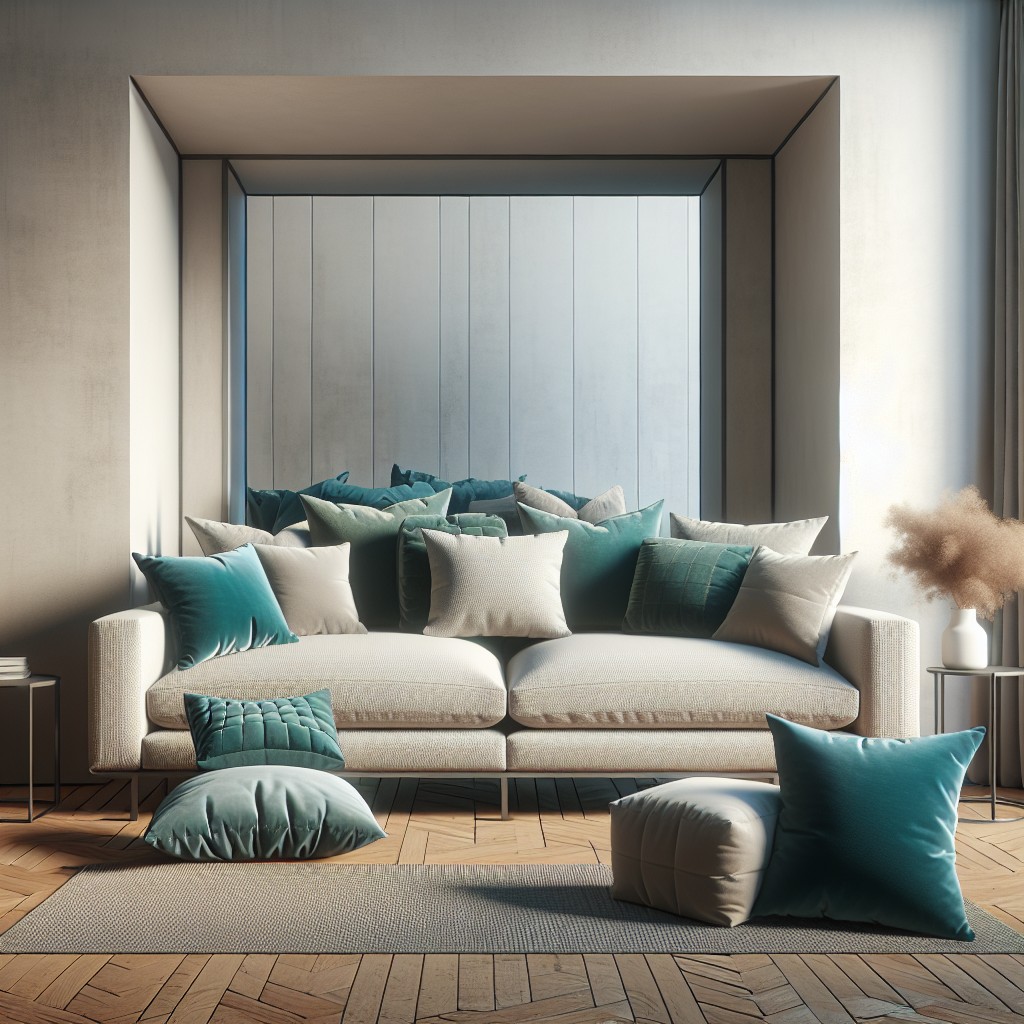 Integrating teal thrilled pillows on a neutral couch effortlessly adds a splash of color to any living area. Pillows are not only functional but also essential decor items. They can change the look of your space without a hefty investment.
How to use teal throw pillows effectively:
Size Matters: A large neutral couch can accommodate oversized pillows creating an inviting space. For smaller couches, consider more petite pillows to maintain balance.
Texture is Key: Consider teal pillows with various materials like velvet, faux fur, or even linen to add interest.
Pattern Play: Mix and match patterned and solid teal pillows to add depth and variety. Stripes, florals, or geometrics can bring a unique touch.
Quality Counts: High-quality fabric retains color and won't wear out as quickly, ultimately keeping your space looking fresh longer.
Arrangement Techniques: Learn how to stylishly arrange your pillows. For instance, larger pillows at the back with smaller ones in front creates a tiered layout, making the couch look more attractive and comfortable.
So, while a neutral couch presents a subtle and clean backdrop, the placement of teal throw pillows introduces an element of surprise vital in creating a unique, stylish, and comfortable living space.
Teal Dining Chairs for a Daring Touch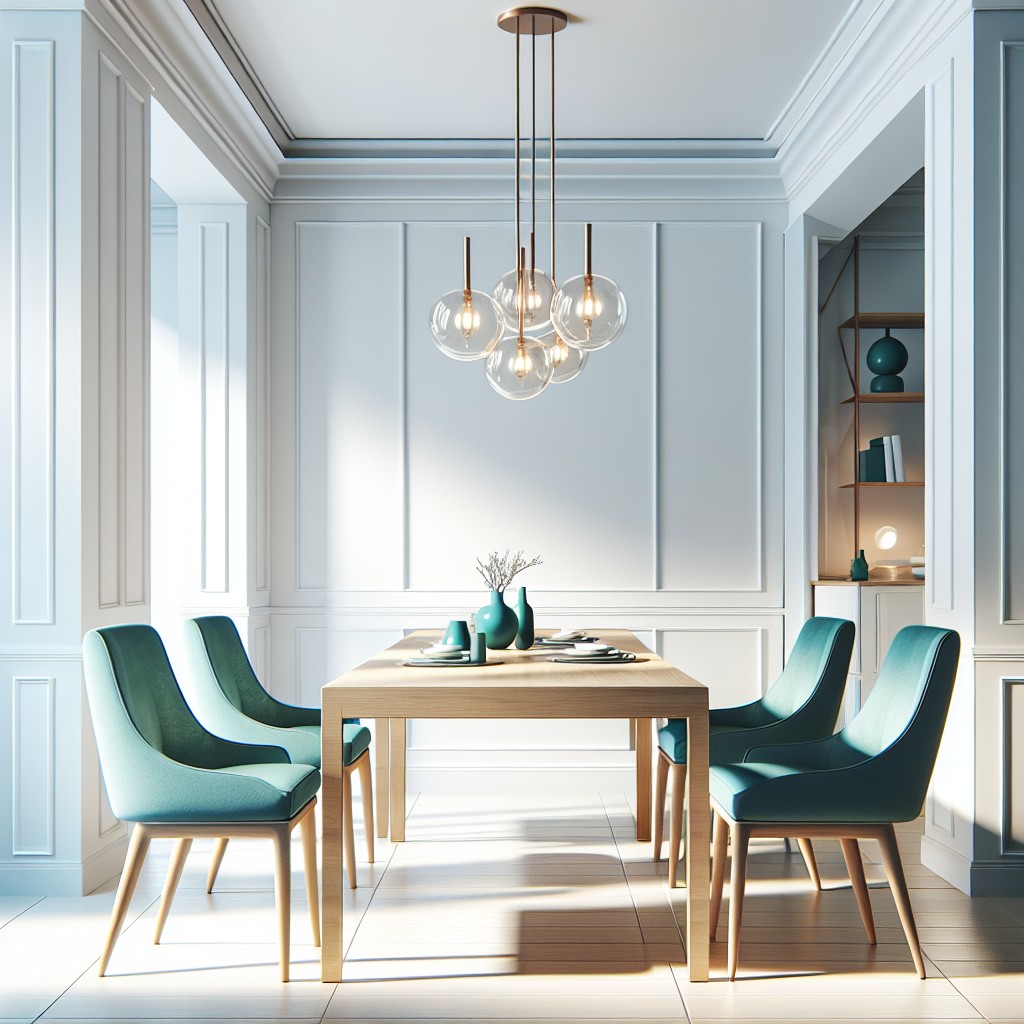 Selecting dining chairs in this shade will instantly transform an ordinary eating area into something extraordinary. With a wide variety of designs available, it's easy to find one to suit any dining room aesthetic.
Consider plush teal upholstered chairs for a regal look, or sleek, modernist teal chairs for a contemporary space.
Pair these chairs with a natural wood table for a coastal vibe, or a glass table for a juxtaposition of textures. They also effortlessly complement metallic accents – think golden pendant lights or a silverware set.
Don't be afraid to mix them with chairs of different color – it's a trending look in modern design. Now, remember to balance out the color in other parts of your dining room. Perhaps a vase in the same hue or a piece of wall art featuring teal. This daring move will make your dining space the talk of every meal.
Introduce Teal Through Art Pieces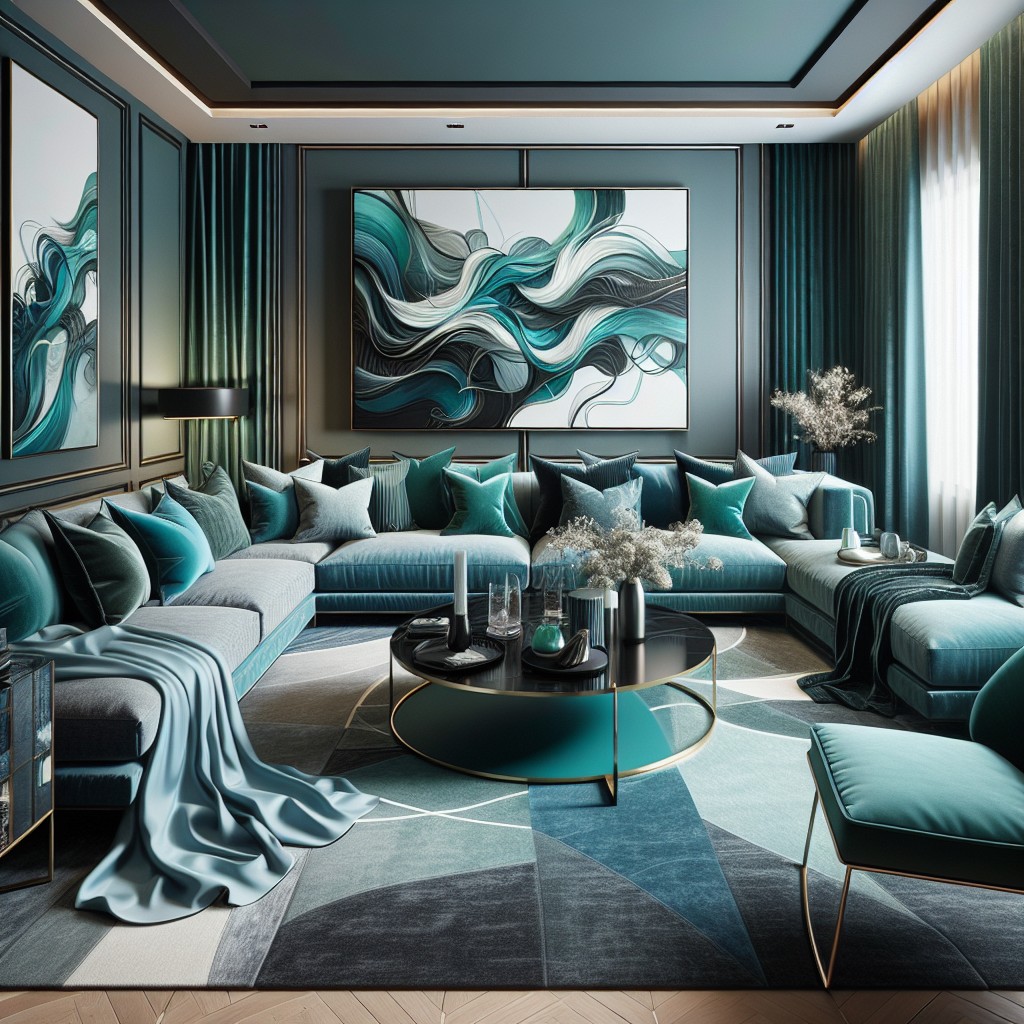 Art doesn't always have to be confined to the traditional medium of paintings. Consider incorporating pieces such as wall sculptures, textile art or even decorative ceramics to give your interiors a unique twist.
Coordinating these pieces in varying shades of teal can create a visual continuity that unites the different elements of your space. Blending light and dark variations of the hue can also add depth.
Don't feel limited to two-dimensional art; stunning teal glass sculptures or ceramic vases can add a touch of grandeur. Additionally, a teal tone artwork can go beautifully with a white backdrop, adding an element of surprise and joy.
Remember, the goal here is to harmonize the color scheme of your decor, not overwhelm the space.
Teal Bookcases for Stylish Storage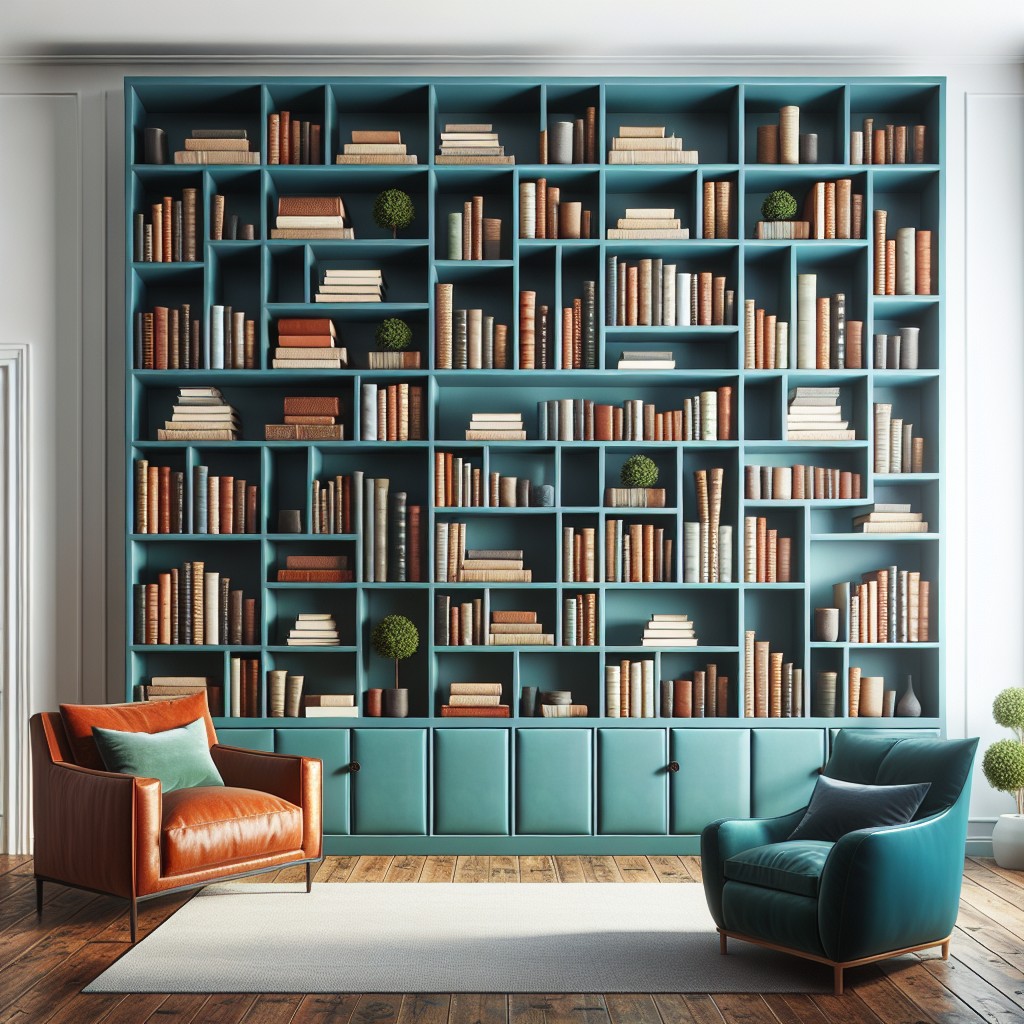 Incorporating teal bookcases into your space not only give you abundant stylish storage, but they also offer an aesthetic appeal that can elevate any room's design scheme.
Armed with a few key takeaways, you can make this work brilliantly for you.
First, consider the size and style of the bookcase that best suits your room. For a sleek, modern vibe, opt for simple lines and minimalist designs. Conversely, ornate or detailed bookcases can lend a vintage or classical charm to your room in equal measures.
Second, play with the placement. Keep it conventional and place it against the wall, or make it the room divider for an open-plan space. Another creative option is the corner placement, utilizing often wasted space while maintaining the room's openness.
Third, go beyond books. A bookcase can showcase your favorite travel souvenirs, prized ceramics, photo frames, even indoor plants. This way, it evolves into a living display that tells your unique story.
Lastly, elaborate with accessories. Use art prints, woven baskets for texture or metallic accents to catch the light. It's all about the mix and balance- by stacking, leaning, and layering objects, you create a visually engaging landscape.
In essence, teal bookcases can make beautiful, functional additions to many homes, and with the right planning, they can really help your decor to shine.
Teal Door Frames for an Unexpected Pop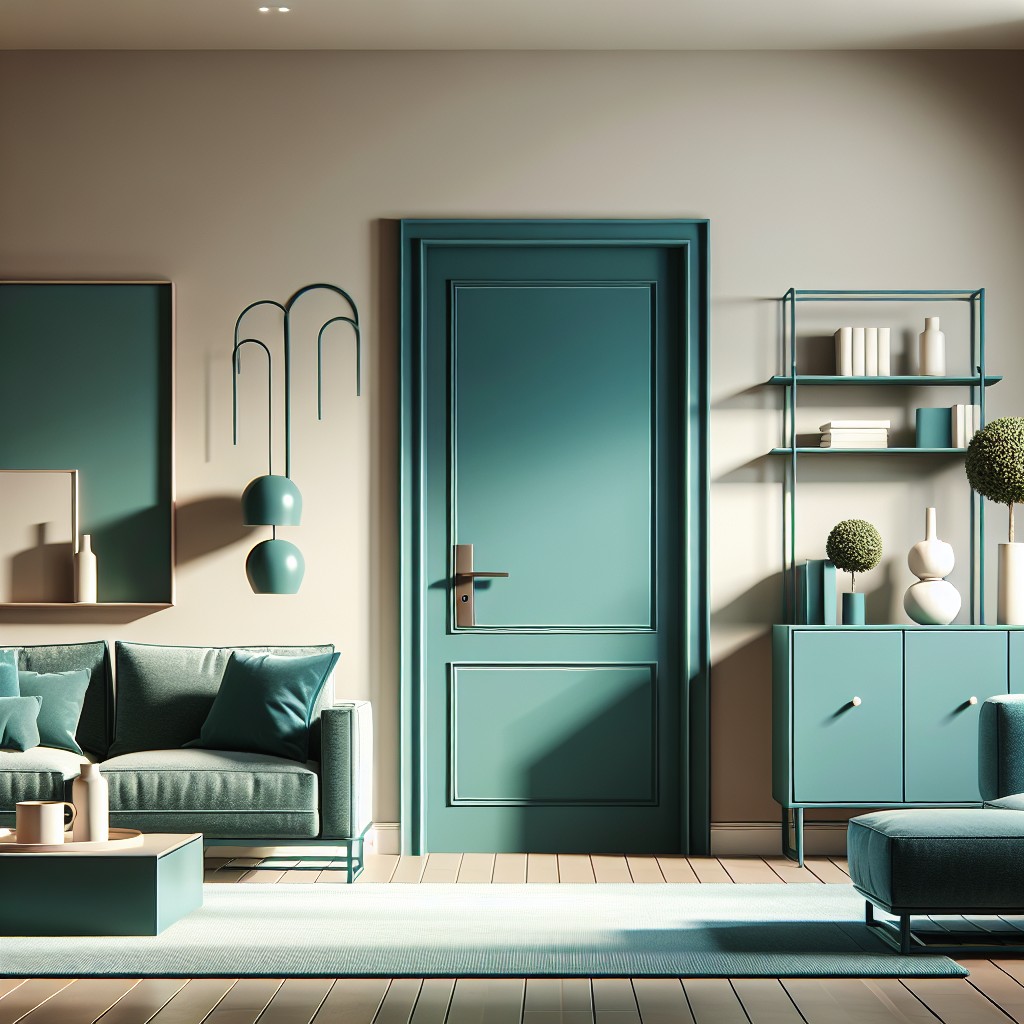 Brightening up door frames with a splash of teal adds an illuminating and unexpected touch to your home decor. This strategy is especially impactful in rooms painted in neutral tones, where the teal frame can offer a delightful contrast.
Here are four key points:
Choose a deeper or lighter hue based on the existing wall color to ensure harmony.
Always remember to prepare the frame by cleaning and priming it before painting to achieve a blemish-free finish.
Opt for gloss or semi-gloss paint types – they're easy to clean and more durable.
If your home features an open plan, painting each door frame teal creates a visual flow throughout the space.
Teal Side Tables for Colorful Convenience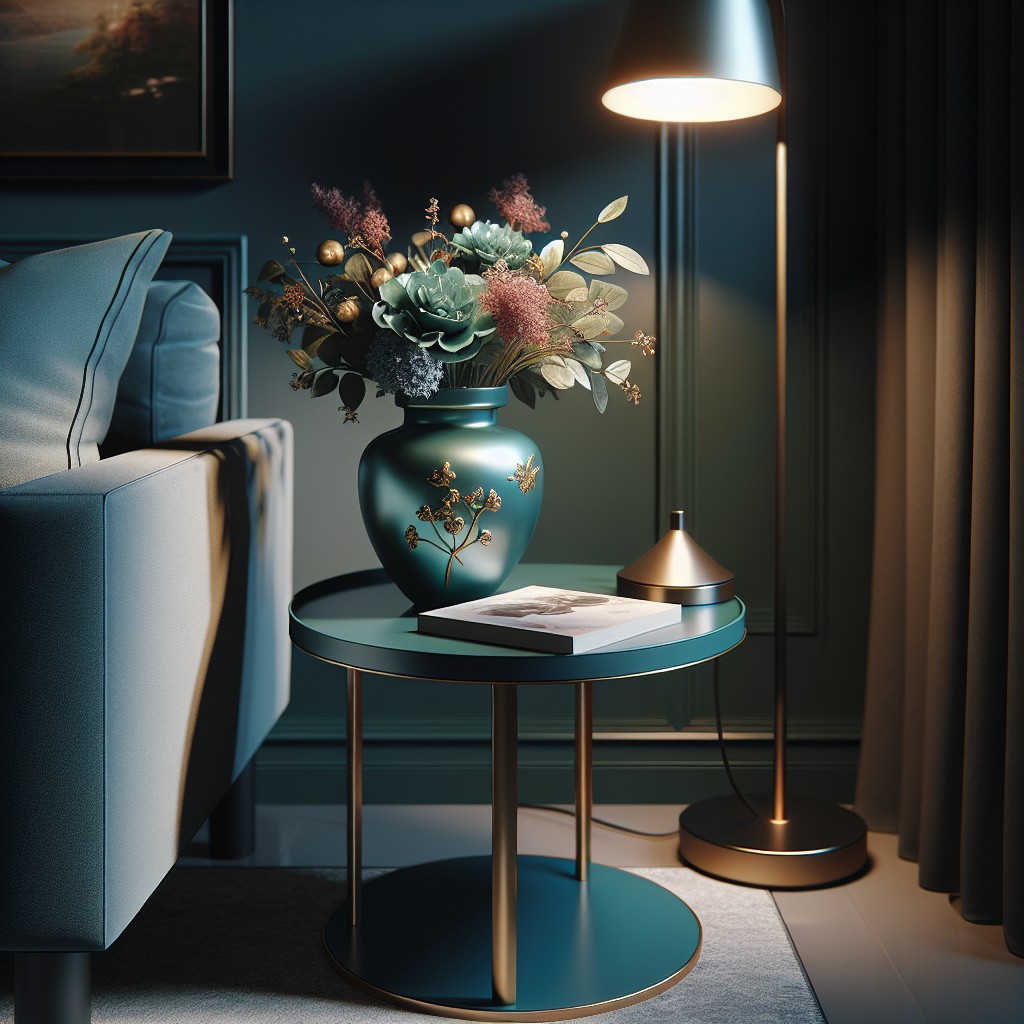 A touch of teal can transform any living room corner or bedroom set up. The side table is a piece of furniture often overlooked but provides an opportunity to infuse your space with color and function. When picking the perfect one, consider its purpose: will it hold a table lamp, your favorite books, or a cup of coffee?
Keep the surroundings in mind. Paired with neutrals like white, beige or grey, teal sidetables can add a vibrant pop. Use glossy surfaces or metallic accessories to bring out the depth of the teal, or soften it with earthy elements like wood.
Round or square, vintage or modern, side tables offer diverse designs for your individual taste. For smaller rooms, glass-topped or acrylic options can minimize visual clutter.
Remember, balance is key. Ease the boldness by matching the table with an art piece or textile in similar tints. Teal done right can create a peaceful, yet interesting ambiance. Embrace its versatility, and your teal side table will be more than an accessory.
Teal Pendant Lighting Fixtures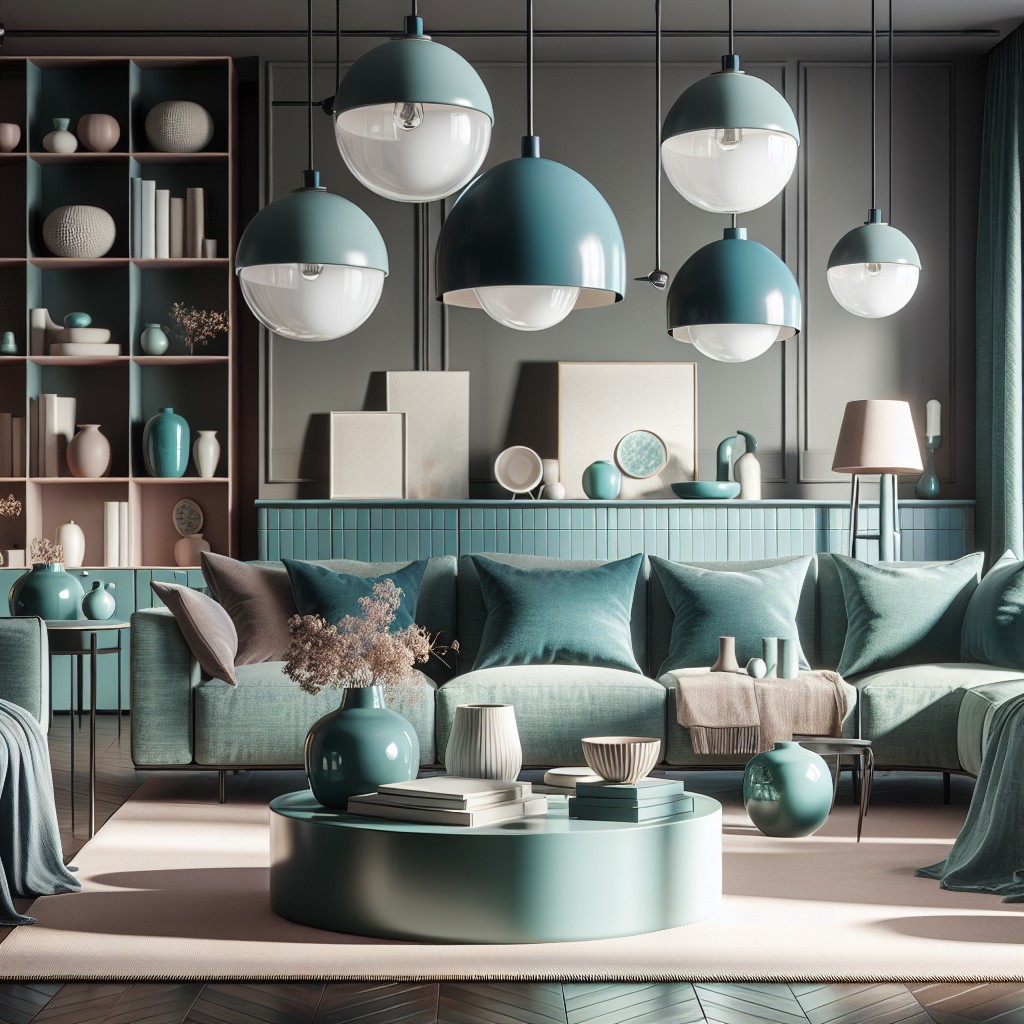 Pendant lights in vibrant teal can infuse personality and chic vibes into any room. They aren't just a source of illumination, but also an artistic statement! Opting for a teal glass pendant light can cast a beautiful, soothing color across your space, creating a tranquil mood.
If you're going for a subtle approach, consider designs with a teal cord or accents.
It's also noteworthy that such fixtures can complement various design schemes. For minimalist or modern rooms with muted color palettes, they can serve as a striking focal point. In spaces with more eclectic or boho styles, they blend seamlessly with other bold colors and patterns.
Remember, the type of bulb you use is crucial too! Warm, soft lighting enhances the teal color's relaxing properties, while cold, bright lights can vividly amplify it, creating a more vibrant ambiance.
Teal Vanity in a White Bathroom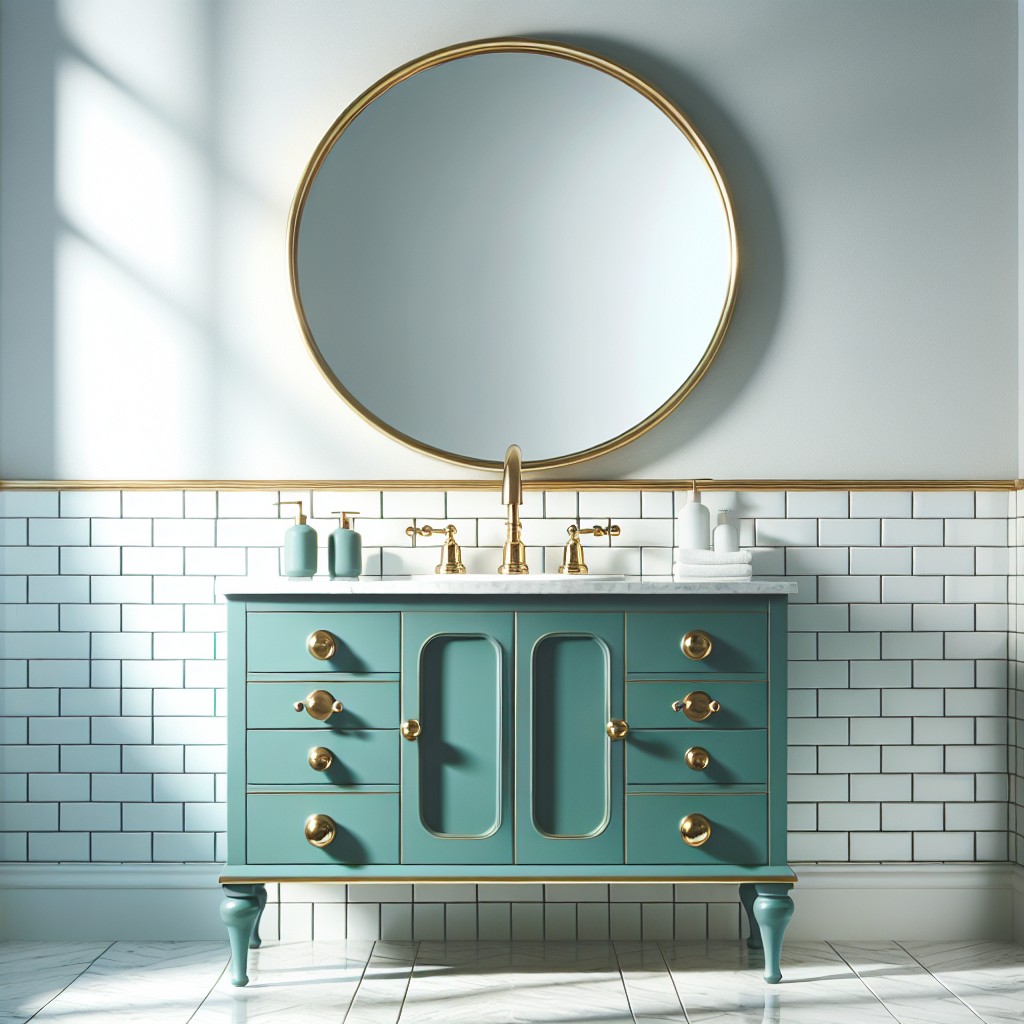 Teal vanities make an excellent choice for those desiring to add some flair to their predominantly white bathroom. Injecting this spot with a pop of color can turn a simple bathroom into a space buzzing with infectious zest.
1. Aesthetics: Incorporating a teal vanity brings instant visual interest. It draws the eye, becoming a statement piece that breaks the monochromatic white palette.
2. Ambience: Teal adds depth and richness that can soothe and invigorate at the same time. This color can stimulate a calming, spa-like ambiance.
3. Versatility: Teal combines harmoniously with differing shades of white, from crisp pure white to warmer tones. Thus, allowing you to maintain the existing white tiles, walls, or fixtures.
4. Accentuation: This vibrant shade can elevate the overall style and décor. Chrome fixtures, for instance, will pop against a teal background, and a mirror framed in a complementing or contrasting color can provide an additional wow-factor.
5. Room Cohesion: If teal accents are present in other parts of your house, a teal vanity can seamlessly tie the bathroom décor to the rest of your interior design language.
Ideas Elsewhere
Continue reading: