Last updated on December 5, 2023
Dive into diverse and compelling teal couch ideas because this vibrant color can transform any living space into an aesthetic paradise.
"I am proud of the 20 unique and stylish teal couch ideas I've crafted for transforming your living room, and I truly hope that you find as much inspiration in them as I enjoyed creating them."
Teal couches, with their vibrant hue and chic appeal, can effortlessly become the focal point of any living space.
In this article, you'll discover a myriad of ways to style your teal couch that not only enhances its beauty but also complements your overall decor.
From pairing it with neutral shades for a subtle look, to combining it with bold colors for a more daring approach, the possibilities are endless.
Whether you prefer a modern, rustic, or vintage aesthetic, you'll find practical and creative ideas to suit your taste.
So, delve in for a comprehensive guide on how to make the most of your teal couch.
What's Inside
Teal Velvet Tufted Sofa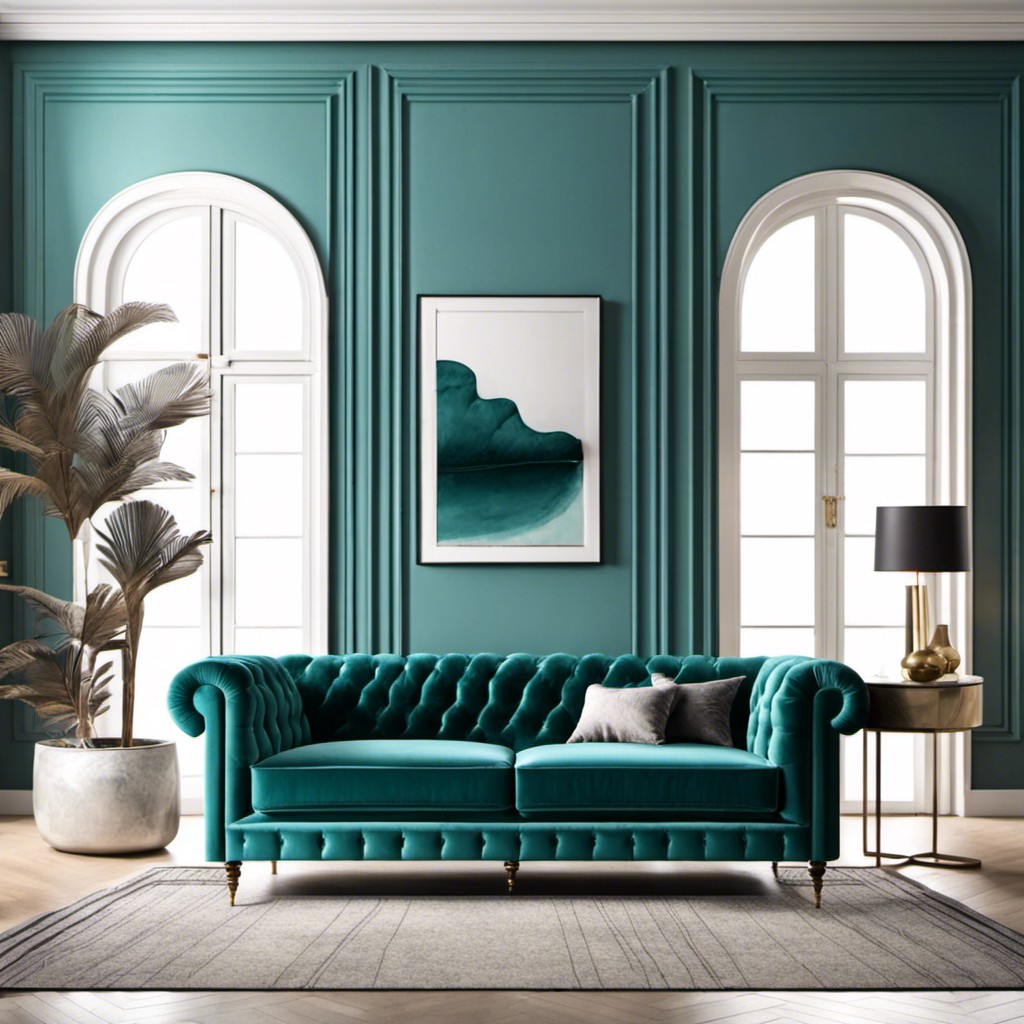 Saturated in luxurious sheen, velvet upholstery enhances the tactile appeal of this furniture. Its tufted construction contributes to an elevated seating experience, offering both comfort and a dose of mid-century glamour.
Velvet has natural depth and richness in color, allowing the teal couch to easily become a statement piece in any room. Combine this sofa with neutral tones or analogous blues for a sophisticated color palette.
Upkeep may involve regular gentle brushing or vacuuming to maintain its plush texture. Moreover, with its soft, buttery feel, spending an evening sprawled on this couch will feel as decadent as it looks.
Mid-century Modern Teal Couch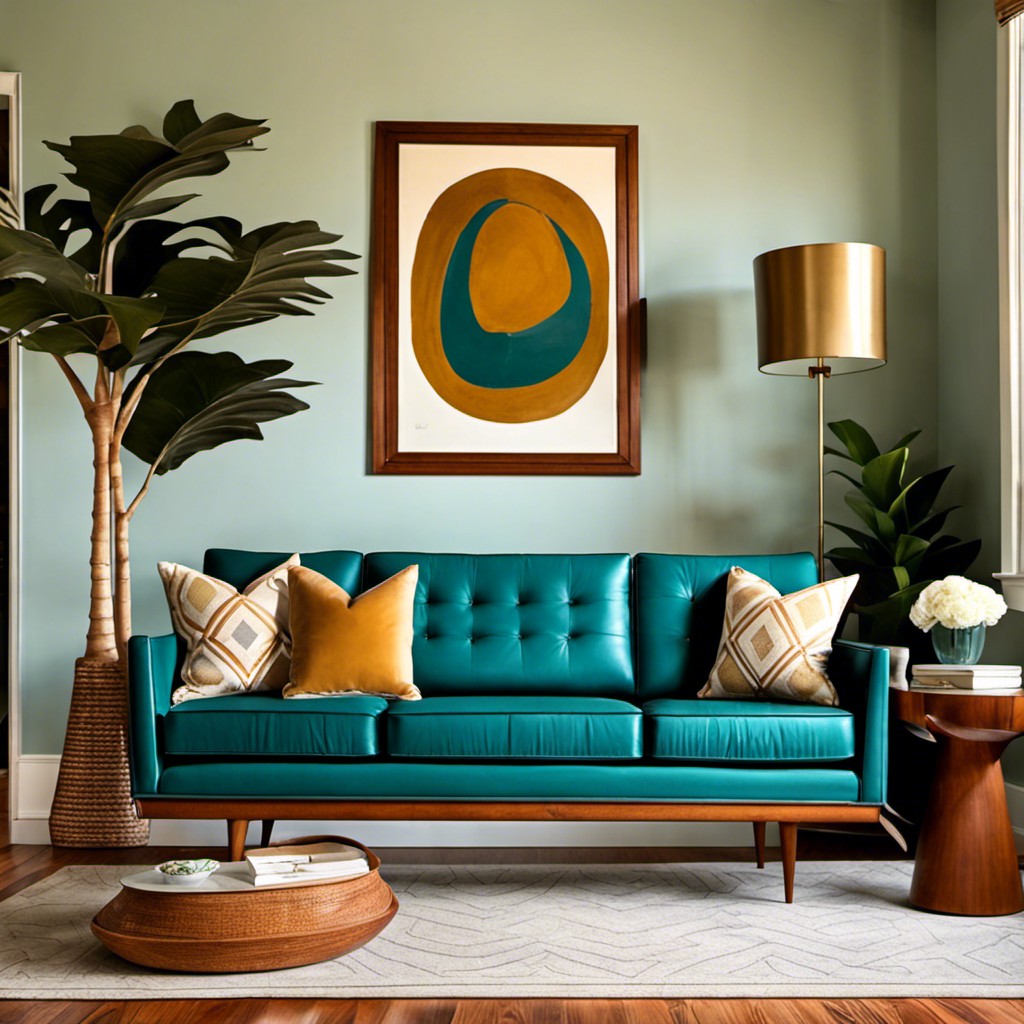 With clean lines and iconic designs, this couch is a true nod to the 1950s and 60s design era. The pairing of teal coloring breathes a fresh, contemporary feel into the vintage aesthetic.
It typically features wood framing, seen in the legs and even the armrests of some models, throwing in an earthy, warm feel. Upholstery varies from textured tweed to smoother fabrics, providing tactile interest.
The streamline silhouette of this couch harmonizes with a range of interiors, including boho-chic, eclectic, or minimalist settings. Each piece becomes a statement within a room, drawing the eye but not overpowering the whole ensemble.
You can pair it with geometric patterns or metallic accents to further enhance its appeal. The goal here is to create an inviting atmosphere where functionality meets style.
Teal Sectional With Chaise Lounge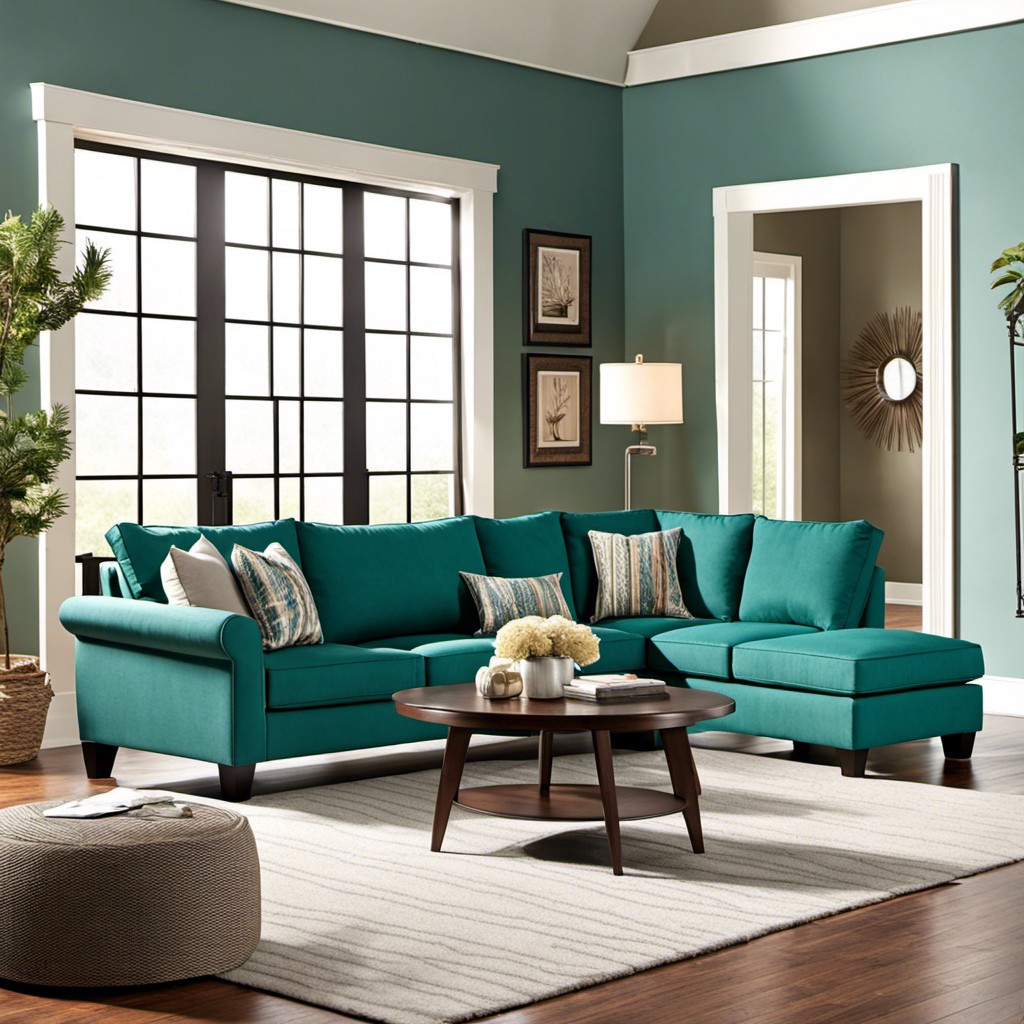 When it comes to maximizing the relaxing potential and comfort level of your space, there's nothing quite like adding a chaise lounge to your sectional setup. The extended seating space allows you to truly unwind, stretch out, and sink in after a long day.
For a burst of color and style, match your teal-tone sectional with neutral hues like whites and creams for a balanced look. Incorporate textured elements like plush rugs and throws to add depth to the overall aesthetic.
If your living area is spacious or open-concept, separating the chaise from the sectional can also create a more dynamic arrangement, offering distinct zones for lounging and socializing.
Bear in mind, some assembly is often required for this larger piece. But, with this plush and versatile addition, the payoff for your comfort and room's aesthetic is truly worth it.
Consider sustainability and durability when purchasing. A sturdy frame and hard-wearing fabric will ensure the seating provides comfort and maintains its vibrant teal shade for years to come.
Vintage-style Chesterfield in Teal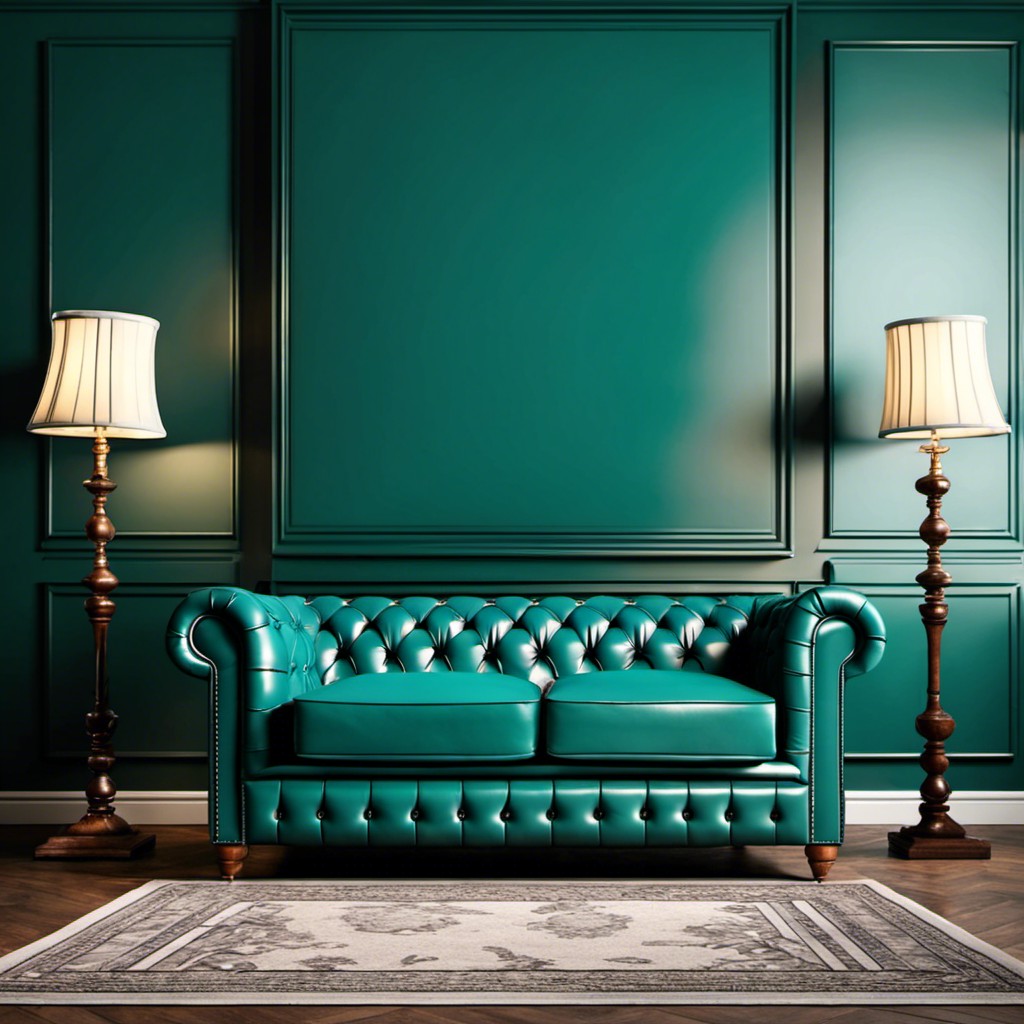 Often used as the centerpiece of a room, this vintage gem oozes sophistication and class. Traditionally upholstered with leather, the teal touch gives it a modern twist while retaining the old-world charm. With its characteristic deep button tufting, scrolled arms, and sturdy wood-turned legs, it enhances the aesthetics of any living space.
Here are some features that make a Chesterfield stand out:
Durability: The sturdy frame ensures longevity.
Classy Look: Button tufting and scrolled arms add visual appeal.
Comfort: The deep seats and high back provide unbeatable comfort.
Flexibility: It can fit into almost any decorating style, from classic to contemporary.
Signature Design: The equal height of the arms and back is a distinctive feature.
For a seamless blend, pair it with a vintage rug and some antique side tables. A few geometric or floral print throw pillows can add a splash of extra color to break the monotonous teal. Benefits aside, keep in mind its larger footprint – make sure it doesn't overcrowd your living space.
Convertible Teal Futon Couch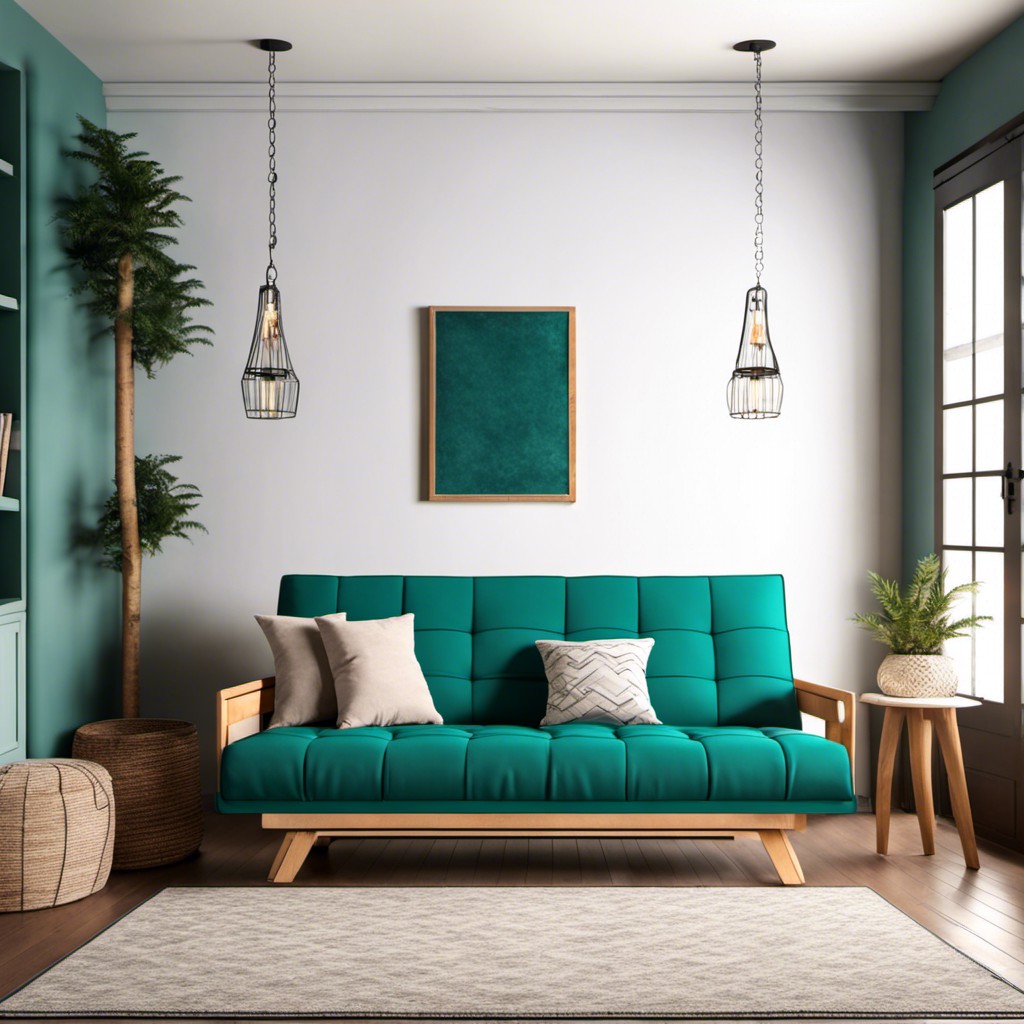 Combining functionality and style, this furniture piece can quickly change from a comfy seat to a guest bed within seconds, making it a perfect choice for small apartments or studios. When it's not used for sleeping, the futon offers a vibrant pop of color to the living area.
A few more things about this couch:
1. Versatility: With a simple folding mechanism, it can serve as both a sofa and a bed, helping you utilize your space more efficiently.
2. Material: It's often upholstered with a sturdy yet soft fabric that's comfortable and can withstand daily wear and tear.
3. Maintenance: Its removable and washable covers can make cleaning a breeze.
4. Interior Style: Its contemporary, sleek design complements a variety of decor styles, from minimalist to bohemian.
5. Accent Colors: Pair it with neutrals or choose high contrast hues like deep oranges, bright yellows, or cool greys to enhance the teal color.
6. Budget-Friendly: Generally, futons are less expensive than traditional sofas, making this option great if you're decorating on a budget.
With these points in mind, the convertible teal futon couch could be an excellent addition to your decor scheme.
Teal Leather Couch With Contrast Stitching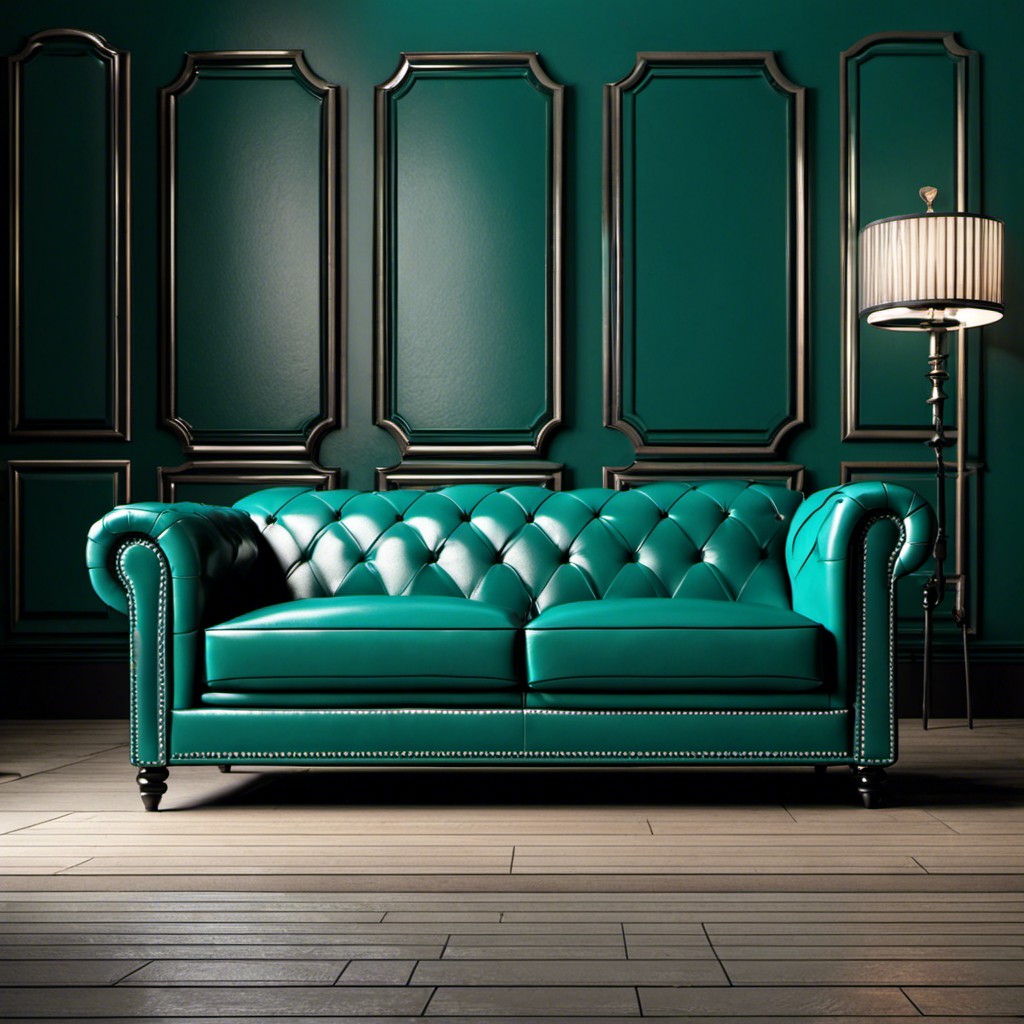 Adding elegance to any room, the contrast stitching on this piece catches the eye. This unique stitching adds texture and depth, making the teal color pop even more.
The vibrant teal leather paired with striking stitchwork provides a sophisticated, modern twist, giving your room an exclusive look. Besides enhancing appeal, contrast stitching also emphasizes the fine craftsmanship and superior quality of the couch.
It's not just about style; a leather couch offers practical benefits too. Leather is a highly durable material, resilient to scratches and spills, making it perfect for homes with pets or children.
In terms of comfort, leather contours to your body's shape over time for a personalized fit, making a leather couch an investment in long-term luxury and comfort. Just imagine sinking into this couch after a long day, the cool feel of the leather against your skin, as you marvel at the fine contrasting stitches under soft lighting.
Teal Couch With Patterned Throw Pillows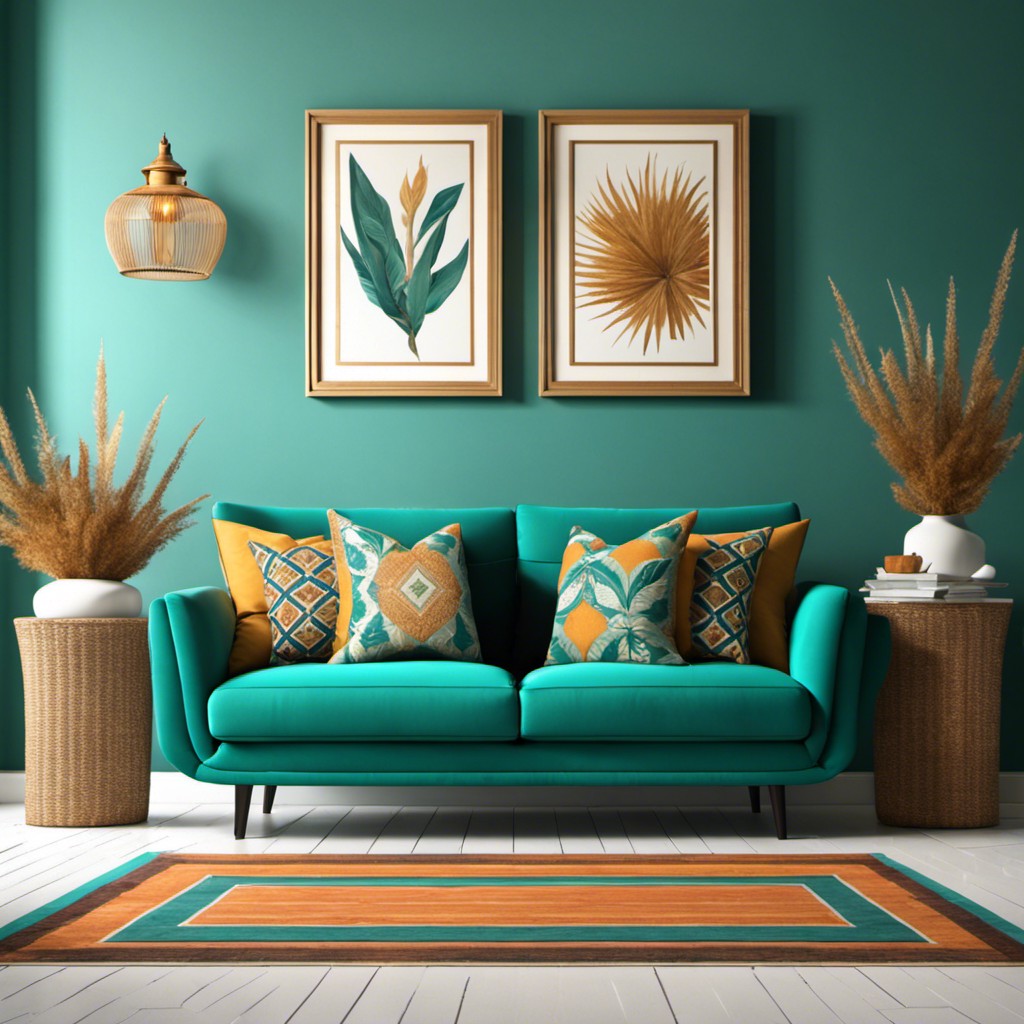 To enhance the visual appeal of your sofa, consider the use of patterned throw pillows. These can introduce additional colors, tie in the room's existing decor scheme, or simply add a touch of whimsy.
Striped, floral, geometric, or abstract patterns can offer a vibrant contrast against the teal backdrop. Opting for diverse shapes and sizes of pillows can provide texture and depth.
A few large square pillows combined with smaller rectangular ones ensure a well-balanced look. Removable covers enable alterations with seasons or mood swings. Pillows made of luxurious fabrics like silk, velvet, or faux fur can amp up the glamour factor.
Mix and match, but remember – less is often more. Avoid cluttering the couch; allow some breathing space.
Teal Loveseat for Small Spaces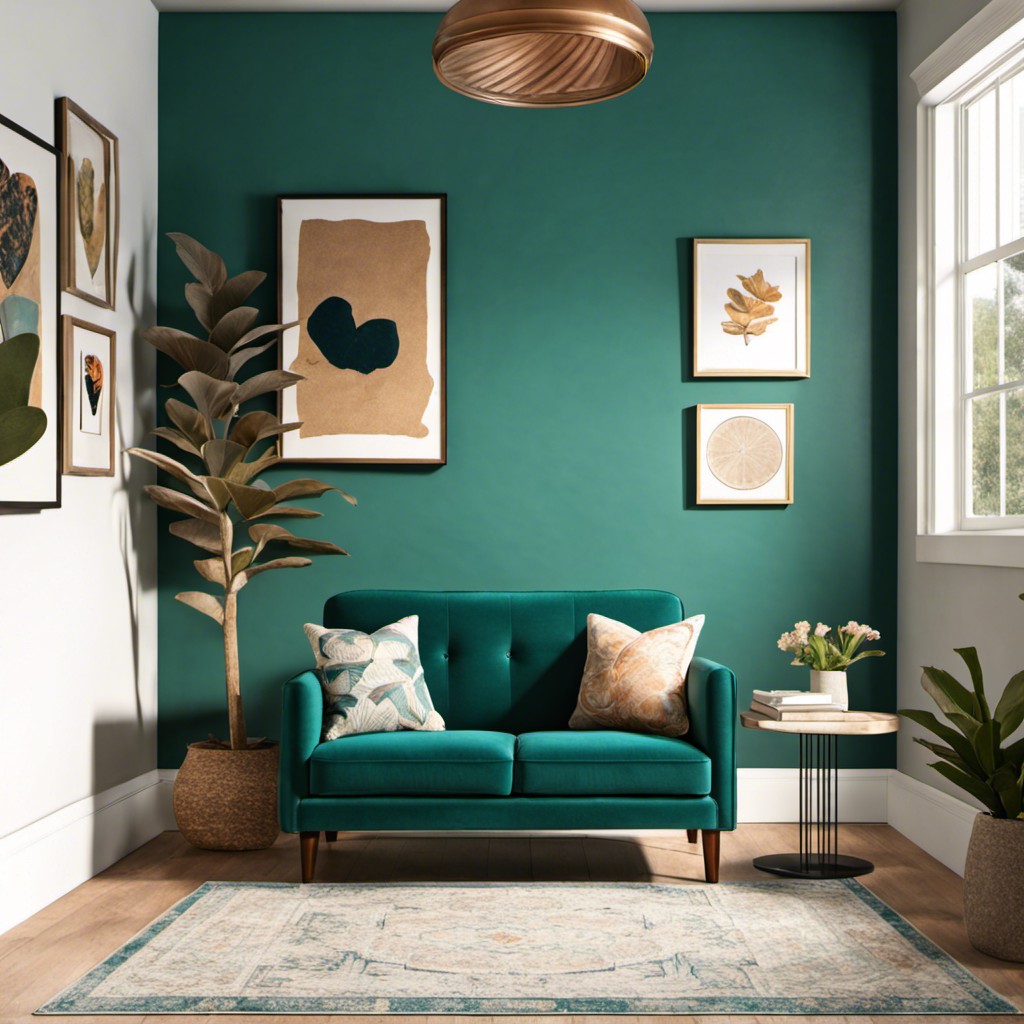 Optimizing a small space doesn't mean you have to sacrifice style or comfort. The compact size of a loveseat, combined with the rich hue of teal, makes a striking statement piece.
Despite its smaller footprint, a loveseat can comfortably seat two people, making it perfect for a cozy living space, intimate den, or even a bedroom corner.
Paired with light-colored cushions or throws, it can become an inviting space for relaxation or conversation.
Moreover, being in a color family that encapsulates both the calmness of blues and the invigoration of greens, a teal loveseat infuses your small space with both peace and energy, leading to an atmosphere full of life and character.
Teal and Gold Trimmed Couch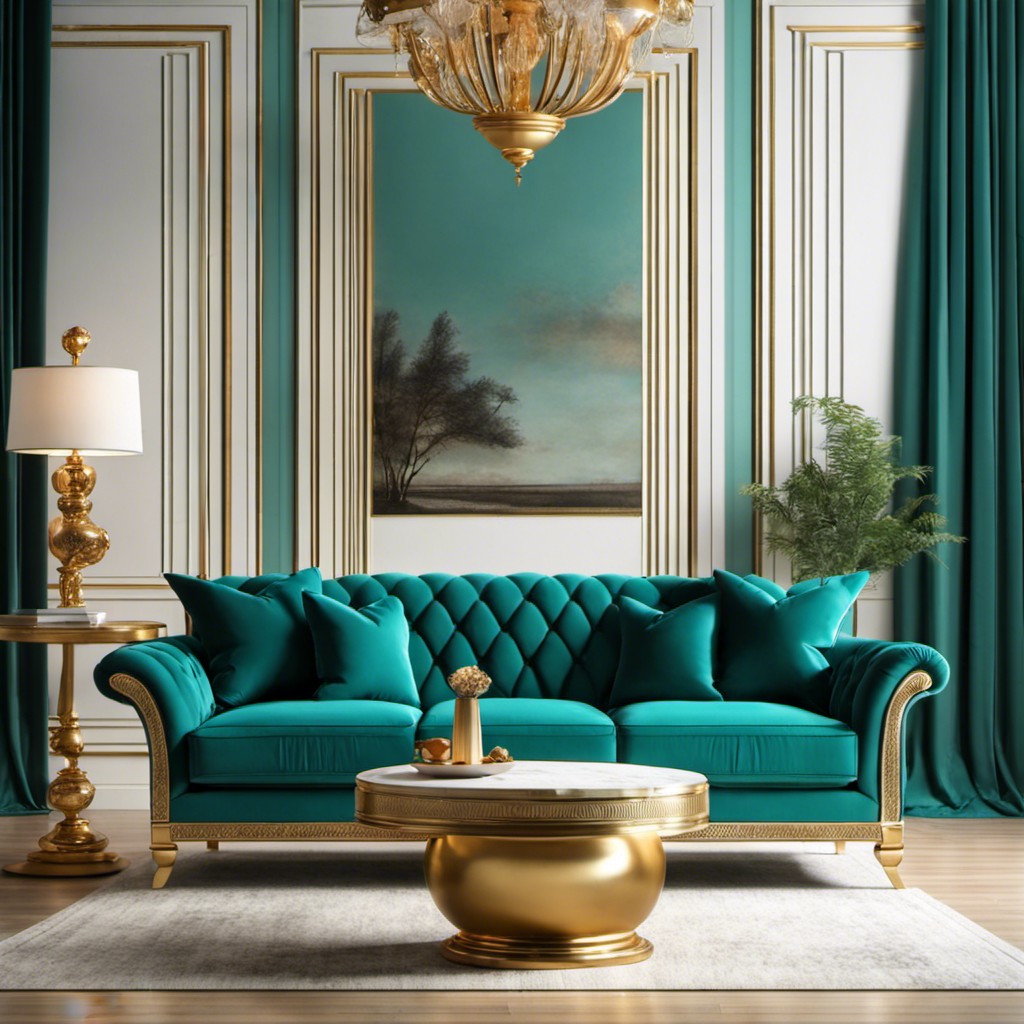 Pairing a beautiful gold trim with teal upholstery introduces a touch of lavishness without seeming garish. The gold trim serves as a distinct border, highlighting the stunning teal and adding a sense of richness and depth. It's a unique design choice that effortlessly marries classic and contemporary tastes.
Gold accentuates the luxurious feel of the couch, subtly enhancing its elegance.
The bold color balance makes a stylish statement, instantly elevating any living space.
The gold trim can either have a bright, polished effect or a more aged, vintage expression, depending on your preference.
This enduring style is flexible enough to blend with various decors, from modern minimalist to boho or even vintage themes.
High-quality teal fabric, like velvet or chenille, complements the gold trimming, enhancing comfort without compromising aesthetic appeal.
Consider adding gold-accented decor pieces in the room for a cohesive look. Don't go overboard; less is more.
Remember, the couch is often a room's central focus point. Therefore, a teal and gold trimmed couch is more than just seating – it's a visual delight, a conversation starter and star of your decor.
Teal Sofa With Mid-century Wooden Legs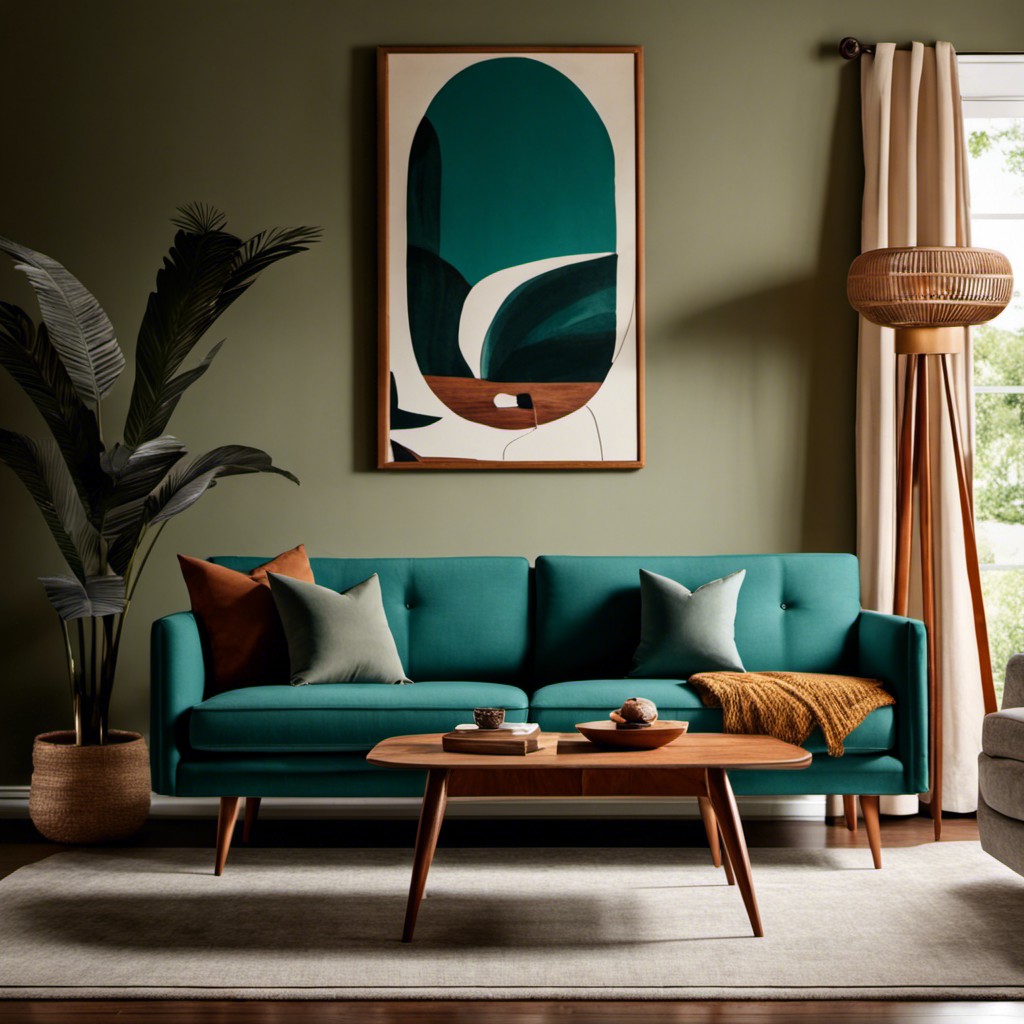 Nestled comfortably between vintage appeal and modern aesthetics, this style is an ultimate showstopper in home décor. It marries the vivacious hue of teal with the timeless finish of wooden legs, reminiscent of mid-century design.
Some key highlights of this stylish piece include:
Iconic Design: The mid-century wooden legs add vintage charm, enhancing the elegant appeal of the teal.
Versatility: Whether you've adopted Scandinavian minimalism or rustic coziness, this sofa fits seamlessly in an array of interiors.
Quality: Typically constructed with high-quality fabrics and solid wood, these couches are as durable as they are beautiful.
Comfort: With plush cushions and a balanced design, they offer superior comfort for lounging or entertaining.
Easy Maintenance: The hard-wearing fabric can be spot cleaned or vacuumed, ensuring your couch stays as impressive as the day you bought it.
Tufted Teal Couch With Nailhead Trim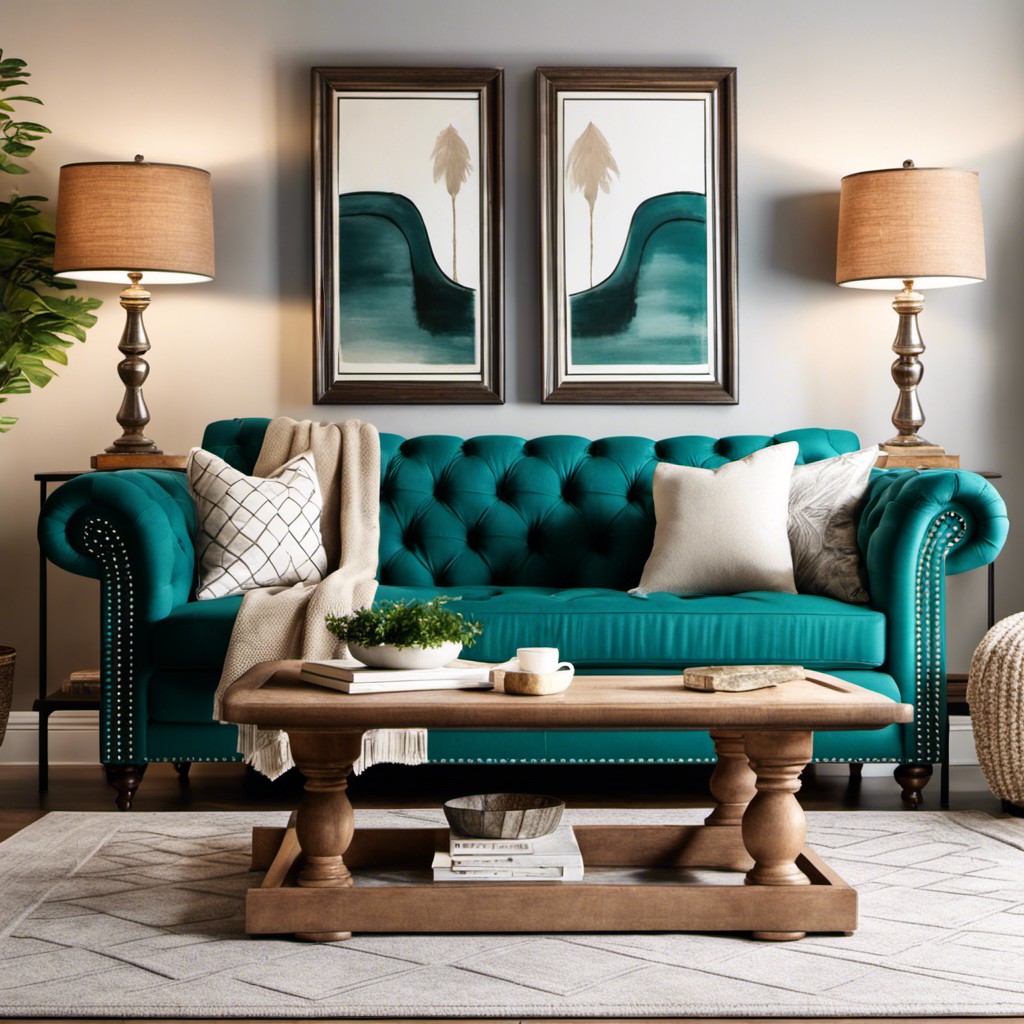 A classically styled option, the tufted design adds a rich texture and depth to the sofa's overall look, while the nailhead trim gives a nod to tradition, enhancing the elegance and sophistication of the piece. The turquoise color adds a modern twist to this otherwise traditional design.
Here are a few points to consider:
1. Texture: A tufted couch instantly adds an interesting element in terms of texture. It's visually appealing and can become a focal point in your living room.
2. Elegance: The nailhead trim provides a classic touch. Often made of metal, these small, nail-like objects are added around the edges of furniture as upscale decorative features.
3. Color Impact: While the design is traditional, choosing a teal color makes it modern and daring. This vibrant shade can brighten up your living room and create a refreshing, eye-catching look.
4. Versatility: This couch style works well with various decor themes. It can fit into both a vintage-style living room and a contemporary one with equal ease.
5. Comfort: Alongside its aesthetic appeal, a tufted couch offers a comfortable place to relax. The dense foam padding used in tufting couches makes them a preferred choice for comfort seekers.
6. Maintenance: Keep in mind, maintaining a tufted couch could demand more effort as dust and crumbs may accumulate in the crevices. Regular vacuuming is recommended.
Remember to base your decision on the needs of your space and personal preferences.
Teal Outdoor Patio Sofa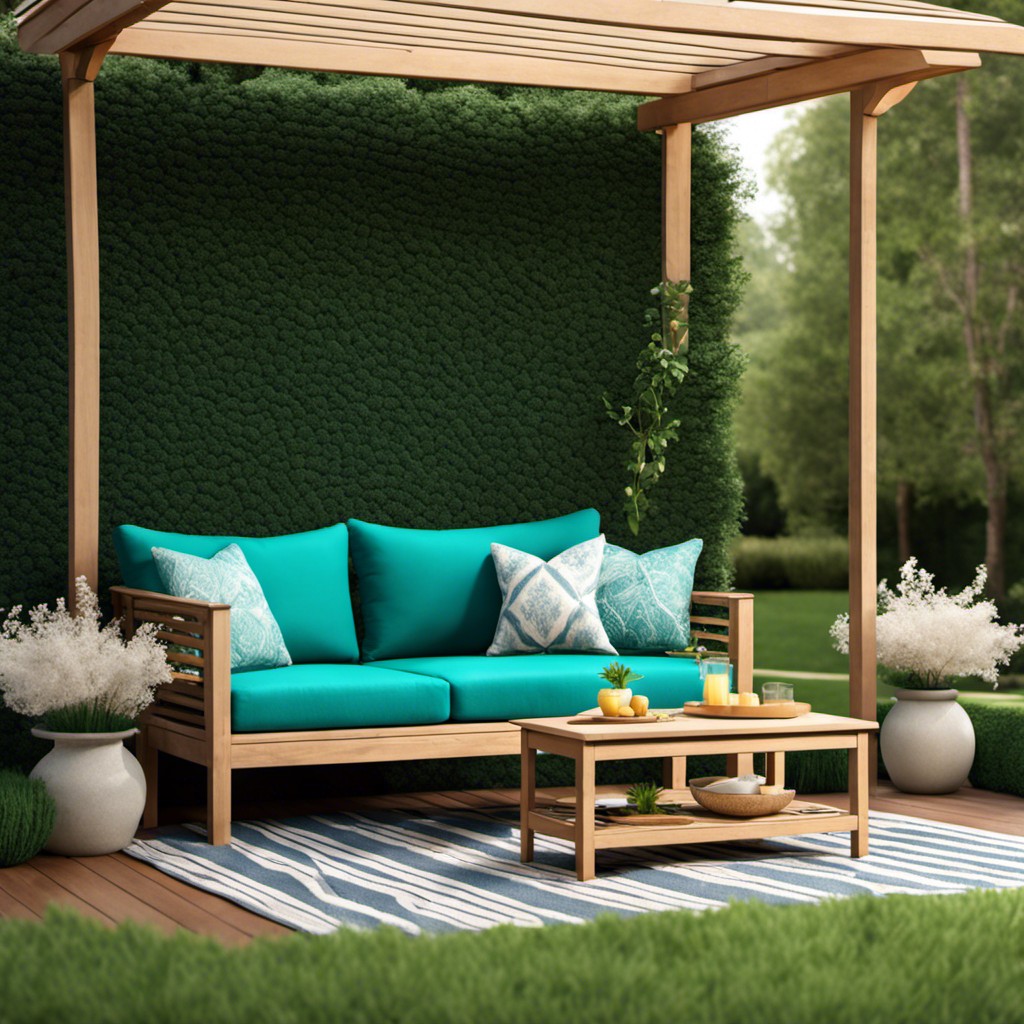 Embracing a teal outdoor patio sofa seamlessly blends the calming influence of this color with your love for the outdoors. It's a unique piece where the color itself sets a relaxing and soothing ambiance. Especially under the natural sunlight, the teal hue shines beautifully, creating a visually pleasing focal point.
Think of matching it with cream colored cushions or throws, neutral-colored umbrella, and wooden or wicker accents for a chic, beach-like setup. Natural earth tones such as tans and browns also work surprisingly well with teal, creating an inviting and balanced look. Opt for durable, easy-to-clean, and water-resistant fabrics to ensure long-lasting use and maintain the sofa's vibrant color.
To make the space more lively, surrounding it with potted plants can offer a sense of tranquility. Consider peppering your outdoor patio with contemporary lanterns or string lights for cozy evenings. Remember, every element doesn't need to compete with the stunning teal – let the sofa be the star of your outdoor setting.
Teal Chesterfield Sofa With Button Details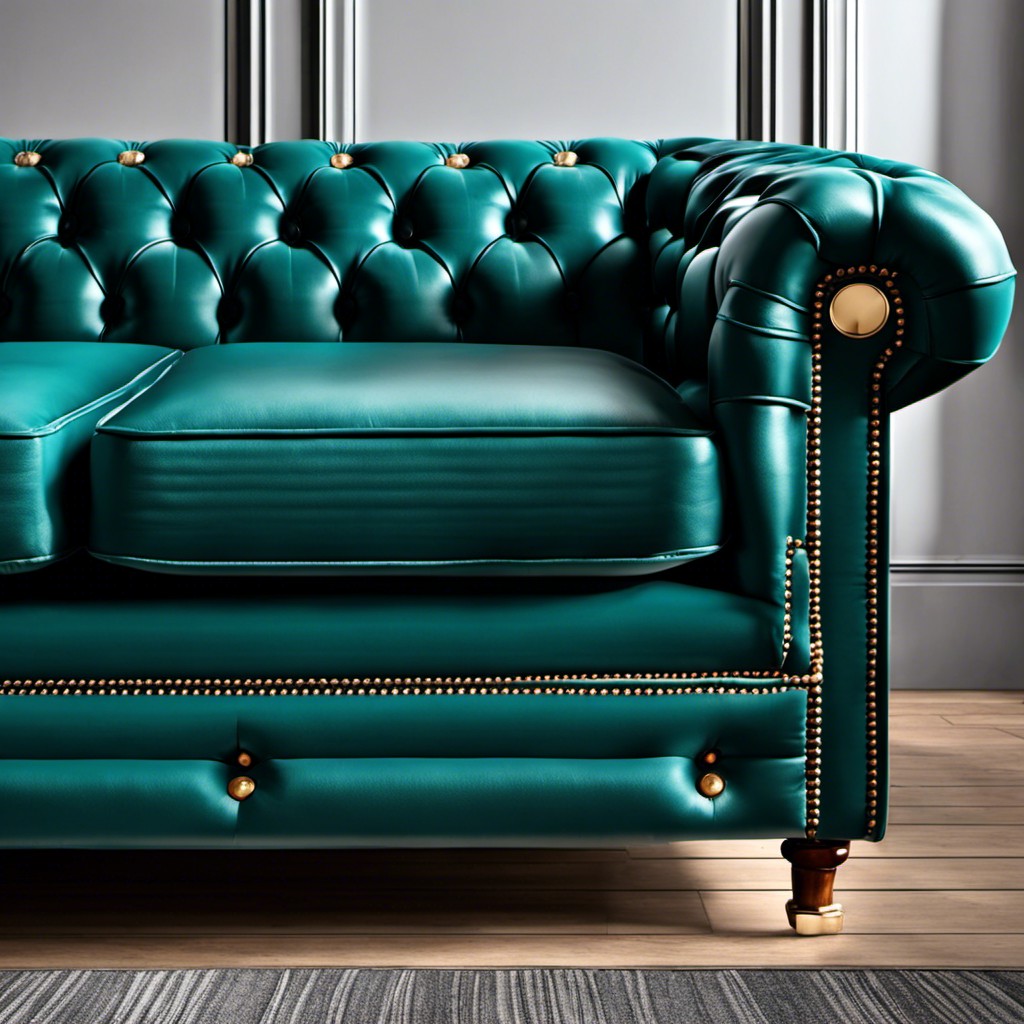 Upping the charm factor, button detailing lends a bespoke look to any teal Chesterfield sofa. These enhancements not only bring a visual interest but also ensure a well-tufted, comfortable seating experience. Accentuating this classic touch with a modern color like teal can evoke an interesting mingling of the old with the new.
Here are a few key points:
1. Button details provide a quilted surface: Elevates the tactile feel of the couch and adds a dash of chic elegance.
2. Creates visual interest: The buttoning pattern can be varied to customize the aesthetics of the sofa. This personal touch differentiates each piece from its counterparts.
3. Enhances comfort: Buttons ensure the couch maintains its form by securing upholstery in place, resulting in improved durability and comfort over time.
4. Juxtaposition of old and new: Teal, a relatively modern color choice, in combination with vintage-inspired Chesterfield design, offers an intriguing blend of styles ideal for eclectic décor.
5. Increases perceived value: Button detailing typically signals a higher level of craftsmanship, which contributes to the perceived luxury of the piece.
Teal Scandinavian-style Sofa
Scandinavian-style sofas are celebrated for their minimalist appeal and comfort-driven designs. Polished, clean lines and a "less is more" mindset characterize these furnishings.
When a teal palette is introduced, the otherwise neutral and muted Scandinavian aesthetic is elevated with a pop of vibrant, refreshing color.
The defining characteristics of this sofa design include:
Simplicity: The priority is functionality without sacrificing aesthetic balance.
Comfort: Despite the minimalist look, these sofas prioritize comfort with plush cushions and ergonomic designs.
Materials: Natural materials like wood are often used, contrasting beautifully with the vibrant teal upholstery.
Color: The standout teal color adds an inviting warmth to the otherwise muted Scandinavian palette.
Size: Typically, these sofas are compact, making them suitable for any living space size.
Versatility: Even though they have a distinctive style, they can mesh well with other décor influences. Thus offering great flexibility in adornments.
Using the teal Scandinavian-style sofa as your living room centerpiece creates a relaxing yet stylish atmosphere, effortlessly marrying style with comfort and functionality.
Teal Microfiber Reclining Sofa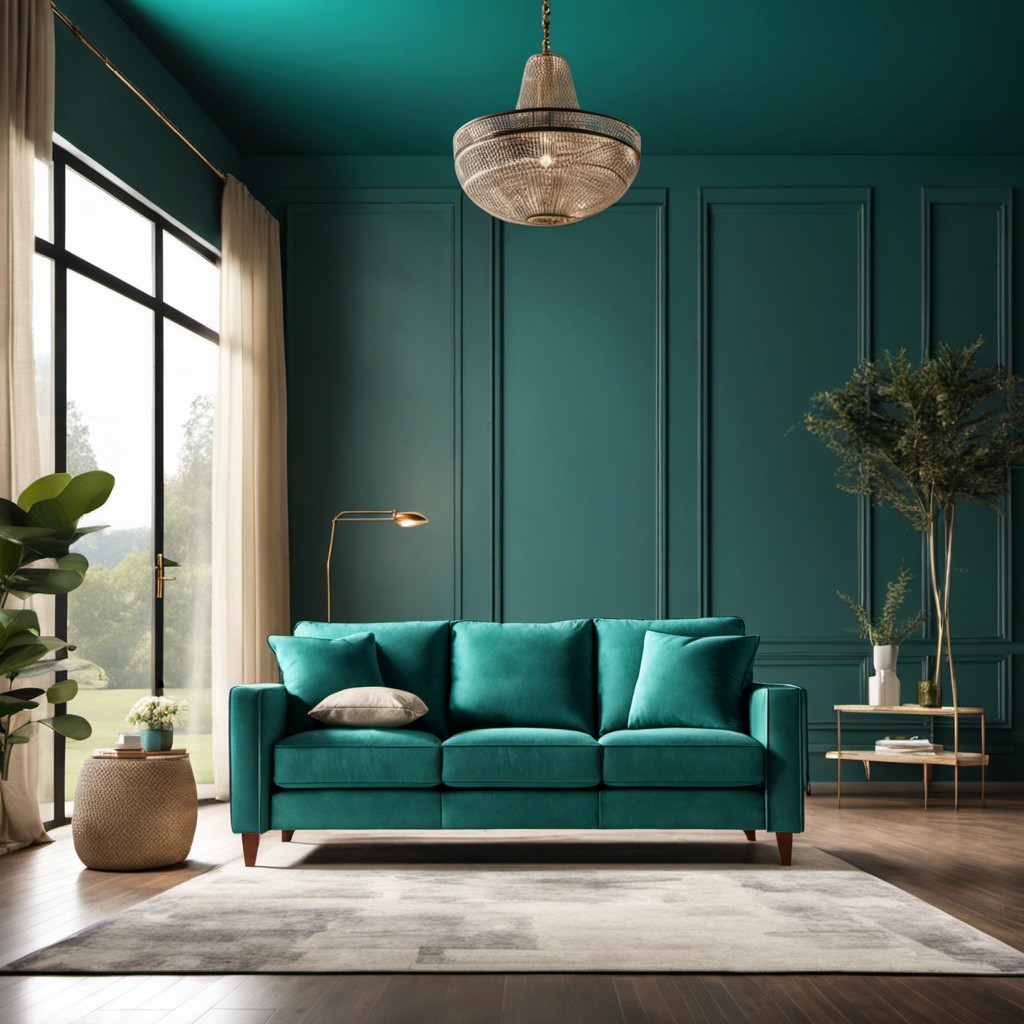 Designed for luxurious comfort, these sofas exude understated elegance. The microfiber upholstery provides a velvety soft touch and is remarkably durable, making it an excellent choice for homes with kids or pets.
Not only does the teal color bring a vibrant pop to any living room, but it's also versatile enough to complement various decor styles, be it modern, coastal, or eclectic.
The real charm lies in its reclining feature. With just a swift motion, you can kick back and relax, making it perfect for binge-watching favorite shows, reading a book, or simply unwinding after a long day.
Moreover, these sofas often come with cozy armrests, plush backrests, and generously padded seats that elevate the comfort factor even more. Some models may even include built-in cup holders and storage compartments for the ultimate convenience.
Cleaning and maintenance are rather straightforward. Regular vacuuming with a soft-bristled attachment or a gentle wipe down with a slightly damp cloth will help maintain its freshness.
Remember, placing it strategically can greatly enhance your space. Against a contrasting accent wall or in front of a large window can be game-changers. Matching throw pillows or blankets would add a cozy touch, providing additional decor opportunities.
In essence, a teal microfiber reclining sofa is not just a furniture piece—it's the comfort zone every home deserves!
Teal Sleeper Sofa for Guest Room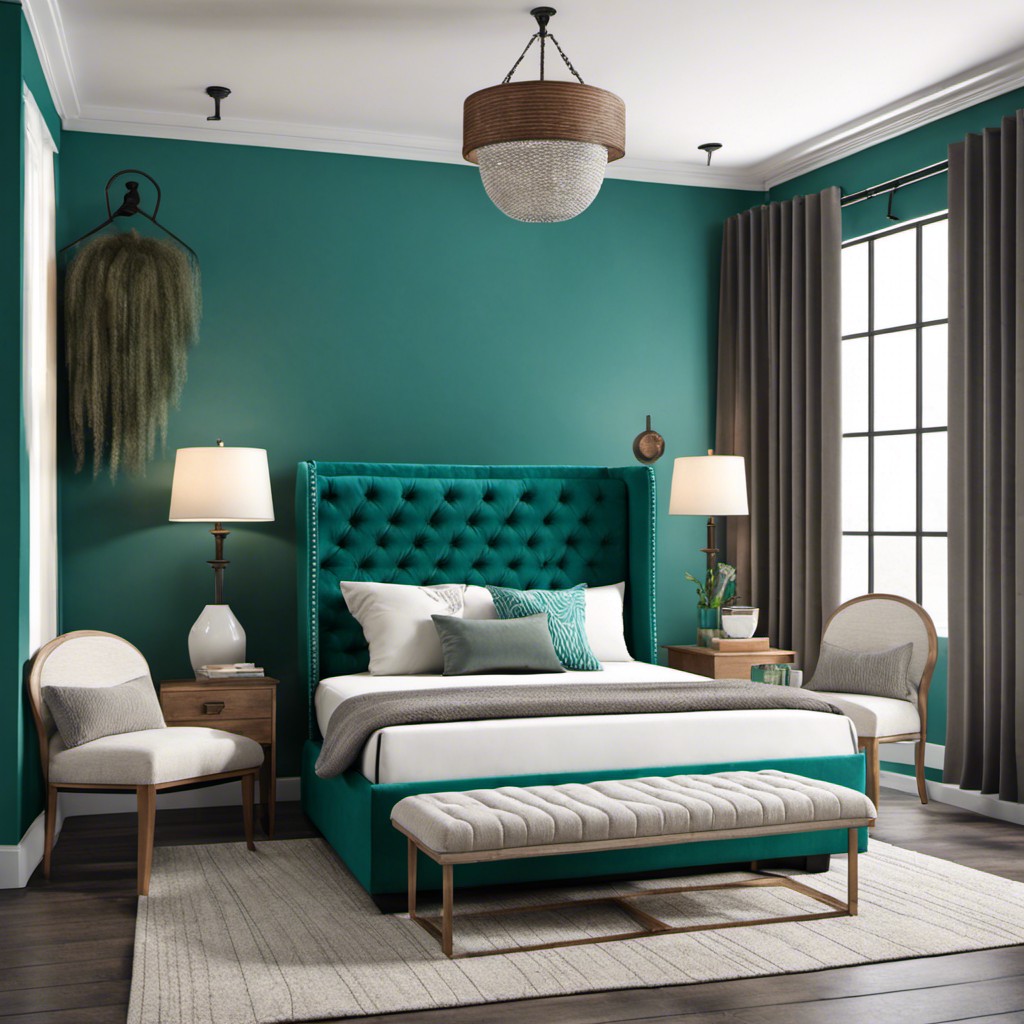 The blend of functionality and aesthetics makes Teal-colored sleeper sofas an excellent choice for guest rooms. Revolutionary in their design, they offer comfort during the day and convert into a comfortable bed at night, maximizing your space usage.
Consider these points to seamlessly incorporate it into your decor.
Ensuring Comfort: Choose a model with a high-quality mattress and sturdy frame to provide your guests with a good night's sleep.
Material Matters: Teal sleeper sofas come in various materials. Opt for a durable one like leather or microfiber that can withstand frequent conversions.
Size Fits All: Measure your room prior to make sure the sofa – both in couch and bed form – fits effortlessly.
Style Blend: A Contemporary or Mid-Century Modern style might blend well with most decors and keep the look chic.
Functionality: Look for easy-to-use mechanisms for the fold-out bed to ensure convenience.
When purchasing a teal sleeper sofa, factors like purpose, durability, size, style, and ease of use matter just as much as color. It's a perfect means to enhance the beauty of your guest room while providing extra sleeping space.
Teal Modular Couch Design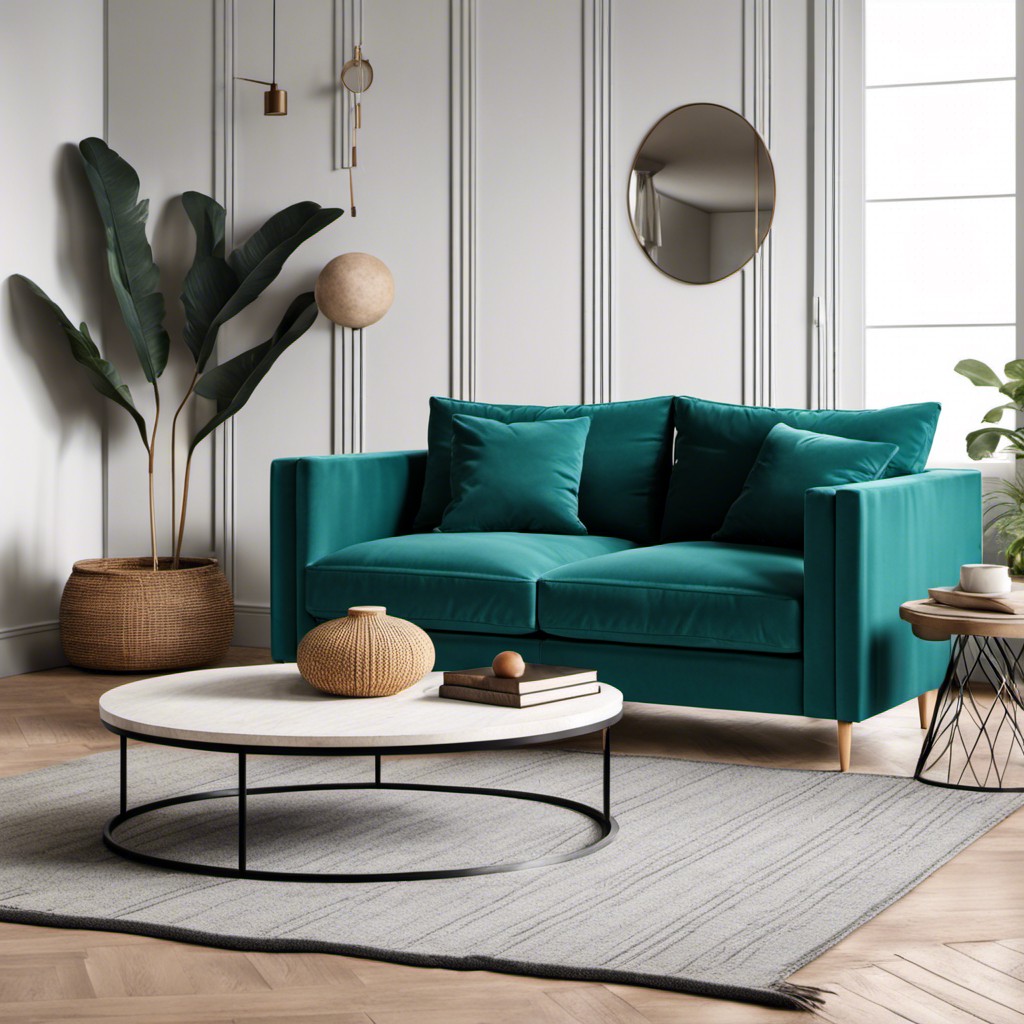 Advantages of modular sofas are their flexibility and customization options. With pieces that you can rearrange or add, they're ideal for large, open-space living rooms. In the striking shade of teal, they bring liveliness and visual appeal.
Key points to consider:
Flexibility: Modify your layout as needed. Perfect when you have guests or seek to change your room's dynamics.
Expansion: Add more modules when required, highly beneficial if you're planning to move to a larger space.
Varieties: Great range of styles to choose from, including sectionals, corner sofas, and chaise ends.
Duplex use: Ideal for loft, where upstairs can be used for sleeping and downstairs for relaxation.
Color Impact: Teal being a vibrant shade often becomes the room's focal point, reducing need for other major decor elements.
Ensure to keep the fabric and style consistent when adding modules, hence maintaining seamless aesthetic appeal. Always consider the overall room design before choosing the modules structure.
Teal Couch With Bold Floral Prints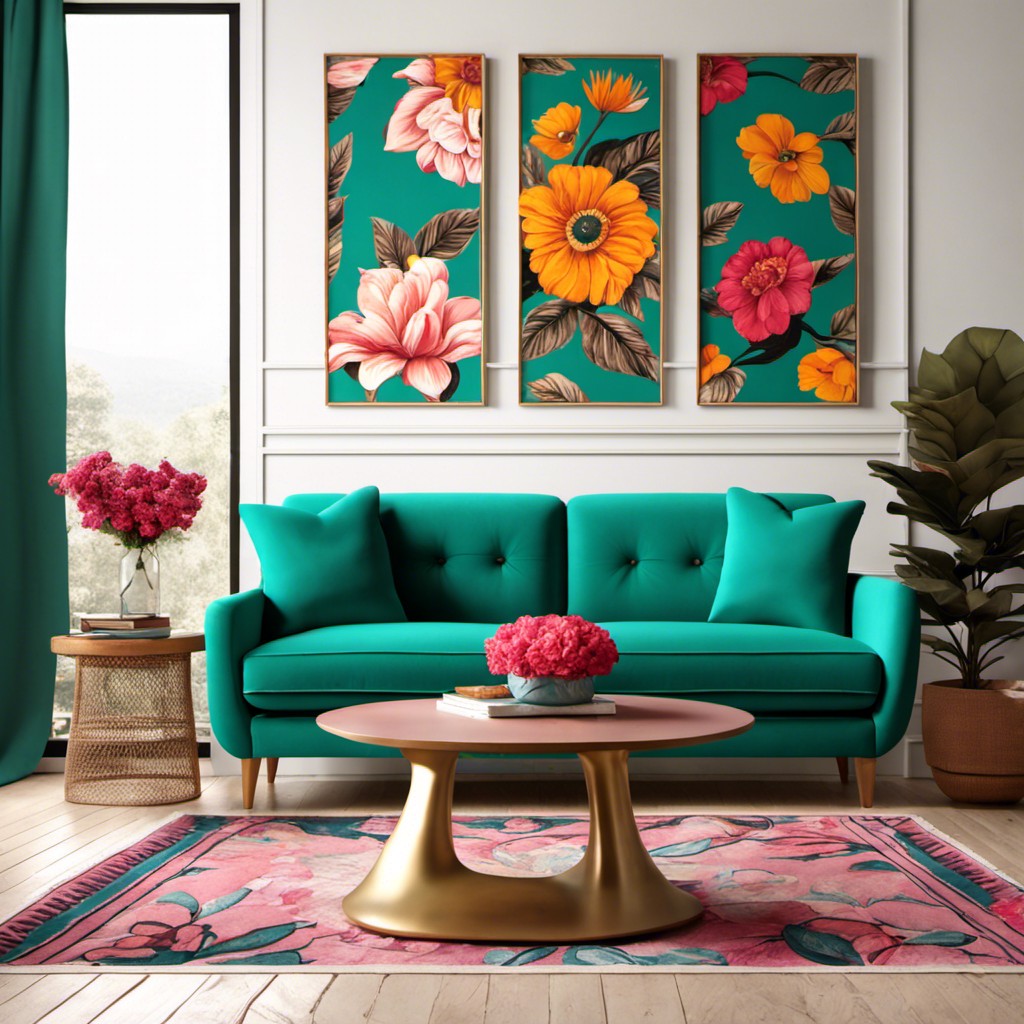 Floral prints hold a classic charm and add a distinct aesthetic flair. They invite prospective home decorators to experiment with their unique color palettes and motif patterns.
When combined with the soothing teal couch, this design can create a harmonious synergy. These prints can range from oversized, lush blooms to minimal, subtle patterns.
Note that a busier pattern means keeping the rest of the room's decor simpler to achieve balance. A blend of solid-colored pillows with mellow shades offers a beautiful contrast, preventing the setting from overwhelming the eyes.
Soft furnishings and natural materials around the couch serve to accentuate its unparalleled elegance, lending a vibrant, yet calm elegance to your living area.
For maintenance, a slipcover solution could be ideal so it can be cleaned or replaced easily, ensuring your couch always looks fresh and appealing.
Teal Eco-friendly Sustainable Sofa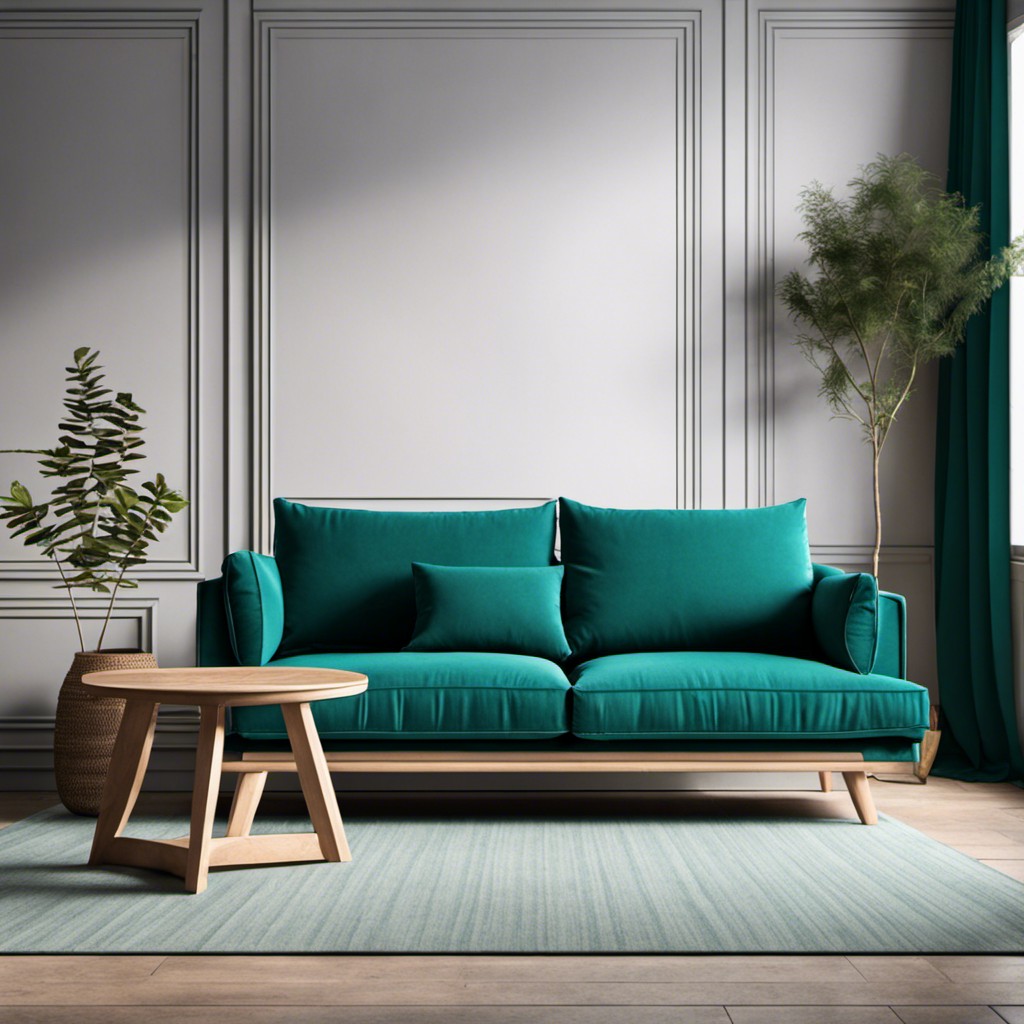 When considering an eco-friendly sustainable option, several aspects come into play. This includes the materials used, the manufacturing process, and even the distance the sofa has to travel before it arrives in your living room.
The fillings and fabrics should ideally be organic or recycled – think certified sustainable hardwood, recycled metal springs, and natural latex. Importantly, the dyes used in the vibrant teal color should be water-based to ensure minimal chemical involvement.
Look out for brands that offset their carbon footprint, too. This kind of attention to detail contributes not only to a visually pleasing interior but also to a conscious and eco-friendly lifestyle.
Be mindful that pricing may vary due to the sustainable elements.
Teal Couch With Matching Ottoman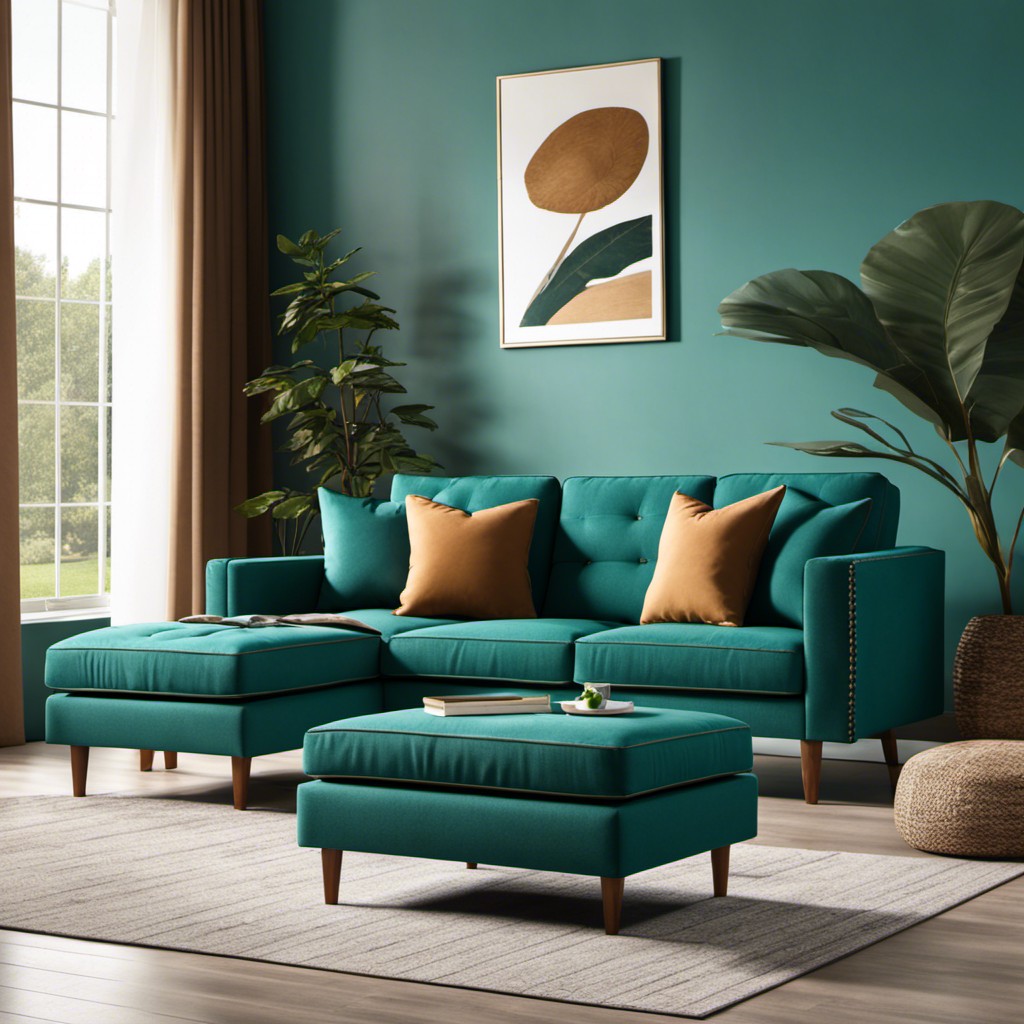 Intricately designed, a teal couch and matching ottoman combo adds both functional and aesthetic value to a space. The pair offers numerous advantages in home decor:
1. Versatility: Ottomans provide additional seating or a comfy leg rest. It can also be used as a coffee table or storage unit.
2. Cohesion: The matching colors tie the room's design together, creating a harmonious visual flow.
3. Comfort: Having an ottoman makes lounging and relaxation more comfortable, perfect for movie nights or reading sessions.
4. Space Optimization: The mix is great for small spaces, combining seating and storage into two sleek pieces.
5. Personalization: Fun patterned or textured ottomans add a unique flair.
So, let this lovely duo uplift the charm of your living room by adopting a mix of functionality and style.
Continue reading: