Last updated on September 5, 2021
There are many different types of recliners but we can narrow down the list to the main six variations. Here's all you need to know.
Your home is a nice retreat after a hard day's work. And working a nine-to-five can also take its toll on our bodies, especially our backs. In fact, experts say that around 80 percent of the world's population will be diagnosed with either severe or minor spine problems at one point in their lives. And this is why more and more homeowners are investing in recliners to assuage their back pains.
However, there is more than one recliner type and you must choose the right recliner that caters to your needs. It's no surprise how recliners provide overall comfort. But aside from the comfort, each recliner type also brings a myriad of features and benefits.
So if you're still in a pickle on what recliner to buy for your living room, read our guide on the different types of recliners and why buying one is a smart decision.
Here are six types of recliners fit for any space:
What's Inside
Two Position
A two-position recliner means it offers only two positions. One is the upright position and the other one is the fully reclined position. Users utilize a lever to raise the front and recline the rear. This type of chair recline is one of the most common ones and this type of recliner is also one of the cheapest. Unfortunately, if you have a small space, a two-position recliner might not be the smartest choice. Because it can be fully reclined, it mustn't be displayed against the wall.
Rocker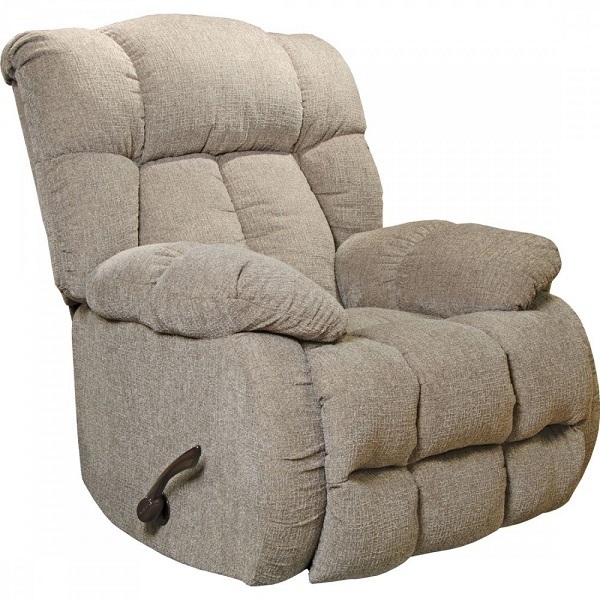 Rocker recliners are similar to two-position recliners. The only difference is that even though you raise the footrest, the rear can either stay upright or fully recline, depending on what angle you want. The rocker recliner is also a much more space-saving option than the two position recliner. Plus, these types also come with a rhythmic motion that can rock you softly to make you feel more relaxed.
Riser/Lift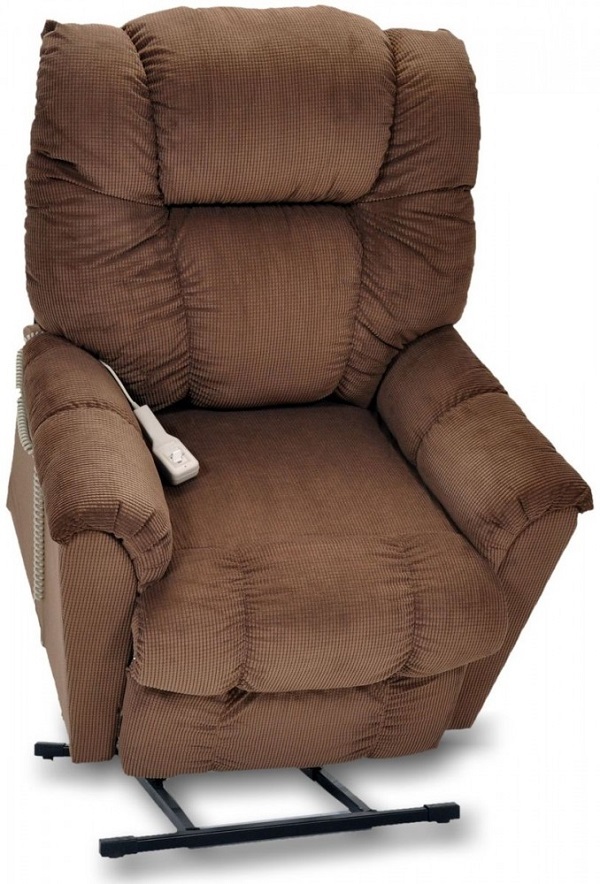 The riser recliner or lift chairs are built for people with knee, spine, or leg injuries. It has a mechanism that lifts the seat up so users don't have to exert too much effort in standing from the chair. This type usually comes with a single-motor or dual-motor. The former means one motor controls the rear and chair lift, the latter means two motors are in control of both the footrest and back.
Push Back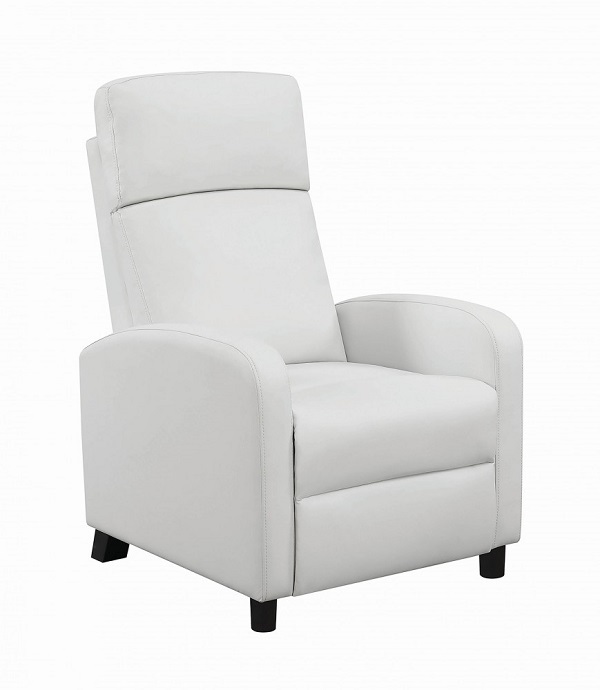 As the name suggests, this recliner means you have to push the back of the chair to recline. It doesn't have a footrest, so you might need an ottoman as a footstool. The push back chair or otherwise known as "flex-back" recliner is also a space-saving option because it's compact and relatively smaller than the others mentioned.
Wall Hugger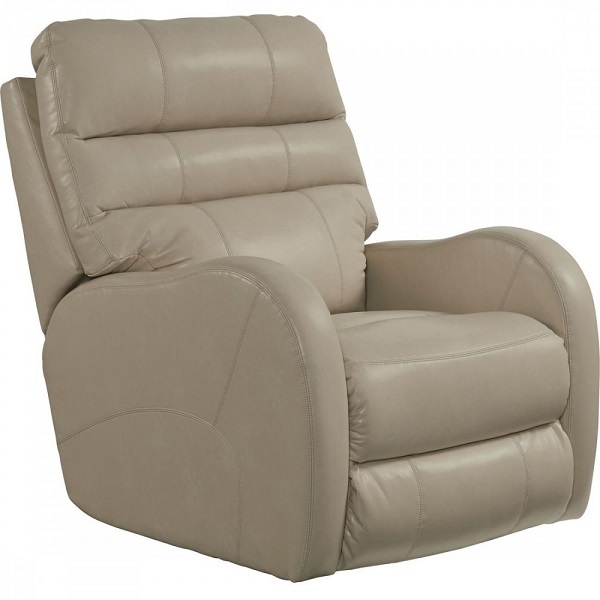 The wall hugger recliners can be positioned against the wall and can still be completely reclined. How? Through its unique forward-gliding mechanism. Instead of the rear tilting, the chair itself moves forward, which means it's reclining away from the wall. This type is excellent in a small living room.
Massage Recliner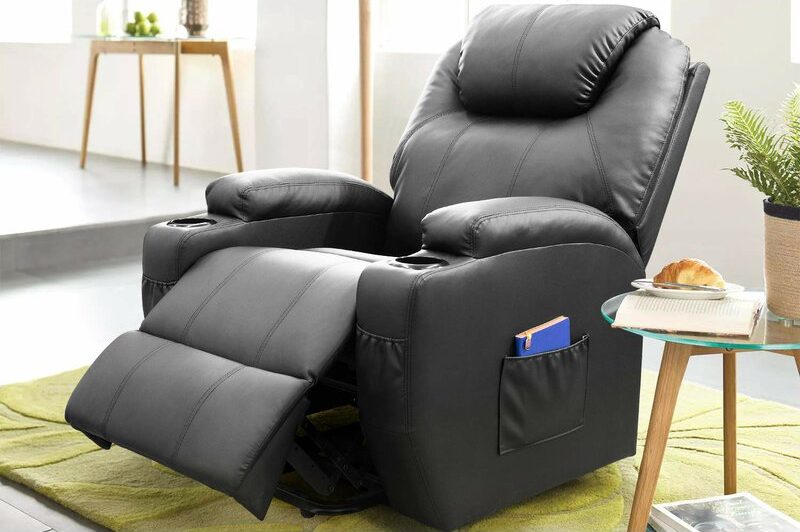 Massage recliners are built for comfort and health. It typically has vibrating and heating mechanisms that enable you to relax with ease and comfort. The mechanism will activate from the footrest, backrest, armrest, and seat. The massage chair is perfect for alleviating pressure, stress, and anxiety. Plus, it also improves blood circulation. Although this recliner is relatively more expensive than the others, it's also one of the most comfortable ones.
Benefits of Reclining Chairs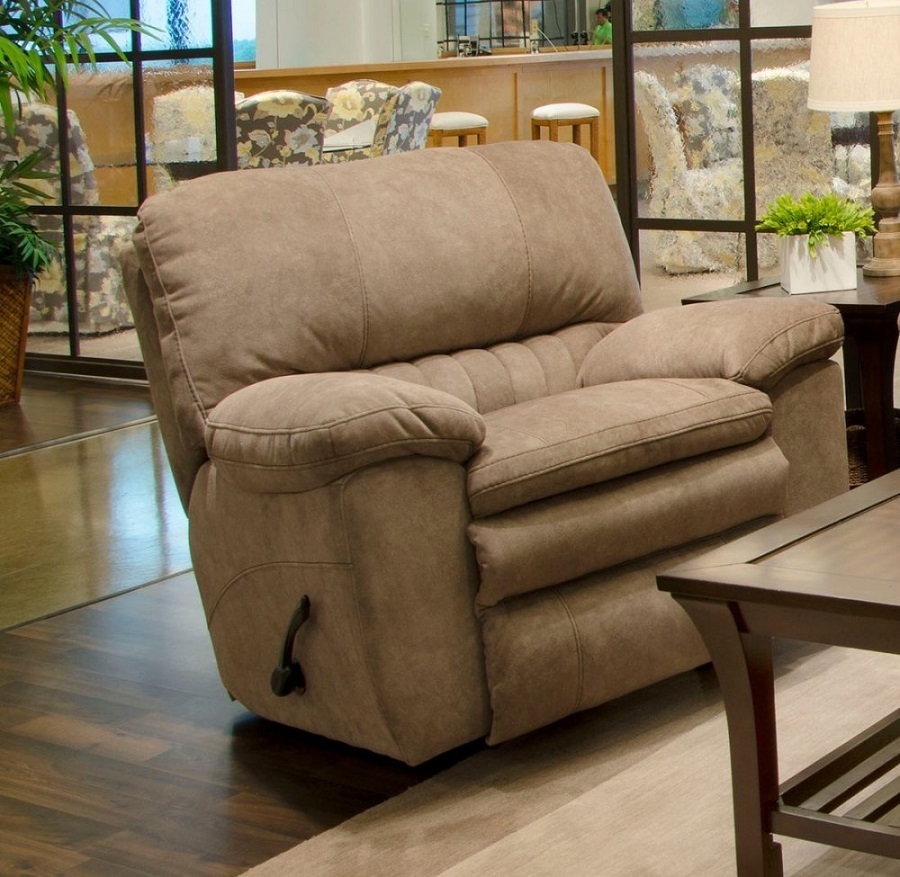 A recliner, or also known as a sofa or armchair that reclines is one of the most comfortable chairs around. It is also called the reclining armchair, lounger, or simply reclining chair. It mostly works when the user lowers the rear of the chair and elevates the front.
The backs of a recliner chair can also be tilted depending on the angle the user prefers. Some recliners may have modern features such as lumbar support, dedicated footstool, adjustable headrest, and more. All these features only offer maximum comfort for the users. In fact, some recliners can be used for sleeping through a feature that has a supine position, one where the user can similarly enjoy from a bed.
Overall, having a recliner in your living room gives you these five irresistible benefits:
Extreme Comfort
Without a doubt, recliners offer much more comfort than ordinary chairs. Other types of chairs are rigid even though they have plush cushions. A recliner, on the other hand, is designed to hug the contours of the body perfectly. This is through the adjustable headrest, footrest, or even armrest.
That being said, chairs that recline are better than chairs that don't. Moreover, a chair that reclines is perfect for people with back pains or old people who have trouble sitting down and standing up from a chair. Plus, since some of these recliners come with remote control, people who have mobility issues can use the remote to adjust the chair according to their preference.
Fewer Accident Risks
As mentioned, some people have mobility issues. This hinders them from sitting down or standing up from a recliner. And since a recliner can be controlled by raising or lowering the front and rear, reclinable chairs are great assistance in getting on and off safely. People with weak knees don't have to put too much pressure on them since they can stand through the help of the recliner.
Pain Relief
The seating system of recliners will take the weight impact of any user evenly. It distributes the weight on the cushion which allows for an optimum comfortable seating position. This also reduces the pressure from the muscles and joints, assuaging the pain from your spine, neck, arm, or leg.
Improved Posture
Slouching is one of the primary culprits of spine issues. Sitting for hours while slouching is the worst thing you can do to your spine. However, sitting for long hours on a recliner means they provide excellent comfort and support for your spine and back. You can tilt the recliner and still get even weight on it, which removes the pressure from the spine and neck.
Design Variety
Whether you have a modern, contemporary, transitional, traditional, or vintage home decor, you can find the perfect recliner suitable for any space. They also come with a variety of features that fit your lifestyle and health needs. The most important thing is to select the best type. Check out Local Furniture Outlet's extensive collections.
Choosing the right type of recliner will allow you to purchase one fit within your budget and lifestyle. If you need the basic one, go for a push-back chair or if you need one for your health issues, buy a massage recliner.
Continue reading: