Last updated on July 17, 2021
These are the best pantry organizers that will serve you as a tool to clear the clutter from your kitchen pantry and keep it organized. Read on!
What you can't do without? This cabinet shelf organizer.
Let's face it, you will never organize the pantry cabinets if you don't use some kind of organizer tool. Yes, you can put everything neatly on the shelves and in the drawers, but eventually, the chaos sets in. Many compartments are the key to the solution.
Pantry organizers are useful for food storage because they solve limited space in the kitchen, make it easy to find items where they are supposed to be, and keep everything clean. There are many options out there—Wall racks, small shelves that can fit under the counter or anywhere. When shopping around for pantry organizers, what is important is finding what best suits your needs and your budget.
So these are our top picks for those pantry organizing tools that you can't do without. Some of these will let you use limited space in ways it wasn't possible before.
The links we provide earn our site a commission at no extra expense to you.
Let's begin!
What's Inside
Cabinet Shelf Organizer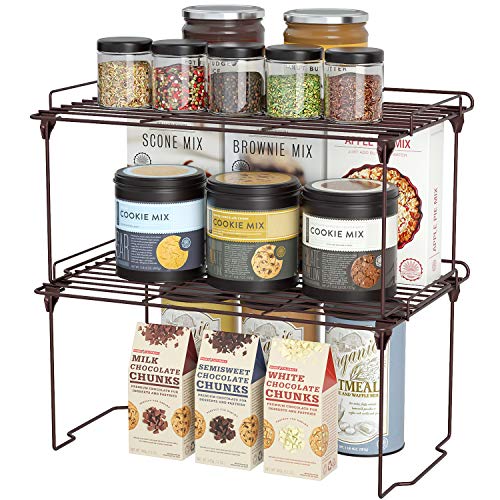 This is our editor's choice.
Great for: organizing deep shelves.
A pantry shelf corner organizer can solve the problem of food scattered on the shelves of your kitchen cabinets and pantry. Every part is made with steel, which is durable and easy to assemble after a few minutes. This unit keeps items off your floor while saving counter space in your cupboard or on top of the refrigerator, too.
The stacked shelves provide significant use and convenience to the home. A unique design with guards prevents items from falling out while holding plates, cups, and other kitchen accessories in place. TIn addition, there are no tools required for assembly, as it simply stacks season on top of each other when received.
The rack also has different levels, which offer convenient access to everything from food storage containers to cleaning supplies stored underneath the sink. This product is comparable to any more traditional floor-mounted models. Still, it offers easier manageability going vertical rather than horizontal, providing increased accessibility for high shelves such as those above your oven or stovetop.
Pros:
Versatile.
Durable.
Stackable.
Made of steel.
Includes guardrails.
Cons:
Plastic Storage Baskets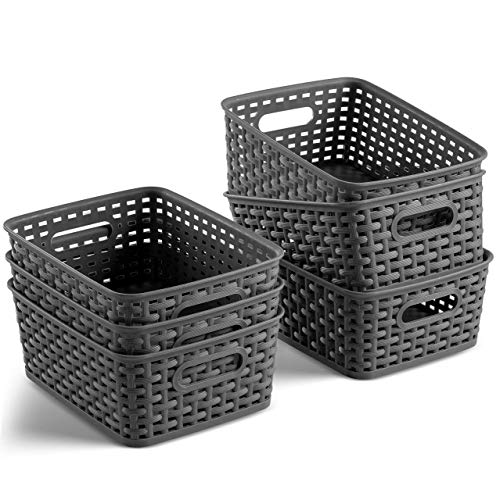 Great for: carton boxes and jars.
Purchase this item and your kitchen pantry will be neat and organized in no time. Whether you need to reorganize a small kitchen closet or pantry, these plastic bins are the perfect option. Everyday essentials are kept easily accessible whereas before they were cluttered or unorganized due to lack of space.
Store bulk snacks, food packets, recipe books, and more. The containers themselves are durable enough to withstand accidental tipping from one container into another. The bins also stack for nesting purposes.
This product is a pack of 6 plastic storage baskets used to store items in the kitchen cabinet. It can be nested when not being used to maximize your space. These baskets have a durable, high-quality, 100% food-safe barrier to keep out bacteria and odors when storing food products. The material is made of tough, shatter-resistant material with enough room for up to four people's worth of clothes and sheets up off the ground.
Pros:
Durable.
Stackable.
Easy to clean.

Stylish.
Cons:
Can Tracker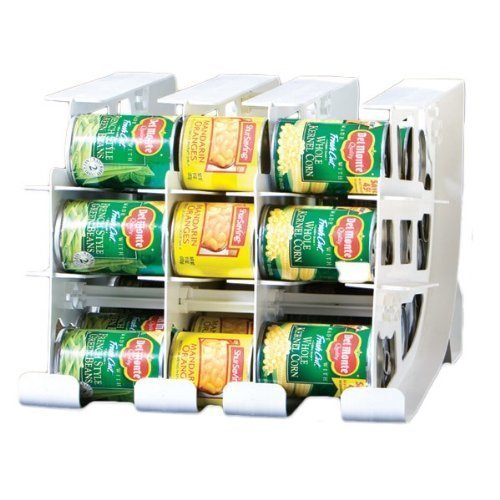 Great for: storing and organizing cans.
The Pantry Maid FIFO Can Tracker helps you keep your kitchen organized by storing canned goods on a First In, First Out process to the rotation. It will help save you from expired food costs as well as wasting food. With the nine slots, it will allow you to store up to 54 cans of various sizes.
You can easily connect multiple units and expand your storage solution with the sturdy and able construction designed for utility long-term use. It fits on shelves in any cupboard, pantry, or cabinet space, provided that they have at least 6 inches. This is a great product that helps keep items for easy access.
Pros:
Stackable.
Roomy.
Allows easy access for cans.
Cons:
Tricky assembly.
Space filler.
Door Hanging Pantry Organizer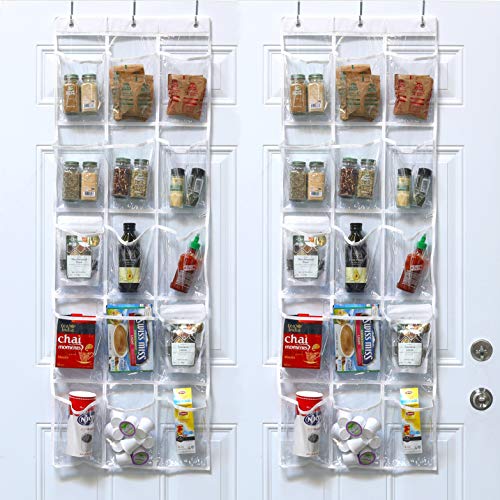 Great for: using the pantry door for extra storage.
Adds organizational convenience to any kitchen by hanging on the door for easy access. Hang it inside the pantry, around a corner from the fridge, in an area of limited space near a cooktop. It has clear pockets that allow easy viewing of ingredients and spices. The product is made with durable material that will last through everyday use.
This hanging organizer is designed to be mounted on a standard-sized door, and envelopes are inserted through loops in order. It can be hung up as-is, without any tools needed. A specific quantity of grocery items can fit each loop, which is a great way to tell which grocery items need to be replenished.
There are 15 total clear pockets in this hanging pantry organizer. The durability of the product hangs on what type of fabric it's made from.
Pros:
No hardware to install needed.
Made of durable plastic.
Use otherwise unused space.
Cons:
Swings when the door is opened.
Hooks might be small for some doors.
Food Storage Containers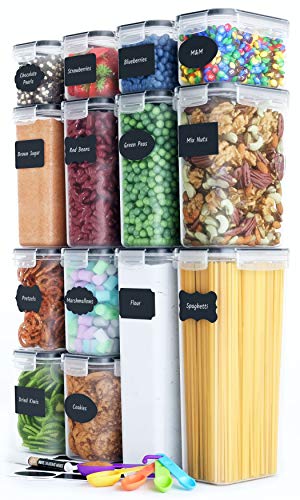 Great for: storing dry foods.
This product, Kitchen Pantry Organizer, features 14 containers that each offer various shapes and sizes. The set includes two extra-large containers (2.5 quarts), four large containers (1.8 quarts), four medium containers (1.2 quarts), and four small containers (0.7 quarts). These airtight food-safe canisters are perfect for storing any dry foods such as flour, sugar, rice, grain, cereals, beans, nuts, snacks, pasta paper, coffee, or tea either in dry or liquid from water juice soup – no air enters to damage the contents keeping it fresh and dry even long term.
This product is manufactured with BPA-free food-grade premium plastic. They are certainly good for dry foods and non-perishables.
Pros:
Versatile.
Air-tight.
Durable.
BPA-free.
Cons:
Tiered Basket Over-The-Door Organizer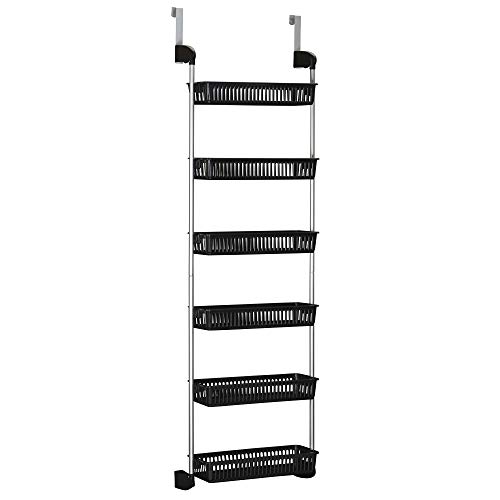 Great for: organizing spices and small jars.
The Tiered Basket Over-The-Door Organizer from Next Home Design is universal so that you can use it in a variety of different places and applications. The 6 tiered baskets allow for easier access and suit storing spices, store items, spices, etc. The two supplied over the door hooks will fit most doors and allow you to organize various items at home or in an office space.
Pros:
Versatile.
Roomy.
Easy to use.
Cons:
Swings when you shut the door.
Pantry Organizer Rack with Hooks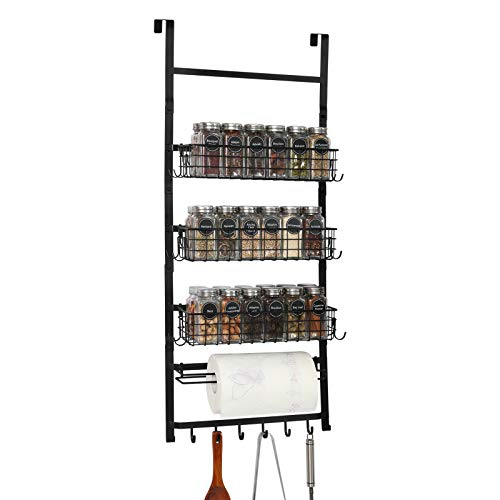 Great for: small jars and cookware.
This kitchen pantry organizer is a Wall-Mounted Spice Rack that helps create additional storage space by sorting spices, jars, toiletries, or nail polish bottles. Divided into 3 baskets and 12 S-movable hooks, this shelf also has a paper towel rack and 6 hooks for hanging spoons, kitchen towels, and rags on the bottom layer to keep your cooking area extra neat.
These are the features of this kitchen pantry organizer product:
It is very suitable for organizing spice jars, jelly jars, small cans, etc.
It can also be hung on your storage room door, cabinet door, bedroom, living room and use to organize household items.
Pros:
Made of iron.
Durable.
Versatile.
Cons:
Needs rubber backing to avoid damaging the door.
Under Cabinet Organizer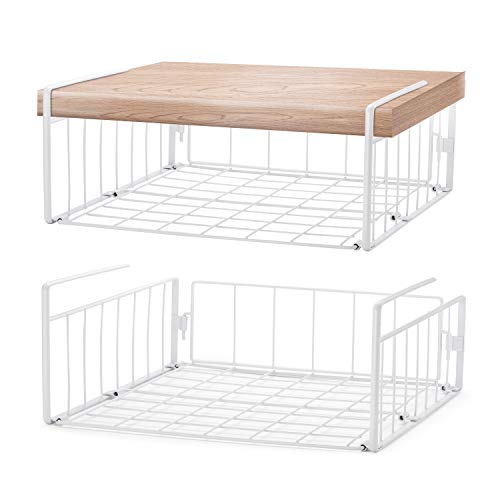 Great for: extra storage space under the shelves.
One of it's most useful features of this organizre are its ability to be adjustable. The shelves can slide, move, fold or slide smoothly onto any shelf this makes storage limitless for both closets and pantries. They also have adjustable slats to keep items level on different shelves.
The organizer comes populated with 2  extra free mesh baskets which are perfect for keeping cereal boxes in order, securely separate eggs or store kitchen supplies that have an expiration date on them like cooking oils, spices etc.
Pros:
Sturdy.
Versatile.
Add storage to unused spaces.
Cons:
Sliding Basket Drawer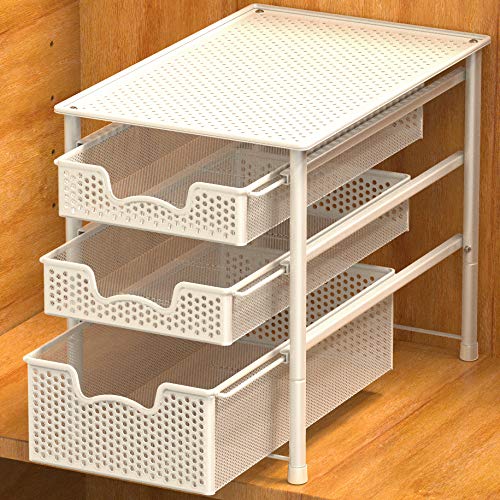 Great for: adding more drawers in limited space.
This metal structure is modeled to provide extra space in the kitchen to hold items. It has three drawers and installing it does not require power tools or drills.
The quality of the metal it is made of is high. The organizer also has the ability to save space in kitchens and other small spaces with its sliding shelves combined with two different shelf heights giving you more options to customize your storage.
Pros:
A few color options are available.
Functional.
No installation needed.
Cons:
Drawers have no stoppers.
Metal Wire Bins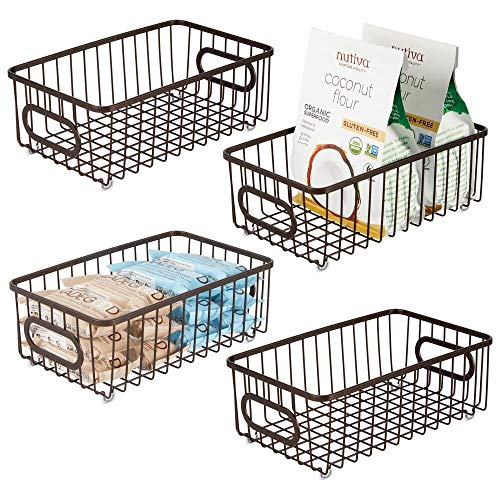 Great for:
These bins keep the kitchen clutter under control by storing all of your necessities. You can store pasta, packets, extra macaroni and cheese boxes, soda bottles, or an array of other supplies and foodstuffs like foil, waxed paper, or plastic wrap used in meal preparation because it's large enough to handle all types.
Metal wire bins have been designed to hold up to 8 lbs each. These are useful for kitchen basics such as pasta, cartons, boxes, etc. It's also good for storing cleaning supplies.
Pros:
Stylish.
Sturdy.
Easy to clean.
Versatile.
Cons:
FAQ
Which pantry containers are the best?
Airtight clear plastic containers are the best for storing dry foods in a pantry. Plastic bins are the best containers for keeping other packaged products in a pantry.
How do I organize my pantry with bins?
To organize your pantry with bins, group all items by use and type of food then put them into the containers.
Should I line my pantry shelves?
You can line your pantry shelves to protect the wood and paint if you're not using any containers. If you are using bins, baskets, and other organizers, lining the shelves is not necessary.
Continue reading:
Disclosure: As an Amazon Associate we earn from qualifying purchases.