Last updated on May 17, 2022
These are the best pendant lights for the kitchen if you're looking to revamp the lighting in 2022. Our top picks will help you do that. Read on!
And even though it's a bit subjective, we stick to the trends with these matte black pendant lights.
As you already know, pendants are trending in kitchen lighting design. That's why you want them. And so it happens that these kitchen lighting fixtures are practical too. There might be a better way to illuminate a kitchen island or a bar. They can provide excellent task lighting too.
Because there are so many types of pendants (currently popular are industrial, farmhouse, and modern styles), you aren't out of choices, and you can be sure they won't go out of style.
Choosing the best will depend on your particular kitchen layout and setup:
Where do you want them to be installed (over the island, breakfast bar, dining table?)
How much brightness the area needs (ambient vs. task lighting.) It determines the size too.
What is the right wattage for pendants in your kitchen?
What's your decor style?
Your budget (you don't have to splurge, and there are excellent affordable options that look good just as well.)
Just answering these questions, you will narrow down to quite specific pendants to pick from. And if you start with our top 10 picks, you'll get there even faster.
These are it. We have included shopping links for you (we may earn a commission at no expense to you.) Enjoy!
What's Inside
Pendant Light with Adjustable Cord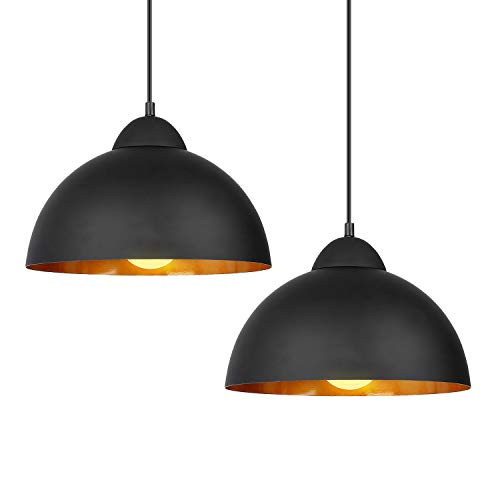 This is our editor's choice.
The light fixture has been made from a high-quality material currently in compliance with international standards. There is an E26 bulb included for easy replacement, making installation a breeze. The interesting perforated design on the lampshade makes light one through holes and spreads out, and reveals the material throughout the kitchen.
This fixture has an ornate and authentic appearance that transforms a room with unique detail. It installs easily with the parts included in the packaging and features a heart of the light of copper material that provides a gorgeous finish. The product is made of high-quality aluminum material with bronzed paint and a matte black finish. The product is for indoor use only, and you can use its height (adjustable cord) for the kitchen, dining room, breakfast room, and other rooms.
Pros:
Adjustable cord (up to 47 inches).
Matte black finish.
Industrial style.
Compatible with all E26 bulbs (we recommend LED for the kitchen.)
Cons:
Very lightweight.
Screws used in the fixture are made of plastic.
Matte Black Mini Pendant Light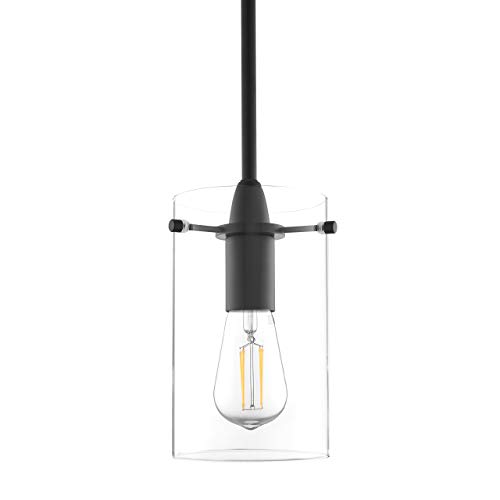 The matte black pendant light from Linea di Liara is designed to fit our diverse needs. This fixture can be installed for under 7-foot ceilings all the way up to 11-foot ceilings, with a twist of the rod to accommodate sloped ceilings. The black material and finish give it a sleek look that will suit any room in the house as well as the kitchen.
Whether you are looking for a pendant lamp to hang above an island in your kitchen, under lights in your breakfast nook, or over the kitchen sink, the Effimero Pendant Lamp might be perfect for you. This elegant dimmable pendant holds standard medium bulbs. Matte black, with an aluminum finish, this stainless steel lamp will add an upscale and modern touch to any space. By topping it off with a modern LED bulb, you can still keep cool while adding plenty of lighting.
If you need pendant lighting that is safe and easy to install, you should consider buying this particular product. The Effimero Pendant Light is UL-listed for damp locations and comes with a height adjustment system. You can install a single pendant over a basin or in groups of 3 or 5 over an island in the kitchen to give your space decoration an awesome look.
Pros:
Modern matte black finish in industrial style.
Fits LED bulbs.
Supports 7 to 11 foot ceilings.
Cons:
Might be hard to clean.
Doesn't fully cover the junction box.
Industrial Kitchen Pendant Light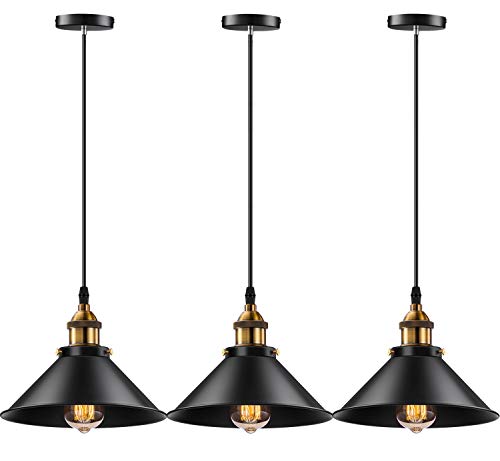 This is a secure solution for anyone who wants to combine the look of industrial vintage pendant lights with their modern demands. Read on to find out how this pendulum light for the kitchen will not only add charm and personality to any decoration but will transform your life! This light has been called all sorts of things – including charming, groovy, and stylish.
The Licperron industrial pendant lights 3 pack is perfect for those wanting to turn lighting over your kitchen into a sleek and modern theme. These handy pendant-style lights give you a farmhouse light island at trendy kitchens, dining rooms, and more. The metal structure of the lampshades provides durability.
If your kitchen has a modern industrial theme, these lights are perfect for your space. They have such a nice vintage look to them but don't feel too old or outdated. They blend with the rest of the kitchen decor without being extravagant at all. They provide great lighting without being too bright, which you will love if you do a lot of cooking in the kitchen.
Pros:
Lampshade diameter of 10.24 inches.
Comes in a 3 pack (ideal for islands and bars).
Metal finish.
Tempered glass shade.
Cons:
E26 bulb base only.
Metal shade means the light is very directional.
Lacks grounding wire.
Large Glass Globe Pendant Light Fixture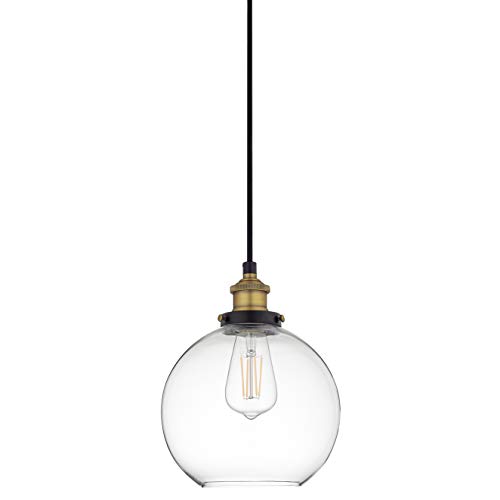 Fits pretty much all ceiling heights, including slanted ceilings. Materials are entirely glass and metal. It comes in various finishes, such as stainless steel or antique brass, which both have a solid build to them. The Antique-style Brass Primo pendant light can improve the decor in any kitchen with its elegant style that would work well in modern-day interiors.
This product provides a well-needed elegant, finished look to your kitchen. It is retro-chic — the finishing touch on a home from the past — meaning it gives you elegance without being too formal.
Pros:
Fits ceilings 7 to 14 feet.
Fits most types of bulbs (that use a medium base.)
Glass shade.
Brass hardware finish.
Industrial style.
Adjustable cord.
Cons:
Glass shade means it may be too bright and not directional.
May be difficult to clean.
Industrial 3-light Pendant Lighting for the Kitchen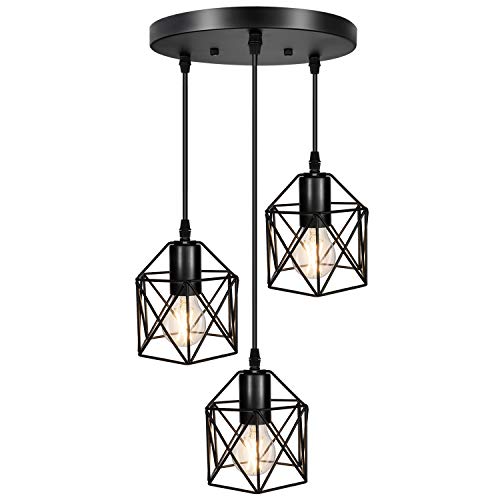 The modern geometric design with a stark black finish provides farmhouse chic in the lower price range. This fixture is easily customized to your desired height which I love, on a slanted ceiling or ceiling not flat all? There is no need for washing instructions because of iron-like clarity without any cleaning. It's easy to install, plug it in and enjoy. This pendant light improves kitchen decor and can be used with sloped ceilings. The adjustable cord helps you adjust the height according to your preferences. It looks good mounted on slanted ceilings as well.
Pros:
Metal caged design.
Black finish.
Industrial style.
Cons:
Bulbs aren't included.
No shade means it could be too bright.
Vintage Glass Pendant Light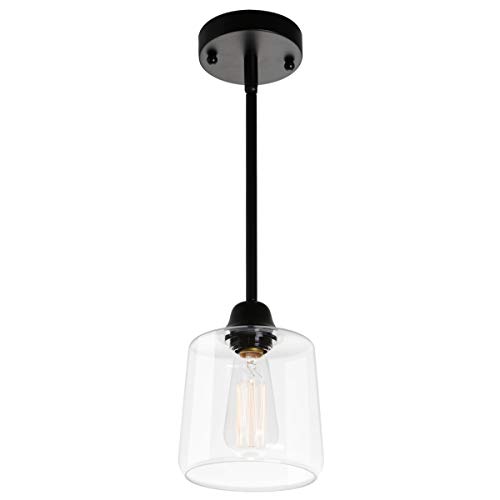 This pendant ceiling light is perfect for any kitchen with a standard ceiling height. The light shines beautifully from the clear glass shades and illuminates any space. I also like that it can be dimmable when you use a compatible bulb. We find that to be an extra perk because you have lighting options when choosing to dim them or not.
As a two-part pendant light, this pendant light for the kitchen is perfect to use in any room. Made out of metal and with an acrylic glass shade, the pendant light is sure to be like nothing you have seen before: sleek, modern, and interactive! The design is thoughtful and well-suited.
The light emits a whimsical look in your space and can fit any décor style — fashionable or rustic. Its versatility makes it an unmatched accompaniment to your kitchen island, dining room tables, or family kitchen set up that you have been looking for. Mounted at the ceiling, including all the mounting gear included with this purchase, this light fixture will complement and spruce up your space.
Pros:
Compatible with LED, incandescent, CFL, and halogen bulbs.
Clear glass shade with vintage appeal.
Great light for a small kitchen.
Cons:
The glass shade may be too bright.
May be difficult to clean.
3D Glass Modern Pendant Light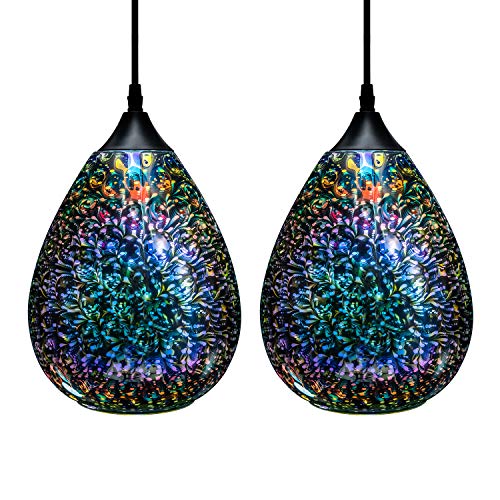 This 3D glass pendant light is perfect for a kitchen looking to increase a trendy atmosphere. With the artistic colorful shade design, this pendant provides vibrant lighting for food prep and breakfast. This ceiling fixture accommodates chrome-plated interior glass, making it sleek and smooth. Though large in size, this fixture maintains portability with a flexible long cord that hangs down 3 feet before gently dipping below the installation point.
This decorative pendant light is perfect for any kitchen because it is easy to install, and the finish goes over every type of décor. The adjustable length makes it all the more compatible for this type of family as well. With three different finishes, we would recommend this pendant light fixture as room-filling versatility meets functionality.
Pros:
Unique design.
Compatible with LED Edison bulbs, CFL, and halogen bulbs.
Adjustable cord.
Cons:
The light is cast only at the bottom (doesn't fill the room with light.)
Might be too whimsical for the kitchen.
Farmhouse Pendant Light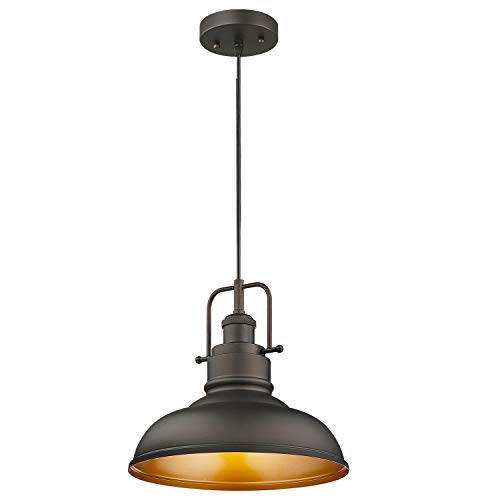 This retro-finished pendant light is the perfect way to make your kitchen feel homier. The antique-style metal construction offers durability and can be applied to sloped ceilings—to improve functionality in high ceilings, where chandeliers won't suffice. Use this industrial yet vintage-looking pendant light fixture with a 40-watt bulb (including 3500k warmer wattages) for a creamier-colored Kelvin index, so the sight of the metal doesn't scare anyone.
This is a pendant light for the kitchen. It is a vintage industrial design made with sturdy metal construction in a heavy oil-rubbed bronze finish. This pendant fixture is hard-wired and includes all mounting hardware for easy installation, usually taking less than 30 minutes. One can install this pendant lamp on a sloped ceiling if desired. It is ETL listed, making sure it's safe and backed by a 1-year warranty.
Pros:
Oil rubbed bronze finish.
Vintage farmhouse style.
Works with sloped ceilings.
All E26 base bulbs are supported.
Cons:
Directional lighting only dues to the metal shade.
Might not be bright enough.
Scandinavian Modern Pendant Light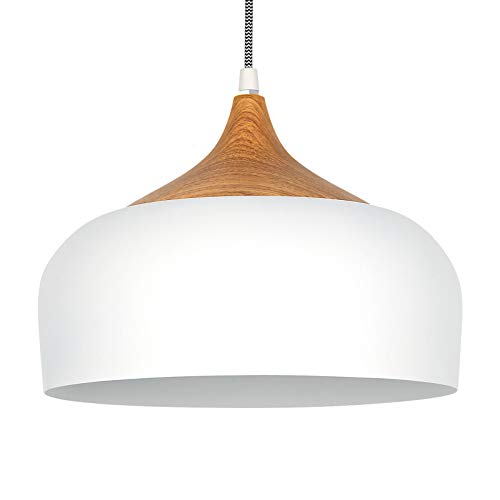 A sophisticated finish and a modern Scandinavian style bring this simplistic pendant light to life. Lightweight yet durable, our pendant light is the perfect addition to your kitchen décor or dining room ensemble with its interesting shape, and matte wood lacquered top. The frosted white glass ball helps you change your lampshade's intensity by simply adjusting the angle it.
This pendant light for the kitchen improves the ambiance in your modern kitchen. You'll notice calming temperature as soon as you step in, ushering you towards relaxation while gracing it with a soft, warm glow. It has a chain with a clip-on end for easier installation onto your overhead by mounting onto an existing electrical socket or fixture available. This pendant light style is perfect for cooking at home because it does not emit excess heat to radiate harmful rays to food.
Pros:
Includes an LED bulb.
Adjustable cable.
Cons:
Smaller than expected.
Uses a fake wood veneer.
Pulley Pendant Light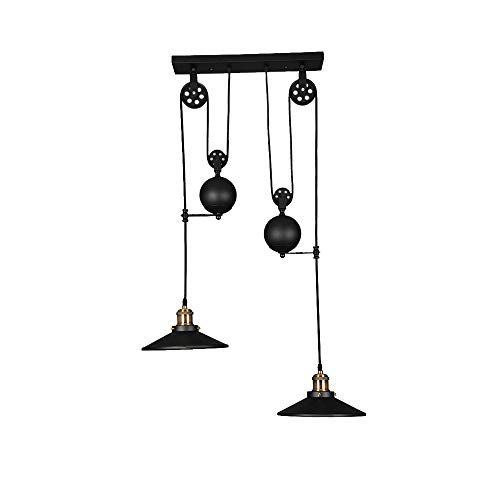 Our favorite part of this pendant light is how it brightens up an otherwise dark space. The shade gives off a beautiful glow that can offer some conviviality for its surroundings. You'll need to have a taller ceiling to use this pendant light with the longest chain to recommend it for short ceilings (height less than 8 feet). The fixture itself is made of metal and has an adjustable length, matching its many purposes.
Pros:
Black iron painted finish.
Double pulley pendant.
Retro style.
Cons:
Needs two people to hang it.
Cheap wires.
FAQ
How do I choose the right size pendant light?
The best way to choose the right size of the pendant light is to use painter's tape and layout its dimensions on the surface where it's going to be hung (such as the island). That way, you'll be able to see how many and what size of pendants you will be able to fit.
How far above island should pendant lights hang?
Hang them 30 to 36 inches above the table top (measuring from the bottom of the pendant.)
How many pendants do I need for a kitchen island?
To find out how many pendants you can use, divide your island's width by the diameter of the pendant (leave at least 12 inches spaces between the pendants.)
Do pendant lights need to be centered over an island?
Yes, the pendant lights should be centered.
Continue reading:
Disclosure: As an Amazon Associate we earn from qualifying purchases.