Last updated on April 7, 2021
Here are the top 10 best range hoods for your gas stove that will collect cooking steam, suck out the odors and filter the air. These are the top picks.
And the best overall range hood is the Broan NuTone Ductless Range Hood.
Range hoods are one of those things you don't think about until you need one. They're that mysterious black box that hangs over your stove that you think probably needs cleaning every time you look at it, but you're not really sure.
But when you think about it, what is a range hood, and what does it do? The bottom line is that a range hood is a ventilation system. It pulls up the steam and smoke from your stovetop and pushes it out of your house through a vent (if it's a ductless model, it filters the air and pushes it back to the kitchen).
Ultimately, what do you need to know how to choose a range hood?
The measurements are, of course, key. They define the model too. Consider the chimney and under cabinet range hoods (insert).
Duct or ductless? If you have an exhaust duct in your kitchen, you might want the first option. But if there's none, you have to choose ductless. Fortunately, most modern models are convertible.
Consider the ventilation capacity (measured in CFM). Gas stoves tend to need a higher CFM. Your cooking habits will have an impact as well.
A modern range hood is equipped with task lighting above the stove.
These are our top picks of the best range hoods for gas stoves. Links are included where available, and they earn us a commission at no expense to you.
What's Inside
Broan NuTone Ductless Range Hood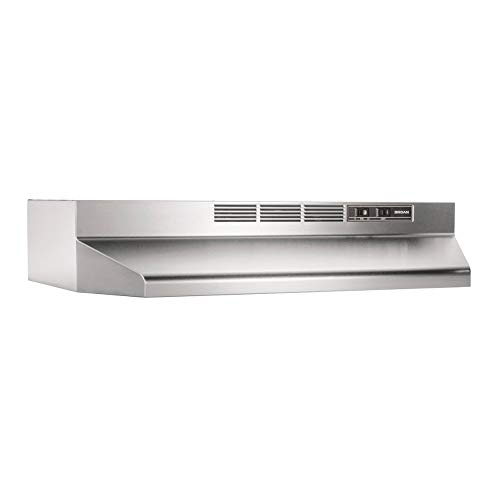 This is our editor's choice.
Inexpensive, easy to install range hood for gas stove. The unit is a little on the small side (30″ by 18″ depth), which can be limiting in space. Lighting is good but not enough overpower lighting for a dark kitchen or cooking surface area. The vent and grate cleaner system seems to work really well.
This specific product is a stainless steel hood, which has both lighting and ventilation. It also meets Energy Star standards with its two-speed fan. The Ventamatic Range Hood comes with a bulb type A19, which you may need to replace if broken but otherwise should last indefinitely.
The 30-Inch Range Hood is a sleek and sophisticated alternative to traditional range hoods. Whether your kitchen style is modern or traditional, it will elevate the look of your favorite room. It has a low profile and small footprint compared to other range hoods, so it looks great in any space without overpowering it with big bonnets and chimneys. All of its parts are made from stainless steel and other metal components, guarantee years of use.
Quick facts:
Made of stainless steel.
Ductless vent.
Charcoal filter.
30-inch hood.
Under-cabinet installation.
Cosmo UC30 Under Cabinet Range Hood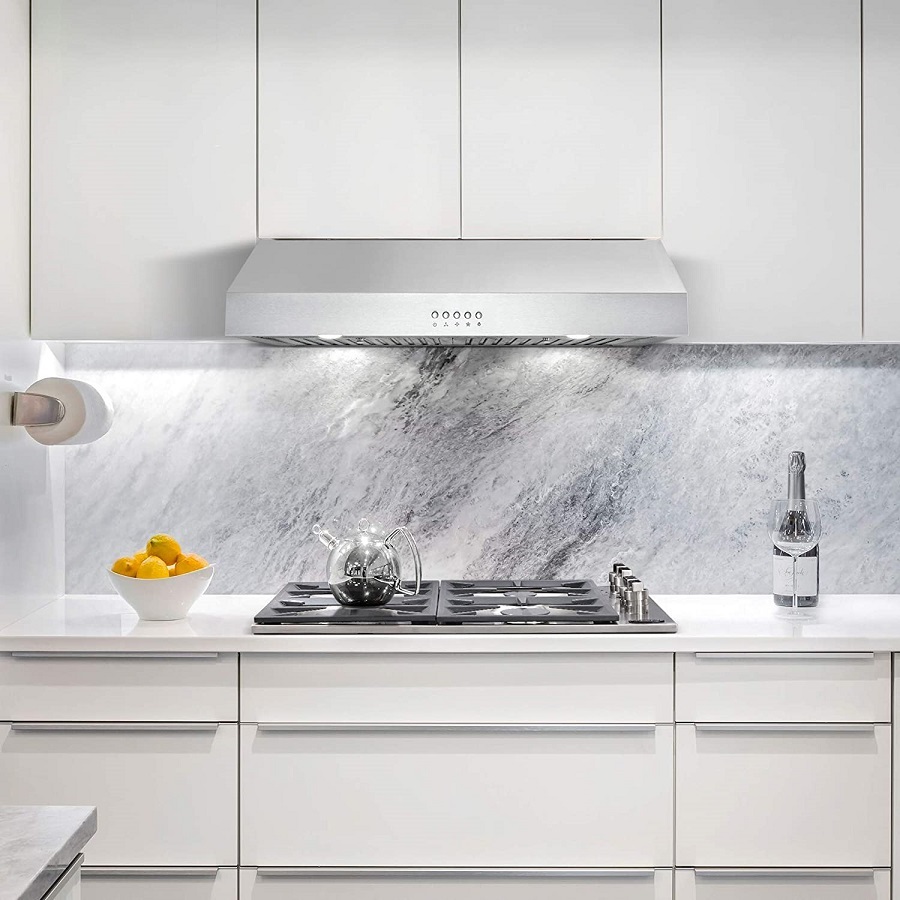 The 360 Degree range hood is a powerful kitchen appliance that gets the job done efficiently. The two-watt LED lamps provide excellent lighting, and a 3-speed fan delivers up to 380 cubic feet per minute for superior ventilation. Moreover, the sleek design keeps the airflow coming while keeping unwanted noise levels at 65 dB. Most importantly, it's made of tough materials that survive virtually everything with just moderate cleaning. Indeed, you'll have nothing but smooth air in your kitchen.
Since it is a range hood for a gas stove you would expect it to have very high suction, better for venting to get the grease out of your kitchen. It has LEDs and this design should be very nice and work well. It has a 3-speed fan that will exhaust 380 CFMs and you can easily clean the filters in a dishwasher. With sidelights, you can cook comfortably at night without cranking up the big lights.
Quick facts:
Made of stainless steel.
Ductless range hood.
Under-cabinet mounting.
Permanent air filters.
30-inch size.
IKTCH Built-in Insert Range Hood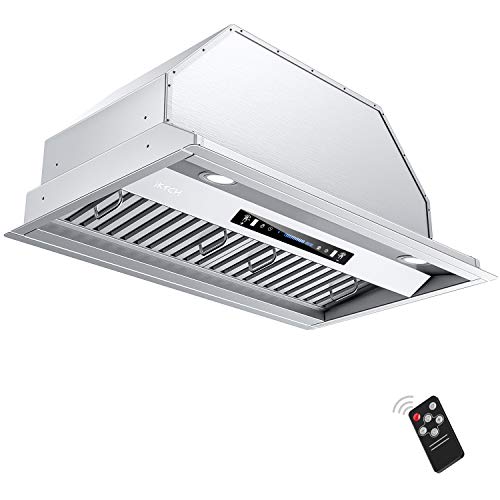 Stainless steel, sleek and elegant, the remote control is included powerful airflow of 900 CFM of ventilation, reaching across the entire kitchen to remove smoke and odors discreetly. Over 6 different settings for different needs super-quiet operation. Adjustable brightness on LED lights that come with this hood (adds safety as well). Good insulation and filter trap cooking grease that allows a clean kitchen.
The range hood's lighting features include bright energy-saving lamps that can controllably adjust their brightness to meet your cooking needs–it can save energy in your kitchen while emitting enough light. This range hood has maximum ventilation of 900 CFM and has a powerful suction that efficiently removes large amounts of smoke or cooking odors from the air.
Quick facts:
Made of stainless steel.
Insert mounting.
Duct or ductless vent.
2 3W LED lights.
Sized 30 inches.
Cosmo Wall Mount Range Hood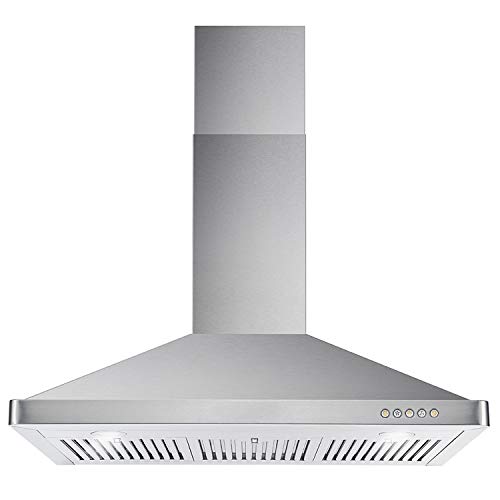 Cosmos 36 inch Wall Mount Range Hood is a cool and sleek range hood. It features multifunctional controls with push-button convenience. The LED light was easy to see in all areas of my kitchen. This wall mount range hood is very efficient, and we like how quiet it is. It does not create any noise while in use, which is perfect for nighttime cooking or late at night while everyone else sleeps.
The Cosmo ARC-FLOW range hood for gas stoves offers a durable and energy-efficient design. Producing 380 CFM while requiring only 3 prongs of electricity, this fabulously priced range hood is perfect for standard to spacious kitchens. It also includes an optional Carbon Filter Kit (CFK1-TM) for ductless installation.
Quick facts:
Chimney design with wall mounting.
Duct or ductless installation.
36-inch hood.
Made of stainless steel.
Blue Ocean Tempered Glass Range Hood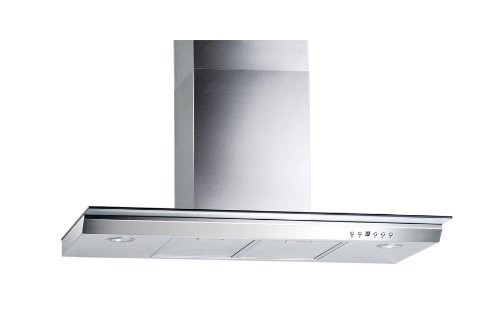 This particular range hood for a gas stove puts out a maximum of 760 CFM of suction with 65 decibels of noise. Other features and specifications for this leading hood include an elegant European design, the ability to change from three different speeds, and 48 square inches of grease filtration. The range hood for the gas stove is also versatile in that it can be mounted on either side or hung with its four sturdy hooks.
We love how matching the material is to the design. We also like how it provides 3 speeds for cooling in a small and compact space. It also has a push button, so you know where you changed the setting from.
Quick facts:
Made of stainless steel and tempered glass.
Wall mount installation.
Duct or ductless convertible hood.
Fotile Side-draft Range Hood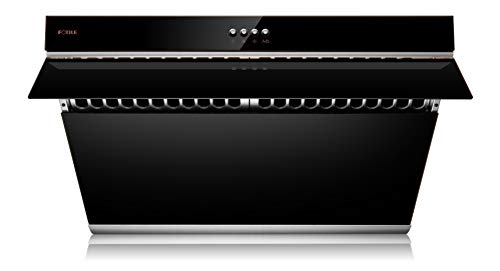 We recommend this model as it has powerful ventilation and suction capability. It has a high range of speed with the differential touch button, and will filter all cooking fumes, smells released from your kitchen. It is made with steel materials and offers a best-in-the-industry warranty program to its customers. The range hood also includes light that illuminates your stove.
This Range Hood for Gas Stoves cleans cooking fumes and odors from the ceiling with its powerful twin motors, offers three-speed settings, a proprietary impeller design that separates grease and fumes, easy to clean heat resistant aluminum material, and a deflector that provides precision airflow control. It is quiet on the lower settings and has one single button with a memory feature for each intensity level.
Updated range hoods like this product, the FJK306SDF-D, allow people to cook with gas stoves without having to worry about cooking odors and fumes. This product is made of black powder-coated steel that would work well with almost any kitchen design. The top part has a removable tray that you can clean easily. It also has a strong side exhaust ventilation system that will clean up to 400 square feet.
Quick facts:
Made of powder coated stainless steel.
Side draft design.
30 inch hood.
Hauslane Chef Series Range Hood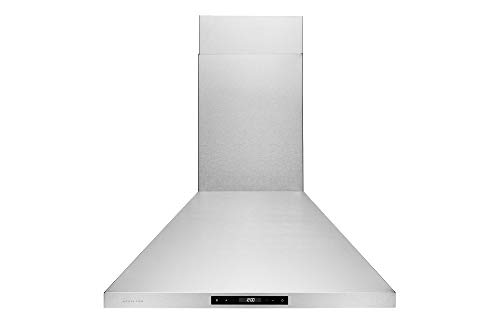 The Hauslane Range Hood or range ventilator is well-designed in stainless steel, with 3 speed motorized ventilation to provide the best cooking environment possible for those who like to cook and need to remove odors. It has a fashionable lift-up filter that provides pure air, so it's safer and easier to clean up any messes. This range hood does not include a chimney extension kit, as purchasers may need a different height for their hood, depending on the size.
Efficient, aesthetically pleasing, and affordable range hood for kitchens of all sizes. Overall, it's an excellent choice for chefs looking to elevate their cooking environment. The aluminum filters have charcoal to remove odors and grease and is dishwasher safe, so it's easy to clean. We recommend this range hood to anyone who wants an affordable option or wants a stylish and contemporary design.
Quick facts:
Made of stainless steel.
30-inch hood.
Chimney of up to 10 feet.
Duct and ductless convertible vent.
Zline Professional Wall Mount Range Hood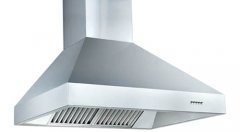 This Range Hood has lighting options not found on every range hood. It does a great job getting rid of the cooking smells and smoke. Fantastic design that lets you choose between recirculating air or venting it out. Four-speed fan control ensures you can pick your speed based on what you are cooking.
It has a push-button control that allows you to select its fan speed easily, ranging from high, medium, low, and off with different CFMs. The CFM for this range hood is 400 as well, which provides a healthy amount of suction while being very quiet when in use at the high setting thanks to sound-deadening insulation.
Quick facts:
Uses carbon filters (not included).
Duct or ductless.
30 inch hood.
RecPro Curved Glass Range Hood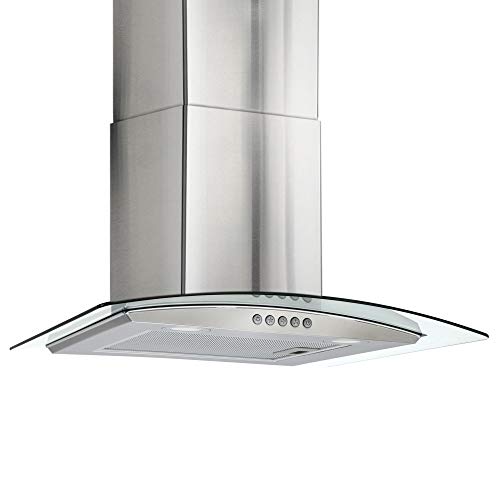 The RecPro version of range hoods is made with stainless steel, tempered glass, and speed control. It has 3 different settings to power the fan, but it needs to be manually turned off. If you are looking for a range hood with high-quality material that will last for 10 years, including retirement from the manufacturer's warranty, this is a good choice. To adjust different levels or turn off this version of range hoods, there is an electronic control knob for speed.
Quick facts:
Made of stainless steel and tempered glass.
24 inch hood.
KOBE Brillia Under Cabinet Range Hood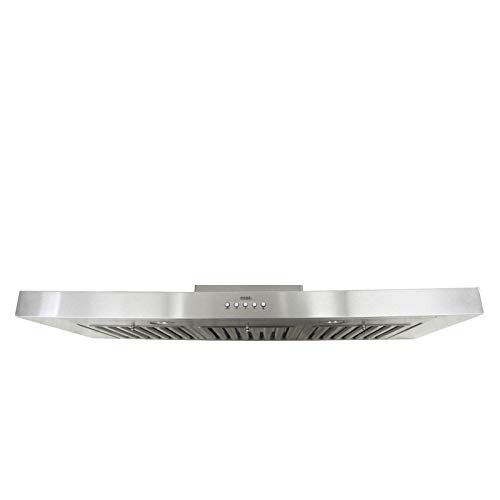 The color of the stainless steel range hood is a cool, speckled gray to create an elegant and positive impression. The range hood has three motor speeds and a sleek design with a low profile- perfect for use in tall cabinets. This setup includes long stainless steel screws, rubber washers, and returnable nuts, which are sure to hold steady even during long periods of inconsistent fridge use.
Quick facts:
Made of stainless steel.
30-inch hood.
Under-cabinet installation.
Duct vent.
Continue reading:
Disclosure: As an Amazon Associate we earn from qualifying purchases.