Last updated on April 7, 2021
These are the best under cabinet range hoods for the kitchen cabinetry over the stove. These slim (usually ductless) range hoods are our top picks.
The best one: Broan NuTone Ductless Range Hood.
As you very well know, having upper cabinets over the stove requires a special type of range hood. It's the under-cabinet mounted option. Chimneys won't do any hood unless you remove that one cabinet (and make it look ugly). Often that means not being able to connect the extractor fan to the vent duct. Luckily, the under cabinet range hoods are ductless, or they are convertible.
So this is a story about the best of them. We think did a good job finding them (the top choice is brilliant.) When choosing one, the same rules apply as you would choose any range hood. You need to choose the size (30" is the popular option), the CFM of the fan, the filters, the connection to the duct (if available.)
We won't bore you with all the details (follow the links above if you want to read more). Let's discover our top 10 choices. We have included shopping links as usual (we earn a commission at no expense to you.)
What's Inside
Broan NuTone Ductless Range Hood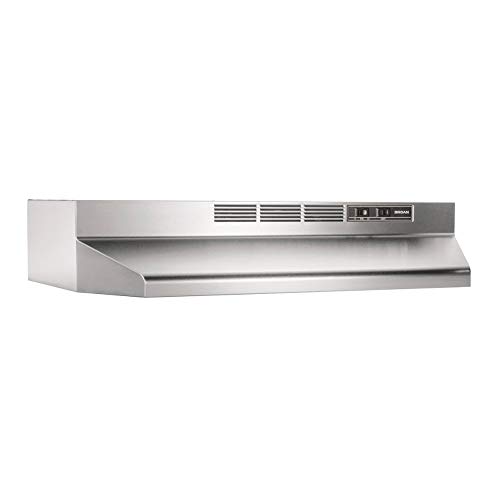 This is our editor's choice.
The ductless range hood is a high-quality and effective range hood. It has a non-ducted filtration that prevents smoke or odors from circulating throughout the kitchen. This filter is easy to replace when it begins to gather grease, which gives maintenance six months without extra effort. It comes with both light and fan controls for hands-free operation and lets you choose between low or high speeds depending on your need while being built with variable installation options.
It also has an incandescent light that comes installed. When you turn on the switch for the fan speed, the light will automatically turn on, saving installation costs from hiring an electrician. There is no need to worry about clean air because this range hood has charcoal filters that are simple to replace.
Quick facts:
Made of stainless steel.
30-inch hood.
2-speed fan.
Evenly distributed lighting.
Ancona Slim Chef Under Cabinet Range Hood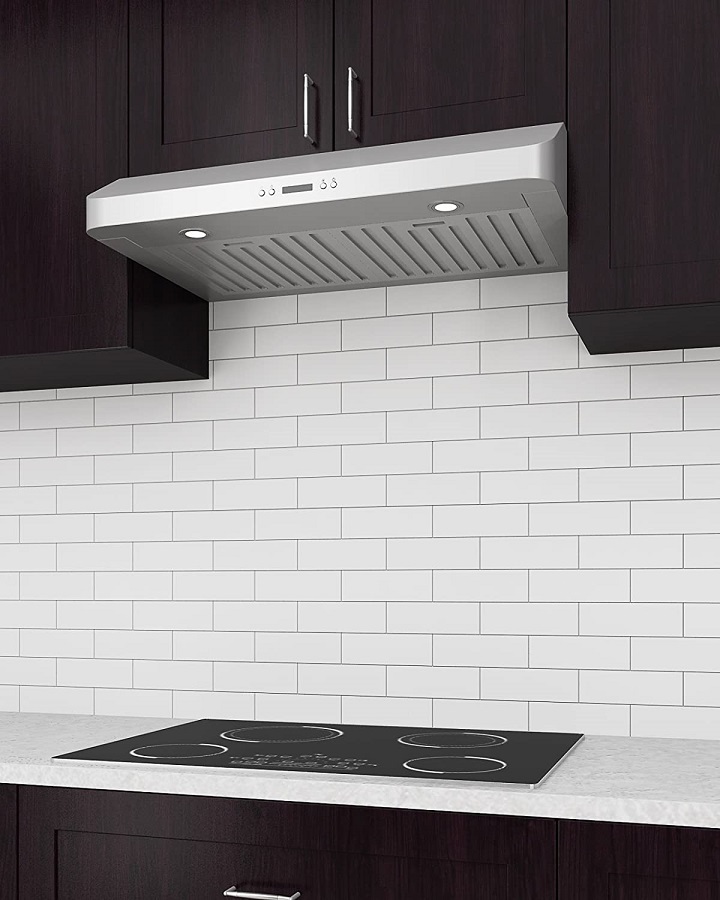 This stainless steel under cabinet range hood is made from 430 stainless steel and features a single powerful LED bulb. This feature offers continuous air renewal by effectively removing fumes and cooking greases. The lights are controlled with an easy-to-understand push-button interface – offering four speeds of motion and a convenient delay-off feature after one hour of inactivity. The hood also uses two photoluminescent nanotech filters to provide an efficient performance as it ventilates the kitchen space.
The Ancona under cabinet range hood is a stainless steel model that offers up to 4 different speed settings. The LCD control panel will shut off automatically if desired, and the stainless steel fins provide easy cleaning convenience. This model offers vents in both the rear and top sections for various applications, so make sure you get the correct size when picking it out so that it will fit your venting needs. If you're looking for more style with your function, this slim chef fits the need perfectly.
This particular under cabinet range hood is a reliable and capable unit that will deliver good results for anyone looking to install it in their kitchen. It offers 4-speed settings, a convenient delay auto-shut-off feature, and removable thin stainless steel baffle filters, making for easy cleanup. It has two bright LED bulbs which you can set to various light levels, and it can provide 325 CFM.
Quick facts:
Made from stainless steel.
325 CFM airflow.
30-inch hood.
2 LED lights.
Fotile Pixie Air Stainless Steel Range Hood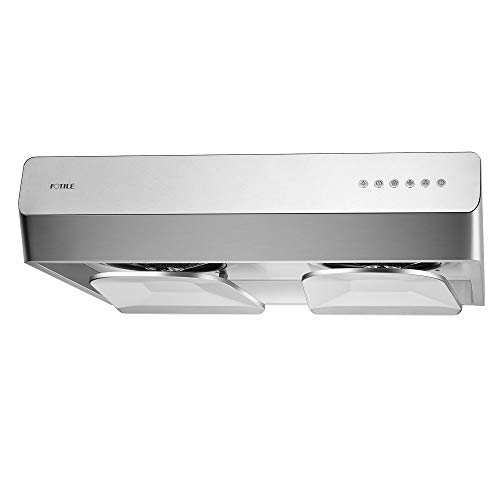 The Fotile PIXIE AIR Series Air Range Hood features an LED stainless steel baffle light that allows you to see your food better in different colors. Inside the range, the hood is a powerful fan. This fan effectively removes smoke, odors, and grease from the air by taking them up through the appliance's outlet to "the higher outside air." These range hoods have three types of filters: a mesh filter, activated carbon filter, and odor-neutralizing charcoal zeolite filter.
The under cabinet range hood is lightweight and easy to put in any outlet. It does not take up too much space, and it works well with a variety of burners, pots, pans, and utensils. The fans intake most of the heat, which lessens the load on what's collected in the stove when it finishes running.
Quick facts:
Made of stainless steel.
800 effective CFM airflow.
30 inch hood.
KOBE Brillia 30-inch Under Cabinet Range Hood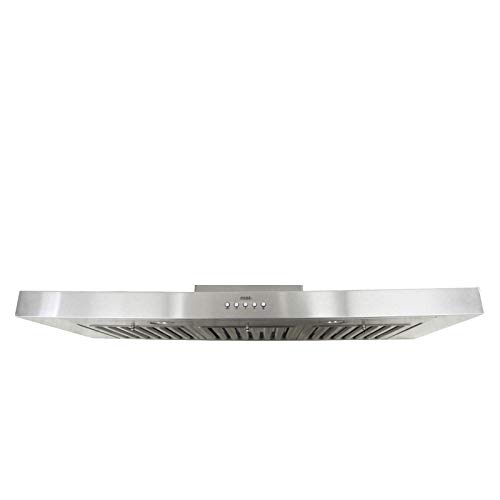 This commercial-grade, stainless steel under cabinet range hood is excellent for kitchens because it pulls in cooking smoke and odors from the stovetop and kitchen in general. The product dimensions are 29.75 L x 20 W x 12.18 H with a 2.37-inch depth; it also has a 6" round exhaust and a 10.62-inch maximum clearance from appliances, ending up at 720 CFM airflow.
It's a great product. The top part is not too high, so it does not obstruct your view. Inside there are 6" round vents that do not spew any hot air in the kitchen space. The noise level is medium. Lights are dimmable and bright enough for cooking tasks, etc. Lights also come with two switches for illuminating the cooktop or both cooking spaces. There's an air filter that protects the motor from dust coming in and keeps it cool and safe even under long periods of thermal exposure.
This under cabinet range hood attaches nicely to tall cabinets, making it suitable for a kitchen with tall upper cabinets. The stainless steel finish provides a smooth surface area that you can easily clean. A 2-year protection plan is offered with purchase, in case something goes wrong. This model has a soft open feature and a low noise rating (max 40 decibels).
Quick facts:
Made of stainless steel.
30 inch hood.
750 CFM airflow.
2 LED lights.
IKTCH 30-Inch Under Cabinet Range Hood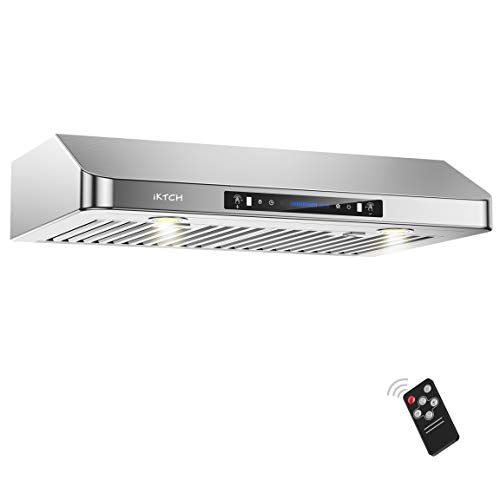 The  IKTCH under cabinet range hood has a sleek design with its blinking blue light up top, an aluminum touch control panel for easy use. This stylish and functional unit provides great lighting at the back of your stovetop and tons of strong ventilation down in the kitchen. All filter changes are a snap to clean since they are dishwasher safe, easily one of my personal favorite features. Speed 1 is typically used for basic cooking throughout the day or small dishes.
It has a control panel that swivels depending on your height and needs for better accessibility. This range hood has an easy-to-clean stainless steel filter to keep it sanitary, in addition to its beautiful design, which will suit well with other stainless steel appliances in your home.
The under cabinet range hood has an incredibly powerful 900 CFM airflow with an ultra-quiet noise level of 60 dB. This device has 2 powerful motors installed that provide the strong and quick airflow needed to clear virtually all smoke from the kitchen.
Quick facts:
Made of stainless steel.
2 LED lamps.
900 CFM airflow.
Hauslane Chef Series 30″ Under Cabinet Range Hood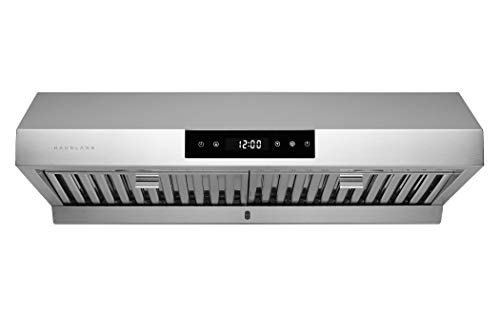 From one-of-a-kind features to hands-down durable design and the newest in technology, this range hood will fix your kitchen woes. The DIY work for this hood is straightforward, with controls that make it so easy that you'll want to use them daily! This beautiful range hood is space-efficient and provides strong airflow when paired with its powerful suction levels. With five different speed settings to choose from, users can choose the power they need.
Modern in stainless steel appearance, this under cabinet exhaust has powerful suction with customizable ventilation and controls to suit professional heavy-duty cooking such as frying or searing. It has an LCD touch screen design and delayed shutdown. You can change the light color from the standard 2700K warm glow to match the kitchen's lighting model.
Quick facts:
Made of stainless steel.
Delayed shutoff.
Baffle filters.
Awoco Rectangle Vent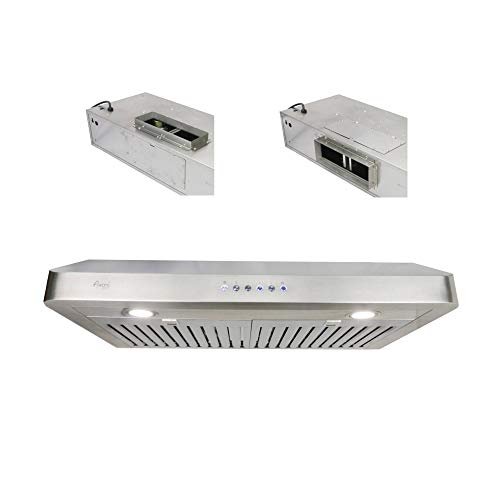 Many gas stoves deliver dangerous levels of harmful pollutants. This range hood for gas stoves is the perfect compact size to fit under a 12 deep standard cabinet. The stainless steel will complement any kitchen decor in an upscale kitchen, and the brush finishing adds a unique flair. The power on this device provides 4 speeds that maintain up to 900 CFM according to your cooking needs in any environment, for use with wall or cabinet use. 2 dishwasher-safe baffle filters mean less cleaning.
The slim range hood is sleek under the cabinet range hood with two speeds, 4 air modes, and 2 dishwasher-safe filters. The filters use baffles to trap any food particles while the oil is contained within. This range hood has four low-power settings and the perfect size for venting out any odors in your kitchen.
Quick facts:
Made of stainless steel.
2 filters.
900 CFM suction.
Leyso Under Cabinet Stainless Steel Range Hood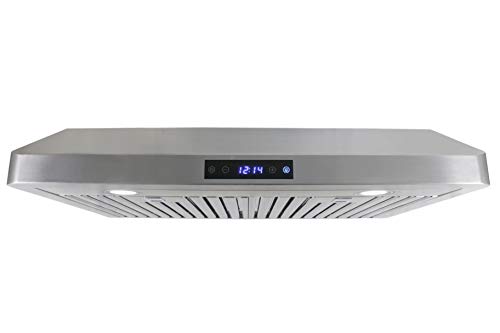 This under cabinet range hood by Ozeri was designed to make a kitchen look clean and streamlined. Unlike most ranges, this professional 1800 watt range hood keeps your kitchen smelling fresh while cooking without covering it in grease. The three speeds and four operating modes allow for different airflow strengths so guests can enjoy as little or as much fan power as they feel comfortable with. With reversible voltage, you won't have to worry about the low noise levels on the unaffected side of the house!
This kitchen ventilation appliance is mounted under the cabinet and looks good with any decor. The range hood's design has three different speeds, which can be eco-friendly when you're not cooking. It's motorized digitally controlled while having a timer for safety against fire damage.
Quick facts:
800 CFM.
2 LED lights.
2 filters.
30 inch hood.
Ciarra Under Cabinet Range Hood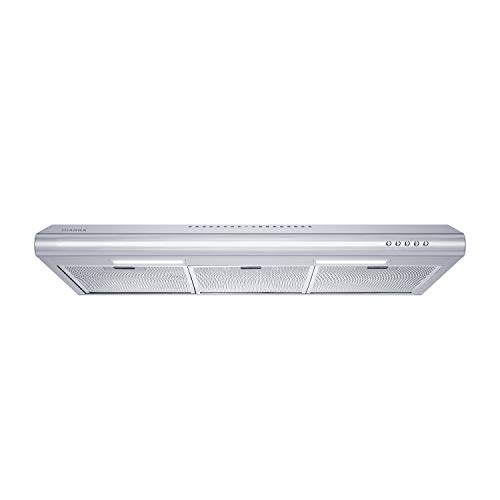 The under cabinet range hood is a great option for those looking to supply supplemental ventilation in their kitchen without dealing with additional ducting. This under cabinet vent hood can filter up to 90% of the smoke and odors from your cooking. Among its features include a control system that automatically adjusts the fan's speed, three-speed settings, built-in light with two energy-efficient LED lights that brighten up any kitchen.
This range hood uses powerful motors to remove smoke effectively and smelly smells, as well as strong suction, creating convenient cooking and cleaning experiences that will protect your health.
Quick facts:
Carbon filter.
30 inch hood.
3 speed fan.
XtremeAir Range Hood
An XtremeAir under cabinet range hood is a kitchen venting system that filters and removes grease from kitchen air. This under cabinet range hood can be easily mounted and installed, giving you threaded inserts to screw into your wall or mounting plate. A variable electronic motor controls the XtremeAir with five-speed levels: low, medium, high (maximum), and Pause, so you will always have the right amount of airflow when cooking.
The range hood is designed to be just as powerful as it is silent, providing 900 CFM of airflow. That means that the kitchen will receive fresh, filtered air. This flowing air lifts any additional heavier smells in the room while simultaneously filling it with oxygen. Two filters are 30% heavier and stronger than other models on the market.
Quick facts:
900 CFM.
30-inch hood.
Made of stainless steel.
2 filters.
FAQ
Is higher CFM better for range hood?
In general, higher CFM provides better airflow. But it also needs a more powerful fan and uses more energy. So while it's a good idea to err on the higher side, calculating the required CFM would help you make the best choice.
Do range hoods have to be vented outside?
No, range hoods don't necessarily have to be vented outside, especially when they are mounted under the cabinet and there's no option to connect to a vent duct at all. Air filters do a great job to circulate and clean the air.
Can you use an under cabinet range hood without a cabinet?
You can use an under cabinet range hood without a cabinet as long as you make sure you have a way to mount it on the wall. Corbels or other wall mounting brackets will help as long as they can support the weight.
Continue reading:
Disclosure: As an Amazon Associate we earn from qualifying purchases.