Last updated on August 13, 2023
It's one of those things that you don't even notice when they work. But you need the best extractor fan for the kitchen to keep your space smell and moisture-free.
Which one do you really need? We choose this Air King extractor fan.
First, let's establish the difference between the kitchen extractor hood and an extractor fan. The difference is that a range hood does contain an extractor fan. But the ladder is what you normally see built into the wall or the ceiling vent. This is an article about them (though we do include a kitchen hood as an option).
Choosing the extractor (a.k.a exhaust) fan for the kitchen comes down to what it does and your expectations.
Exhaust fans help clear out smells from the kitchen and contaminants, such as cooking smells that can build up in the air. Kitchen extractor fans help release vapor and other types of odors from your home before they become stuck.
It is also an appliance that reduces the cost of cooling bills. It does this by exhausting warmer air out of the kitchen and into another unoccupied space or room. This ensures that you have a cool and comfortable environment at home. It is often mounted above a cooking tray, under cabinets, on the wall (mounted inside the venting duct), or in the ceiling.
The efficiency of an extractor fan depends largely on the size of its blades and the speed at which the motor can spin them. This is measured in cubic feet per minute (CFM). So the larger and the faster the fan, the better it does its job. A 10-inch blade fan is considered very powerful, while in a typical kitchen, a 4-incher is enough.
Another important aspect is the noise it makes. As mentioned in this article's opening, the best fan is that which you forget exists (i.e., very silent.) This is measured in dB or sones (1 sone = 28 dB). A quiet fan makes a noise of about 30 dB (that's the sound of a whisper). Larger fans will produce noise of up to 60 dB (the sound of a normal conversation).
There are other things you can consider, such as speed control, LED lighting (ceiling fans), filters, and design choices.
Without further ado, here are our picks. The links earn us a commission at no extra cost to you.
What's Inside
Air King Extractor Fan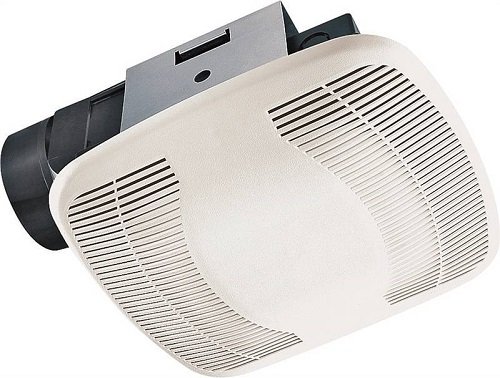 This is our editor's choice. It's a powerful and still relatively quiet fan.
A nice design of white, polymeric grill cover that measures 10 x 10 inches. This extractor fan is made of durable high-impact plastic, which makes it operate quietly for optimal performance. The airflow is 100 CFM at 3.5 sones, the noise level is rated ~45dB (the sound of TV at a comfortable level), and it can handle continuous operation. It makes for an easy snap-in ceiling installation to vent ducts.
Quick facts:
Grill vent cover.
Made of plastic.
Snap-in ceiling mounting (4-inch duct collar).
100 CFM airflow at 3.5 sones.
Different colors available to match the paint.
Different configurations are available.
10″ Wall Mounted Exhaust Fan
The aluminum kitchen extractor fan reduces expensive cooling bills and is powerful and efficient which can cool an area of 600 cubic feet per minute. It is constructed to withstand moisture unlike other competitor products. I think what makes it great for extracting smells from the kitchen is its ease of installation, variable speed functionality when combined with the iLiving Speed Controller IVSFCM, which also powers Air-conditioning Systems, Heat Pumps and Ductless Mini Splits among others.
The extractor fan plugs into a wall outlet as needed to suck out different type of smelly gusts from ventilation holes below or a separate vent located near or in the kitchen (NOTE: this emergency function will not work if power is
Quick facts:
Made of aluminum.
Variable speed control.
Automated shutters.
1580 rpm speed (600 CFM airflow.)
Broan-NuTone Chain-operated Ventilation Fan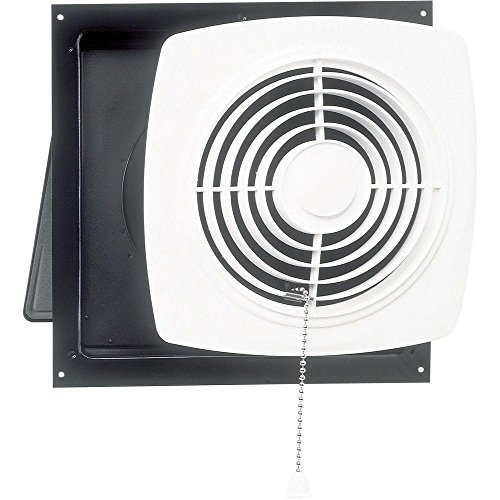 This extractor fan helps to generate airflow, which eliminates odors from the kitchen. This extractor fan is small and can be adjusted to fit spaces of up 240 square feet. It has an efficient electrical consumption of 1.7 Amps, which is pretty satisfying compared to many other models out there. It stays active with a pull-chain and removes kitchen odors with ease without requiring much space or electrical power.
The "traditional style" extractor fan has a noise level of 7.5 sones and is designed to efficiently ventilate and eliminate unpleasant smells from your house to keep it smelling fresh. It comes in various colors, all white being the most common option unless purchased for a black kitchen. The extractor can be placed on walls up to 9.5″ thick making it very versatile, and easy installation is accompanied by adjustable housing if you didn't measure the first time correctly
A kitchen extractor fan can pull smells from the kitchen, creating a fresh-smelling household. This fan operates at 430 cubic feet per minute (CFM). The type of this fan is a centrifugal, constant‐flow, multiple-speed residential ventilation fan.
Quick facts:
10-inch blade size.
Chain operated on/off.
Decorative cover design.
Foam insulated.
7.5 sone rating of noise.
HG Power 4" Strong Ventilation Exhaust Fan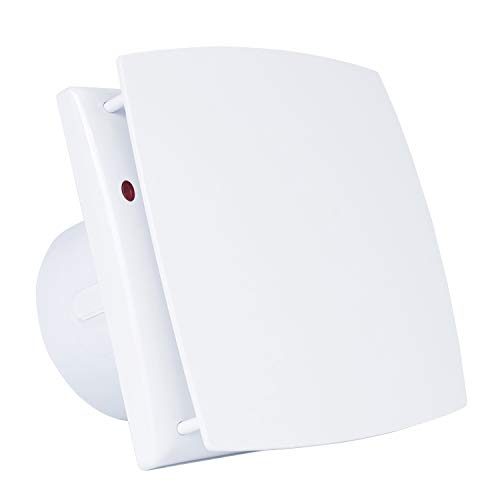 The HG Power Fan Kit has a low energy consumption, meaning it's going to be long-lasting. The fan has very little background noise and is suitable for everyday use. It is lightweight and convenient while installation, ensuring that you are safe from any injury because of its installation process.
A low noise level of 30dB makes the fan have a long using time, making it a better appliance for kitchens and other spaces that require continuous or periodic ventilation. It is an exhaust fan with a modern design that can fit most building requirements for use in kitchens.
This has a 10-watt input and a 30-dB noise level which is good for extracting smells from the kitchen. It has an ABS water-resistant case, so it's non-toxic and durable and has low energy consumption making it more cost-efficient because you would be paying $10 less for electricity per year! Another bonus: it is lightweight, so the installation process is much easier compared to heavier models.
Quick facts:
Made of ABS plastic.
10-watt power motor.
30 dB noise level.
Powerful Industrial Exhaust and Ventilation Fan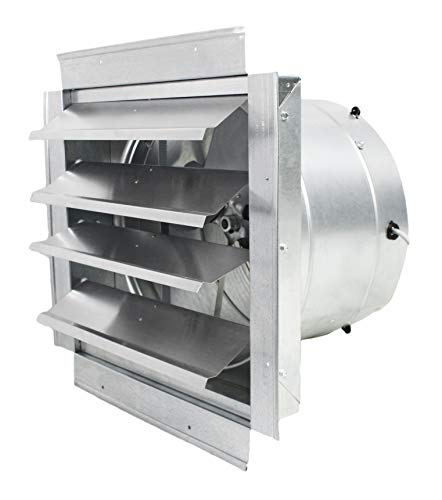 This MaxxAir 14in Industrial Exhaust Fan can be used in establishments from kitchens to farms. It has 14" fan blades with overall unit dimensions of 13″ x 18″ x 18″. The rough-in opening for this product is 17.25″ x 17.25″. It features air shutters that open automatically when it is powered on, automatically removing odors, contaminants, excess humidity, or heat. The product comes with a 1-year limited warranty.
Quick facts:
14" blade size.
Made of galvanized steel.
Industrial-grade fan.
Low Energy Ventilating Exhaust Extractor Fan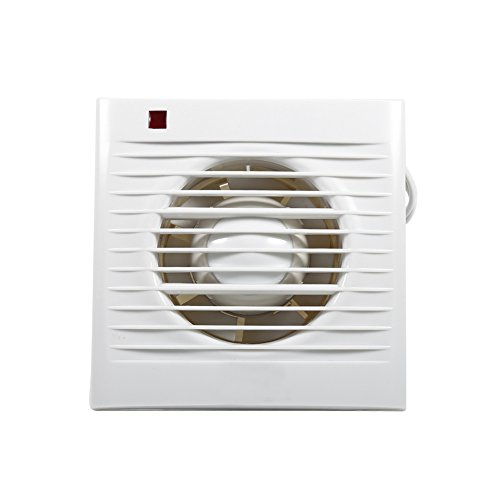 Kitchen smells can be easily removed using the Hylife Extractor Fan, which is made of good quality ABS plastic and is durable. Its color will not become dirty and faded over time. The fan does a great job, and it has a low electric power consumption, so it's eco-friendly too. This fan is easy to use in any kitchen or other room in your house where you need clean air.
The extractor fan is handy for extracting smells from the kitchen. It has a low noise range but does not compromise on performance with its good airflow. Easy to use, good in design, and doesn't easily yellow after continued use. There is also more than one design with high strength and tenacity, allowing users to work around many kitchen appliances without causing any damage.
Quick facts:
Made of ABS plastic.
4-inch blades.
Low energy use.
Broan-NuTone Power Pack Range Hood Insert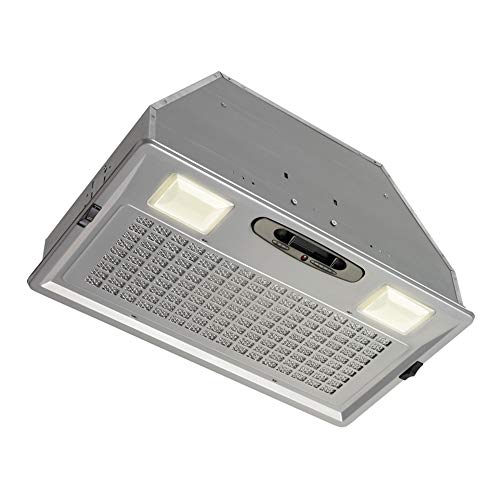 A high-quality hood insert, this extractor fan improves ventilation over the stovetop and offers 3 fan speeds. It includes a powerful light that tracks the movement of hoodward making it easy to find what you are looking for. Its 40-watt bulbs provide bright lighting in an enclosed space so you can easily see what's happening under the work surface. There is a compact one-piece aluminum mesh filter that filters grease out and keeps your kitchen fresh.
Quick facts:
Hood insert.
Built-in lighting.
6.0 sones noise level.
370 CFM airflow.
3 speeds.
Easy care aluminum mesh filter.
Ceiling Exhaust Fan with Light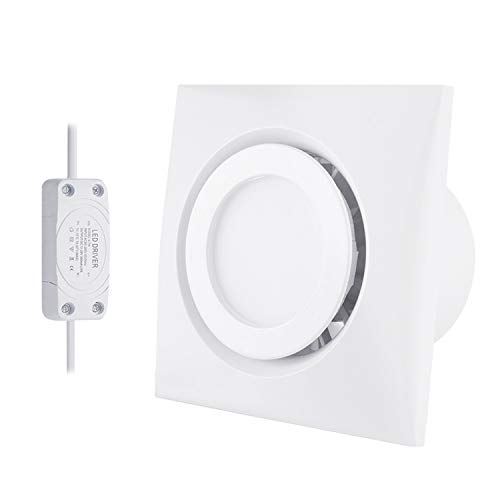 This extractor fan boasts a powerful airflow of 55 cubic ft. per minute, power usage of 14 watts, and a low voltage of 110 volts. It contains its own LED light so it can double as overhead kitchen lighting.
This extractor fan quickly removes odors from the kitchen. It's easy to install. It is made with quality ABS plastic that is durable and sleek looking.
Quick facts:
Ceiling extractor fan.
Includes LED light.
55 CFM airflow.
6″ Inline Axial Duct Ducting Extractor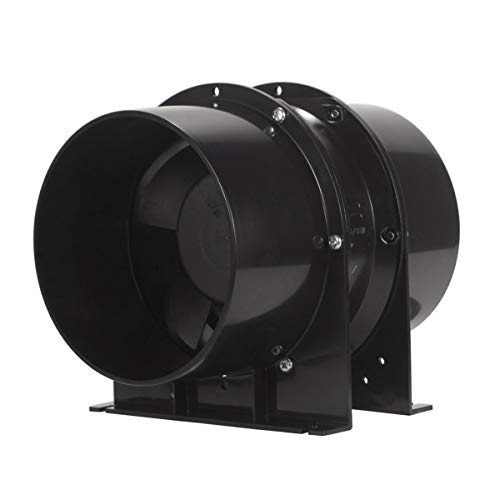 Its powerful airflow can do an excellent job at moving the smell, it is not loud, is made from good materials that are designed not to be easily distorted, and has low electromagnetic emissions. It also works well in temperatures ranging from -20 to 158°F. It can handle 186 CFM of airflow with its wind-speed being 196 CFM.
Additionally, rubber in the blade and housing increases durability to prevent cracking when in use. The appliance has frequent warranty service available if needed and a quick clean-up when dirty.
The extractor fan is powered by a 33-watt motor and can be plugged onto a standard 110 volt power outlet. It could produce up to 196 cubic feet of air per minute while operating at relatively low noise levels as it has a sound of less than 60 decibels.
Quick facts:
Duct extractor fan.
Made of ABS plastic.
6-inch blades.
196 CFM airflow.
Quality Kitchen Ceiling Extractor Fan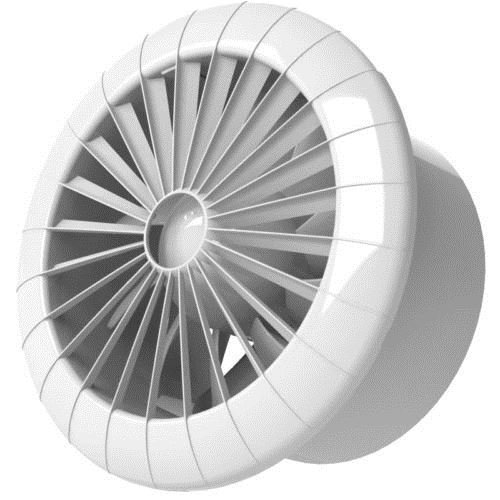 A fan with long-lasting ball bearing engine, and quiet oscillating aluminum blades, with the perfect balance between the air flow and sound level. The slient operation of this appliance is made possible by axes polyester startist bearing oil.
This extractor fan is said to have excellent motor life. It has 3 blades and collects dirt air. It was designed in a way that distinctly resembles an air turbine. It has a 100mm size, is 230-volt, and draws about 15 watts of power. Its airflow can be up to 104 cubic meters per hour, giving it 2000 rotations minute for the motor at a low sound volume or 39 decibels.
Quick facts:
Axial ceiling fan.
Made of ABS.
2400 rpm.
FAQ
Do kitchen extractor fans really work?
Yes, kitchen extractor fans really work to get rid of some (or most) of the kitchen smells and vapor resulting from the cooking. Its efficiency depends on the airflow that its blades can provide.
Do extractor fans get rid of smells?
By sucking air into the ventilation duct the extractor fans effectively remove the smell particles from the air. How much smell remains in a room depends on the efficiency of the fan.
Do kitchen extractor fans need to vent outside?
Most kitchen extractor fans are connected to the venting duct of your home. So yes, they eventually vent outside. The exception are ductless fans that work like air filters.
Continue reading:
Disclosure: As an Amazon Associate we earn from qualifying purchases.