Last updated on September 5, 2021
Looking for the best sonic ice maker to chill your drinks throughout the summer? We've rounded them up on this list. Check out the top-rated options!
► Our top choice: GE Profile Opal Nugget Ice Maker
A sonic ice maker is a cutting-edge type of machine that makes small, chewable nugget ice cubes that are smaller and easier to eat than regular cubes. There are different kinds of sonic ice makers that all cater to different needs. While some of them are for home others are for commercial use – either way, you can use these ice machines to keep you and your family cool throughout the summer.
Before buying one (especially if you're not familiar with sonic ice makers) it's important to know the different features they have to ensure you're getting the right thing.
Here are the key things to look for:
The time it takes to make ice – some are faster than others.
The level of hygiene – some machines are hard to clean and some come with self-cleaning features.
The controls – some are kind of difficult to use while others are easy.
Extra functions like bluetooth for setting the timer for ice making.
Different sizes of ice it can make.
And here are the flaws that you might encounter too (common to many machines):
The chemical smell (especially if kids are going to use it too.)
Some units make a terrible noise when making ice.
There are ice machines that don't last long (longevity is also an important factor.)
Without further ado, here's our top list. The links to products we review come with a #ad tag which means we get a commission of sales. This has no extra cost to you and we're only being transparent about the operation of things.
Enjoy your ice!
What's Inside
Nugget Ice Maker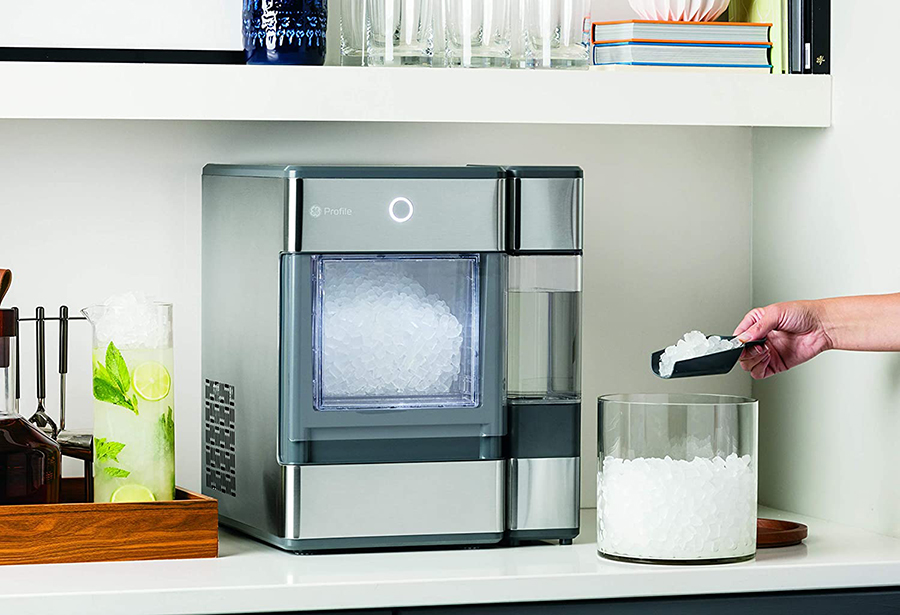 This is our pick for the #1 best sonic ice maker machine. Why? Because it's a feature-rich smart ice maker that makes crunchy chewable nuggets. You can schedule it up and control with your phone. On top of it all, it's a portable device.
The nugget ice machine may be making some noise (along with ice) that might annoy you and it costs more compared to other ice machines but the features are all worth it. It has Bluetooth scheduling of your ice making time, it's very compact and easy to use. The cleaning function makes it clean all the time and it makes ice really fast.
Pros: Smart device; quickly makes ice; Bluetooth connectivity; portable; easy to use; built-in cleaning function.
Cons: A bit pricey; a bit noisy.
Pellet Ice Maker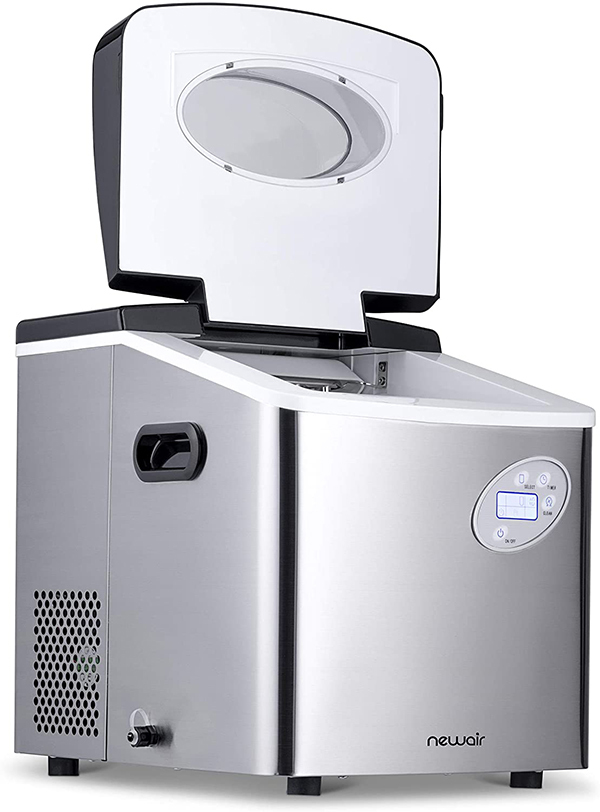 The best feature of this ice maker is that it can make three different sizes of ice for any occasion. It needs extra care though as it's not long-lasting but it is affordable and it only takes about seven minutes to make ice.
Pros: Affordable; fast ice machine; 3 ice sizes; no installation needed; self cleaning.
Cons: Not built to last; makes occasional weird noise; difficult to drain water.
Mini Ice Maker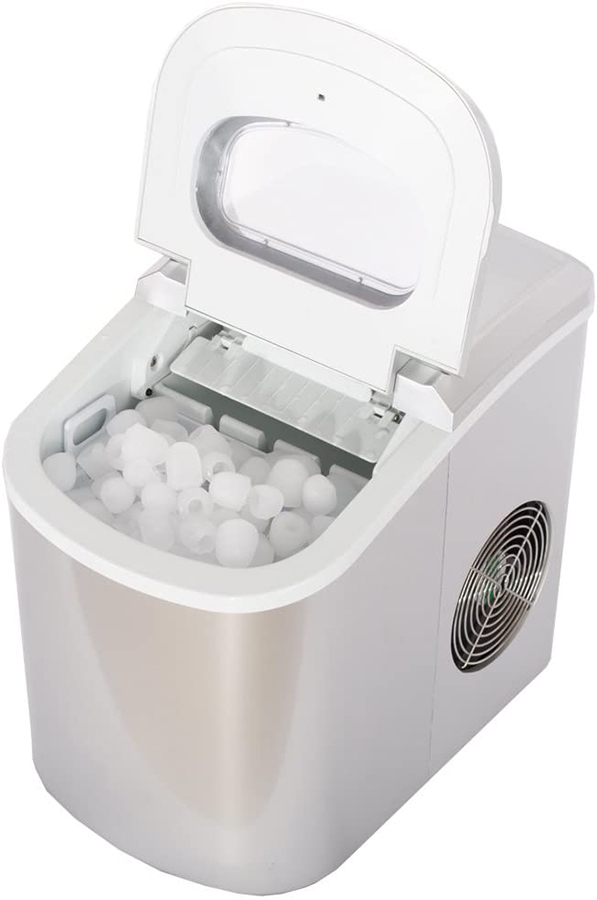 If you're looking for an ice machine that is really mobile and portable, then you're looking at the perfect choice. Though it's hard to clean because of the size, it is really cheap and can make two sizes of ice quickly and quietly. It automatically shut off when there's no more water or full of ice.
Pros: Affordable; really portable; quickly makes ice; quiet; 2 ice size; safe to use.
Cons: Hard to clean; difficult to move the basket; not long lasting.
Soft Ice Maker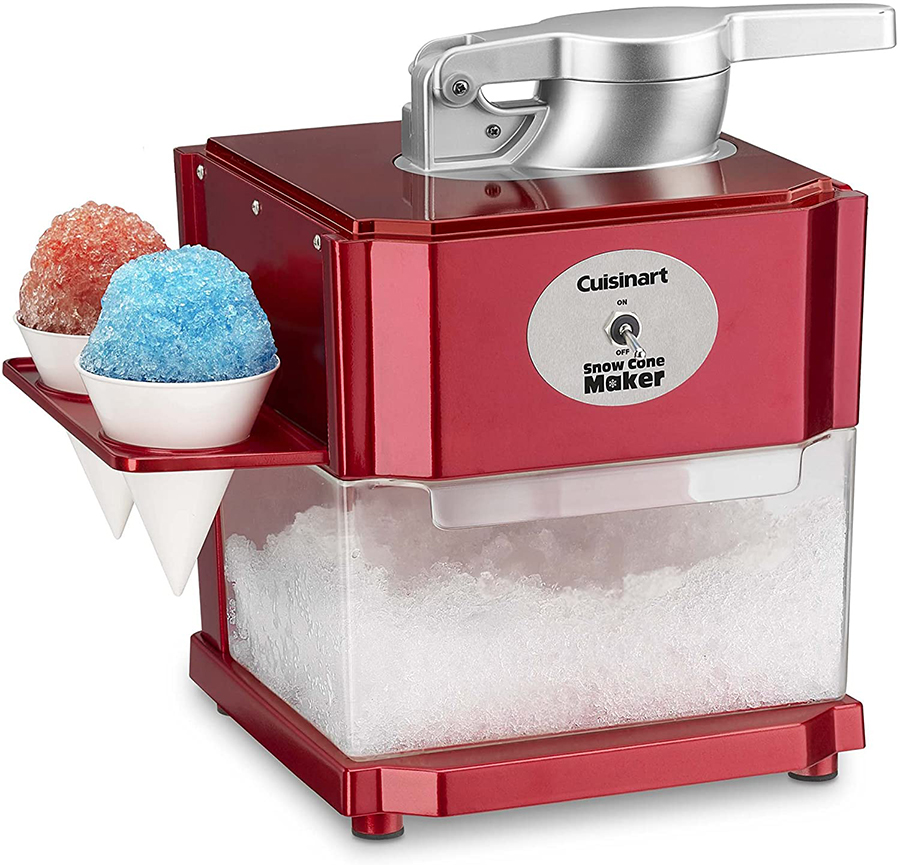 This machine ain't really an ice maker but more of an ice crusher because you need to put ice itself instead of water. It is very cheap that's why it's a bit flimsy and it can't chop big chunks of ice. It's easy to use and clean though and quick to assemble.
Pros: Very cheap; quick to assemble; easy to use; makes ice really fast; interlock safety.
Cons: Flimsy; can't chop big ice; blades chip easily.
Stand Alone Ice Maker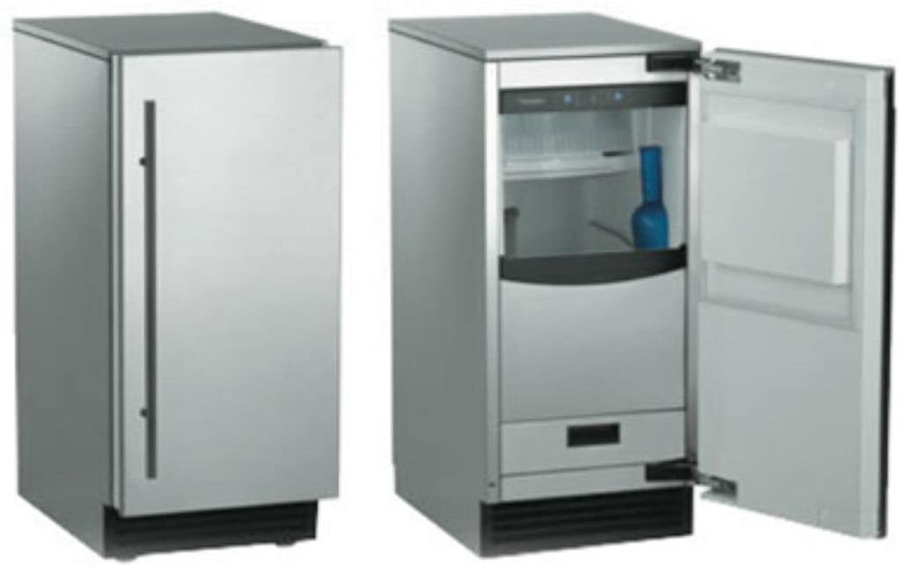 This might be a very expensive ice maker but it will last for years. The pump is kind of noisy though but not for long and it is really heavy making it hard to move. The ice it makes is so fast and chewable and it has a self-closing door feature.
Pros: Self closing door; fast ice making; long lasting; ice is chewable.
Cons: So expensive even with maintenance; heavy; noise maker.
Chewable Ice Maker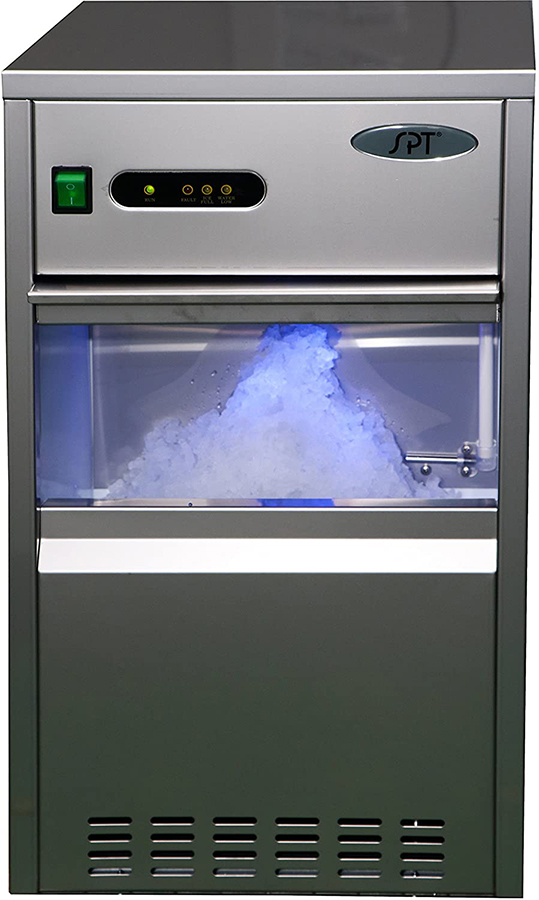 If you're looking for something that makes flake ice, then this is the perfect unit for you. It's a bit pricey but it's made of stainless steel and other high-quality materials so it'll stay with you for a while. It's quite heavy though so make sure you place it somewhere you won't need to move it away.
Pros: Stainless steel; makes plenty of ice; high quality materials; built to last.
Cons: Expensive; needs installation; not portable.
Undercounter Ice Maker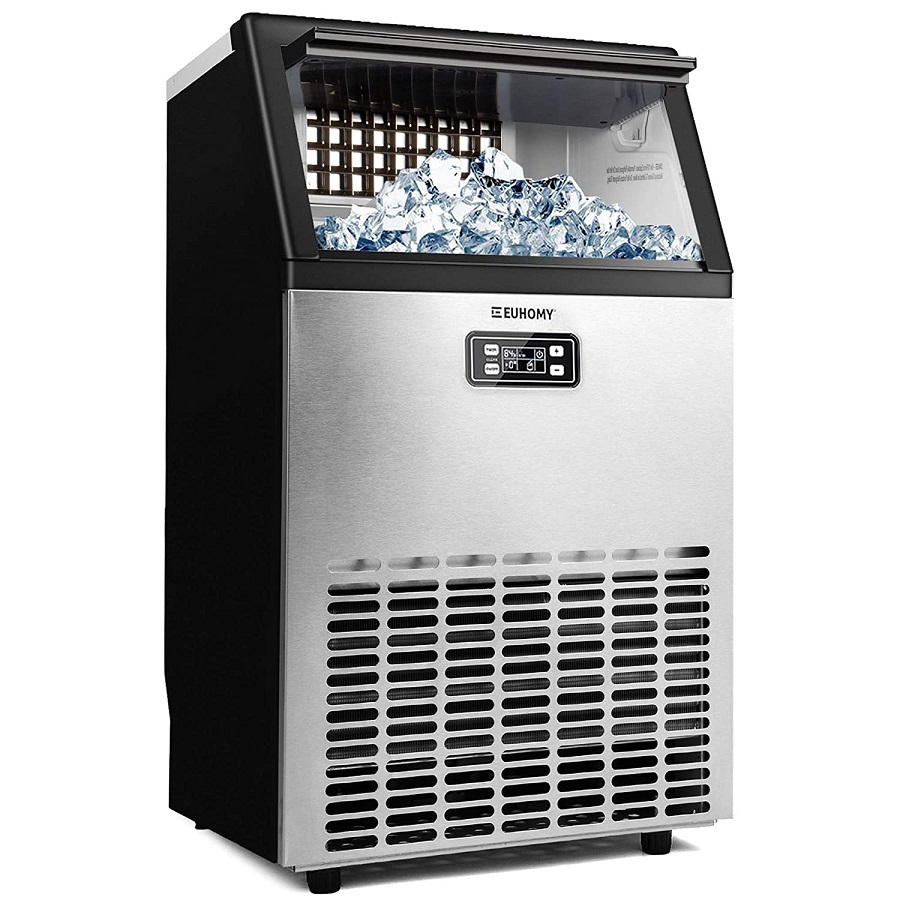 This ice maker is big that it takes much space in a room. It's versatile as it can be built in or installed by a plumber and it doesn't need draining the water. It can make lots and lots of ice but still automatically shuts off when produced enough.
Pros: Auto shut off; no drain required; produce plenty of ice; built for last; versatile.
Cons: A bit pricey; takes plenty of space; chemical smell.
Crushed Ice Maker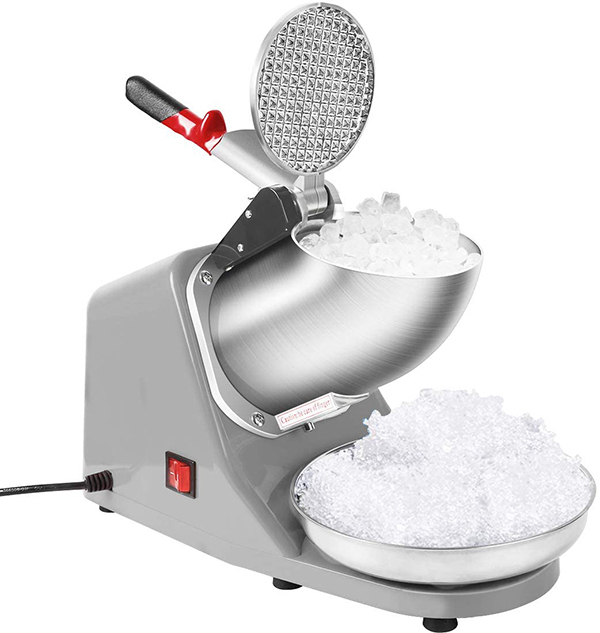 This unit doesn't really crush ice, only shaves them. The price is very low and it's difficult to clean but if you want a quiet, portable ice shaver, this is a good option. It's water-resistant and rustproof so it can still last a long time with proper care.
Pros: Very cheap price; rust proof; quiet; automatic shut off; water resistant.
Cons: Difficult to clean; doesn't crush ice; don't last long.
Countertop Ice Maker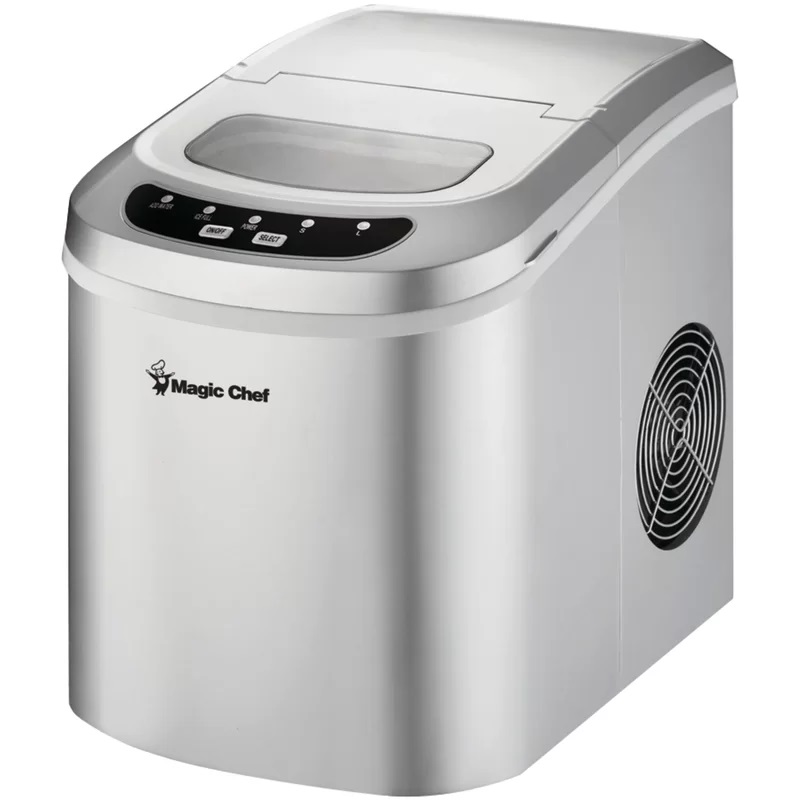 This counter-top ice machine is affordable and compact, it can fit in small spaces. It's Eco friendly and the LED controls make it easy to use. The ice though is very small and might have some chemical taste but its self-cleaning feature compensates for it.
Pros: Affordable; see through window; Eco-friendly; self cleaning; LED controls.
Cons: Leaks easily; makes very small ice; chemical taste.
Pearl Ice Maker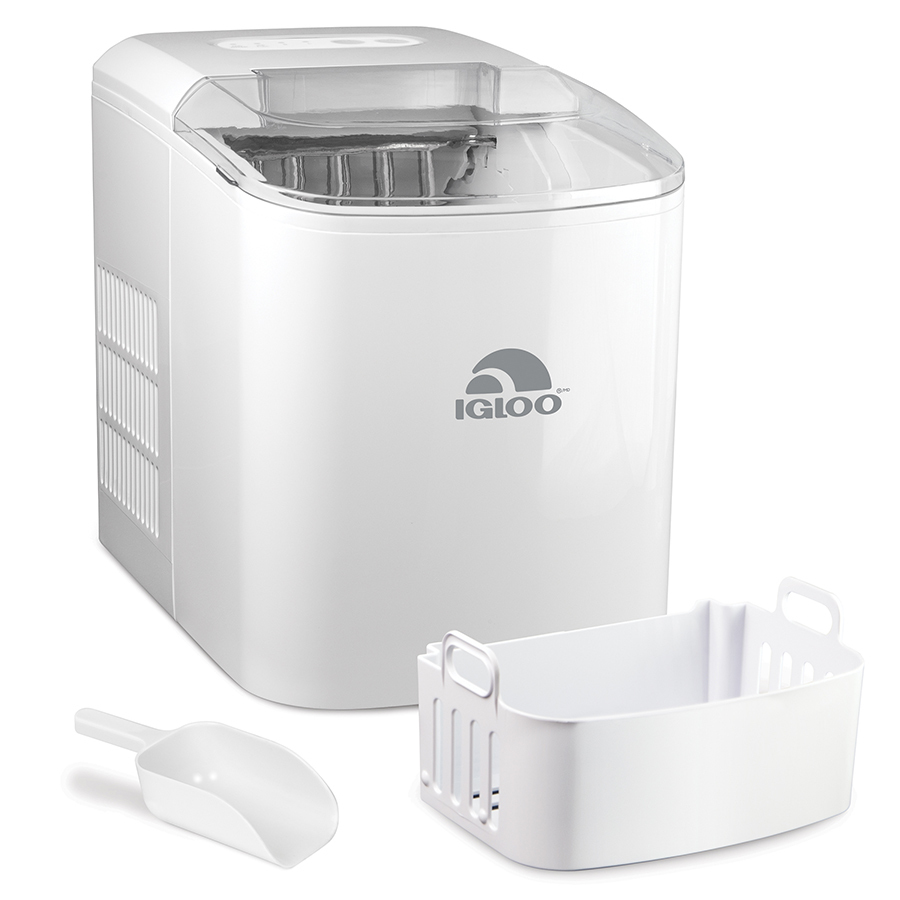 This machine is a really inexpensive and very portable ice maker. It is not as fast as the others though but you can live up with it. It makes different sizes of ice cubes and cleaning is a breeze as it can easily drain water.
Pros: Inexpensive; portable; produces different ice cube sizes; LED control panel; drains water easily.
Cons: Ice gets stuck; makes terrible noise; takes a long time to make ice.
Continue reading:
Disclosure: As an Amazon Associate we earn from qualifying purchases.