Last updated on May 17, 2022
Paint spraying glass is one of the most popular home decor crafts. And you need the best spray paint for glass to be able to enjoy it. Here it is.
Curious to know which is the best? It's the Rust-Oleum Frosted Glass spray paint for translucent effect and Krylon ColorMaster for everything else.
As you well know, spray painting glass is no easy feat. It's a very difficult surface to paint because of its smoothness. The challenge is to paint it evenly, avoiding drips, and eventually peeling. That's why the quality of paint is so important.
It's easier with translucent spray paint because light can hide some imperfections. Especially if you're going for the etched glass look. Stained glass lends itself easier as well. But it gets tricky when you want to achieve a solid matte or metallic surface. Practice makes perfect so you'll need to hone your glass spray painting skills.
When it comes to painting, we've decided to make a distinction between two styles — translucent (frosted) and solid. Granted, you can get a translucent look with most paints by applying a single coat. The best-frosted look however is only achieved with specialty paint.
Other paints are great as well, especially if you're going for something special, such as a mirror effect, antiquing, metallic sheen, or something else entirely. All paints on this list are top quality.
We have included shopping links for your convenience. These may result in a commission for us. It costs nothing extra to you.
What's Inside
Rust-Oleum Frosted Sea Glass Spray Paint

This product is our editor's choice for the best spray pain for frosted glass effect.
Sea Frosted Glass paint has a semi-transparent coating that can even be used as a privacy film on windows. It is mainly used for decoration and mirrors, though. The effect is similar to that of frosted or etched glass. One of the best things about this paint is that it dries easily – and you'll save a lot of time on your glass projects. You can apply a coat on your glass, wait a few minutes, and then apply another one.
One small thing we don't like is that you'll have to shake the can when you're painting so that you can get the consistency of paint. Otherwise, it gets lumpy.
Quick facts:
Frosted etched glass effect
Dries quickly
Made in the USA
Krylon ColorMaster Paint

This product is our editor's choice for spray painting glass in multiple finishes.
Krylon ColorMaster paints are available in primer, flat, glossy, satin, semi-gloss forms, matte, metallic. This paint dries to the touch in less than ten minutes. It is available in a range of over 50 colors, making sure that there is a complementary color combination appropriate for any project.
Other great features of Krylon ColorMaster spray paint include outstanding coverage on your glass painting projects and Durable Covermax technology. Every can is 12 ounces with a lightweight easy touch tip to avoid spills.
Quick facts:
For indoor and outdoor use.
Works on glass and other surfaces.
Dries in 10 minutes.
50+ colors and 8 styles.
Rust-Oleum Gold Spray Paint

Rust-Oleum metallic spray paint is a product that can be used to give surfaces a beautiful shine. Apply it to glass but also wood, metals, cement, plaster, or different forms of ceramics to create unique looks. The formula is made of metal flakes making it more reflective.
It dries up easily and seals decently after a day (no smudging or rub off). You will be pleased with the result color and brightness of gold. The gold color is beautiful and enjoyable to use.
Quick facts:
Brass, copper, gold, and silver colors are available.
Rich metallic shine finish.
Works on any surface.
Takes 15 minutes to dry.
Krylon Sea Glass Spray Paint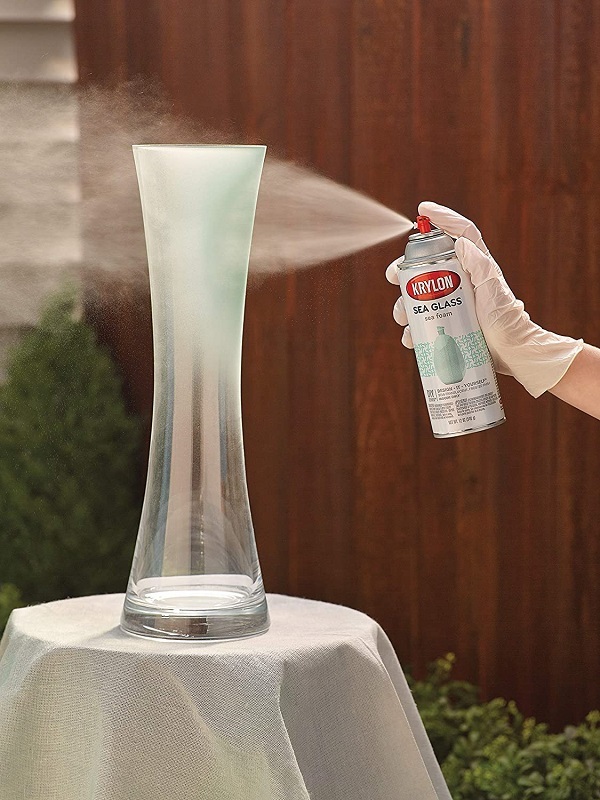 Krylon Sea Glass spray paint is transparent and appears like the surface of an ocean as a result of being tumbled by waves. This is one of the best-looking glass paints. The aerosol comes in a single 12oz aerosol can. There are several colors available. It's really user-friendly, cuts nicely, and looks fantastic once you're done.
Although it takes many coats to fill in, it gives you considerable control over the final product. Understanding how to spray paint correctly can take time because it's difficult to get it right.
Quick facts:
8 colors available — Amber, aqua, ice, cornflower, sea foam, lemon, rose, ruby.
Sea glass effect.
Made in the USA.
Rust-Oleum Gold Mirror Spray Paint

Mirror effect spray transforms glass surfaces into a mirror surface. The special, slim can design makes handling very simple. Simple to use and easy to dry while providing exceptional durability. Ideal for glasses, candle holders, glass bottles, tea cups, etc.
This stuff really works. It produces the "mirror effect" as the name suggests. You can choose a silver or gold color for your projects. One example of use might be spraying a glass top of a coffee table to make it look like a mirror.
The only downside is that it's hard to regulate how much paint drips off, but that's true of every spray paint. Wrap a paper towel around the nozzle, so it would keep it from obstructing the stream while still collecting any of the drips.
Quick facts:
Mirror effect for glass.
Glossy sheen.
Oil-based paint.
Quick to dry with only one coat needed.
Krylon Looking Glass Silver-Like Aerosol Spray Paint

You need only water, vinegar, a spray bottle, and paper towels. You can paint the reverse side of your glass because it is durable.
Or use it for decorative painting. Mix half water and half white vinegar in your spray bottle, and gently spritz it onto the glass. Apply a generous coat of spray paint of the non-toxic mixture by spraying it on for even distribution. Wait 5 minutes before painting again.
Sprinkle a bit of vinegar on a paper towel. Slightly dry the glass by laying the paper towel over it. Areas, where paint adhered to the glass, would rub off, while areas that stayed dry are likely to be still painted. Let the paint dry before continuing.
You will love the way mercury glass looks. Use a contrasting color (like Krylon's 24k Gold) as a second coat. It will look spectacular, particularly with a contrasting metallic color. If you spray gently, it'll retain some of its translucency.
The paint can be used to create the vintage look on mirrors and furniture as well.
Quick facts:
Decorative glass spray paint.
Mirror effect.
Dries to touch in 5 minutes.
Krylon Short Cuts Aerosol Spray Paint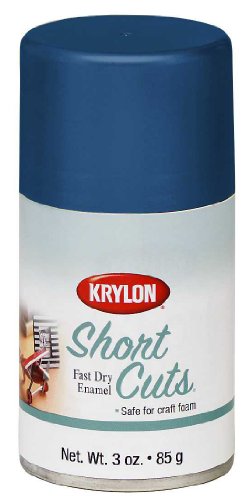 It is great for small painting projects with very short cuts. This is a fast-drying paint that has a high gloss sheen. It is best for arts, crafts, and hobbies. Recommended surfaces include art foam, papier-mache, and plastic, but works great on glass too.
Quick facts:
34 paint colors available.
Dries fast.
Krylon Stained Glass Paint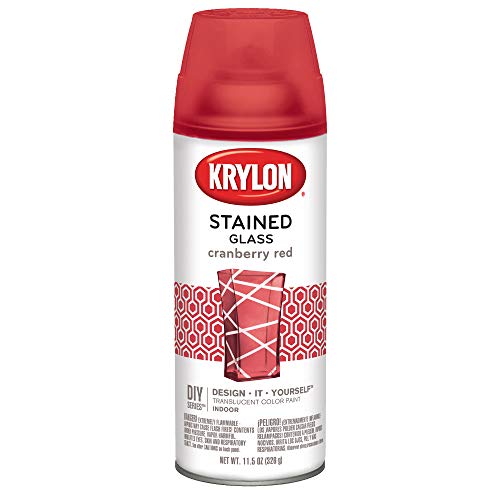 This Krylon glass paint will help you easily turn your regular glass into stained glass. It's made to adjust the appearance of any glass piece easily.
The biggest downside to this paint is that it's not heat resistant and can't be used on surfaces exposed to 85 degrees F heat. That's a problem if you want to spray paint lightbulbs or your windows (and they get hot sunlight in summer).
For other projects, Krylon's Stained Glass paint is probably a good choice for your crafts. It gives off a thin coat of spray. Painting glass could slightly prolong the process, but as far as it is concerned, if you are skilled enough, it will not be an issue. With this glass paint, you have a lot of control over how many layers of color you add and create stained glass.
Quick facts:
8 paint colors available.
For indoor decorating only.
Not heat resistant.
Design Master Metallic Spray Paint

If you are searching for the best gold spray paint for glass surfaces, Design Master metallic spray paint in rose gold is the winner. Lots of spray paint products claim they are rose gold, but this paint is genuine. If you want a job to be done properly, you can use the process to make sure you'll get the color you want.
The product has some beneficial side effects because it really adheres well to every surface. If you just need the rose gold paint for one paint can and have most of the can left, you can use it on the metal, wood, plastic, or any other surface you can think of.
As a possible downside, the finish isn't transparent. It's important as it concerns glass painting.
You'll also do well to add a layer of paint before it dries since this paint has a habit of flaking off quickly. We recommend you do that with any glass that you're going to paint with spray paint.
Quick facts:
Smooth finish.
Metallic rose gold.
Decorative paint for indoor use.
Dries quickly.
Americana Acrylic Sealer Aerosol Spray

You should be satisfied with the success of this spray paint sealer. It's extremely shiny. When you are using it on other surfaces, make sure to cover them and the floor as it can leave a lot of residue. It's a sealer and finisher that provides protection for durability.
Acrylic sealer.
Gloss finish.
Works on any surface.
Clear.
FAQ
Can you use Rust-Oleum spray paint on glass?
Yes, there are specialty Rust-Oleum paints for glass. Universal Rust-Oleum spray paint can be used on any surface including glass.
Can you use Krylon spray paint on glass?
Krylon has a line of specialty paints specifically to be used on glass. Other Krylon paints can be used on many surfaces including glass.
Does regular spray paint work on glass?
High quality paint will stick to glass as well. Clean and prepare the glass surface well, apply quality spray paint, and it will work fairly well.
Continue reading:
Disclosure: As an Amazon Associate we earn from qualifying purchases.