Last updated on August 13, 2023
Looking for the best kitchen faucet? Here are the top 10 that we consider the best faucets. Every one of our picks represents a different type of faucet.
What faucet is the best overall? We've chosen the Delta Leland Touch Kitchen Faucet.
Two things are the most important when choosing the right kitchen faucet — durability and style. Yes, there are more features to consider. Except that there's none. If you've had a faucet in the past with developed leaks, you will know that all other features are useless if they can't hold the water.
So to keep things simple, we've taken durability as the main trait when looking for the best kitchen faucet. Then came the style. We have, of course, been looking at other features that are important for different types of faucets.
If you disagree with our best overall pick, you will have plenty to choose from what meets your requirements better.
On this list, we have included:
We have also included the shopping links (our site earns a commission at no expense to you.)
Which faucet will be part of your kitchen renovation?
Delta Leland Touch Kitchen Faucet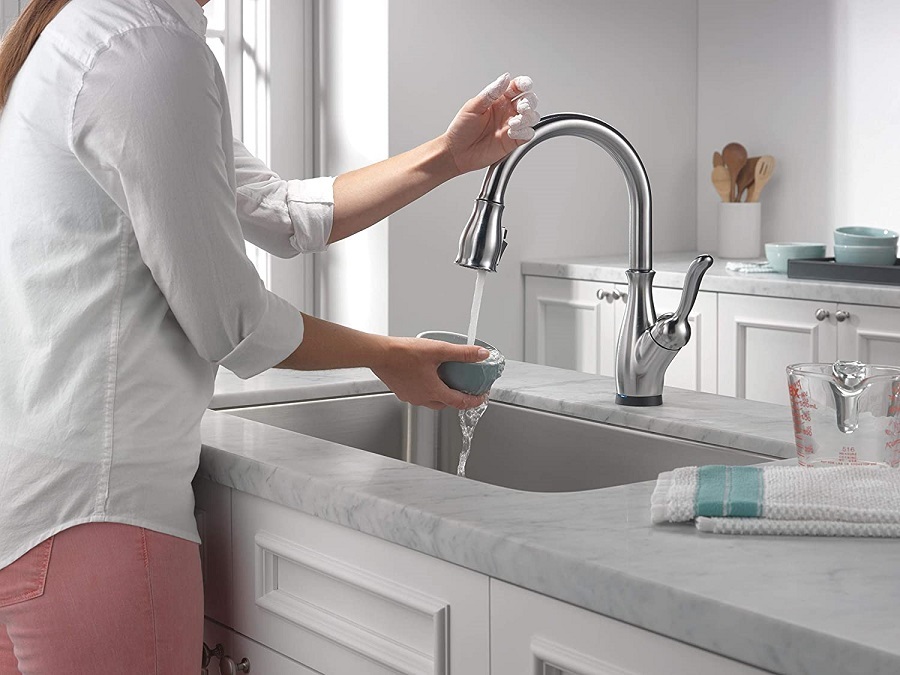 This is our editor's choice for great value for the money spent on a high-end kitchen faucet.
Great for: if you don't trust touchless sensors but want the convenience of not having to turn the handle.
This Delta touch kitchen sink faucet is a great kitchen accessory for various reasons. It includes Touch2O technology (you merely need to touch on its body to operate it) and magnetic docking (for the spray nozzle) and will last 2x longer than the industry standard (diamond seal).
Overall, the Leland kitchen faucet with a pullout sprayer is unique. The touch technology is a welcomed change for those who grow tired of twisting a knob or pulling down on faucets with their hands all day (it's also a trend). The in-line spout allows for easy installation into either single or double sink setups.
The stainless finish makes it sleek and allows easy maintenance, essential in a kitchen environment. The faucet's handle is user-friendly with excellent grip (you need to use it to control the temperature or switch to manual operation), making it easy and effortlessly to perform more straightforward tasks like changing water temperatures (the indicator light will change colors depending on the temperature.)
Pros:
Made of stainless steel.
LED temperature indicator.
Touch sensors.
Magnetic spray head docking (retractable hose).
Single or 3-hole configurations (includes a deck plate.)
4 choices of a finish.
An optional soap dispenser.
Cons:
Might be a bit too big for standard kitchen sinks.
Noisy.

No AC adapter for the touch sensor.
Touchless Kitchen Faucet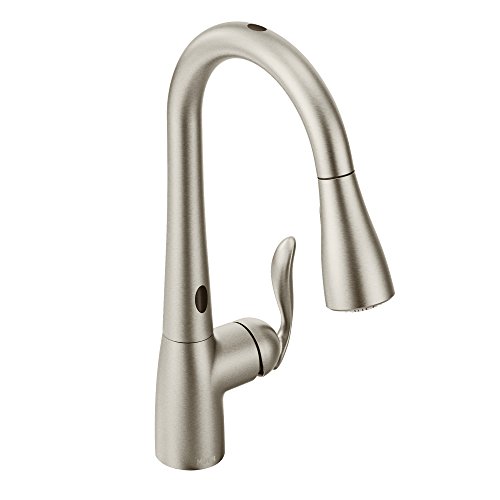 Great for: touchless water flow control in the kitchen.
Touchless kitchen faucets are a trend, and there's a lot of value in not having to touch the faucet with dirty hands during a clean-up. It's also very convenient even if you only want to fill up a glass of cold water.
Moen Arbor Motionsense faucet has been designed with this in mind. Crafted with high-quality stainless steel, these spot-proof finish pre-assembled two-sensor touchless pullout (spray head) faucets not only provide high water pressure but also resists spots.
This product is made to withstand everyday day-to-day kitchen use and has increased functionality with features like its two sensors and power clean spray technology. Multiple adjustment options are available, making it perfect for space versatility. The one handle in this product makes it very convenient to control the flow of the water at your sink, as well as retractable when
Taking the time to analyze Amazon reviews, the ergonomic design is one of the most praised features of this faucet. The functional spraying head has won praise from reviewers with 'extra reach.' Moen's Arbor Motionsense spray technology delivers a hands-free experience and is easy to use.
Pros:
Touchless sensor operation.
Made of stainless steel.
Powerful sprayer with a retractable hose.
A choice of 5 finishes.
Cons:
May develop leaks after a few years (maintenance is required.)
Doesn't include an AC adapter for the motion detector electronics.
Smart Kitchen Faucet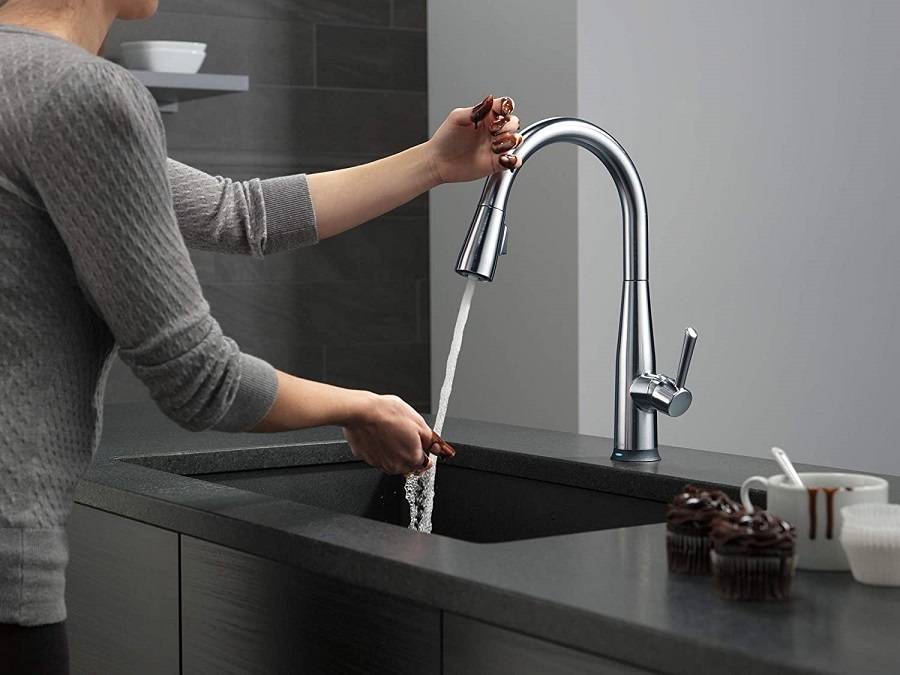 Great for: controlling your kitchen faucet with voice commands.
More and more manufacturers have started incorporating Alexa or Google Assistant into their kitchen products in the last few years. One of these companies is Delta Faucet Company, which offers an Essa voice-activated kitchen sink faucet.
A smart kitchen faucet is an excellent addition to any household. It features stainless steel construction, diamond seal technology, Alexa or Google-enabled touch on and off, temp sense indicator light automation, and InnoFlex lines for leak-free plumbing. However, it is one of the most expensive faucets.
Overall, it is an innovative faucet that simplifies the kitchen experience. This product can be controlled seamlessly by vocal commands given to a smart device or finger swiping across the faucet. There is no need for manual controls with these two easy access activation methods, which saves the faucet from getting dirty (which makes it look great all the time).
Pros:
Voice control.
Touch sensors.
Made of stainless steel.
LED temperature indicator.
Magnetic docking (sprayer.)
Cons:
Voice control only works with an AC adapter (a nearby outlet is needed.)
Might be too big for some sinks.
Smart features sometimes override manual control.
Pull-down Kitchen Faucet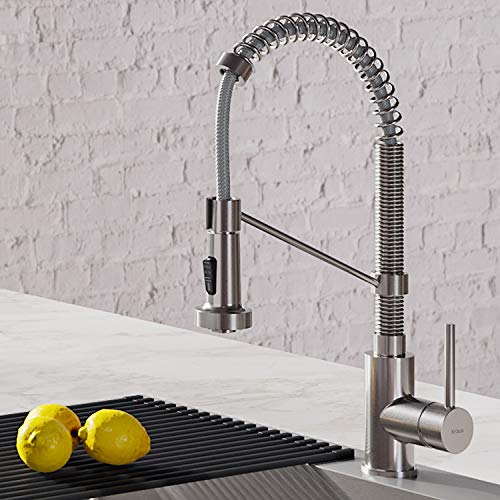 Great for: better reach in big kitchen sinks.
Pull-down faucets are often considered commercial-style, thanks to their durable and efficient design. Moving the faucet around a big sink freely is a helpful feature.
This product is durable and long-lasting. The cleaner finish will not fade or tarnish over time. A big pro of this Kraus faucet is the choice of 13 finishes that includes multi-color. The attachment hardware includes pre-attached water supply lines and all mounting hardware, making installation convenient.
This Kraus kitchen faucet has an 18-inch pull-down spout for extended range of motion in all sink areas and a metal base made to resist wear. The design and spray head are impressive. This faucet is strong, durable, and perfect for any kitchen remodel or upgrade.
Overall, this commercial-style kitchen faucet is both flexible and functional. The faucet advertises its ability to fit under most kitchen cabinets while providing the option for pull-down action.
Pros:
Made of stainless steel.
Pull-down faucet spout.
Powerful spray wand (in 2 spray modes.)
13 finishes to choose from.
Great water pressure.
Cons:
No pause button on the sprayer nozzle.
The spout holder gets in the way.
The nozzle may have surprise dripping.
Pull-out Kitchen Faucet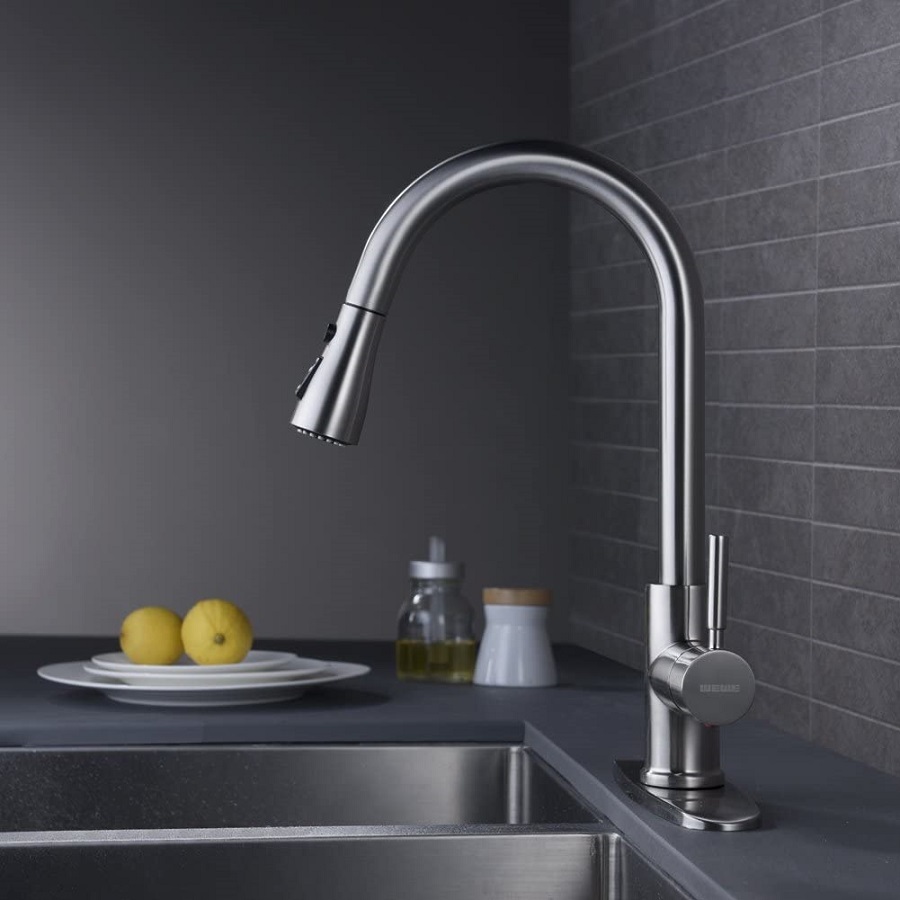 Great for: budget kitchen faucet in stainless steel.
This faucet, while sleek and modern looking — the basics you need from a budget pullout kitchen faucet. The materials are high-quality brass, durable, and corrosion-resistant, with a chrome finish, brushed to resist showing dirt stains.
The WEWE stainless steel faucet offers a practical option for any kitchen. It features a three-way spray setting of stream, sprays, and a multifunctional pause to wash any dishes with ease.
Overall, this is a practical and stylish update to the traditional decorating or design style. This stainless steel kitchen faucet has a sleek design and is easy to use. Considering its price, it's an excellent value for the money.
Pros:
Made of stainless steel.
5 finish choices.
Pull-out sprayer with multple spray modes.
20,000 mostly positive Amazon reviews.
Affordable price.
Cons:
Factory connections are loose.
Non-standard controls.
Poor instructions.
Pot Filler Faucet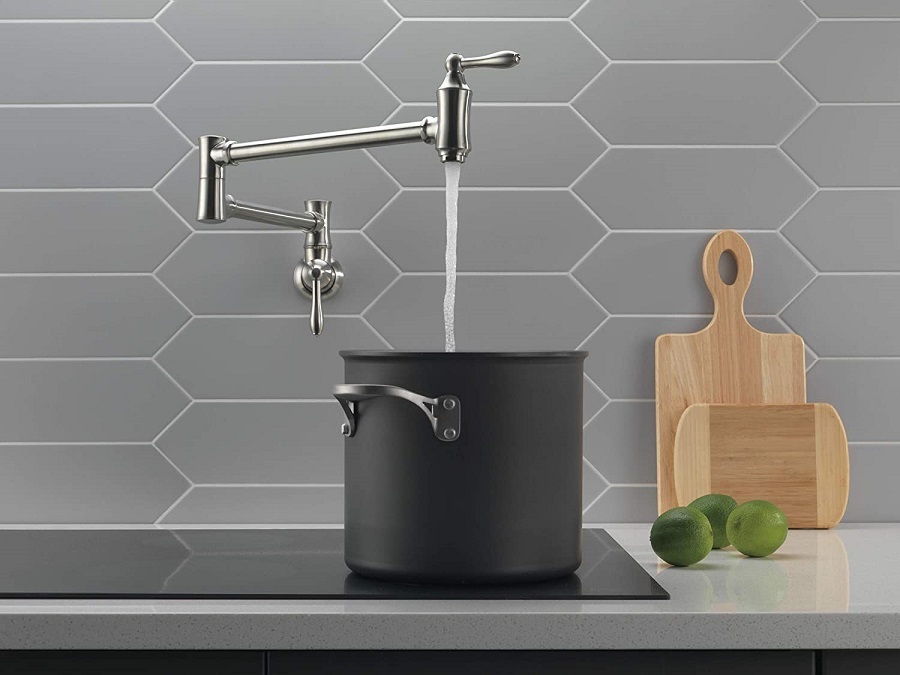 Great for: filling your pots.
The Delta Classic Pot Filler faucet is made with a stainless steel finish that matches many modern kitchens. The product features a ceramic valve to suit ADA-approved standards. The additional reach makes it possible to fill any pot more conveniently.
This product is an updated, sleek, and stylishly designed pot filler kitchen faucet that will stand up to the rigors of daily use in your home. This kitchen faucet should last long, made out of solid materials like high-quality brass. The water pressure is excellent for anything you need to do in the kitchen.
Overall, it's a well-made pot filler faucet by Delta that looks very well and provides good water pressure. It's a great option to use as a secondary fixture to your main kitchen sink faucet.
Pros:
Made of brass.
6 finishes you can choose from.
Wall mount.
Cons:
Splashes.
Drips after turning off.
Shows visible slant when folded against the wall.
Wall Mount Kitchen Faucet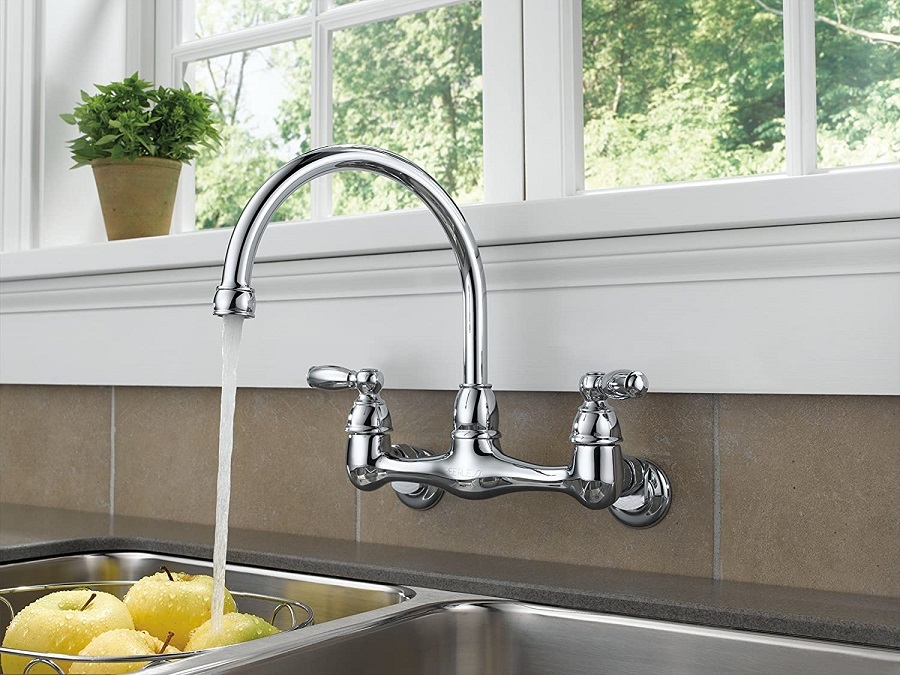 Great for: saving space in a small kitchen and when the water supply goes through the wall.
This Peerless kitchen faucet is a high-quality faucet with plenty of great features. It is easy to install and has an excellent life expectancy. Moreover, it provides an easy touch and an appealing design. There are two handles with this kitchen faucet that controls the water flow and have a 360-degree swivel for users' convenience.
The faucet is a polished chrome finish design. Its two handles provide the option to control the water pressure when needed, and its easy installation can make anyone feel like an expert. You can install with confidence knowing this faucet comes backed by a limited lifetime warranty. There's plenty of flexibility in the high arc wall-mounted faucet design, which swivels for added convenience during everyday tasks like washing dishes or filling up pots with cold water.
Pros:
360-degree swivel.
Body made of brass.
Polished chrome finish.
Cons:
Knobs are a bit wobbly.
Handles seem a bit too low.
Kitchen Water Filter Faucet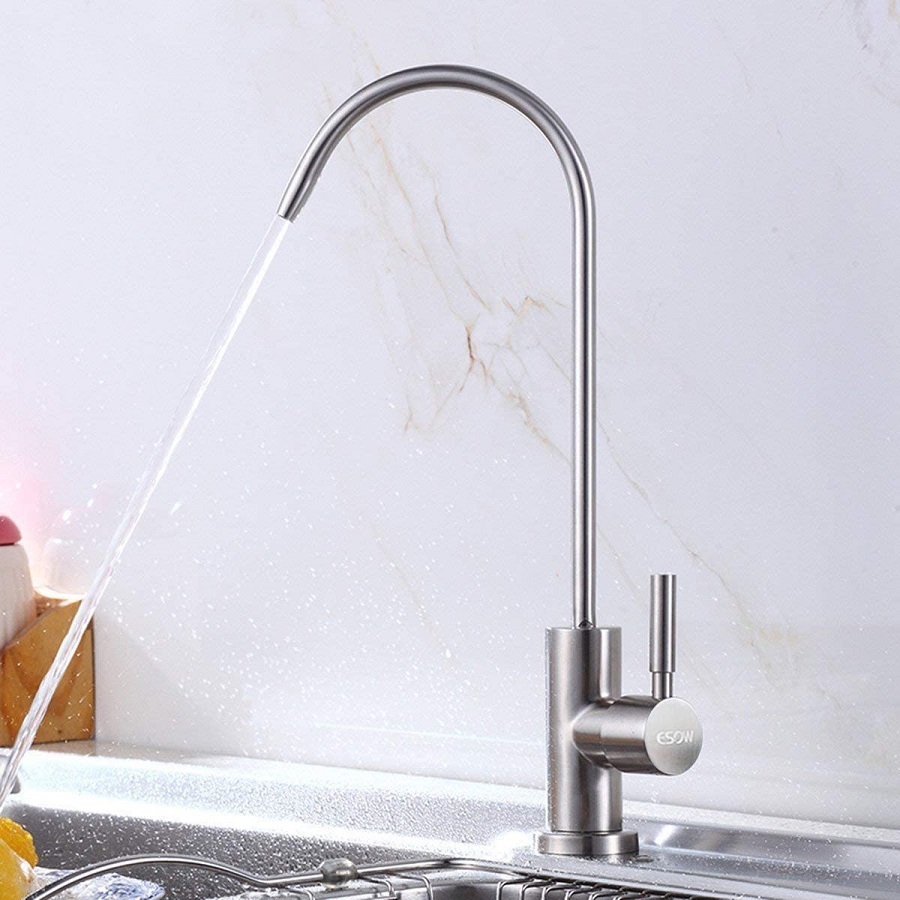 Great for: drinking water in the kitchen or a faucet for hard water.
This is a decent kitchen faucet piece that is inexpensive, though well made. It has been made out of strong stainless steel, both rust-resistant and lead-free. The finish is resistant to corrosion and tarnishing while also looking very classy.
It has a 90-degree single lever handle for quick and easy water control a 360-degree swivel spout with a high-arch design. Its features include a 100% lead-free drinking water faucet that fits most reverse osmosis units or cold water filters. Ceramic disc cartridge includes small ceramic rings that will block rust particles.
Pros:
Made of stainless steel.
Available in 3 finishes.
High-quality ceramic disc cartridge valve.
Cons:
No aerator.
Installation hardware might need improvement.
Single Handle Kitchen Sink Faucet with Side Sprayer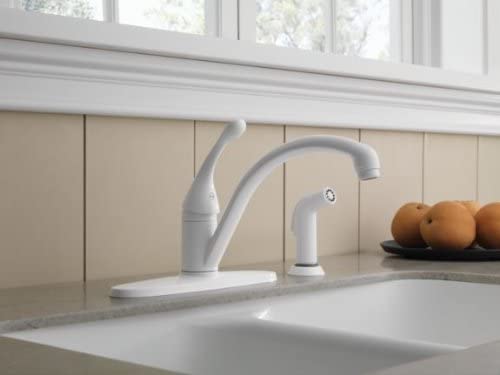 Great for: most standard kitchen sinks.
This Delta faucet is durable because it features diamond seal technology and the limited lifetime warranty backs it. It's easy to clean due to its touch-clean nozzles. It has a beautiful, high finish that looks perfect with any kitchen style. The separate side spray head moves freely, providing a steady stream of water for the effective rinse.
This Delta Collins Single-Handle Faucet is an exciting modern faucet with a stylish design that looks great in many kitchens. It comes backed up by a limited lifetime warranty and many valuable features. The materials are durable and made to last for years of use.
Overall, a well-made, sturdy, water-efficient, and easy to clean kitchen faucet is perfect for single-hole or 3-hole installations. It boasts a durable design created for everyday use with features designed for ease of installation and removal. Choose between a polished chrome finish or a spot-resistant brushed nickel finish that'll resist fingerprints.
Pros:
Made of brass.
Pull-out nozzle (magnetic dock.)
Trusted brand.
3 finishes.
Cons:
May develop dripping in the long run.
Splashes.
Double Handle Kitchen Sink Faucet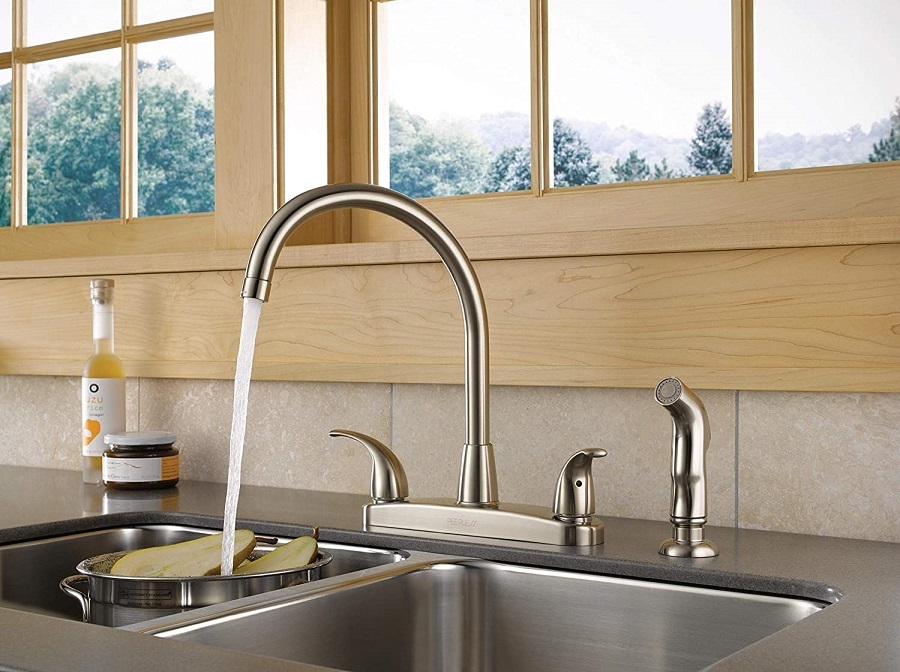 Great for: timeless look and easier hot water control.
The Peerless line of kitchen faucets has a large selection for every home and budget. The Peerless Tunbridge 2-handle kitchen sink faucet with a side sprayer in stainless steel, a high-arc design with 360 degrees swivel for easy use during everyday kitchen tasks.
The faucet is sleek and versatile. You can install it to suit different conveniences during every cooking task. As a 2-handle faucet, it is an instant classic. Its most significant pro is water temperature control — you will not turn the hot water on by mistake.
Pros:
Timeless design.
Made of stainless steel.
2 finishes.
360-degree swivel.
Cons:
Supply lines are not included.
FAQ
Which brand of kitchen faucet is best?
We've picked Delta faucets as the best brand.
What brand of faucets do plumbers recommend?
Delta, Moen, Kohler, and Kraus are the most trusted faucet brands.
Is Moen or Delta better?
Both brands are known for their quality faucets. Delta faucets are more feature-packed (including smart faucets.) We've chosen Delta as a better brand overall.
Are off-brand faucets good?
Some off-brand faucets provide good value for the money. They are typically very affordable but lack high-end quality.
Are Delta kitchen faucets Made in the USA?
Yes, Delta kitchen faucets are made in the USA.
Continue reading:
Disclosure: As an Amazon Associate we earn from qualifying purchases.