Last updated on November 29, 2023
In short, no, your kitchen faucet should not necessarily match your sink. They can have different colors, finishes, materials, and sometimes even styles.
The longer answer is that having a different finish of the kitchen faucet and the sink creates a decorative accent (if you're thinking about the faucet as a decorative item.) In this case, though, it should at least match the overall style (for example, a farmhouse apron sink and a gooseneck faucet in a rubbed bronze finish.)
Should you match the sink and faucet completely? You can do that, and there's nothing wrong with that. It's a safe choice — you can be sure it will not clash. But it won't be quite as interesting visually. Matching your kitchen faucet and hardware (cabinet knobs and pulls, appliances) is important to create a visual balance, in any case.
So now that we've established that you can mix your faucet and sink, let's see how you can do it. Below are some ideas and guidelines to give you an idea and inspire you.
What's Inside
How to Mix Metal Finishes in the Kitchen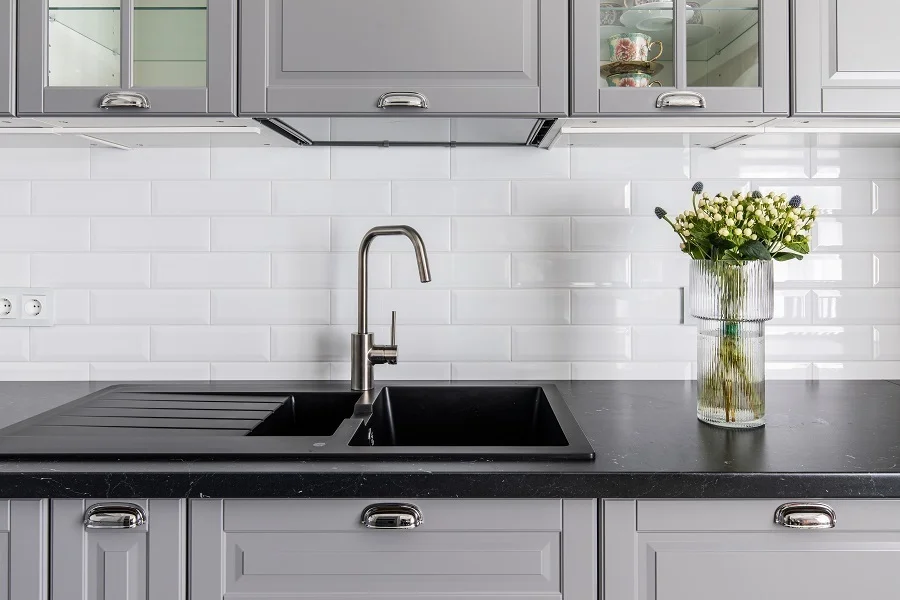 Is it hard to find a faucet that matches the same metal that is on your appliances? You don't have to spend as much time looking for a finish because you can search specifically for the metal finish rather than the faucet. We recommend searching for the finish before picking out a faucet with any other metal.
The color of your kitchen will determine the metals used. Choose an accent metal and repeat it on things such as pendant lights and hardware. When choosing a chandelier, the most important thing is that it is different from your pendant, which could have either glass or metal.
When deciding to use a certain color for your kitchen, you must consider the colors of all the metals in your design because they will show through what you are using in addition to any decorative items from other materials such as crystal ware, porcelain, or paint. Please pay close attention to how different metal colors underline the other colors of those objects so that they do not make them look dull.
Mixing and Matching Metal Finish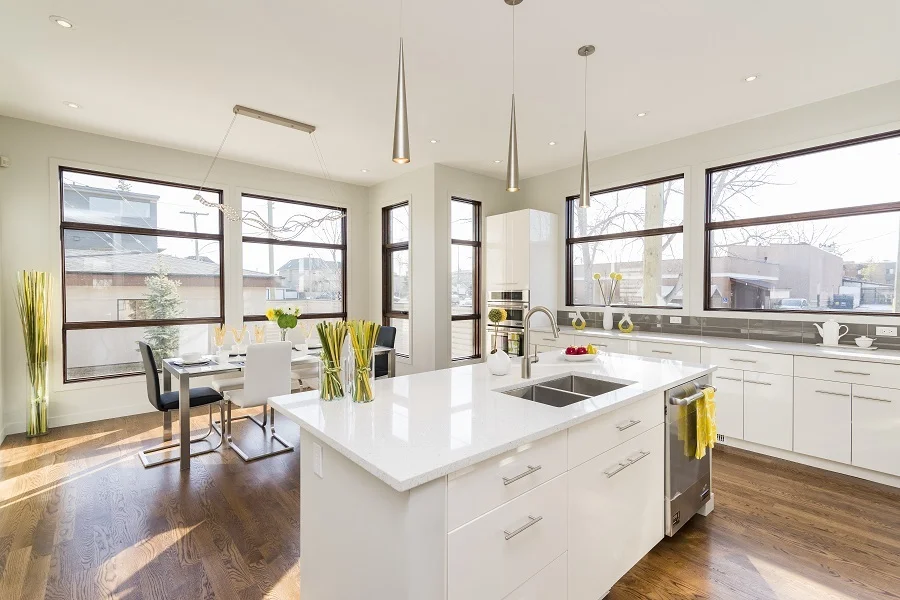 One decorating style for kitchens is to mix different metals such as metal finishes, paint colors, and appliances. Mixing different casings on knives and cooking utensils can also help select the set that best suits the kitchen's decor. Mixing styles helps provide more visual interest to a room or surface and make it easier to locate individual items because you can distinguish by color. Choosing one light area, such as under cabinets on one side of a kitchen with darker accents all around the other three areas, makes it easier to create a balanced decor.
Mixing and matching metals in the kitchen also creates unity. Matching up faucets to your cabinet hardware creates a unified look that's appropriate for budget-conscious homeowners with a modern minimalist or other refined tastes. The more organized among us find appeal in something unifying, again, no matter what decor taste is applied to constructing this particular room where both high costs of labor and design are all but spared for those who prefer a uniform look.
Mix Black and Stainless Finish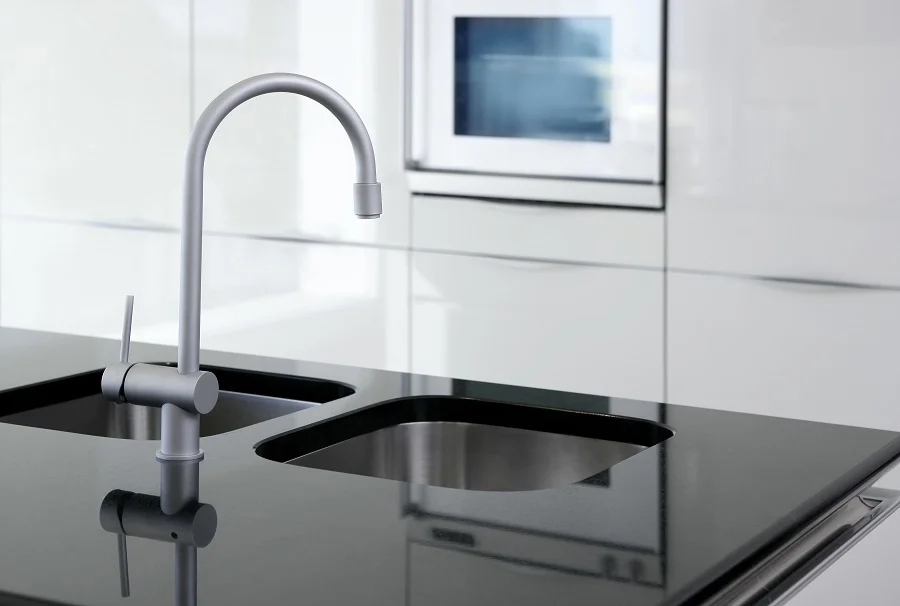 Can you mix black and stainless metals in the kitchen? In a word, yes. In fact, it can be really nice to mix up two finishes in a space. It's alright to have a black light fixture or sink with a stainless steel faucet as well.
There are several options when it comes to the metals that you can choose to use in your kitchen, and these options range from gold to chrome. Typically there is a preference for stainless steel and gold. One of the possible combinations of materials between these two basic choices would be silver as a mix. If you are excited about having multiple metal colors in one space, there needs to be some sort of visual balance in order for it not to come off as being unthoughtful or clashing with your design.
If going back and forth between black chrome faucet, black pans, sink, etc., you should guide yourself by keeping an eye on visual balance so that it does not take away from the overall kitchen decor.
Black or Stainless Faucet and the Kitchen Sink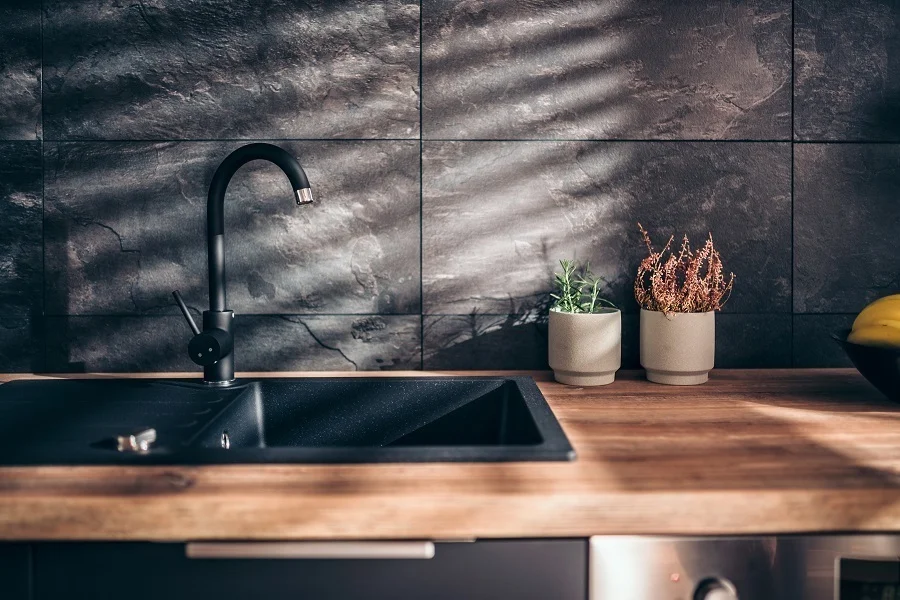 If you want a stainless steel sink, we'd recommend you pick a stainless steel faucet as well. On the other hand, if you have a sink that is white or colored, then you'd be more accepting of using a black faucet.
Decorative accents in a kitchen set the tone of the space. Stainless or black faucets come in a variety of finishes, and each has its own benefits. However, there is hardly any good reason to choose one over the other based on the sink's finish because you will inevitably need to find some coordinating finish for everything situated below the counter.
Black or Stainless Faucet and Kitchen Cabinet Hardware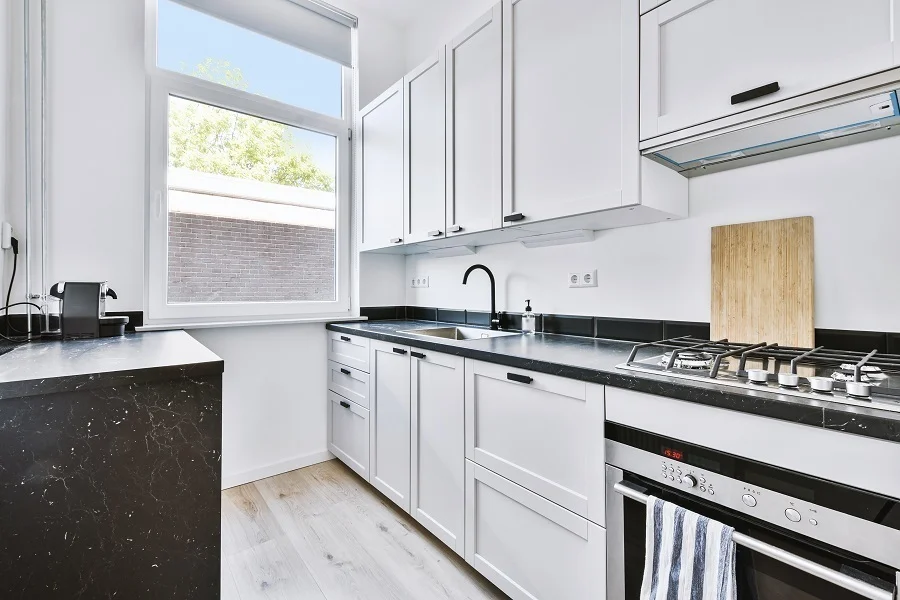 You can coordinate the stainless steel faucet with the kitchen cabinet hardware and lighting. If we look at the faucet as an element of decoration in the kitchen, it is more closely linked to hardware and lighting than anything else. Aesthetically speaking, if we are using two different finishes in our design, such as black and stainless steel, then these items need to work together without disrupting the balance of that area of our house.
Designers often recognize the contrast of black fixtures and stainless appliances in a kitchen and believe that it is a way to highlight design details. Every project is different, but most designs with the faucets and lighting are not necessarily from the same finish highlights. What you're looking for here: "a metal tone" should be either "metal-like" or "with black tones."
Continue reading: