Last updated on December 1, 2023
Because your kitchen sink area can be much more than a dishwashing station, this article digs deep into transformative decorating ideas that can make it the star attraction.
These are my unique design concepts made using design tools. I hope you find them inspiring!
Kitchen sinks, the unsung heroes of every culinary adventure, hold untold decorative potential! Common options abound, and you'll certainly find the very best of these compiled for your perusal at the end of this article.
But buckle up for a fun, new perspective! Cracking open the world of offbeat aesthetics, this one-of-a-kind list focuses on unique kitchen sink decorating ideas.
Novel, practical, and innovative, these concepts aim to refresh your space, adding that elusive touch of personality that truly makes a house a home.
Let's dive in with expectation, as this gem-filled treasure trove of unconventional kitchen sink decoration awaits discovery.
What's Inside
Sink Skirt Decor for Hiding Pipes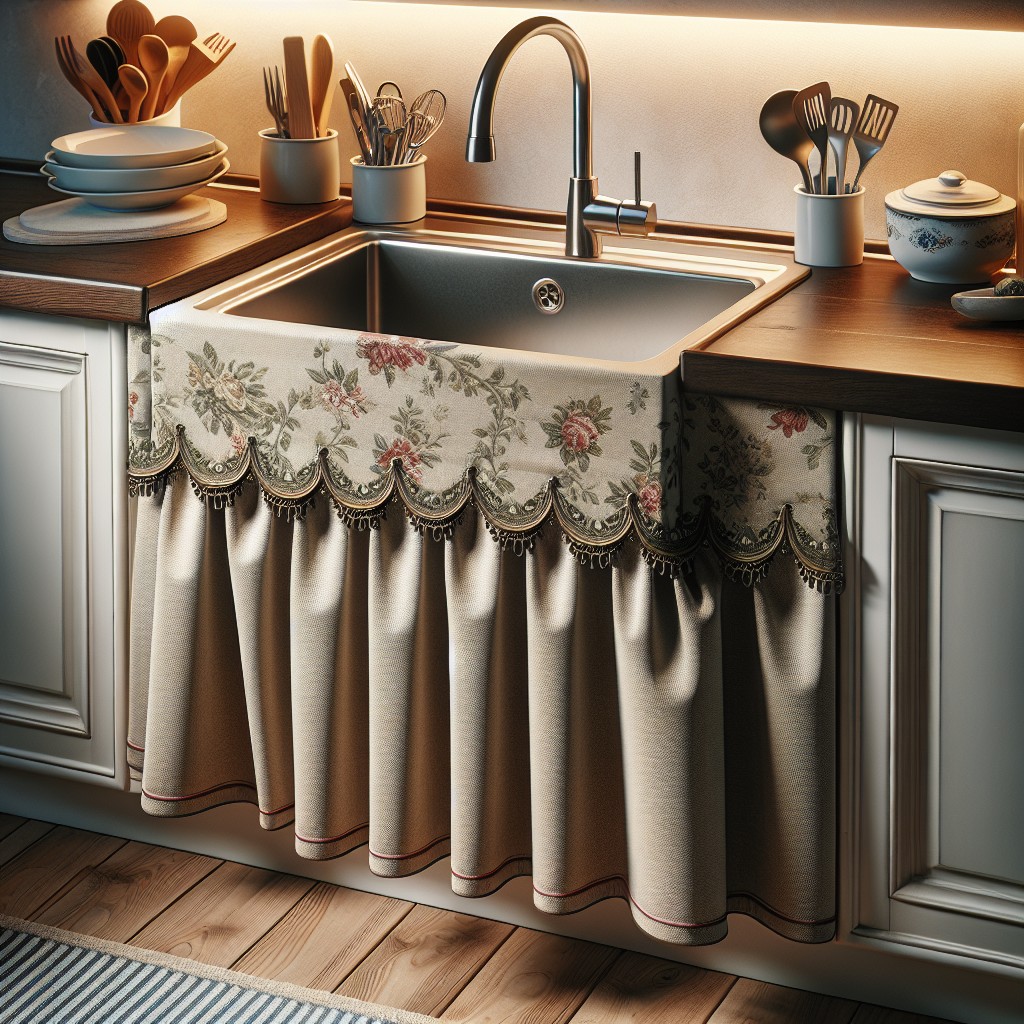 Crafting a custom skirt for your sink does more than masking unsightly pipes; it adds a pleasing aesthetic touch too.
Use a durable, water-resistant material like oilcloth for a practical yet stylish outcome.
Complementing your kitchen's color scheme, the skirt can be either plain or patterned to provide a design accent.
Fixing it doesn't require expert skills!
Secure the fabric to the sink using adhesive-backed hook-and-loop tape, which allows for easy removal and cleaning.
Make sure to measure your sink beforehand for a snug fit.
A sink skirt breathes personality into your kitchen with the added advantage of extra storage hidden behind it.
All in all, it's an understated decor element that packs a significant visual punch.
Stainless Steel Colander for Fruits and Veggies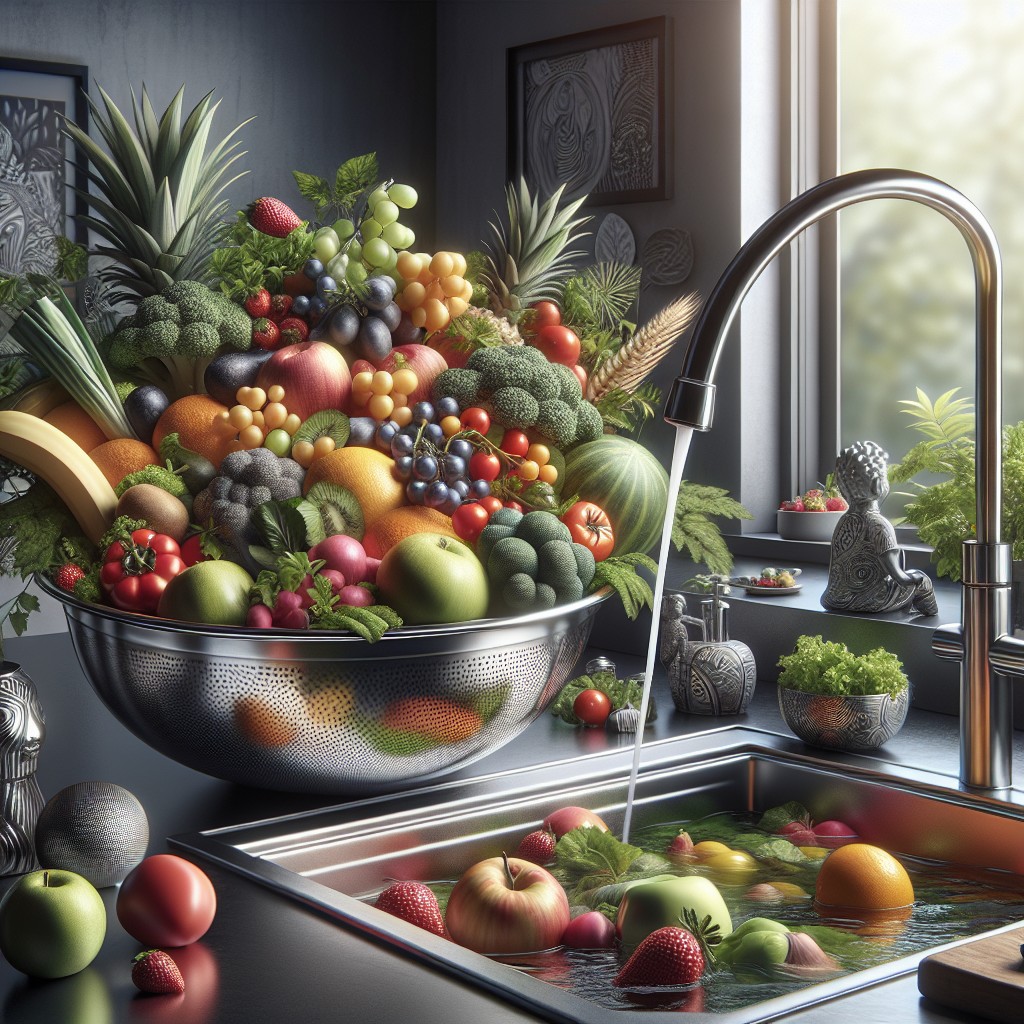 Opt for a stylish stainless steel colander to store your fresh fruits and vegetables. Not only does it provide a neat and organized look, but it also keeps produce within easy reach for kitchen prep. Its beautiful metallic finish blends well with other kitchen elements, making it as attractive as it is functional.
Keep in mind:
Choose a colander with multiple usage possibilities, such as draining pasta or washing salad greens.
Pick a mesh design to allow air circulation, keeping your produce fresh for longer.
Invest in a heavy-duty stainless steel colander for durability and long-lasting shine.
Ensure you have enough counter space to accommodate the colander and its contents comfortably.
Regularly clean your colander to avoid moisture build-up, which could lead to unpleasant odors.
Following these tips can help you to have a clean, stylish, and functional kitchen sink area.
DIY Painted Sink Basin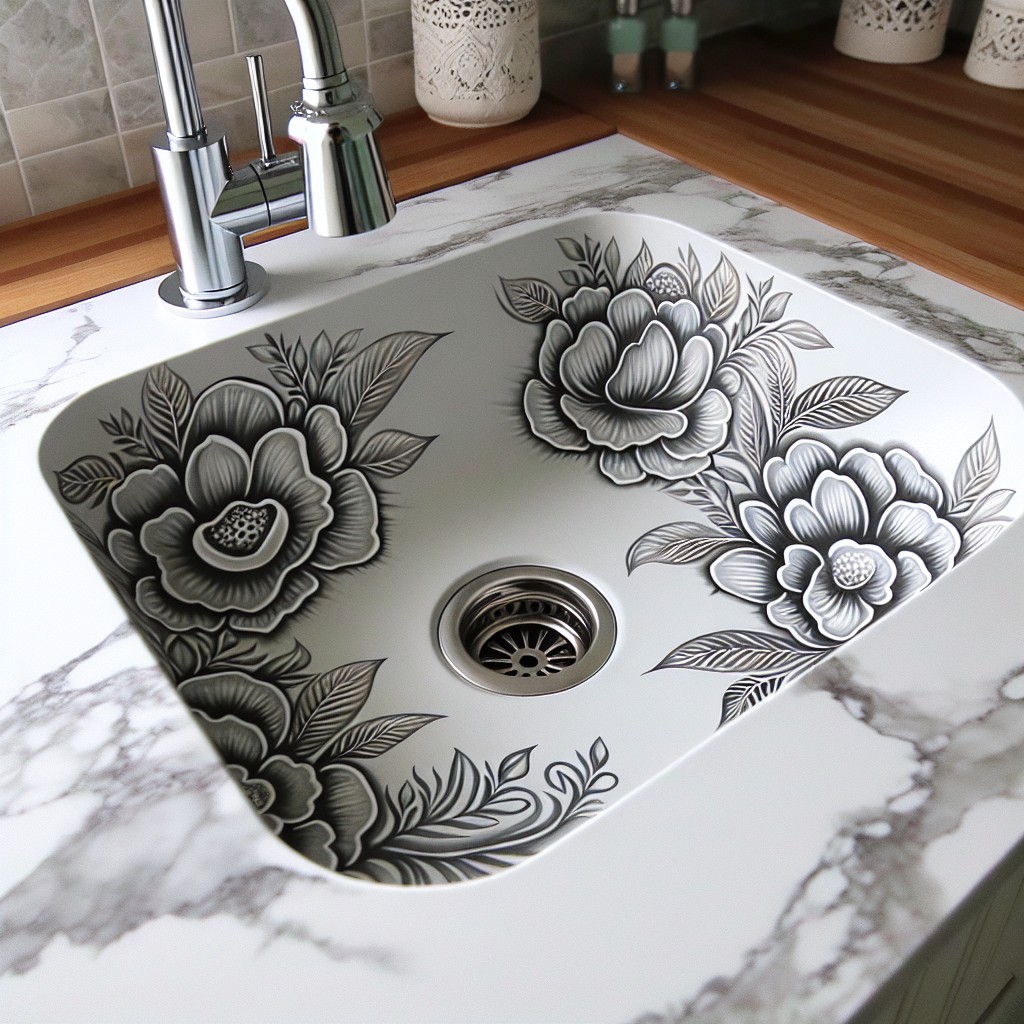 Ready to add a personal touch to your kitchen sink? Get creative and really make it your own with a splash of color. Start by selecting high-quality, water-resistant paint in colors that complement your kitchen's existing color scheme. You'll also need a good primer, a paintbrush, and painter's tape.
Here's how to go about it:
1. Ensure the basin is clean and dry; this is vital for paint adherence.
2. Apply painter's tape on any part you don't want to paint.
3. First, apply a coat of primer. Allow it to dry completely.
4. Now, it's time for color. Apply the paint in thin, even layers. You'll likely need multiple coats for the best effect, so let each layer dry before applying the next.
5. Once you're satisfied with the coverage, allow the paint to dry fully before using the sink.
Remember, the more time you spend preparing and applying carefully, the happier you'll be with the end result. This project isn't just about aesthetics; it's about expressing yourself and taking pride in your home. So, dive in and enjoy the process.
Vegetable and Fruit Stencil Artwork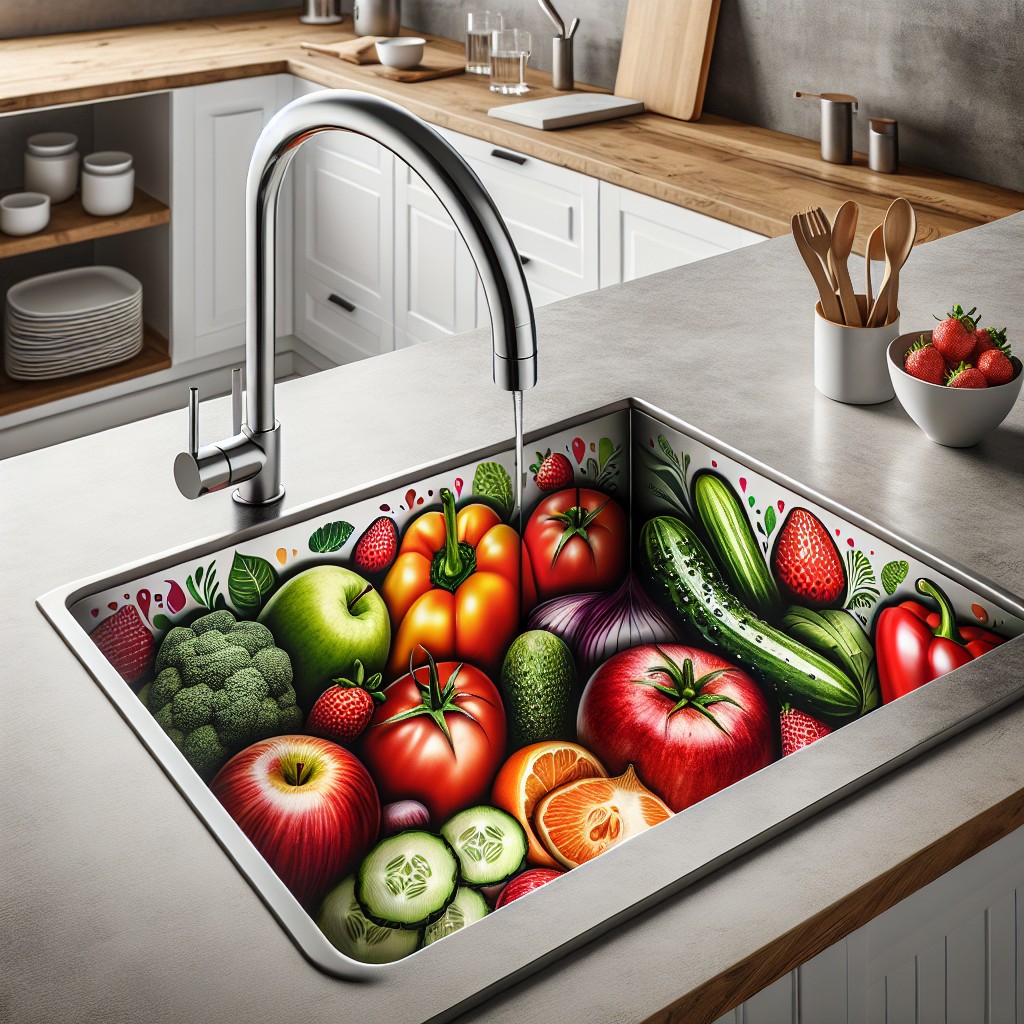 Integrating this creative method starts with selecting stencils that represent your favorite fruits or vegetables. With the help of some waterproof paint, you can immediately transform your sink into a vibrant display. Choose colors that complement your kitchen's aesthetic to maintain a cohesive look.
A key aspect to remember when applying your stencils is ensuring a clean and dry surface. Waterproof adhesives can also contribute to the longevity of your artwork. If executed properly, your sink can remain a testament to your culinary passion, and serve as a conversation starter for visiting loved ones. Furthermore, cleaning the painted sink can be done using non-abrasive materials to preserve the art. This easy maintenance highlights the practicality of the decor, along with its charming visual appeal.
Lastly, consider placement – not all stencils need to be front and center. A little surprise under the faucet or around the drain could add an unexpected twist to your kitchen sink design.
Statement Sink Drain Covers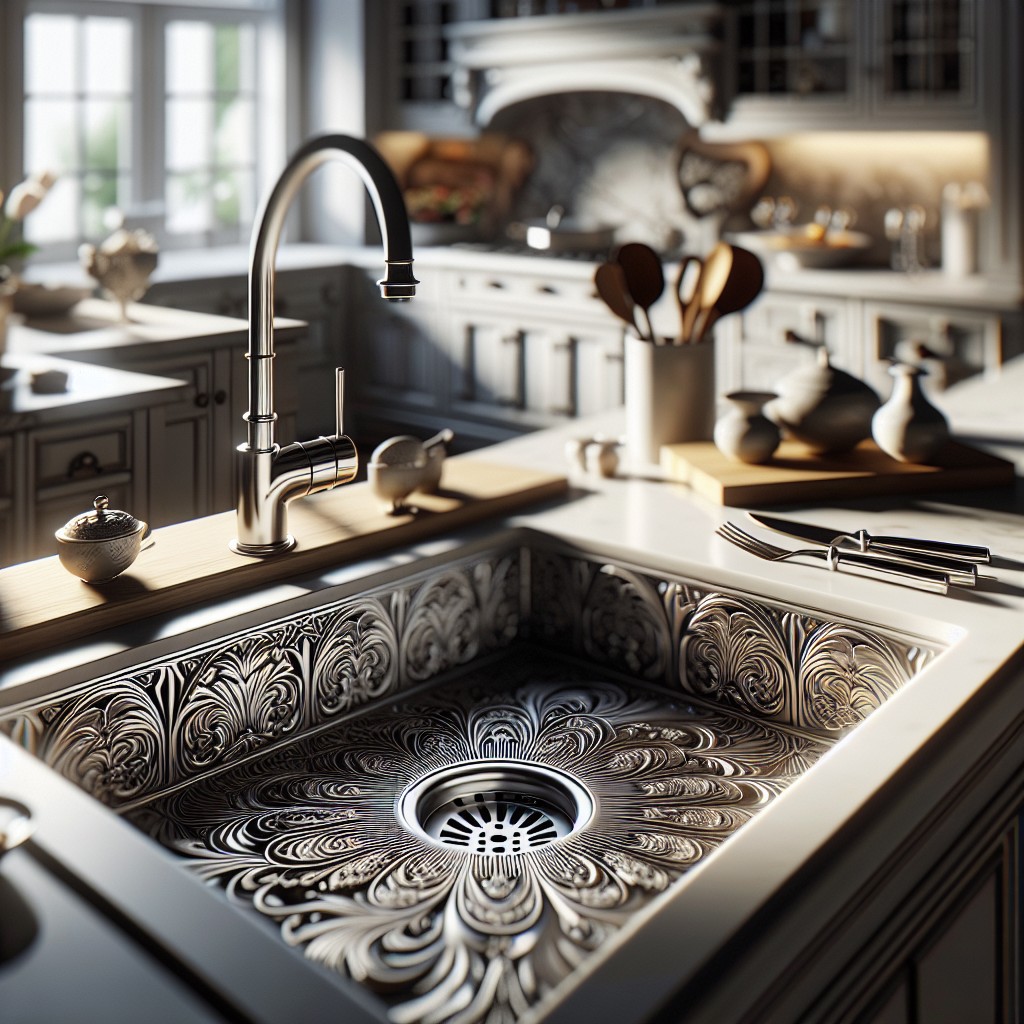 Exploring an array of designs from understated to chic, drain covers can bring an unexpected flair to your sink's appearance. They can help align your sink with the rest of your kitchen's design.
For a seamless look, opt for a drain cover in a matching finish to your sink's faucet and handles. Brass or copper covers would perfectly complement a rustic farmhouse vibe, while a pop of unexpected color might work well with a more eclectic style. Looking for an ultramodern twist? Consider a geometric-patterned drain cover.
Don't forget functionality. Your choice should not only be visually pleasing, but also allow for smooth water flow and easy installation.
Remember, it's the smallest details that can make the most significant impact in your kitchen's aesthetic. Tailoring even the least significant elements can take your kitchen design to the next level.
Decorative Silicone Sink Mats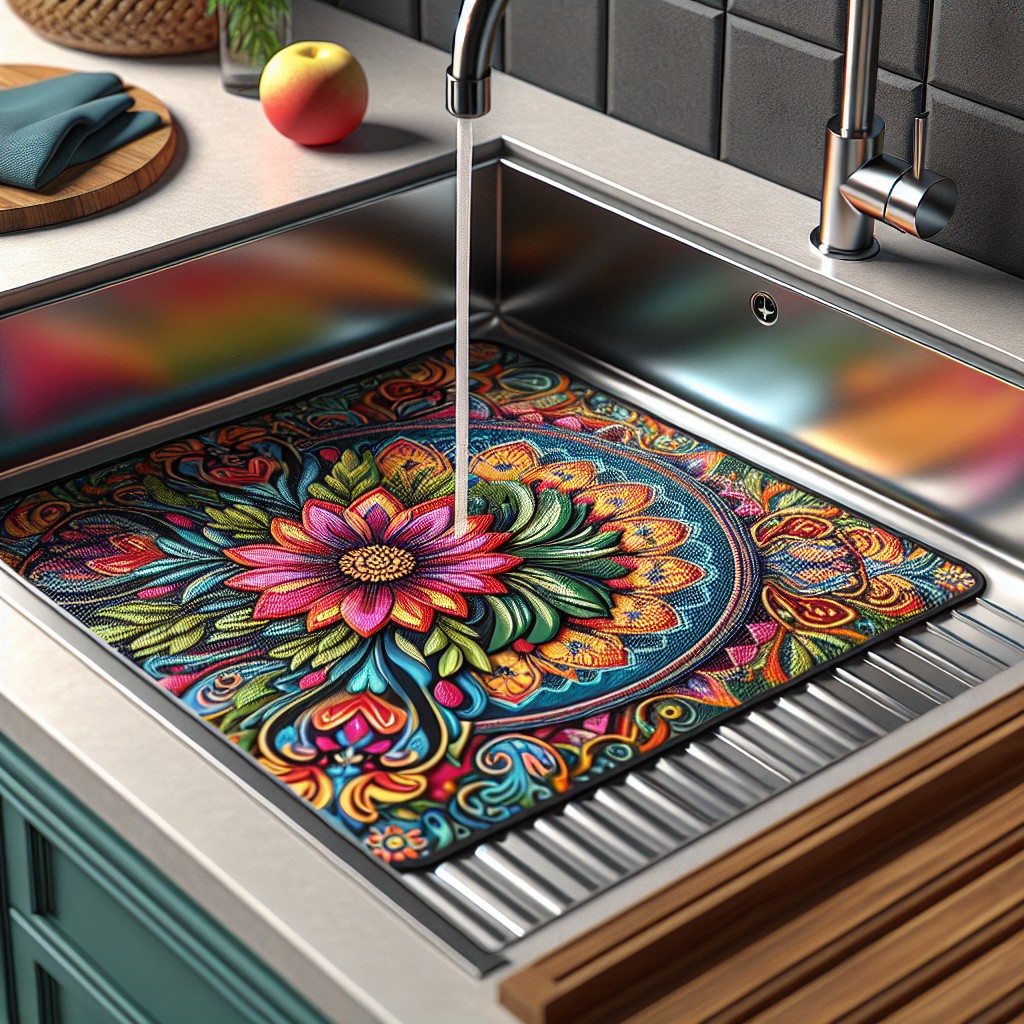 Silicone mats come in an astonishing array of attractive colors and patterns, not only providing a protective layer for your sink but also adding a vibrant touch to the overall kitchen decor. These mats prevent scratching and denting, prolonging the life of your sink.
Firstly, choose a mat that complements your kitchen color theme or lends an unexpected pop of color. Additionally, they feature options ranging from whimsical food patterns to elegant designs, which can add a playful or sophisticated element to your sink.
Secondly, they're incredibly easy to clean. A simple wipe down with warm soapy water is usually enough. A dishwasher-safe mat offers an additional level of convenience.
Lastly, if you're environmentally conscious, seek out mats made from eco-friendly, food-grade silicone. They're non-toxic and safe, reassuring not just for you but also for your family and the planet.
Farmhouse Style Wood Sink Platform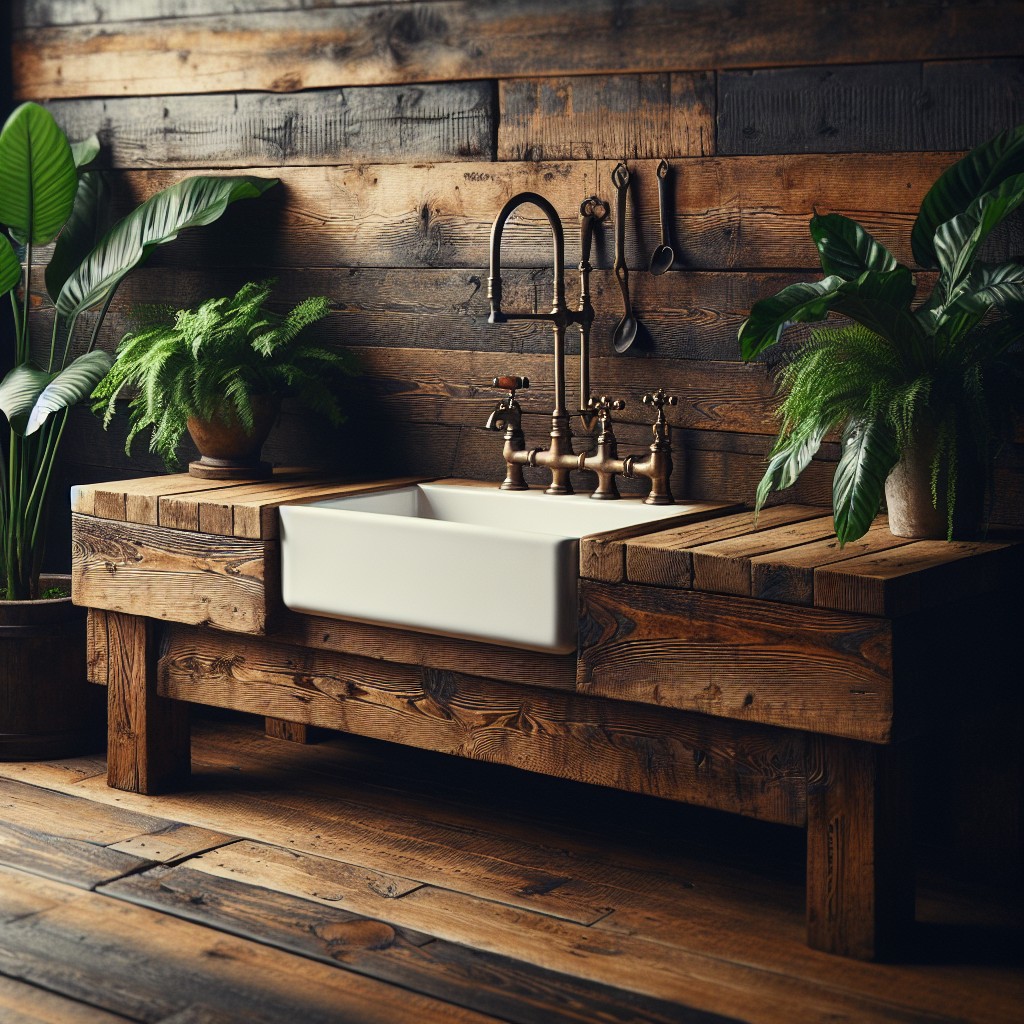 A wooden platform for your sink can add an earthy, rustic charm to your kitchen, heralding a farmhouse-style aura. This decoration is not just visually pleasing but also provides practical benefits such as hiding plumbing and providing extra storage.
1. Material Choice: Opt for natural, reclaimed, or even barn wood for authenticity and added aesthetic appeal.
2. Finish: A weathered look suits the farmhouse theme, but a polished finish is also appealing. Consider a water-resistant sealant to protect the wood.
3. Extra Storage: Incorporate storage spaces into the design for your dish soap, sponges, or even some potted herbs.
4. Design: Simple lines and traditional woodworking details will highlight the sink area without overwhelming the entire kitchen design.
Making sure that the wooden platform complements your kitchen's overall design is the key. You can even add a dash of color by painting the platform, aligning with the color palette of your space.
Re-purposed Vintage Teapot Soap Dispenser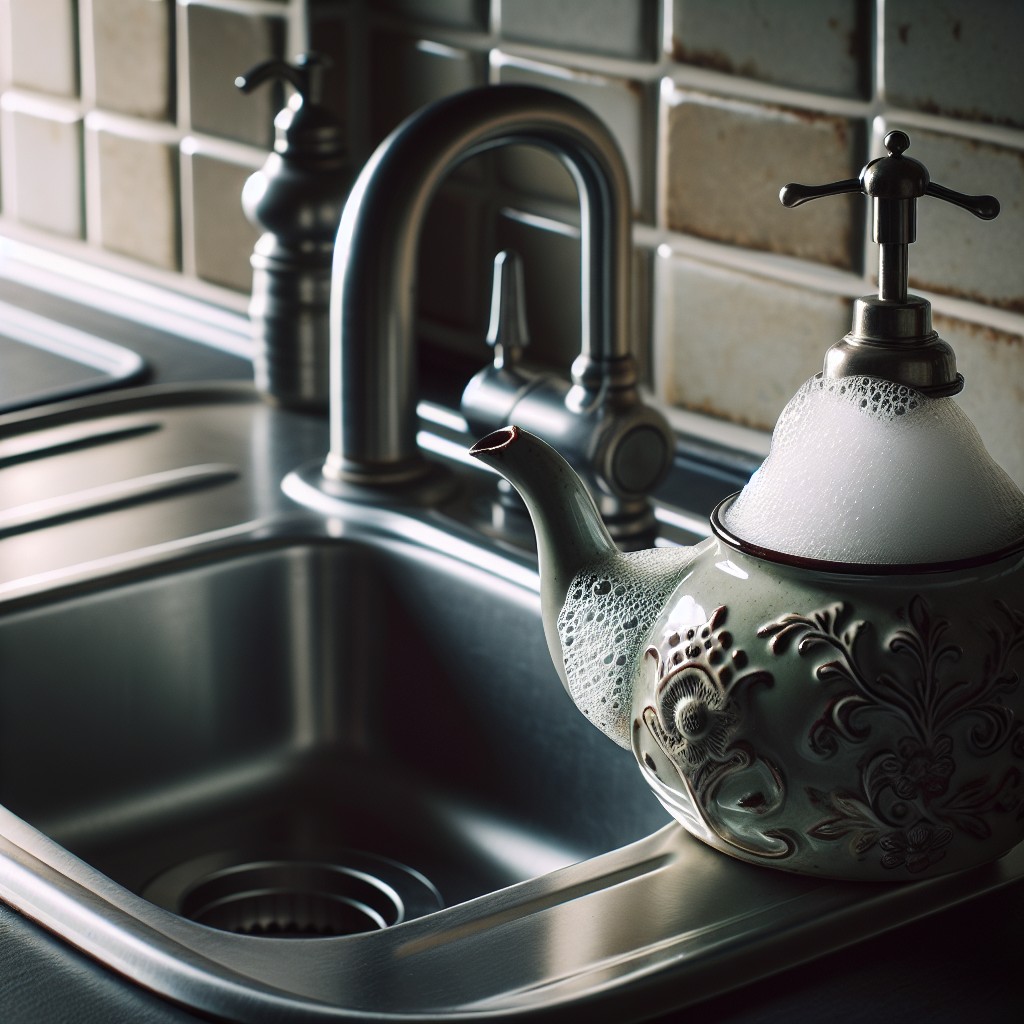 Delving right in, this concept fuses functionality and aesthetics for a refreshing blend. Start by choosing an old or vintage teapot that resonates with the overall theme and color palette of your kitchen. Give the teapot a thorough clean before proceeding.
To transform it into a soap dispenser, a soap pump kit is necessary. If the teapot's lid is intact, drill a hole through it for the pump to fit, otherwise, the pump can fit directly onto the opening. Attach the pump using an adhesive like silicone sealant, ensuring it creates a watertight seal. Once dried, fill the teapot with your preferred liquid soap, and voila!
This way, a seemingly mundane act of washing hands acquires an element of surprise and delight. Moreover, it aids in revamping the sink area with a touch of quirk and vintage charm. Easy to execute, this idea aids reuse, therefore, aligning with principles of sustainability.
Hand Painted Sink Surround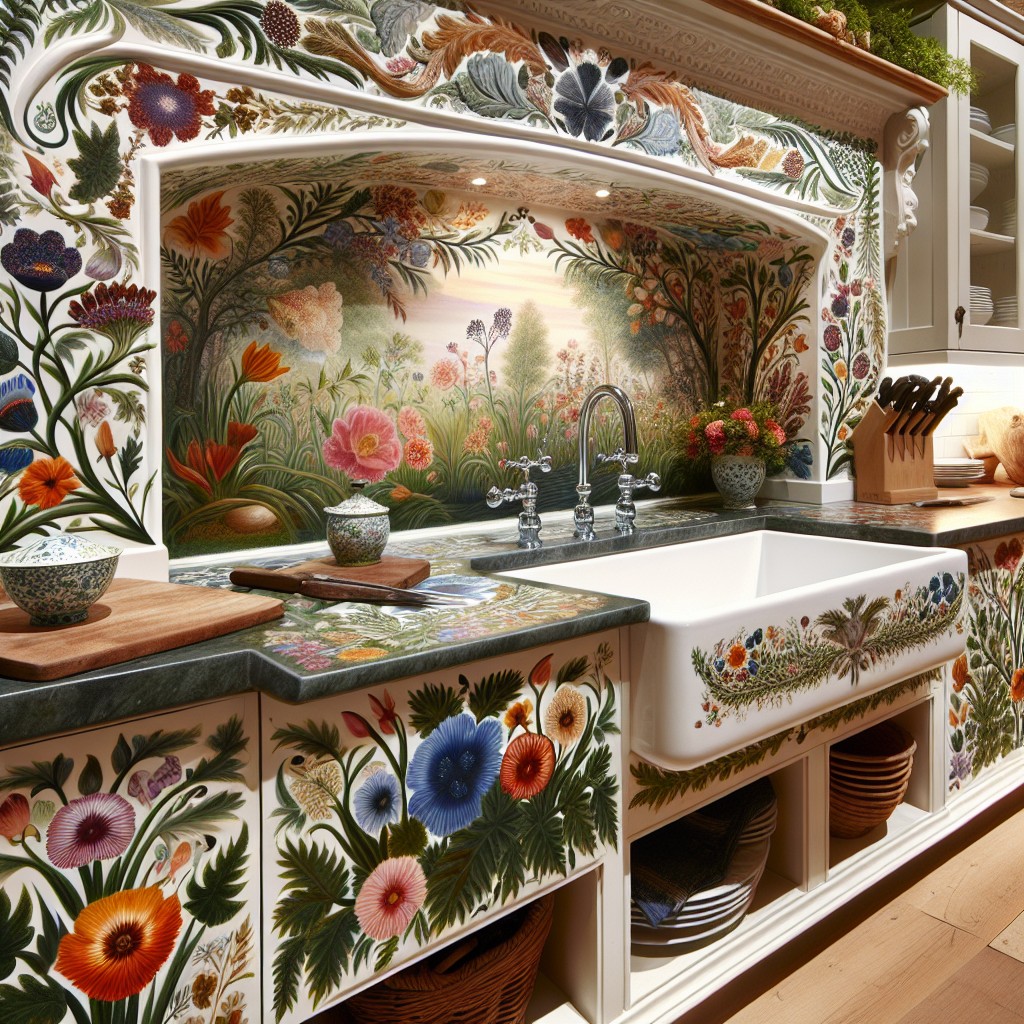 Jumping into the process, select high-quality paint specifically designed for ceramics to ensure longevity. Start by thoroughly cleaning the area, removing any dirt or grime. Next, carefully apply a layer of primer.
Once dry, you can begin sketching your design. Use simple shapes or patterns for a foolproof DIY job or hire a professional for a truly intricate masterpiece. Gradually apply the paint, allowing each color to dry before laying another to prevent smudging.
Remember to seal your artwork with a waterproof clear coat. This is crucial to protect it from water and cleaning products.
While the process requires patience and precision, the result brings a completely unique element to your kitchen. Taking an otherwise overlooked area, and turning it into a beautiful conversation piece. Expressing creativity has never been so practical!
Miniature Potted Plants On Sink Ledge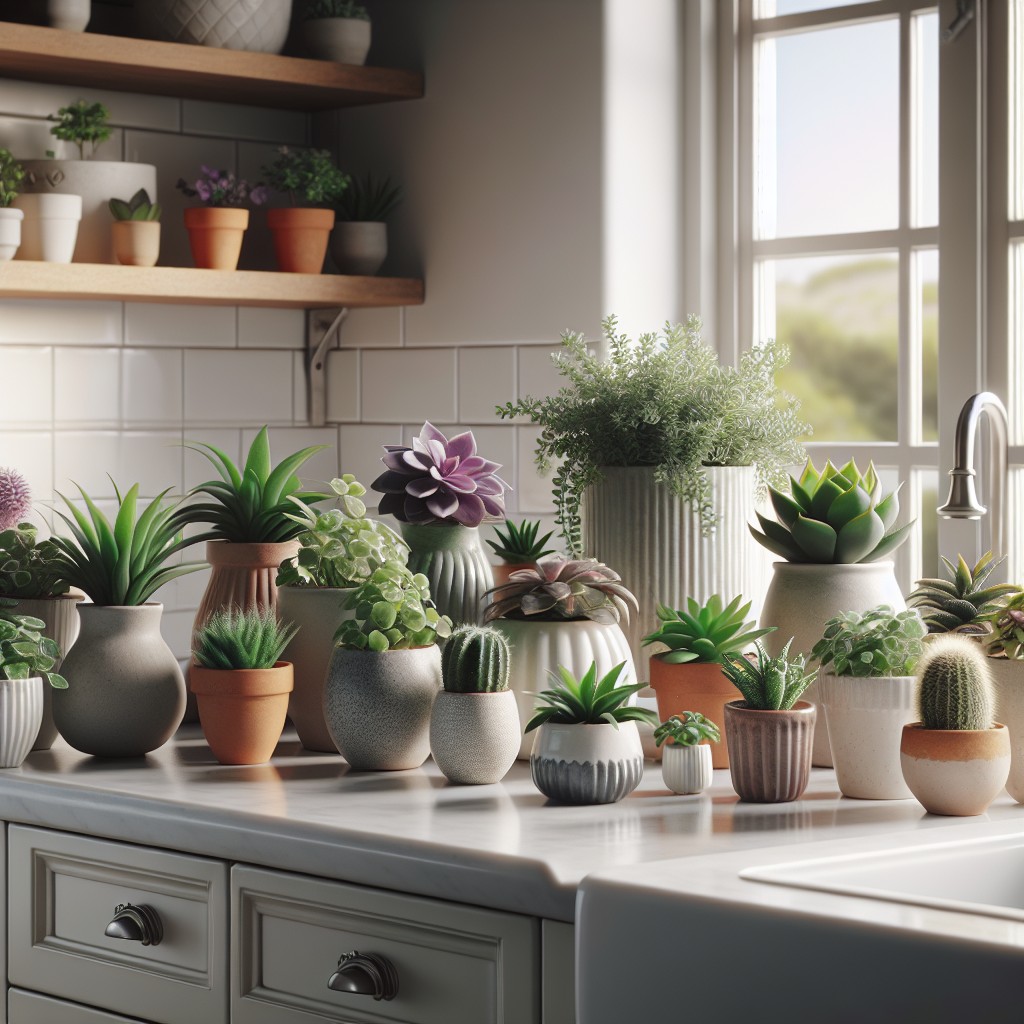 Choosing the right plants can turn your sink area into a mini indoor garden, blending functional and aesthetic elements. Here are few tips:
1. Choose water-loving plants: Since your plants will be right next to the sink, it's smart to select species that thrive in a moist environment. Think about small ferns, moss, or even herbs like basil and parsley.
2. Pick the right pot size: Tiny pots that will fit on your sink ledge without taking much space are the best. Ceramic pots with drain holes are a great choice as they prevent water buildup.
3. Consider sunlight: Examine the amount of sunlight your kitchen gets before deciding on any particular plant. African Violets or cacti enjoy sunlight, while others like Lucky Bamboo do fine with less.
4. Maintenance: Make sure the plants you choose are relatively low-maintenance. Succulents, for instance, need watering once every two weeks, an easy commitment.
Remember, the idea is to enhance your sink area, infusing life and color into what can otherwise be a plain, functional space.
Nautical Rope Wrapped Soap Dispenser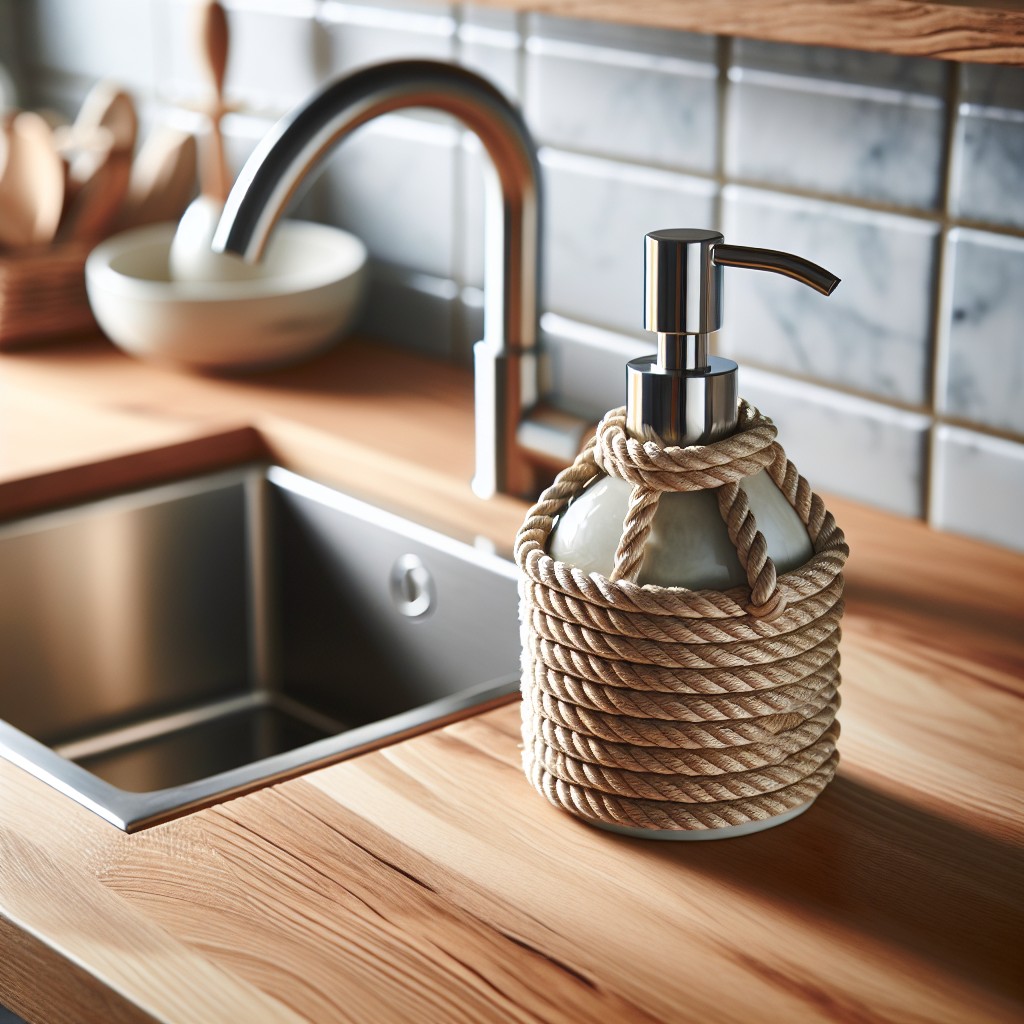 Start by choosing a soap dispenser that matches your overall kitchen theme or color scheme. A glass or stainless-steel dispenser works well for a translucent, sleek appeal.
Now to the exciting part – getting your ropes ready. Sisal or jute rope offers a raw nautical vibe, while polished cotton or synthetic ropes give a subtle, sophisticated maritime feel. Don't forget a hot glue gun for a secured wrap.
Begin at the base of the dispenser, applying a thin line of glue, then tightly wind the rope around. Maintain the tightness while moving up, ensuring an even coverage without access glue.
If your dispenser has a pump, consider threading a smaller rope through it or just wind around the stem. Maybe just a bow of tiny rope around the neck can do the trick. No hard and fast rules here, let your creativity shine!
Your expressive nautical rope wrapped soap dispenser is ready, exuding a soothing seaside charm right in your kitchen.
Vintage Plate Drainer As Decorative Element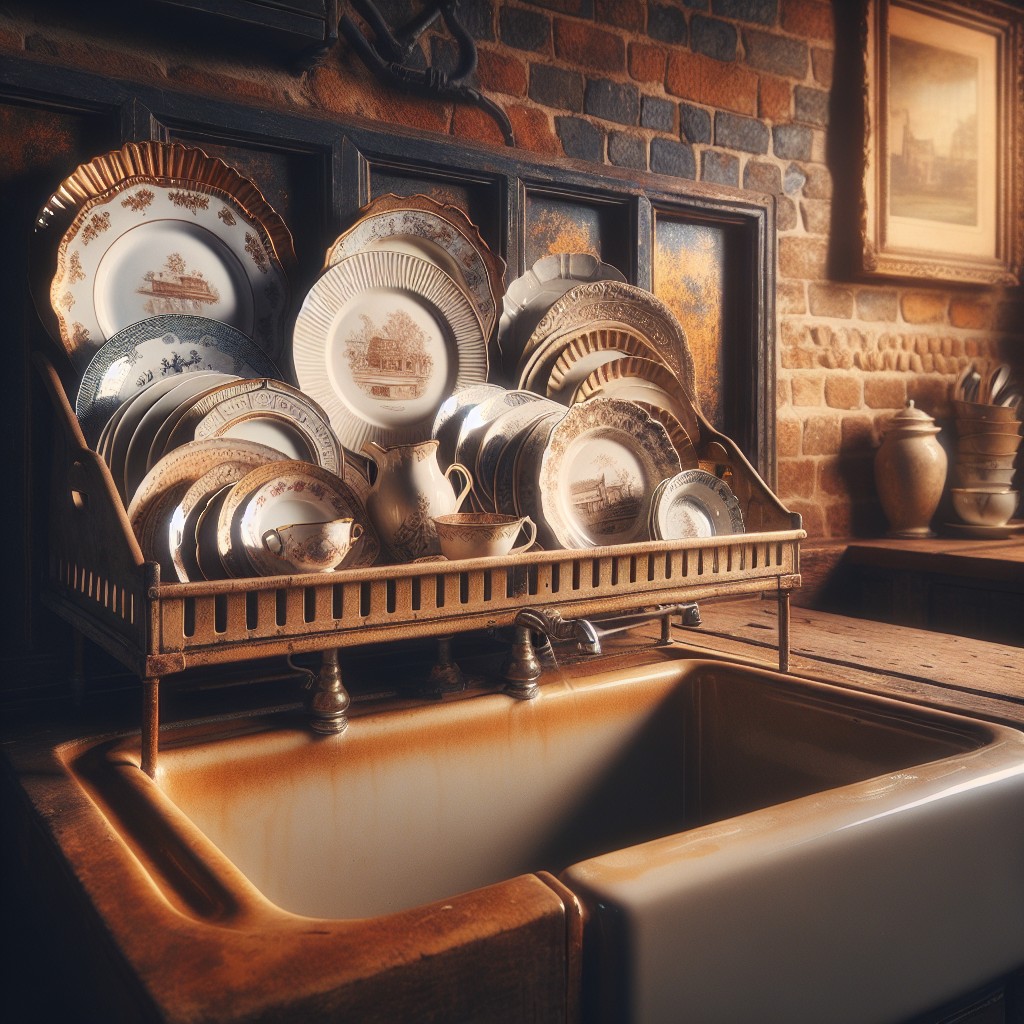 A vintage plate drainer can serve not just as a functional piece, but a decorative addition in the kitchen. With their ornate designs and quirky colors, they can bring unique character to your sink area that conveys a sense of nostalgic charm.
Here are some concepts to consider:
1. If you can't find a genuine vintage version, don't despair! There are plenty of modern reproductions with a retro aesthetic available on the market.
2. Consider matching the color of your plate drainer to other accessories or kitchenware pieces in your sink area for a cohesive look.
3. Keep in mind, vintage plate drainers are not merely decorative – they also keep your sink area tidy and help to prevent dishes from chipping or breaking.
4. Lastly, remember to protect the metal of your drainer. Rust can easily develop, so clean it regularly and consider applying a protective sealant.
Twine-Wrapped Faucet for Rustic Look
Giving your faucet a rustic makeover is a simple project with a surprisingly big impact. All you'll need is some twine and a clear adhesive to start. Here's how to do it:
Begin at the base of the faucet, apply a small amount of adhesive, and start winding the twine.
Make sure to keep the windings tight and even as you move up.
Do not cover any movable parts to ensure your faucet remains fully functional.
Once you reach the top, cut the twine and secure the end with adhesive.
Allow the twine and adhesive to dry thoroughly creating a firm and durable finish.
This DIY project not only adds a touch of charming farmhouse appeal but also provides a better grip on the faucet handle. Consider pairing the twine-covered faucet with a simple mason jar soap dispenser for an extra touch of rustic elegance.
Upcycled Door Knob for Towel Holder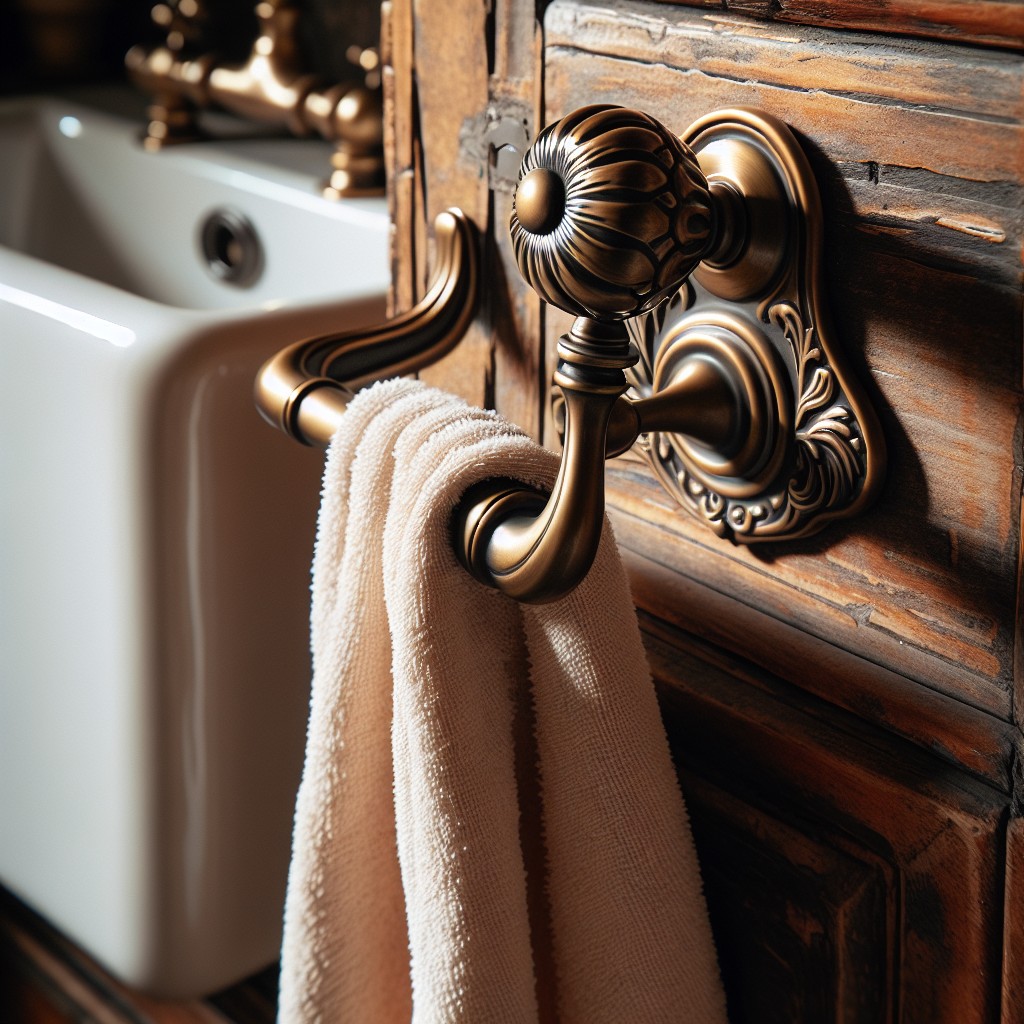 Swiftly turning a vintage door knob into a towel holder melds functionality and style. Start by selecting a knob that complements your kitchen aesthetics. Antique brass or copper handles offer a rustic charm, while crystal knobs ooze sophistication.
Next, carefully affix the knob to a suitable spot, such as the side of a cabinet or the wall, ensuring it's within easy reach.
Then, using a regular hand towel, create a loop and drape it over the knob. Consider using towels in colors that match your overall decor to create a seamless look.
This small alteration not only provides a handy spot for a mandatory kitchen item but also adds a dash of personal style and vintage charm. Additionally, it is an excellent way of repurposing old or unused items, contributing to sustainable living.
Handmade Ceramic Soap Dishes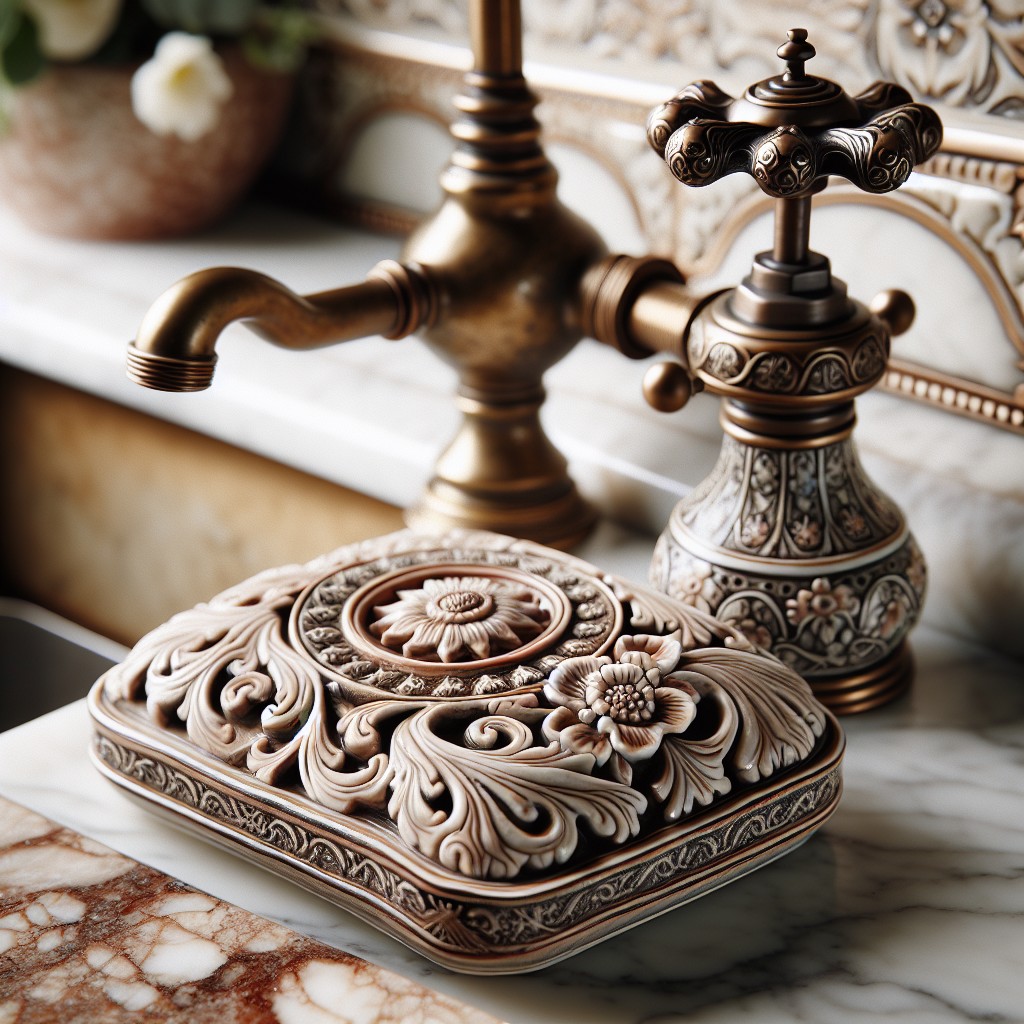 An appealing choice for injecting personality into your kitchen space is the use of handmade ceramic soap dishes. Proven to be more than purely functional, they anchor the décor theme, enhancing aesthetics. Individual craftsmanship ensures each piece is distinct, often imbued with intricate detailing and a variety of color palettes, allowing for a match with any kitchen style.
Crafted with durable materials, these soap dishes offer longevity and are easy to clean. Their distinct handmade texture adds a warm and rustic touch, contrasting beautifully with smooth kitchen surfaces.
Consider selecting a soap dish with drainage slots or a removable grating, which prevent the soap from melting and can be easily cleaned. Further personalize this accessory with monogramming or hand-painted designs.
Many artisans offer customization options, letting you specify shape, color, and size to perfectly fit your sink area. So, even within the limited space around your kitchen sink, you can create a focal point that surprises and delights.
Lastly, your investment in a ceramic soap dish is not just a décor enhancement, but also a support to the artists devoted to this craft.
Wooden Box Organizer for Cleaning Supplies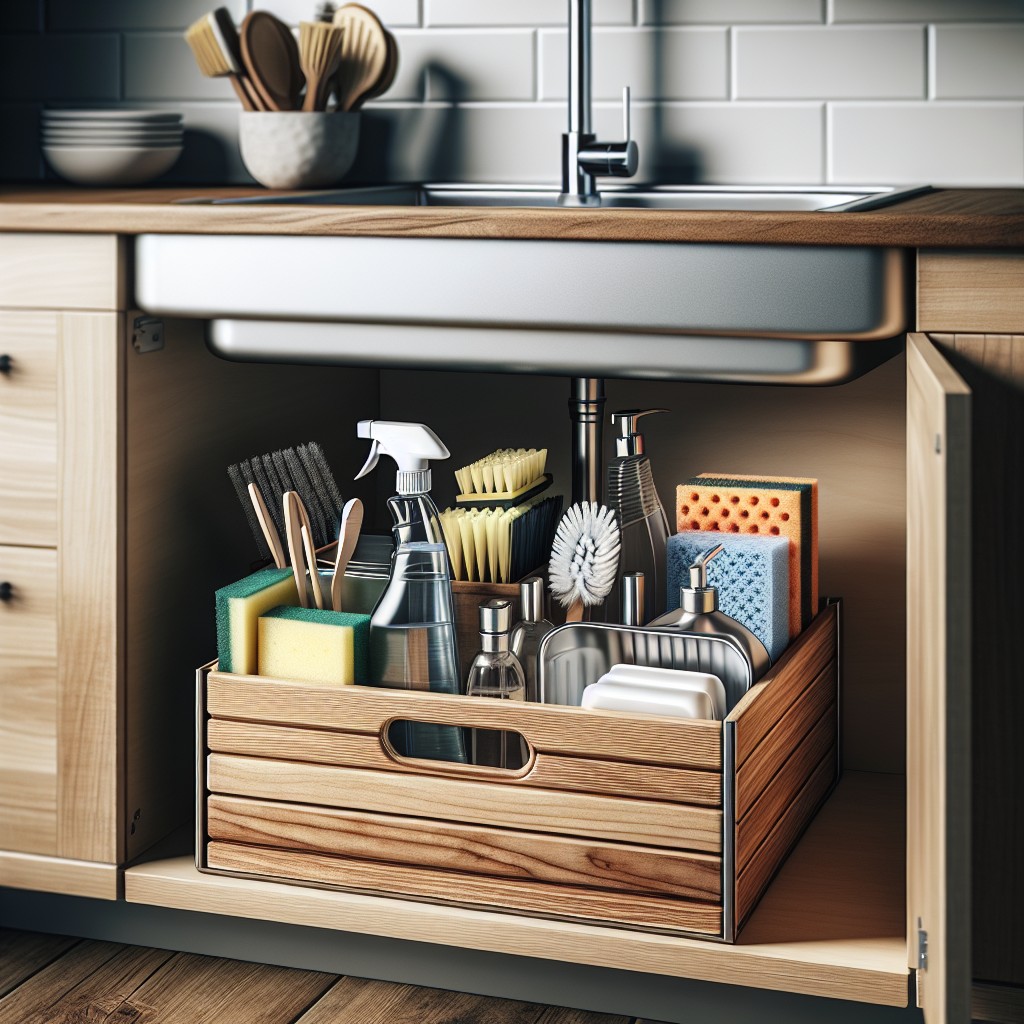 Utilizing a wooden box as an organizer is an innovative, aesthetic, and efficient choice for handling cleaning supplies. The solidity and durability of wood makes it a reliably sturdy platform for your dish soaps, scrubbers, and cleaners.
Such boxes are usually designed with partitions which helps in arranging items separately, for easy access and avoiding clutter. Additionally, positioning this box under the sink or on a nearby shelf maintains a tidy and professional-looking kitchen space.
To enhance its visual appeal, you can consider varnishing the box or applying a coat of paint that matches your kitchen's color scheme. This ensures that the organizer is not only functional but also contributes to the overall decor of your kitchen.
For those who like to add a personal touch, feel free to embellish your wooden box with decoupage, stencils, or even your initials. Remember, it's all about merging utility with aesthetics to achieve the best kitchen decor results.
Leather Loop Pull for Sink Cabinet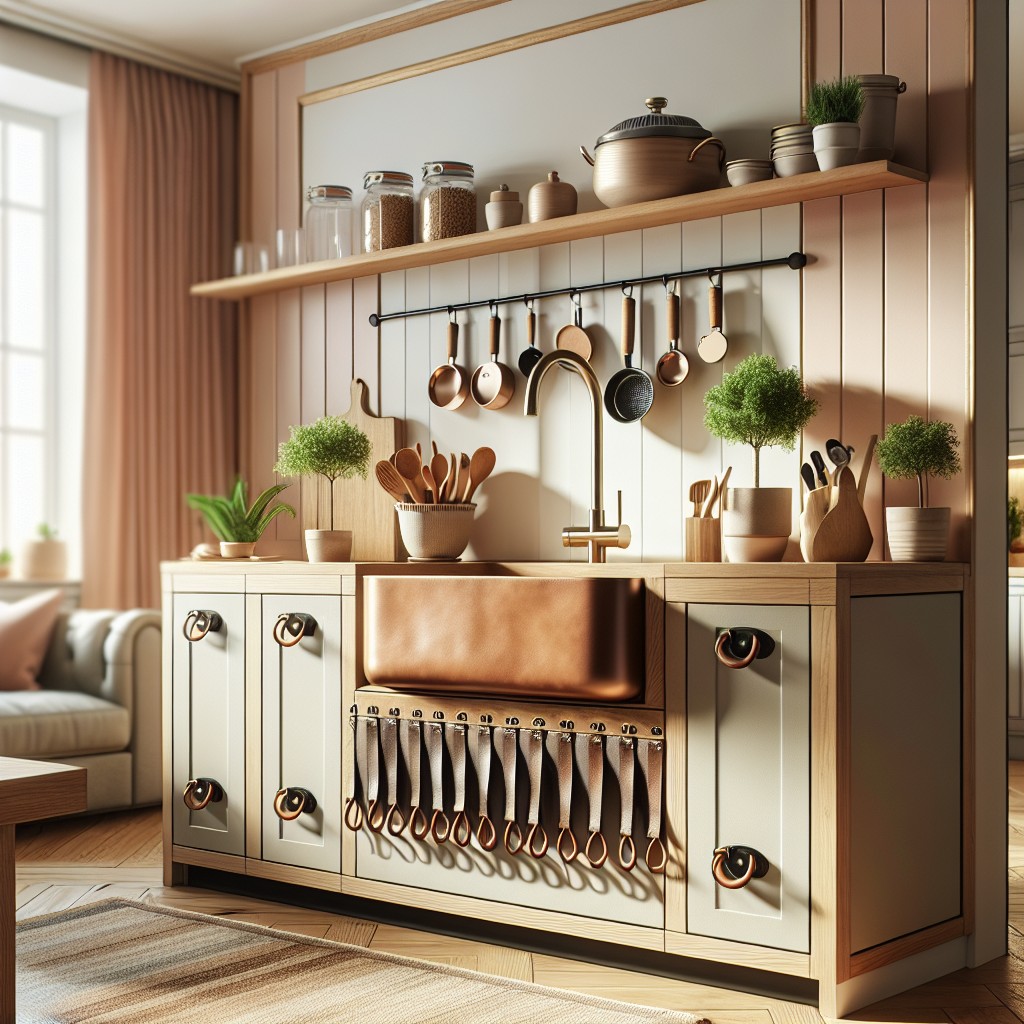 To transform the aesthetic appeal of your sink cabinet, consider incorporating a leather loop pull. It's not only practical but also adds an interesting texture and warmth to the kitchen.
1. Material Selection: Choose a material that complements your cabinet's color. Brown leather, for example, provides a nice contrast to a white or lightly colored cabinet.
2. Size and Placement: The length of the loop must be proportionate to the size of the cabinet door. Placement also matters—typical positioning is in the top corner of the door, but a centered placement can be visually striking.
3. DIY Option: Making your own leather pulls is simple and cost-effective. All you need is a leather strip, a screw, and a washer.
4. Durability: Leather is sturdy and long-lasting, making it a good choice for a kitchen environment. Occasionally, a bit of leather conditioner can keep your pull looking its best.
5. Style Versatility: Despite its rustic vibe, a leather pull can fit into various decor styles, from modern minimalistic setups to traditional kitchens.
By incorporating a leather loop pull, not only will you add a unique visual element to your kitchen sink area, but you'll also leave your guests admiring your attention to detail.
Repurposed Window Frame As Mirror Above Sink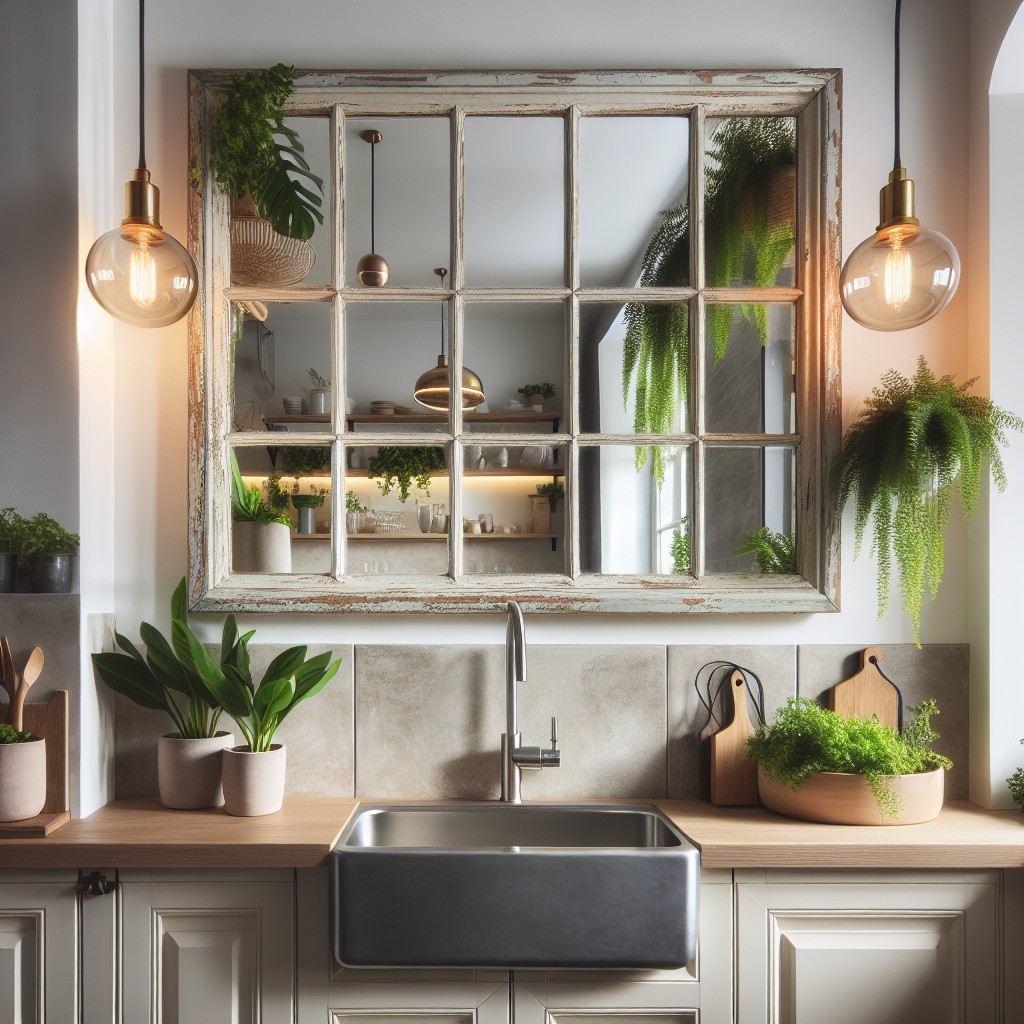 Brightening your kitchen is achievable using a recycled window frame mirror. It has dual functionality. It provides a reflective surface to aid in brightening spots in your kitchen and even gives an illusion of space for smaller kitchens. Creating this centerpiece is simple.
First, you need to secure a window frame. Visit your nearest junkyard or flea market to find a window that fits your kitchen's aesthetic. Then, purchase a mirror cut to the size of the window panes.
Next, attach the mirror to the frame. Use a strong adhesive suitable for glass then press the mirror onto the frame. Allow ample time for the adhesive to dry.
To install, be sure you're drilling into the studs for support. If the mirror will be near the sink, add a water-resistant sealant around the edge to protect the mirror from steam and splashes.
To make your mirror distinct, customize the window frame by painting it. Maybe a classic white for a farmhouse style, or distressed turquoise for a pop of color. Another idea is to add hooks or shelves to the bottom for extra utility. This welcomed addition to your kitchen decor will be both functional and stylish.
Retro Enamelware As Sink Organizers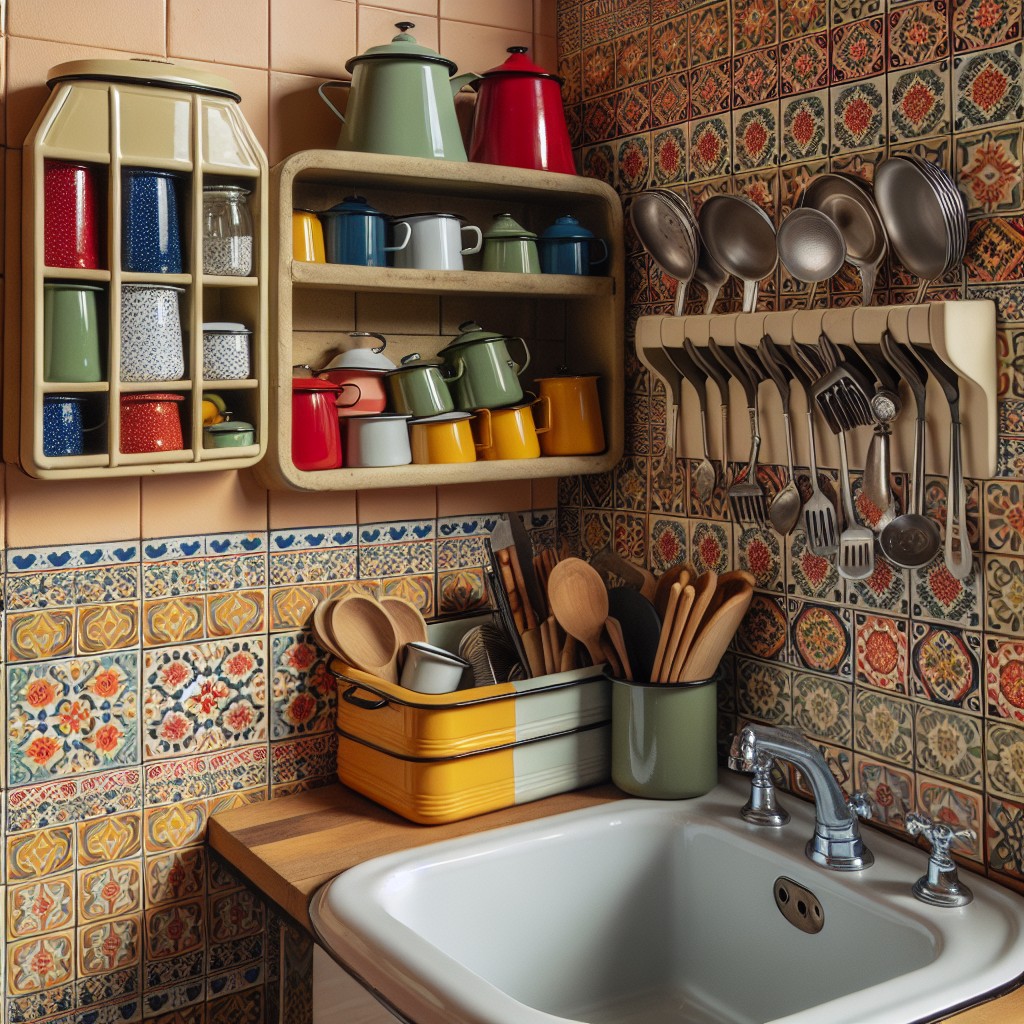 Retro enamelware introduces a nostalgic flavor into your kitchen's overall aesthetic. Practical, durable, and charming, these pieces effortlessly blend functionality with style.
1. Use enamel mugs or bowls to store your sponge and dishwashing brushes in. The easy clean enamel makes these perfect for sink-side use.
2. Enamelware trays can keep soap and detergents together. Choose vibrant colors or patterns that match your kitchen decor.
3. Attached hooks on enamel canisters offer space for hanging dishcloths and rubber gloves.
4. Place a small enamelware pitcher nearby to house fresh flowers, creating a welcoming and homey touch to your sink area.
These organizing elements keep your kitchen tidy, whilst adding a touch of vintage charm. The resilience of enamel ensures your items will look stylish and remain practical for years to come.
Wire Basket Wall Storage Beside Sink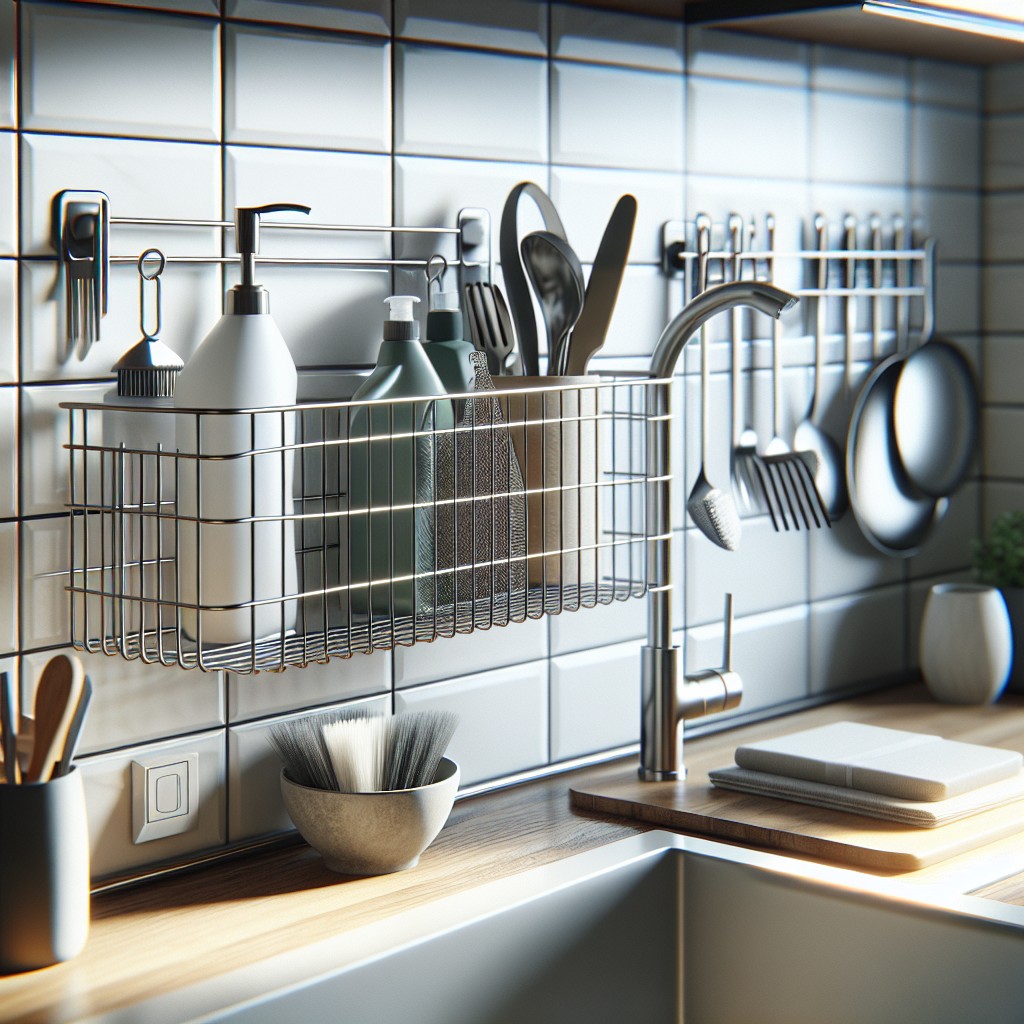 Wire baskets can step in as instant solution to capacious storage without gobbling up your counter space. Perfect to hold your utensils, dish soaps, sponges and cleaning supplies, they are not only functional but aesthetically pleasing too.
You can choose different styles based on your preference: Mesh, rattan, or chicken wire and group them together on the wall for a farmhouse rustic appeal. They can be hung flat against the wall or be featured as floating storage boxes. Remember to keep heavier items in lower baskets for easy access and stability.
If you want to spruce it up further, attach labels to each basket defining its contents. This way, not only will you have a neatly arranged kitchen, but also a unique decorative element adding character to your kitchen space.
To ensure longevity, opt for powder-coated or stainless steel baskets, and hang them securely with appropriate wall fixtures to handle weight. After all, your stylish organization solution should be able to stand the test of time and functionality!
With this effortless storage hack, say goodbye to cluttered countertops and hello to your smooth-flowing, impressive kitchen routine!
Ideas Elsewhere
Continue reading: