Last updated on August 13, 2023
Make your living room kid-friendly and more welcoming to the little members of your family. Read on!
Decorating your home, especially your living room, is always fun. But when you have young children, you need to choose decor items that keep them both safe and entertained.
Are you up for the challenge? It'll be a whole lot easier when you follow these 5 tips for playful and kid-friendly living room decor.
What's Inside
Choose Durable and Easy-to-Clean Furniture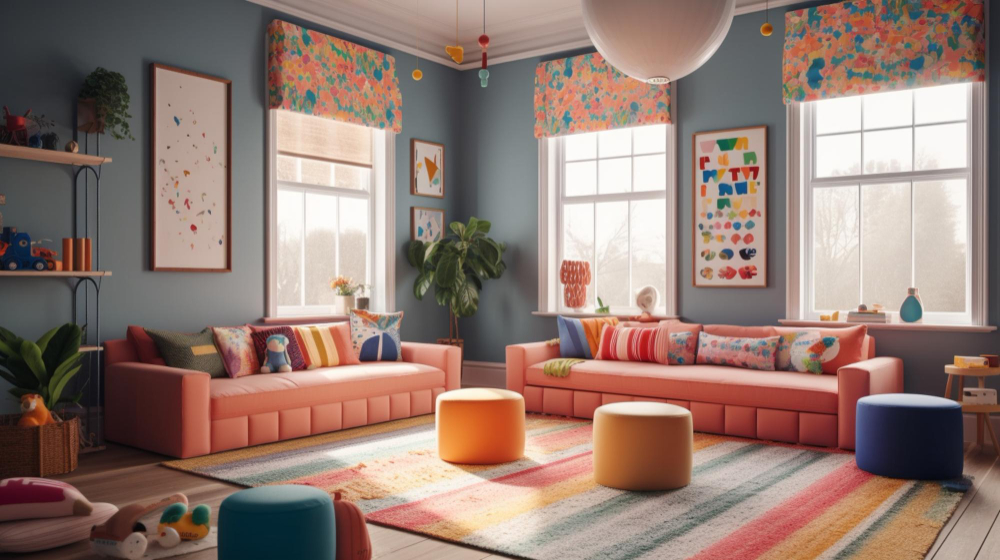 Children can be naturally rambunctious, but there's no need to curb their enthusiasm.
A modular 3-piece sofa set makes family fun in the living room easy and convenient. You can rearrange the modular units to fit your room's dimensions. This makes it far easier to leave enough room for play.
It's also a lot easier to keep modular furniture clean. They can be moved apart for cleaning under and between their usual positions in the living room.
With kids in the home, this is a big plus, as discarded sweets or cookie crumbs inevitably make their way between sofa cushions.
Choose furniture with a durable construction, and easy-care upholstery, to make playtime, and cleaning up a breeze. Leather, vinyl, or microfiber are more resistant to spills and stains than most fabrics.
If you simply must have fabric sofa cushions, get removable, washable covers.
Incorporate Fun and Functional Storage Solutions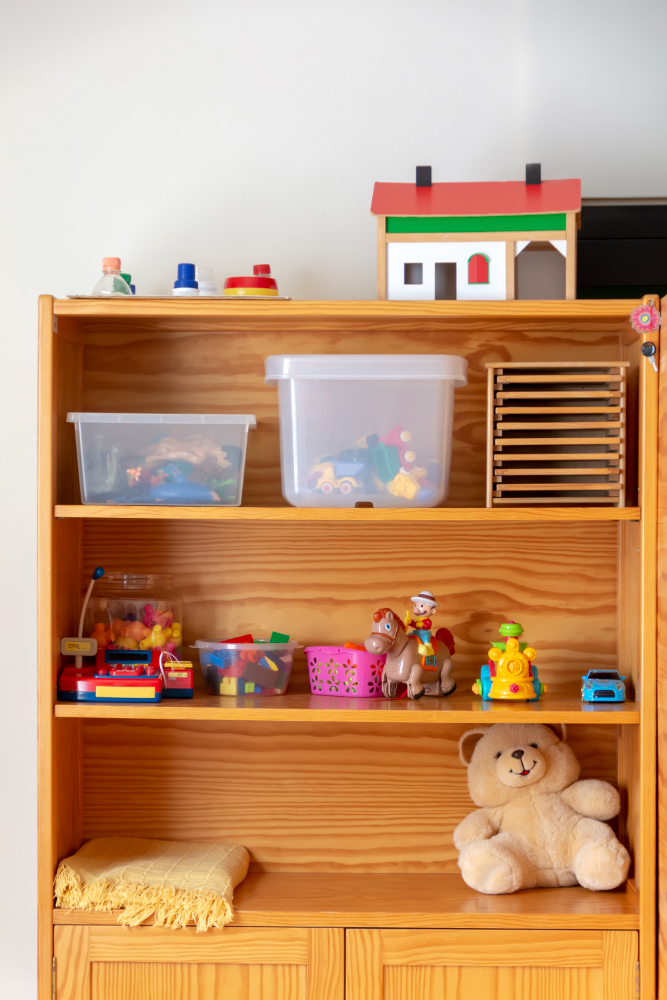 Who says storage can't be functional and fun? There are many creative ideas for living room storage. With a bit of ingenuity, you can make them suitable for children, too. Incorporate fun shapes and bright colors for instant kiddy appeal.
Your storage solutions also need to be safe, without sharp or rough edges. Whether you prefer ottomans with hidden storage compartments or wall-mounted storage, choose items that are easy to navigate around.
For items that are strictly off-limits to kids, you can stow these items in a lockable cabinet away from prying eyes. This will make them less likely to attempt to explore them. And for everyday items, that they need to find within easy reach, opt for low, open shelving with rounded corners or storage baskets.
Create a Designated Play Area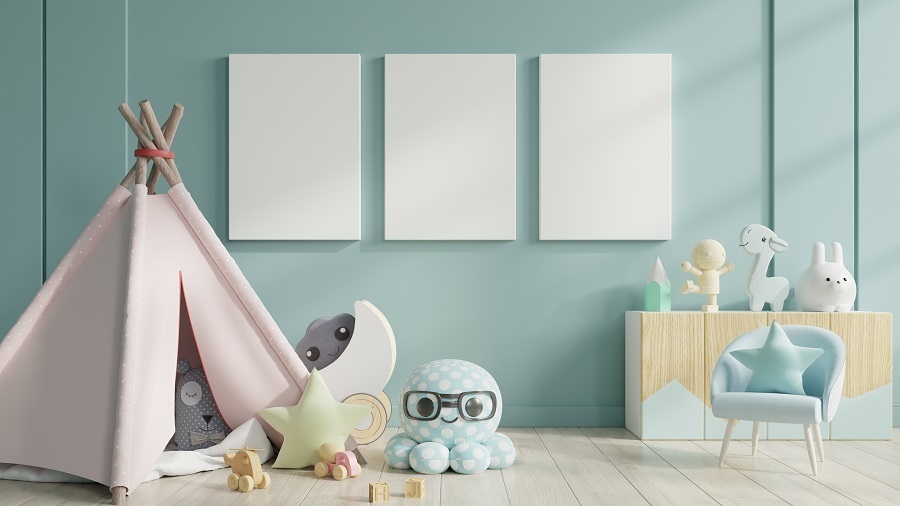 Toddlers often feel frustrated with the lack of play zones in the living room. So, if you have the space, create a designated play area for the youngest members of the family. It will make everyone feel at home in this communal space.
You don't have to do anything too elaborate. Use a small, brightly colored rug to demarcate their play 'zone'. Add a basket that they can pack their toys in when playtime is over.
It's best to allocate a corner of the room to this purpose. That will keep your children happily entertained without obstructing the main thoroughfare. It will also help them to feel like they're in a kids-only den.
Integrate Colorful and Playful Decor Elements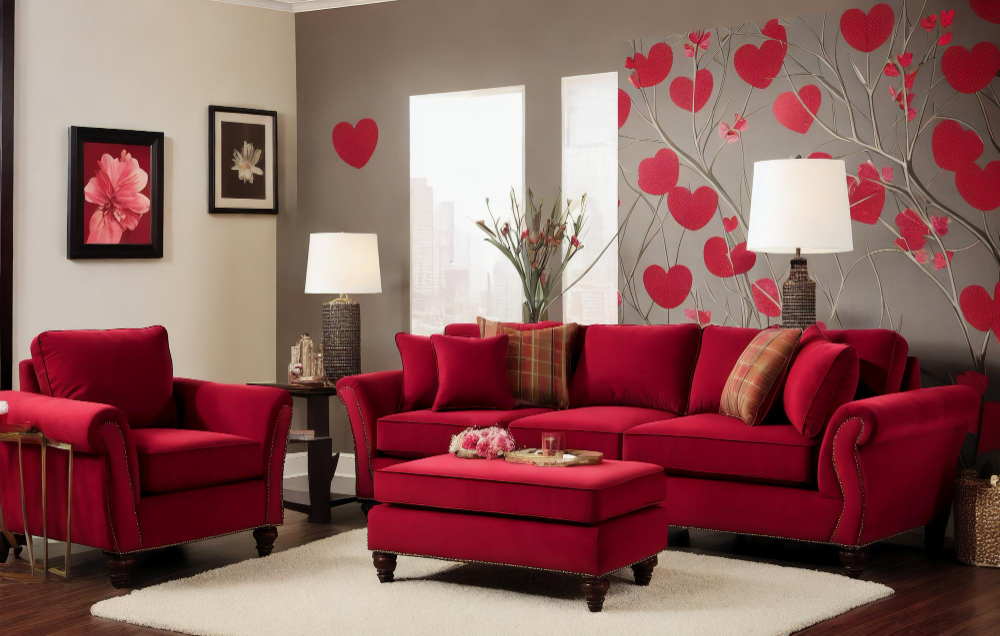 Don't be afraid to introduce playful elements in the living room. You don't have to shock the senses with a bright red couch unless, of course, it compliments the rest of your decor.
Introduce fun with accessories instead. Simple examples of fun living room decor are floor cushions and bean bags with fun colors, patterns, and prints.
Do your children enjoy arts and crafts? They'll love it if you frame and hang on of their 'masterpieces', or display a few of their creative efforts on a side table.
This achieves two things. It injects playful accents into the living room and stimulates children's creativity.
Another top idea is to invest in abstract artworks. They don't have to be expensive, just bright and cheerful. Abstract art pieces also stimulate the imagination. Kids will try to figure out what the artwork represents, and may even turn it into a game.
Opt for Child-Safe Flooring
Child-safe flooring is another important consideration when decorating a kid-friendly living room. Carpets are always a popular choice for living rooms and are always child-friendly. Carpeted floors are ideal for those accidental falls during rough play.
Area rugs tend to slip around, though, so get anti-slip rugs to keep kids safe when running about. Carpets and rugs need to be regularly cleaned, as they can become a source of trapped dust or pet dander, triggering allergy symptoms.
If your children suffer from allergies, natural wood or non-slip tile is a better choice. Be careful though, if polished it can become dangerously slippery. Sealed and varnished wood or lustrous engineered wood flooring are safer options.
Continue reading: