Last updated on December 5, 2023
Discover the transformative power of assembled kitchen islands because they offer convenience, versatility, and added storage to make your kitchen more functional and aesthetically pleasing.
I'm delighted to have written and illustrated this extensive exploration of the top 20 Best Assembled Kitchen Islands, and I hope that you enjoy and feel inspired by it as much as I enjoyed creating it.
Assembled kitchen islands serve as both a functional workspace and a stylish focal point in any home. With a variety of designs, materials, and sizes, they can be tailored to fit any kitchen layout and decor style.
Whether you prefer a classic wooden island with ample storage, a sleek stainless steel design for a modern touch, or a multifunctional island with built-in appliances, the options are endless.
This article will explore a wide range of assembled kitchen island ideas, offering valuable insights into choosing the right one to enhance your kitchen's functionality and aesthetics.
Stay with us to delve into the world of kitchen islands and find the perfect match for your home.
What's Inside
Rustic Wooden Island With Built-in Storage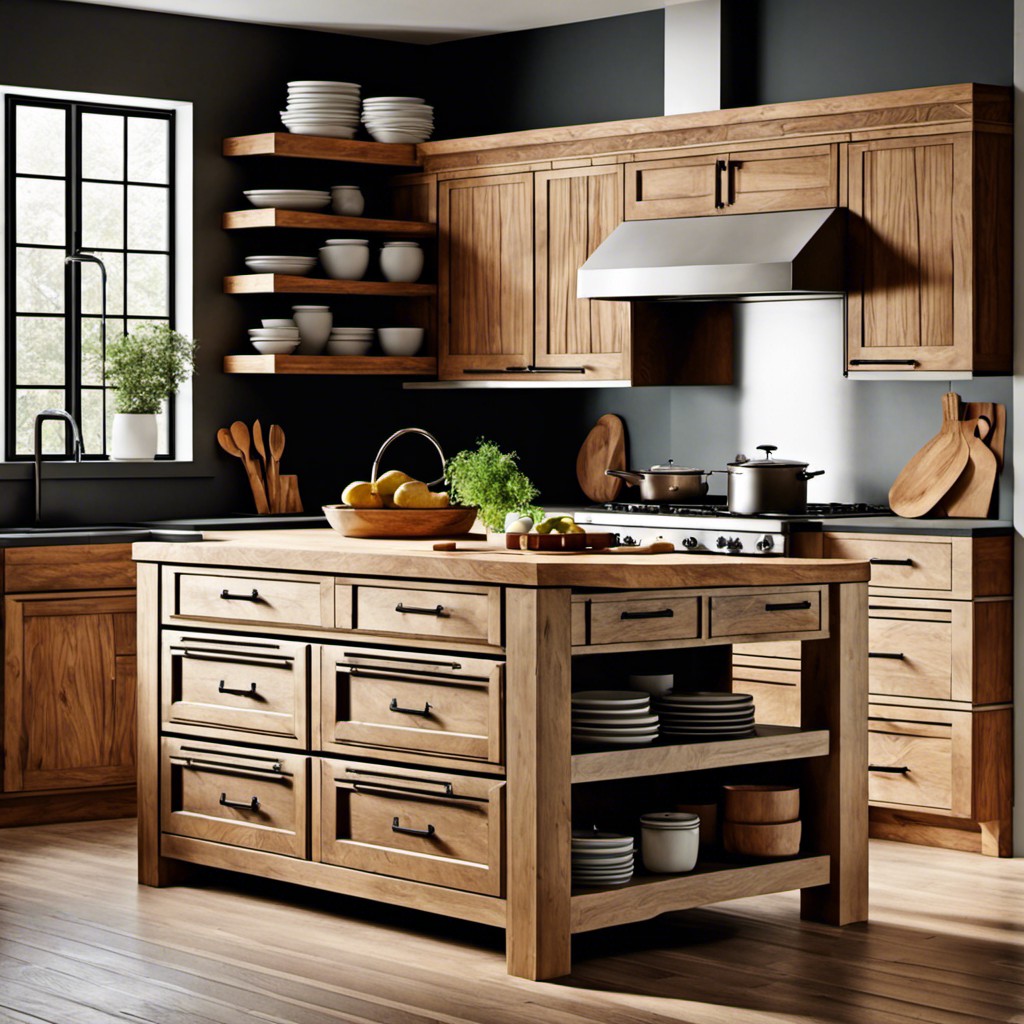 Experiment with cabin-style aesthetics by opting for natural textures and shades in your island selection. This affords not only aesthetic charm but also valuable storage space.
Wood is the key player here; its heat and distinctive grain pattern bring an inviting, earthy feel into the room. Be sure to protect it with a sealer to ward off water damage and prevent stains.
Consider adding cabinets or drawers within the body of the island for convenient, hidden storage. Handle or knob styles can further contribute to the rustic look.
Inserting slated wood shelves allows for showcasing decor elements, making the island not only utilitarian but a personality piece as well. Integrating a refrigerator drawer or a pull-out trash can make the island even more functional.
Remember, the beauty of a rustic wooden island lies in its uniqueness. Reclaimed, salvaged, or barn wood can add character with their inherent imperfections, echoing the charm of rural life right in your kitchen.
Butcher Block Top Island for Extra Cutting Space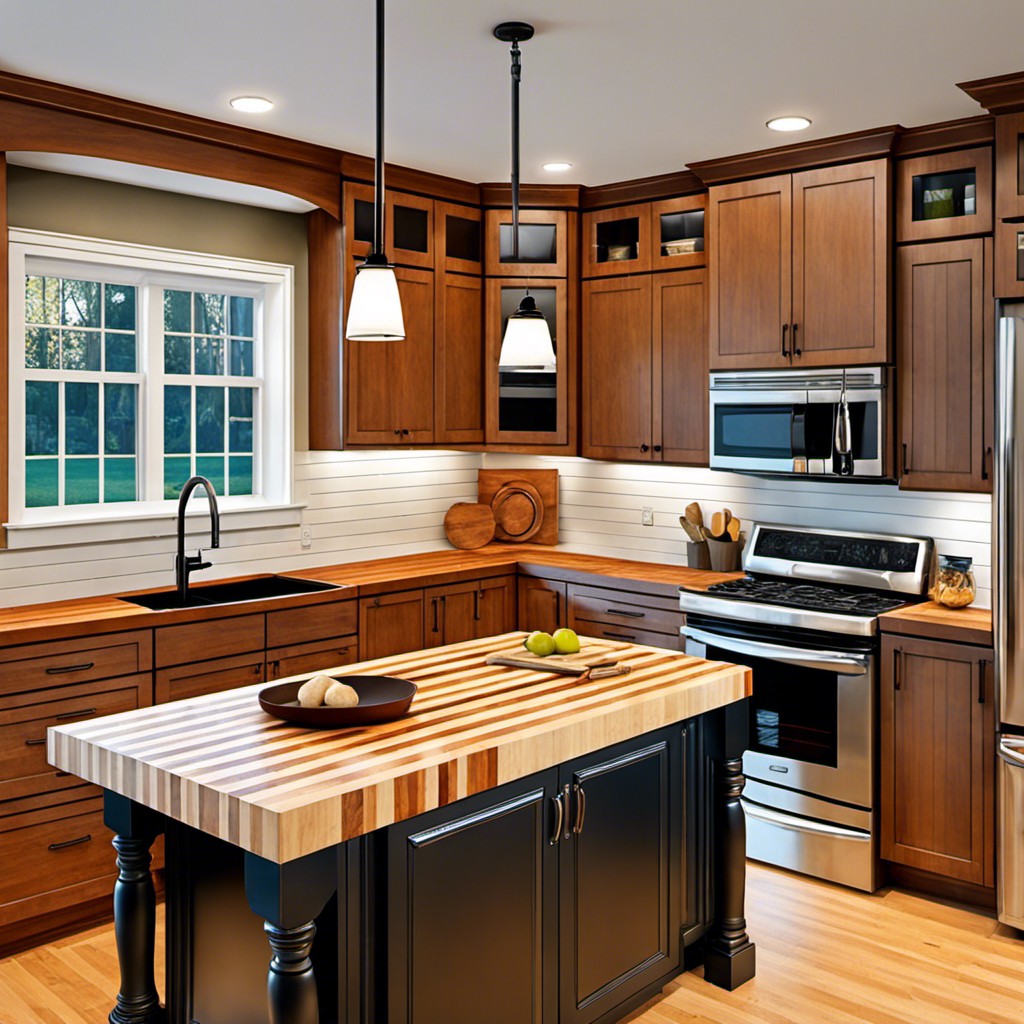 Culinary enthusiasts will appreciate the functionality offered by a butcher-block top island. Not only does it provide an extra workspace for chopping and prepping food, it also adds a warm, natural touch to the kitchen's aesthetic.
Here are some main points to consider with this island style:
1. Material Setup: Consisting of straight cuts of wood pieced together, this setup is sturdy and durable. It's specifically designed to endure the wear and tear of sharp kitchen tools without significant damage.
2. Maintenance: Regular oiling is required to preserve the wood's lustre and prevent staining. This upkeep will ensure the counter stays sanitary and neat.
3. Customization: Butcher-block islands have the advantage of being adaptable. For example, you can opt for a mobile island, add a built-in knife storage area, or even include a sink.
4. Aesthetic: The top's natural grain can be a beautiful addition that adds warmth and character to your kitchen environment. It acts as a perfect counterpoint to stainless steel appliances and modern finishes.
5. Sustainability: Most butcher block islands are crafted from sustainable or reclaimed wood, making them an eco-friendly choice for your kitchen.
Featuring a butcher block top island will not only enhance the functional aspect of your kitchen, but will also add an element of rustic style that's hard to ignore.
Antique Furniture Converted Into a Kitchen Island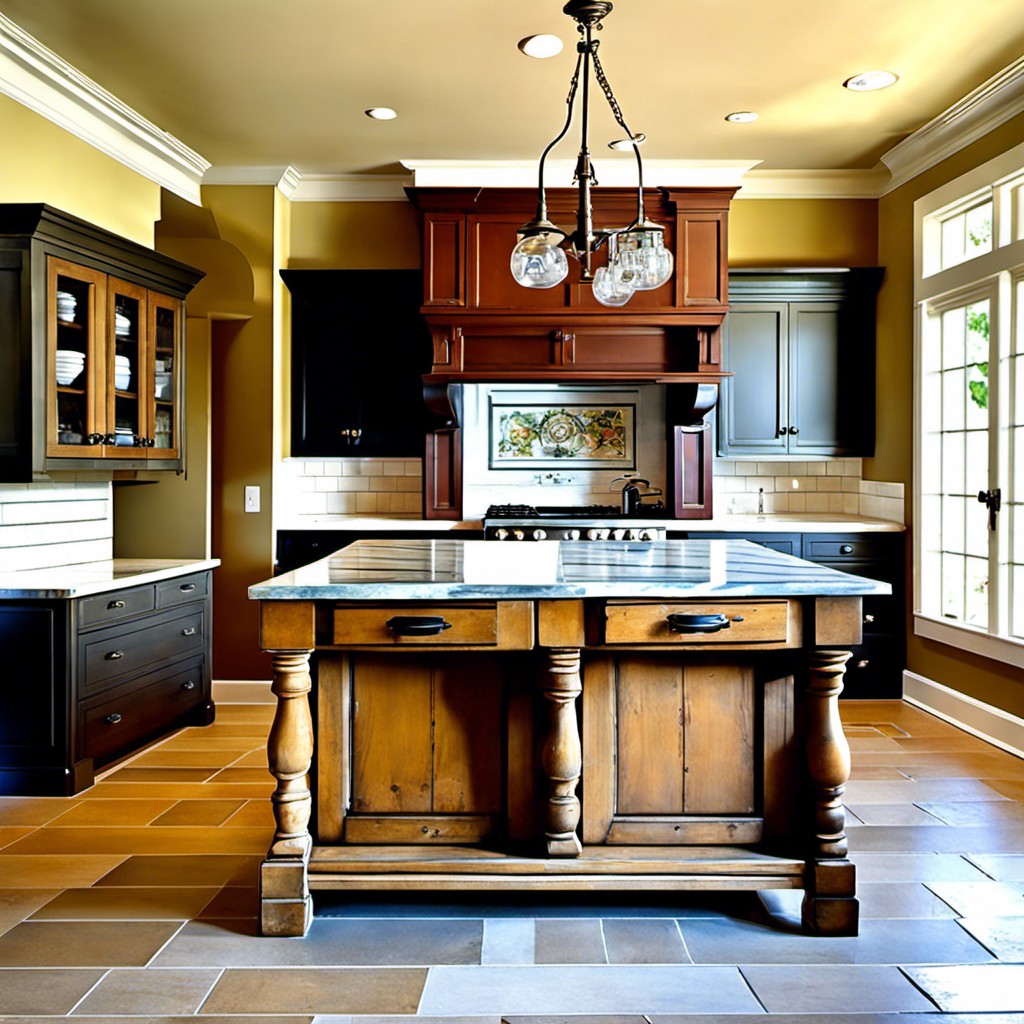 Repurposing antique furniture pieces, such as an old dresser or console, can make your kitchen space unique and full of character. When choosing the piece of furniture, consider the size to ensure it fits into your kitchen space without overcrowding.
Next, assess the furniture's storage option. Many antique pieces have drawers which could be ideal for storing cutlery and linens. However, you might need to renovate some parts and install more practical hardware such as sliding drawers to maximize space usage.
After choosing the rightful antique to integrate into your kitchen, refining it to match your kitchen style is key. Distressing techniques can enhance the rustic appeal, while a fresh coat of paint can bring new life to the piece and blend it seamlessly with your overall color scheme.
Last but not least, don't forget functionality – you may opt to add a marble or butcher-block top for food prep, or even install a small secondary sink. The goal is to perfectly fuse nostalgia with modern kitchen needs. Always remember, protecting the piece from steam, splatters, and spills is crucial to ensure its durability.
Custom-built Island With an Integrated Wine Rack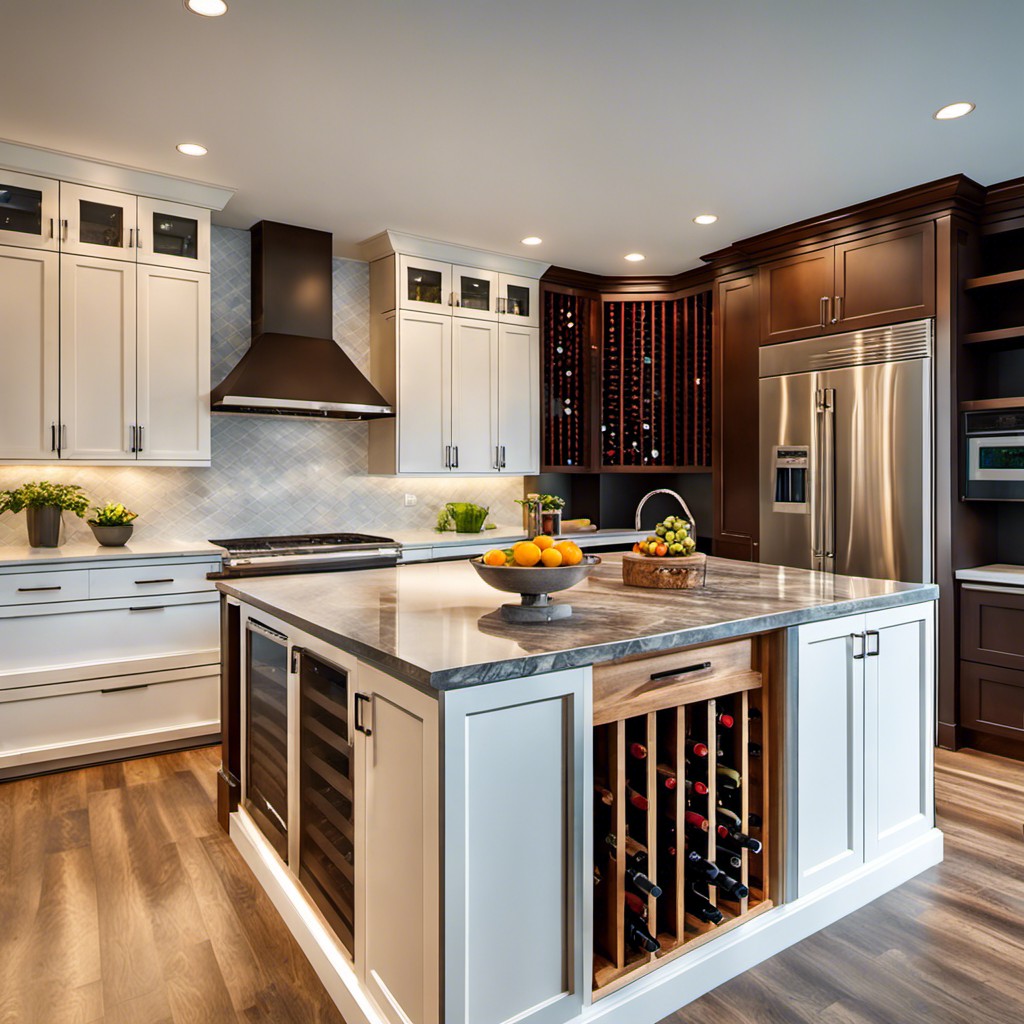 Having this feature in your kitchen island equates to both form and function, making it an excellent choice for wine enthusiasts. Its design can range from simple racks to temperature-controlled fridges. It transforms a regular island into a statement piece and can cater to a collection of any size. It also frees up additional storage and keeps your favorite vintages within an arm's reach. Lastly, it adds a touch of elegance, impressing your guests during dinner parties. However, some thought must go into the material selection for the island, to ensure it complements the rest of the kitchen decor.
Granite Countertop Island for a Sturdy Workspace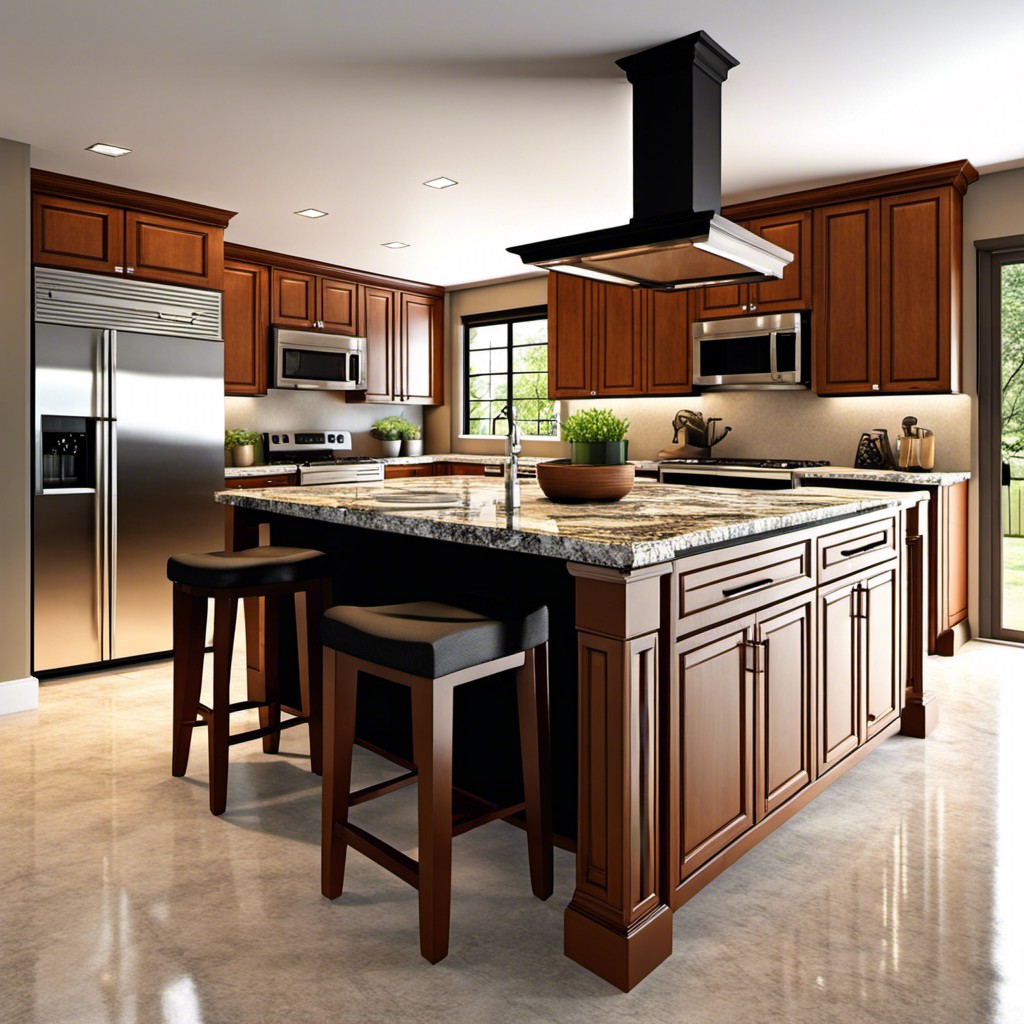 Highly valued for both its aesthetics and durability, using granite as the countertop material creates an island that's not just functional, but a work of art. It's attractive, available in a variety of colors, and complements almost any kitchen décor. This high-end stone provides a hard and scratch resistant surface that's easy to clean, thus caters to a bustling kitchen's demands.
Granite's heat-resistant quality allows you to place hot pans directly onto the surface without causing any damage, offering convenience for the home chef. Moreover, it is bacteria and dirt resistant, making it a hygienic choice.
Although this type of counter requires careful handling to avoid edge chipping or staining, its advantages are worth the maintenance effort. Sealing it annually guarantees its longevity and contributes to a healthy kitchen environment.
Consider implementing inventive design features such as waterfall edges or underlit LED lights to emphasize the beauty of the granite and make your kitchen island an exquisite centerpiece.
Exposed Shelving Island for Dish Display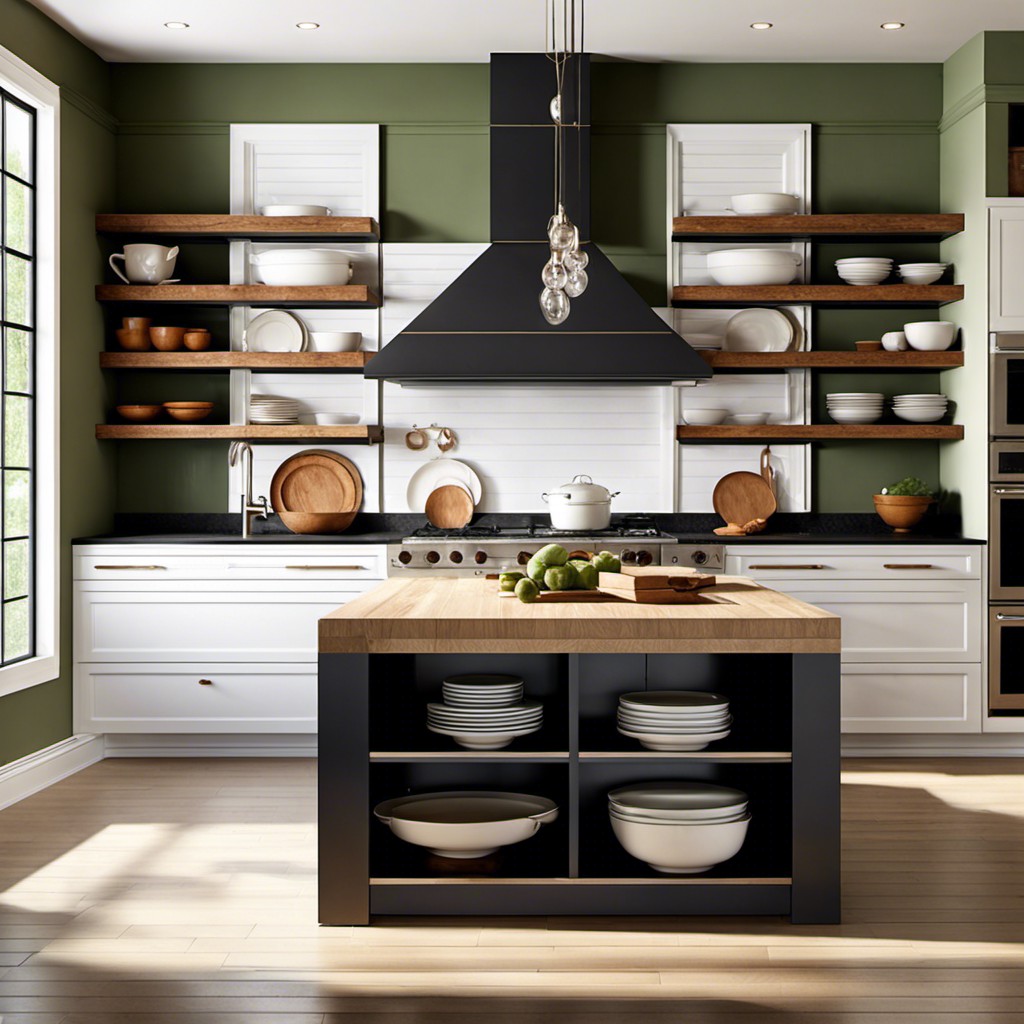 Offering the perfect blend of functionality and aesthetics, this type blends open cabinetry within the base's design. Such a choice provides immediate access to everyday items like kitchenware and crockery, while also showcasing them as a part of the decor.
1. Storage Solution: The open design gives a bonus of additional storage space in a kitchen where cabinets might already be filled to capacity.
2. Decor Display: Allows you to beautifully exhibit your ceramic ware or themed dish collections, adding a personalized touch to the environment.
3. Space Illusion: Using exposed shelving can make small kitchens appear spacious due to the visibility it provides.
4. Easy Access: Ideal for quick and easy access to your frequently used utensils or dishes, saving time during meal preparation.
5. Flexibility: Offers the ability to change displays based on the season or occasion – a versatile feature that few other island designs can match.
6. Statement Piece: Acts as a conversation starter by revealing a glimpse of your personal style.
Remember, the success of an exposed shelving island hinges on keeping things organized. A cluttered shelf can make your kitchen look untidy. Regular cleaning is required to maintain its chic look.
Kitchen Island With Attached Breakfast Bar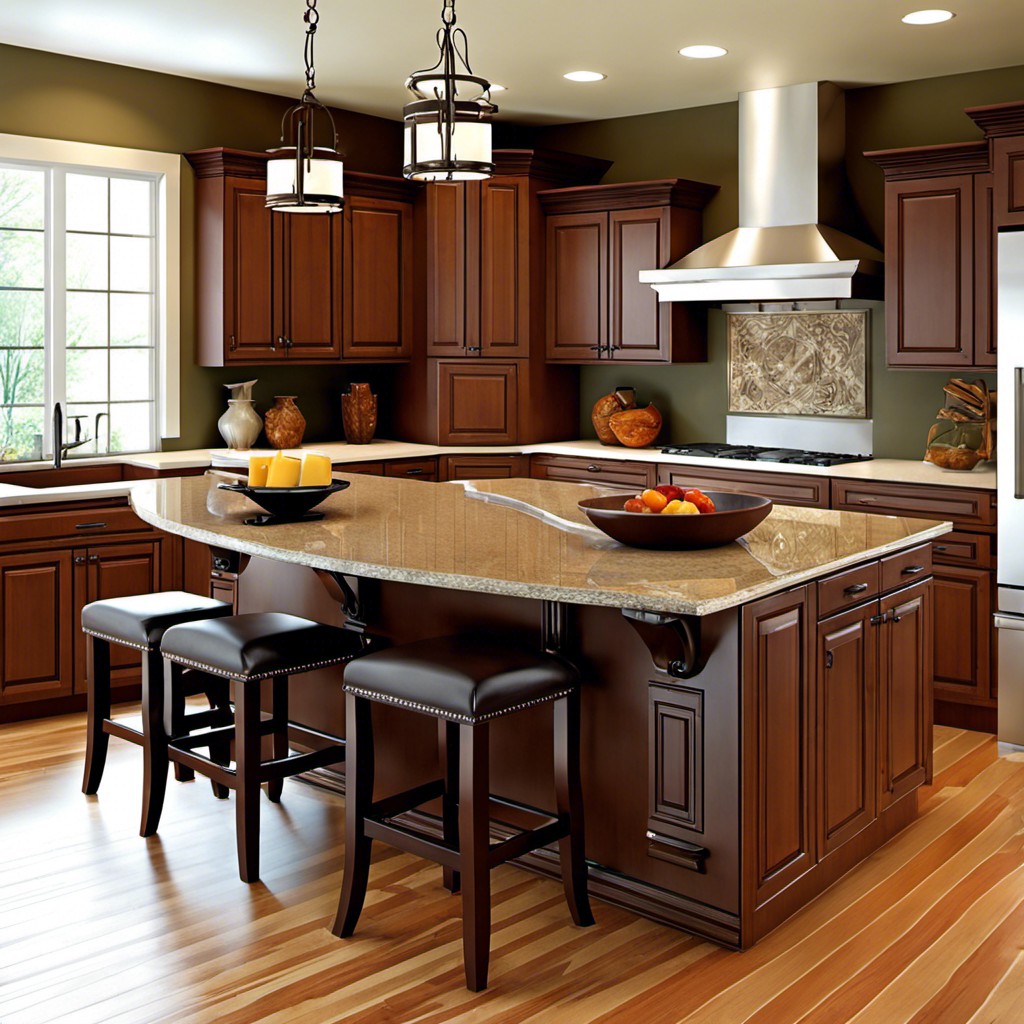 This clever design idea serves multiple purposes, allowing you to maximize space and functionality in your kitchen. An attached breakfast bar to your island instantly creates additional seating – perfect for making the most of busy morning meals. With the stools tucked away when not in use, it maintains a clean, uncluttered look.
1. Versatility: It provides a casual dining area, extra prep space, and even a homework station for your kids.
2. Space-Saving: You get an added dining area without needing extra square footage.
3. Social Interaction: Positioned adjacent to the cooking area, you can chat with family and friends while preparing meals.
4. Customization: Your breakfast bar's style, height, and materials can be tailored to your liking, seamlessly blending with the existing kitchen layout.
5. Easy Flow: The attached breakfast bar ensures your guests can move freely around your kitchen, improving overall traffic flow.
Incorporating a breakfast bar into your kitchen island promotes a smooth, versatile living space suited to your household's lifestyle.
Compact Island With Hidden Storage Compartments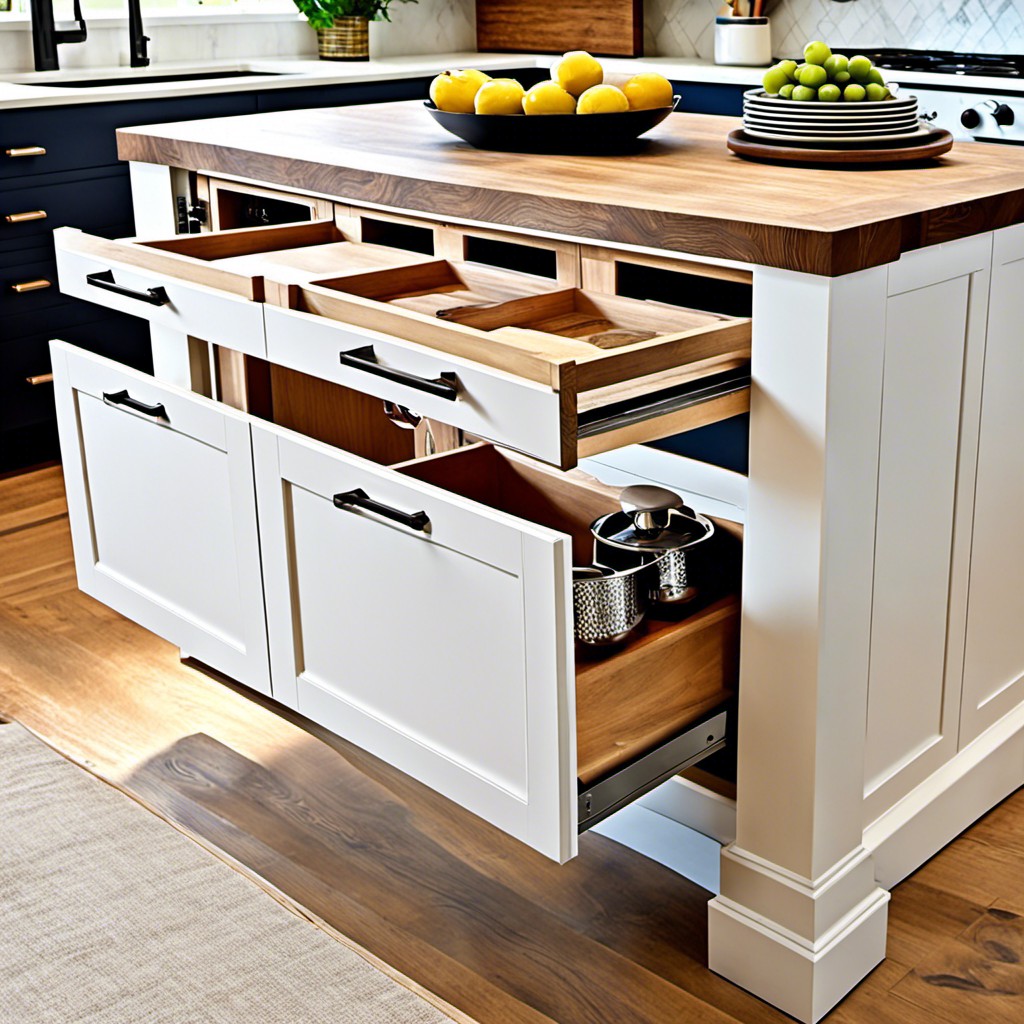 Ensuring maximum usage of your kitchen space while minimizing clutter is crucial. This is where the convenient features of this design come in. It's essentially about creative, smart storage.
1. Pull-Out Drawers: Within the island's core, roomy pull-out drawers can house items such as utensils, small appliances, and dishware.
2. Internal Cabinets: For those with larger kitchenware, internal cabinets provide various options for pots, pans or even rarely used appliances.
3. Hidden Shelves: If you're keen on having your cookbooks close by, hidden shelves are an elegant solution.
4. Compartmentalized Drawers: To store and organize smaller kitchen items like cutlery and kitchen gadgets.
5. Swing-out Bins: A clever way to discreetly tackle food waste without it being seen.
6. Built-in Knife Blocks: For safe, efficient storage of sharp tools.
By making storage compartments a part of the design, you seamlessly blend functionality and style. It's an excellent strategy for maintaining a clean, organized kitchen.
Industrial-style Metal and Wood Island
Employing a blend of raw materials, this kitchen island offers a rugged, yet chic aesthetic to your kitchen setup. With the sturdiness of metal and warmth of wood, it provides a harmonious balance between modern and rustic influences.
Remember these key aspects when planning:
Balance: Maintain a distinct balance between the cold, hard metal and the warm, inviting wood.
Ruggedness: The beauty of this style lies in its deliberate imperfection. Look for materials that naturally show wear such as weathered wood and aged metal.
Cheese board or butcher block: A wooden top can serve as an attractive and functional surface.
Open Shelving: Industrial style typically embraces openness. Consider metal-framed shelves for storing dishes or cookbooks.
Wheels: Adding caster wheels lends an authentic industrial touch and increases mobility.
This functional and aesthetically pleasing island fits different kitchen layouts, adding versatility and character to your space.
Farmhouse-inspired Island With Distressed Wood Finish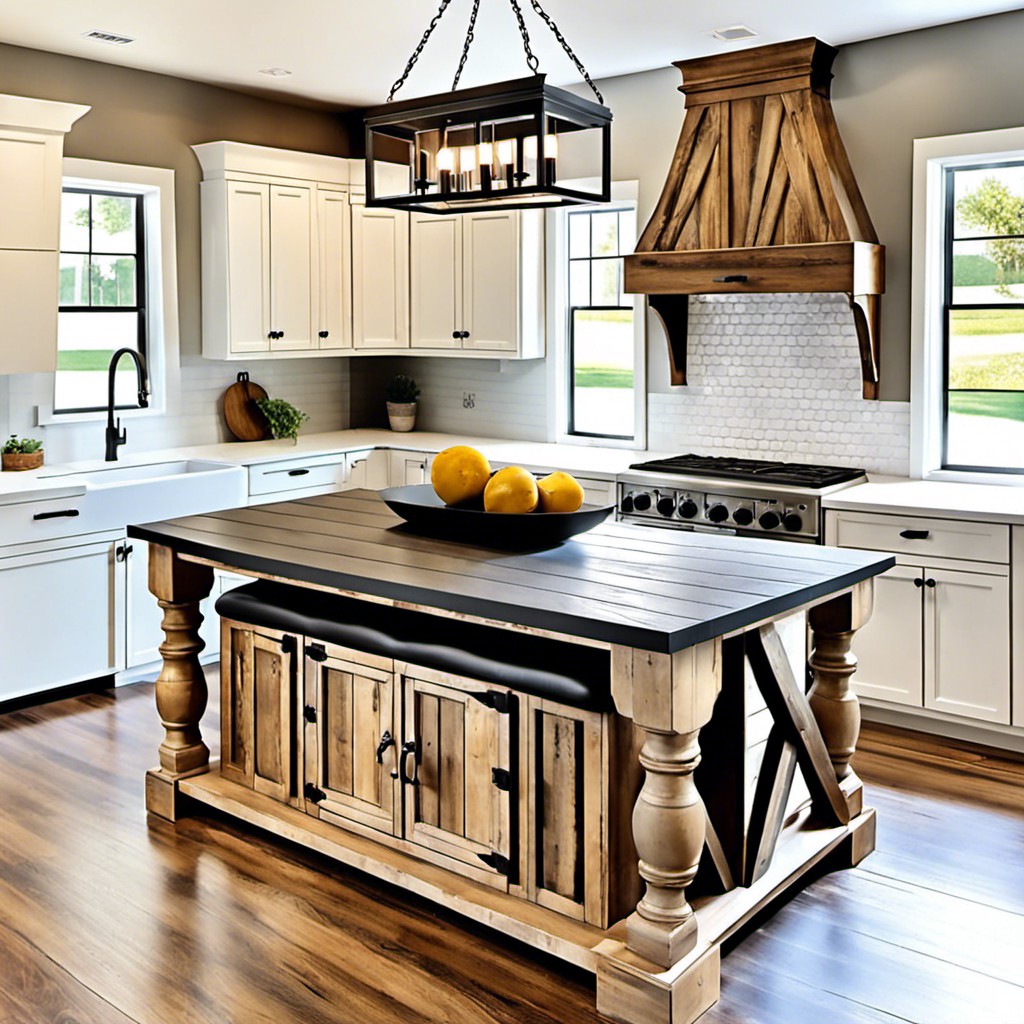 Crafting a taste of country life within a modern setting, farmhouse-inspired islands incorporate the best of both worlds. Think character and functionality combined. A distressed wood finish significantly enhances the overall rustic appeal, granting it an authentic, timeless look. This style allows room for personal customization.
Using vintage hardware and classic shade of paints can add to its charm. You might decide to use reclaimed wood, which contributes an eco-friendly benefit while offering a unique aesthetic with its past life's elements etched all over. For an authentic worn-out look, techniques like hand scraping, sanding, and dry brushing are employed.
One crucial thing about farmhouse-inspired islands is their functionality. They provide ample storage, often with open shelve spaces for quick, easy access to pots, pans, utensils, and more. Function, however, never overshadows aesthetics. Even the hooks, handles, and baskets are selected to maintain the rustic vibe.
Remember to consider the overall kitchen design while choosing a finish, ensuring it seamlessly blends with your existing decor. A farmhouse-inspired island can make a powerful yet inviting statement, cementing the kitchen as the heart of your home. Remember, every nick, scrape, and scratch will tell its own story and add to the charm of your farmhouse-inspired kitchen island.
Luxurious Marble-topped Island With Brass Accents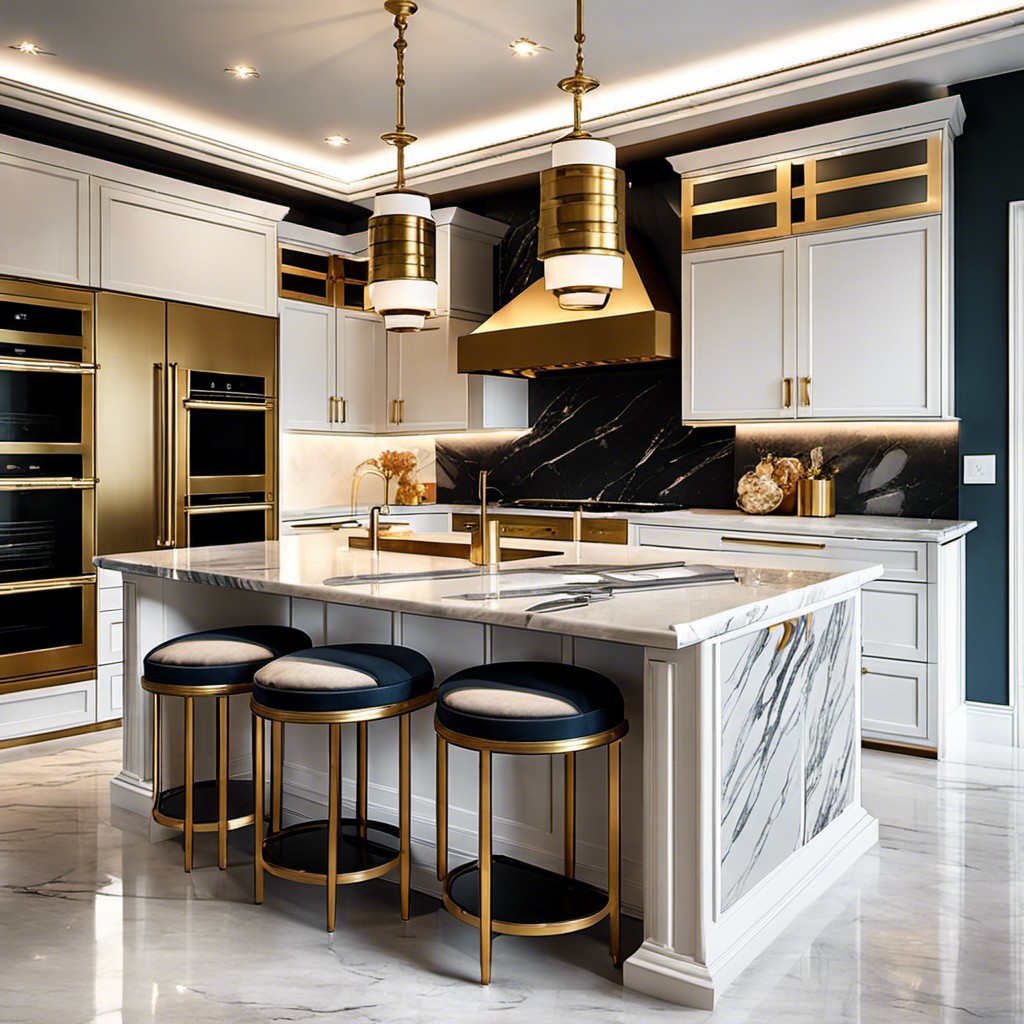 A marble-topped island can instantly elevate the luxury quotient of your kitchen. The natural veining of the marble renders unique vibrancy to the island's surface. Paired with brass accents, the overall look is elegant and sophisticated.
This option is particularly suitable for traditional or transitional kitchen styles.
The smooth, cool surface of marble is ideal for activities like kneading dough or making pastries. It's also easy to clean, adding to the practical advantages. However, remember that marble is porous, making it prone to staining. Regular sealing can, however, circumvent this issue.
Brass accents, on the other hand, lend a warm glow to the kitchen. They can be incorporated in knobs, handles, legs, or fixtures of the island, complementing the cool tone of the marble. Maintaining the sparkle of brass might require a bit of effort, but its aesthetic appeal arguably outweighs this caveat.
These islands also allow space for customization. Open shelving, drawers, or a built-in wine rack can be added to enhance functionality. Pair your luxurious marble and brass island with matching stools or pendant lights to pull the look together.
Country-style Kitchen Island With Beadboard Details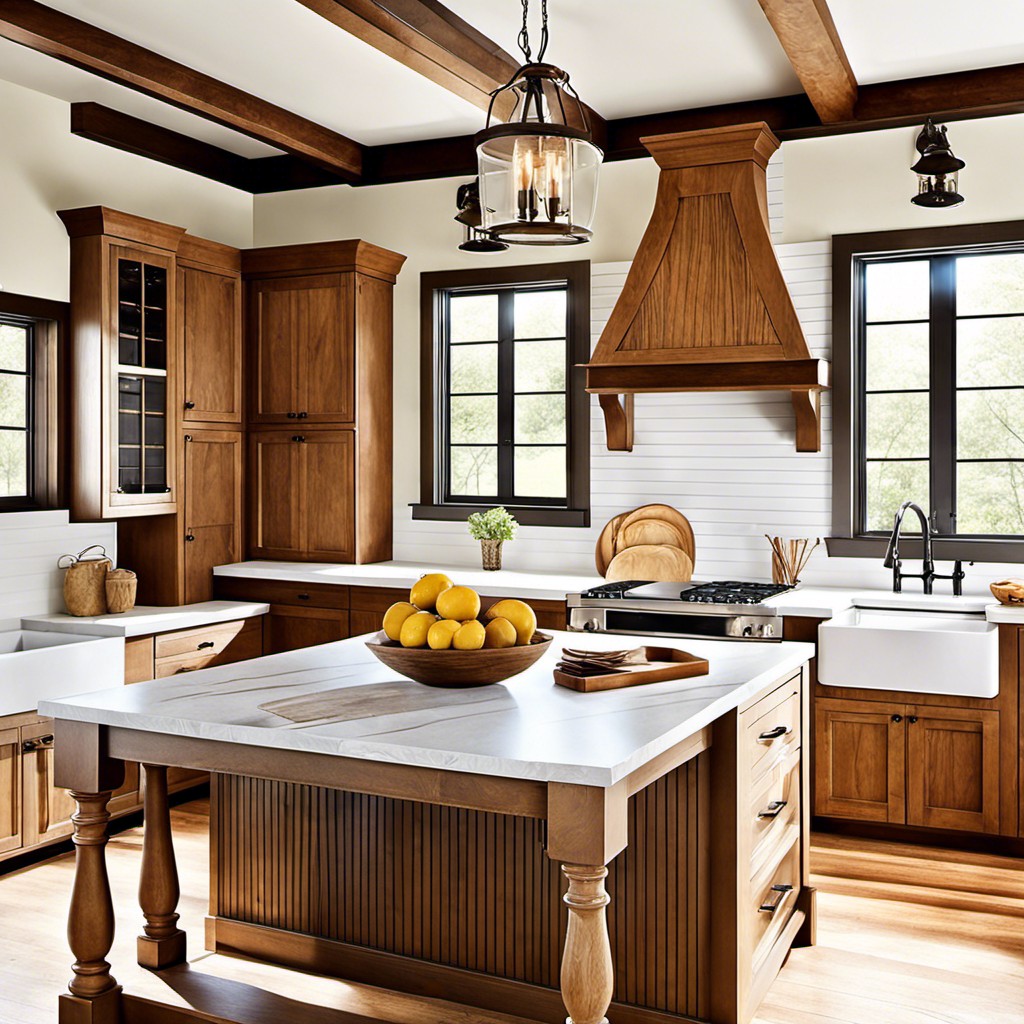 This design oozes the comfort and charm typical of rural aesthetics. Beadboard details elevated with a fresh coat of paint, often in warm or pastel shades, imbue the island with homely appeal.
Paired with farmhouse touches like antique hardware and rustic countertops, this type of island becomes a beautiful centerpiece.
Additionally, the vertical lines of the beadboard can visually heighten a space, making the kitchen look larger.
Opt for open shelving or wicker baskets under the counter to accentuate the country aesthetic while adding functional storage.
Modern Minimalist Island With Sleek Lines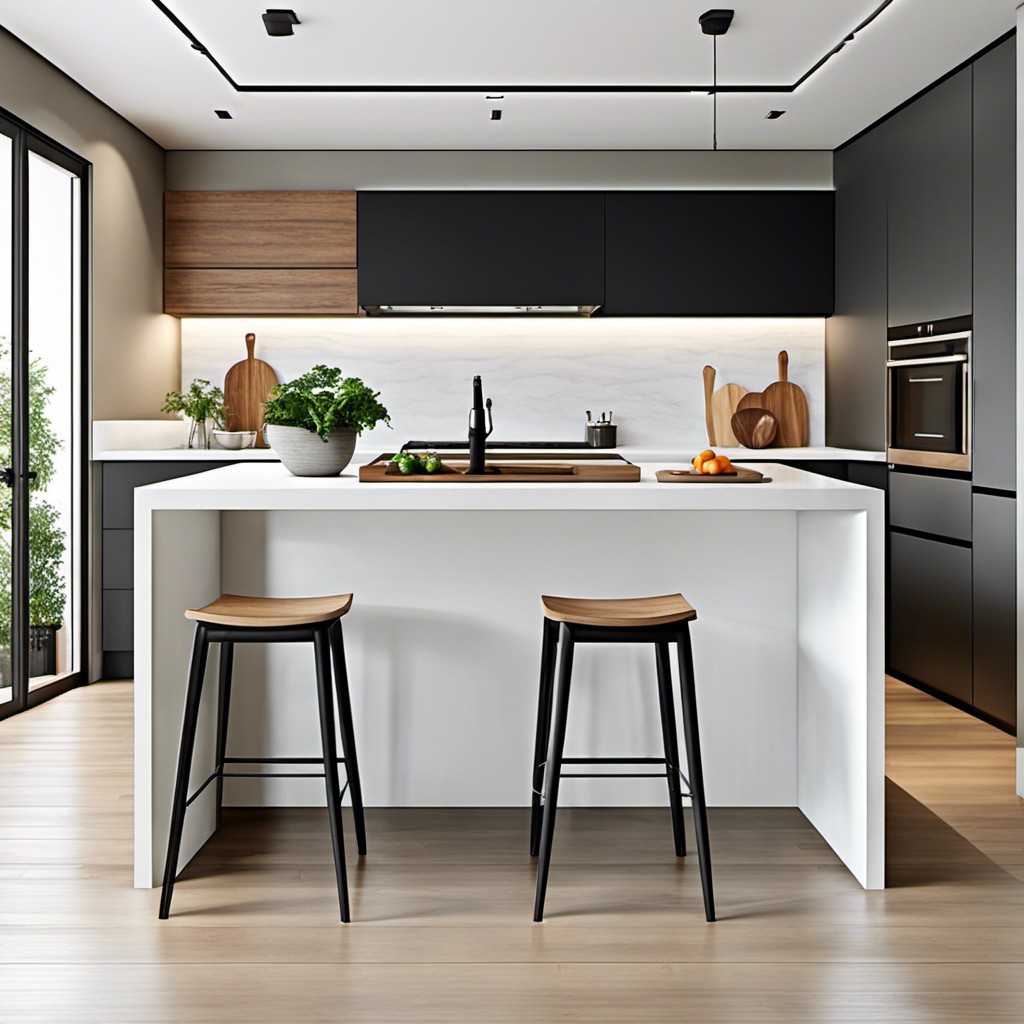 Opting for a modern minimalist design offers a sleek, refined style that enhances aesthetic appeal and functionality. Clean lines project a sense of order and enable the workstation to merge seamlessly with the existing interior setup. The use of flat surfaces and understated colors add to the sophistication.
Highlight simplicity by avoiding intricate moldings or busy patterns. As per minimalist design principles, 'less is more'.
Opt to integrate appliances, like the dishwasher or oven, for a streamlined look. Bar stools with slim frames can provide unobtrusive seating.
Remember to incorporate adequate storage. Having a place for everything in your island unit helps maintain a clutter-free area, which is essential to modern minimalist design.
Minimalist islands are versatile, making them suitable for small and large kitchens alike. A correctly sized island can help outline the kitchen's working 'triangle' – the sink, stove, and refrigerator – improving circulation and ease of cooking.
Island With Built-in Sink for Additional Functionality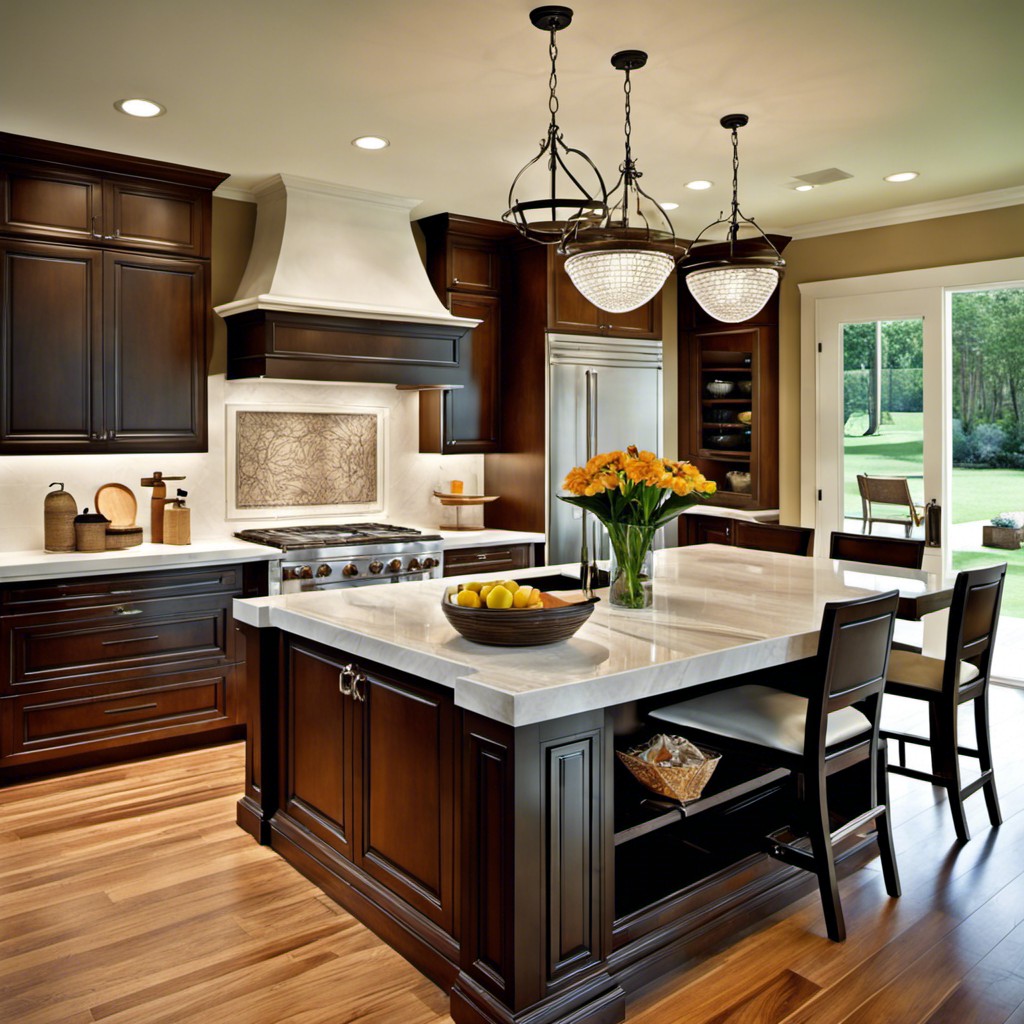 Having an island with a built-in sink offers numerous advantages, notably easier food preparation and efficient cleanup. You essentially have a mini kitchen, offering the convenience of washing produce or dishes right there where the main cooking happens, which saves time and energy.
Versatility: This style fosters productivity. You could be rerouting wastewater while someone else is cooking, accelerating kitchen tasks.
Space-Saving: It clears up counter space on the primary countertops by allocating a specific area for rinsing and washing.
Design Appeal: Its aesthetic appeal cannot be ignored. Having the sink in the middle serves as a unique centerpiece, increasing the kitchen's overall aesthetic.
Plumbing Convenience: Modern plumbing techniques have simplified the process, making it easy to have water supply and drainage in the island.
Customisation: Huge variety in sink styles and materials allows it to blend perfectly with any kitchen theme.
This concept combines aesthetics and convenience, ensuring that the kitchen is not just about good food but also about an efficient, beautiful workspace.
Bold-colored Island As a Kitchen Focal Point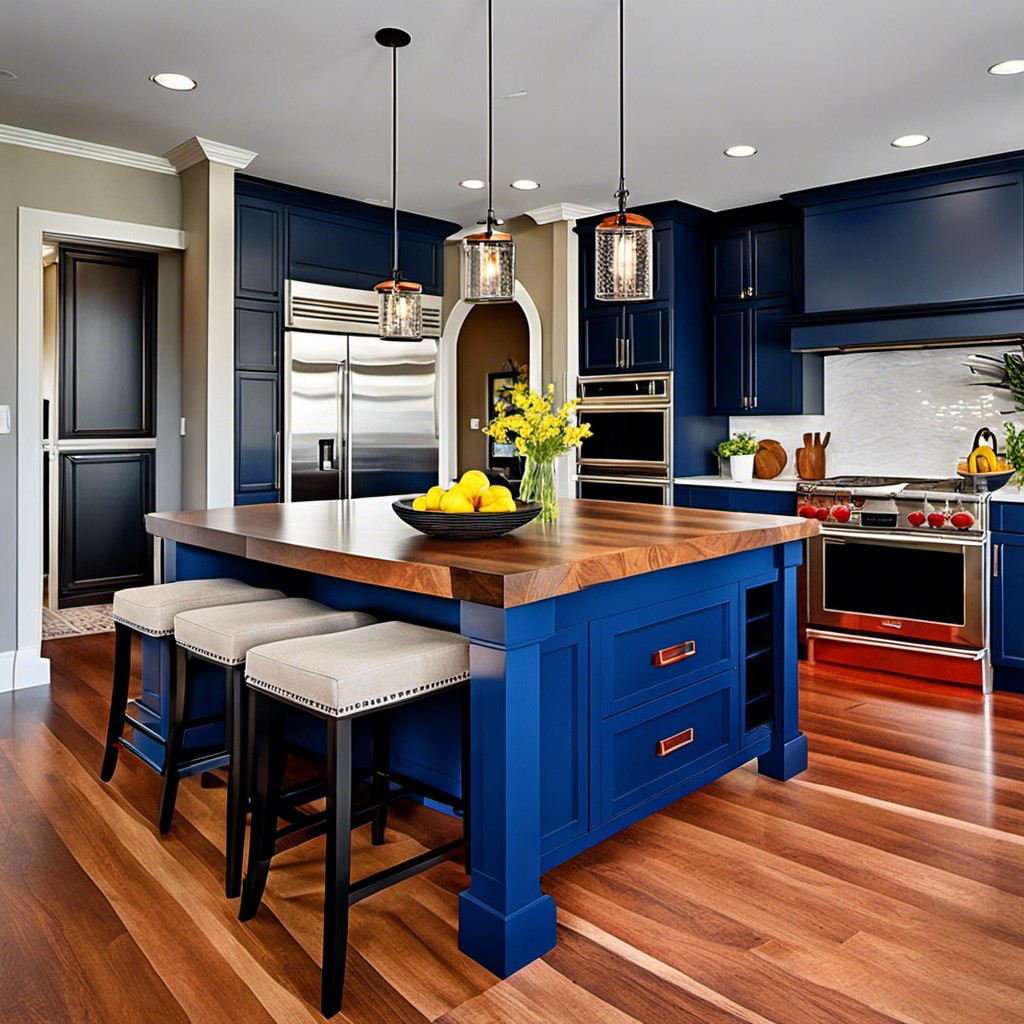 Embracing vibrant hues can pack a punch in terms of visual appeal, amplifying your island's role as the star of the kitchen. Here's how:
1. Choose a Saturated Color: A high-intensity, saturated hue commands attention. Consider bold blues, radiant reds, or even deep blacks to set your island apart.
2. Balance with Neutrals: To ensure your bold island doesn't overpower the room, balance the color with neutral tones on walls, flooring, and other cabinetry.
3. Pair with Complementary Accents: Coordinate your color choice with smaller accents, like bar stools or kitchen accessories, to create harmony.
4. Keep it Cohesive: If your kitchen has a defined color scheme, selecting an island color that falls within the palette helps maintain cohesiveness.
5. Experiment with Finishes: Glossy finishes reflect light and heighten the color impact, while a matte finish offers a more muted, sophisticated feel.
Remember, the key to a successful bold-colored island is finding the ideal balance between standing out and fitting in. Aim for a statement, not a scream.
Dual-tier Island for Separate Cooking and Dining Area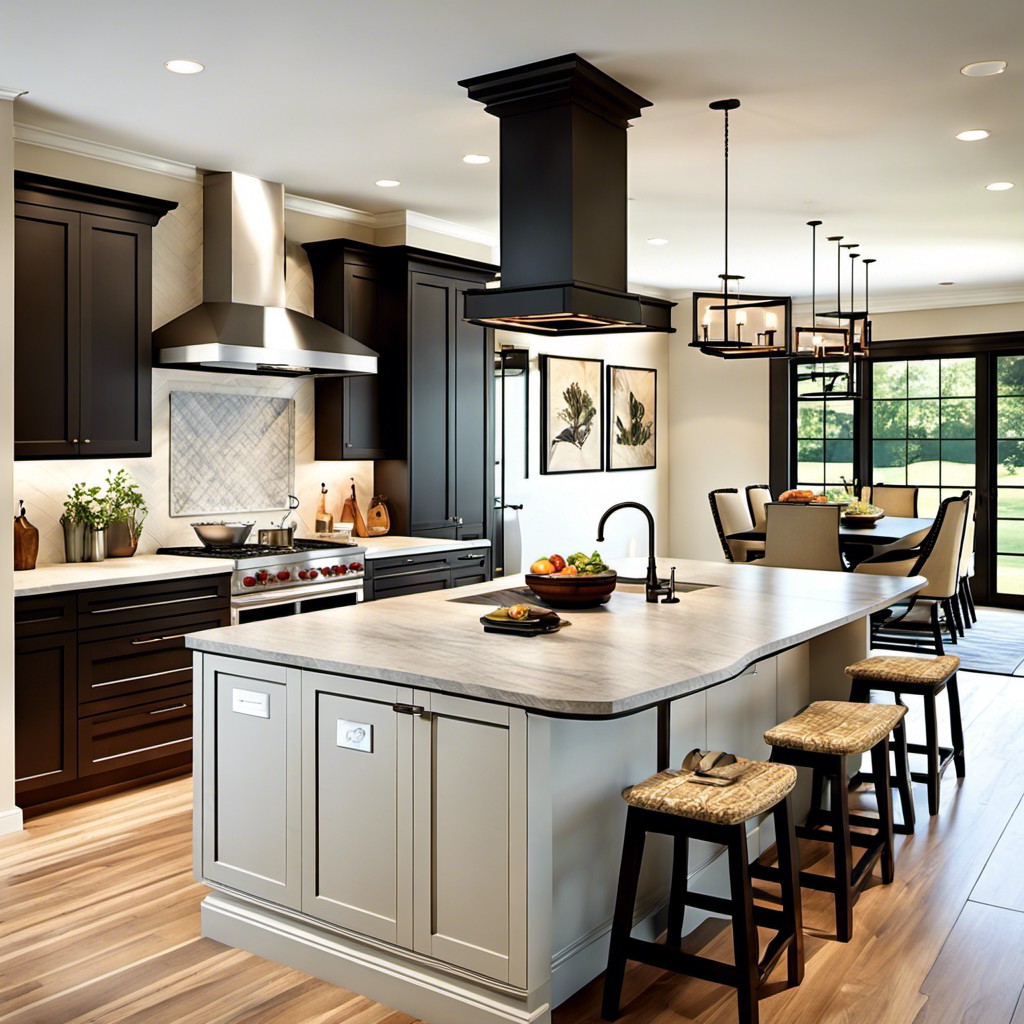 Having different levels allows efficient use of space and separation of functions. The higher level can serve as a preparation area, perfect for tasks like kneading dough or chopping vegetables, while keeping them out of sight from the dining area.
Conversely, the lower tier works beautifully as a casual dining spot or a serving station when entertaining. This design not only maximizes functionality but also introduces a dynamic aesthetic element to the kitchen.
Remember that the choice of materials for each tier, from granite to butcher block or even stainless steel, significantly impacts the overall look and usability of the island. This versatile feature offers an innovative way to bring a touch of restaurant efficiency to your home kitchen while maintaining a warm and inviting atmosphere.
Rolling Kitchen Island for Flexible Usage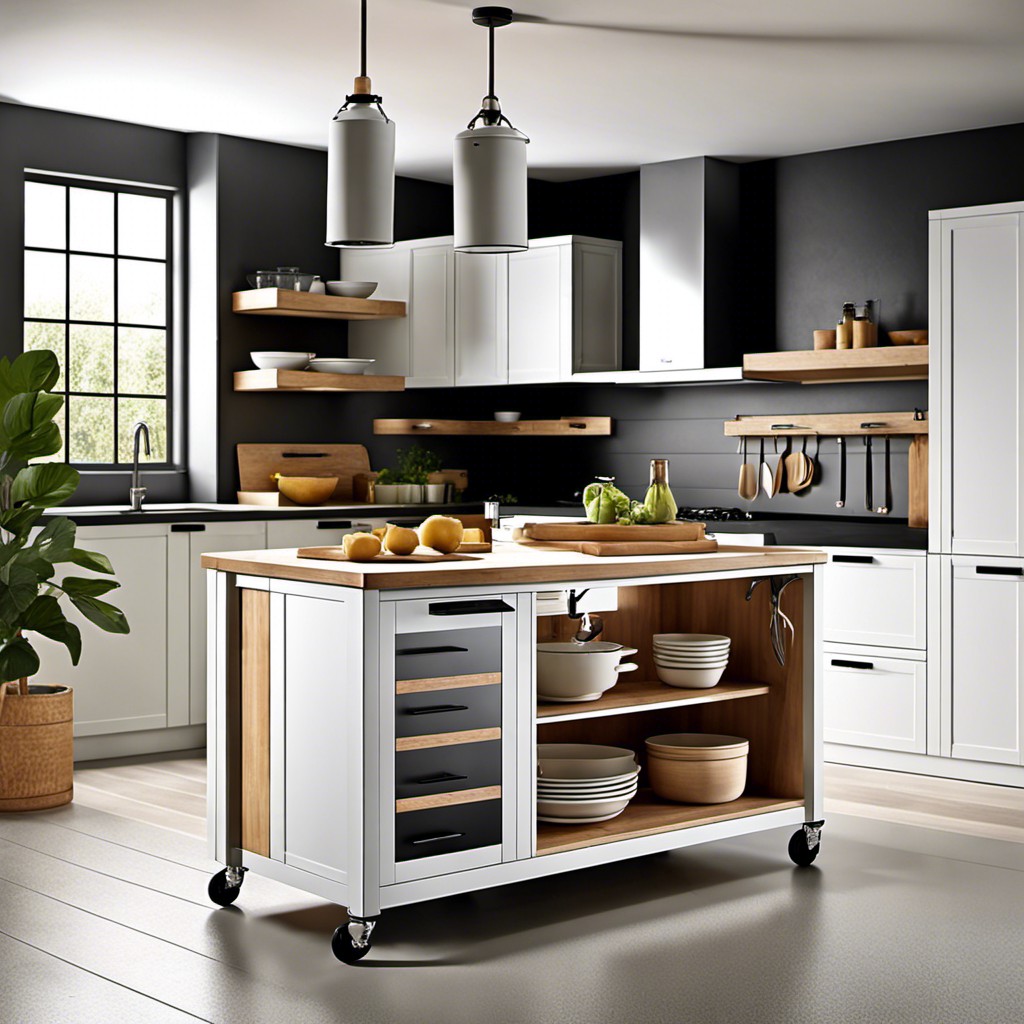 Offering optimal convenience, a rolling island can be moved around according to the needs of the moment. Its greatest advantage is the ease of repositioning it, providing more room where and when necessary. Plus, when not in use, it can be stowed away to save space.
For small kitchens, this is remarkably practical. It offers that needed additional worktop for meal preparation or serving, without permanently gobbling up your floor area. It's also ideal for open plan living, where it can serve as a makeshift divider between the kitchen and living zones.
Moreover, rolling islands often come incorporated with storage options. From drawers to open shelving or hooks on the side for hanging utensils, it's a great way of having your kitchen essentials at an arm's reach. To cap it off, robust lockable casters ensure stability, holding the island firm when you need it to be. This multi-purpose unit is therefore both a functional and flexible addition to any kitchen.
Kitchen Island With Integrated Pet Feeding Station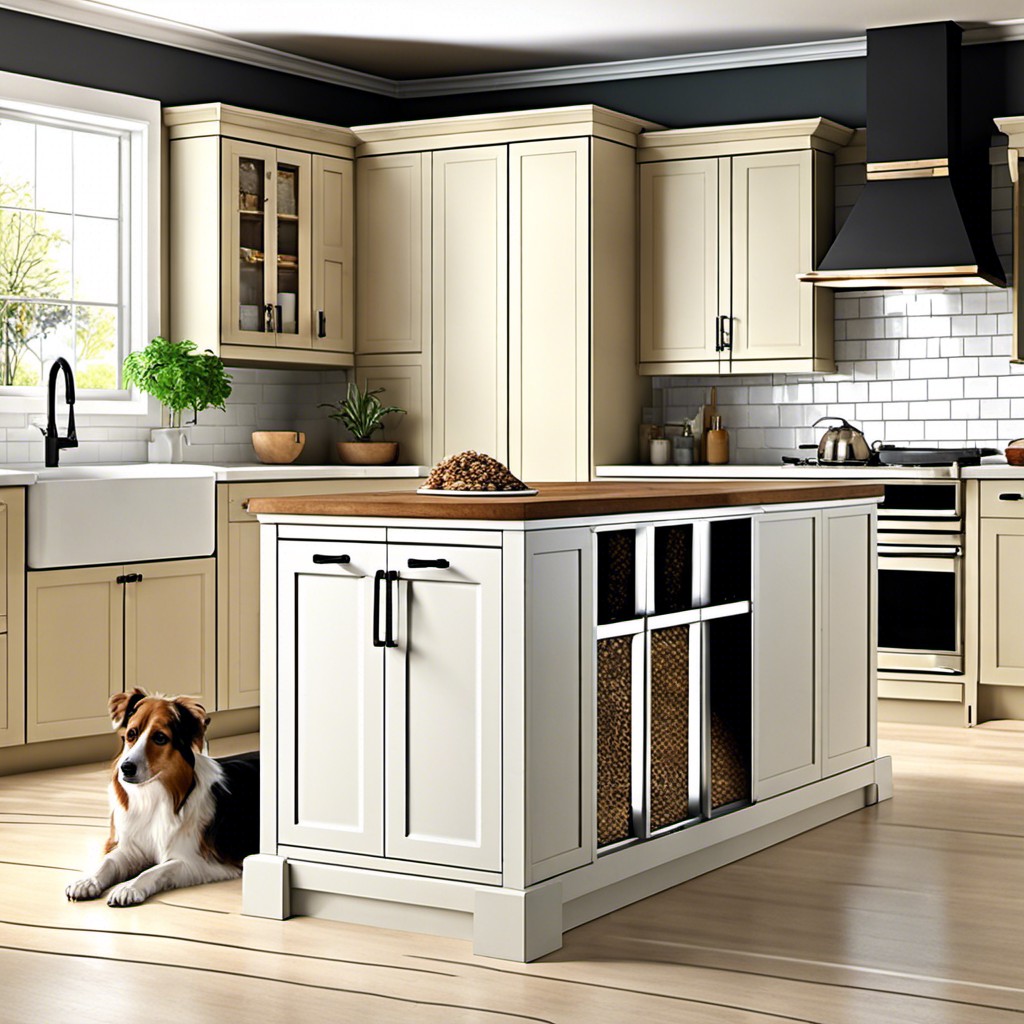 Nestling a pet feeding station into your island design not only saves room, but it also creates a dedicated area for your furry friends to enjoy their meals. This unique feature can be easily accomplished by carving out a small section in the island, preferably towards the bottom portion to ensure easy pet access. Incorporate pull-out drawers to store food and pet essentials — a stylish way to keep all pet supplies in one spot multi-tasking.
Ideally, it should be located away from cooking or food prep areas to maintain cleanliness. It's not just functional; it can also be a real conversation starter with guests, melding pet-care with chic style!
Island With Hanging Pot Rack for Storage and Display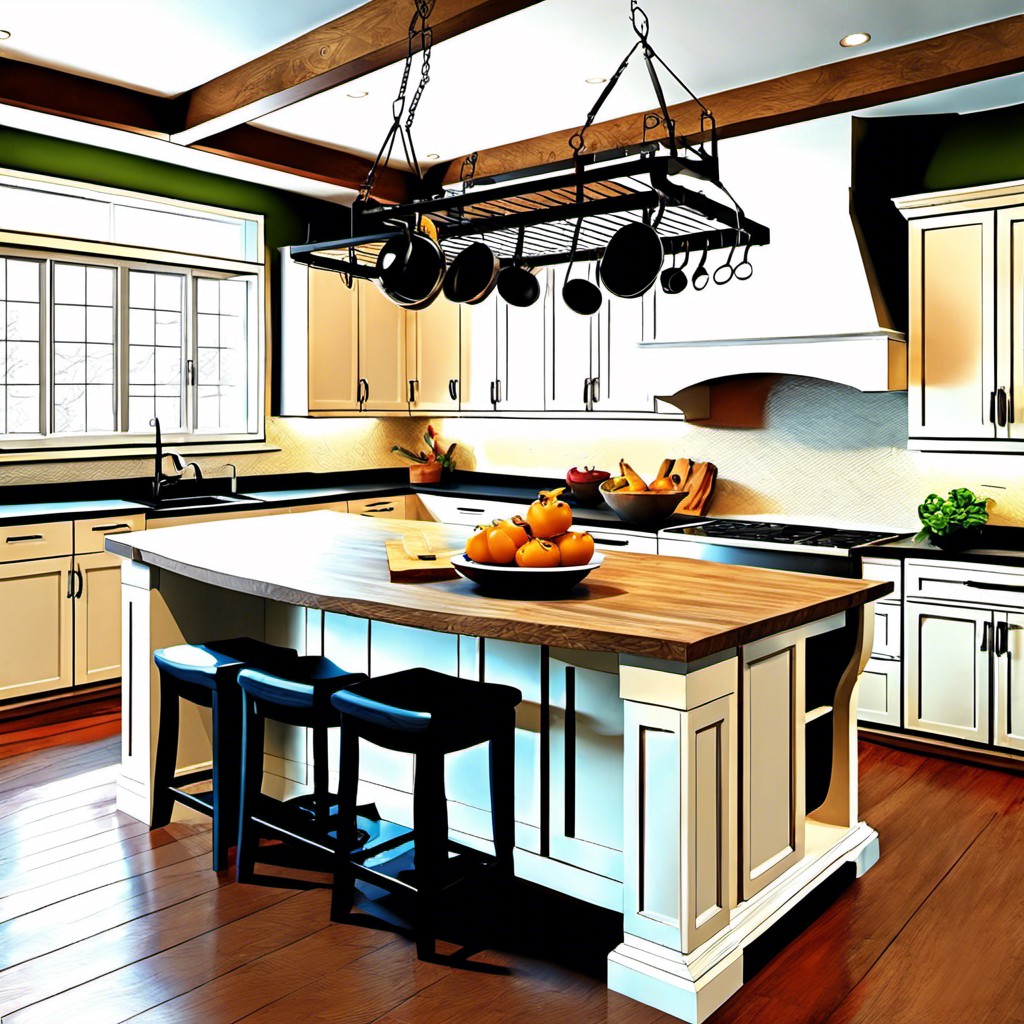 Offering both functional and decorative charm, this option amps up your kitchen's efficiency and style. The hanging pot rack, integrated above the island, serves multiple purposes. Besides adding an eye-catching element to your décor, it ensures your pots and pans are always within easy reach.
1. Space Efficient: Keeps pots and pans out of cabinets, freeing up more storage space.
2. Convenience: Provides easy, direct access to cookware from the prep area.
3. Visual Display: Creates an opportunity to showcase your high-quality cookware.
4. Versatility: Allows for adjustable heights to accommodate different size pots and pans.
5. Lighting Integration: Can be combined with pendant lights for improved island illumination.
Remember to secure the rack properly for safety and avoid overloading. With this design, embrace both open storage and stunning aesthetic appeal.
Multi-material Island for a Unique Eclectic Style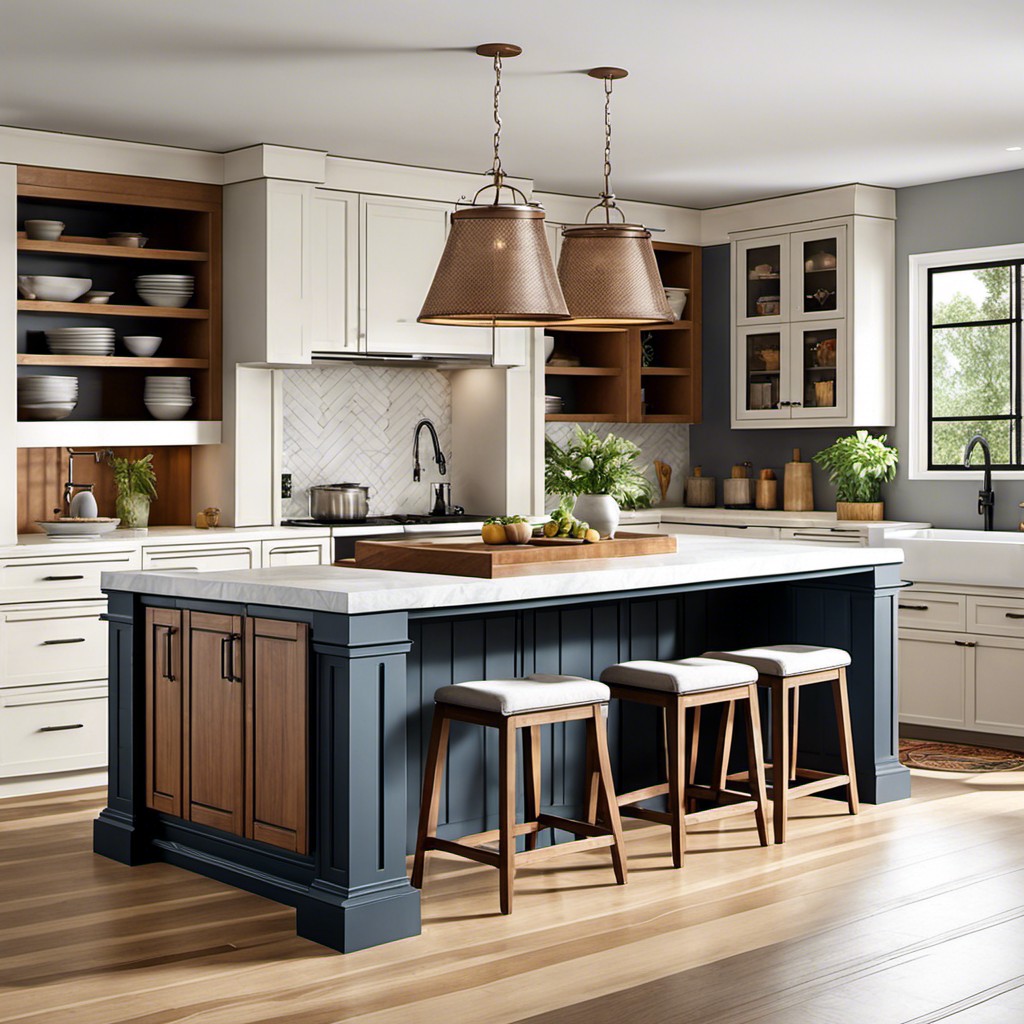 Creating a unique design statement within a kitchen setting can be achieved through the use of multi-material islands. They beautifully blend complementary substances such as wood, steel, marble, or glass to make each element stand out.
1. Wood and Marble: Polished marble paired with warm-toned wood provides a harmonious blend of rustic and sophisticated elements in your kitchen.
2. Metal and Wood: While maintaining the functionality of a traditional wooden island, adding a metal top can introduce an industrial vibe. Additionally, a stainless steel top can be easier to clean and more heat-resistant, making it an effective work surface.
3. Glass and Wood: A glass countertop atop a solid wood base can make the kitchen space appear larger, while adding a touch of elegance.
Remember, a kitchen island is not just a practical component of a kitchen. With a multi-material island, it becomes a conversation starter, adding character and individuality to a space.
Continue reading: