Last updated on September 21, 2023
These bookshelf ideas will show you how you can turn your home library into a whimsical display of decor. Check them out.
We all have books at home, even those of us who don't like reading much. A book is not only a source of knowledge; it can be an object of home decor too. Bookshelves are often used in the living room to store, organize, and display collectibles, memorabilia, and all kinds of small things in your home too. So designing this aspect of a room where the unit is placed is only a good idea.
Styling a bookshelf can be a lot of fun too! It all starts with choosing the unit design that works in your interior and then picking decor accents that complement it.
What's Inside
How Do You Decorate a Bookshelf?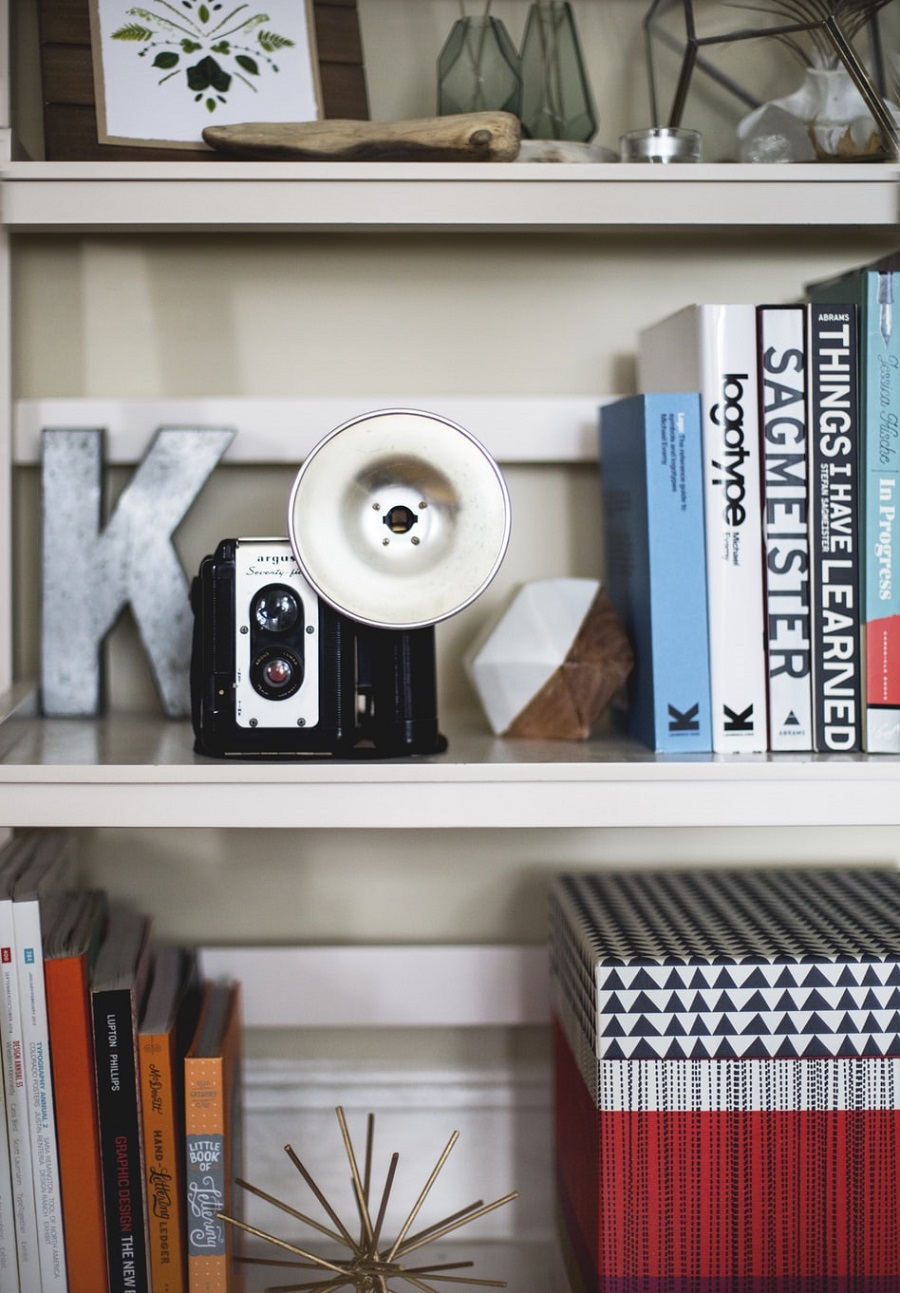 And what do you put on it (besides books)? Here's how you can do it in 3 easy steps:
Lay your books. Don't overdo it. You may have a lot of them, but if you want a stylish bookcase, you will have to get more storage to keep them all. For a single unit, lay them in small manageable stacks. Pro tip: try putting them horizontally.
Add art. This is why you have to keep enough empty space in the previous step while organizing your books. You need room to display art. Think about the bookcase as a wall. Choose small art that brings accent color.
Mix in your personal items. This is where you let your personality shine. After all, decorating a bookshelf is all about you. Add some small items on top of books and around them. This is the right time to bring those cute bookends too. Pro tip: add some plants!
Now that you know the basics let's continue to our creative bookshelf ideas.
Lighting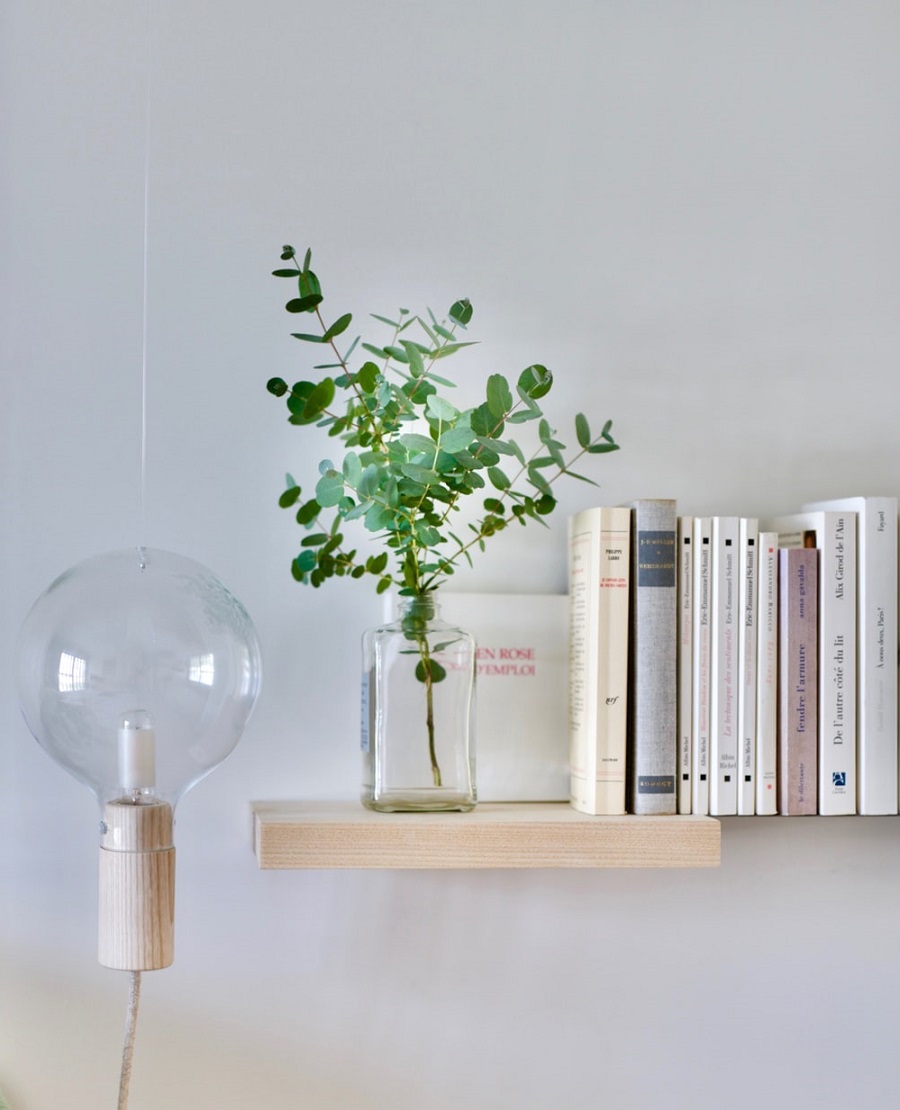 Add instant flair to your bookshelf decor with some clever lighting on or around shelves. The right lighting makes the design look better and it's as simple as placing a stylish Edison lightbulb on a shelf or adding functional LED strips at the back of the unit.
Accents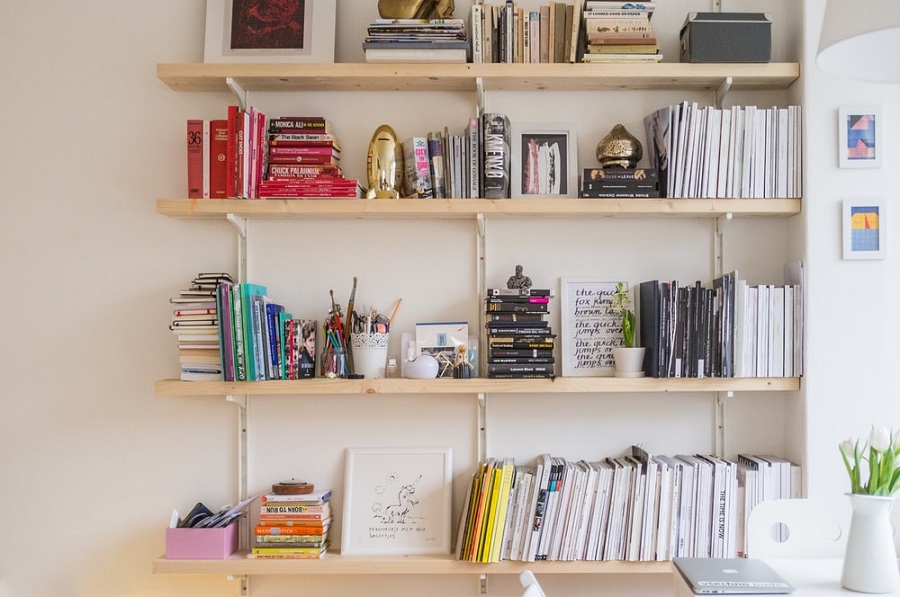 Top your horizontal book stacks with accents. Don't ever do it. But a small feature item or a collectible on top of books give the whole vignette a finished look.
Vintage Books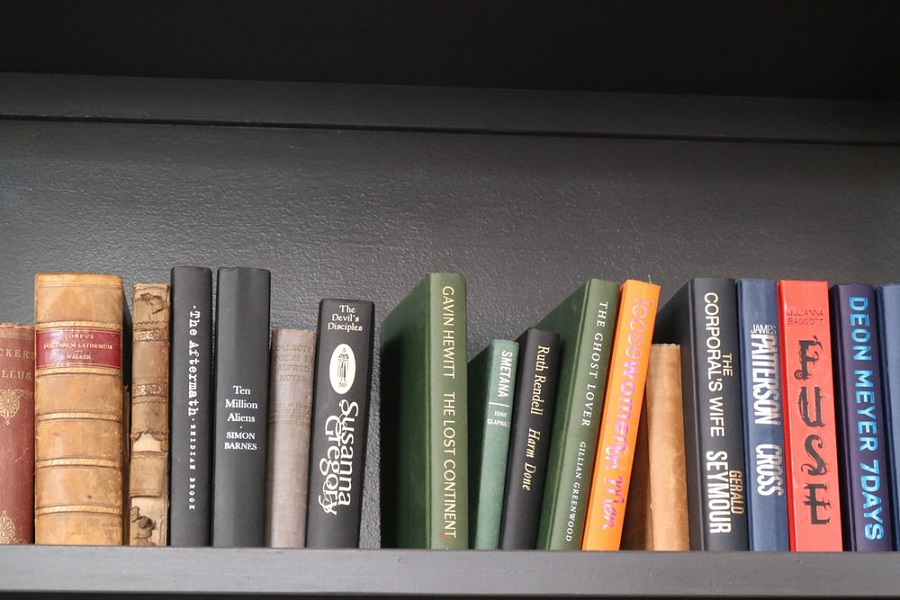 Make your decor a lot warmer by adding a few vintage books. If you have some old books from your childhood, use them here. Otherwise, pick them up form a thrift store or a flea market.
Plants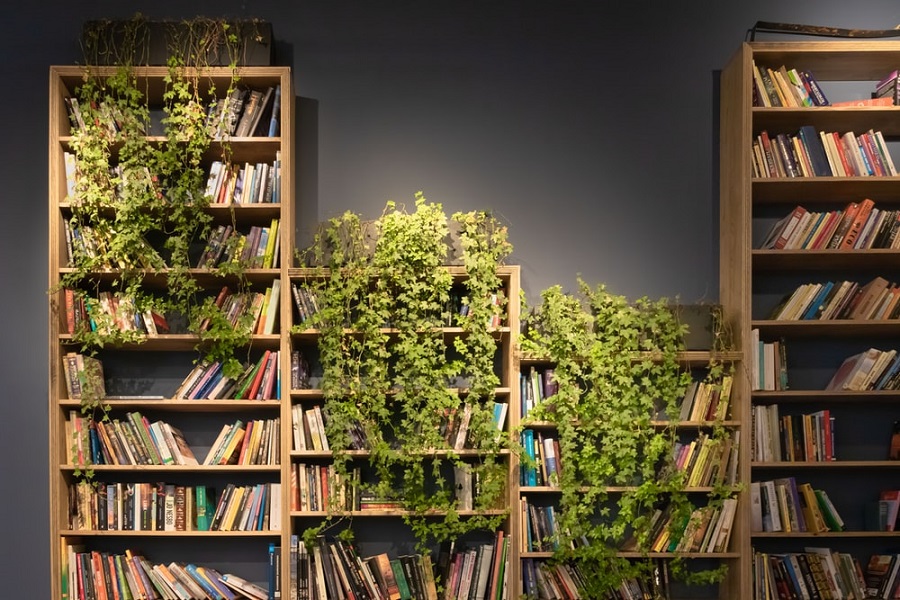 We've already mentioned placing plants on the shelves. We want to emphasize it even more. You can create lively and fresh decor by adding them on top of the bookcase or the shelves. Houseplants never hurt anyway!
Asymmetrical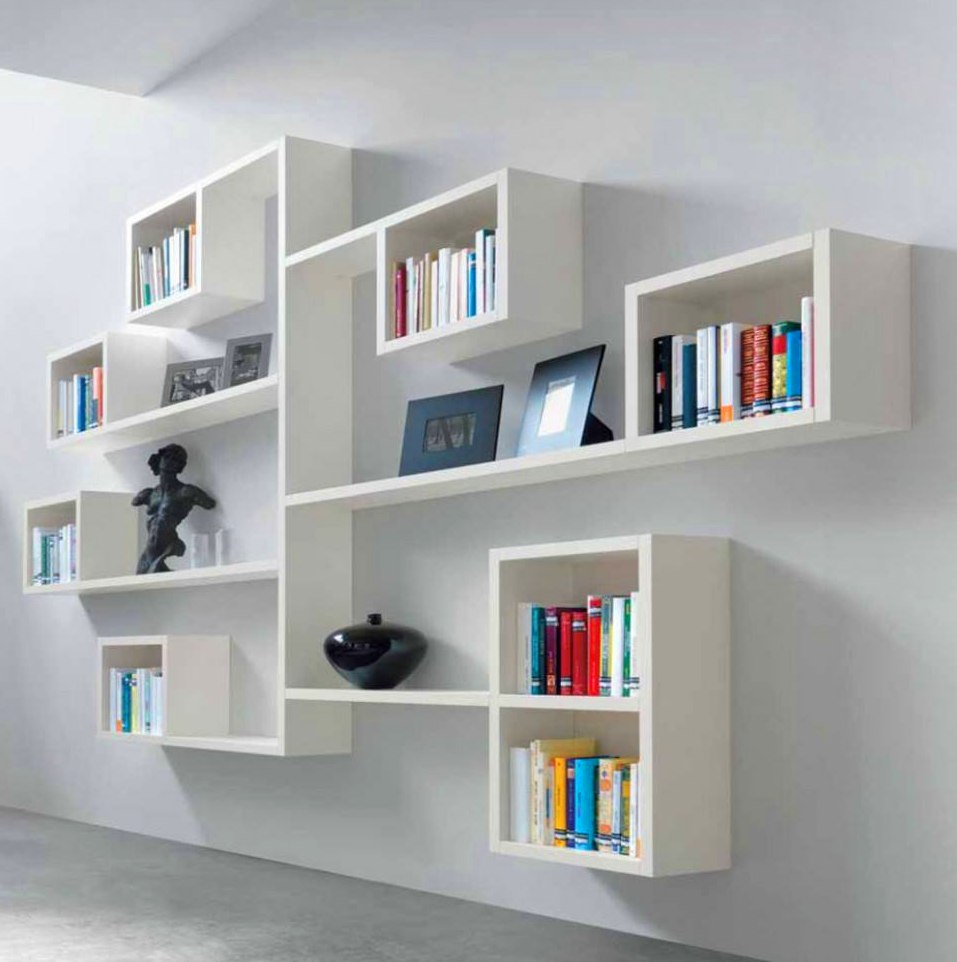 Starting with simple but irregular white bookshelf that gives a modern look to the interior. This white unit features geometric shapes for all your books and reading materials. The design pattern is ideal for showcasing framed photos and trendy accessories as well.
Separating Unit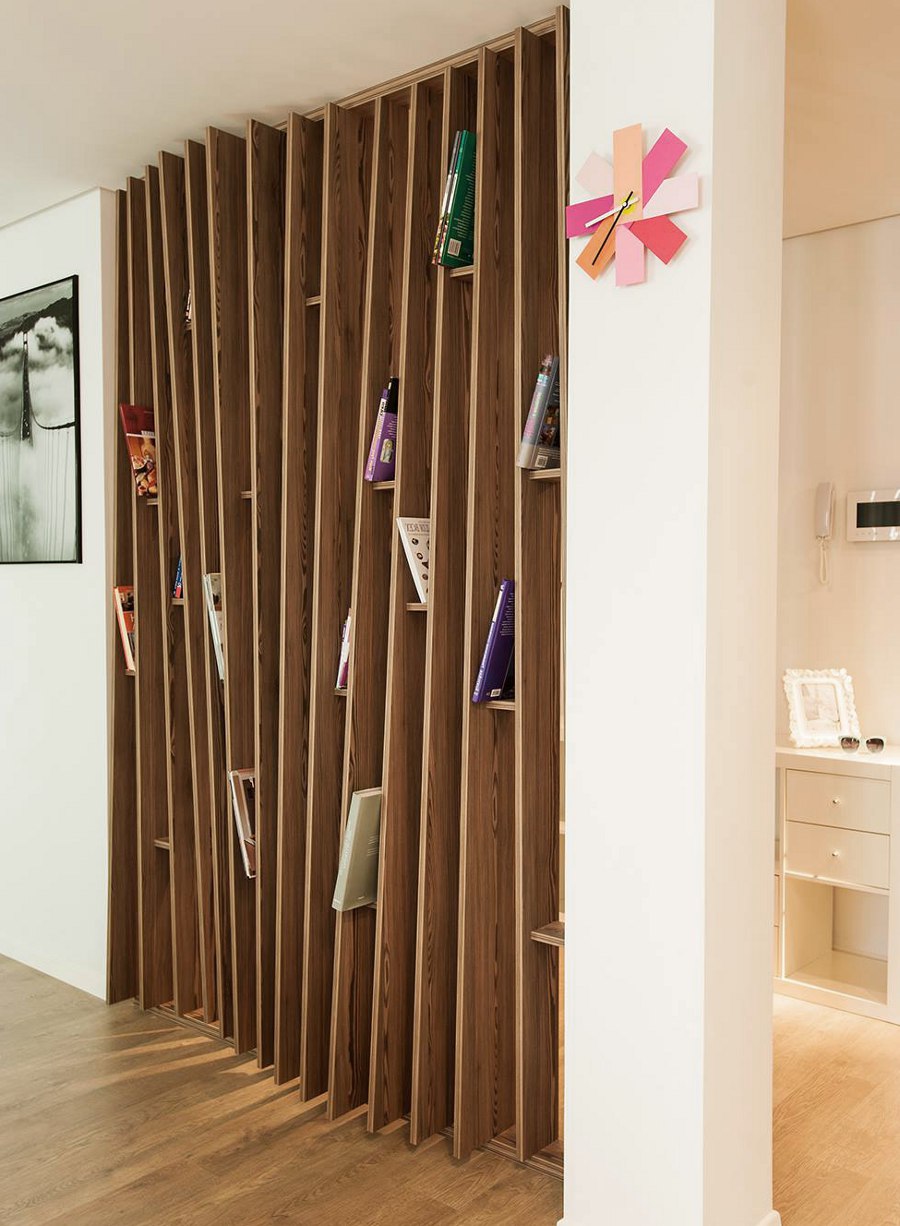 Speaking of irregular, this bookshelf is a great use of space separating wall. The wood-based design is sleek and slender in style. It works both as a shelf for books, magazines, and circulars, as well as a separating wall for optimal space.
Vertical Space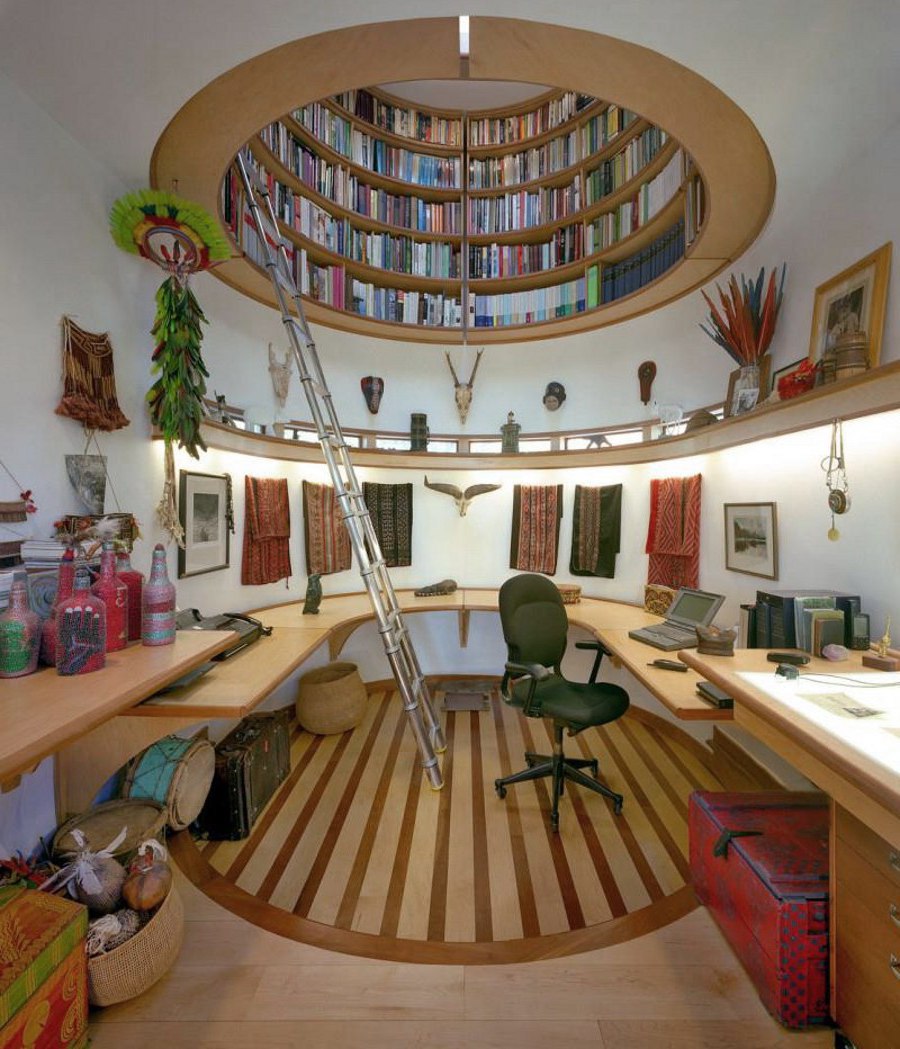 When you have enough vertical space building a library like this is a bookworm's dream come true. When it comes to bookshelf ideas, oval styles continue to soar in trends. These unique circular designs add a touch of class to vertical library spaces.
Freestanding Bookcase
A freestanding bookcase tower that can occupy an empty corner. Freestanding bookshelf towers are stylish and trendy for home corners. They are available in a myriad of colors and easily store your favorite publications, books, and reading materials.
Staircase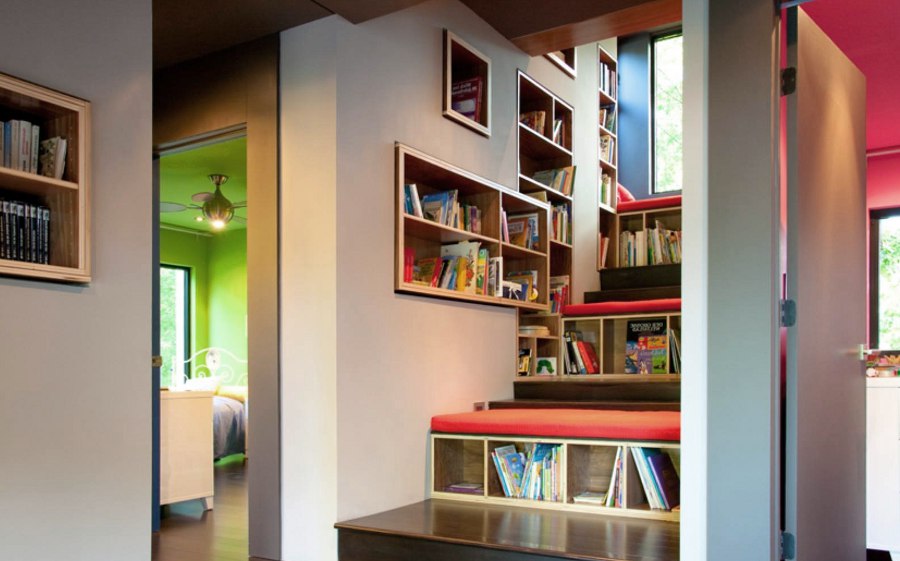 We've published an article on staircase designs recently, this is another one for a clever use of staircase storage space. It makes great use of your staircase with built-in shelves for your favorite books. This is a unique way to expand your staircase space with optimal convenience for loved ones.
Functional Furniture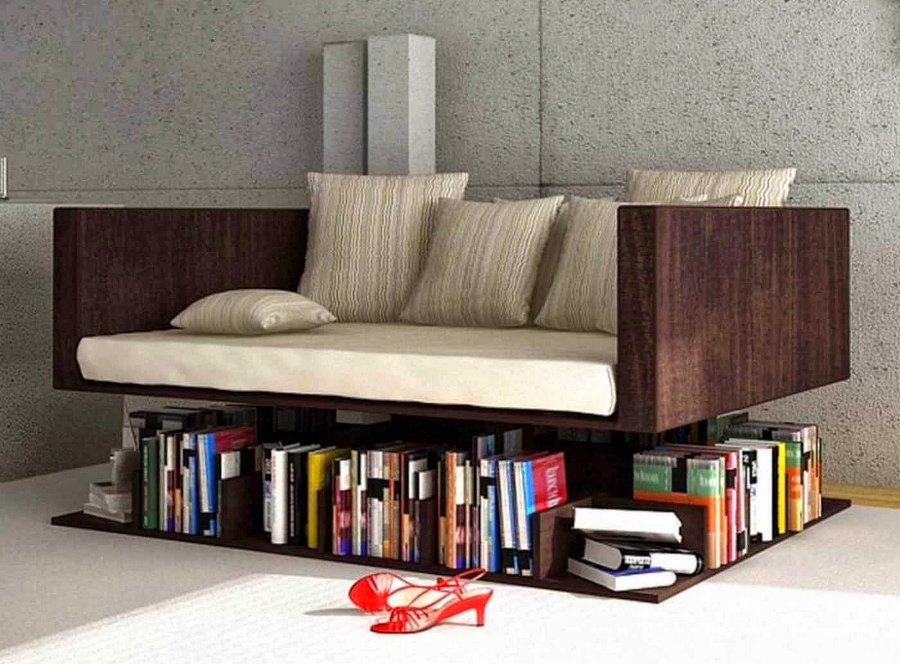 This artistic bookcase doubles up as a comfy reading space in any room. The couch is perfect for relaxing while grabbing your favorite novels from open spaces below. It makes a compact and creative reading corner.
Quirky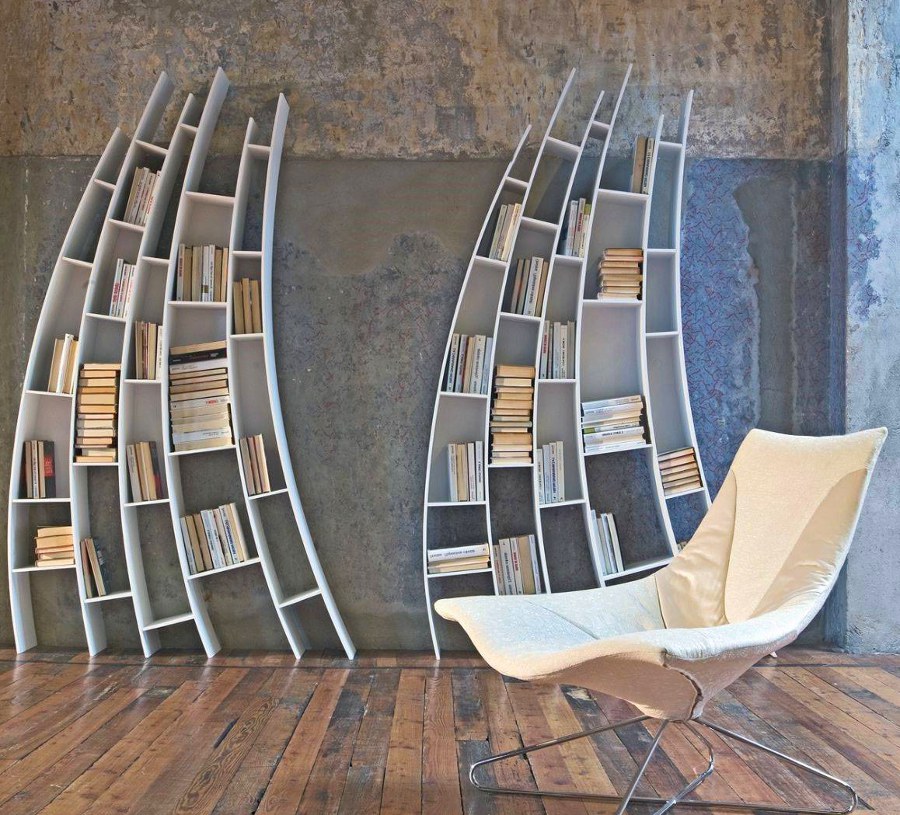 How about a bookshelf with nautical and aquatic themes? This cutting-edge design enhances any vertical bookshelf with modern, trendy lines.
Rounded Corners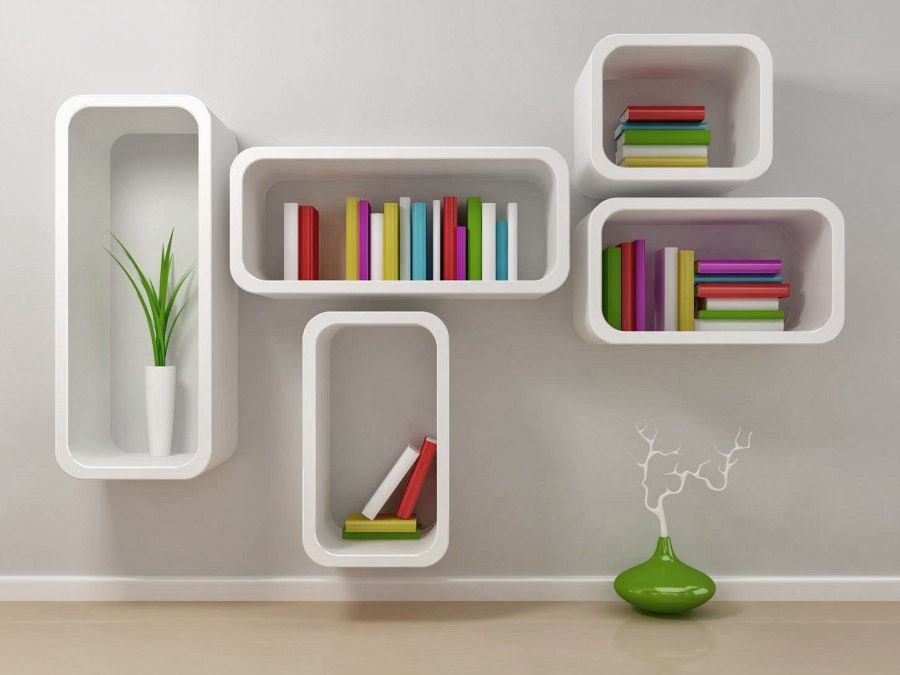 Rounded corners are safe and continue to dominate the interior design spectrum. These open bookshelves are stylish, cool, and great for all your books and small accessories.
Upstairs Library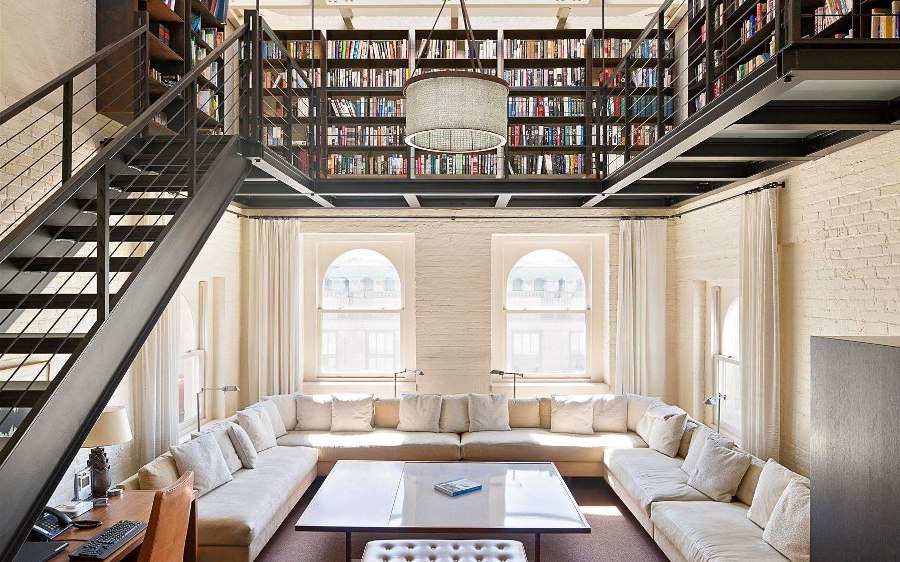 This large upstairs library takes a traditional approach to storing books. The wooden shelves are mounted on the side walls with standing vertical units for complete space allocation.
Full Wall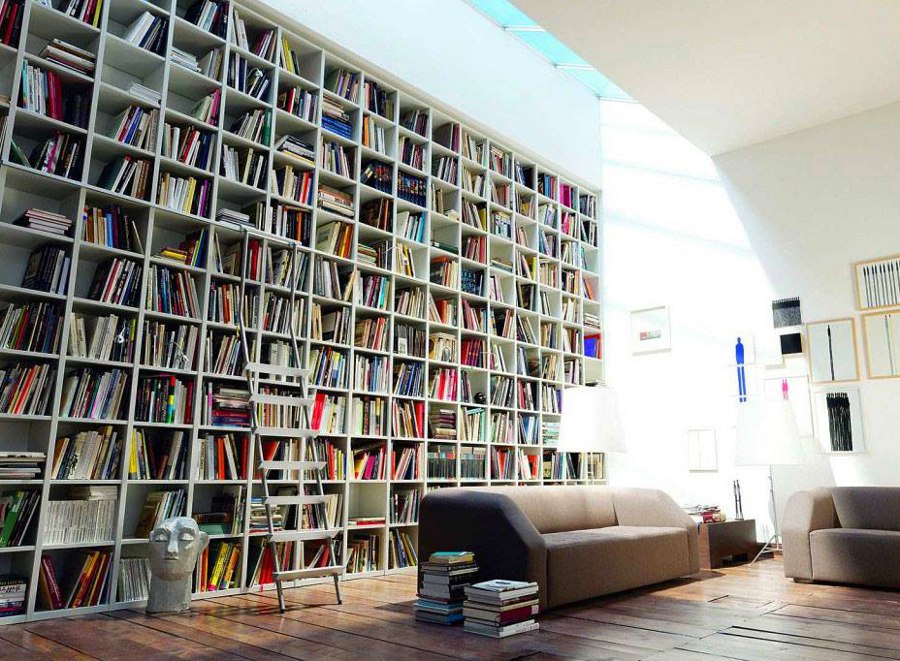 Just look at the shear size of this bookshelf – it's beautiful just because of that. This large vertical bookshelf takes up an entire sidewall. This is a perfect example of seamlessly integrating bookshelves with your overall decor and theme.
Modern Home Office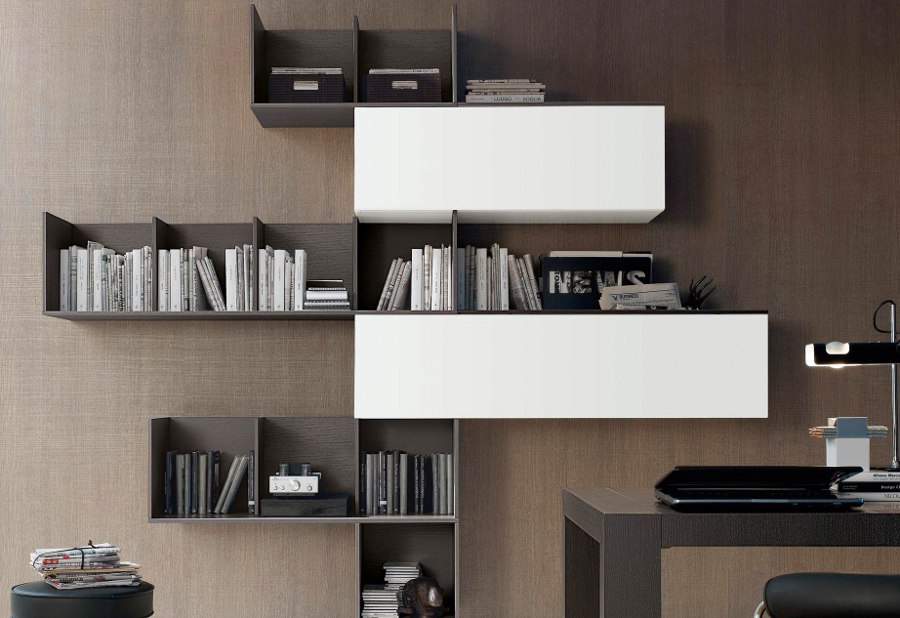 This office bookshelf makes excellent use of space with wall-mounted shelves. These units are perfect for books, files, and documents that you need easy access to for work. It's a simple and nice home office bookshelf design.
The Map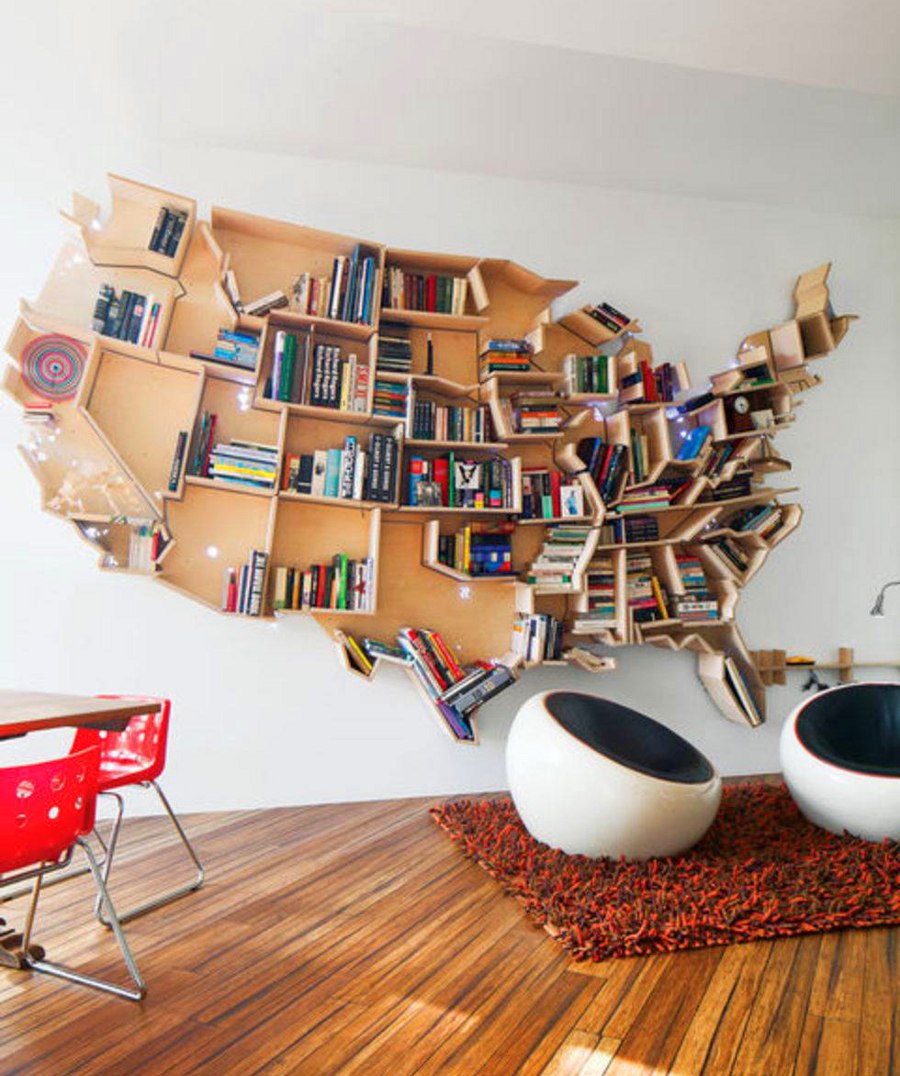 They do not have to follow rigid or traditional trends. This is a perfect example of bookshelf shaped like the USA map for aesthetically-pleasing visuals.
The Tree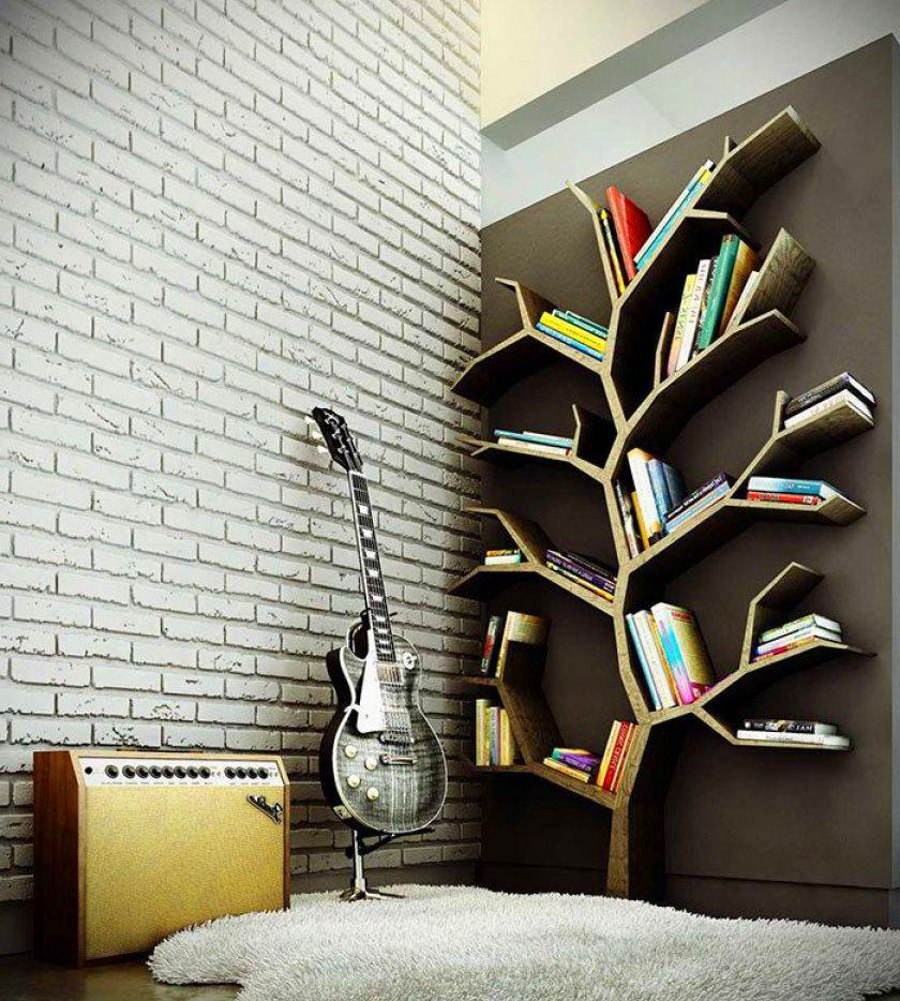 Sometimes books do grow on trees. This idea is great for tree and nature lovers. It's another unique way to store your books while enhancing the look of boring walls or corners.
Tilted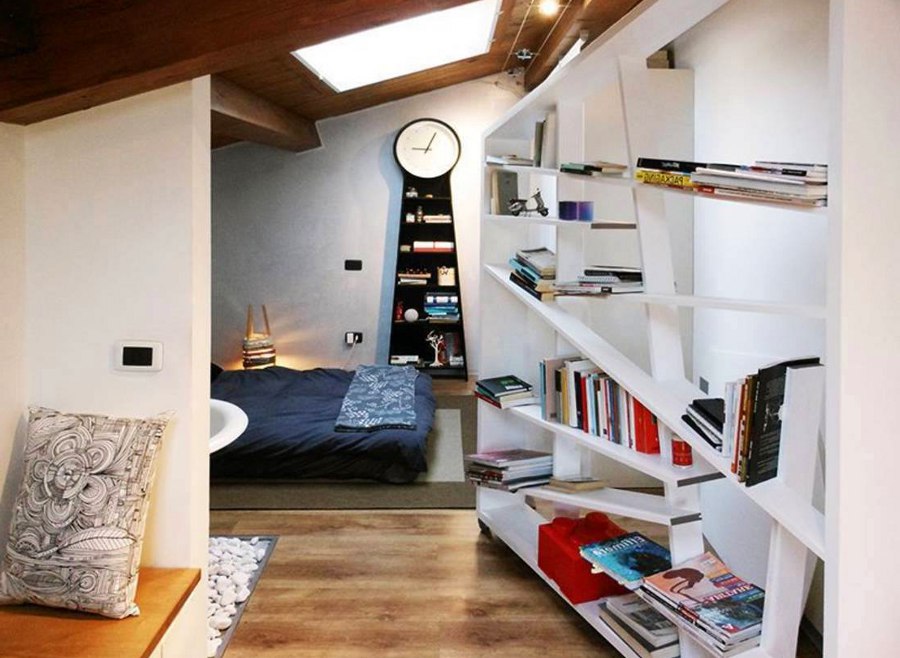 Tilting the shelves is not so much practical as it is beautiful. It may not be for all but it certainly, offers a fresh perspective. These customized units are perfect for homes or offices that want futuristic library designs and features.
The Impossible Design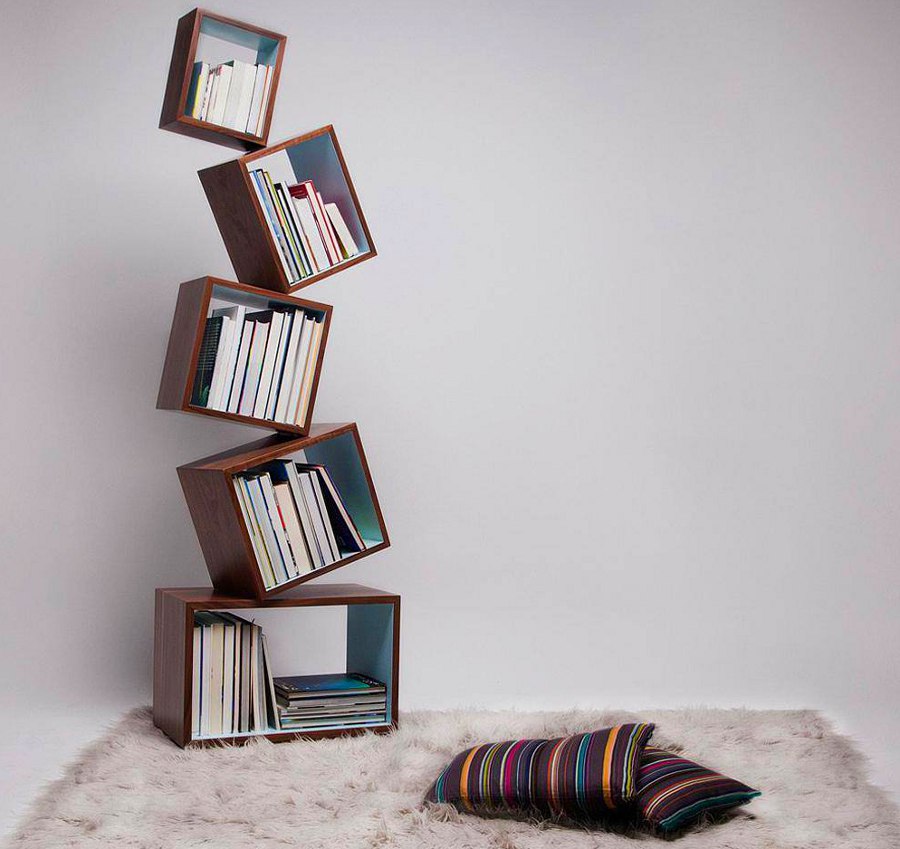 This "impossible bookshelf" is actually a reality. The unique blocks are mounted on top of each other for optimal, vertical space. It's another winner in the contemporary bookshelf realm.
The Piano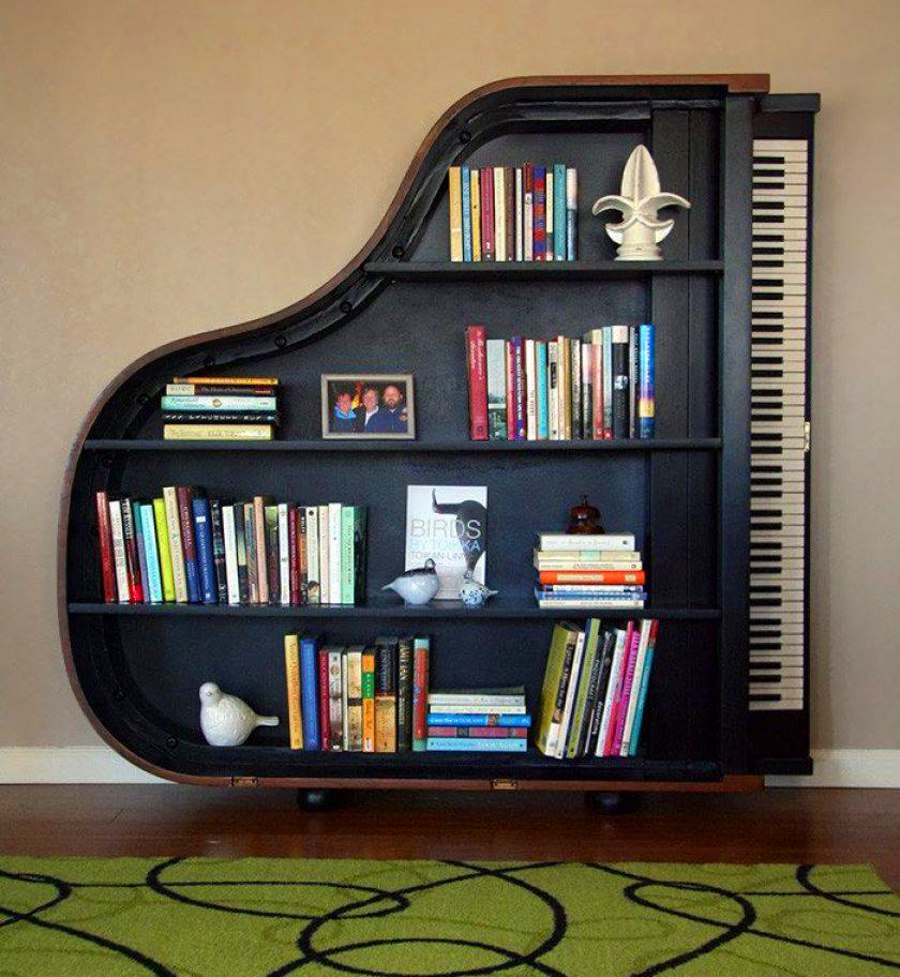 A beautiful piano-shaped bookshelf for music lovers and aficionados. The shelves are streamlined to store books but work as display cases for photos and ceramics as well.
Wall Art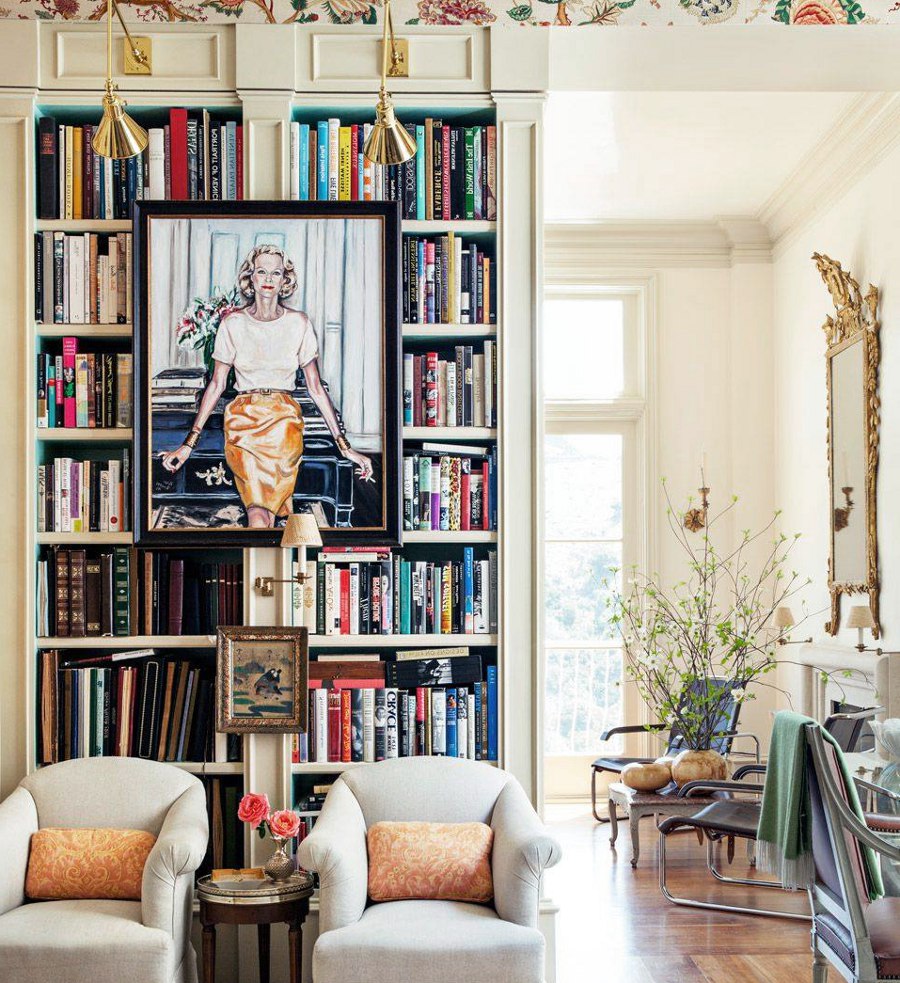 How about using your tall bookcase to hang or mount paintings? This is what you get here with this unique way to showcase your favorite artwork against the backdrop of books.
The Flower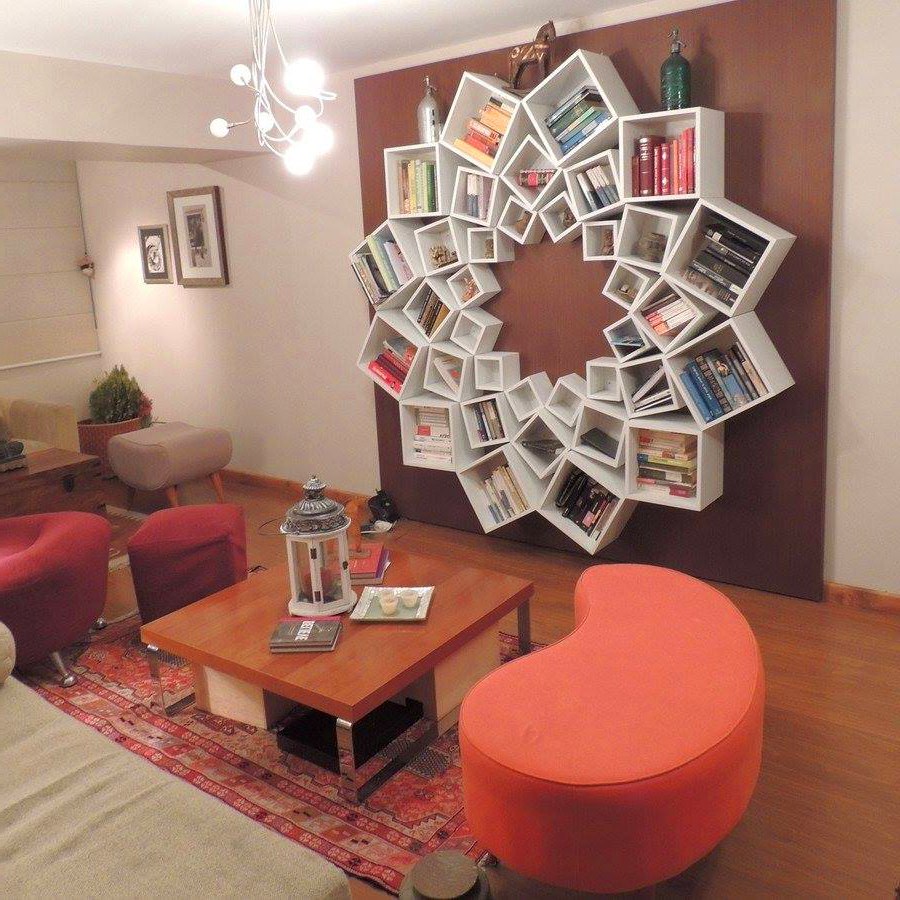 Combining strict forms and creating wall art. Wall art has seen a resurgence in popularity in recent years. Check out this beautifully designed flower theme with open shelves for books and reading essentials.
The Wine Cellar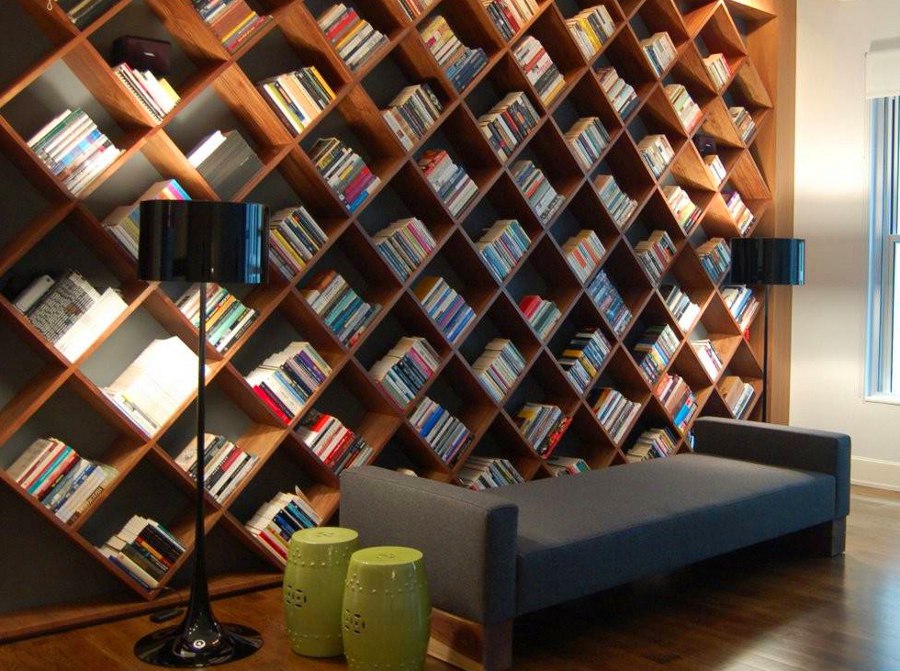 This wine-cellar theme is beautifully designed with diagonal boxes for books and publications. This unit is uniform and consistent in both design and its use of wall space.
Built-in Units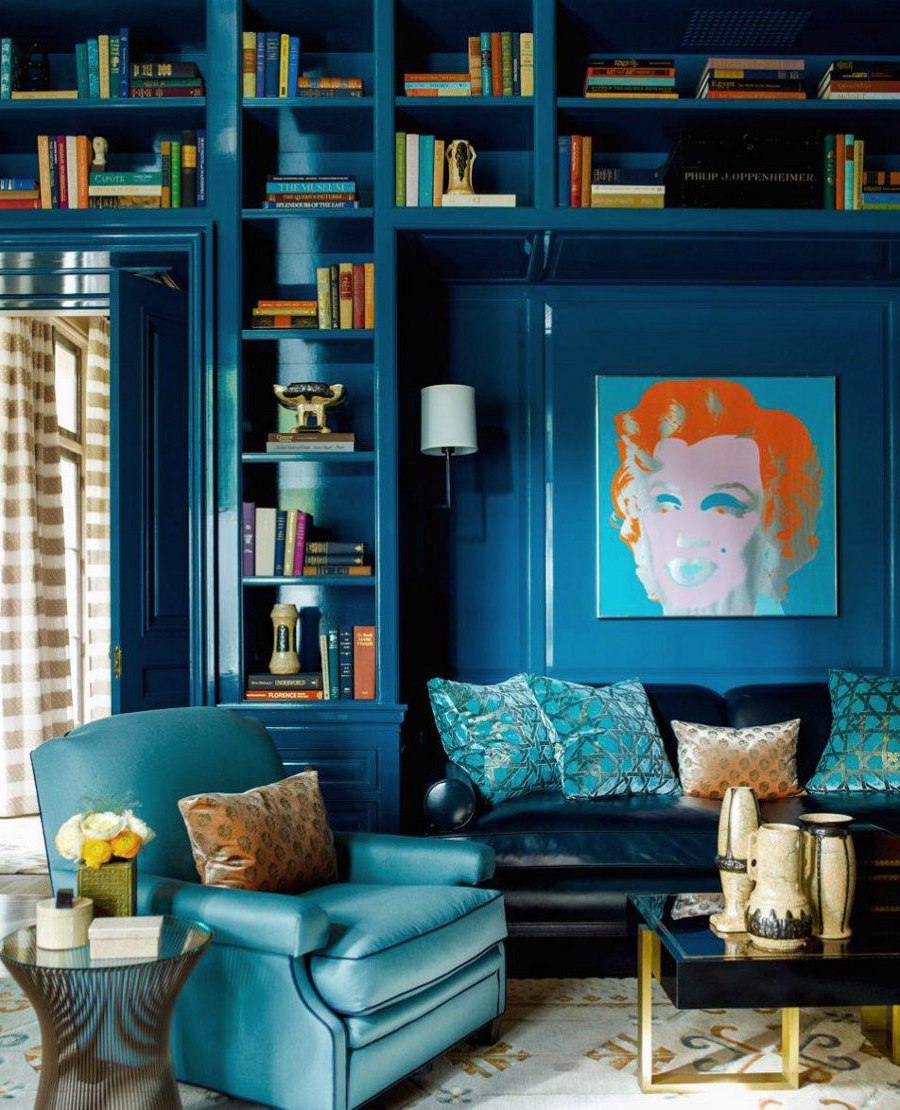 This entire wall has been transformed into a bookshelf with eye-catchy blue paint and textures — a great example of bypassing sectional shelves in favor of completely built-in wall shelving and embedded designs.
Continue reading: