Last updated on July 1, 2022
Copper accents may be a little dated as far as kitchen decorating trends go, but it is still remarkable. Want to try it at home? Use these ideas.
Why is copper used in decorating the kitchen in the first place? First of all, because it's timeless and it will never go out of fashion (Emily Henderson). It's a metallic accent in an earthy color that is so attractive. Amid farmhouse and rustic hype, it fits in well. You can have a classic kitchen design and add copper accents. And you can transition from a modern design to a cozy style that makes a home whole (Nate Berkus).
It's all great, but as all trends go, you need to use it sparingly for not to become tacky. We will see a bit of everything in the following list of ideas. It covers all bases so you can draw as much inspiration from it as necessary.
What's Inside
Copper Utensils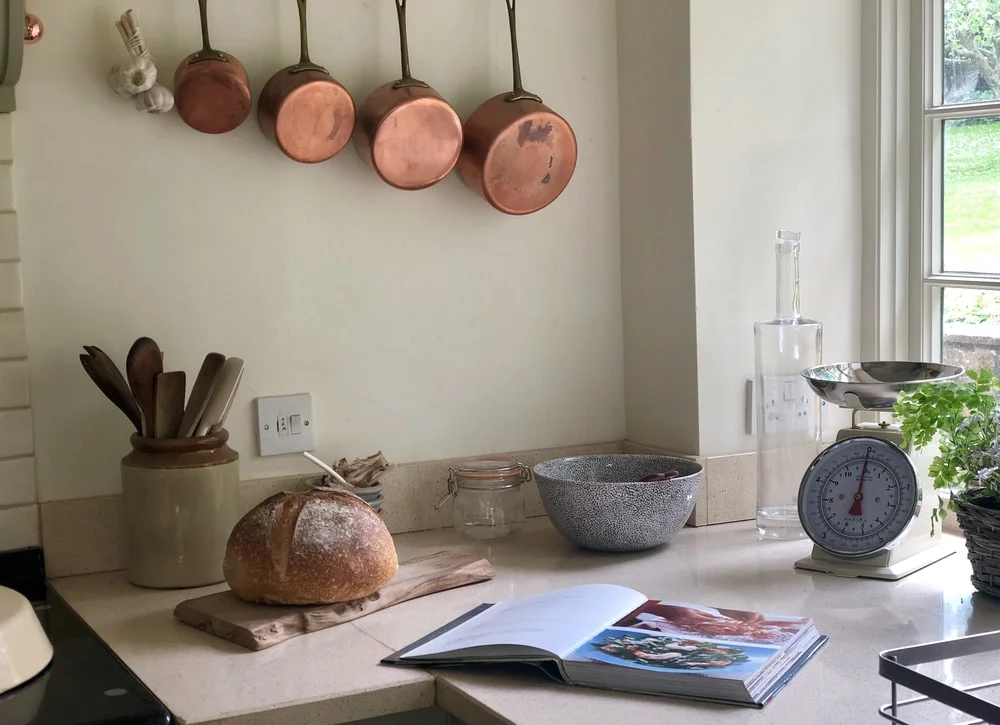 It can be as simple as having copper utensils on display in your kitchen. A rack of pots, using a small space of empty wall creates an accent that brings copper to the interior. It's rustic but also stylish.
Picture Frames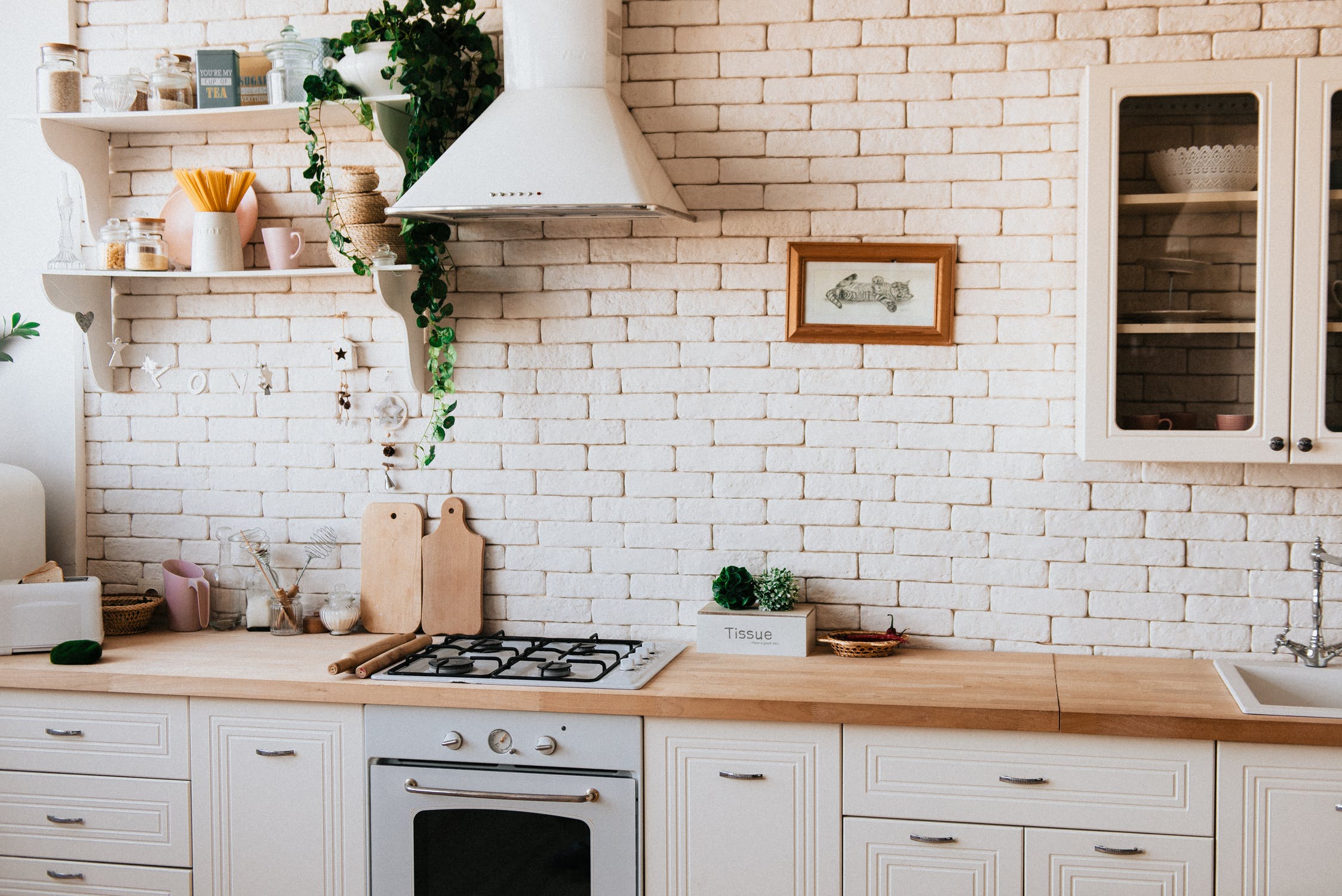 Having wall pictures in the kitchen is a venture in and of itself. It's a rarely used idea, and perhaps that's what makes it unique. Want to add copper accent here? Do it with the frame.
Light Pendants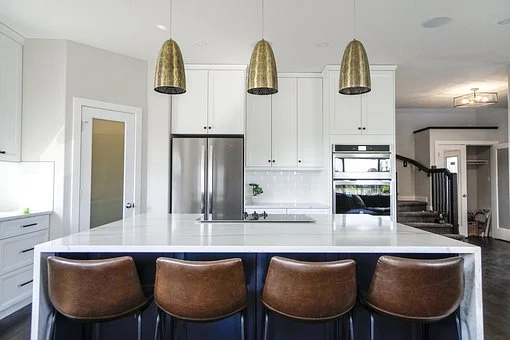 This trend came together with the use of copper in kitchen design. Lighting pendants above a dining area or the kitchen bar perfectly make use of this metallic material.
Countertop Sink
Statement sinks are a big trend, and you can use the copper accent here too. This marble countertop sink features the copper finish, and it looks magnificent. The rustic appeal is unexpected and contrasts with the luxurious marble to create a lot of drama in this design.
Inside Fixtures
This is a more subtle use of copper accents. We can find it only on the inside of the light fixtures and small planters on the top shelf above the kitchen cabinets.
Another Color
If you treat copper as another color, it fits in the color palette that completes a playful array of accents. This French-inspired kitchen uses it well.
Cabinet Handles
Of course, there are copper handles. It's one of the easiest ways to use this accent that makes a lot of sense. This trend has been around for a couple of years now, together with lighting pendants.
Appliance Hardware
Appliances having copper accents is a nice touch to have in your kitchen design. It makes modern technology fit in the rustic or farmhouse decor seamlessly.
Accent Lighting
We've already mentioned the lighting pendants a couple of times, and we'll do it again. It's so commonplace in the modern kitchen design, and it takes several shapes. For instance, statement fixtures that provide a lot of decor interest.
Cabinet Panels
Among different uses of copper accents, we have the cabinet panels. You don't expect them to see here, especially in contemporary design. And that what makes it all the more effective.
Upper Cabinets
Upper cabinets in copper plating make the focal point of this kitchen. This harmonious combination of cozy rustic and cold modern makes the kitchen a lot more welcoming.
Window Art
We need to add more unique accents to this list, and here it is. Copper statement art hung on the windows. It completes the all-rustic style of this kitchen and makes it more personal.
Backsplash
A copper backsplash is not only beautiful but functional too. It's an excellent material for this function, and it is easy to maintain. It ages well also. And if it's good enough for Cameron Diaz (in her home designed by Kelly Wearstler), it's good enough for us too.
Custom Stove
If you have the budget to invest in your kitchen design, you can go as far as commissioning a custom stove in copper. It's an impressive feature, indeed.
Bar Stools
Barstools are occasionally used as decor accents and rightfully so. It's a great idea as any. And copper legs look attractive too.
Kitchen Island
Copper kitchen island? And why not – Nate Berkus has made it popular. This kitchen design uses a lot of this material. Including the copper features wall.
Vent Hood
The vent hood (or an extractor fan with a cover) makes another great feature and accent. This kitchen design also features a contrasting backsplash (teal tiles) and gorgeous accent lighting fixtures.
Green Cabinets
Cooper works well with green cabinets, and you don't even have to go as far as this kitchen design to see it. The use of two contrasting colors, in this case, creates so much drama and makes the kitchen appealing.
Dark Grey
Dark grey is another color of the cabinets that play well with copper hardware. An over-sized light pendant brings a focal point to the cooking area.
Industrial Style
Copper is an ideal material to bring to the industrial style. It adds the extra ruggedness that this style needs. We can also appreciate the stainless steel used in combination with it.
Continue reading: