Last updated on May 17, 2022
Want to use maple cabinets in the kitchen, and you need ideas on how to match them to the backsplash? These ideas will help you do it the right way.
So you have the maple cabinets in your kitchen (let's hope they're not from the 90s) and you want to find the right combination for the backsplash to go with them. It's a tough problem, seeing that a lot of people are stuck with using the same colors with their maple over and over again.
Look, nothing says the 90s more than maple cabinets (especially in the shiny finish) and beige/tan toned walls and backsplashes. But it's all over the place! So in this post, we would like to propose some better ideas and combinations (much better!)
The influencers say that the best solution for the maple cabinets is painting them. And we agree with that because it's one of the worst wood finishes to have. But still, we believe it can be saved with the right choice of backsplash and color.
What's Inside
Peel and Stick Tile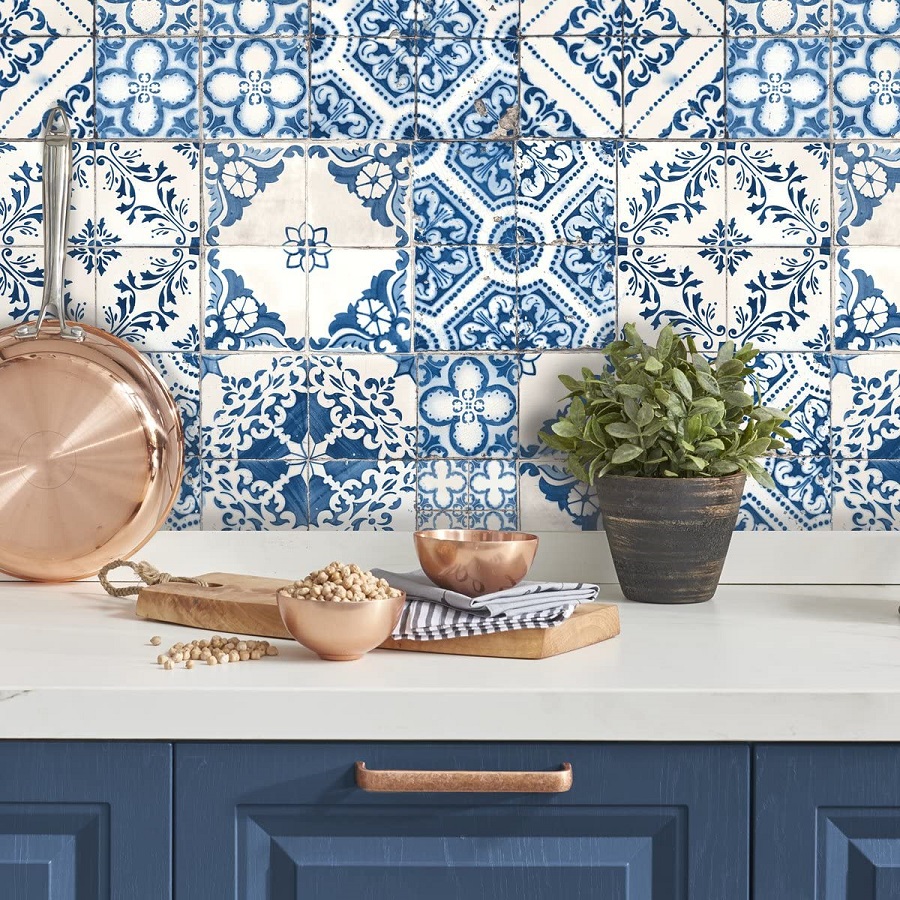 Check Out the Top 10 Best Peel and Stick Backsplash Tiles
Your best call to find the right backsplash for your maple cabinets is to try peel and stick the backslash tile of your choice. That way if you don't like the result, you can easily change it. For this experiment, any classic tile will work. Try subway backsplash, or a herringbone pattern, as well as several options we set out below.
You Don't Want This
With all due respect to the designers of this kitchen, but it's not what you want to see in the modern kitchen. Maple (and in a shiny finish) and beige tiled backsplash is just ugh. This is the kind of design decisions that we want out of our home.
Slightly Better, But Still Bad
This is a slightly better option and it obviously has cost a lot. The cabinets have a better natural finish and feature the natural maple wood. This is good. But the choice of beige backsplash ruins everything. Nice mosaic? Sure. But why beige? Just no.
Grey Mosaic Tile
Grey mosaic tile is a fair enough option for your maple cabinets, especially if they show the natural wood in transparent finish. It's neutral, and even though you can do better than this, at least it's not bad design.
Mint Grey Backsplash and Walls
Now we're getting there. You can see how an accent color immediately transforms the kitchen and makes it look lively and modern. Tan tones don't stand a chance. And the natural maple looks nice too, although we're not fans of black countertops in this case.
Sage Green Walls
It's so much better if you use more pale and serene tones like sage green for the backsplash and even the walls. So much great design decisions in this kitchen. Natural wood provides warmth and depth, while sage green walls add freshness.
Subway Tile
If you're not going to use an accent color, leave it white, and even subway tiles will work (way better than beige/tan mosaics anyway). We can see here an attempt to create a farmhouse style kitchen. It's a pretty good job too. The wood stain is good, leaving most of the maple grain visible. The subway tile is stylish, and it provides enough contrast. The rest of the farmhouse accents fit in well too.
White and Lit
So if you're not going for paint (it is a risky business, we can acknowledge that), leave it white. And it will still be better than the alternative. Add accents with lighting instead.
Modern Lighting
Another idea that involves lighting is using glass backsplashes with LED. The color of the lighing changes too, which is great if you want to explore different combinations. It's a modern design if a bit risky.
Contrasting Blue
There's so much drama in this design, and you can rarely find such a combination in real-life use. Maple cabinets (even shaker style) juxtaposed with vivid blue backsplash, and wall tile. It's imposing and it creates a character. We want this in our designs.
If all else fails, paint the cabinets. 🙂
Continue reading: