Last updated on November 23, 2023
Looking for the best LED lighting for the kitchen ceiling? LED is the ideal energy-efficient choice, and many great options are available. Let's pick the best of the best!
Drum-roll, please… The #1 pick is this LED lighting fixture.
There's no doubt that LED lighting is the most efficient (and attracts fewer bugs). And while this technology used to be exclusive to recessed lighting and accent lights in the past, modern fixtures and lightbulbs can be installed even in fancy chandeliers. That rules out all decor doubts. So why choose anything else (like halogen or fluorescent) anyway?
When it comes to choosing LED fixtures and bulbs, you have several types that need to be considered. You also need to consider their luminosity, especially in places that need a lot of lighting, like the kitchen. Lastly, the decor part of it plays a significant role too.
So how do you choose LED lights for the kitchen ceiling?
Here's what you need to look at:
These are all great things to consider and questions to ask yourself when choosing. And to help you with that even more, we've come up with our picks for the best LED options for kitchen ceilings. These options fit all of the categories described above and then some. As usual, we are transparent that we might be compensated for some qualified purchases by Amazon at no expense to you (tagged #ad).
Let's light the place up!
What's Inside
LED Kitchen Lighting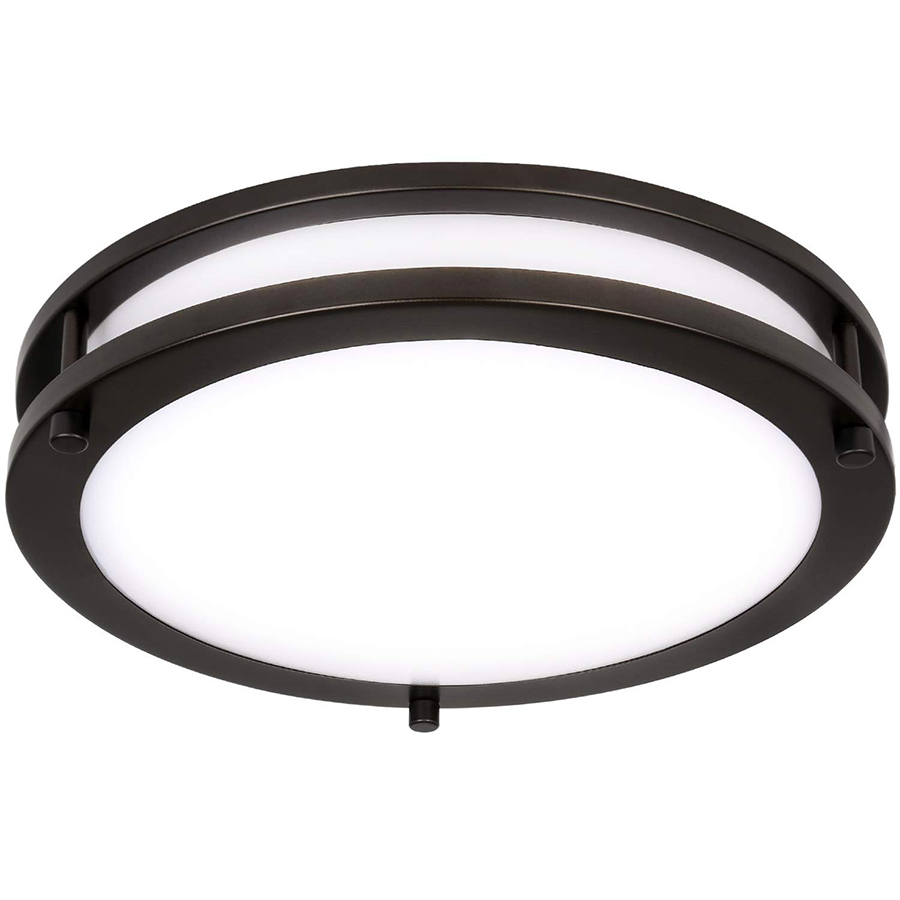 This is our editor's choice.
As simple as they come, this flush mount LED light will provide enough lighting from a single fixture in the ceiling. Of course, it's versatile and can be installed in the kitchen.
Pros: easy to install; you can choose light's color temperature (warm, cool, daylight); dimmable; has a perfect brightness; has a wide beam of light.
Cons: it does not come with a remote.
Flush Mount LED Lights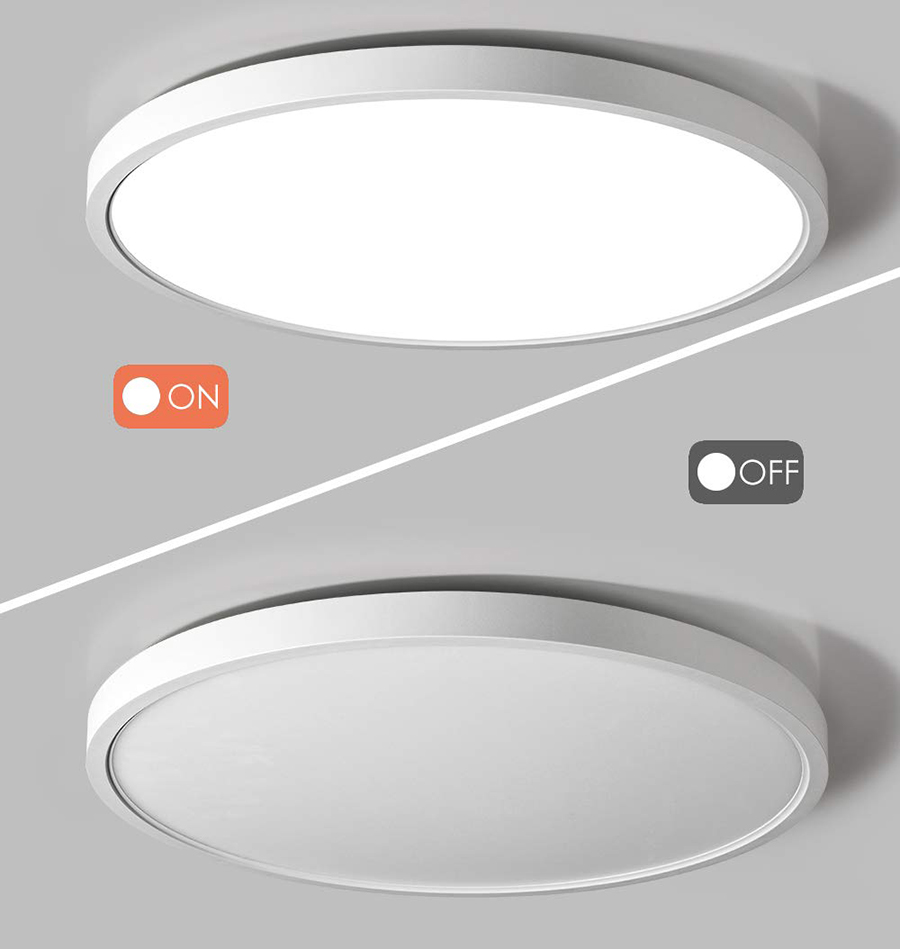 A flush mount fixture that is sleek enough to pass as a recessed. This option is very decor-neutral and does the job without getting in the way.
Pros: It has a high-quality, fire-resistance plastic shell, low power consumption, high brightness, sleek and modern design, color temperature adjustable.
Cons: light is not dimmable; no remote control included; you need to remove the light before changing the color temperature.
Hanging Kitchen Lights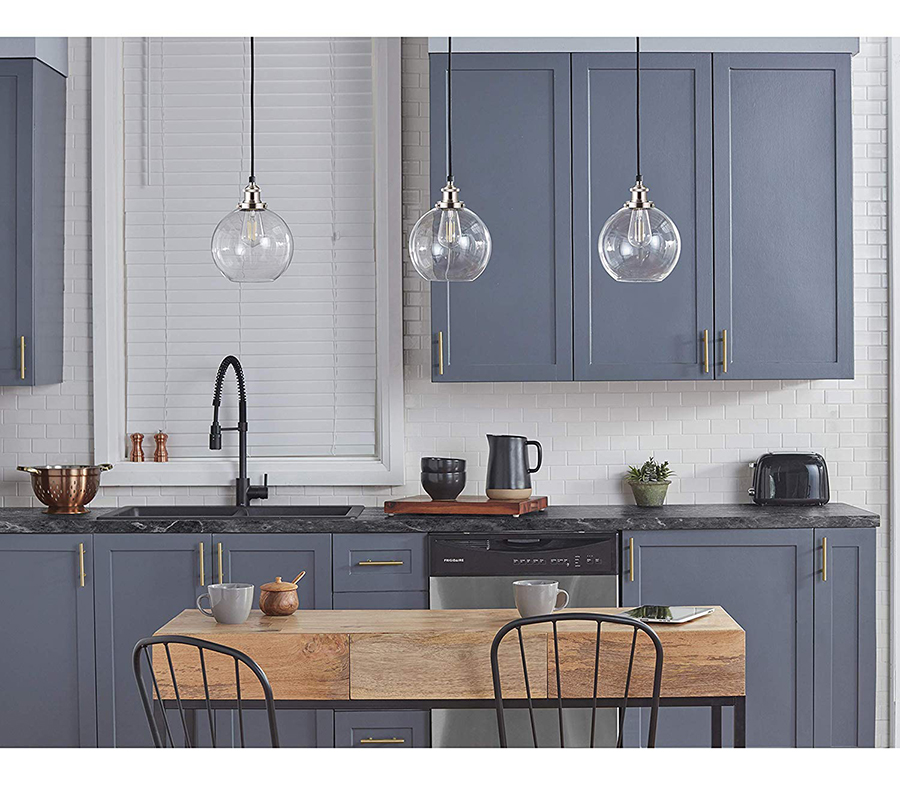 Pendants are stylish, and they are all the rage in modern kitchen design for area lighting. Hang them over the island or a dining table.
Pros: can be dimmable when used with compatible ELV dimmer; very modern looking with a great price; adjustable cord; excellent quality light.
Cons: glass is fragile; cords may be a little bent when first installed; fabric cord.
Recessed Lighting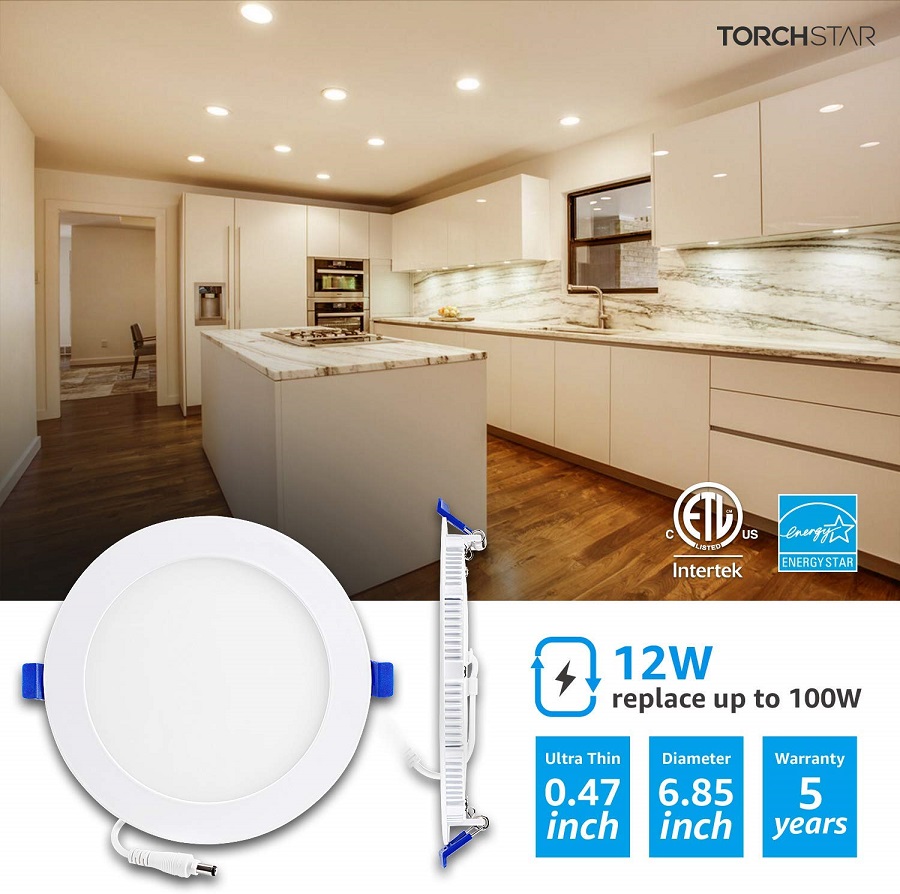 This is the staple of LED lighting, and it's where it all began. You probably need these for the kitchen ceiling.
Pros: low power consumption; the fixture material is aluminum resistant to corrosion and rust; easy to install and very slim, light body; can be dimmed from 5% to 100%.
Cons: some failed after months of use.
4-foot LED Light Fixture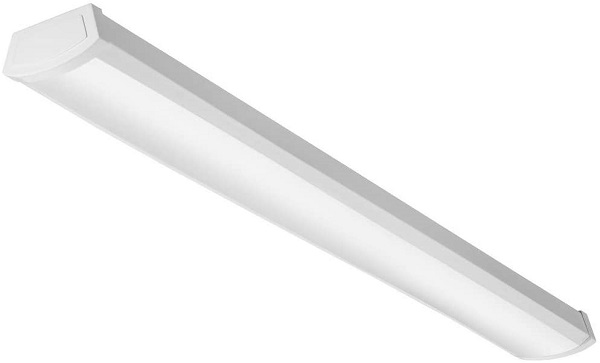 An alternative to the fluorescent tubes that's much more energy-efficient and just as bright.
Pros: energy-saver; it provides 60 Lumens per watt; provides high-angle brightness control; light-weight easy to mount.
Cons: it does not have a replaceable LED light strip/bulb.
Low Profile Ceiling Light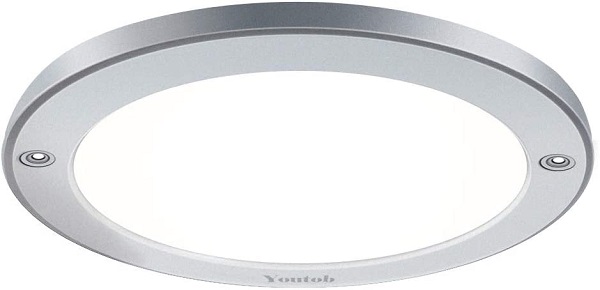 It almost levels to the surface of the ceiling without being recessed—a modern, sleek feature for your kitchen lighting that keeps a low profile.
Pros: it is brighter than most other ceiling lights of this size; it has a slim round design; it includes an installation kit; perfect light for low ceilings.
Cons: included screws are too short; the LED light is not dimmable.
Small Kitchen Lighting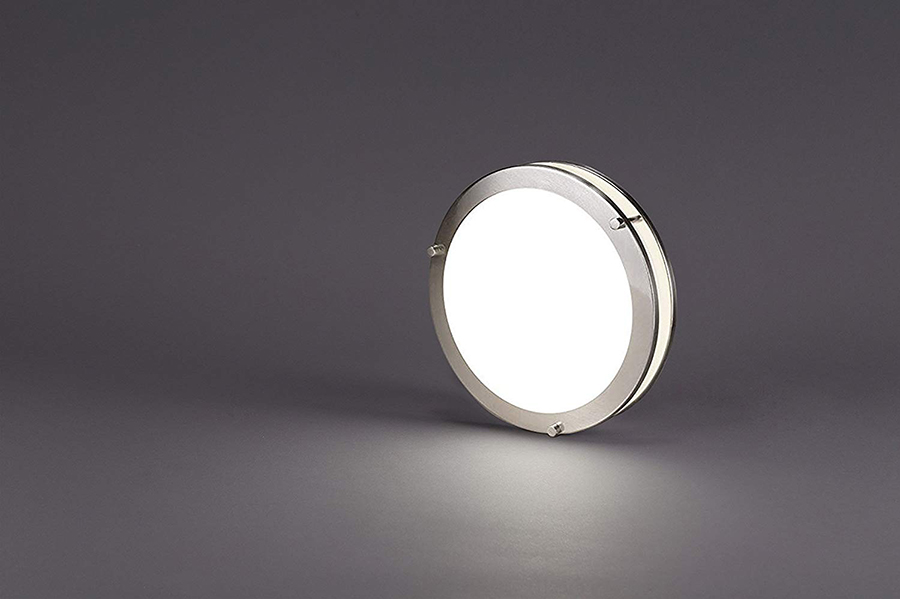 These 10-inchers are ideal to light any ceiling trim in a small kitchen.
Pros: energy efficient (saves up to 80%); it saves space in lower ceilings; attractive styling; bright color; wide range.
Cons: you cannot change the bulb, and it has a plastic diffuser.
Daylight LED for Kitchen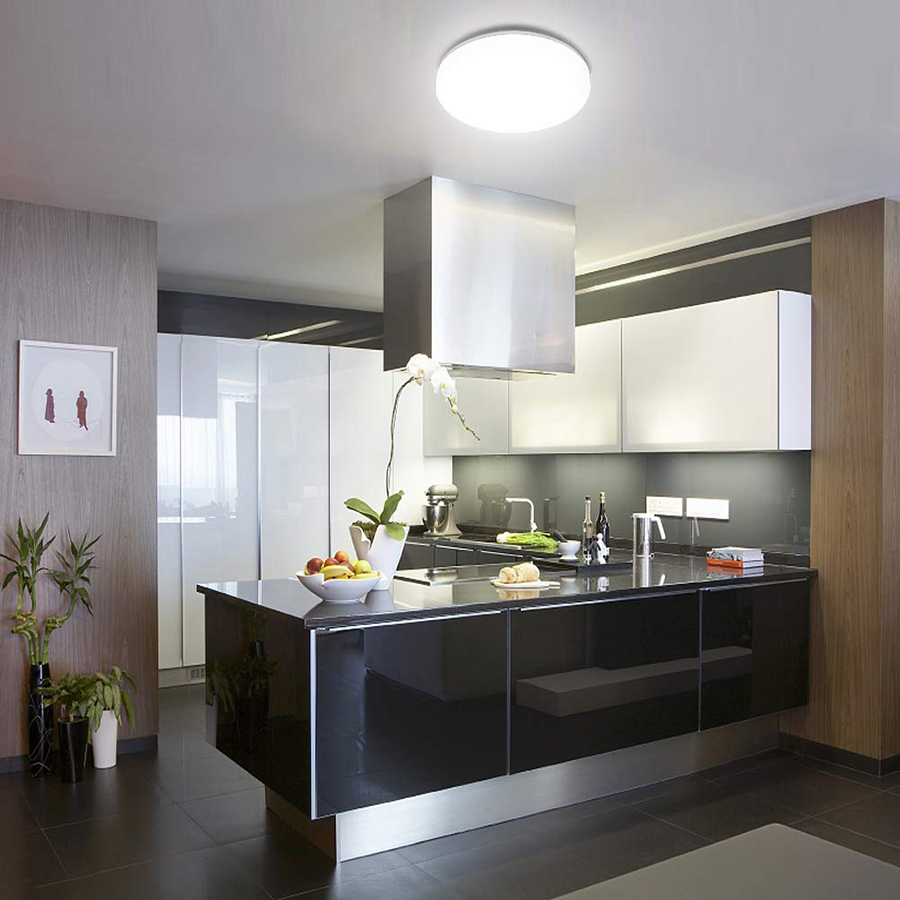 When it comes to providing as much light as possible, this option will come as close to daylight as it gets.
Pros: it has an Eye-Protective design; it can work quite well in any place with water splashing (waterproof); it has a bright light and long life; easy to install with clamp mounting brackets.
Cons: it is not compatible with the US electric ceiling box.
Kitchen Spotlights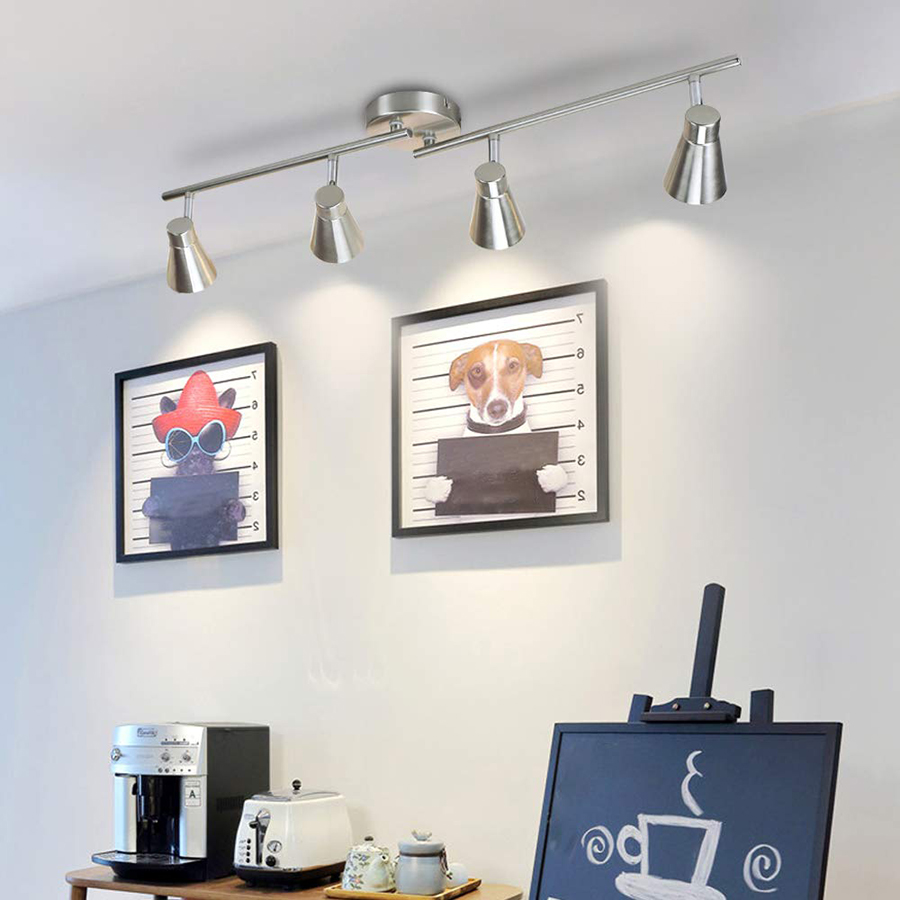 These spotlights are ideal for creating an accent feature in your kitchen. They have enough visual interest on their own. The kit can also be used as track lighting for task light.
Pros: adjustable and flexible light fixtures; includes four bulbs; has a wide range of applications; easy to install.
Cons: bulbs are not dimmable.
Kitchen Light Over Island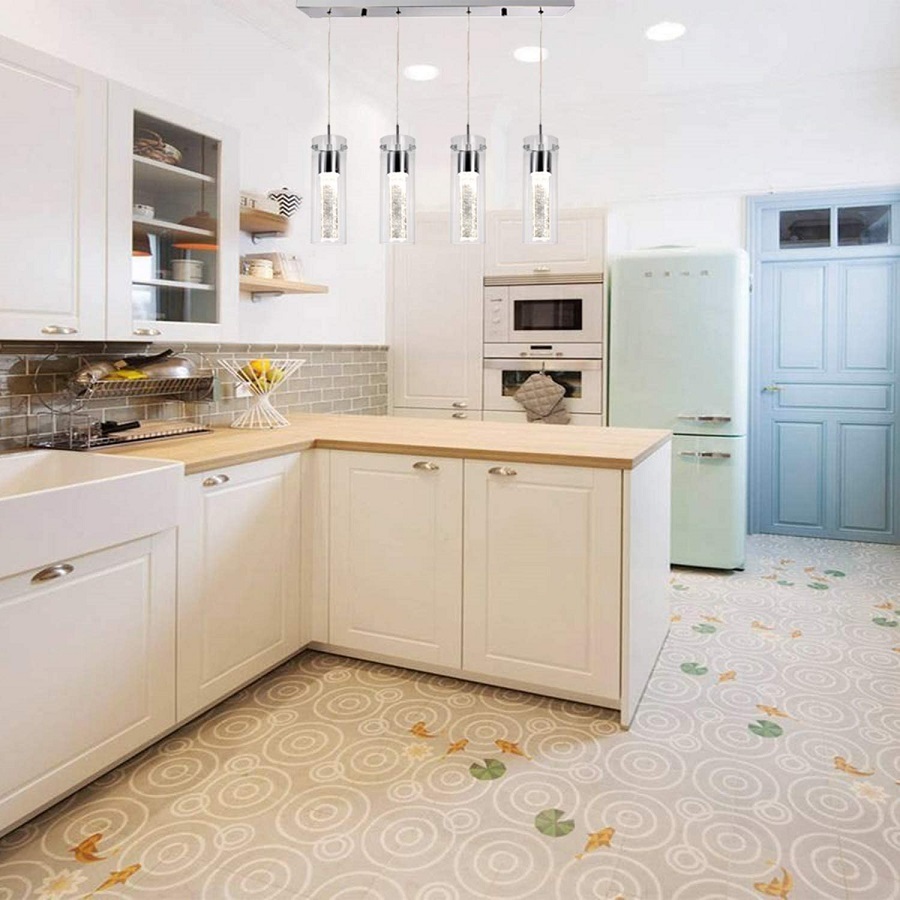 These 4-light ceiling pendants with integrated LED will make any kitchen island stand out (if it needs to stand out.)
Pros: perfect use for indoor decoration; pendant is designed to be dimmable; made of bubbled glass; chrome finish; modern style; integrated LED; 5-year warranty
Cons: the flush mount has sharp edges; challenging to figure out how to adjust the cord lengths.
FAQ
Are LED lights good for the kitchen?
In short, yes. No matter your style, you can get any design of fixtures for LED (not just recessed) to match your decor.
How many lumens do I need for a kitchen light?
A small kitchen (70 square feet) will require 2,100 lumens. An average kitchen (150 square feet) will need about 4,500 lumens. At the same time, a large kitchen (250 square feet) will take as much as 7,500 lumens to light it sufficiently.
How bright are 4500 lumens?
It's enough to light an average kitchen, and it takes only 65 watts of LED lightbulbs to achieve.
What color LED light is best for the kitchen?
In short, you need daylight (5000K) in your kitchen's task areas. Cool white (4000K) is enough for ambient lighting. Soft and warm white light (less than 3000K) can help you set the mood in social settings. That's why the best idea is to either install dimmers or set the lighting in layers of different color temperatures.
How many led lights are for the kitchen ceiling?
How many LED lights you need depends on the size of the kitchen. An average kitchen takes 4500 lumens to be adequately lit. That's four 10-inch 17W LED ceiling lights.
Which lighting is good for the kitchen ceiling, CFL, or LED?
All things considered, LED lights are the best for the kitchen ceiling. They are the cheapest in the long run, the most energy-efficient, last longer, and are environmentally friendly.
Where to position ceiling lights in a kitchen?
Position your downlights close to the counters and leave enough space between them to light space evenly. A rule of thumb is to place them 4 feet apart, taking into account a typical ceiling height of 8 feet.
Are LED lights bright enough for a kitchen?
LED lights are bright enough for the kitchen as you can install as many of them as you need, and LED bulbs of daylight color temperature are available.
What is trending in kitchen lighting?
LED lights are trending in kitchen lighting design. That includes recessed lights and pendants, sconces, accent lights, LED strips, and even chandeliers. Changing color LEDs are increasing in popularity as well.
Continue reading:
Disclosure: As an Amazon Associate we earn from qualifying purchases.