Last updated on September 5, 2021
Now is the right time to update your bathroom. Here are five simple ways how you can revamp it for a quick refresh. Read on!
Whether your bathroom is looking a bit the worse for wear, or just needs a change, there are several upgrades you can do quickly and affordably. It's a fun job to reinvent your bathroom and always exciting to see its final results.
However, you may need to start with some maintenance jobs before you can get creative. If you're keeping your appliances, like your toilet, make sure you attend to any issues with plumbing here. If you don't attend to blocked drains or pipe leaks before you start renovating, you may deal with a huge mess later.
Once all that's taken care of, it's time to get inspired! Use these 5 tips to help you renovate your bathroom into a luxurious paradise.
What's Inside
Out With the Old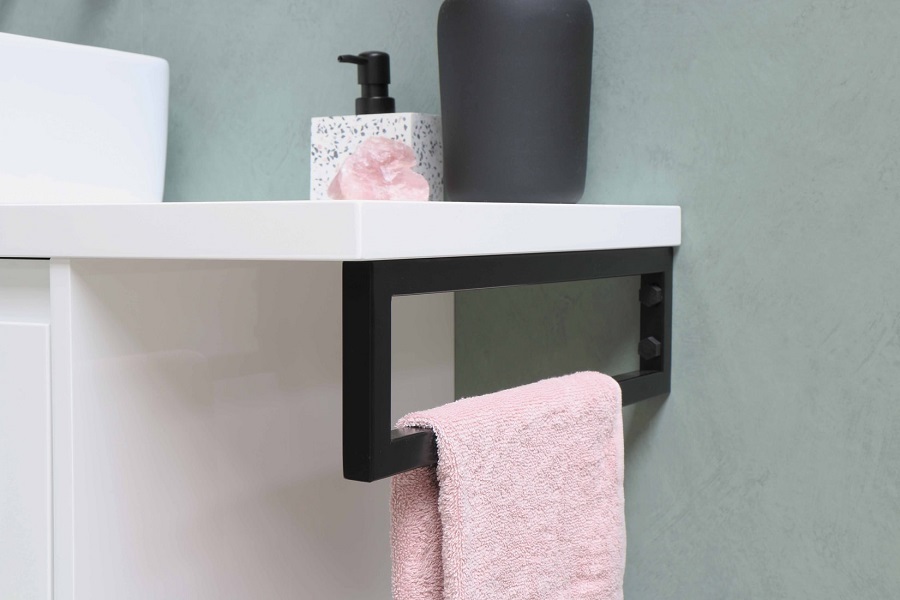 By replacing all your old towel rails, showerheads, taps, etc., you will create a refreshed look. There are loads of styles and materials to choose from. Some attachments are quite pricey, but you needn't buy the top-end stuff. Just look for quality that's affordable.
You can also replace any discolored or cracked tiles or other broken bits and pieces to get rid of the old. You don't need to replace all your tiles. However, throwing out the ones that don't look so hot anymore and giving the others a good clean and re-grout goes a long way.
Mirror, Mirror on the Wall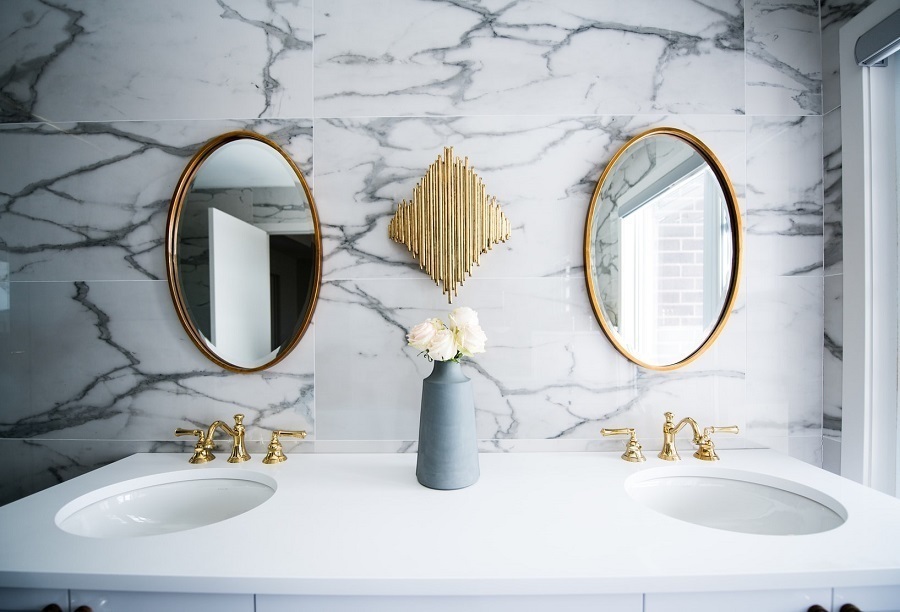 Any design expert will tell you that adding a mirror is a stellar way to revamp your bathroom – this bold feature attracts the eye and commands attention.
Place your new mirror on the opposite side to a window to maximize this effect. This will also brighten up a small, dark bathroom dramatically.
Mirrors are also typically pretty easy to install, and they can come with an array of new add-ons nowadays. You can get mirrors with extra lighting, holders, a clock, and, more recently, a connection that allows you to play videos or music from your phone via Bluetooth.
Tossing out an old mirror and replacing it with a new one will give the bathroom a lift. Try finding a mirror with a bespoke, farm-style, or modern frame to add more oomph.
A Touch of Paint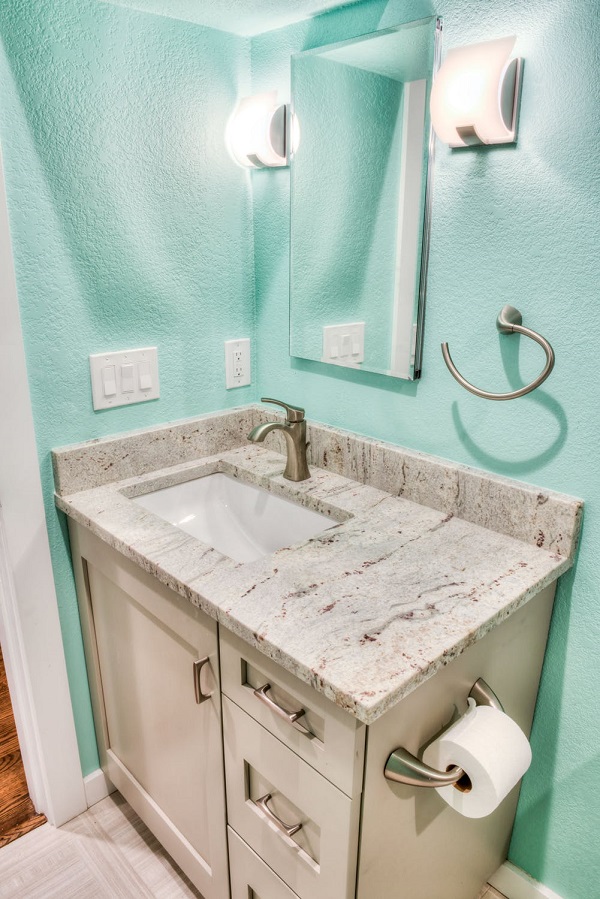 With the bathroom's moist atmosphere, paint often starts to peel or get moldy sooner than in other rooms. Select a color you love that goes with the existing color scheme of the room and house in general (if you aren't planning on changing everything and starting anew).
It is best to pick an enamel paint designed to withstand the kind of elements present in a bathroom, such as heat, water, and soaps. It will last much longer than a water-based paint.
Remember Texture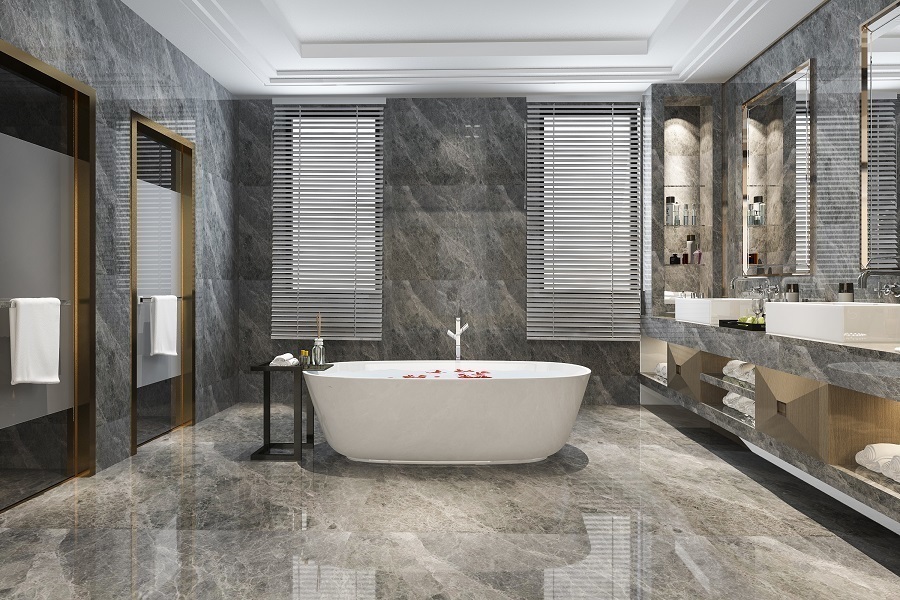 Instead of using paint, you could add some texture to your walls by adding stone or sand-inspired textured tiling. This trend has become quite popular, and you can find a lot of this kind of thing in the hardware store, or at specialized stores.
These do often come at a higher price, but you can add one textured wall, or a space behind a mirror, for example. Even just a little will add interest, depth, and a touch of modernity.
Strike a Balance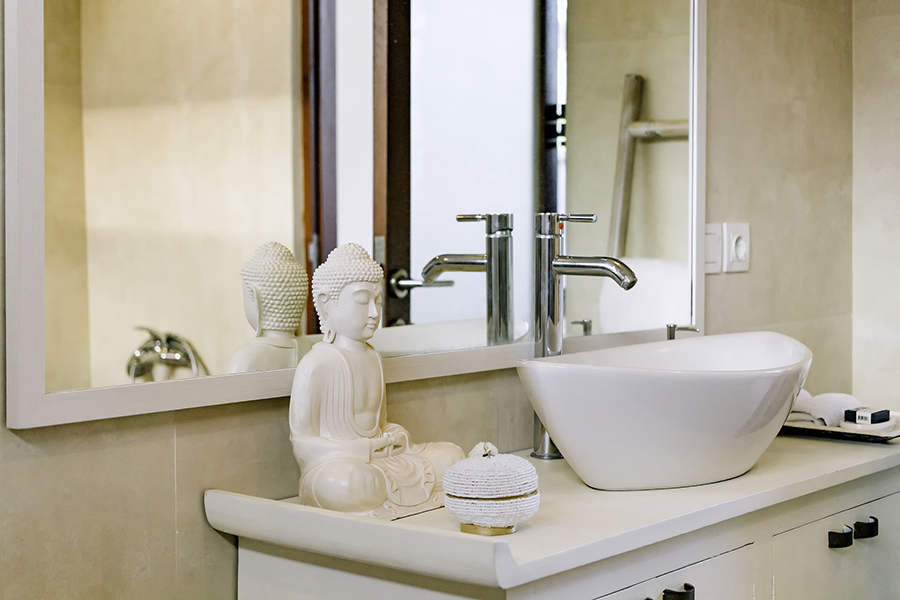 Once you have done the work on your fixtures, you can get stuck into the more delicate touches of doing up your bathroom. Select a vase or plant to finish off the effect of surfaces, add one or two paintings, or even a sculpture or two. Be careful not to clutter the space, but a couple of well-placed items can be beautiful.  
Choose some deep, soft, quality bathroom mats and towels in earthy colors to make your bathroom feel at once classy and homely. You can also add some soaps and creams in attractive containers.
Continue reading: