Last updated on May 10, 2021
These are the best kitchen chandeliers to add more style to your kitchen decor. We have 10 picks for different use cases. Read on!
The best chandelier: we love this luxury modern crystal chandelier.
Of course, it's totally subjective. The chandelier you choose depends primarily on the kitchen design and the look you're aiming for. It helps that the manufacturers provide several finishes and styling options to choose from. These get our preference.
Is the chandelier primarily decorative? Actually, no. It's a task or ambient light. You will typically install it over the kitchen island or the dining table, so it needs to provide enough light. But of course, you're choosing it over a pendant fixture or flush mount kitchen lights because of the decor value as well.
It's a trendy lighting decision. So make it count. These top 10 picks will surely help you. Make sure to pay attention to our notes where we have indicated the best use for each chandelier.
We have included mandatory shopping links and they earn us a commission. There's no extra cost to you and it doesn't influence our choices.
What's Inside
Luxury Modern Crystal Linear Chandelier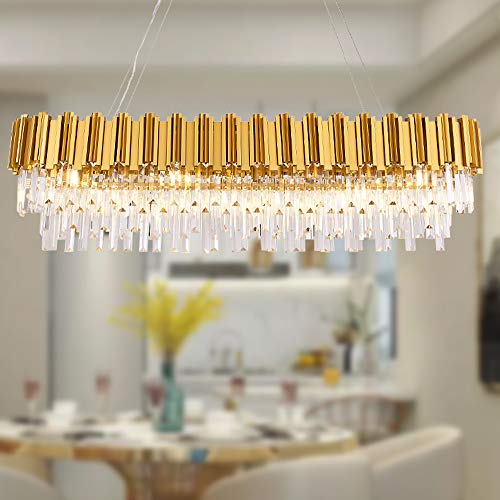 This is our editor's choice.
Great for: a luxury dining area decor.
The E12 dimmable halogen bulbs and K9 crystal make this chandelier a perfect addition to your kitchen. The 12 lights and 10-year warranty add credibility to the purchase as well. This simple yet striking design provides an elegant touch to any room with its achingly clear light.
This kitchen chandelier features an oval design with a gold finish. The box chain gives it a modern feel. Current customers of this product rave about how elegant this chandelier is and the statement it helps bring to the dining area. It can suit any decor, large or stylish, to match your kitchen, drawing your gaze while preparing meals.
Pros:
7 finishes and styles to choose from.
K9 crystals.
12 light bulbs.
Up to 60 watts per bulb.
E12 halogen bulbs are included.
Adjustable chain.
Cons:
Struggle to hang it.
Plastic cover of wiring is visible.
Leveling the crystals takes effort.
Indoor Linear 5-Light Kitchen Island Chandelier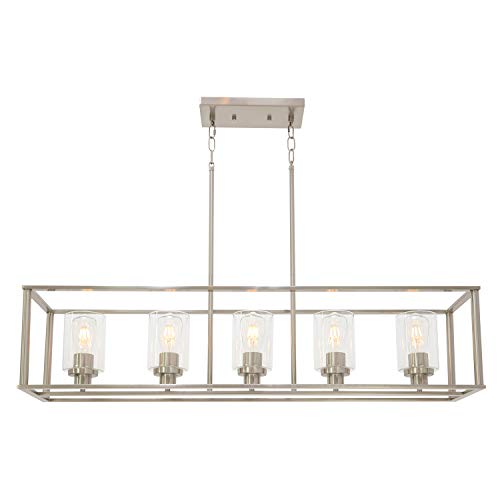 Great for: the modern kitchen with a dominant white or light grey color scheme.
Think of the look and feel of your kitchen. Is it minimal and modern? Marble countertops, stainless steel appliances, and a sleek, cool vibe. If so, clear stainless steel chandeliers are perfect. This one is a five-arm fixture with a geometric metal frame and glass shades.
The modern geometric frame is the key visual feature of this chandelier. You could pull up the clear cylindrical glass shade to reveal a large white round light. It works best as a reading light over the kitchen table or island workspace. The finish is durable steel that accentuates the clean look of the contemporary design along with a polished nickel finish, so it offsets any color scheme in your space.
Pros:
Stainless steel with brushed nickel finish.
5 light bulbs (E26 base).
Warranty includes broken glass.
Cons:
A bit hard to align the frame when installing.
Might be hard to clean.
LED Kitchen Island Chandelier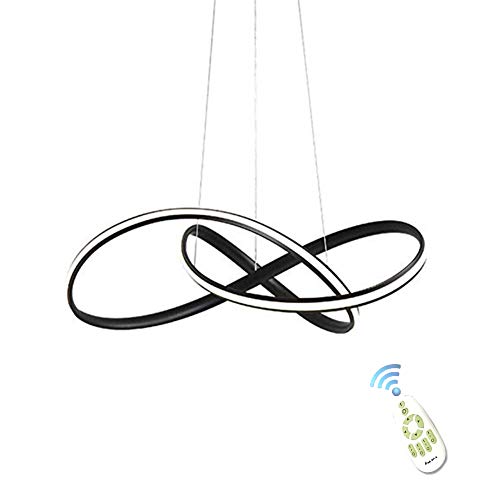 Great for: a modern kitchen island.
The chandelier is made from resin and has silver finish. The lights on this chandelier are energy-efficient LEDs, which consume less rechargeable battery life than old lighting tactics. Finished off with a colorful statement of lively ambiance, inside and out. The design is as quite purposeful as that it hangs over your island.
This modern chandelier's design is aesthetically pleasing with its glossy black materials complemented with accenting silver and gold details. The column, for example, is seamlessly constructed by 3 pieces of hollow tubing which create a full chamfer structure around the whole air-core copper wiring. These also give off the sparkle between dichroic spotlights and traditional bulbs. This light fixture emphasizes uniqueness when compared to other less expensive fixtures.
Pros:
Remote control dimmable brightness and adjustable color temperature.
LED light bulbs.
2-year warranty.
Cons:
Doesn't work with a wall dimmer.
Unclear instructions.
Smaller than expected.
Round Dining Room Chandelier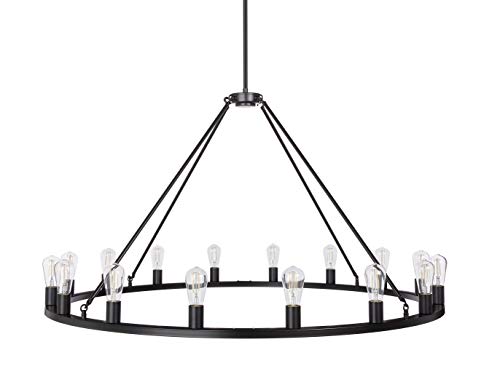 Great for: a large dining area.
This Linea di Liara kitchen chandelier is made of metal, matte black paint, and features a modern farmhouse look. A great statement in the kitchen or dining room, this fixture will provide just the right amount of ambiance in your space.
This is a beautiful modern farmhouse-looking chandelier with swivel installation rods that can be adjusted to fit your ceiling height. Other types of lights you can use for this kitchen chandelier are LED Edison style bulbs, CFL, halogen bulbs. It is designed in Chicago and measures about 50″ in diameter.
Pros:
16 lights.
Works with most medium base bulbs (we recommend LED.)
Adjustable rods.
Matte black finish.
Cons:
Might be tricky to install (hook style attachment.)
Cleaning might be tricky too (16 bulbs.)
Rectangle Industrial Wood Metal Chandelier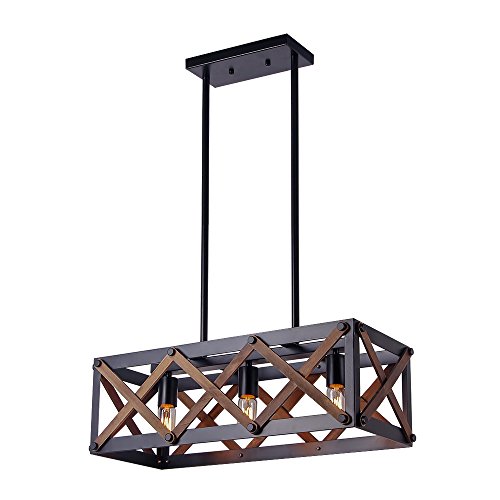 Great for: and industrial accent in the kitchen.
This chandelier brings the outdoors in with its nature-inspired metal frame and verdant finish. The best part? It provides much-needed light around your table, perfect for summer nights spent cookin' up a storm.
This metal and wood chandelier has a rustic industrial look with a traditional finish will add beauty anywhere in a kitchen. It is lightweight and has adjustable rods to suit your preference.
Pros:
3 lights.
Adjustable rods (9.8" to 40")
Porcelain lamp base.
2-year warranty.
Real metal and wood.
Cons:
The rods aren't easy to align.
Doesn't include mounting screws.
Farmhouse Globe Chandelier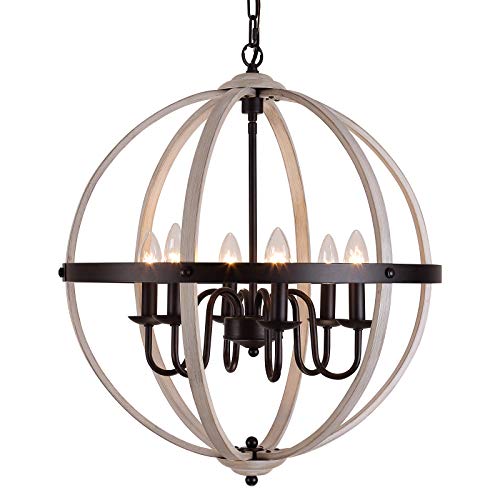 Great for: a traditional accent in a modern kitchen design.
High-quality hardware gives this kitchen chandelier an industrial look. It is rustic and vintage-looking with a slanted style. The chandelier's aperture is made of a high-quality finish, which includes an oak white metal finish. The suspension chain is 47.2 inches long—perfect for adjusting the position, so you get the best beautiful spotlight while not intruding on the main floor or other activities in other rooms. This rustic country-meets-industrial pendant light is classy and perfect for a new kitchen design personal touch, with timber furniture, vaulted ceilings tiles.
Pros:
Adjustable chain.
6 LED bulbs (E12 candelabra base).
Classic globe design.
Cons:
A lot of pieces to assemble.
No instructions.
Mid-Century Modern Chandelier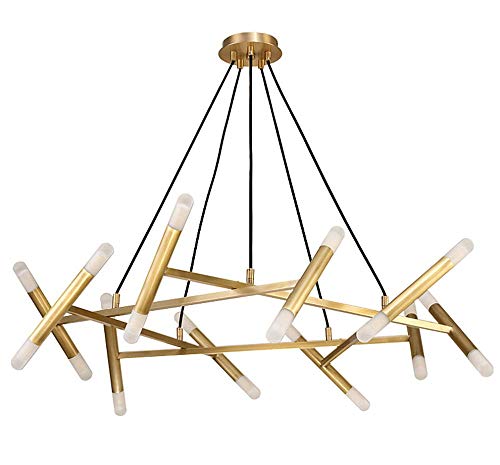 Great for: a geometric accent over the island or dining area.
This mid-century chandelier hangs over your kitchen with a linear design and multiple bulbs. The finish is modern and linear, giving you a feeling of freedom when looking up at the bulbs. We recommend this for any modern home because it will bring color to other colors in the room.
This chandelier will complement a variety of styles, such as shabby chic, bohemian chic glam. Finishes include black paint with a sleek and shiny brass finish. This chandelier uses twenty G4 warm white lights but does not dim.
Pros:
20 lights (G4 bulbs).
Geometric design.
LED lights.
Cons:
Not dimmable.
Tricky to get it level.
4-light Linear Kitchen Island Chandelier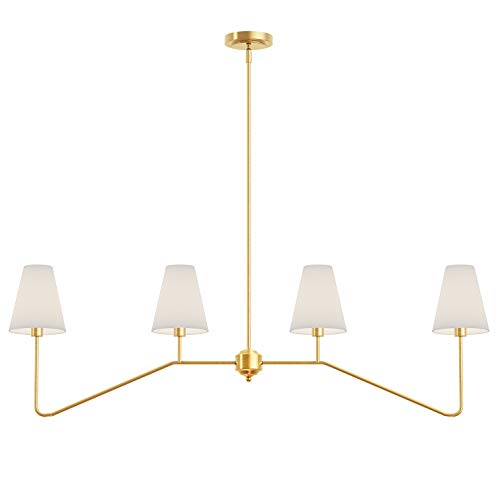 Great for: kitchen islands.
The polished gold kitchen chandelier makes a perfect decor statement to show a stylish and trendy presence in your home. The modern design's chic setup will add immediate impact to your dining table, kitchen island, and countertops. It contains 4 E12 candelabra base bulbs and a 40-watt capacity maximum per bulb.
Pros:
4 lights.
47" width.
Gold finish.
Cons:
Does not include bulbs.
Feels a little flimsy.
Modern Kitchen Island Pendant Chandelier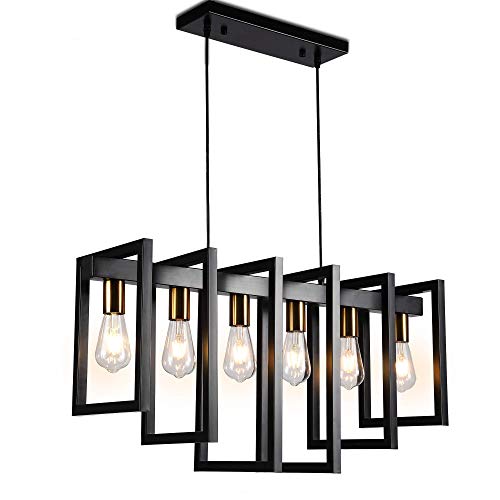 Great for: hanging over a large dining table or an island.
This stylish chandelier has a black finish and features modern curved edges for an elegant look. It is made of high-quality iron that is easy to maintain and install. Six LED lights provide a wide radius of light for comfortable cooking or gatherings around the island at night. Blends with any design style. Sharp corners highlight the clean-lined, modern pendant light fixture. Packed in an elegant matte black finish, it exudes an industrial-chic mood.
This multi-functional pendant light is both stylish and beautiful. Its stark black color will give any room that completed look. The adjustable cord makes one wonder where you can put it in the first place because there are so many possibilities.
Pros:
Matte black finish.
Industrial style.
6 lights.
Adjustable cord (up to 59").
Cons:
Installation gets messy with the long wires.
Wine Bottle Chandelier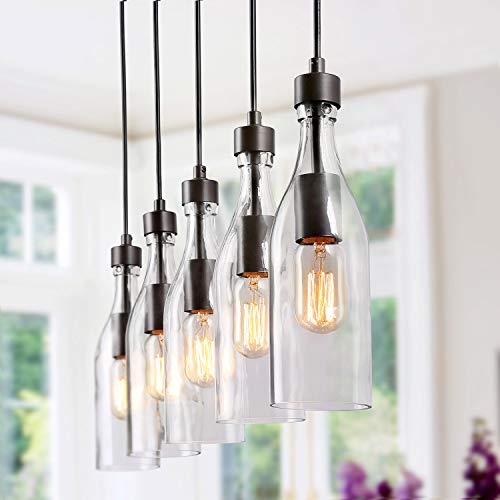 Great for: statement decor.
This wine bottle-shaped kitchen chandelier would make a great statement piece in a modern home or otherwise. The black finish is subtle and should be nice with just about any color palette, while lamps from all over will compliment such bright tones. It pulls the contemporary part out of your furniture with its thin design that is flexible with how you want to place it. This pendant light is gorgeous when hanging over the dining room table or kitchen island.
This chandelier canopy is made out of wood and is finished with a glossy varnish. These bottles holding the lights are awesome because they make for a very interesting decoration when hanging in the kitchen.
Pros:
5 lights.
E26 bulbs (max 40W).
Wooden canopy.
Glass bottle shades.
Cons:
Difficult to hide excess cords.
Installation isn't easy.
FAQ
Can you put a chandelier in the kitchen?
Yes, a kitchen chandelier is a trendy lighting idea.
Are crystal chandeliers out of style?
No, crystal chandeliers aren't out of style, they are timeless when installed over a dining table or even a kitchen island.
How low should a chandelier hang over a table?
Hanging a chandelier about 36" over a table is a rule of thumb.
Should chandelier be centered over table?
Yes, the chandelier should be centered over a table not only because it's aesthetically pleasing but to provide even lighting across the table as well.
Continue reading:
Disclosure: As an Amazon Associate we earn from qualifying purchases.