Last updated on June 21, 2021
Looking for the best shaved ice machine for your home? You will find it here. No matter what you're using your shaved ice for, there's a machine for it.
Our best pick is this Electric Ice Crusher Shaver.
The best ice shaver is actually defined by the type of shaved ice you fancy. Do you like extra fluffy Hawaiian shave, the classic snow cone, or cocktail ice? Or is your goal to fill as many cups as fast as possible?
There are camps of shaved ice, so picking one best machine is quite a pickle. If you're a die-hard Hawaiian shaved ice fan, we better not show you any ordinary snow cone maker. And if you're making cocktails at home, fluffy snow probably won't make a good drink.
Still, we gave it a shot, and we hope we've succeeded. There are ice shavers for every camp on this list. And the editor's choice is just an objective value for the money pick. It makes shaved ice enjoyable in any setting.
These are our tips for choosing an ice shaver:
Unlike an ice maker, a shaver doesn't actually turn water to ice but uses frozen ice. Be prepared to make enough ice to shave.
Make sure it's durable, has strong blades, and it's not flimsy.
This type of ice machine can make some noise, be prepared.
They can make a mess on the countertop, get some towels.
Shaver's can accept regular ice cubes, a bock of ice, or both. This can pose some challenges.
These are our top picks. The links earn our site a commission at no extra cost to you.
What's Inside
Electric Ice Crusher Shaver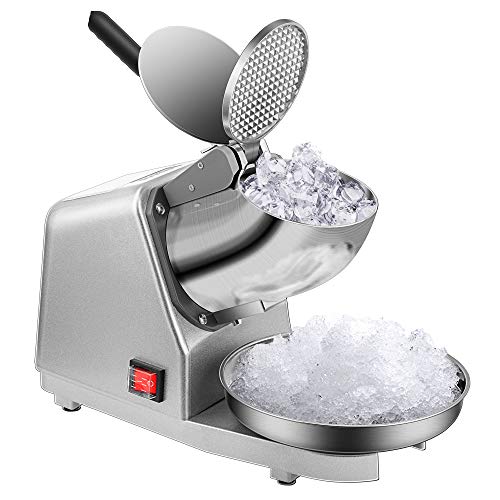 Great for: making cocktails and snow cones.
The VIVOHOME Electric Dual Blades Ice Crusher Shaver is a great device that can create high-quality snow ice in just a few minutes. This shaved ice machine uses dual sharp blades to gently break down the ice into very fine and frosty snow. It has a powerful electric motor with a simple on/off switch, making it easy to use. It can produce about 143 lbs of soft and fluffy snow in just 1 hour. Great for family gatherings or parties, catering events where you serve fluffy, tasty treats on hot summer days. While it doesn't make snow as fluffy as some other machines, it's actually a good thing if you're making cocktails.
Pros:
Made of stainless steel.
Shaves regular ice cubes.
Quiet.
Looks stylish.
Cons:
The snow it makes isn't too fluffy (it's a little wet).
Makes some mess.
Snow Cone Machine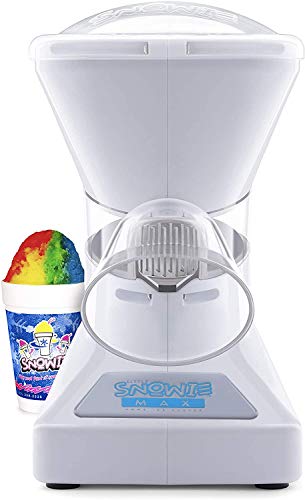 Great for: when you want to make snow cones fast and don't want to waste space.
The Little Snowie Max makes fluffy snow in 3 seconds with a high-speed motor and 301 hardened stainless steel blade. It is a conveniently sized shaved ice machine that fits comfortably on any countertop, desk, or table – it is easy to carry, easy to clean, and easy to store. It fits perfectly in your home kitchen — it doesn't take up too much space as traditional old-school machines do. You're also spared from the time-consuming hassle of having to pre-freeze special-shaped ice drums that take up valuable freezer space – it uses regular ice cubes from the fridge.
Pros:
Makes shaved ice fast.
Uses regular ice tray cubes.
Includes flavor powder sticks.
Compact size.
Cons:
Hawaiian Ice Shaver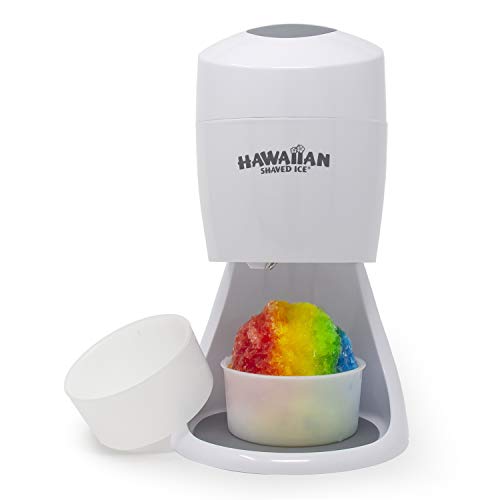 Great for: making Hawaiian shaved ice, of course.
The Hawaiian Shave Ice Machine is a popular machine with a 3-piece design and 2 round ice block molds (it shaves these ice blocks into the snow). It is convenient for anyone who likes to make shaved ice at home. It's electric and works fast. The compact design makes it easy to use on the kitchen countertop (even a small kitchen). Though having only 2 molds will be a downside if you need to make a lot of shaved ice.
Pros:
Popular brand.
The snow is really fluffy.
Easy to use.
Compact design.
Cons:
Doesn't shave the entire ice block.
It's loud.
Nostalgia Countertop Snow Cone Maker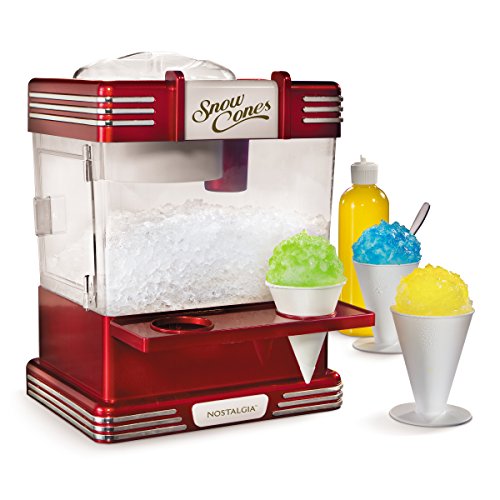 Great for: snow cones and making a party feature.
The Nostalgia Countertop Snow Cone Maker has a capacity of making up to 20 snow cones at one time. This machine is a perfect size to fit on any kitchen countertops or side table which makes it easy to serve snow cones wherever you go. It is small enough to not take over needed space but big enough that you can make many snow cones in quick succession. This ice shaver uses an electric motor. It also has necessities like wooden stir sticks and two reusable plastic cups.
Pros:
Retro design.
Makes 20 snow cones in one go.
Sturdy stainless steel blades.
Compact size.
Uses regular ice cubes.
Cons:
The door is hard to open (plastic easy to crack).
No drain feature.
Great Northern Shaved Ice Machine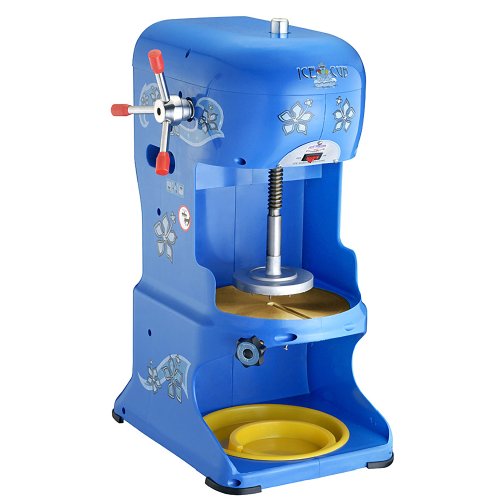 Great for: small kitchen.
This is a shaved ice machine that boasts commercial-grade construction. It has an adjustable stainless steel blade, handles with heavy-duty switches, and a safety interlock to protect the user and automatically stop if the blades become overloaded. You can make up to 350 lbs of shaved ice per hour.
It has a chilling process of under 60 seconds. The portable ‌countertop design does not take up too much space in your kitchen. Higher pricing may deter some buyers from using this device, but Great Northern is a popular brand.
Pros:
Fast motor.
6 pounds of ice per minute.
Durable stainless steel construction.
Cons:
A bit low — it makes it difficult to shave ice directly into a cup.
Noisy.
Electric Ice Crusher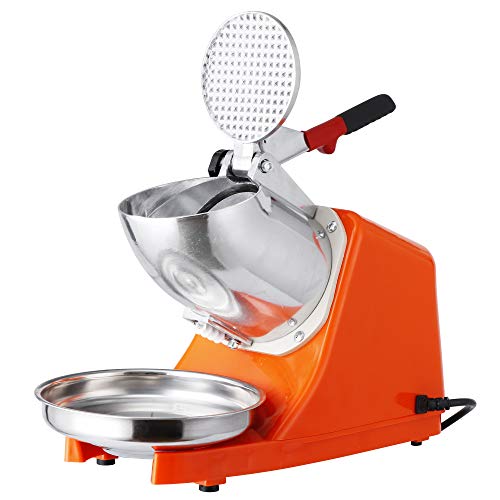 Great for: drinks and snow cones.
The Zeny Electric Ice Crusher is powerful, easy-to-use, and aesthetically pleasing. The machine works well for any ice shaving or ice crushing from cubes for holiday dinners or a family gathering, along with stainless steel construction. It has high speed to produce 143lbs of ice per hour to make a large amount of shaved ice in a relatively short time frame. All stainless steel exterior should guards against rust, and sleek bright orange color adds the aesthetic, making it appealing to look at. It has a cast base that provides a stable workstation with vibration reduction (safer.)
Pros:
A heavy cast base makes it stable.
Durable stainless steel construction.
Fast and produces a lot of shaved ice.
Uses ice cubes and a block of ice.
Cons:
Leaks a little.
A little messy.
Manual Snow Shaver Machine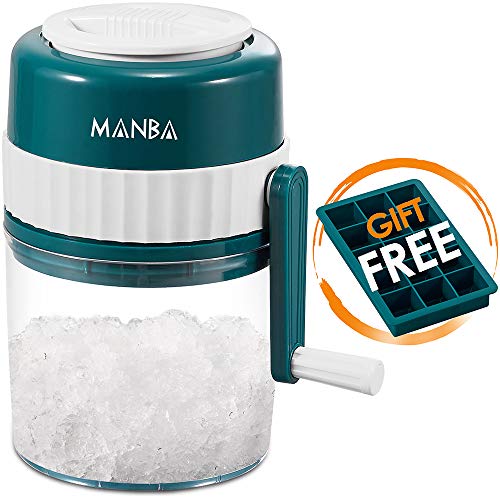 Great for: portability.
The MANBA Ice Shaver is a manual shaved ice machine. It is fairly fast and efficient for manual operation. It's also easy to use and easier to carry, store, or clean. The triple blades are durable for long-term use as well as sharp enough. Ice shaves well with minimal risk of error. The biggest upside is, of course, its price.
Pros:
Durable stainless steel blades.
Easy to use.
Inexpensive.
Cons:
Hard to clean.
Te handle is a little flimsy.
Cuisinart Snow Cone Maker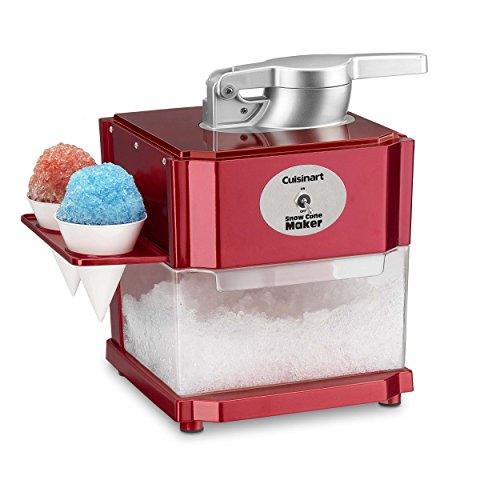 Great for: snow cones.
The Cuisinart Snow Cone Maker is a quick solution for shaved ice at home that uses regular ice cubes and simple syrups or juices for recipes. It looks great and is extremely easy to use. With just a flip of a switch, you are ready to make tons of delicious icy treats in minutes. The pros definitely outweigh the cons with this item, especially watching the kids fall in love with it and enjoy every minute they spend prepping their own desserts without complaining as loud.
Pros:
Makes 4-5 snow cones per minute.
Uses regular ice cubes.
Popular brand.
Cons:
Made of all plastic.
Hard to take out the shaved ice without a spatula.
Commercial Snowflake Ice Maker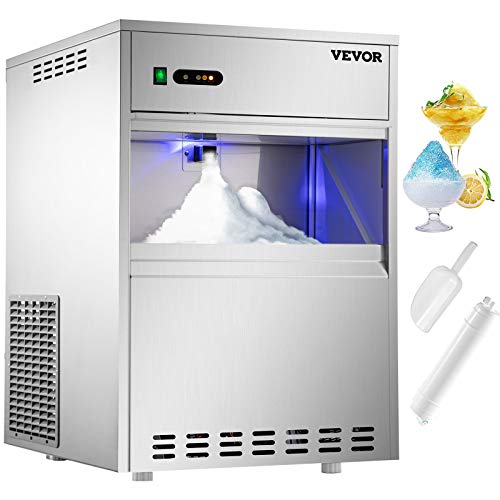 Great for: big parties and when you need a lot of shaved ice.
This shaved ice machine makes small, snow-like ice pieces. The motor of this machine is very powerful, and it's capable of producing 88 lbs of snowy ice per day.
This shaved ice machine also looks very nice because of its stainless steel finish at the front. This ice shaver uses a 380W compressor that is powerful enough for a commercial-grade machine.
To clean this appliance, you have to move all the ice out except for what is left on the inner side, and then you can slowly wash it with soap or sanitizer as needed.
Pros:
Can produce 88 lbs of shaved ice per day.
Stainless steel casing.
Commercial-grade machine.
Cons:
Professional Ice Cone Maker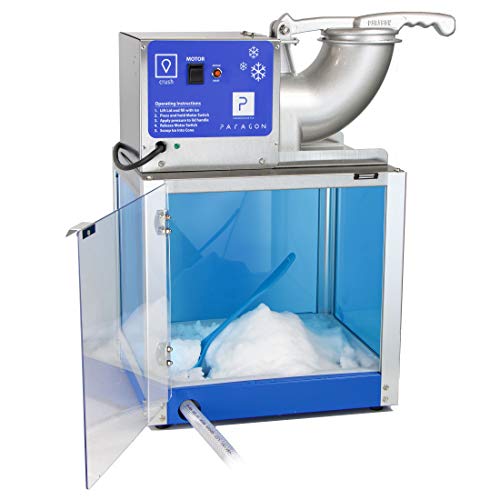 Great for: big parties.
This shaved ice machine is heavy-duty. It makes 500 pounds of shaved ice per hour. It produces so much snow you can hold a summer snowball fight in your backyard just for fun. So it can surely accommodate a big party with snow cones, drinks, and what-not.
Pros:
Heavy-duty.
500 pounds of ice per hour.
Commercial-grade.
Cons:
Hart to connect a drain hose.
FAQ
What kind of ice do you use for shaved ice?
Commercial ice savers use blocks of ice because it's more efficient. Home ice shavers can use regular ice cubes as well.
What is Hawaiian shaved ice?
It's a dessert made of finely shaved ice (often referred to as fluffy snow), unlike snow cones that use larger pieces of ice.
How much does a shaved ice machine cost?
A home ice shaver costs around $50, but a commercial grade machine can run up the bill to $400 or more.
Continue reading:
Disclosure: As an Amazon Associate we earn from qualifying purchases.