Last updated on November 28, 2023
Explore modern farmhouse kitchen cabinet hardware ideas because they can breathe new life into your culinary space with their unique blend of rustic charm and contemporary flair.
These are my unique design concepts made using design tools. I hope you find them inspiring!
Delving into a world where countryside charm meets sleek modernity, this article spotlights modern farmhouse kitchen cabinet hardware ideas. While there are abundant ideas already available, the aim is to provide you with a fresh perspective, taking a unique twist on standard concepts. Fear not, a list of resources to amplify known ideas will be accessible at the end of this write-up.
Now, prepare to discover a trove of inspiration to transform your kitchen cabinet hardware with a blend of rustic appeal and contemporary sophistication.
What's Inside
Wrought Iron Birdcage Cabinet Knobs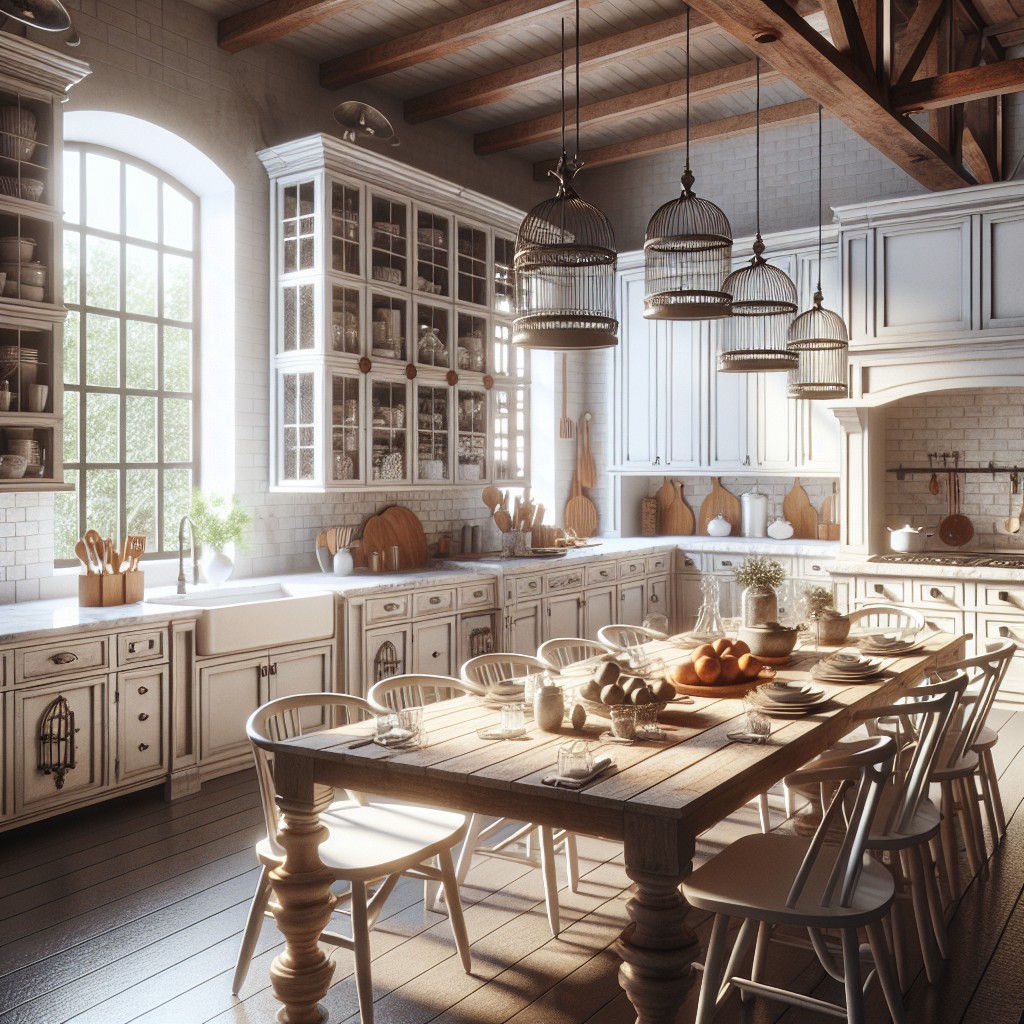 Accented with traditional flair, these iron knobs emulate the appearance of a birdcage, which gives them an eclectic touch.
Their robust structure features a dark finish, a perfect contrast to light-colored cabinets.
Ideally suited for a rustic or country farmhouse aesthetic, they lend authenticity and charm.
Despite their ornate look, these knobs also provide a firm grip, ensuring practical function alongside visual beauty.
Easy to install and maintain, they're an investment that will continually rejuvenate your kitchen decor.
Sleek Chrome Cupped Drawer Pulls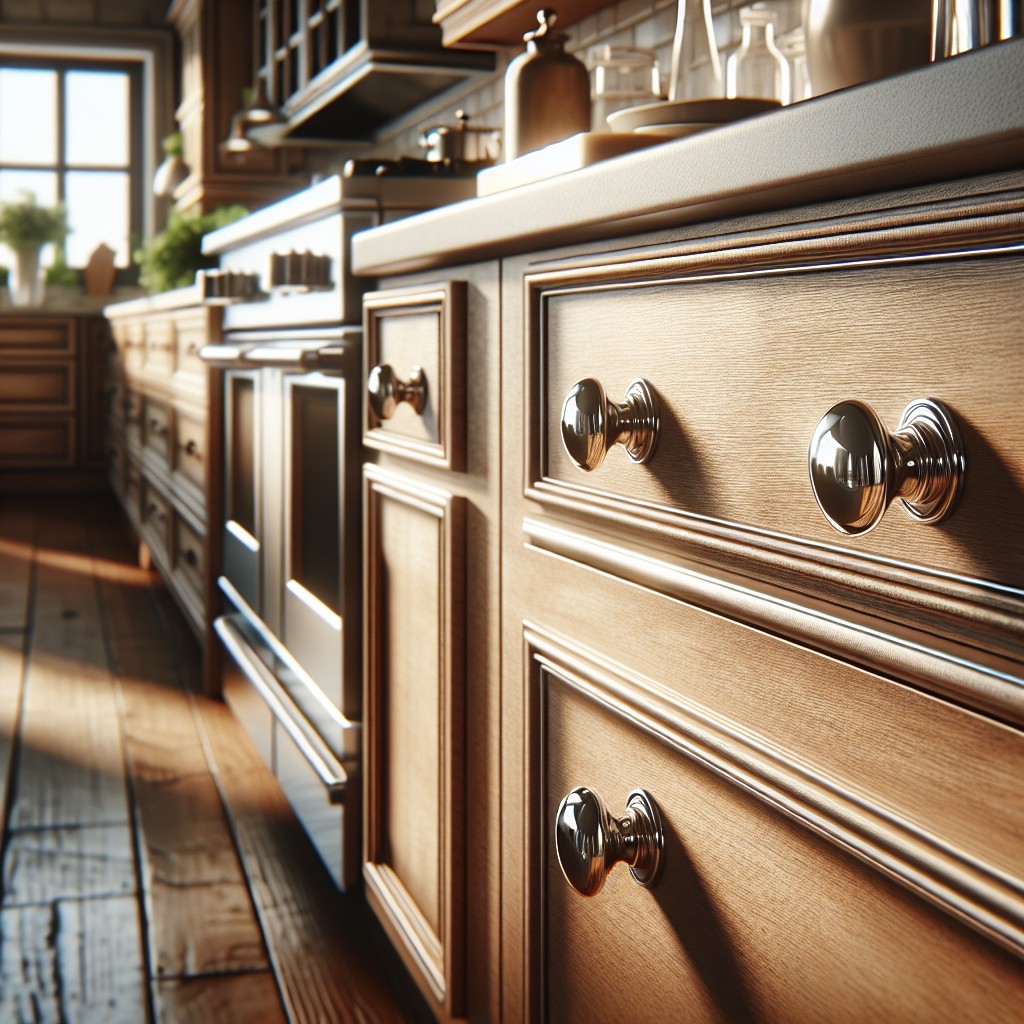 Incorporating a touch of contemporary design, these handles offer a smooth, mirror-like finish that complements many color schemes.
Due to their sleek, curved style, they add a sense of understated elegance to your cabinets, while also being incredibly practical.
Their distinctive cup shape makes opening drawers effortless and their durable chrome surfaces ensure longevity.
In terms of installation, they fit with a wide range of cabinet designs and require simple, straightforward fittings, making them an ideal pick.
Adding these to a farmhouse kitchen brings about a subtle balance between rustic charm and modern sophistication.
Weathered Copper Round Cabinet Knobs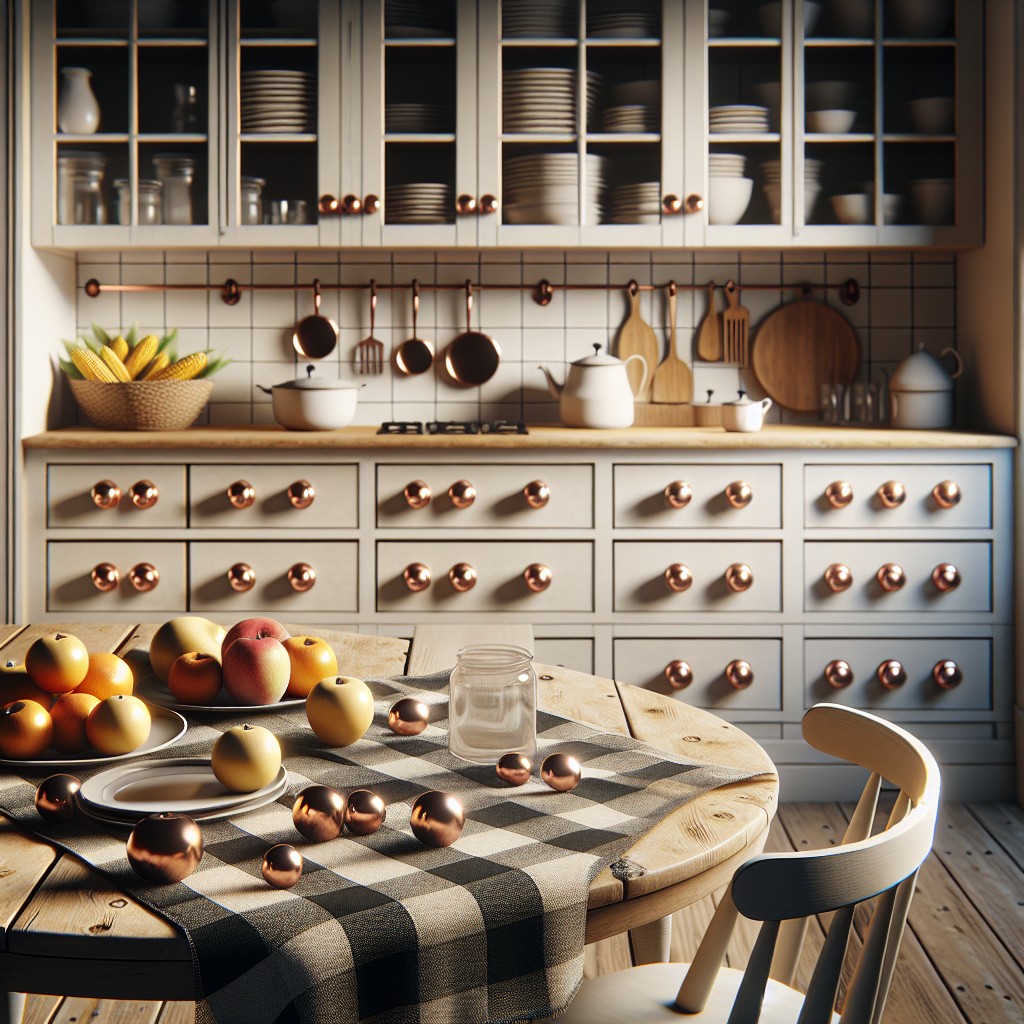 Harnessing the beauty of age and time, these knobs capture the allure of natural patina which forms on copper over years. They offer a rustic charm, while the rounded shape still retains a certain simplicity, preventing your cabinets from looking overly 'antique'.
This hardware option pairs perfectly not only with wood finishes, but also with painted cabinets of any color, being versatile enough to compliment a neutral cream or to offset a bold navy. The weathered copper also works well in kitchens featuring copper sinks or fixtures, tying all elements together for cohesive aesthetics.
Additionally, their handcrafted look gives your kitchen a personal touch, integrating the much-sought-after, one-of-a-kind feel that's central to modern farmhouse design. As a bonus, their robust nature can withstand daily wear and tear, making them a practical yet stylish choice.
Cool Concrete Drawer Pulls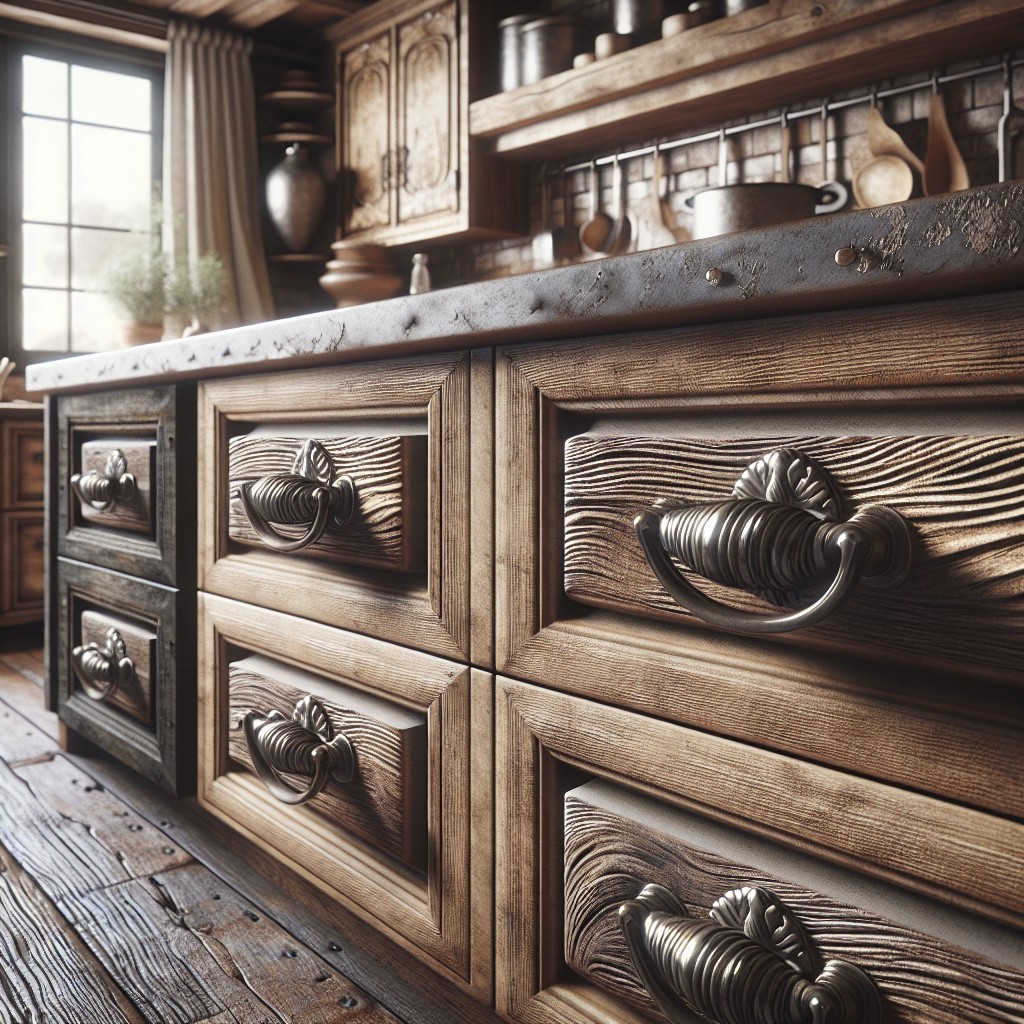 Suited for a simplistic, raw, and somewhat industrial aesthetic, these accents play off beautifully against wooden or white cabinetry, giving you that chic, modern farmhouse vibe.
With their understated yet distinct appearance, concrete pulls are definitely a conversation starter.
They are not only tough and hard-wearing but also cool to the touch, adding a tactile experience every time you reach for your kitchen essentials.
Implementing these provides an excellent way to add subtle texture variation to your kitchen and inject an unexpected element of design.
Remember to consider the cabinet color and the overall color scheme of your kitchen before choosing the shade of concrete for the pulls.
Rustic Wood and Metal Combinatorial Knobs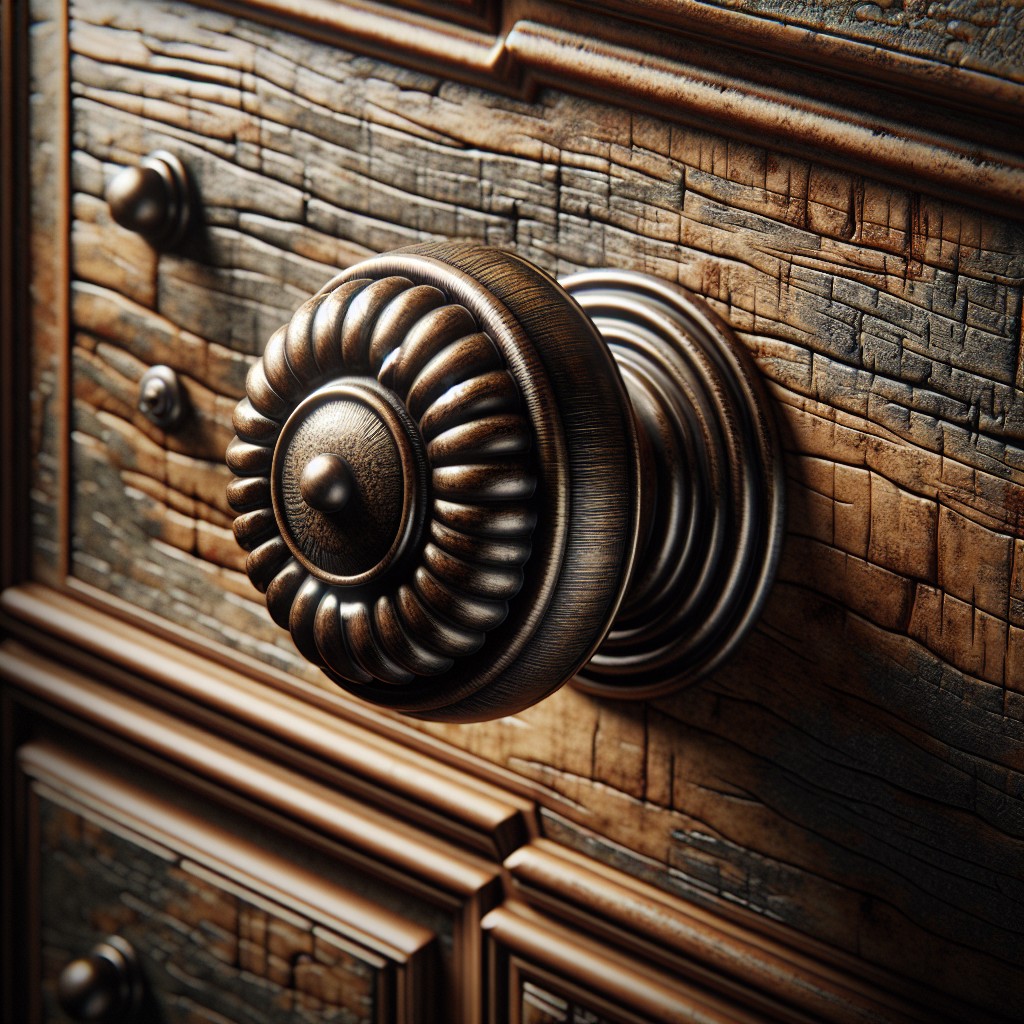 For an authentically rough-hewn look, these knobs offer a gorgeous blend of natural elements. They're handcrafted, each displaying a unique pattern straight from Mother Nature herself, literally bringing the warmth of the wood into your space.
The hefty metal component – often wrought iron – gives each knob a real solidity, a hefty hand-feel that never fails to impress. This can be especially effective in a design scheme that's rich in wood grain, like a butcher block countertop or wide-planked flooring.
Each piece has the strength of metal, and the organic charm of wood, offering the best of both worlds. Not to mention, they're available in a spectrum of finishes, ensuring a complementary match to any color palette.
Industrial Iron Pipe Drawer Handles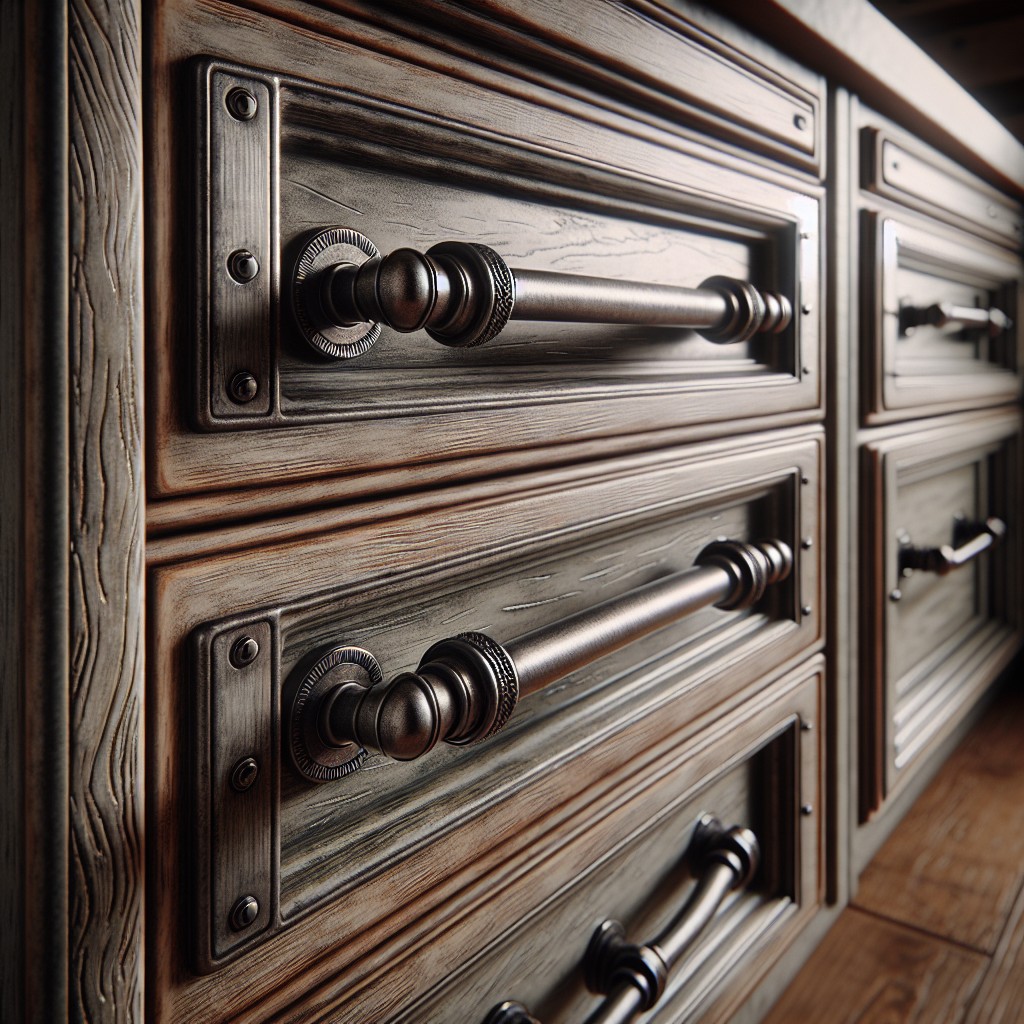 Embodying strength and rustic charm, these fixtures mimic the robust glamour of old-age factories, effortlessly blending form and function. They work best in spacious kitchens where their bold, hefty structure can be flaunted without overwhelming the other design elements.
Consider these points about Industrial Iron Pipe Drawer Handles:
Material: Crafted from solid iron, these handles are durable and long-lasting.
Design: Appearing steam-punky or as a pipe-like structure, it's an embodiment of an industrial aesthetic.
Installation: Fitted either horizontally or vertically, they offer versatile usage on doors or cabinets.
Finishes: Traditional iron isn't the only finish. Available in oil-rubbed bronzes to brushed nickels, there's something to suit different tastes.
Care: Maintaining iron handles requires regular dusting to avoid buildup and occasional polishing to restore shine.
Compatibility: Bold and commanding, they work best against neutral-toned cabinets—grays, whites, and creams. They also pair well with wooden surfaces to create an element of warmth and coziness.
Folding Satin Nickel Cabinet Pulldowns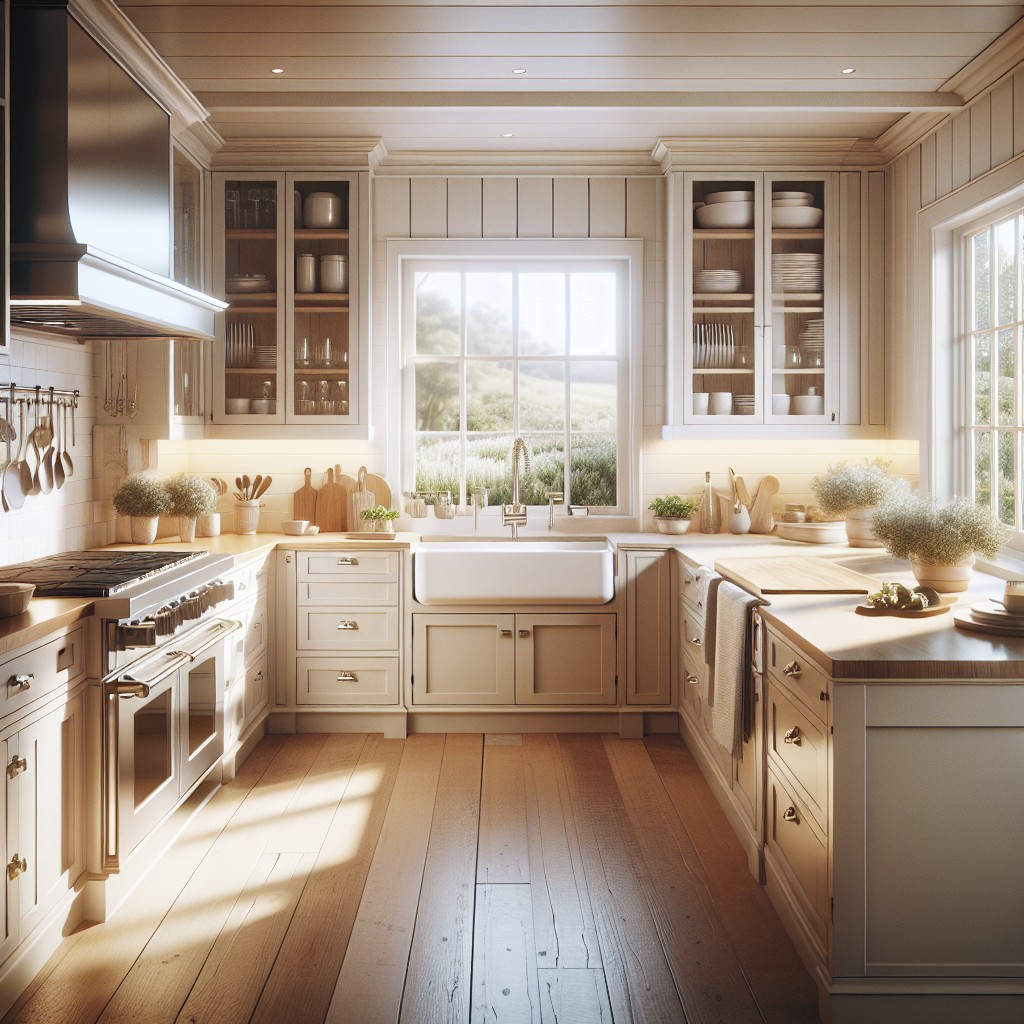 The elegance of this hardware cannot be overstated: satin nickel is wonderfully versatile and complements a range of color palettes on cabinets, from crisp whites to earthy browns. Its appealing sheen adds a touch of class without being overly flashy.
The folding mechanism is especially practical for spaces with limited room or for anyone who prefers a cleaner, minimalist aesthetic. Simply pull to open, then fold back in place when you're done. The design also reinforces sturdiness, resisting wear from daily use.
These pulldowns are easy to install and available in different sizes, catering to your specific kitchen setup. They strike just the right balance between function and style in a modern farmhouse kitchen. Comfortable to grip and pleasing to the eye, folding satin nickel cabinet pulldowns are truly a delightful addition to any kitchen.
Geometric Granite Knobs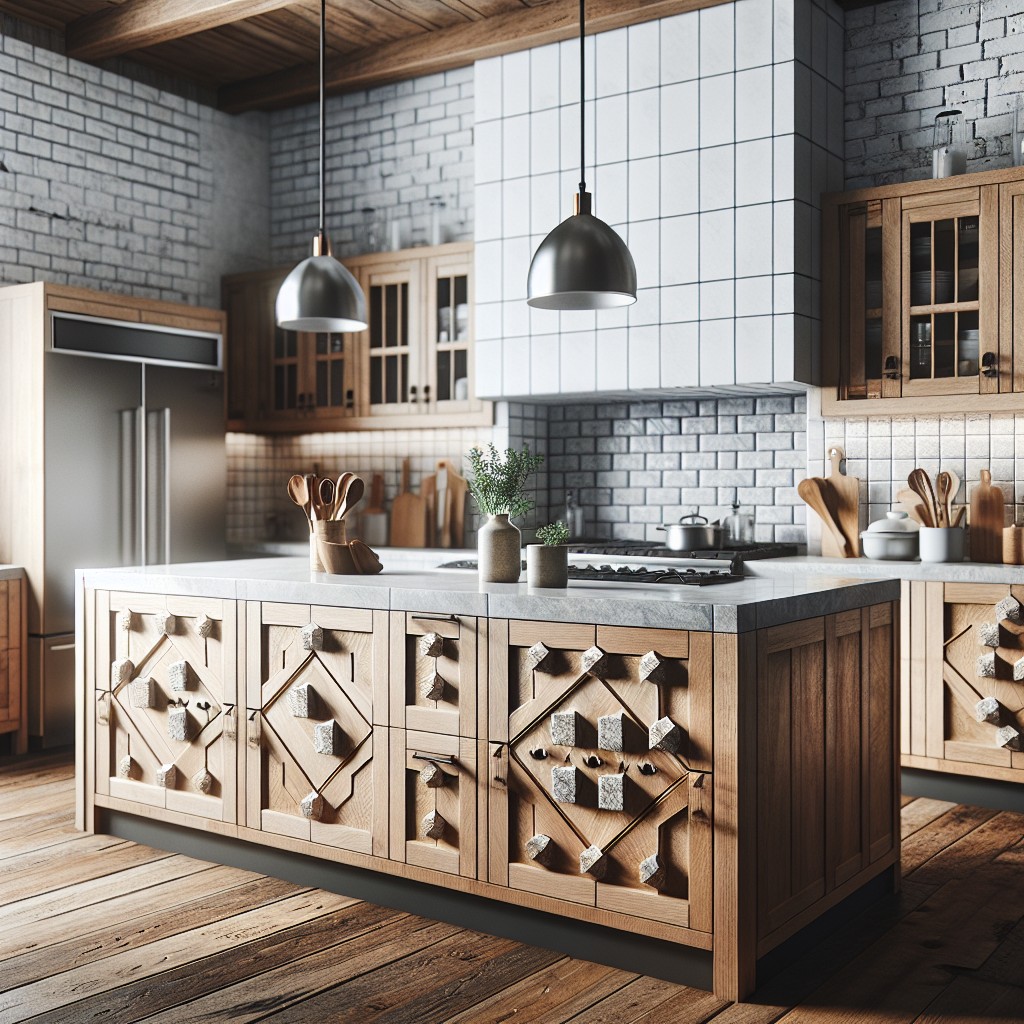 Heralding from a blend of natural stone and modern design sensibilities, these geometric fixtures offer a unique twist. While the organic variation of granite provides an earthy aesthetic, the distinct geometric shapes inject a contemporary flair into your farmhouse kitchen.
1. Natural feel: Each piece is hewn from granite, a material known for its robust and endearing quality. The touch of these knobs can bring a sense of comfort and warmth to your kitchen space.
2. Versatility: Available in shapes such as hexagons, squares, and cubes. This allows you to maintain a theme across different sections of your kitchen or mix and match for an eclectic look.
3. Easy maintenance: Granite hardware is known for its durability and resistance to wear, requiring minimal upkeep.
4. Color Variety: Beyond the typical greys and blacks, these knobs are available in unique hues such as rose pink, moss green, and cobalt blue, providing ample color options to complement your kitchen undertones.
Remember, the devil's in the details, and these knobs would add a striking accent to your modern farmhouse kitchen.
Lattice Pattern Brass Knobs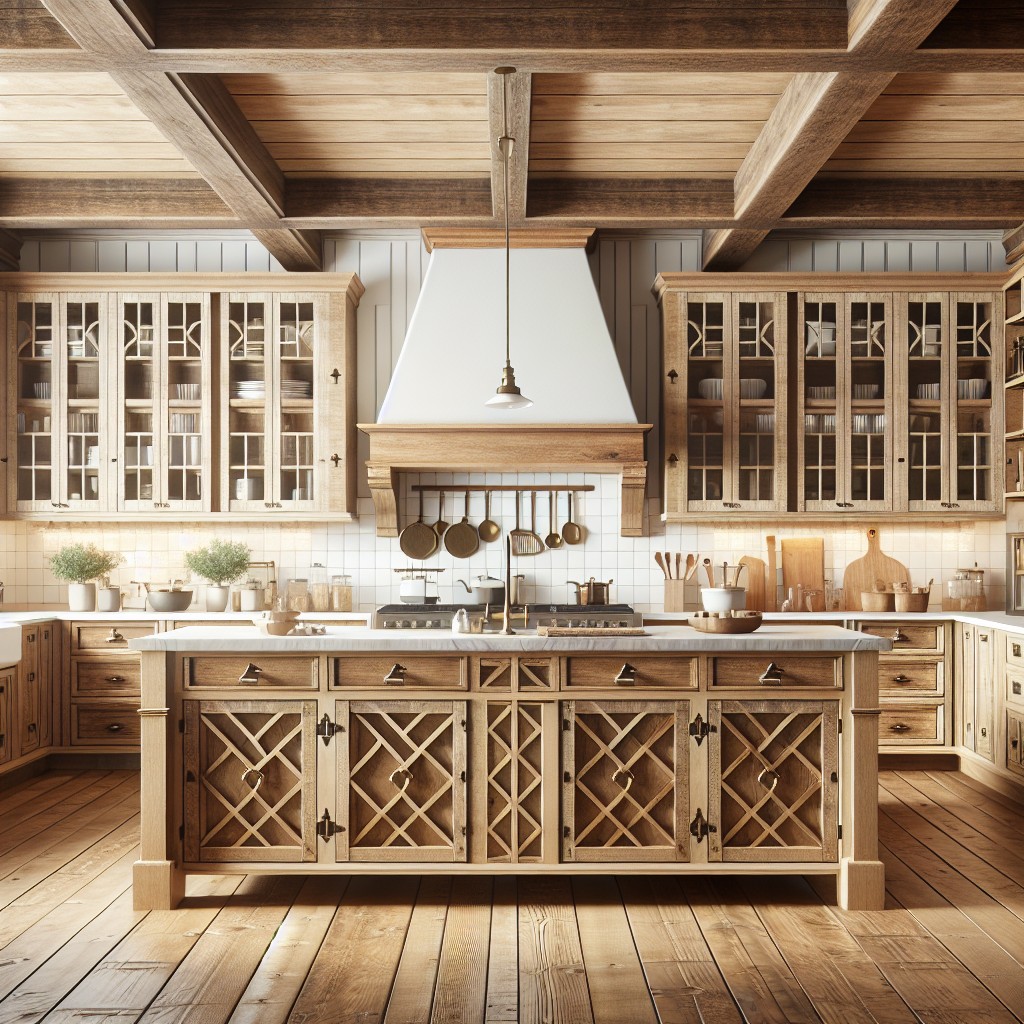 Their unique geometric design brings both visual interest and tactile stimulation. Here are a few key points:
Versatility: With their versatile appeal, they can easily blend with a wide variety of kitchen styles, from rustic to modern.
Material: Made of brass, these knobs are durable and can withstand the rigors of daily usage. The material also lends the knobs a subtle sheen that reflects light beautifully.
Design: The lattice pattern itself not only creates a decorative point of interest but can also provide a crisp contrast against solid colored cabinets. The complex pattern adds texture without introducing too much visual bulk.
Color: The beautiful brass color is warm and inviting, instantly elevating the space. It can blend seamlessly with other brass fixtures in the room or work as a striking contrast against darker cabinet tones.
Remember, brass tends to age slowly over time, enhancing its rustic charm. Regular polishing will ensure the hardware keeps gleaming. When selected thoughtfully, these lattice pattern brass knobs can be the perfect finishing touch to your modern farmhouse kitchen.
Barely-There Invisible Acrylic Knobs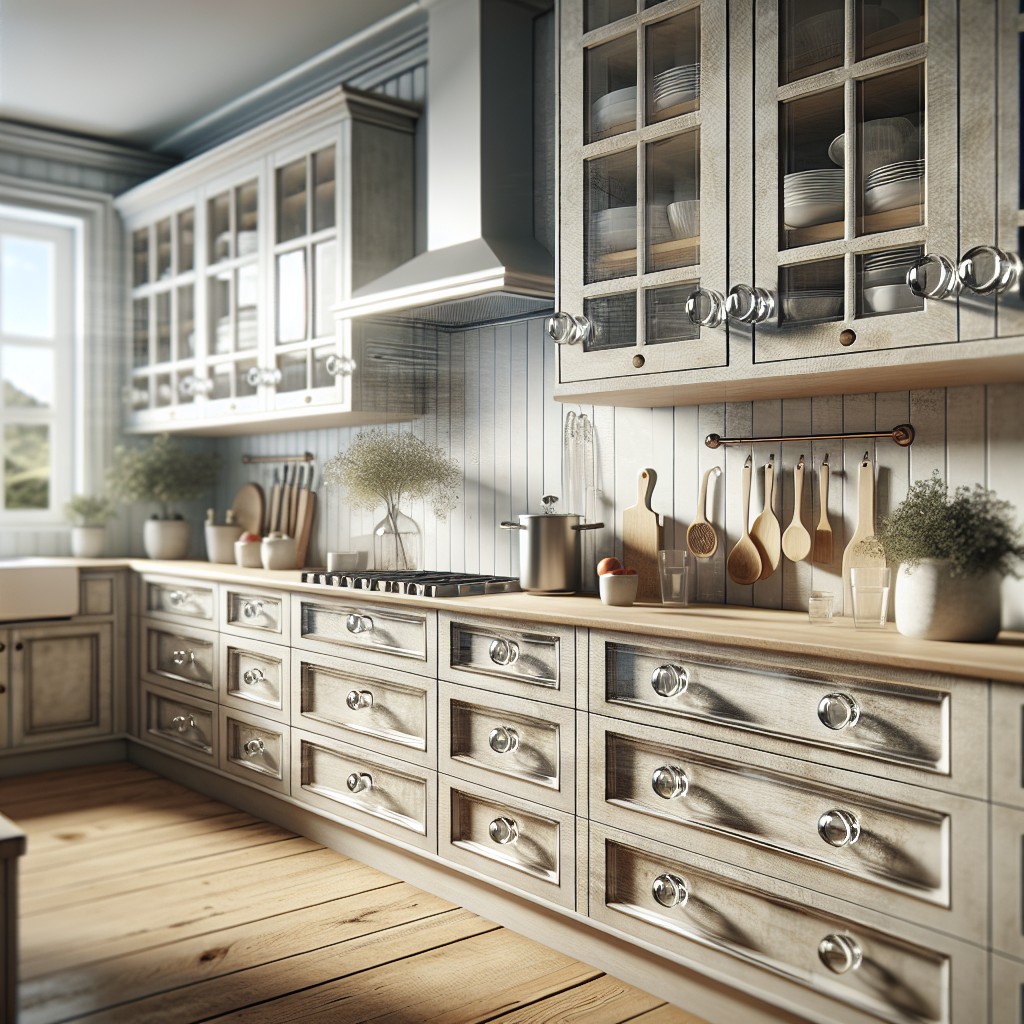 For a seamless integration of hardware and cabinet design, opt for these stylish knobs. Their transparency gives an illusion of invisibility, which does not interfere with the visual continuity of the cabinetry. The modern appeal of acrylic material is also unarguable. Plus, these knobs are easy to clean and weather well, making them a durable choice.
They work great not just with white or light-coloured cabinets, but with a variety of other shades and textures as well, allowing for an adaptable aesthetic. This maintains your kitchen's farmhouse charm while giving it a contemporary spin. These knobs offer the perfect symmetry of function and style.
Contemporary Triangle Copper Handles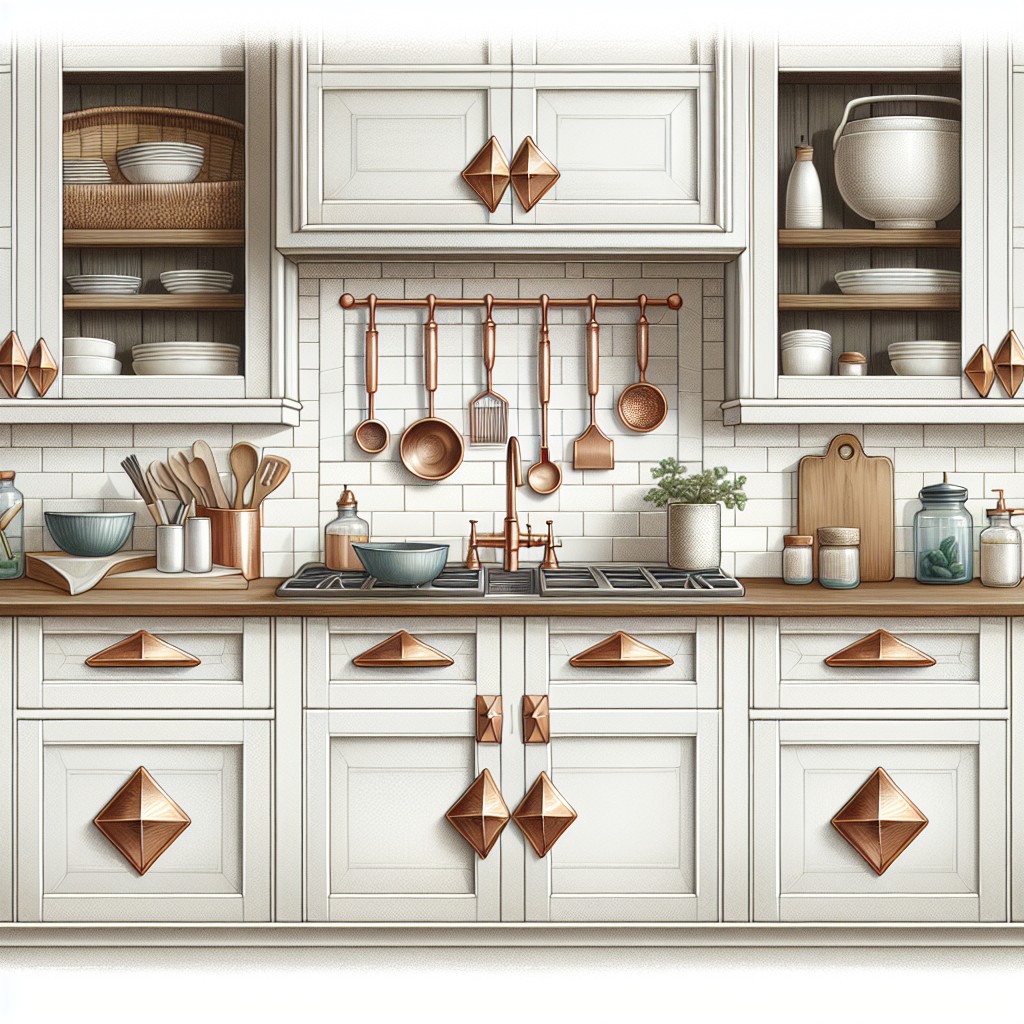 Switching to these distinct, geometric handles can introduce an on-trend contemporary design to your kitchen. The triangle copper handles blend modern shapes with traditional materials, merging the distinct elements of the modern farmhouse aesthetic.
Below are some points to consider:
Visually Intriguing: Their unique triangular shape provides visual interest and serves as a focal point among the more traditional rectangular and square cabinetry.
Durable Material: Copper is known for its durability and rust-resistant properties, making it ideal for kitchens.
Patina Possibility: Over time, copper develops a patina, enhancing the rustic charm of your kitchen.
Improves Accessibility: The larger handhold of these handles makes them easier to grasp, providing more comfort and ease in use.
Mix and Match: Try pairing them with other copper accents in your kitchen like pendant lights or a range hood for a coordinated look.
Remember, even the smallest changes in hardware can deliver a significant visual impact and create an inviting kitchen atmosphere. So don't underestimate these triangle copper handles; they may be just the upgrade your kitchen needs.
Twisted Rope Gold Cabinet Pulls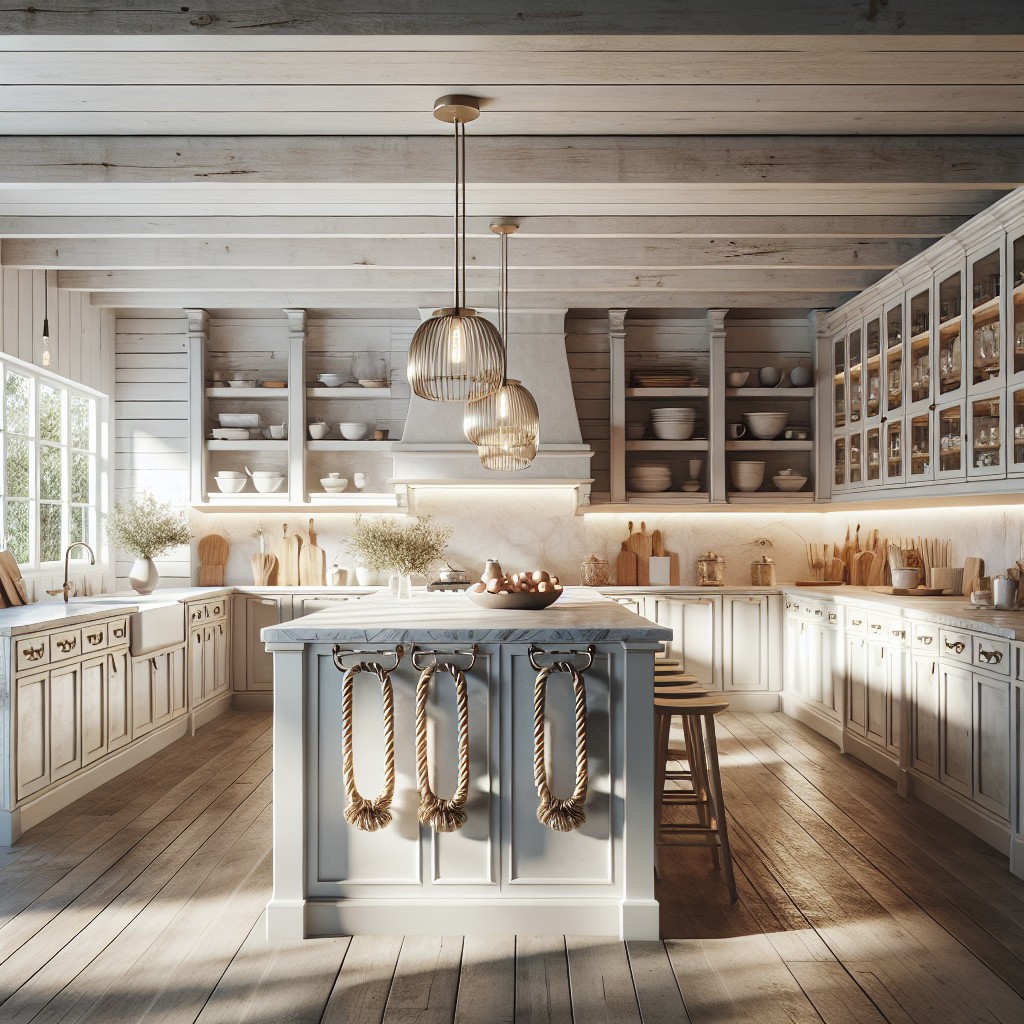 Featuring a delicate and intricate design, these pulls add a touch of sophistication to your farmhouse kitchen. The gold finish lends a dash of luxe without going overboard, keeping true to the farmhouse aesthetic.
Despite their ornamental appearance, they're made from hardy materials, making them durable and long-lasting. The twisted detail of these pulls gives your cabinet a unique, almost nautical feel. They're just the right mixture of functionality and style, sure to become a conversation starter for guests in your kitchen.
This remarkable blend of appeal and function makes twisted rope gold cabinet pulls a worthy consideration. Ideal for those seeking a modern twist on a traditional aesthetic, this hardware offers a blend of gold's timeless charm and a distinctive design that's eye-catching yet subtle enough to blend seamlessly with your kitchen décor.
Smooth Wooden Cylinder Drawer Pulls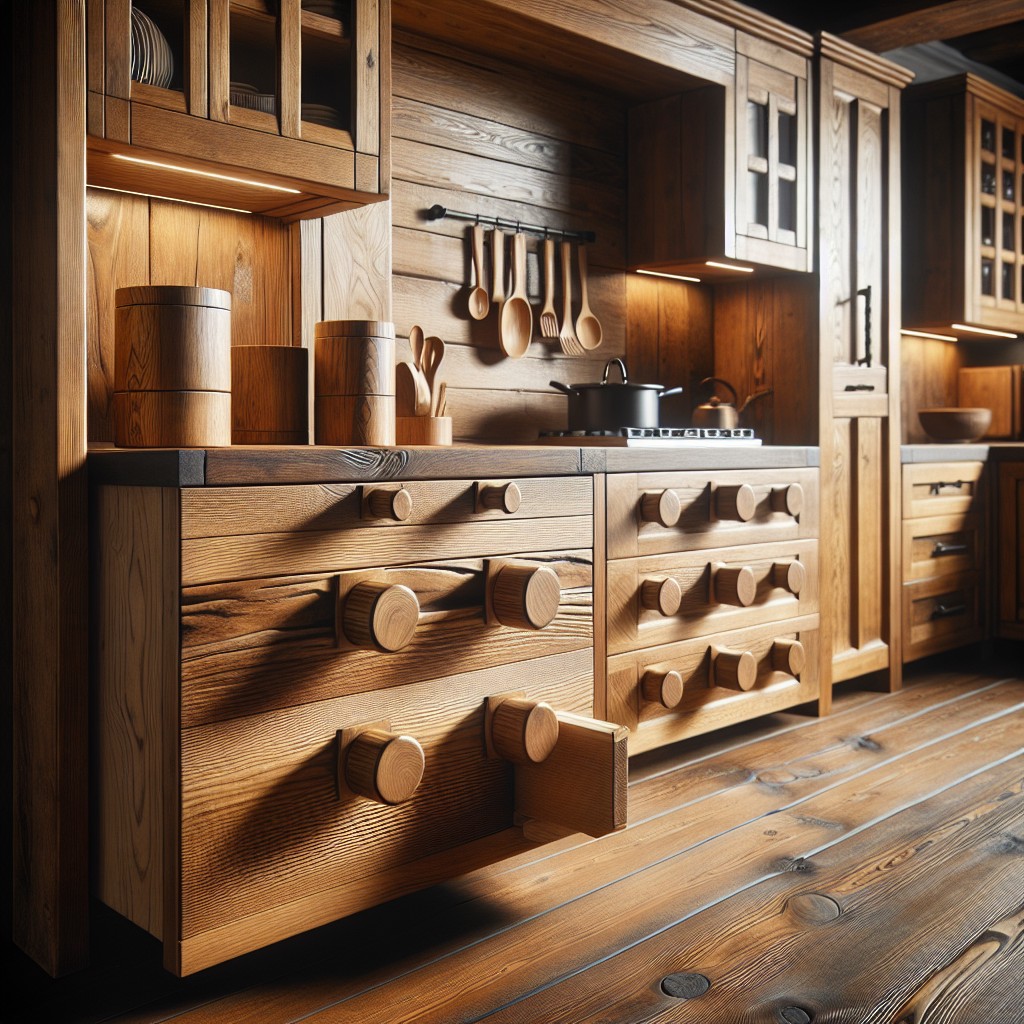 Perfect for the farm-to-kitchen vibe, these simple yet elegant pulls add a natural touch. With a variety of woods to choose from, you can easily match or contrast them with your cabinet color.
Hardwoods like oak, mahogany, and walnut offer durability and a rich look. They deliver a warm, inviting feel that's quintessential farmhouse.
Moreover, their unassuming style creates a cohesive, minimal appeal that proves less truly can be more.
Classy Glass Dome Knobs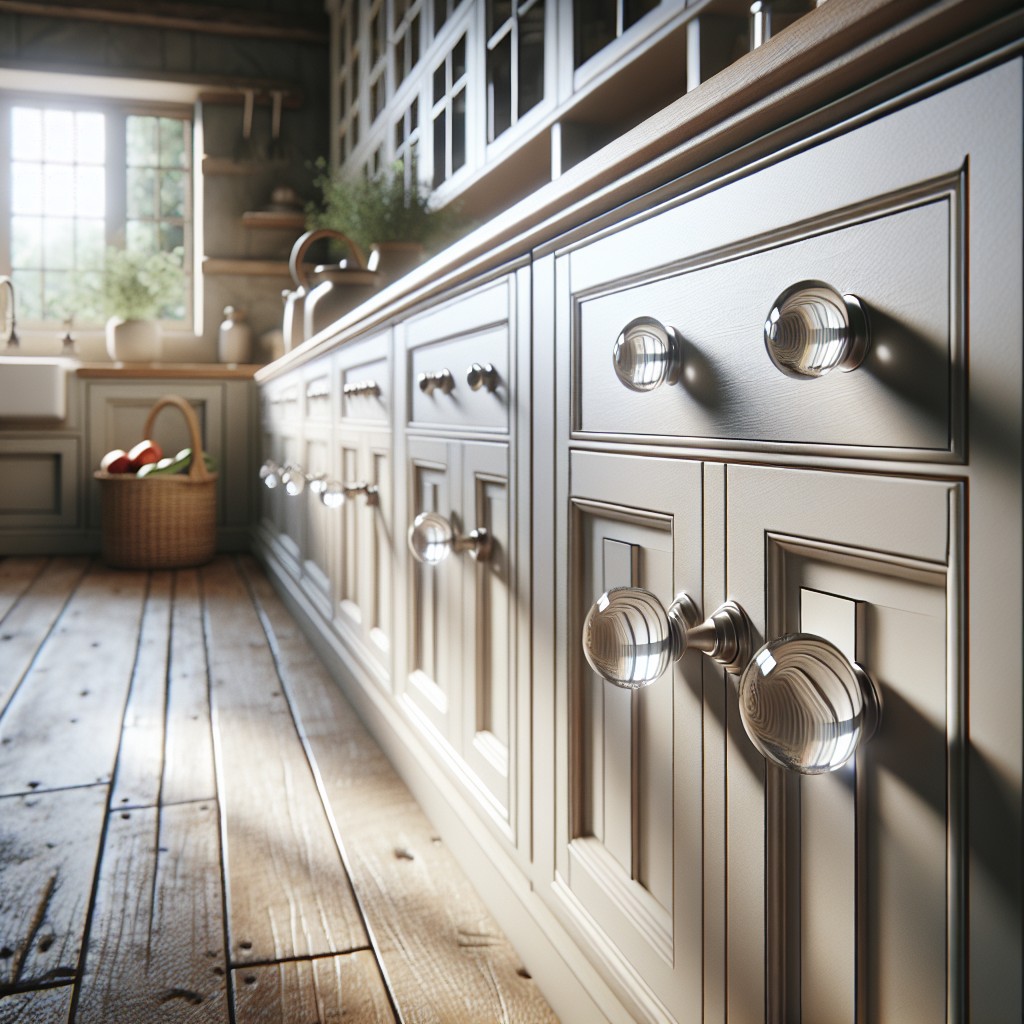 Long celebrated for their timeless elegance, glass dome knobs are a fine choice that offers a crystal-clear nod towards sophistication. They come into their own when illuminated by sunlight, casting an array of flickering dots around your kitchen to mesmerizing effect.
1. Elegance: Their polished surface and transparent nature offer a clean, refined aesthetic that blends well with just about any color palette.
2. Versatility: Pairing equally well with dark or light cabinetry, they add an instant upgrade to your kitchen.
3. Durability: Despite their fragile appearance, these knobs are sturdy and long-lasting, bringing beauty to your space for years to come.
4. Maintenance: With an easy-to-clean surface, keeping these knobs smudge and fingerprint-free is simple.
Choosing this type of hardware not only adds an upgraded aesthetic to your kitchen but also contributes to an airy and bright space. With each knob serving as a prism, you're sure to have a tiny rainbow when the sun decides to peek in!
Intricate Pewter Door Hardware With Tree Motifs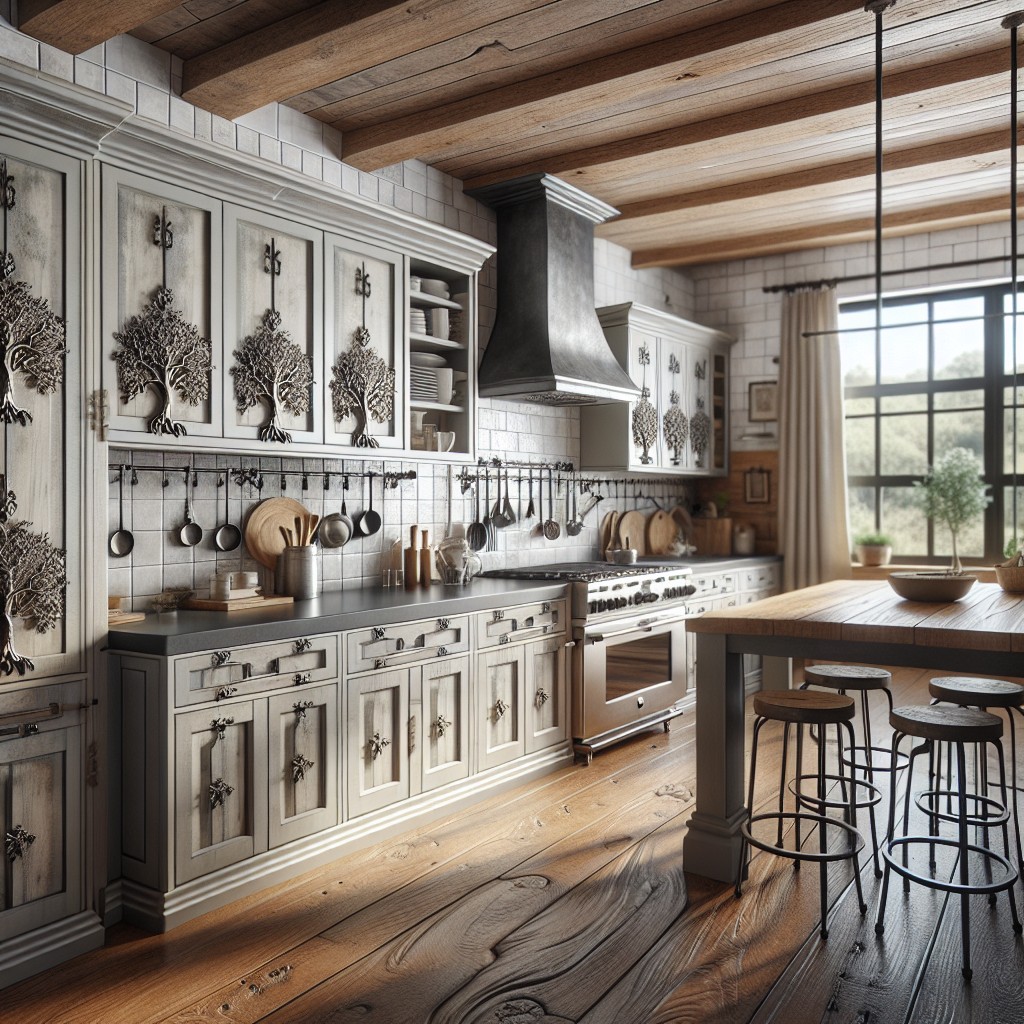 With nature often serving as a muse in modern farmhouse design, it's natural to gravitate towards hardware that incorporates rustic motifs. These door fixtures, rendered in durable pewter, bear beautifully intricate tree patterns, transporting the outdoors inside. They add not just function but also artistry to your kitchen cabinets.
Here are few aspects that set them apart:
1. Durable Material: Pewter, a silver-toned metal, is known for its strength and lasting quality. It's resistant to wear and tear, making it an excellent choice for kitchen hardware.
2. Unique Motifs: The detailed tree designs bring an element of nature to space, each knob serving as a small piece of artwork.
3. Versatility: Despite their detail, these fixtures blend seamlessly with a variety of color schemes and wood finishes, given their neutral tones.
4. Easy Installation: Like most knobs, you can effortlessly fit these into your cabinet doors, given their standard size screw requirements.
5. Highlighting Theme: They are perfect accents to emphasize the modern farmhouse aesthetic, balancing between rustic charm and contemporary chic.
Vintage Patina Copper Pulls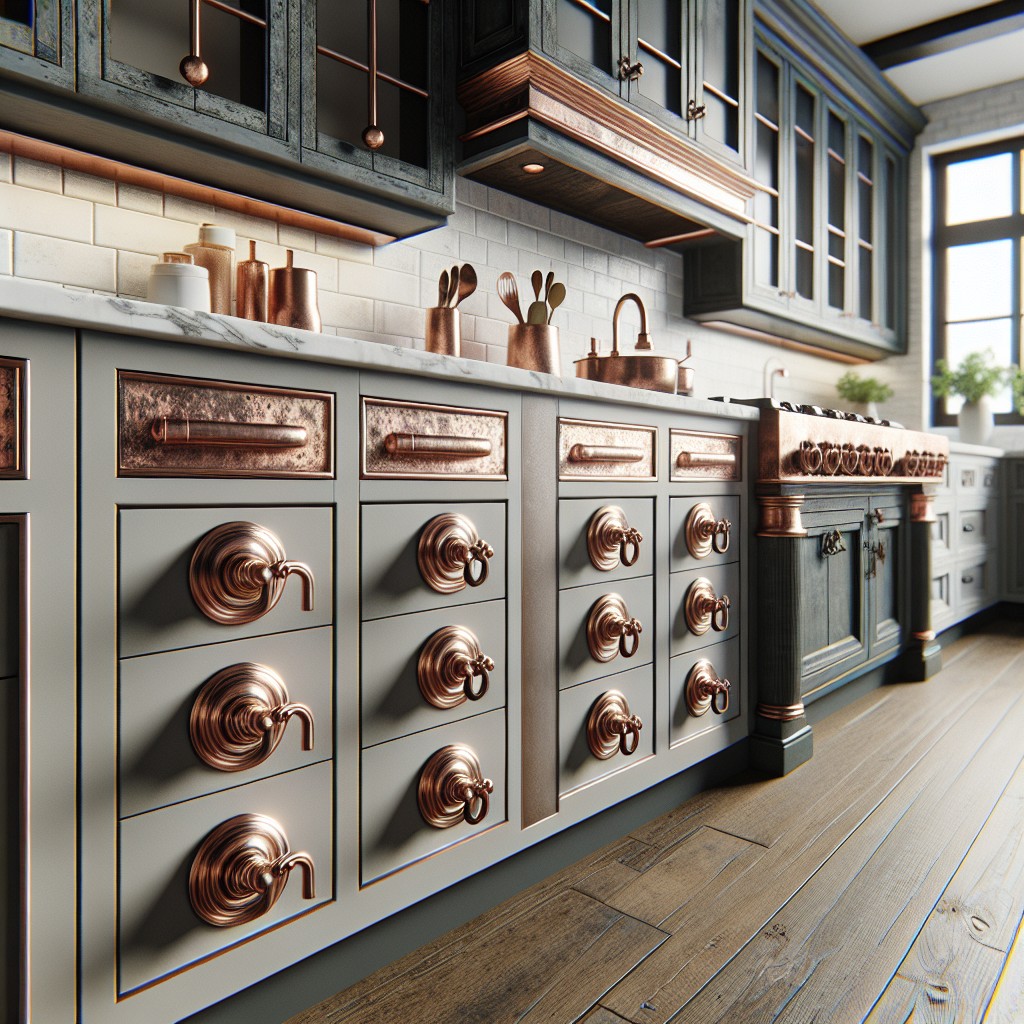 These pulls offer a unique and noteworthy look. Originally polished and shiny, their appearance evolves over time due to the process of oxidation, resulting in a rich bluish-green patina. This feature turns the hardware into a living part of your kitchen, subtly changing and maturing with each passing day.
Besides bringing a hint of antique charm, they also contrast superbly with stark white cabinets, creating a visually appealing dichotomy. Benefiting from the sturdy nature of copper, they're capable of withstanding daily use and still remain aesthetically pleasing. Thus, they serve both functional and decorative purposes.
Do keep in mind, these pulls may require periodic maintenance to keep them in top form. However, the effort is worth it, given the distinctive character these hardware pieces add to your kitchen.
Equestrian-themed Leather and Metal Pulls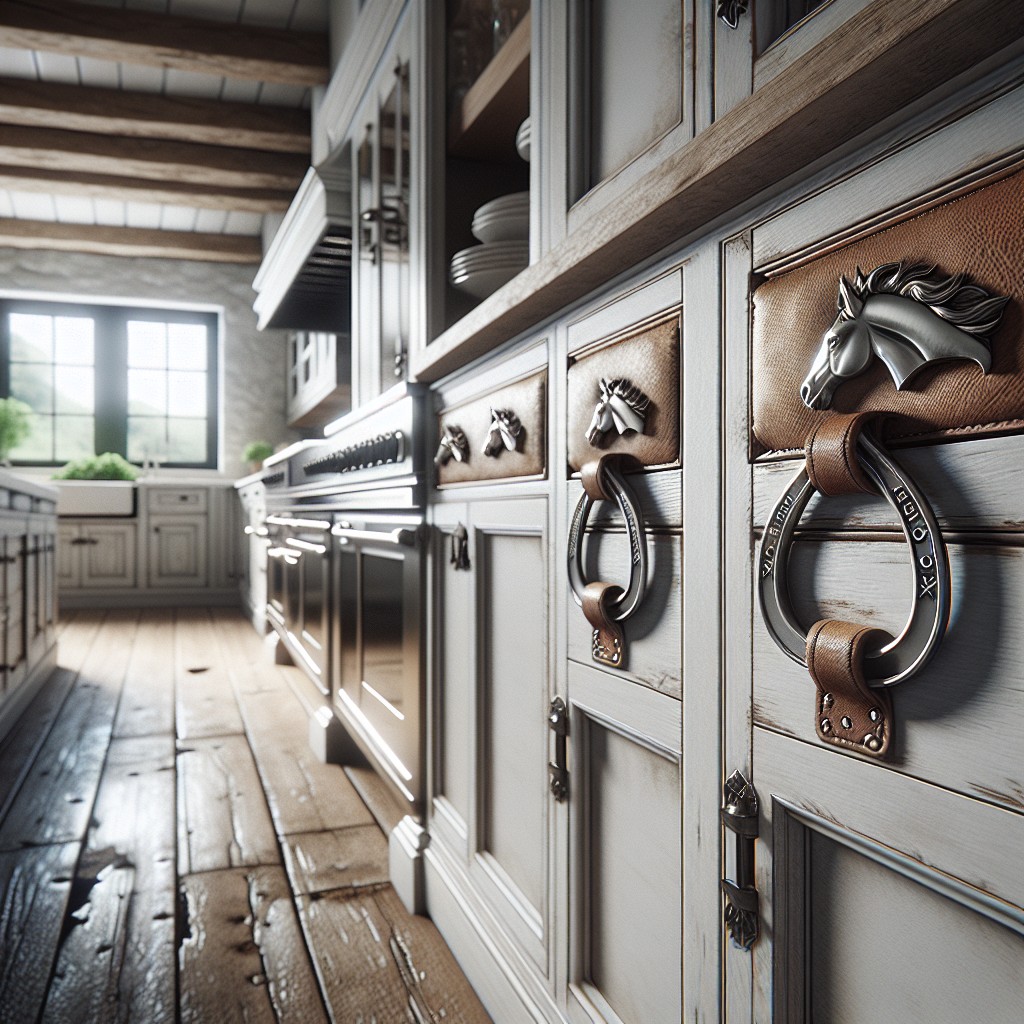 Playing on the strength of contrasting materials, these pieces present an engaging blend of robust metal with the soft, rich texture of leather. Designed with inspiration from horse reins and various equestrian equipment, the style delivers an earthy, rustic feel.
The leather used is often aged or distressed, further enhancing the vintage imagery associated with the farmhouse aesthetic.
It's the epitome of incorporating natural elements in decor, boosting the overall warmth and coziness of the kitchen.
Available in various lengths and styles – from rich tans to deep mahogany tones – the leather can match any decor palette.
Meanwhile, the metal elements, be it brushed nickel or antique brass, offer that much needed rugged character and durability.
With minimal maintenance, these pulls can be a long-lasting, unique addition to your kitchen, bringing in a charm that's characteristic of the countryside lifestyle.
Glistening Diamond-like Cabinet Knobs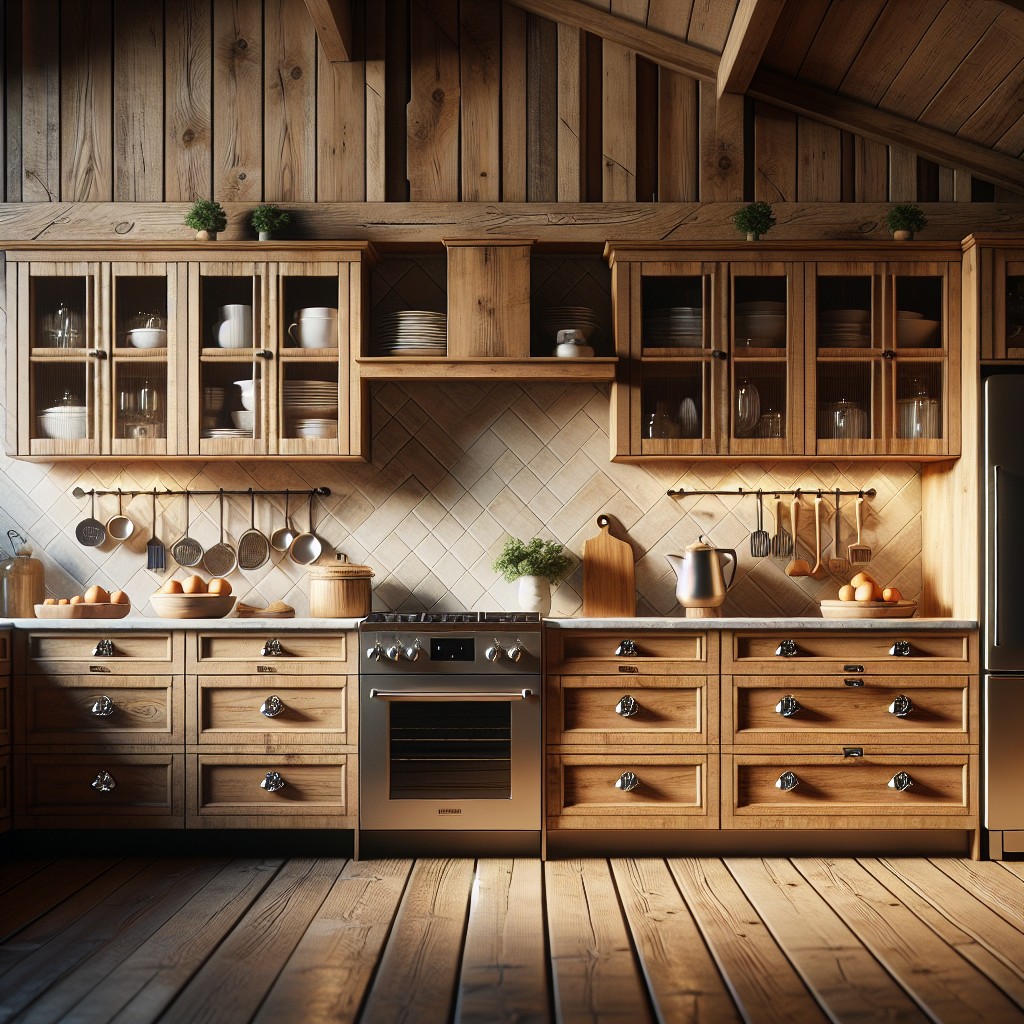 Offering a touch of elegance and luxury, these knobs catch and refract light beautifully, mimicking the glamour of real diamonds. They add sophistication to the usually sturdy and rustic farmhouse style.
Here are some points to consider:
Variety: While the base is often made from cut glass or facetted crystal, the bases can be chosen from a variety of metals like silver, chrome, or brass, catering to individual tastes and existing décor.
Durability: Despite their delicate appearance, these knobs are robust and long-lasting. They can withstand regular usage without losing their shine or suffering from scratches.
Versatility: Easy to clean and maintain, they can be used on anything from drawers to pantry doors, adding a consistent sparkle throughout your kitchen.
Impact: This hardware choice creates a statement, often becoming the focal point in the kitchen. They lend an unexpected and delightful polish to the overall farmhouse aesthetic.
Accessibility: Available at various price points, it's possible to include this luxe accent in your kitchen without significantly stretching your budget.
Remember, a small change like swapping out cabinet hardware can drastically elevate the entire look of a kitchen. A bit of sparkle never hurt anyone!
Brush Stroke Printed Ceramic Knobs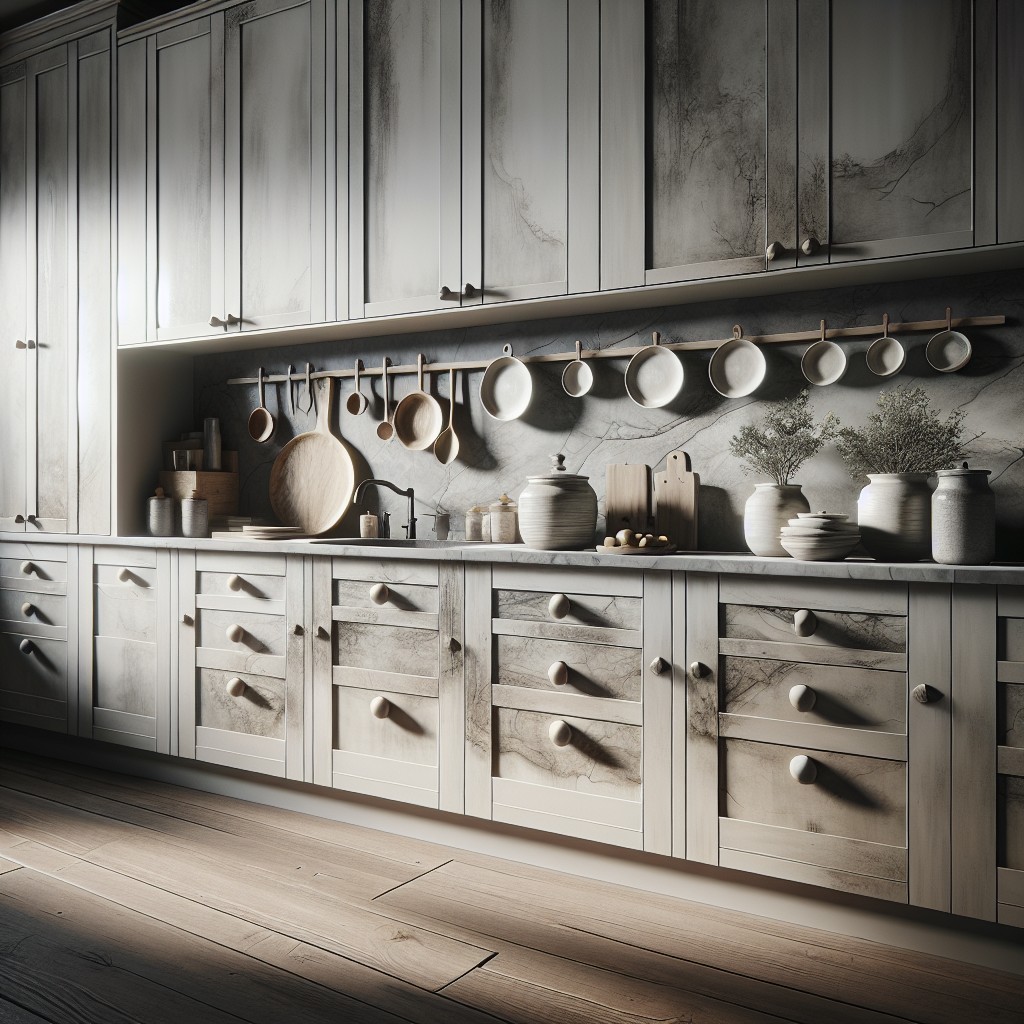 Striking a balance between traditional and modern style elements, these knobs offer a great way to express artistic individuality. What sets them apart is the distinct, handcrafted brush stroke design that encompasses various color palettes.
This breathes new life into your kitchen cabinets, giving them a unique, hand-painted feel. Depending on your aesthetic preference, you can opt for softer hues for a subdued look or bold, contrasting colors to make a statement.
They are easy to install and will bring a dash of creativity to your modern farmhouse kitchen. Furthermore, their glazed finish ensures durability, keeping them glossy and attractive for years.
Well-suited for a variety of cabinetry colors and styles, they are great for those seeking an artistic touch.
Charming Crystal and Gold Cabinet Handles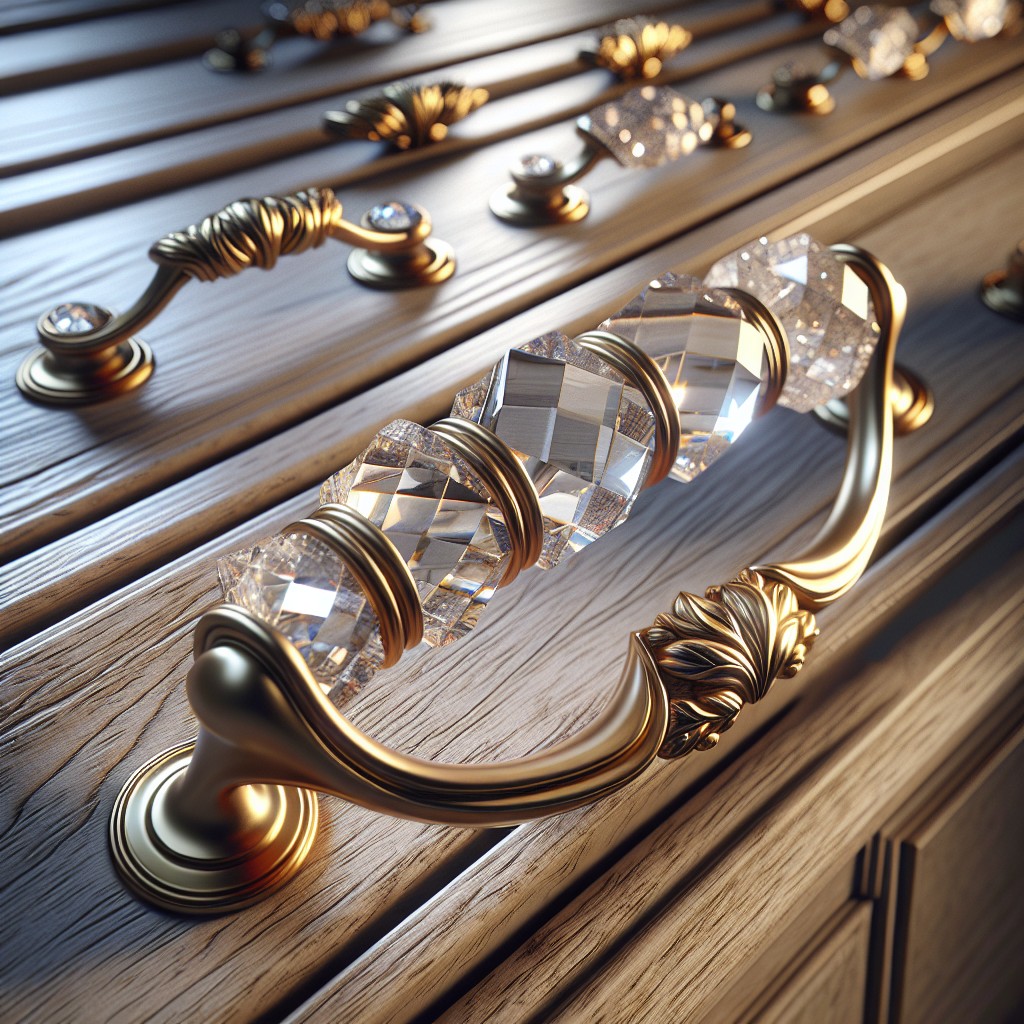 Adding these resplendent handles to your kitchen cabinetry can instantly elevate the room's aesthetic. Known for their luxurious appeal, they generously contribute to the farmhouse charm by pairing rusticity with sophistication. Here's why you should consider them:
1. Visual Appeal: The shimmering crystal coupled with gold accents make these handles an eye-catching feature in the kitchen. They add an unexpected but delightful element of glam to the otherwise rustic decor.
2. Durability: Despite their delicate appearance, these handles are tough. The crystal and gold elements are designed to withstand regular use without losing their brilliance.
3. Versatility: Their design allows them to blend well not just with farmhouse style but also transitional or classic styles. This makes them a future-proof investment for your kitchen.
4. Easy Installation: Most come with required screws and are designed for easy installation, making it a perfect weekend DIY project.
Remember, while their aesthetic charm is undeniable, make sure they align with your overall decor theme and functionality needs.
Ideas Elsewhere
Continue reading: