Last updated on August 13, 2023
These are the kitchen lighting trends of 2022. We are already seeing them all over Instagram, and we will continue to see them well into the next year. Let's review them.
Two key ideas influence the current kitchen lighting trends. One is dividing the kitchen into task areas (each having its own lighting) — that's why we see smaller lighting fixtures as pendants and sconces trending. The second influence comes from personalization and brings styling such as industrial, farmhouse, and even cottagecore.
Technology is making its way to kitchen lighting, too, and we're making it smart together with the rest of our homes. Lighting that you can control with your smart devices, changing moods by the time of day and your activities.
But also, the increased use of LEDs makes lighting the darkest corners of the kitchen possible. Under-the-cabinet lights are nothing new, but we now light up inside the cabinets and over them.
So in this article, we will review each trend in detail and even offer specific examples of how they can be implemented. Using these, you can create an Instaworthy kitchen and make it stick.
We have included some shopping links too. These links earn a commission for our site but cost you nothing and provide you with convenience.
What's Inside
Zone Lighting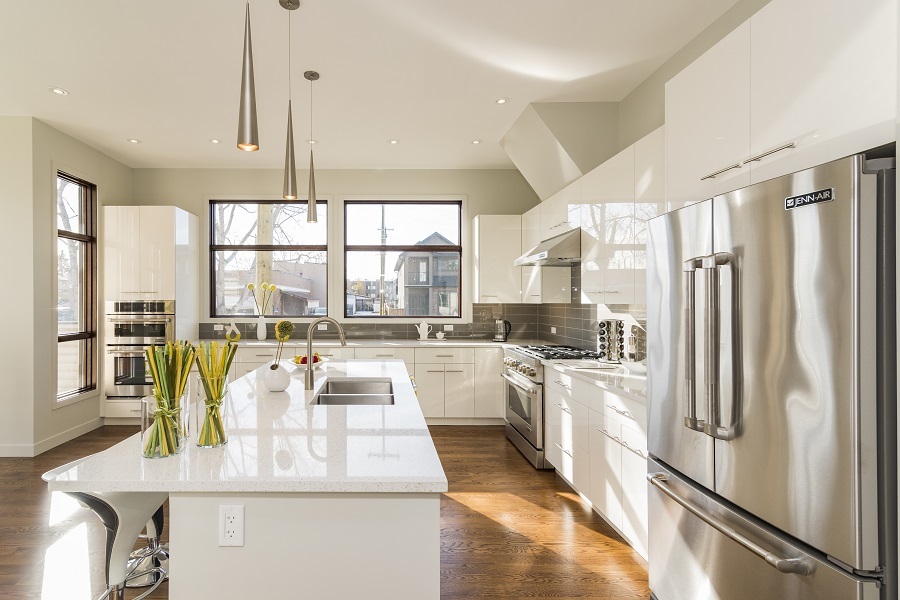 If your family does a lot in the kitchen and you must cook every meal there, you may find it difficult to reach other rooms of the house that you use for different purposes.
The good idea is to plan zones and layers of illumination in the room depending on what you are planning on doing: reading, homework, cooking, or socializing.
The kitchen has many activities that are done inside the room at any given time: from homework to cooking. In order to make sure just one room can provide all these things, it is best to divine lighting into zones and layers.
Pendant Lights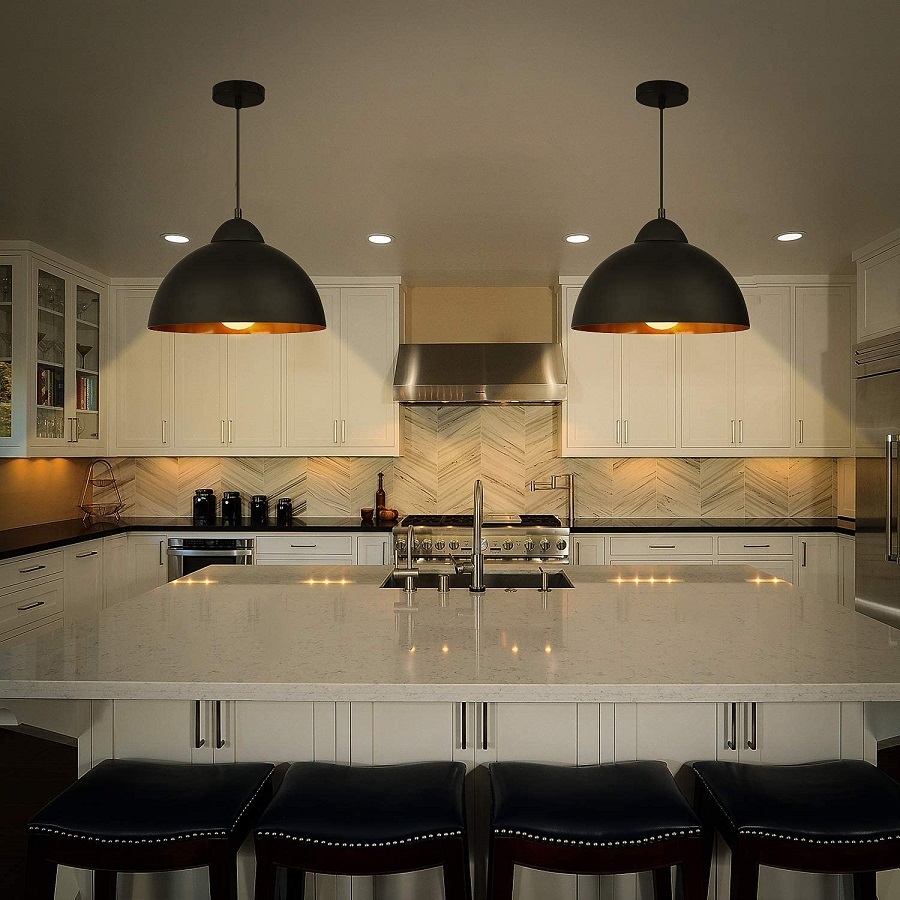 Pendant lamps often are decorative in nature and produce useful pools of both task and general lighting, but their particular shape can depend on the type of design.
Mini pendants are a popular trend to replace the traditional kitchen light fixture. With many different styles to choose between, you can't go wrong with whatever type of pendant you find appealing.
Today's most popular trend is using mini pendants instead of a traditional kitchen island light fixture due to its versatility in the number of styles that are available. With so much variety, it's hard not to find one that suits your needs and fits your taste.
Under Cabinet Lights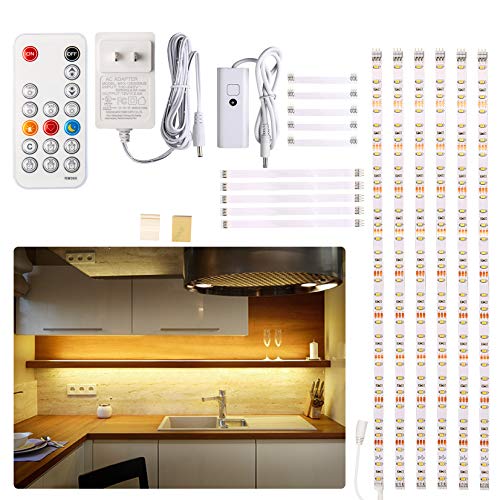 Under Cabinet Lights: Your Secret Weapon in Kitchen Lighting. If you have any renovations done in your kitchen, under cabinet lighting will make them stand out and be worth your money.
Kitchen lighting trends are changing. There are many different forms of kitchen lighting, including under cabinet lighting which is a good source of task lighting and also helps with the kitchen countertops.
Many different types of lights are available in energy-efficient options, LEDs for example which can be placed anywhere that there is light needed.
Kitchen lights come in many different types, including under cabinet lights and they provide a great option for task lighting as well as an important fixture for the kitchen's counter.
Track Lights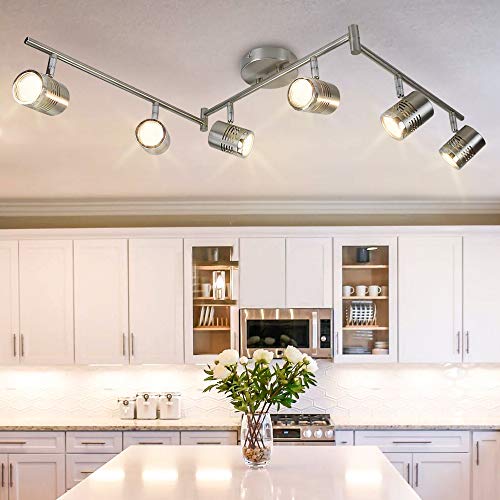 Track lighting is a popular option as overhead kitchen lighting because of its energy efficiency and because you can position the lights however you need.
Recessed Lights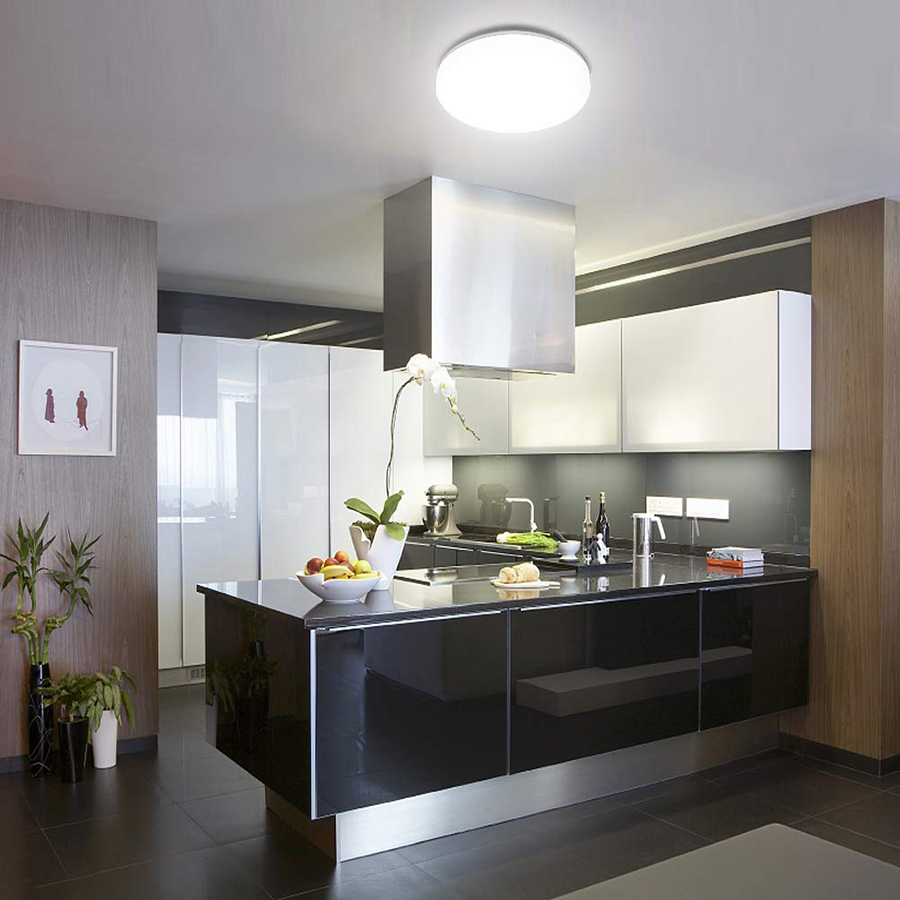 Downlights are usually installed over the stove and sink areas to provide adequate task lighting for cooking or cleaning. When you add new lights to these places, not only is it functional but it also looks nice.
Chandelier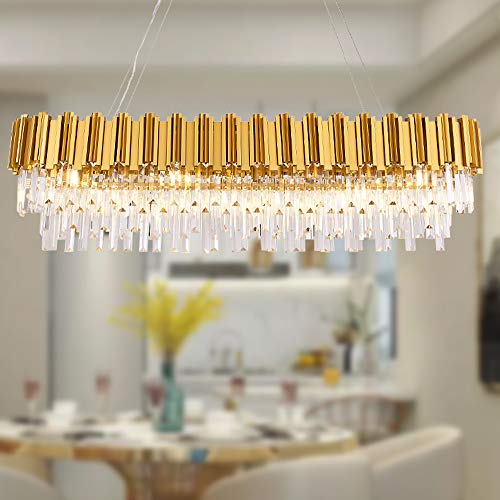 A pot rack chandelier is a type of light fixture often found in kitchens. This type of chandelier, which provides the added benefits of storage space, is most often painted shades of earth tones or occasionally colored glass. More contemporary color palettes like pewter and satin nickel are seen as well.
Accent Lighting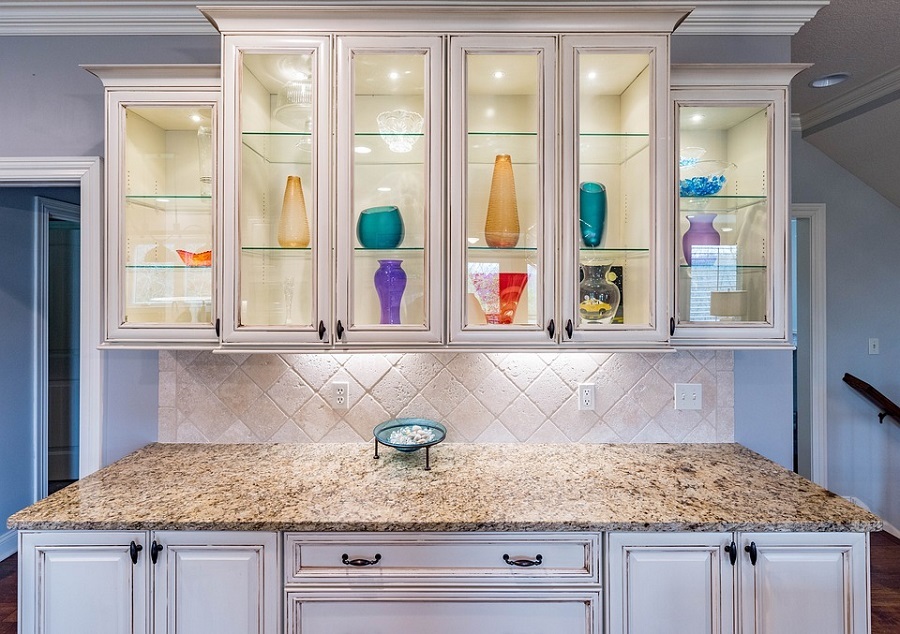 Kitchens with accent lighting are popular amongst homeowners. Some examples of this would be lights installed inside glass-front cabinets and recessed lighting that spotlights the countertops.
These types of lights can also be found under the cabinets or between shelves in order to highlight certain surfaces, such as a sink with marble countertops.
By installing accent lighting, homes can show off their special stemware and dishes which they have stored somewhere in the kitchen or on display.
Lights Above Cabinets
Above-cabinet lighting is used in this modern kitchen because the lines and the open layout are both complementary to it. There is no need for torchieres, fancy fixtures, or pendant lights when all you need is overhead light for maximum illumination in a space. In this kitchen, there is only one fixture that runs across a bank of cabinets on the far wall but still illuminates the area well.
Wall Sconces
Kitchen walls made from materials such as brick or stone are a more conventional choice than many would think. However, instead of having ceiling-mounted recessed lights in the kitchen, more people are opting for flush mounts to be installed on the wall around the sink. This is due to the trend of "industrial chic" kitchens but can be used in any style of kitchen space whether old-fashioned or modern.
Flush mounts can vary in shape and size but they make sure that the light bulb is kinder to both your eyes and air quality due to their placement higher up off of the ground and want prolonged direct contact with food so it's easier on your eyes when cooking.
If you want less contrasting areas following installation- add sconces for task lighting next to your favorite activities-these rooms that do not need matching finishes and keep everything cohesive by using finishing within the same general style (industrial, contemporary, glass).
Industrial Lighting Style
Industrial style is a term used to describe the way that kitchens look and feel. These kitchens are made with industrial materials such as metal, raw wood, and concrete. Ceilings are usually high, but other aspects of design often have more of a contemporary style.
Mid-century Modern Lighting Style
For the past few years, Deco-style (the 20s to early 70s) and Mid-century modern (post-WWII) have been favorites in interior design. But it has been difficult to find fixtures set in these styles because it has mostly been modern or antique. The sputnik chandelier often comes up when talking about this period.
The two styles are continuous, from the 1920s to the early 1970s. They both like geometric designs and clean lines with a balance between form and art. Deco lighting is usually a sharp line with striking geometry. Mid-century modern take a favorite of naturalistic design that also works well functionally.
Smart Lighting
The use of smart technology in homes is rising. This includes setting the light to turn on at a specific time so it appears as if someone was home even when they're not. The covers can be sleek and modern to appeal to renters, are affordable since you don't need any items besides the cover, and have ease of access with smartphones.
FAQ
Are pendant lights going out of style?
Pendant lights are not going out of style anytime soon. They are established as a timeless kitchen lighting choice. Pendants are ideal task lights and they come in a vast variety of styles. It makes them very versatile.
Can you have a pendant light in the kitchen?
You can have a pendant light in a kitchen and you should. They are ideal for kitchen islands, kitchen bars, and dining areas.
Continue reading: