Last updated on August 13, 2023
These are the best kitchen faucet brands this year (2021) that range from affordable to high-end kitchen faucets. Use this guide to make the right choice.
Kitchen faucets had come a long way since the days when the only option available was the sink that came with your home. Now, you have access to an array of kitchen faucet styles and brands that you choose from, with prices that range from less than $100 to more than $1,000. If you are looking for a new kitchen faucet, you should start by determining what type of faucet you need to replace and whether you should replace it with a pull-down faucet, a touch-activated faucet, or a spray faucet.
There are many faucet brands out there, so it is hard to know which one is really the best kitchen faucet. We will cover the top 12 brands next.
What's Inside
Delta
When I go to customer review forums, they seem to say that Delta is one of the top brands for faucets. They are usually best since they've come back from a downfall. It seems that after many years of competition, it's safe to say that Delta has won hearts and is among the top faucet brands.
Delta Faucet is a company that makes kitchen faucets that are known for their quality, design, and customer support. They offer Touch2O designs, which allow one to turn the water on or off by just touching it. They have also invented many neat solutions over the years, and they cover all of their kitchen faucets with a lifetime limited warranty.
Moen
Moen offers a wide line of kitchen faucets. One of their innovations is the MotionSense design, which provides clean hands-free control and accurate activation. Moen also offers standard and traditional designs (such as wall mount faucets) as well as brands with, especially, high durability faucets. Due to improvements in the water industry, Moen's kitchen faucets have a lifetime limited warranty against defects in workmanship and materials that finish that appear within the useful life of the product.
Kohler
First, it's important to know that Kohler has been around for many decades. This means that they understand customers' expectations which are usually normal functions with quality and not new expensive technologies. Kohler's faucets have three attractive features: powerful spray, docking, or promos with light braided hose and ball joint sprayer. It also includes a lifetime warranty, and the customer service is well-regarded, but there is one trick in their warranty policy.
Pfister
Want a simple, cost-efficient kitchen faucet? Consider Pfister's selection. In 1910, Pfister was started and since then has grown to be considered one of the top choices in plumbing products for homes. From our first look at the website, it appears that they focus mainly on lavatory equipment as well as kitchen faucets. This is a good thing because their kitchen category is second on our list after their lavatory specialization. Their style focuses more on pushing out the basics.
Kraus
Hidden within the middle-of-the-road Kraus Kitchen Faucet brand (Kraus) is a boatload of possibilities. For this article, we will focus on KR1102CH built at the end of 2015 and sold at an average price point ($139.95) on Amazon with features as seen below: Hidden beneath its unassuming exterior, Kraus KR1102CH comes with many features to complete any kitchen setting.
Hansgrohe
Some of the products that Hansgrohe offers include an option for airflow water and cool start energy efficiency. Customers can choose from the pull-down or side spray. You should look at their eco-smart webpage to find helpful tips for your home, such as how you use water and energy in your home. Hansgrohe offers an airflow option that mixes water with air for less waste, and CoolStart energy-efficient reduces hot water usage to help save money.
The German company Hansgrohe is recognized for its innovation in eco-friendly products, and their EcoSmart range is the most sophisticated. Unlike cheaper kitchen faucet brands, this range puts a large emphasis on conserving water and reducing energy use.
AquaSource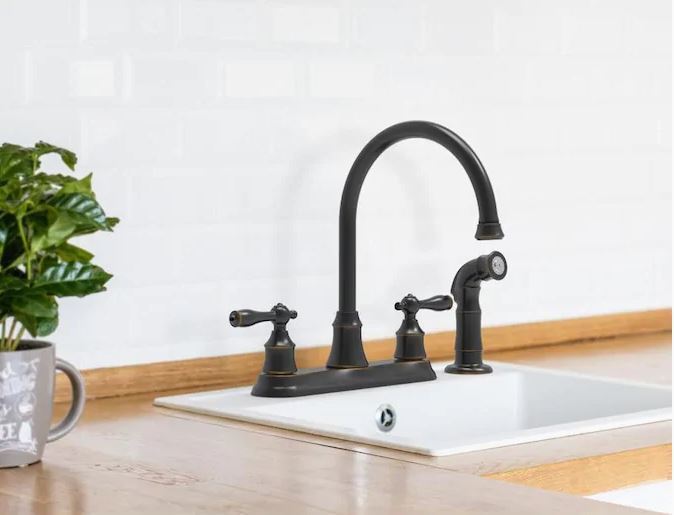 AquaSource is a Lowe's brand that offers kitchen faucets, sinks, toilets, and more. The faucets are overpriced, but these items feature WaterSense technology, and the products have warranties. AquaSource products use all-ceramic discs to help prevent leaks.
Mirabelle
Mirabelle offers a range of kitchen faucet models, from around $250 to over $3,000. The cheapest models still offer pull-out hoses so that you can use them anywhere in your kitchen.
American Standard
You can get an American Standard faucet for as little as just over $100. American Standard faucets are the best on the market for their reasonable prices as well as durable qualities. They come in a variety of styles and aren't fancy but work just as intended.
Glacier Bay
In a budget-minded market, Glacier Bay is one of the most affordable in terms of both price and warranty. It's an excellent choice for a rental or vacation property which prioritizes function over form and style.
Vigo
Many people enjoy using Vigo faucets because they are a modern way to enjoy the kitchen. They only offer silver and black faucets, but these colors work well with the modern design and style. We recommend their two-toned Edison pull-down faucet as well as any of their matte models–you won't find anything like them anywhere else! If you are planning on being busy, then get a Vigo faucet!
Premier
Hungarian Single-Handle Bar Faucet Premier has many styles with different finishes, but my favorite style is Hungarian. This type of faucet is wonderfully crafted with a smooth lever handle and comes in two models the Charlestown and the Ipswich. These are both nice enough to buy for your house, and they come in many beautiful, attractive colors, including Parisian bronze, Swiss gold, Arts & Crafts copper, Provincial.
Continue reading: