Last updated on August 13, 2023
In short, you should spend on a quality kitchen faucet how much you can afford. It's true what they say; you only cry once when you choose to pay for quality.
But you can also spend as little as $50 on a basic kitchen faucet and still get good enough quality. How much you spend really depends on what exactly you need.
If you're following the kitchen faucet trends, be prepared to spend at least $150 on a faucet with a pull-down or pull-out sprayer and a nice brushed nickel finish. If you take it a step further and invest in a touchless or even a smart faucet, be prepared to shell out up to $600.
And finally, there's the luxury aspect that can set you back in the range of $1,500. This includes faucets from luxury brands that have a gold finish if you want. It's totally plausible and no one will judge you for such a splurge (even though you could spend well into six figures on a faucet if you wanted to.)
Is it worth the money? Yes, you can really tell the difference when turning on a faucet that costs $50 and one that sets you back $500. It provides a whole different feel of the water flow — it doesn't splash, turning the handle is even, water starts flowing smoothly and ends so when you turn it off. You really get what you pay for.
Next, we will look more closely into what exactly impacts the kitchen faucet's price and what you need to look for. So let's begin.
What's Inside
Faucet Quality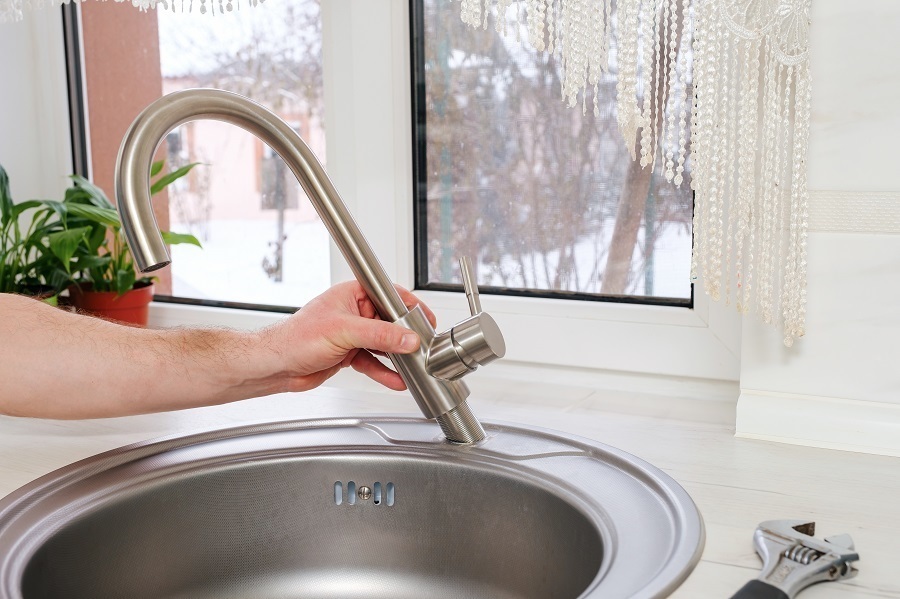 When choosing a faucet, the internal components should be of high quality to prevent leakage and other disruptions, to last a lifetime. When you're choosing a faucet, it is best to look for craftsmanship in the quality and that there can be parts ordered from the company if needed, which prevents any potential problems.
All-metal fixtures were considered the superior choice of faucets for many years because brass with durable and die-cast zinc is less expensive, while chrome-plated plastic is a budget option. However, recently, as cost started to creep down, ceramic disk valves went more popular because they're thought of as extremely reliable, and people now think they produce similar quality.
A valve in a kitchen faucet determines how much water comes out at the right temperature. The four main types of valves are a ball valve, which is simple and provides on-off regulation, a disc valve with two circular sectors that open independently or together, a ceramic disk type which has reliable construction and is the most expensive type of faucet, an all-metal cartridge section which will need replacing if it springs a leak.
Faucet Size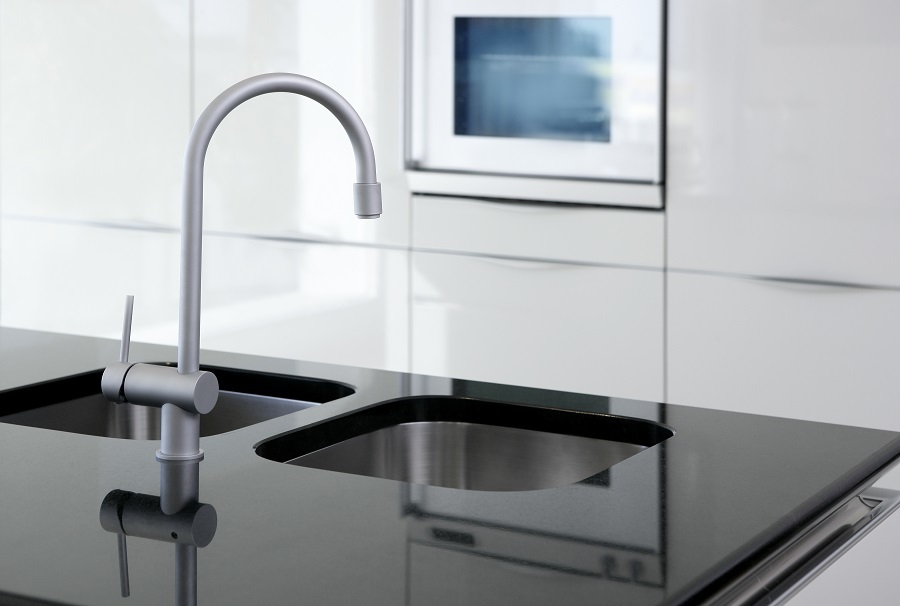 In a kitchen, the scale of the sink and the size of the faucet go together harmoniously. If you have an oversized sink with extra high countertops, you need to find a faucet that matches height and size. The size of your faucet is important because if the water doesn't come out efficiently by being too small or dumps on you when it's too large.
Kitchen faucet size, height, and reach are important for selecting which one to buy. Reach is an important dimension because it measures how far the spout reaches into your basic sink unit.
Some faucets have more holes than needed. If you are replacing a faucet, take the distance from the furthest holes into consideration. You can use decorative escutcheon (deck plates) to plan for these unneeded holes and cover them up if desired.
Faucet Style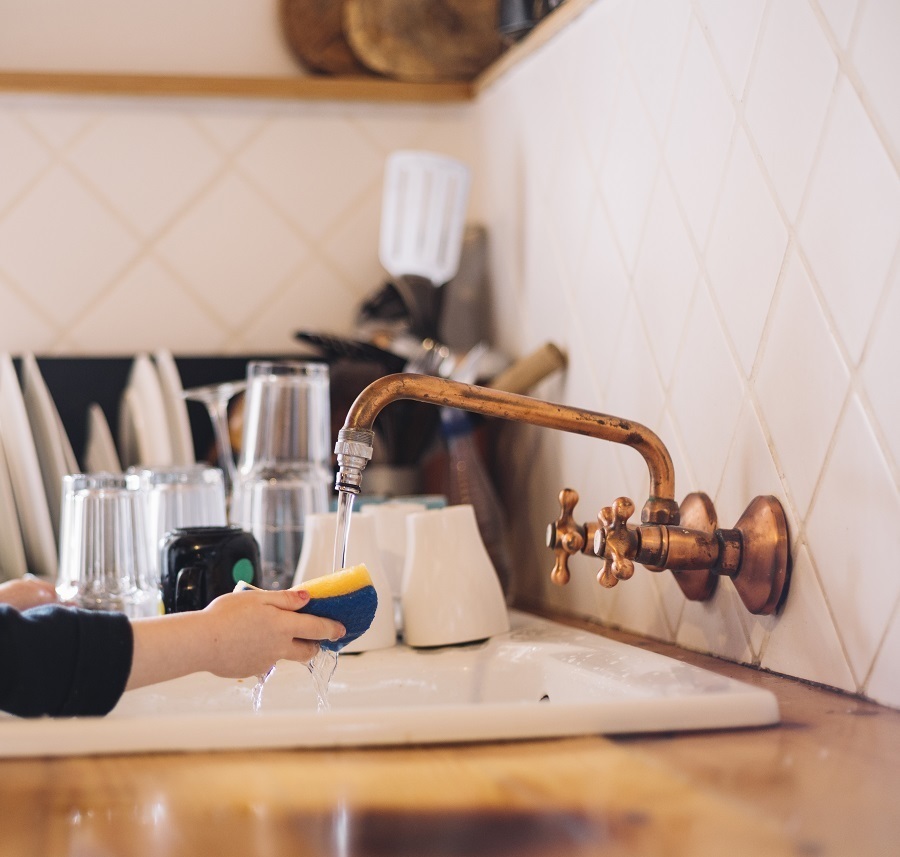 The style of a kitchen faucet will affect the price. The gooseneck faucets are for farmhouse style, long, dramatic arched faucets that can look graceful and sleek for contemporary kitchens, or utilitarian fixtures for industrial kitchens with three holes and no looping curves. The best choice is up to individual preference. The silhouette should match the sink's while selecting materials such as bronze or white metal according to the desired style.
The style of the faucet affects both its appearance and function. Some styles, such as high-arch spouts, allow users to fill and clean large bowls or pots easily. High arch spouts usually come with a matching hand spray for an elegant look or a built-in pulldown or pull-out spray as it is part of the faucet itself rather than a separate piece. This more modern style offers various benefits from an engineering standpoint but may not be aesthetically pleasing, depending on visual preference.
Do you want to dispense hot or cold water depending on what task is at hand? A high arch and single-handed model may fit your needs. Depending on your preferences, a single-handled faucet will have a handle in the spout to control both hot and cold water. If you desire more of a vintage look, then a bridge design may work well with its traditional two handles.
One type of faucet for kitchens has the touch function, where you tap on the faucet to turn it on or off. The other technological leap is a sensor that turns on and off depending on how close to the water the person's hand is. You still have to control how hot or cold you want the water by adjusting a knob found underneath. Finally, you can go as far as controlling your kitchen sink water flow with your voice (using a voice assistant) with a smart faucet.
Faucet Finish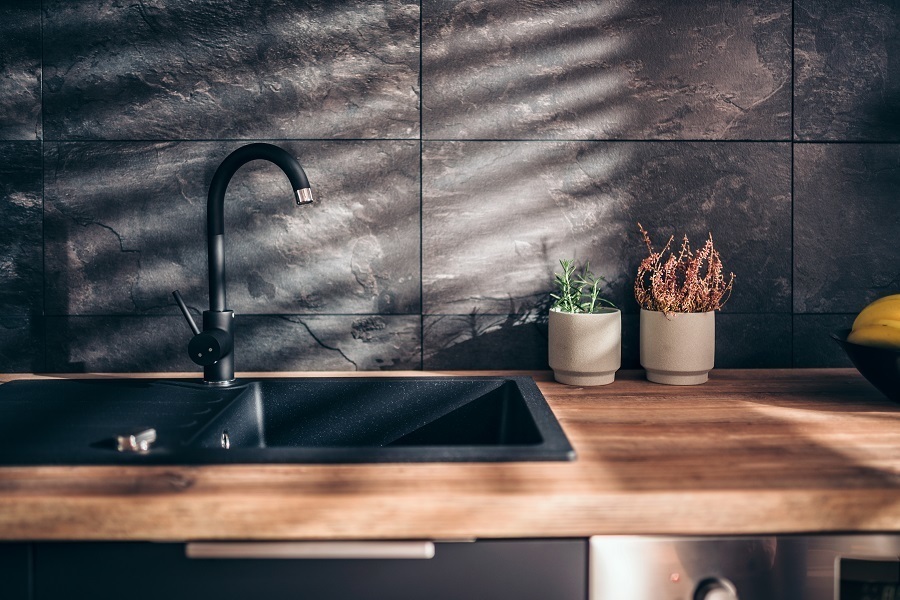 The finish is the aesthetic and protective top layer that gives a material its shininess, luster, color, or patina. The finish on your kitchen faucet could influence the price, with brass being the most expensive while unlacquered brass has been around for a while.
The best type of faucet finish for different styles of homes is the one that won't show fingerprints or watermarks. Polished nickel looks great and is a safe bet for resale. It's also usually the cheapest. Chrome and stainless steel are more difficult to keep clean but cheaper than other finishes like brushed nickel. Looking for "tarnish-resistant" finishes will help fingerprints and watermarks not do as much damage to your kitchen faucet over time, which can make it look old and worn out if not attended to early enough.
In the kitchen industry, color can have significant implications on price. As black is becoming a popular color for many things and is very durable, more people opt to buy a kitchen faucet with that same finish. Black goes well with anything and creates a sleek look, and being good independently of adjacent fixtures.
FAQ
What is the best inexpensive kitchen faucet?
Kohler is one of the kitchen faucet brands that offers high-quality at an affordable price.
Why are kitchen faucets so expensive?
You get what you pay for when buying a kitchen faucet. A basic faucet that does the job doesn't cost more than $50. But if you spend $500 on a faucet packed with features and style, you will feel the difference.
How long should kitchen faucet last?
The best kitchen faucet brands offer a lifetime warranty that means replacing worn-out parts every 15-20 years make it possible to use for a lifetime. The only reason to change a high-quality faucet is usually from going out of style or following new trends.
Continue reading: