Last updated on May 17, 2022
Looking for the best touch-on kitchen faucet that will give you a more convenient way to access water in the kitchen? These are our top ten picks. Read on!
And the best of them all is… the Delta Touch On Faucet.
Not to be confused with touchless or smart kitchen faucets (what's the difference?), the touch on (or touch-sensitive) faucets are operated by touching with your hand on its body. Typically the entire body has sensors, so you can touch it anywhere to turn it on or off. Some models give you the option to control the temperature and spraying mode this way as well.
Is it reliable, though? Yes, it is. Just like touchless faucets, touch-in counterparts have proven to work well over the years (even if they are battery-operated). In the end, they can also be used the traditional way, by using the lever.
Most faucet brands carry touch-on models these days so you will recognize the familiar names. It's great because you can pick a faucet from the brand you already come to like and trust.
Otherwise, picking the right faucet isn't any different than choosing the traditional faucets. All criteria apply, from the installation to materials, finish, and sprayer function. So feel free to use your knowledge about kitchen faucets here too.
Here are our top choice and top picks for you to consider (including budget options). We have included links so you can check them out (we may earn a commission at no expense to you.)
What's Inside
Delta Essa Touch Kitchen Faucet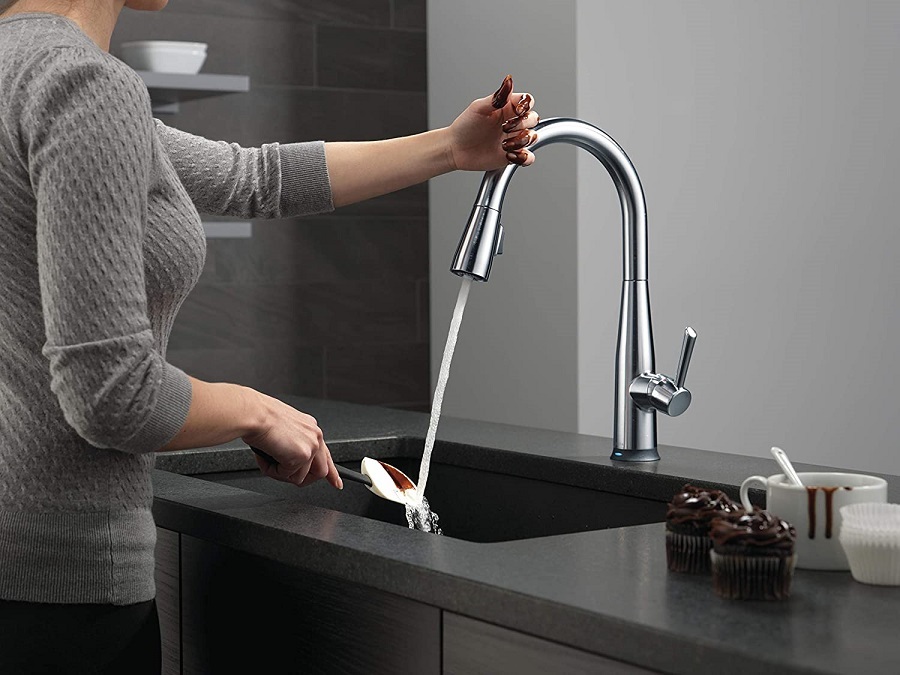 This is our editor's choice.
The Delta touch sensor kitchen faucet is one of the newest innovations in kitchen faucets. The Touch2O technology combines the style of a modern kitchen faucet with the convenience of a touch sensor. The sensor employs clever technology to allow you to control when and how hot you need your water station running. Simultaneously night watching TV and preparing dinner? No problem — wipe off your hands with the precise cool downspout for one-touch temperature customization, then watch as the prompt LED light changes color, alerting you when the water temperature is ready. This allows you to save water and your hands. It is impossible to clog or get dirty while using this kitchen faucet because the touch sensor prevents messy hands from contacting the drinking water. This product also has a magnetic spout docking feature that allows the sprayer head to snap back into place with just the push of a wrist, making it easy for anyone to use.
This faucet has made our best overall kitchen faucet list as well.
Pros:
Made of stainless steel.
Trusted brand.
Water temperature LED indicator.
Easy to clean and remove buildup.
Cons:
The gooseneck arc is a little too long for average countertops.
The retaining nut connecting it to the counter gets loose over time.
Touch On Kitchen Faucet with Pull Down Sprayer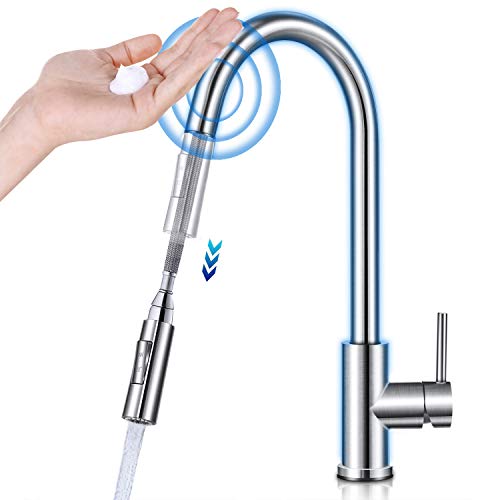 This is the perfect faucet for a kitchen that loves hygiene, comfort, and efficiency. The faucet body and handle are made of 304 stainless steel, which shows protection against corrosion and rust. This material, coupled with the brushed nickel finish, offers exquisite beauty to any kitchen.
This faucet is a great convenience for anyone who easily struggles with getting water at just the right temperature. The beeping noise that signifies when it's one minute from the turn off also makes it easier to know how long you have to touch it again before the water stops running, although this specific little sound might not be pleasing to everyone.
This kitchen faucet also has a sprayer that you can pull and use for rinsing utensils. We really like how easy the touch-on mechanism is. No controls or knobs to mess with and touch anywhere to start or stop water levels make it much better than traditional taps.
Pros:
Cons:
Needs to have the handle open for the touch sensor to work.
Sprayer pressure not as strong.
Matte Black Touch On Kitchen Faucet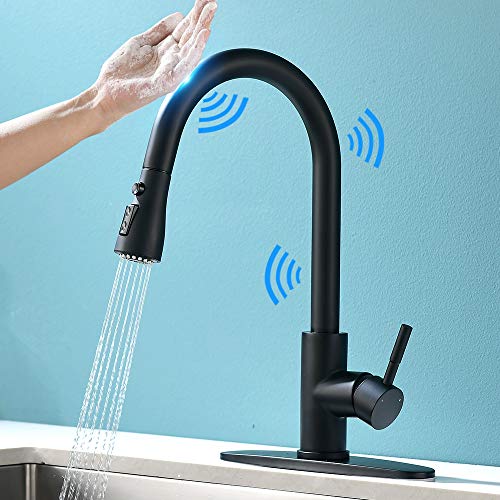 This is an easy faucet to maintain and does not require excessive cleaning. It has a pulldown sprayer that ensures high pressure while still saving on water. The handle's flow of water can be controlled by touching the spout or body of the faucet.
The incontinuate touch sensor regulates streams, and allows the spray spout and pause button to quickly press to stop splashing. Here's what to like: 1) ease of installation, 2) smudge and fingerprint free, 3) makes it easy to keep the faucet from dirt without wiping, 4) design appeals to homeowners with sensitivities, 5) simple design is for homes that do not want a lot of attention on their faucets.
Pros:
Made of stainless steel and brass.
Matte black finish.
Pull down sprayer.
3 spraying modes.
Smudge-free finish.
Cons:
Matte paint might peel off in the long run.
Touch Kitchen Faucet with Pull Out Sprayer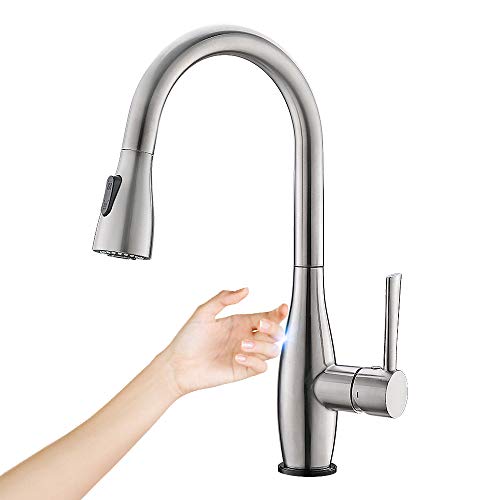 This touch-on kitchen faucet is great for your kitchen as it's almost non-contact in design which implies that you can touch the water outlet or valve body to control the flow of water temperature and spray head. The stainless steel this faucet is made from will also ensure no lead or nickel, so it's healthier for your family. The flexibility and freedom of movement you get with this single-lever sink mixer also mean that installation is easy.
It is easy to set on the touch control. You will also like the metal color because it matches all other appliances with not much fussing around. We recommend this purchase for others who want an eye-popping kitchen addition that functions flawlessly.
The touch-on kitchen faucet is made using 304 stainless steel with a 100% lead and nickel-free finish. This sophisticated modern design removes the need for contact between the user's hand and potential contaminants inside the faucet. The user operates this fixture by simply bringing a hand close to the spout or the valve controlling function.
Pros:
Made of 304 stainless steel.
Lead and nickel-free finish.
23-inch pull-out spout hose.
Elegant look.
Cons:
Lacking instructions.
The hose isn't as high quality as the faucet body (might sometimes get stuck.)
Stainless Steel Touch Activated Kitchen Faucet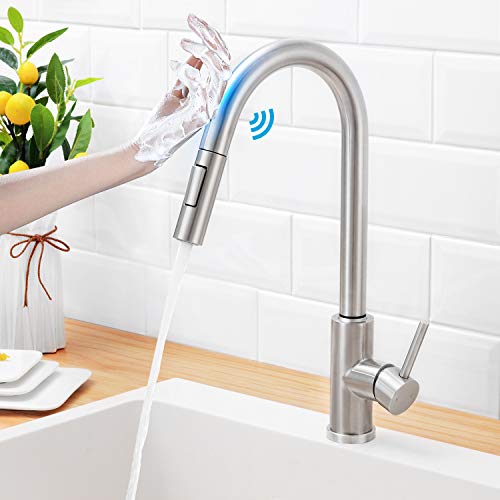 This touch on kitchen faucet is more convenient to control and has a high quality valve. You can easily wash vegetables without worrying about any splashes getting you wet or spraying water in your face by simply using this high-tech touch on design.
In touch kitchen faucets, water is dispensed when a person touches near the spout with a gentle touch. This way of controlling the flow of water eliminates the need for buttons or handles. Pull-outs make it easy to reach any areas in your sink as you can then place them where there is most useful for you. The pull-out sprayer has 2 modes: stream and spray.
This touch sensor kitchen faucet feels like a built-in faucet in your kitchen. The finish of this household item is brushed nickel, which is difficult to damage with fingerprints or oil contamination. Unlike traditional kitchen faucets, it used a Gentle Touch Touch Control Technology that prevents direct contact from happening so that the chance of getting food on the tap gets reduced.
Pros:
Made of stainless steel.
Brushed nickel finish.
Standard 3/8" water hose.
Cons:
Doesn't include the deck plate.
Takes time (a few seconds) to regulate the temperature of hot water.
Touch On Pull Down Kitchen Faucet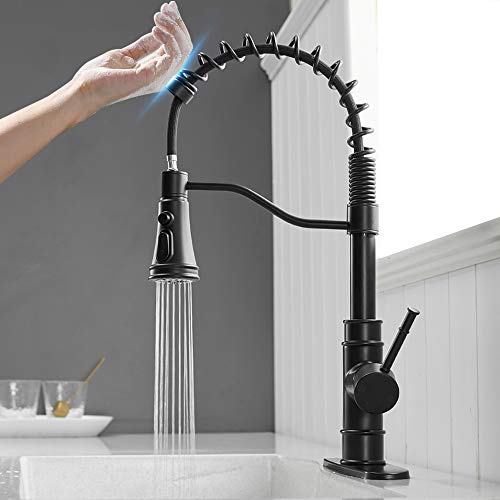 This pull-down kitchen sink faucet has a touch sensor in place of the traditional side lever, and it is very sensitive. The faucet comes with three hot, medium, and cold settings, which you can cycle by touching anywhere on the spout or body of the faucet. The pull down sprayer ensures high pressure while saving water and there is also a pause button that will instantly stop the water from spraying out which can come in handy when filling large pots of water.
You can easily switch from stream to spray by simply touching the console of the kitchen tap. Its touch zones are delicate enough that you don't need to worry about accidentally spraying water all over your sink. This gorgeous, sleek, pull down traditional kitchen faucet lasts for 50,000 operating hours and comes with a lifetime limited warranty.
Pros:
Made of stainless steel.
Matte black finish.
Pull down sprayer.
Smudge free design.
Cons:
The hose holder gets loose after a while.
Touch Sensor Kitchen Faucet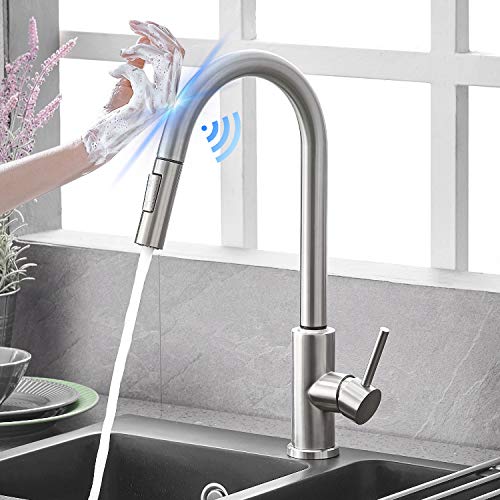 The Touch2O kitchen faucet is installed by screwing it in anywhere near the sink or sinkhole. A motion sensor detects the user and starts to run water, stop running water, or shuts the water off. As long as you're close enough for the sensor to detect you're there (the distance it can sense varies on where you install the device), a simple touch on this sensitive polished nickel will activate one of these three purposes.
We like this touch activated kitchen faucet because while you're cooking dinner, when you need water, its literally just a simple touch to get it. There is a sprayer built in that has a variety of settings (spraying canon and stream setting). So this is also really helpful for when you want to clean out your sink. Its made of high quality 304 stainless steel.
Pros:
Made of stainless steel.
Touch2O sensor technology.
Brushed nickel finish.
Pull out sprayer spout.
Cons:
Installation instructions a bit confusing.
Pull out spout is not touch sensitive.
Touch-on Activation Kitchen Sink Faucet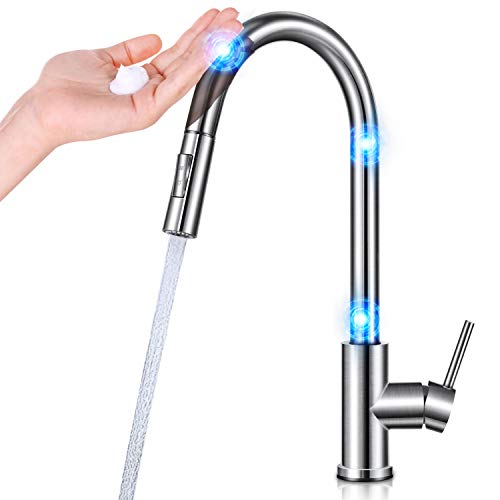 This touch sensor kitchen faucet has two activating modes: manual (use the single lever handle) and selective, with no need to shut down water flow for it offers hands free control. Also due to its simple installation, you can take care of unfinished household installations in about 20 minutes. It has a 30-inch retractable hose with the pull out sprayer.
Pros:
Made of stainless steel.
Brushed nickel finish.
Pull out sprayer.
30 inch hose.
Cons:
Black Kitchen Faucet with Sprayer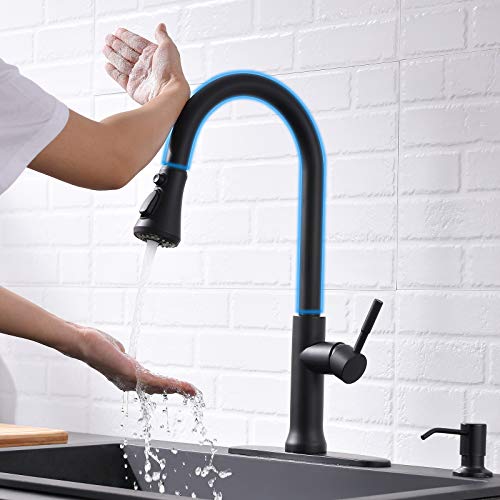 With this professional Touch on Kitchen Faucet you do not have to touch a handle, any of the faucets outflow will work with just a tap. This kitchen faucet has been made of Durable Black matte exterior finish that resists corrosion and tarnishing. If you stop your water flow to keep it from overflowing, you will be able to use anything including your wrist or forearm instead of manually touching the single lever handle for a convenient experience.
This faucet is built to be durable and steady without rusting or tarnishing. The Touch Control Technology features a simple touch on the top of the faucet's gooseneck to stop water flow for a touchless experience. To avoid flooding and water waste, it automatically shuts off after 3 minutes. It also has multifuctional pull out sprays with a kitchen mount sensor:
Pros:
Made of stainless steel.
Multiple layer matte black finish.
Pull down sprayer nozzle.
Cons:
Using the touch system is a little tricky.
Lesoom Touch On Kitchen Faucet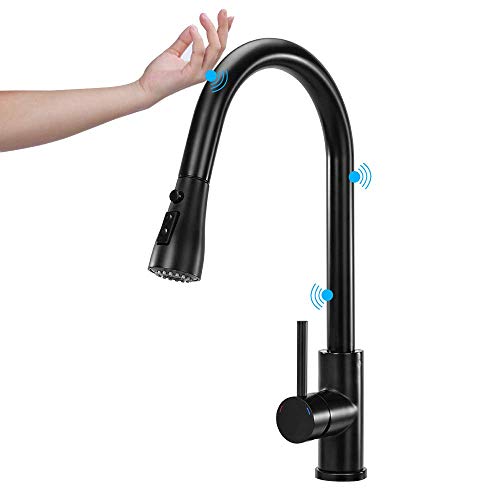 This faucet has stainless steel side handles, a basin spout, and a smart wand. The faucet has two modes: automatic idle mode, and manual continuous mode. In the automatic idle mode, the water is turned off in two minutes without use when hands are messy or you can't touch it. During the manual continuous mode, you have to keep touching up on it whenever going from liquid to stream flow or when eliminating the last bit of soap residue.
The water falls in different ways depending on if it is being used for cleaning dishes or filling a cup. It also has different sprayer settings that can be changed with just a swipe of the finger/forearm. A power scrub sprayer helps to easily tackle stuck on dishes and a mist setting is perfect for fillling cups of iced tea.
The faucet installs easily with an 8" installation or a 3-hole mount and 1/2 supply lines are already connected with no need for additional installation tools or equipment.
Pros:
Made of stainless steel.
Pull down sprayer.
Cons:
Installation instructions are vague.
FAQ
Do touch faucets have batteries?
Yes, touch faucets work with batteries. Some models have power adapters you can plug into an outlet too.
Can you bypass a touch faucet?
Yes, all models have a manual mode.
How do you turn off the sensor on a kitchen faucet?
Touch on faucets have an option to work in manual mode by disabling the sensor. Check the manufacturer's instructions.
How do I change the battery in my sensor faucet?
If it's connected to an outlet, unplug it. Then remove the battery cover (use a screwdriver) to replace the batteries.
Why is my touch faucet dripping?
Dripping has nothing to do with the touch sensor but more likely the faucet cartridge. You need to check the faucet for leaking repair.
Why does my touch faucet not work?
Most likely the battery is dead and needs replacing. In rare cases the sensor might be broken, in that case it needs to be repaired.
Continue reading:
Disclosure: As an Amazon Associate we earn from qualifying purchases.