Last updated on May 12, 2021
Looking for the best touchless kitchen faucet to improve your kitchen in 2021? These are our top picks for motion activated faucets. Read on!
The best of them? Moen Motionsense Faucet.
Having a touchless kitchen faucet makes sense (not to be confused with touch-on faucets). It's definitely worth it. Is touchless reliable? They have proved to be trusty for users after a long time of use (they prevent accidental activation). Ultimately, all of these faucets have manual lever control if all else fails. So you need not worry about that.
It is important to note that most models use batteries. It means they need to be replaced or recharged. However, plug-in options are also available for that piece of mind.
In the end, a touchless kitchen sink faucet has the same requirements as the traditional faucets. Most of the popular faucet brands have them. They use the same materials (stainless steel or brass), same cartridges, and they also have pull-out or pull-down sprayer hoses. So you can choose all your favorite features.
The installation isn't any different. So you need to know the type of your faucet and sink mounting. The additional step is connecting the motion sensor.
Let's explore the best options. We have included links that earn us a commission at no extra cost to you for your convenience.
What's Inside
Moen Arbor Motionsense Touchless Kitchen Faucet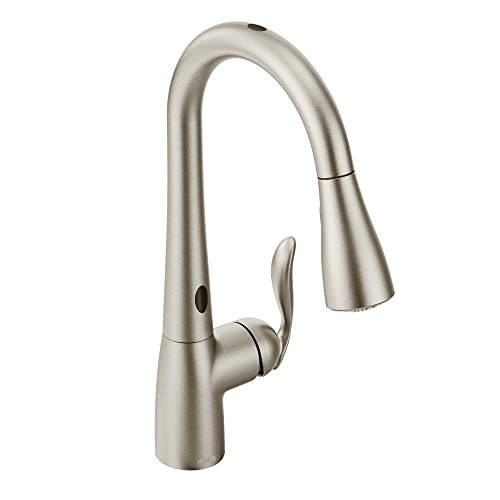 This classy Moen faucet is our editor's choice.
This touchless kitchen faucet, manufactured by Moen, is a premium stainless steel model with two sensors for easier usage. It offers Power Clean spray technology without being difficult to mount because it's placed through 1 or 3 holes. Worth noting is the "Spot Resist" stainless finish that resists fingerprints and dirt smudges for an impeccably cleaner-looking kitchen sink. This excellent pick can be surprisingly affordable!
Unlike your average kitchen faucet, this Moen has a spot-resistant stainless finish and looks really classy. Its two sensors also give you the convenience of hands-free touchless months as a simple hand movement will trigger water flow. The pull-out spray head has flow control spray power and settings (3 modes).
This faucet makes our list of the best overall kitchen faucets too.
Quick facts:
Made of stainless steel (excellent as a faucet for hard water).
1 or 3 hole installation.
50% more spray.
Pullout spray head.
Spot resistant.
Automatic water flow shut-off.
Lifetime warranty.
Kraus Bolden Touchless Pull Down Faucet
This energy-efficient and touchless kitchen faucet seamlessly blend function and functionality with the stylish combination of stainless steel, zinc-dichromate alloy metal, and green rubber materials. Easy install requires no wiring – unscrew the screws currently on your sink's faucet arm sensor to attach. The water shuts off automatically after 3 minutes for added safety. Finally, enjoy all the benefits of functional kitchen faucets without getting wet or developing callouses! Includes batteries.
This touchless kitchen faucet provides people with a hands-free option to turn the water on and off while keeping their fingers germ-free. Unlike the typical pull-out, you don't have to touch the faucet at all — wave your hand near it. This kitchen faucet has an ECO-friendly water flow rate of 1.8 gallons per minute. The different features in this kitchen are necessary for cleanliness, such as battery-operated design, easy installation.
The Kraus Commercial Pull-Down Kitchen Faucet is designed to help eliminate the need to touch the faucet when cooking or for a more sanitary experience. It has a commercial design, clean finish, and Eco-Friendly flow rates. The motion sensor faucet can detect any activity in its control range of motion up to 3 inches away.
Quick facts:
Made of stainless steel.
Black matte finish.
1.8 gpm flow rate.
Lead-free.
Touchless and lever operation.
One hole installation.
Motion Sensor Touchless Kitchen Faucet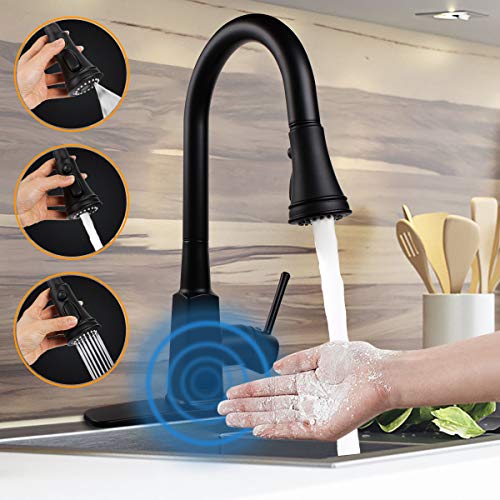 This solid brass bodied faucet in the matte black finish makes keeping your sink mess-free an easy job. Use the touchless control or use the faucet handle on the manual mode to get 3 modes and spray patterns.
This touchless kitchen faucet has a sleek and modern design and can help in keeping your faucet spotless. The leak-free ceramic valve construction will make this model super durable too. This model utilizes new detection technology to know when to turn on and off the water flow.
Quick facts:
1 or 3 hole installation.
1.8 gpm flow.
Uses 4 AA batteries for touchless operation.
Matte black finish.
Solid brass faucet body.
Gimili Touchless Kitchen Faucet with Pull Down Sprayer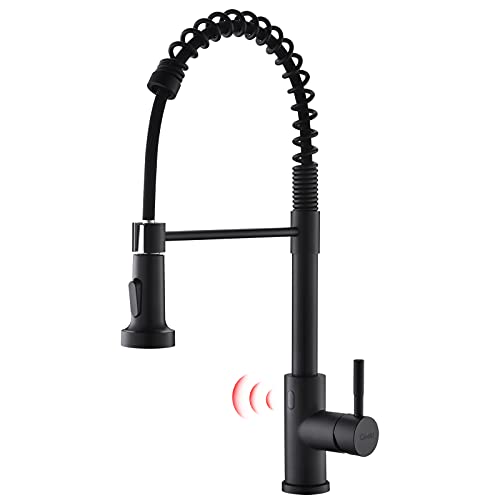 The kitchen faucet is composed of lead-free solid brass and uses battery power to operate. This touchless faucet has two settings for stream and sprays with a motion sensor so the user can leas easily switch between the two depending on whether they wish to simply wash or fill up. The spot and water stain resistance piece allow for easy cleaning, while the ceramic cartridge guarantees safety from leaks. All of these features make this hands-free faucet a genuine "life helper".
Quick facts:
Made of solid brass in matte black finish.
Pull down sprayer.
Ceramic cartridge.
5 year warranty.
Dalmo Touchless Pull Down Kitchen Faucet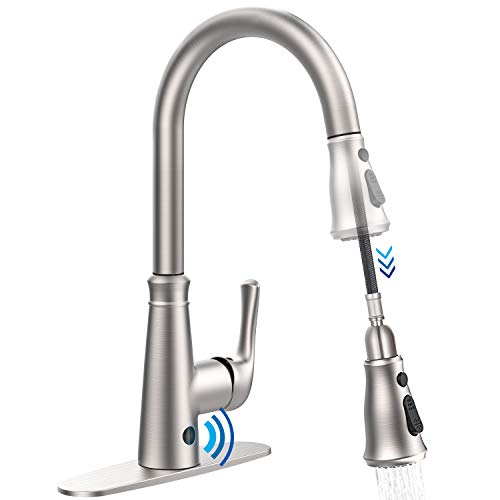 The touchless kitchen faucet is made up of metal and is given a brushed nickel surface. It lasts even after new fingerprints mix with old ones. This prevents someone from having to continuously wipe away dirt for an hour to get their hands clean. It also doesn't use batteries because it has a motion sensor that turns on upon detection by anything close to the motion sensor's range.
This touchless kitchen faucet is a nice choice for fitting into any style or environment because the brushed nickel surface with an oil layer to resist fingerprint, oil, or water spot. Nothing extra is needed to activate it because its motion sensor will automatically turn on the water when your hand passes close by. The clean design of this lovely kitchen faucet gives you a great experience when you wash your hands or cook your meal.
Quick facts:
Made of stainless steel.
Dual sensor – toucheless and pull-down.
Brushed nickel finish.
Ceramic cartridge.
Cobbe Touchless Kitchen Faucet with Sprayer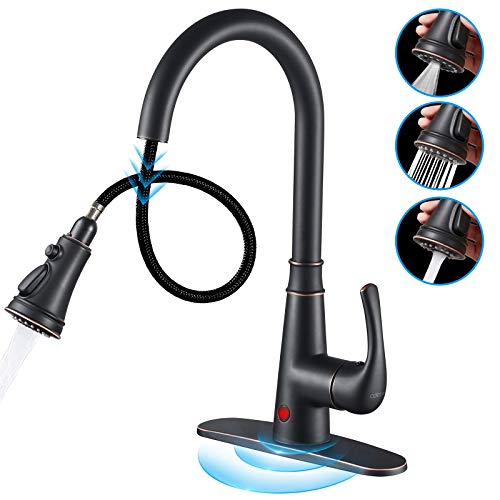 The Cobbe Touchless Kitchen Faucet is stainless steel construction with three different water flow modes. One of its best features is the spot-resistant finish. It has a lead-free and cUPC certificated premium quality and long-lasting performance with NSF standard treatment and a quick installation for less than 20 minutes. The brushed nickel finish is absolutely gorgeous and offers a great standout in any kitchen.
Quick facts:
Dual sensor.
3 water flow modes – stream, sweep, and spray.
Made of stainless steel.
Ceramic cartridge.
Appaso Touchless Gunmetal Kitchen Faucet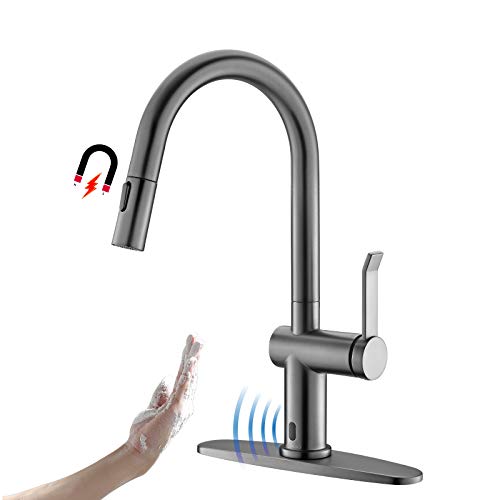 This Touchless Kitchen Faucet is a multifunctional sprayer that allows you to switch easily from a splash-free inflation flow to a powerful spray. The 360-degree rotation design extends the space for all-around cleaning of your kitchen sink. The modern color of the gunmetal black finish gives this faucet its specialty texture which goes well with a black sink and adds charm to any kitchen style. It is made out of brushed steel and can be paired with various finishes.
This touchless kitchen faucet is perfect for people who don't like wasting water. With the use of motion-sensing technology, you will have more control over how much and how long water comes out of the faucet and will reduce splashes in the sink when not pressed. The motion-sensing technology is great because it allows you to shut off automatically after three minutes, without any chances of remaining in touch with liquid or residue.
Quick facts:
Made of stainless steel.
Pull out sprayer with magnetic docking.
Pfister Stellen Touchless Pull Down Faucet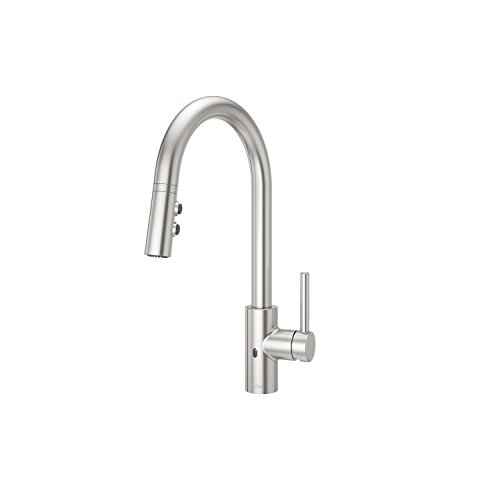 This is a reasonably priced touchless kitchen faucet with 3 unique features. It is conveniently located on the side of your sink so it won't obstruct your counter space, as well as saving money during installation time. It comes with either a plug-in option or a battery-operated sensor which eliminates switches or plumbing lines that may be difficult to attach if your aged arm muscles make things more difficult than they need to be.
It is convenient and easy to use. With its dual spray mode setting or stream it is so easy to clean pots and pans.
Quick facts:
Pull down sprayer with 3 modes.
Made of stainless steel.
Includes a deckplate.
Sofirm Brushed Nickel Touchless Kitchen Faucet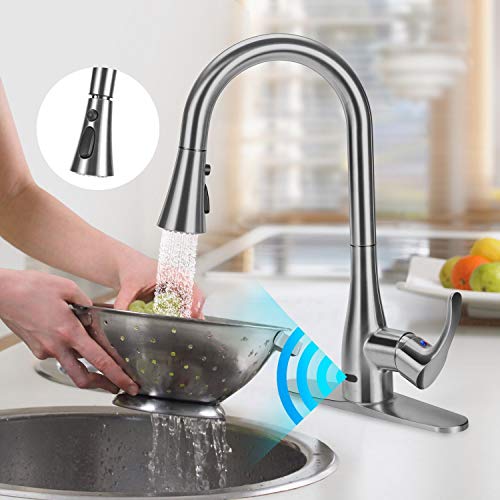 This is an advanced, hands-free kitchen faucet. The faucet has a leak-free ceramic valve and a brushed nickel finish that is easy to wipe clean. It can activate by sensing your hand with double sensors or with a single lever handle. This multifunctional sensor can turn on the water in three different modes that save water.
Quick facts:
1 hole or 3 hole installation.
3 modes of the sprayer.
Dual sensor.
Willsland Swivel Touchless Kitchen Faucet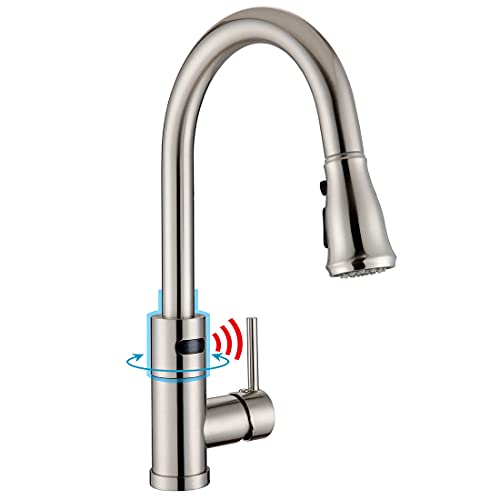 The touchless kitchen faucet operates just by the motion sensor available to turn on and off the cold or hot water. This kitchen faucet is made of lead-free brass, has a brushed nickel finish, and an NSF-certified ceramic cartridge. It lasts three times as long as stainless steel for corrosion prevention and comes with lead-free brass for great durability in water quality. The highly technical construction of this kitchen faucet also includes glaze sealing to protect it from fingerprints,
This brand of faucet is innovative and easy to use. One motion with the hand is enough to turn the knob for the water temperature and handle control. What type of material does this faucet have? This kitchen faucet is made of brass. It has porcelain ceramic cartridges that produce warm water instantly when being contacted by cold water (of course). The metal spout also has a motion sensor that works without a handle.
Quick facts:
Brass body.
Lead-free.
Ceramic cartridge.
Continue reading:
Disclosure: As an Amazon Associate we earn from qualifying purchases.