Last updated on May 12, 2021
Looking for the best wall-mount kitchen faucet for function and space-saving? These are the top-rated picks in 2020 to choose from.
There might be two reasons why you would need a wall-mount kitchen faucet. First, your plumbing might be set up that way. And second, it's a space-saving way to install a faucet. Whatever the case, there are several types of faucets that can be mounted on the wall. And each type has its benefits. The question is – what is the best option for you?
We're going to make the best attempt to help you choose the right wall-mount faucet for your kitchen. And something tells us that we might just succeed.
How do you choose the best faucet anyway?
Consider these:
Where in the kitchen are you going to install it (over the sink or a pot filler over the stove?)
Do you need additional functionality like a sprayer?
Do you need a pull-down faucet?
Consider the decor value.
Popular brands vs cheap price.
These are tough questions to answer and we're going to help you with that. Each product on the following top list answers at least one of the above questions. That way you can easily pick the faucet the meets your requirements. Note that we may be compensated by Amazon for qualifying purchases (tagged #ad). It comes at no expense to you.
Which of the following is your wall-mount faucet?
What's Inside
Wall Mount Kitchen Faucet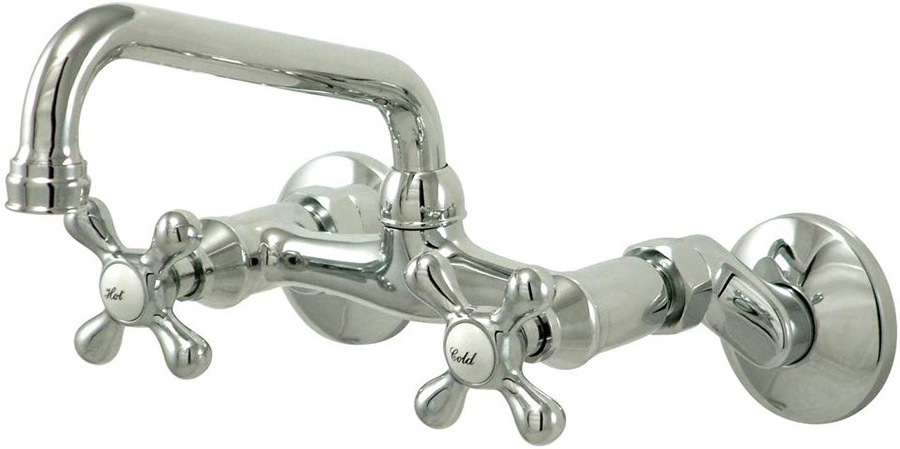 The kitchen faucet brings decor value to the table (or should we say the sink). The retro look is highly sought for in modern kitchen design.
Pros: adjustable spread; good pressure; decorative vintage look.
Cons: challenging to install; might need tightening of the cartridge fitting to prevent leakage.
Pot Filler Faucet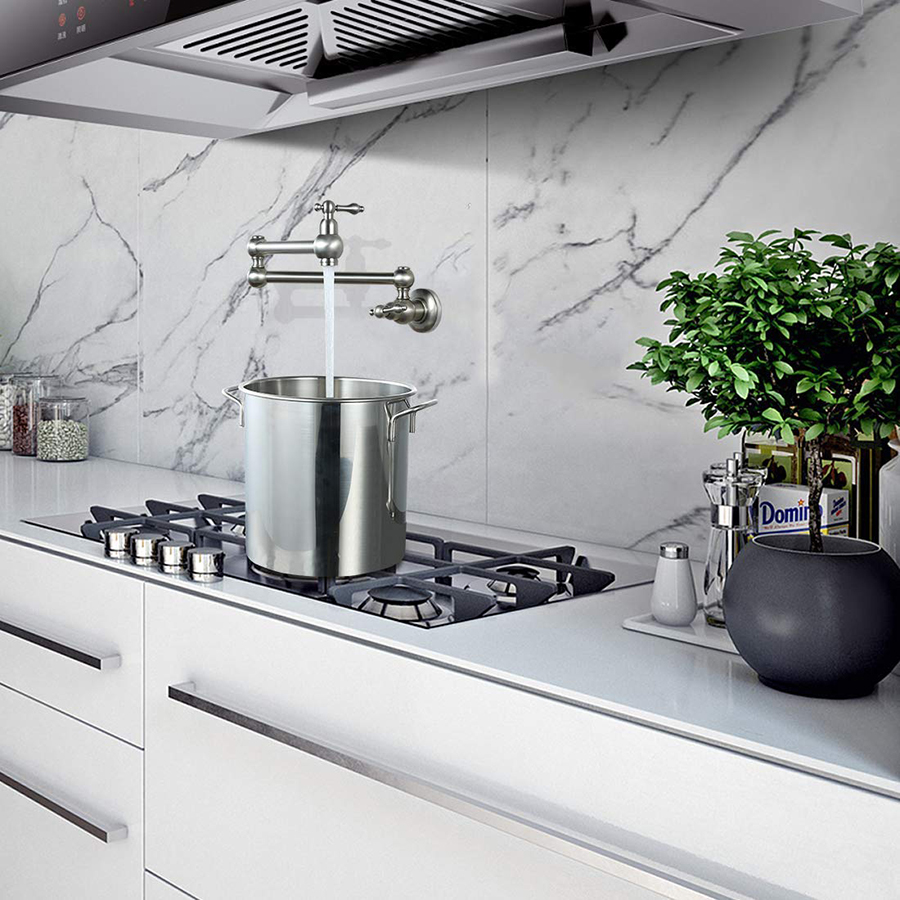 A pot filler for your kitchen that gives you the functionality you need.
Pros: polished inner surface; long-arm folding faucet; aerator with great water pressure.
Cons: metric standard; difficult to install.
Moen Pot Filler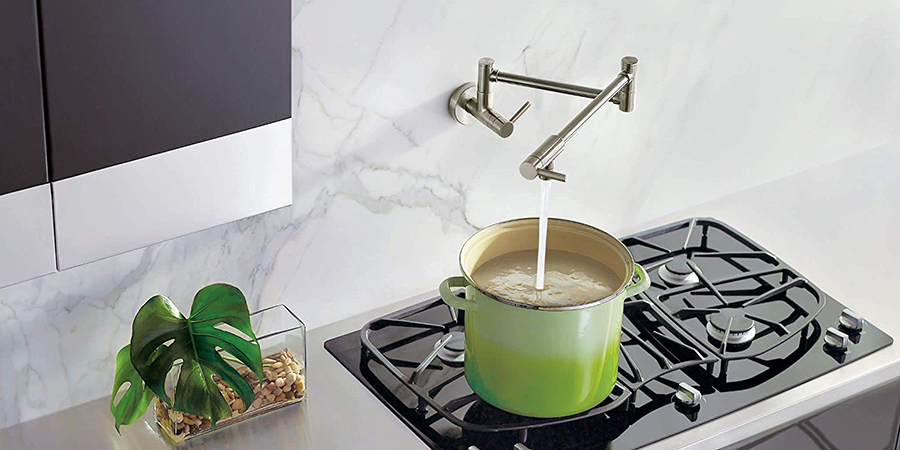 A pot filler faucet from a popular brand Moen.
Pros: sport resistant; long reach; lifetime guarantee by a trusted brand.
Cons: it's not easy to install; costly.
Wall Mount Kitchen Faucet with Sprayer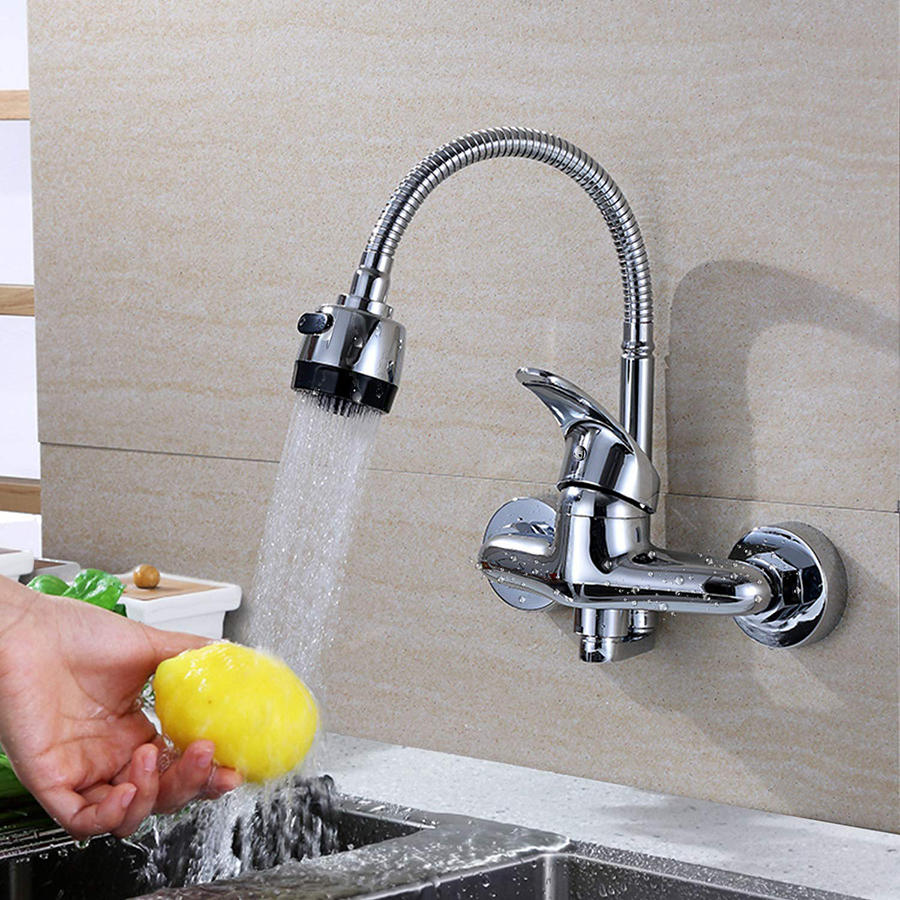 Your kitchen wall-mount faucet with the added sprayer function.
Pros: durable; 360-degree pull-down faucet; spray nozzle;
Cons: some plastic parts.
Pot Filler Over Stove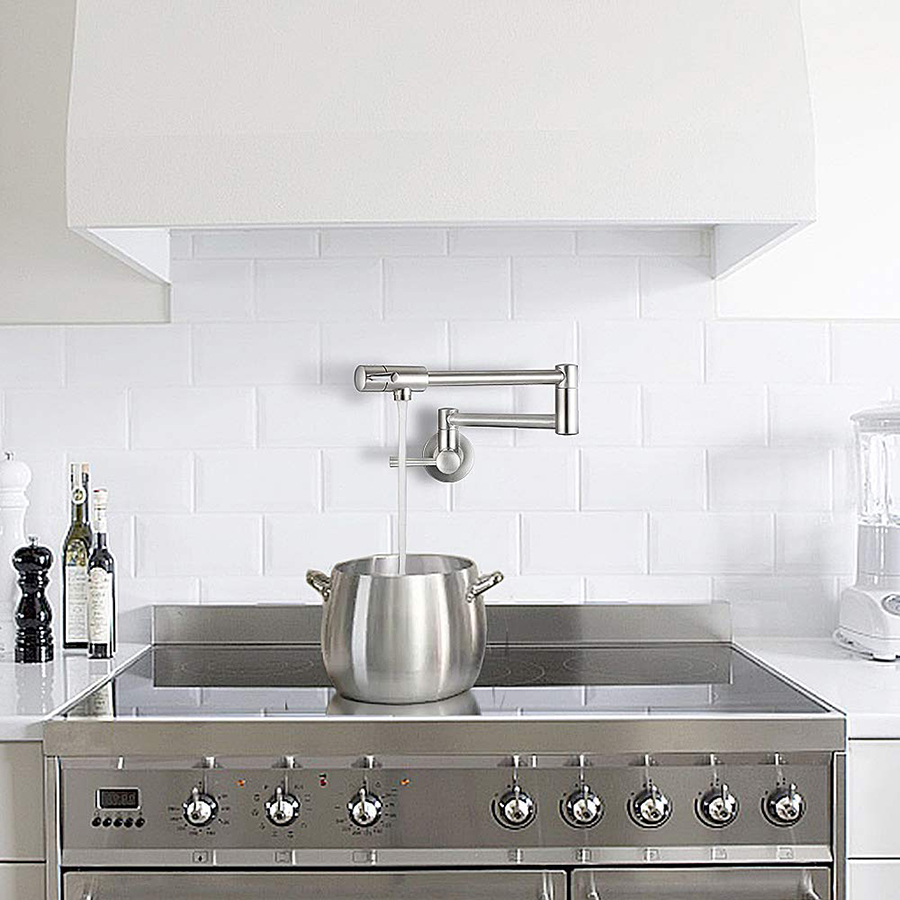 A commercial-grade pot filler over the stove designed for heavy-duty use.
Pros: polished inner surface; double valves; heavy duty.
Cons: it might be tricky to install and keep it leveled.
Commercial Wall Mount Faucet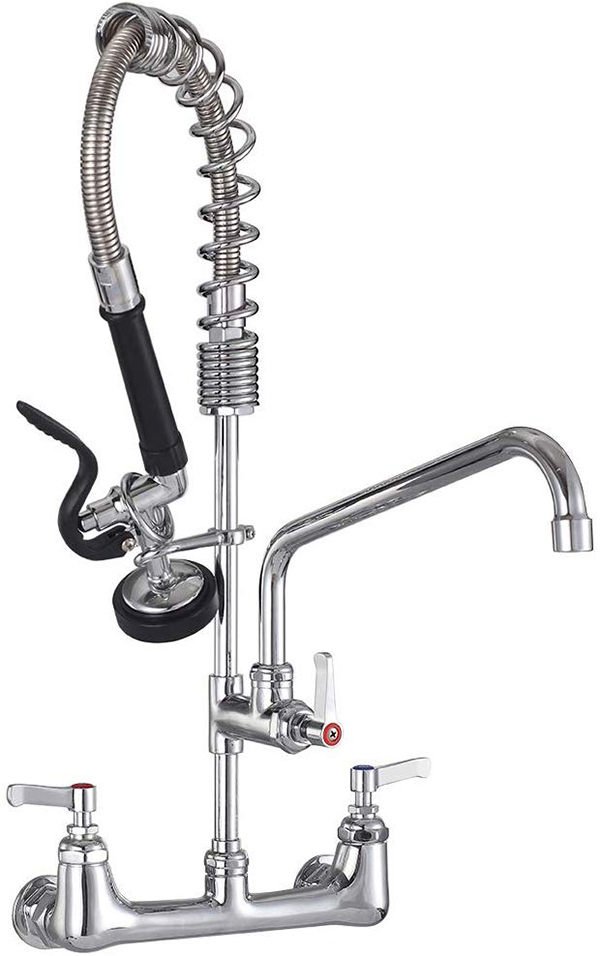 The kitchen faucet for anyone who needs the commercial-grade functionality. It's equipped with a pull-down- spray nozzle.
Pros: reliable brass design; different size spouts available; adjustable central hole; double-layer anti-leaking design.
Cons: sprayer is a bit short.
Delta Wall Mount Kitchen Faucet
Traditional design from a trusted brand Delta.
Pros: reliable brass construction; nice look; trusted brand.
Cons: costly.
8-Inch Kitchen Faucet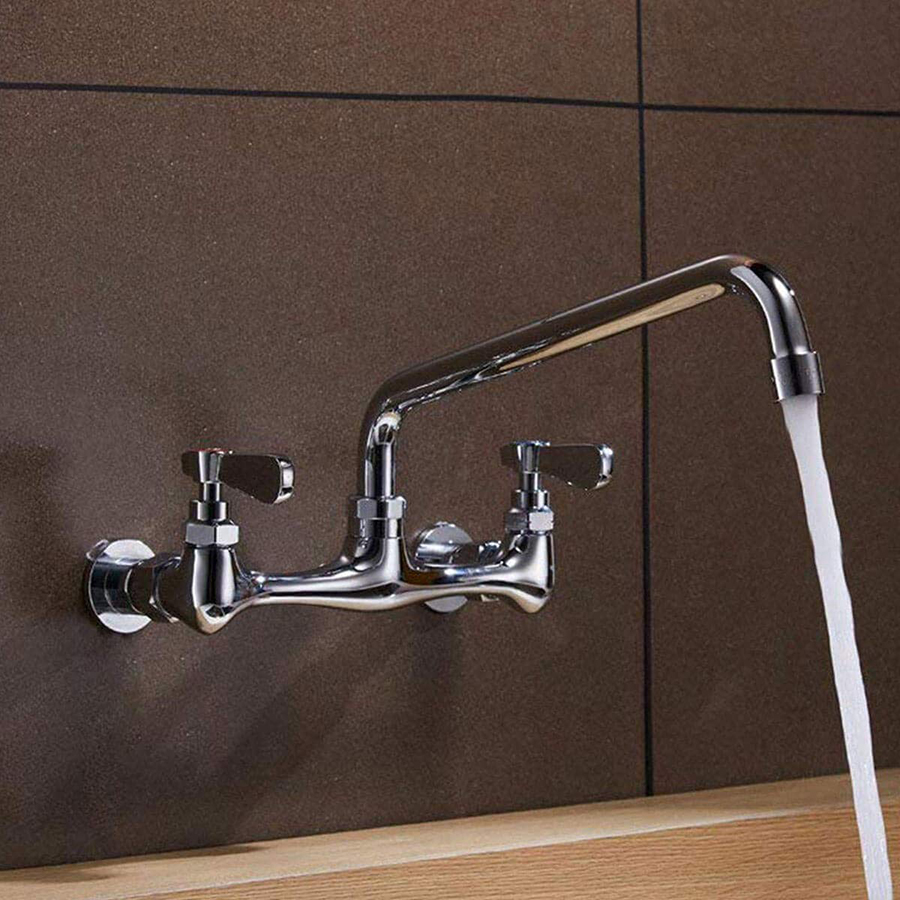 The 8-inch wall-mount faucet provides more length and accessibility in the kitchen.
Pros: heavy-duty brass design; reinforced double valves.
Cons: not the easiest faucet to install.
Peerless Wall Mount Kitchen Faucet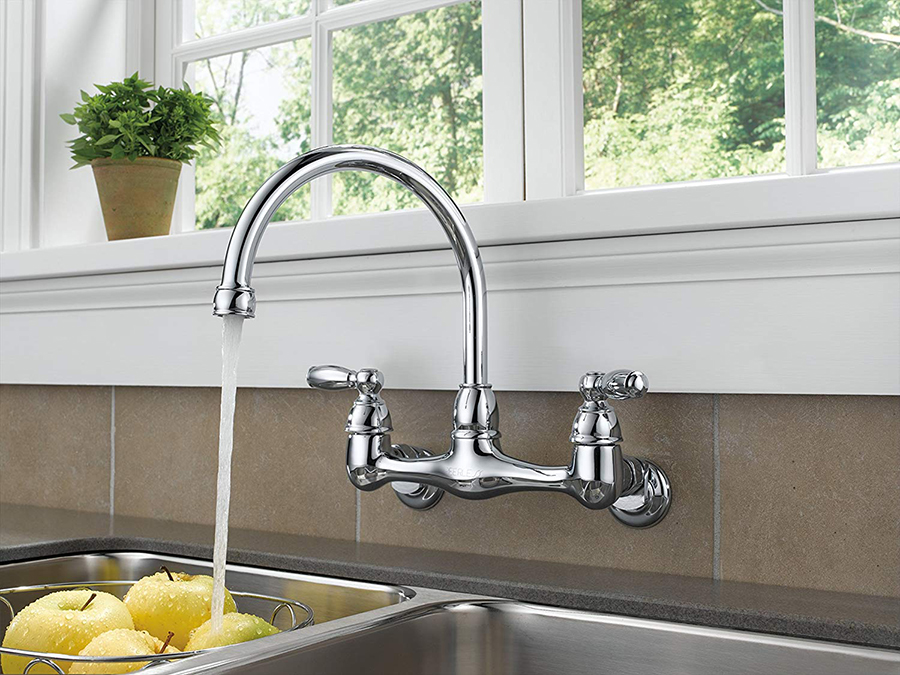 A wall-mounted kitchen faucet from another popular brand.
Pros: high arch; beautiful design; easy to install.
Cons: mounting hardware not included.
Wall Mount Pull Down Faucet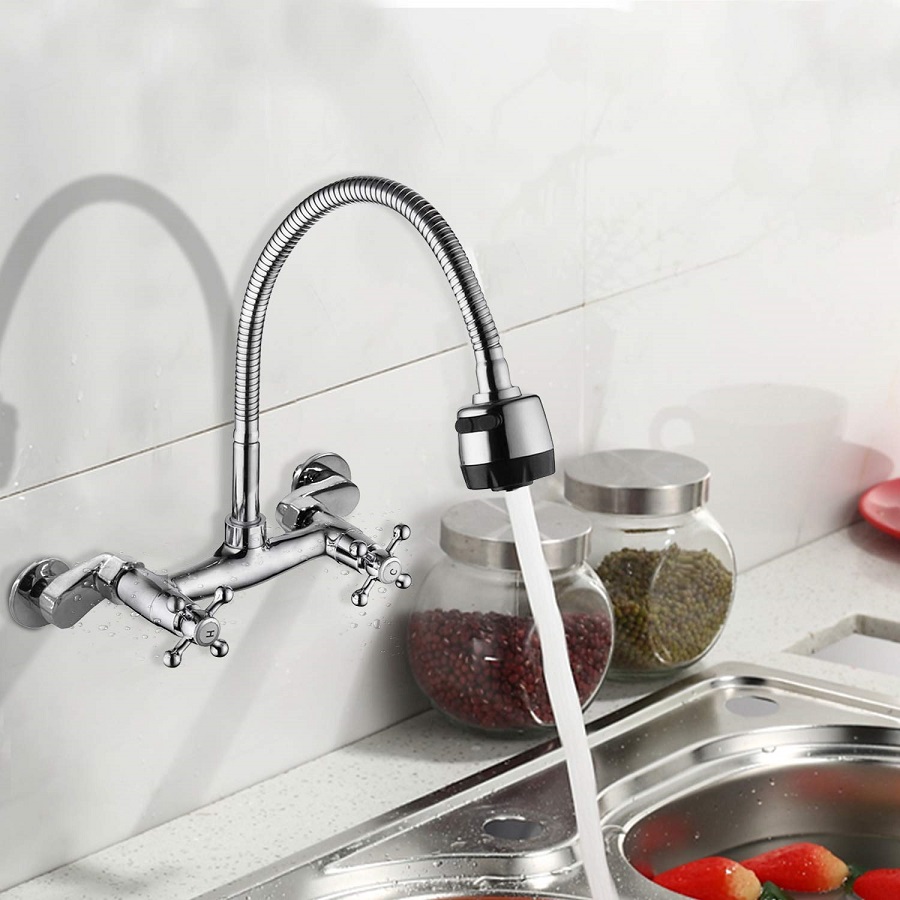 The kitchen faucet with a pull-down function for those who need more flexibility.
Pros: sturdy; easy to install; looks good.
Cons: the faucet might be not extended enough for all needs.
Continue reading:
Disclosure: As an Amazon Associate we earn from qualifying purchases.