Last updated on May 12, 2021
Looking for the best pull-down kitchen faucet for a complete multi-functional sink setup? These are our picks that you will appreciate. Read on!
In a hurry? Kraus Pull-Down Faucet is the best, in our opinion.
The first thing we need to do before choosing anything is to establish the difference between the pull-down and pull-out faucets. Are they different, and is it important? Some manufacturers may use the terms interchangeably to attract the customer because both designs achieve the same goal — better sprayer reach. But there is a difference, and we stick to pull-down faucets for this article.
The pull-down is the faucet that usually has a spring coil allowing it to stretch down and pull down the entire spout of the faucet to reach into the sink or even over to the counter. Pull-out has a sprayer head that pulls out from the faucet's body with a hose. They tend to have a better reach. Mixed models are available, too (they can stretch and pull out for maximum reach).
So as you've noticed, the sprayer reach is one of the main factors to consider when choosing the best pull-down faucet.
What else is there to consider? Most of the same qualities apply to any kitchen faucet: lead-free body, stainless steel, durable finish, mounting and installation, valve quality, warranty.
We've picked these products with all the criteria in mind. We provide you with shopping links (we earn a commission) at additional no expense to you. Enjoy this list!
What's Inside
Kraus Pull-Down Kitchen Faucet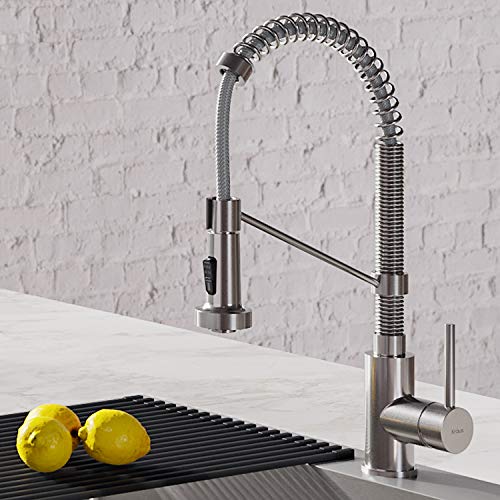 This is our editor's choice.
Great for: small kitchens.
This pull-down kitchen faucet is perfect for residential sinks. It features commercial-grade longevity along with a subtle industrial style. You can also customize this kitchen faucet to fit any home by picking one of many finish options to do just that. The strength or durability of this fixture lies within the open coil spout designer, and it provides variable water flow (regular and hard stream).
The commercial-style kitchen faucet also will have a dual-function spray head — a regular spray and power cleaning spray. This faucet only reaches 18 inches in height, sized perfectly for most people that are his space-challenged.
This faucet has made our top 10 best kitchen faucets list too.
Pros:
Made of stainless steel.
A choice of 13 finishes.
18-inch pull-down spout.
Ceramic cartridge.
Cons:
No pause button on the nozzle.
Some dripping after turning off.
High Arc Pull-Down Kitchen Faucet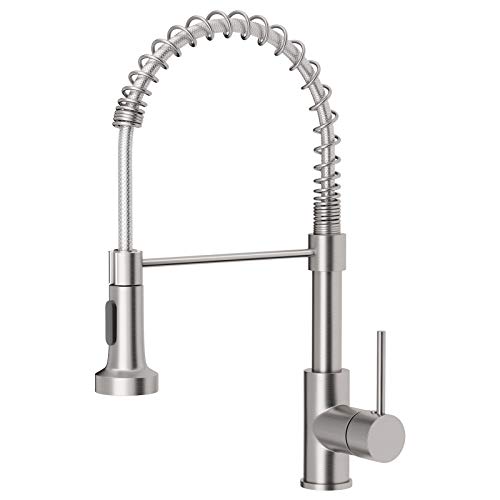 Great for: larger sinks and countertops where more reach is needed.
This pull-down kitchen faucet is high quality and has a life-shine brushed finish. It is lead-free solid brass with a standard height of 16". You can install it with all the mounting hardware included for basically any installation situation because it comes with long water hoses. The two ways setting allows you to toggle between a splash-free stream and spray at the flip of a switch. It also has a high arch swivel nozzle.
Pros:
Made of stainless steel.
Brushed nickel finish.
16" height. with spout reach of 9.2".
Cons:
Unclear instructions.
It's low to the sink.
Modern Pull-Down Kitchen Faucet with LED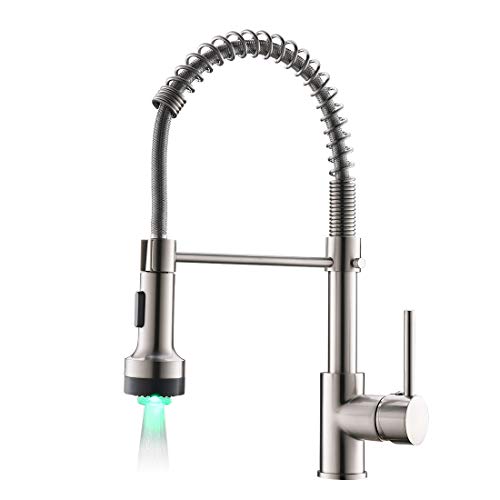 Great for: small sinks.
This kitchen faucet is made of lead-free brass. The finish is brushed nickel, and the pull-down feature has unique LEDs to indicate signify different temperature water (such that cold isn't mistaken for hot). This faucet also displays blue when the water is cold and purple when it's scalding hot to help avoid scalds or burns so customers can lower or raise their stove controls accordingly.
The pulldown faucet provides an excellent 360-degree range for complete control over the water flow, allowing you to direct the stream any way you prefer, including back-splatter protection at a distance.
Pros:
Made of stainless steel.
Brushed nickel finish.
LED water indicator (no battery needed).
360-degree swivel range.
Cons:
Short water line hoses.
The sprayer doesn't reach far enough to fill pots.
Moen Pull-Down Kitchen Faucet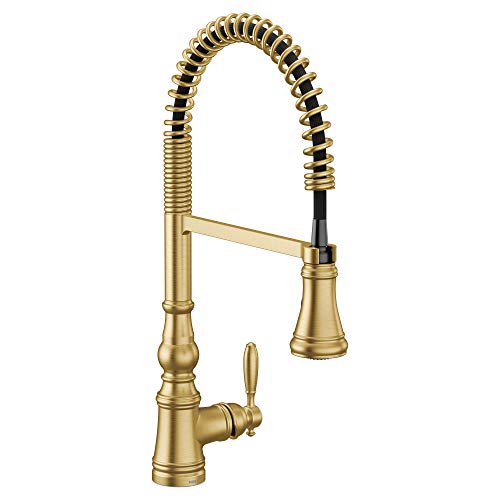 Great for: large kitchens and luxurious accent.
Moen is a leading manufacturer of luxurious, high-performance kitchen and bath products. Incorporating their own patented technologies, each product is designed for reliable performance and ease of use. Their standard design mounts on the sink or countertop, meaning it installs in minutes without the need to nail anything into your pricey granite, steel, or marble counters. The faucet features a brushed gold finish to add sophistication to any room. The faucet pulldown hose offers flexible water delivery.
This pull-down kitchen faucet has a brushed gold finish that pulls up stylishly for everyday use. The Moen Power Boost technology streamlines cleaning with a pump of the handle. For general washing, go slow on water pressure to avoid splash-back or change heads to allow water and cleaner strength further in—this standard pot filler mounts on the sink deck plate.
Pros:
Made of stainless steel.
Brushed gold finish.
Lifetime warranty.
Trusted brand.
Cons:
Kohler Pull-Down Faucet with Magnetic Docking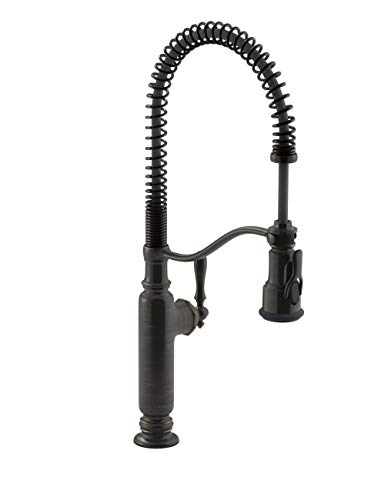 Great for: high-end kitchen.
This all-new class of faucet from Kohler, designed specifically for today's more prevalent sink and vessel countertop designs, launches with three distinctive models in two flow options. Spring coil allows you to reach all areas of your sink, all while easily reconnecting to the faucet base. This faucet's pull-down head has a magnetic docking system that securely locks the spray head into place.
We recommend this faucet because it is new, stylish, durable, and has many different spray head options. It also has easy installation with the magnetic interaction system. The rubbed bronze finish is designed to last with high-quality ceramic disc valves that meet industry longevity standards.
Pros:
Rubbed bronze finish.
Magnetic docking for the spray head.
Good reach and stretch of the pulldown.
Ceramic disc valves.
Trusted brand.
Lifetime warranty.
Cons:
Expensive.
Has plastic parts.
Pull-Down Kitchen Faucet with Sprayer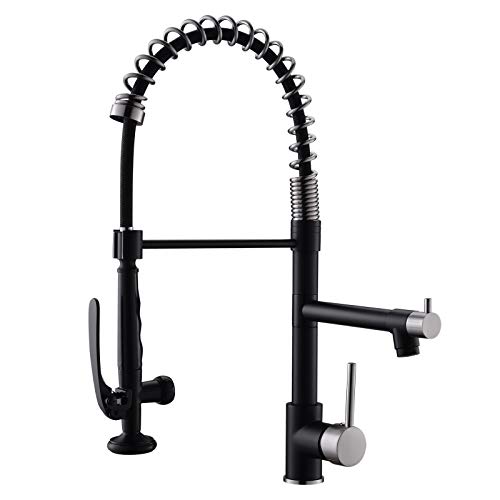 Great for: a budget faucet.
This single handle kitchen faucet gives you the convenience of adjusting the water volume and temperature with a single control. With its superior-grade ceramic cartridge, this faucet can withstand 500,000 close and open tests. The high arc increases your reach, providing more space in your sink for extra-large bowls or other heaving dishware and utensils. The heavy-duty all-metal design is rust-resistant to stand up to daily use in the kitchen.
This single handle kitchen faucet gives you the convenience of adjusting the water volume and temperature with a single control. It has a 360-degree rotating nozzle resulting in an even more precise, comfortable, and shower-like washing. With ceramic disk technology, this pull-down kitchen faucet is thicker and more resistant to scale build-up than any other type of sink faucet. Modern high-tech metal ball bearings create fast water, reduced friction, and extend quick action from side to side.
Pros:
Made of stainless steel.
Matte black and brushed nickel finish.
Ceramic cartridge.
Installation hardware included.
Cons:
The filler nozzle doesn't reach far.
Parts get loose over time.
Black Kitchen Faucet with Pull-Down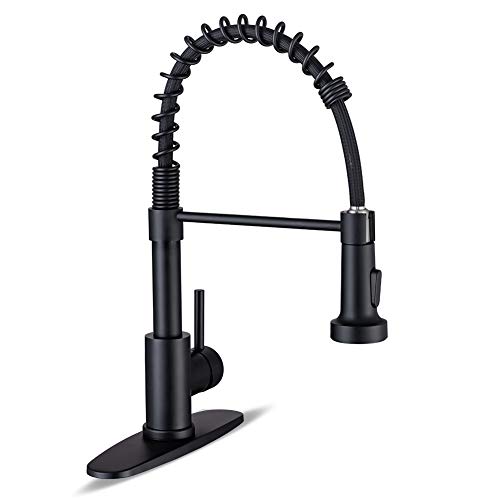 Great for: sinks under low cabinets.
This is a black kitchen faucet with a high arc spout height that makes cleansing more comfortable. It features a 15.7-inch height for lower cabinets and one-hole or 3-hole mounting options. The finish is a black industrial style open spout; the splash-free aerated water spray function mentioned in the description and its two-mode position settings on the pull-down sprayer allows for those with small sinks too. With a strong aluminum extension arm, this kitchen faucet will resist rusting for longer periods of time and is designed with no worry of lead.
Pros:
Made of stainless steel.
Matte black finish.
Industrial farmhouse style.
Cons:
Limited range of the pull-down sprayer.
Little stretch.
Pull-Down Kitchen Faucet with Pull-Out Sprayer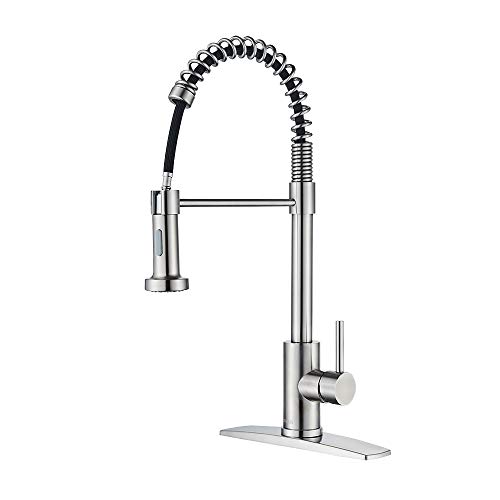 Great for: higher reach over the sink and countertops.
This design combines the pulldown faucet with a pullout spray head for even more reach. Its complete 360-degree swivel range in this design is perfect for filling up your pots while simultaneously tying up the kitchen counter around them. With 2 option spray types, you can get your dishes clean on one setting or the other.
This FORIOUS pull-down kitchen faucet is made with pure water in mind–it has no shortage of features. It is made with a complete seven-inch swiveling spray head. The finish is stainless steel which ensures the quality's durability—the twist grip design aids in the ease of use.
Pros:
Made of stainless steel.
Brushed nickel finish.
360-degree swivel and pull-out spout.
Cons:
Handle is a little flimsy and needs tightening over use.
Won't mount well with a stainless steel sink.
Low Pull-Down Kitchen Faucet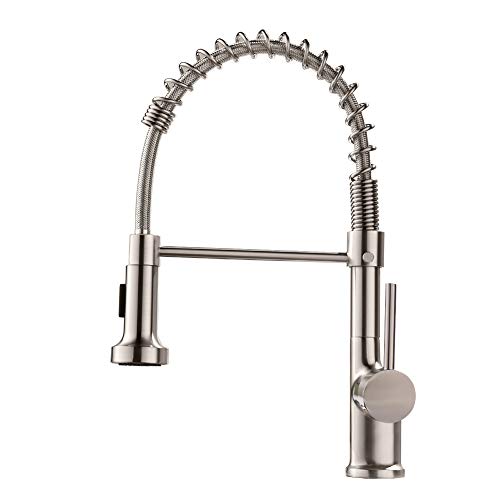 Great for: small sinks as a budget option.
This kitchen faucet has a pull-down spray head which you can set to a stream or a spray. For best results, either one should be selected when filling large cooking pots or used for very spotty situations (such as soap clean-up). The settings provide a decent force of the water flow. The faucet is manufactured out of solid brass and has a universal design suitable for most sinks, and has a brushed nickel surface transition design to avoid dirty water from sticking to the faucet.
Pros:
Solid brass faucet body.
Brushed nickel finish.
360 spout swivel.
Pot filler.
Cons:
Hangs low.
Little stretch.
Commercial Pull-Down Kitchen Faucet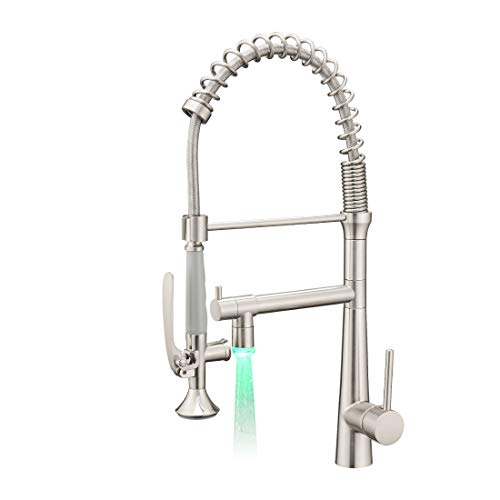 This pull-down kitchen faucet with a 360-degree Swivel sprayer and spout works with water flow to change the color of the pinpoint LED lights in the fixture. It provides a single cold water handle with a 360-degree swivel feature for high flow or a low flow nozzle. The option of an aerated stream or rinsing mode is available, whether it's switching from hot to cold, filling pots.
We chose this pull-out kitchen faucet because of its durability and design. It is eco-friendly and saves water. This pull-down kitchen faucet is made of durable UL-listed materials, with a brushed nickel finish. There are three nozzle settings: rapid rinse with a mighty stream of aerated water for effective cleaning, gentle mist spray head for close-up delicate cleaning jobs, and streams for filling pots beyond the sink.
Pros:
Durable design.
Stainless steel in brushed nickel.
Good reach and stretch.
LED temperature indicator.
Cons:
The spout sprays only.
Bad instructions.
Continue reading:
Disclosure: As an Amazon Associate we earn from qualifying purchases.