Last updated on May 17, 2022
Looking for the best light fixtures to hang over your kitchen island? 2 main trends are gaining popularity. We've picked lights for them and more. Read on!
Our pick for the best overall kitchen island lights: Geometric Pendant Lighting.
We have identified two trends in kitchen island lighting. They are multiple pendants and a statement chandelier. If you look at kitchen pictures on Instagram or Pinterest, you will see them all over the place. It's not just a fad either — these fixtures are practical. Our vote goes to the pendants, thanks to their versatility.
What about recessed lights? It's certainly an option for kitchen light fixtures, especially if you're after a neutral design. Installing the right LED recessed lights will provide you with the best illumination too. But pendants and chandeliers provide much more decor accent value.
We have an entire guide on how many and what size pendants lights you need to hand over the kitchen island. Once you know the number and size, it's much easier to pick the right fixtures. We've taken into account all of these criteria to pinpoint the best options.
Here are some practical notes as well:
Pendants and chandeliers don't have to be expensive.
However, cheaper models usually have poor mounting hardware (it's best to get your own hardware.)
Most fixtures support LED and dimmers.
You need to know the best wattage for pendant lights in your kitchen.
Pendant cords can be stiff, but they get better over time.
Just keep these things ins mind as pointers when choosing. We have included shopping links to each product we've picked (our site earns a commission at no cost to you.)
Let's choose the lighting for your kitchen island!
What's Inside
Geometric Pendant Lighting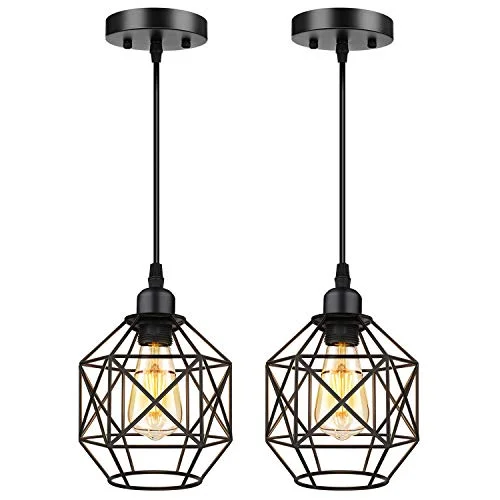 This is our editor's choice.
Great for: to fit any size of the kitchen island (you just need the right number of lights.)
The shape of this hanging lamp makes it aesthetic and rustic in order to complement any interior design style. The material itself is made with durable metal and black paint finish, so you know that this geometric piece won't get rusty or have any color fading. This lamp is perfect for kitchens because they were made so that you will cast a maximum amount of light on the ceiling and below.
The fixture is a black metal cage pendant light designed with an industrial vintage farmhouse style. This fixture has a single bulb to emit omni-directional light which is perfect for a kitchen island or any other space. One possible con of this fixture might be its tall frame which can hang low at times. This modern cage pendant light comes with easy to install pieces as well as adjustable climbing rope so you can customize the height.
Pros:
Farmhouse style fixture.
Comes in 2 pack.
Compatible with LEDs.
Cons:
Bulbs not included.
Difficult to clean.
Crystal Pendant Lights for Kitchen Island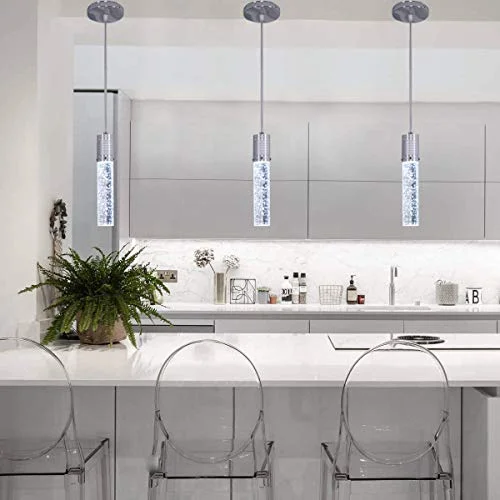 Great for: modern kitchen design.
This is a set of three clear cylinder pendants. They're made of quality crystal material and finished with a chrome polish surface. We would totally recommend this product if you're looking for something simple, classically designed, and elegant.
The shape and style of the fixture are column-shaped, with either a sharp outline or a traditional design. Pros for this product are how easy it can be mounted to modify heights as needed, its bubble crystal pattern and reflective glaze allow taper light over the island.
The lights come with an easy install and include all the mounting hardware for a quick, simple installation. It provides sufficient lighting if you hang them over a correct size island.
Pros:
Daylight LED bulbs included.
Modern design.
Stylish.
Chandelier look.
Chrome finish of the fixture.
Cons:
Come in 3 pendants, which is not good if you only need 2 or 4.
Linear Kitchen Island Lighting Pendant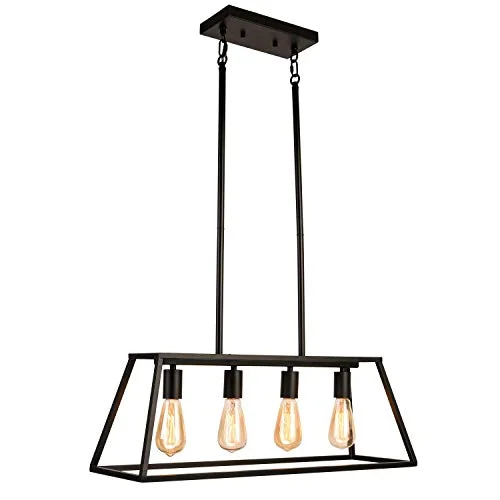 Great for: larger kitchen islands.
The fixture supports 4-lamps using LED, suitable for flat and sloped ceilings. It has a dangling chain at the top that makes it adjustable to any height. There is a hardwired power source and all mounting hardware. Its shape is rectangular and it has an elegant matte black finish for an industrial look. The solid black metal really adds definition to kitchen decor.
Pros:
Supports E26 base LEDs.
Made of iron.
Industrial style.
Cons:
Glass Pendant Lighting in Bronze Finish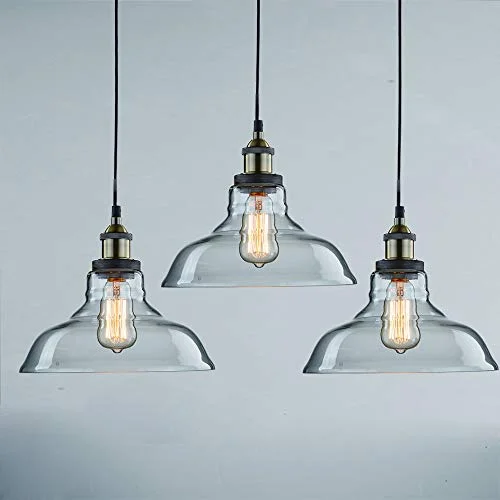 Great for: sloped ceiling.
Ecopower Industrial Pendant Lighting Glass Kitchen Island Hanging Lights-3 Pack is a cool decorative glass accessory for your kitchen. 3 pendant lights attached to hard, thick materials with a hanging system wide enough to vary the height. The material and finish of the fixture is durable metal with protective insulation and a vintage look; clear blown glass shade in an antique bronze metal finish that gives comfort, elegant feel, or traditional feel to space.
They come completely "hardwired" with all necessary hardware, and you can shorten the cord to meet your desired lighting needs. They have a hanging system on the ceiling for installation. They emit 3 lights per fixture and are 47.2" in height.
Pros:
Cons:
Bulbs not included.
Comes in 3 pack.
Light pendants make working the cord difficult.
Pulley Pendant Light for Kitchen Island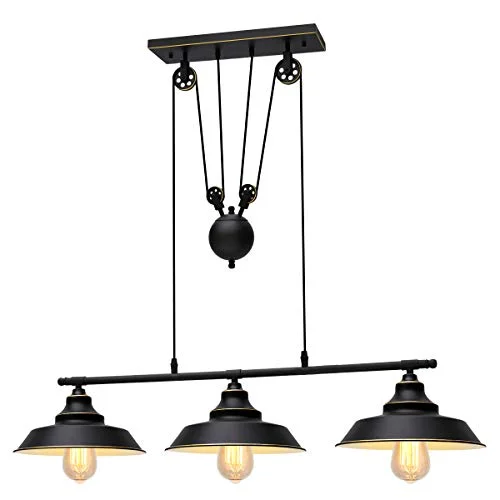 Great for: high ceiling.
The 3 light pulley pendant lighting is 19×4.3″ on the canopy and 8.66." in diameter on the lampshade. They also have a wire that can reach up to 78.74″long. Pulley technology allows for adjustment of the shelving to appropriate heights. Iron coated glass accents and a distressed finish offer an old-world appeal. The lights use three 60W E27 light bulbs.
Overall, this product lives up to its moderately high price. This product has a cozy and romantic c-light fixture providing enough light in total darkness to keep you moving around the room without tripping or running into anything. The size of the lights is large, the shape of the lights is globed with circular shades in an attractive vintage style.
Pros:
Adjustable height.
Hardwired.
Durable finish.
Vintage style.
Cons:
Industrial Kitchen Island Chandelier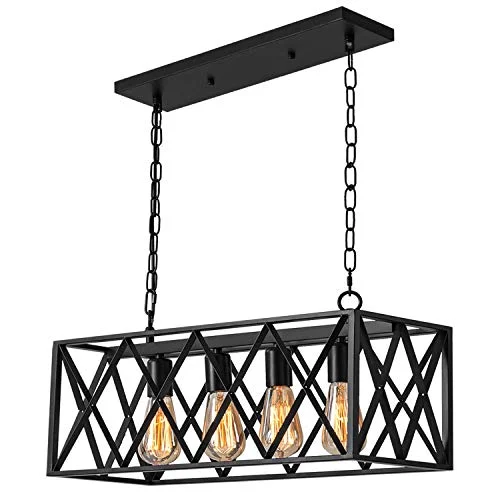 Great for: use as an industrial chandelier.
The Pynsseu lights produce a pretty nice light for kitchens or areas that other lamps can't. The industrial quality, as the name dictates, really does characterize this item well. We just installed it in our kitchen, and the effect is just what we were hoping for. The size is perfect, not too big nor too little, and leaves room for space to work on or for good counter seating. It brings out a sense of class and character to eat dinner by without being bulky.
Pros:
LED bulbs up to 60 watts.
Industrial style.
Adjustable chord.
Cons:
Bulbs not included.
Poor mounting hardware included.
Not easy to install.
Pendant Chandelier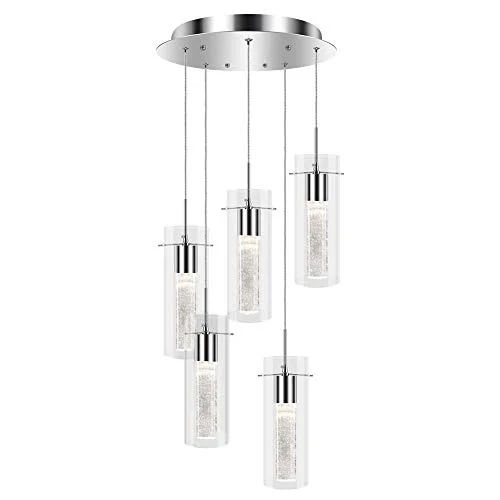 Great for: statement chandelier.
The fixture is comprised of 4 integrated LED Bulbs. These bulbs boast a life span approaching 22 years. Triac dimmer compatible, the fixture has ten variable dim levels with an increased power use efficiency at the highest setting over traditional kitchen lights. For installation purposes, this product also comes with detailed instructions as well as hardware fixtures.
Their features include elongated crystal bubbles, dimmer compatible, and easy installation. The drawbacks of this art piece are the spendy price and the hard wired installation. They come in 4200K neutral white color beam for an elegant ambiance over the kitchen island.
Pros:
Bubble crystal pendants.
Integrated LEDs.
Dimmer compatible.
Cons:
Some plastic parts.
Not easy to install.
Difficult to clean.
Rustic Pendant Chandelier Lighting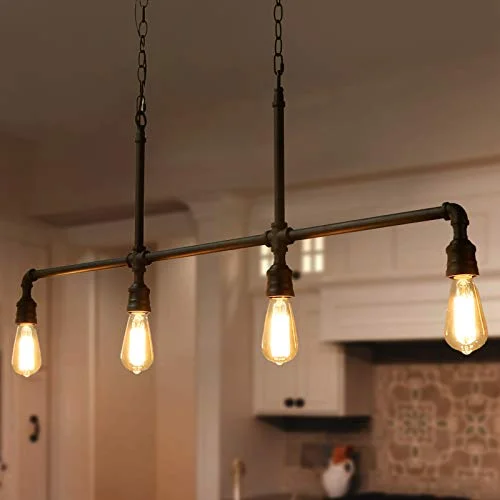 Great for: rustic farmhouse kitchen.
The lights are small in size and shape. The shape is linear while the material of the fixture is a mixture of metals. The finish on this fixture shines from a gloss black color, which makes it look more elegant for dining room table lighting or square pools tables when placed up-high. The pros of this product are that it gives off a modern, decorative look with rich blacks colors that will create the perfect atmosphere to set your dining table or bar up off the floor and make everything seem cohesive.
The metal frame for this piece of light fixture measures 44 inches. It also provides easy installation and has all the necessary pieces you need. It is also created in black metal which makes it more rustic appeal.
I own this type of light and think that it is perfect for a tight workspace like a kitchen island. Splendid lighting system that saves space!
Pros:
Supports LED E26 base bulbs.
Compatible with dimmers.
Adjustable 51" chain.
Chandelier style.
Cons:
Cheap mounting hardware.
Cord is a little flimsy.
Hard to make wiring hidden.
Farmhouse Linear Chandelier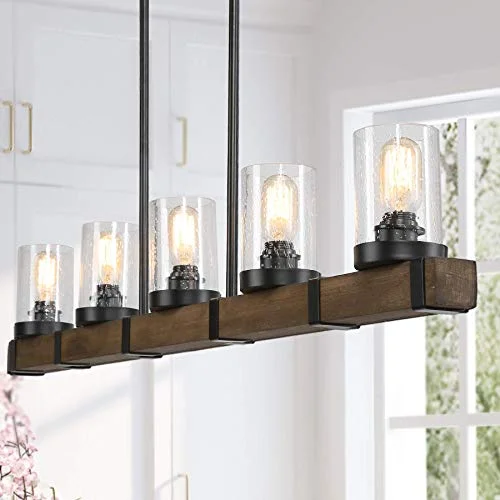 Great for: statement chandelier for the centerpiece kitchen island.
This kitchen lights design inspiration commonly found on barn or farmhouse. The simple wood beam form features a real wood, vintage-style light bulbs with bubble glass shades.This 5-Light chandelier is a contemporary twist on a country favoriteand will be the centerpiece of any kitchen.
The light is made of porcelain or glass with a chrome finish fixture. This light is flexible and can be installed anywhere in your home. You will need 5 E26 bulbs because they don't come with the purchase.
This design is contemporary twist on a country/farmhouse favorite. I really like its seedy glass shape and metal-wood style because its creates a vintage presence in any room. There are two sizes including rectangle canopy (11.8×4.7) and island light fixtures (42×63). Wherever the lights are hanged over kitchen island or your dining room it is perfectly designed to fit your ceiling (flat and vaulted.)
Pros:
5 LED lights.
Adjustable fixture rods.
Fits flat, sloped, and vaulted ceilings.
Cons:
Difficult to clean.
Not easy to install.
Faux wood beam.
Mini Pendant Lighting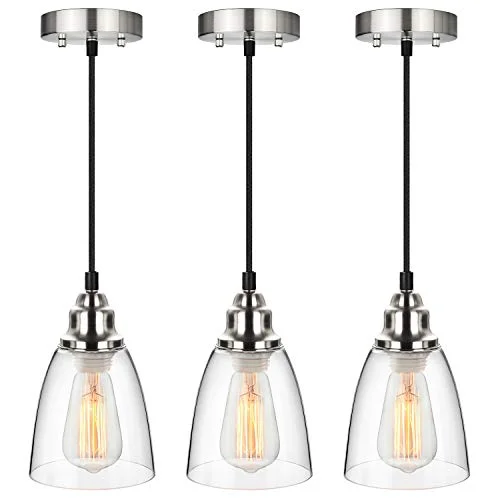 Great for: lighting for small kitchens.
This product comprises three industrial mini pendants in clear glass shades, hanging light fixtures, brushed nickel, adjustable vintage Edison farmhouse lamps for kitchen islands. Each of the lights measures 5.1 inches high by 5.1 inches by 5.1 inches inside diameter. They come in different color schemes as well, so you can find whatever will suit you best. There are pros to this product, like the durable metal finish and affordable pricing.
Pros:
E26 LED bulbs supported.
Replaceable glass shades.
Vintage look.
Cons:
Bulbs not included.
The cord is too stiff.
FAQ
Does a kitchen island need pendant lights?
A kitchen island doesn't necessarily need pendant lights, but it's a trend that provides a lot of decor value and function. But you can also hang a chandelier or installed recessed flush lights.
What lighting works best for illuminating kitchen islands?
You need bright light over the kitchen island for task lighting because you do your food prep here. If it also doubles as a kitchen bar, you may consider installing dimmers. So consider daylight LED bulbs and a dimmer switch.
Continue reading:
Disclosure: As an Amazon Associate we earn from qualifying purchases.