Last updated on May 10, 2021
Looking for the best under kitchen cabinet lighting options? We have your picks here. Choose to implement modern kitchen lighting. Read on!
In a hurry? This is the best option.
LED lighting has given us new opportunities for kitchen lighting where it wasn't possible before. And while you could find under cabinet lights hardwired in some kitchens, it never was a prevalent trend (because it wasn't as accessible or usable.) With LED strips and bars, it is easy to attach them to the underside of the cabinets and have your countertops illuminated.
Better yet, the best under kitchen cabinet lighting gives you an option to change their brightness (dimmable) and even change the color temperature (or color itself if you wish.) Does it mean they are difficult to install? Not at all. If you have a power outlet near, you can plug the light in. If not, there are battery-operated options (LEDs are efficient enough to provide decent runtime). And there's always the option to hardwire the lights.
Because the LED lights are so popular for all lighting purposes it's not difficult to find choice for under cabinet lighting. Choosing the best option for the purpose is another thing. So we've picked the most fitting ten options (and the editor's choice) to make it so much easier for you. We hope you will appreciate it.
The links to each product earn us a commission at no expense to you. This powers our site but doesn't influence our picks.
What's Inside
Under Cabinet LED Lighting Kit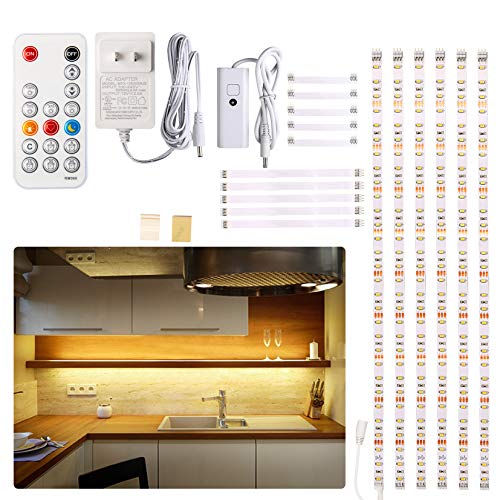 This is our editor's choice.
Great for: lighting under the cabinets where an outlet is available.
This under cabinet light strip kit is the best available on Amazon and works great. The strips come with two pieces of 3M adhesive to attach to the lowest tray of your cabinet. How many times have you risked buying an under kitchen cabinet light that didn't come with its own adhesive glue — it's a risk no more. It's so easy you don't need a professional to install it.
LED clip-on under cabinet lighting installs easily with its double side adhesive strips. This 6 pack LED DIY kit delivers a total of 1500 lumen and has an RF dimmer to adjust the brightness, an RF remote control, and a 17-key node to switch off, dim, or change color, etc., in immediate key controls. The diverse power adapter and connector options make this product user-friendly and terrific for homeowners from every area across the USA.
These under kitchen cabinet lighting are super bright and can be used in the dark. They have a dimming control to set the brightness that works great. There's no tool necessary because they come with some sticky stuff, so you need to clean the area, stick it on and turn it on.
Pros:
6 pieces of LED strip lights.
Remote control.
Dimmer.
Total of 1500 lumen brightness.
Self-adhesive.
Cons:
The strips don't conform to corners.
You can see the exposed bulbs when sitting.
Dimmable LED Under Cabinet Lighting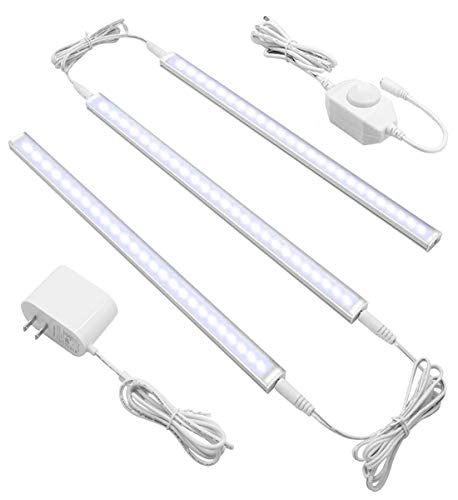 Great for: bright lighting to illuminate the countertops.
This anti-glare LED under kitchen cabinet lighting is perfect for the kitchen counter with a dimmer switch. They can illuminate anywhere in the workspace with no hidden LED lights to create an eye care quality. The 3 pack of under cabinet lighting comes with a total of 1200 lumens. They are listed as cold white 6000K and can be operated via a control knob or remote control. This 3 pack of under cabinet lighting can illuminate nearly any angle and has no LED dots, no flicker, is dimmable, and it has no glare thanks to its frosted finish. The package includes one magnetic clip and 3M stickers, so you don't have to worry about the installation.
Pros:
3 pieces of 12" LED strip.
Installed using adhesive, magnets, or screws.
1200 lumen total brightness.
12W LED strips.
Cons:
The dimmer doesn't work well.
Mounting brackets need some bending.
Remote Control Under Cabinet Lighting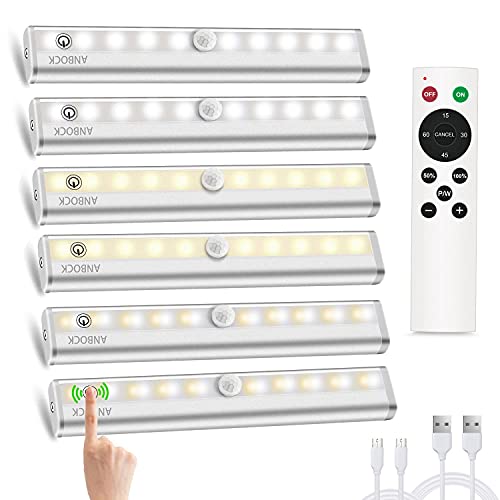 Great for: modern encased lighting.
This is a great under cabinet lighting for an affordable price. This product provides direct light adequate to illuminate dark corners or walls untouched by overhead lights such as the upper cabinets in your kitchen. Pair it with clip-on mini LED spotlights for maximum illumination at night time when you have a power outage, and the built-in flashlight comes in handy to use on dark stairs. Also, it has three white modes to select from a cool 6000K to warm 3000K.
Pros:
6 pack of encased 20 LED light sticks.
Battery-powered.
Remote control.
Dimmer and temperature control.
Cons:
Tricky to adjust all lights to the same setting.
Battery life could be better.
LED Hardwired Under Counter Lighting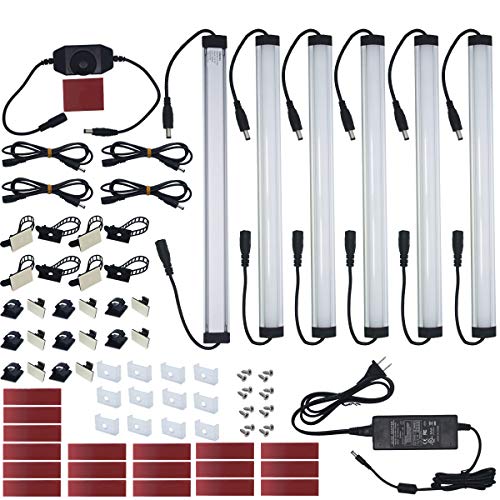 Great for: hardwired under cabinet lighting.
These lights are designed to allow you to locate any wires and hardwire them using the kit (but you can also use them with an included plug). The LEDs produce 2000 lumens of light, makings them perfect for reading, crafts, hobbies, bars, and restaurants. These lights also come with a wired rotary on/off dimmer that allows you to adjust the brightness manually.
With 31 watts of super bright output, the lighting kit provides enough illumination to light up all your cabinets, providing an easy and affordable way to make your kitchen look primed and ready for any occasion. With no LED dots or irritating glare insight, fall becomes brighter when you install this high-quality kit. Simple installation with included self-adhesive pads and clips power you onward in no time. You can install in place of your old way kitchen lights or with big changes such as remodels.
Pros:
6 pieces of 12" light bars.
5000K daylight LEDs.
2000 lumens.
31 watts.
Dimmer.
Cons:
The power pack gets hot.
Plastic holders are hard to install.
LED Puck Lights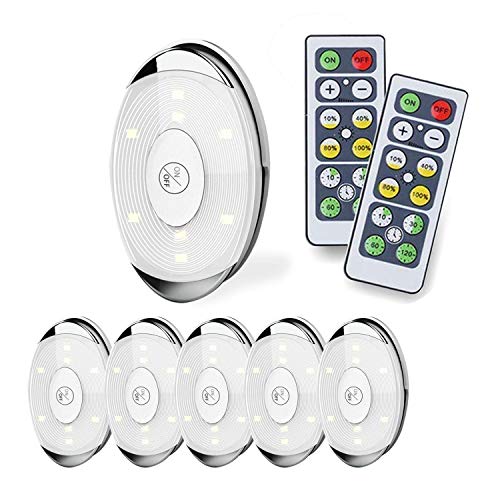 Great for: the easiest installation with no wires.
This is a great LED puck light. You can use it in the kitchen, and it does a wonderful job of illuminating the entire counter. Pucks are nice to install since they are elliptical. You can use the peel-and-stick tape that came with the packaging to put them high up on a wall for even more light. They're also really bright — each light is 100 lumens.
Pros:
6 pack of puck lights with 8 LEDs each.
4000K warm white light.
Dimmer and timer.
Remote control.
Battery-operated.
Cons:
Might fall out when mounted horizontally.
Short battery life.
Wireless LED Light Bar

Great for: lighting for any remote space where wiring is impossible.
Under-cabinet lighting, the Brilliant Evolution LED uses dimmable and energy-efficient LEDs, which create a 3000K warm white glow. This product is super thin, measuring 1/2 of an inch. It's perfect for kitchen cabinets that hang over the countertop edge. It also comes with an easy on-off tap lens to provide an effortless installation process of just minutes. This lighting runs on 3 AA batteries that are not included and has a 100 hour run time.
The brightest setting is 65 really bright lumens, but dimmer settings are also available. The installation is straightforward, and this light has no wiring. Tap on and off control switches are found on both of the fixtures' lamps. This under kitchen cabinet lighting offers a 3 step brightness control.
Pros:
65 lumens LED light bar.
Less than 1 inch thick.
3000K warm white.
100-hour runtime.
AA battery powered.
Cons:
Not overly bright.
Included mounting screws are very short.
LED Under Cabinet Lighting with Remote Control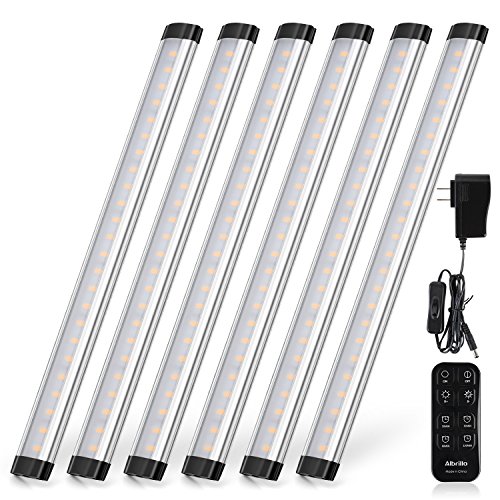 Great for: lighting with remote control.
The brightness of this fixture is both pleasing to the eye in daylight and clear at night. You can power it via its long wiring. However, the installation of this fixture is tedious and time-consuming. Aside from that, the light it casts truly puts some ease on that previously dark kitchen space you were facing, making for an easier cooking lifestyle.
This 24W under kitchen cabinet lighting bar will swiftly brighten your under-cabinet space into the major areas of focus in your living and dining rooms. This LED light bar is a wattage equivalent to a 150W fluorescent lamp, with enough power to provide high brightness and comfortable illumination for dark spaces of small-to-large size.
Pros:
24W LED bar.
4000K white light.
Remote control.
Dimmer.
Cons:
The bars don't connect well together.
The mounting screws are very short.
LED Under Counter Lighting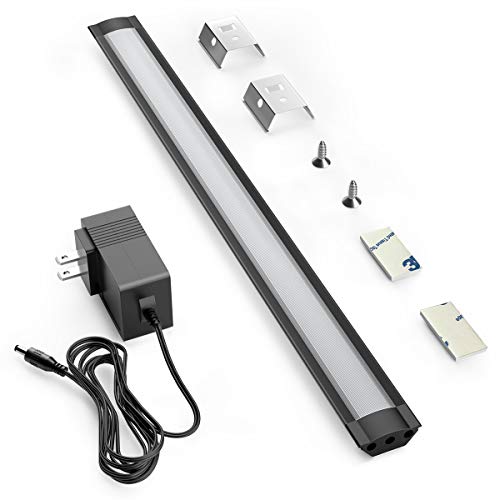 Great for: lighting where durability is needed.
A space-saving design with an adhesive mounting panel for fast installation that secures firmly on any storage and counter trim underside. The light's white LEDs produce a comfortable 3000K light while being energy-efficient and long-lasting. 33 LED produce 205 lumens per panel and delivers the best light intensity for all dark areas of under kitchen cabinets, shelves, desks, and other personal spaces.
Pros:
33 LED panel.
3000K warm light.
205 lumens brightness.
Cons:
The adhesive tape doesn't hold it long.
The included screws are too short.
Under Cabinet LED Strip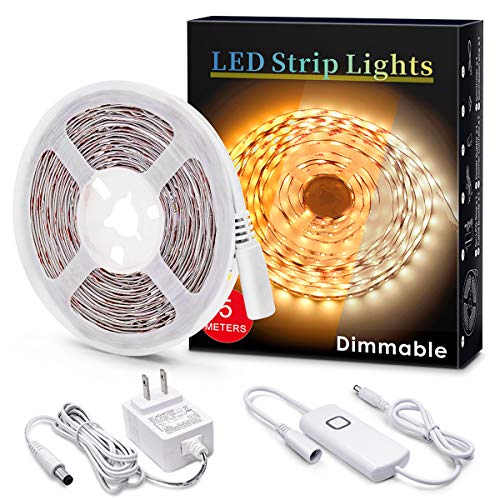 Great for: decorative kitchen lighting.
The 16.4ft AC power dimmable led strip is an ideal reflector and decorative lighting for the under kitchen cabinet. You can easily do perfect wiring and installation with the double-panel design. These super bright 1050 lumen lights cover large areas and enhance dark areas brilliantly with its 300PCS SMD 2835 warm white LEDs. The light has a strong adhesive capability that makes it flexible to stick on any surface.
This under kitchen cabinet lighting kit is perfect for illuminating the dark corners of kitchen cabinets. It is a set of 16.4-foot long copper wires with 300 Super Bright SMD LEDs, 16-inch depth coverage powered by the UL-listed adapter with a 12V low voltage. It features 10-100 steps brightness adjustment and 10 levels of dimming control to give you a stress-free experience.
Pros:
16.4 feet LED strip lights.
Total 1050 lumens of brightness.
3000K warm light.
Dimmer.
Cons:
The included power supply is weak.
Might be a bit difficult to install.
Under Cabinet Motion Sensor Light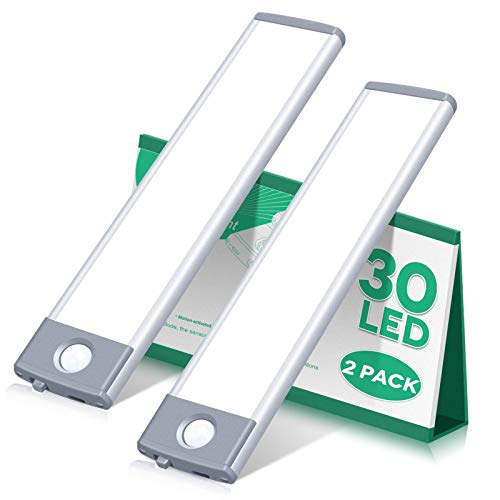 Great for: automated lighting.
This under kitchen cabinet lighting has a C-shaped motion sensor light that evenly lights around cabinets in the dark. It contains 30 LEDs and an integrated 1000 mAh battery. The brightness of this product is comparable to other products of a similar size and brightness. Using Infrared sensing technology on the kitchen counter light, it turns on when something moves and turns off automatically when there is no movement after 20 seconds.
Pros:
Motion sensor control.
2 pieces of 30 LED bars.
Rechargeable battery.
180 lumens per bar.
Cons:
Require frequent recharging.
The motion sensor doesn't always trigger the light.
FAQ
Is under cabinet lighting worth it?
Under-cabinet lighting is worth it, especially if your countertops lack proper illumination. LEDs are efficient and cheap as well as easy to install. So it's a small investment that makes a big difference.
How can I hide the lights under my kitchen cabinets?
Many kitchen cabinets have a gap between the wall or appliances (it's less than an inch). You can use it to add LED strips. Alternatively, you can move the bottom of the cabinet higher, so the doors hide the bulbs. You also have an option to buy LED bars in casing that hides the bulbs and wiring.
How many lumens do you need for under cabinet lighting?
Most LED strips and bars provide up to 200 lumens per 12 inches. That's usually enough for under cabinet lighting.
Why can't under cabinet lights be on a dimmer?
It can. Many LED strips and bars have built-in dimmers that are controlled with a remote.
How long do LED under cabinet lights last?
Suppose it's plugged in or hardwired — the LEDs last up to 50,000 hours. If they are battery-operated, they may last up to 100 hours before recharging.
How much does it cost to install LED under cabinet lighting?
If you DIY (it's easy) it will cost you less than $20 per 10 feet.
Continue reading:
Disclosure: As an Amazon Associate we earn from qualifying purchases.